Trying to implement a zero-waste lifestyle? Or maybe you're just practicing frugal living- whatever it is, you'd be surprised to know that all those fruit and vegetable peels can actually be put to use!
Making use of fruit and vegetable peels saves money!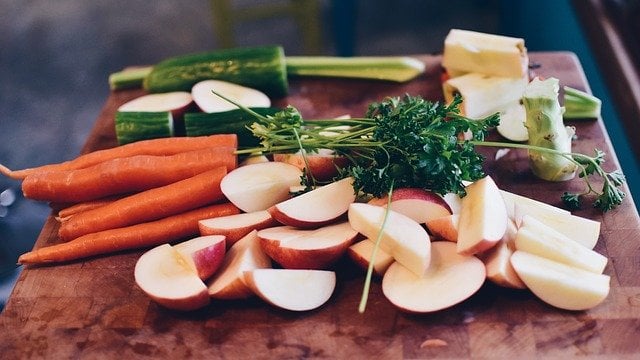 Using Fruit and Vegetable Peels
When starting to use these peels, it's a good idea to use peels from organic fruits and veggies where possible, particularly if you're going to be ingesting them.
Ok, let's get into it!
Make Some Vegetable Stock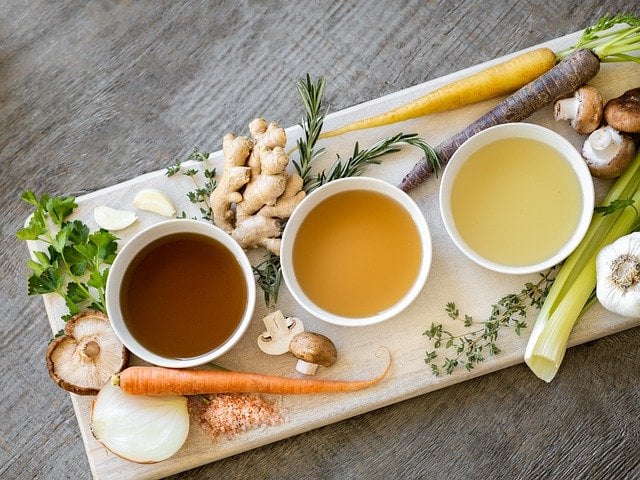 Believe it or not, the peels of most veggies (that you usually throw away) are actually packed with nutrients and a ton of flavor, and you can utilize just them to make yourself a big batch of homemade veggie stock.
Vegetable peels from carrots, leeks, celery ends, onion skins, green onions, broccoli stems (although, they're fantastic eaten peeled and sliced!), etc will go a long way in lending flavor to your stock.
You can also add veggies that are softening in the fridge that you wouldn't eat directly but will flavor that vegetable stock to new heights.
All you need to do is save your thoroughly cleaned and washed veggie scraps in zip lock bags and pop them in the freezer, and once you've got a batch that's big enough, put them all in a pot of water that covers them by about an inch or so.
Add seasonings like salt, pepper, garlic, onion powder, and herbs like Italian seasoning, bay leaves, or rosemary, and you're off to the races!
On a side note, if you happen to have chicken, pork, or beef bones leftover, you can also make this recipe for super nutritious bone broth really easily that you can combine with the vegetable stock for even more flavor!
Cleaning Greasy Areas
Don't throw away those lemon halves after you're done squeezing the juice out of them! You can actually use them to make those greasy areas, corners in your kitchen, and utensils squeaky clean once again.
Simply rub the lemon half on the target area and scrub using gentle motion, and wipe it clean. If you have a stubborn stain or spot that won't lift, sprinkle a little salt or baking soda on the area and then scrub with the lemon. The salt and baking powder will be mildly abrasive to help lift the dirt. That's it!
Zesting
Don't throw away the lemon and lime peels after you're done extracting the juice. Zesting the rinds will add extra flavor to your salads, dressings, spice mixes, soups, or even to make flavored oil like this Lemon Infused Olive Oil recipe.
Bake Crispy Snacks
Saving the peels of some veggies like potatoes, carrots, and beets can be turned into perfectly edible (and super delicious) homemade chips. Lay them out on a baking sheet, drizzle a bit of oil over them and sprinkle some salt, garlic powder and paprika over them and bake 'em until they're nice and crisp.
If you have left over potato peels check out this recipe for Crispy Potato Skin Bites from Sips, Nibble and Bites.
Deodorize your Garbage Disposal
Sometimes garbage disposals can get pretty stinky from the variety of foods we stuff down there. There's no need to buy special deodorizers to get the smell out! Save your citrus peels from fruits such as orange, lemons, limes, and grapefruit in the freezer.
When you're ready to use them, thaw them to room temperature, and then grind them in the disposal along with some salt and ice. Doing this also helps clean up the blades inside, and leaves your garbage disposal fresh and smelling great.
If you're looking for even more ideas to use your citrus, take a peek at this compilation of solutions in For The Love of Everything Citrus!
Dehydrate Them!
And last but not the least, you can also dehydrate fruit and vegetable peels to turn them into a delicious and healthy homemade seasoning or flavoring agent for your favorite snacks. (And you can use your own oven to dry them! See below for more information!)
For example, dehydrated and powdered tomato peel could taste great mixed into tomato sauces for richer flavors. Also dried and powdered beet peels can be added into smoothies, chocolate cakes (without adding beet flavors), and even into natural dyes!
If you're looking for more dehydrating ideas, take a peek at my article about Learning How To Dehydrate 101, as well as my post about Dehydrating Foods In The Oven!
Well, I hope I've convinced you to save those odds and ends from your fruit and vegetable peels and make good use of them. Hey, we all know how hard things are, and stretching those dollars, even if a little bit, sure makes a difference at the end of the day.
Plus, using up those fruit and veggie skins just makes good environmental sense as well!