Grilled Balsamic Chicken is sweet and tangy, and the chicken has a light smoky flavor from the grill. And guess what, because you can marinade it for up to 24 hours, it makes the perfect make ahead meal for busy people!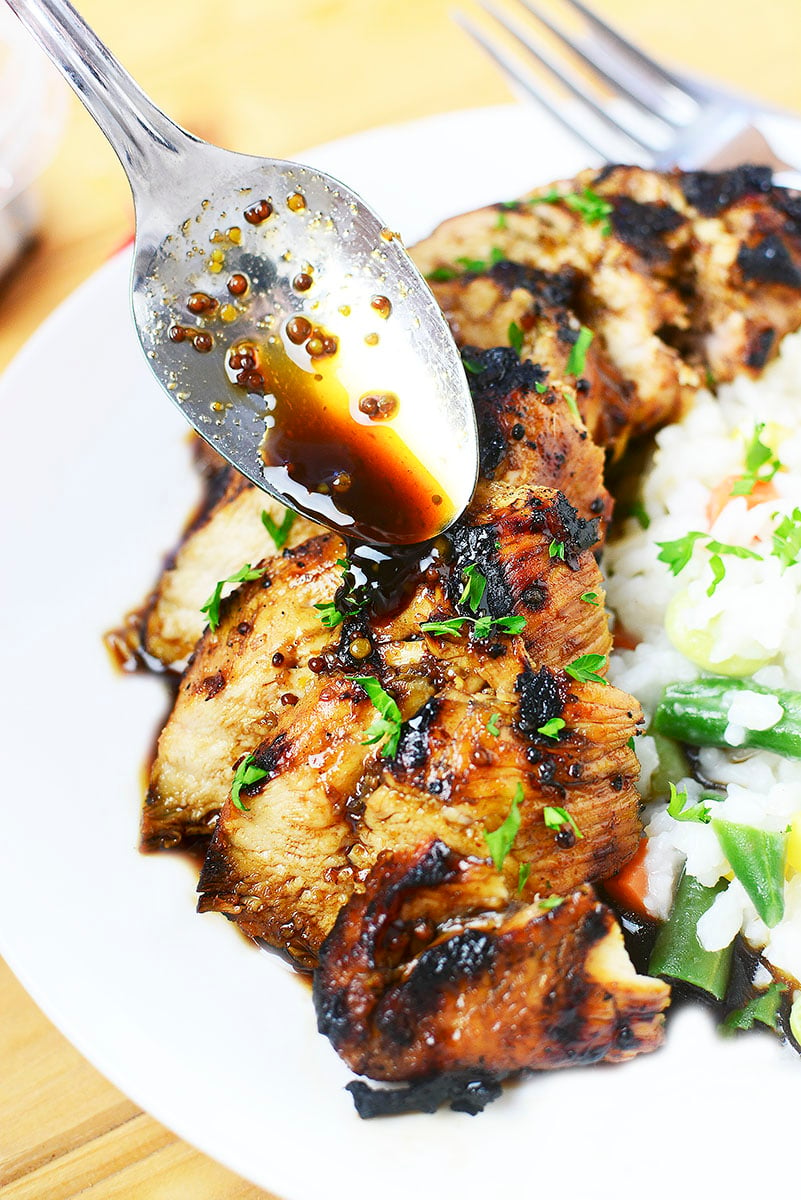 Get your grilling skills going with this tasty grilled chicken recipe!
Grilled Balsamic Chicken
I love this recipe because it's quick, easy AND delicious. It's also perfect for summer because the chicken is grilled (so no heating up the kitchen!), and the grilling lends that lovely smoky flavor we all love about summertime BBQ!
The best part of this recipe is that the balsamic marinade is perfect to make ahead of time so the chicken can marinate and soak in those full sweet/tangy flavors!
Ingredients for the make-ahead chicken marinade
Balsamic Vinegar – As we know that the world of balsamic vinegar varies widely in terms of flavor, length of time they are aged, price, and accessibility, my biggest recommendation is to use one you personally like the flavor of. If you're not sure which type you should pick, this article from KitchenSanity breaks it down for you.
Avocado Oil – Typically most people use olive oil for marinating, and that's completely fine. I used avocado oil because that's what I had on hand and it's a light tasting oil with a high smoke point. If all you have is vegetable oil that's fine as well. The whole point here is to make the dish with great flavors, without a lot of special ingredients.
Honey – Any honey will work well for this recipe as long as it's not thick and crystallized. If your honey is like this, you'll need to heat it before you add it to the marinade to make it a liquid again. If it all possible, support your local honey producer because the bees collect the pollen from your local area which adds a beautifully unique flavor to the marinade.
Garlic – Minced fresh garlic is ideal but if you only have powdered, that's fine.
Mustard – I am partial to whole grain mustard because it's not sharp and overpowering. It also adds a nice little texture to the marinade which transfers to the meat. If whole-grain (seedy) mustard is not available, you could sub in brown mustard, dijon, or even yellow mustard. Here's a word of caution though. If you choose to use the yellow mustard, please start out with a ¼ of the measurement I call for in the recipe and add according to your taste from there – because yellow mustard is usually quite tangy and sharp, and could easily overpower the whole recipe.
Jam – Yes, adding jam to this chicken marinade really levels it up. I used a homemade crabapple jam but feel free to use any berry jam you might have on hand. Something like blueberry, strawberry or raspberry jam would be fantastic. You don't need a lot but it really makes a difference.
Spices – Your regular S&P is all you need.
Making Grilled Balsamic Chicken Delicious
I truly believe that a large part of this recipe is in the marinating time. Sure, marinating it for an hour will have those chicken breasts tasting great, BUT, the longer you can marinate it, the better. (within reason, of course..lol). The flavors deepen and intensify and really help with making that chicken even juicier!
Making the marinade couldn't be easier. Basically you add everything to a dish and mix it thoroughly. I recommend tasting the marinade BEFORE you add the chicken, just to adjust the flavors to your liking. However, I find this ratio of ingredients perfectly yummy!
Is it safe to marinate chicken for a long time?
According to the USDA, you can safely marinate chicken for up to 24 hours. You could even push that marinating time to 3 days but you run the risk of the acids in the vinegar breaking down the fibers in the chicken, making it mushy. Similar to my recipe for Crispy Pickle Brined Fried Chicken, which I marinated in pickle juice for 12 hours, I marinated this chicken in the marinade for 24 hours. It was fantastic!

Also, I want to add that you can also use the marinade mixture to baste the chicken while grilling ONLY.. and again, I stress.. ONLY if you bring the marinating solution to a boil before you baste the chicken.

I chose not to go that route. I simply reserved some of the freshly made marinade before the chicken was added, so that I could use it for basting and drizzling while grilling and serving.
Can I use other chicken pieces besides breasts?
Absolutely! Using any portion of chicken would be delicious! I would recommend that they are skinless though because chicken with the skin on that also has a marinade with sugar in it could cause a lot of flare-ups on the grill.
Freezing the chicken and marinade raw before cooking
You can choose to mix the marinade together and add the chicken, and then freeze it, for grilling later! It will stay nicely up to six months in the freezer as long as it's tucked away in an air tight freezer bag or container. Thaw in the fridge and proceed to grilling/cooking.
By the way, this is a perfect recipe for batch cooking! Purchase a large family pack of chicken breasts and double or triple the marinade recipe. Then divide it between the amount of chicken breasts, and it will be an easy 'make ahead' dinner on busy nights!
I have other make-ahead meals on the blog. Some of the most popular are Make-Ahead Roasted Turkey Dinners, and this Instant Pot Honey Sriracha Pork, Individual Spaghetti Dinners, and my Instant Pot BBQ Pork recipe!
What to serve with this Honey Balsamic Grilled Chicken
The possibilities here are endless! You could serve:
Grilled Vegetables (mixing asparagus, tomatoes, onion chunks on skewers)
A large green rainbow salad
Grilled Balsamic Chicken
Yield:
3 grilled chicken breasts
Sweet and tangy, this grilled balsamic chicken recipe is a family favorite. It can be made ahead of time and grilled up in no time for a quick, delicious dinner in a snap!
Ingredients
3 chicken breasts (about 1 ½ lbs approximately)
⅓c Balsamic vinegar
⅓c Avocado Oil (see notes)
¼c Honey
2 Tbs Berry flavored jam. (see notes)
½ Tbs Whole grain mustard (seedy) (see notes)
1 teaspoon garlic, minced
salt and pepper to taste
Instructions
In a large bowl, combine all the ingredients except for the chicken breasts.
Reserve ¼c of the marinade and set aside.
Pour the marinade into a heavy-duty zip-lock back or an air-tight container with a lid. Add the chicken. Shake the bag to mush up the chicken and the marinade together.
Marinate in the refrigerator for up to 24 hours. Occasionally give the bag or container a shake while it's marinating to distribute the liquids all over the surfaces of the chicken.
After marinating, preheat the grill to medium heat. When heated, place the chicken on the grill.
Cook the chicken for approximately 8 - 10 minutes, basting and flipping the breasts over halfway. During the cooking time, baste a few times with the reserved marinade. The chicken is cooked when an inserted thermometer reaches 160F.
Keep a close eye on the chicken because the marinade has sugar in it, and sugar can burn quickly over the heat.
Remove and let the breasts rest for 5 minutes. Drizzle the remaining basting marinade over the top of the chicken. Enjoy!
Notes
It's safe to marinate the chicken up to 24 hours.
Keep a close eye on the chicken breasts because they can burn quickly.
If you want to use the marinate the chicken was sitting in, you can but ONLY IF IT'S BROUGHT TO A BOIL for a few minutes before basting on the chicken.
Avocado Oil or Olive Oil is ideal for this marinade, but use vegetable oil if that's all you have on hand.
Berry jams can be anything made from berries - so blueberry, strawberry or raspberry jams. You can use a jelly, but you'll have to heat it to melt it into a liquid so it emulsifies into your marinade.

If you choose to use yellow mustard instead of whole grain mustard, please start out with a ¼ of the measurement I call for in the recipe and add according to your taste from there

Nutrition Information:
Yield:

3
Serving Size:

1 breast
Amount Per Serving:
Calories:

348
Total Fat:

4g
Saturated Fat:

1g
Trans Fat:

0g
Unsaturated Fat:

3g
Cholesterol:

102mg
Sodium:

227mg
Carbohydrates:

38g
Fiber:

0g
Sugar:

34g
Protein:

38g
All nutritional information is based on third-party calculations and is only an estimate. Each recipe and nutritional value will vary depending on the brands you use, measuring methods, and portion sizes per household.