YES, yes yes. I KNOW what these treats homemade liver dog treats 'look' like, lol! I get it. But guess what, your fur baby won't care, and there's nothing better to your bubba than DIY dog treats made by you!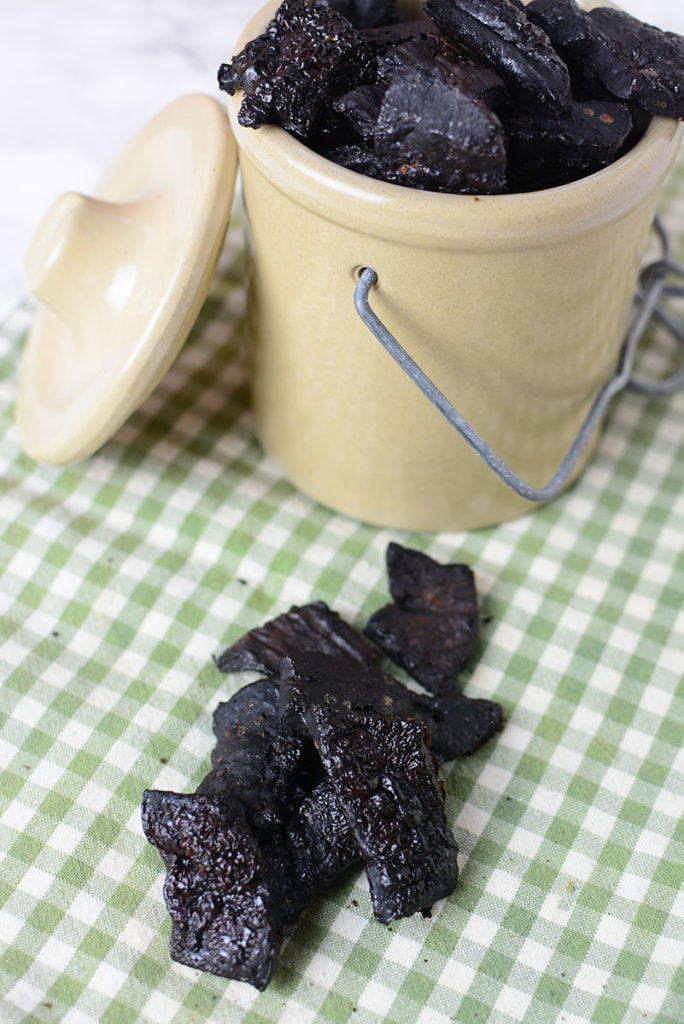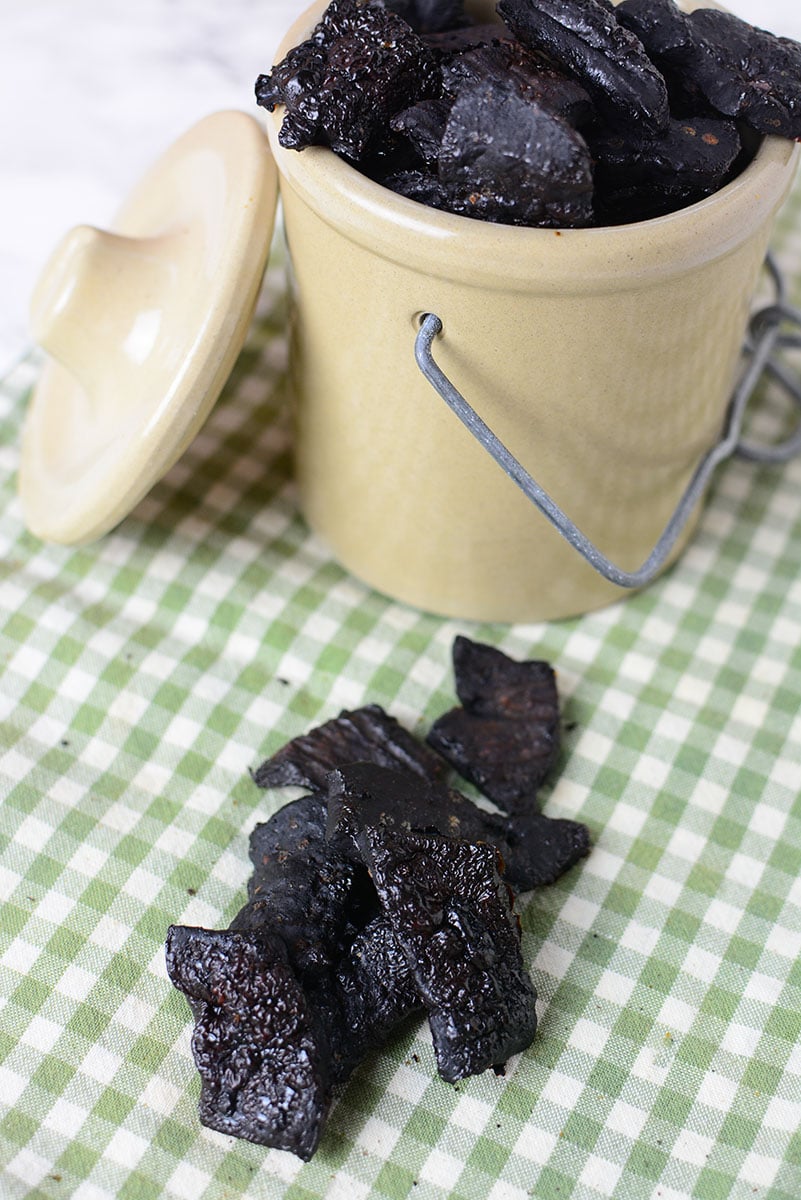 DIY dog treats are the best because you KNOW what's gone into them!
HOMEMADE LIVER TREATS
I know these look more like my dog's 'lawn bombs' rather than dog treats. But trust me, the dark colors are from the dried contents of the liver. Yum! (just kidding! lol)
So whether you're a dog lover who is considering adoption, or you're already a pet parent to one (or multiple furry buddies), you know how each dog is different. Some dogs have an enthusiastic personality and are easy to convince (and train) while others may need a teeny bit more effort.
That's where these treats can come in and help.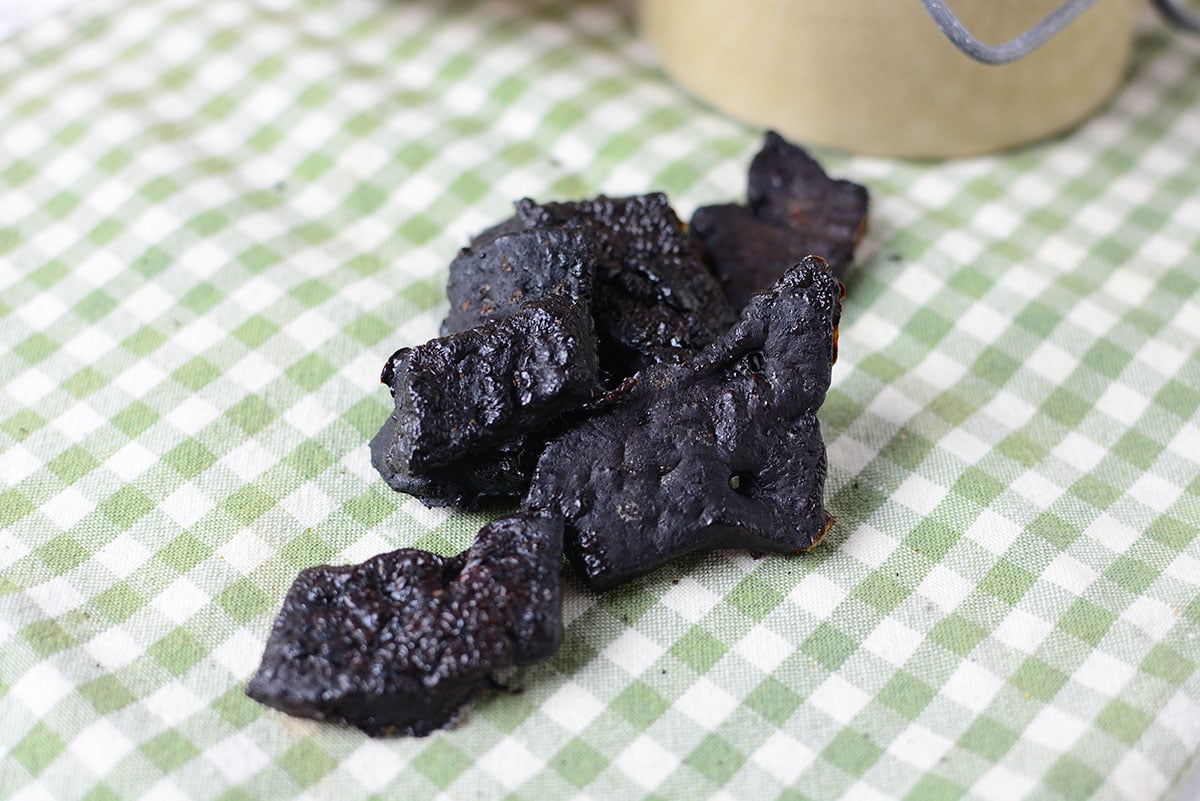 Why Liver Treats?
If you're not a fan of offal, you might be a bit skeptical about making these. (I know.. they look pretty gross.)
Well, it turns out, liver treats can actually be an incredibly healthy treat for your dog (and according to this article, healthy for you as well!). When it comes to nutritive value, the liver packs in a ton of vitamins including A, B6, B12, C, and D, and other minerals such as riboflavin, selenium, zinc, phosphorus, iron, folate, niacin, etc.
This is exactly why liver treats have recently become the most popular choice in the pet food category. It's important not to go overboard with the treats and give them as a meal supplement. Also, it's important to make sure they have a lot of fresh water available to them as these treats have very little moisture in them.
So Why Make These Liver Treats At Home?
Sure, you can always get your hands on one of the many commercially available dog treats, but some of them are loaded with additives and preservatives to increase their shelf life and improve their flavor, and feeding them to your dog on a daily basis can be harmful in the long run.
There have been several instances where dog treats have been recalled for possible contamination, which is always a risk when you're opting for packaged treats.
These liver treats are, in contrast, easy to make, healthy, inexpensive, and safe for your furry friend.
Another reason, THE COST!!
I can tell you that at the local grocery stores and pet stores around me, I can buy a package of dried liver treats for almost $11.78 for 150 grams! That's around 5 ounces or so.
Where, if you buy the raw liver from the meat department, you can buy it raw for around just over $4.oo a pound. It might even be cheaper in your area!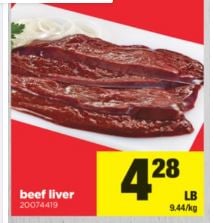 Making Them Right
Making liver dog treats for your puppers is super easy. All you need to do is get some liver from your local grocery store or butcher's shop, and chop it up into 1-2 inch chunks.
You might want to wear some plastic gloves when you handling the liver, ONLY because your fingers can get kinda bloody from the liver, but if you don't care, no prob! (… after the first time I did it, I didn't care anymore.. lol)
Lay them out on a baking pan, lined with parchment, (makes for easy cleanup!) while you preheat your oven to 350 degrees. Pop the liver in and roast thoroughly.
Now turn down the heat in your oven to the lowest setting to dehydrate and remove the moisture out of the liver. Read the recipe below for complete dehydration instructions.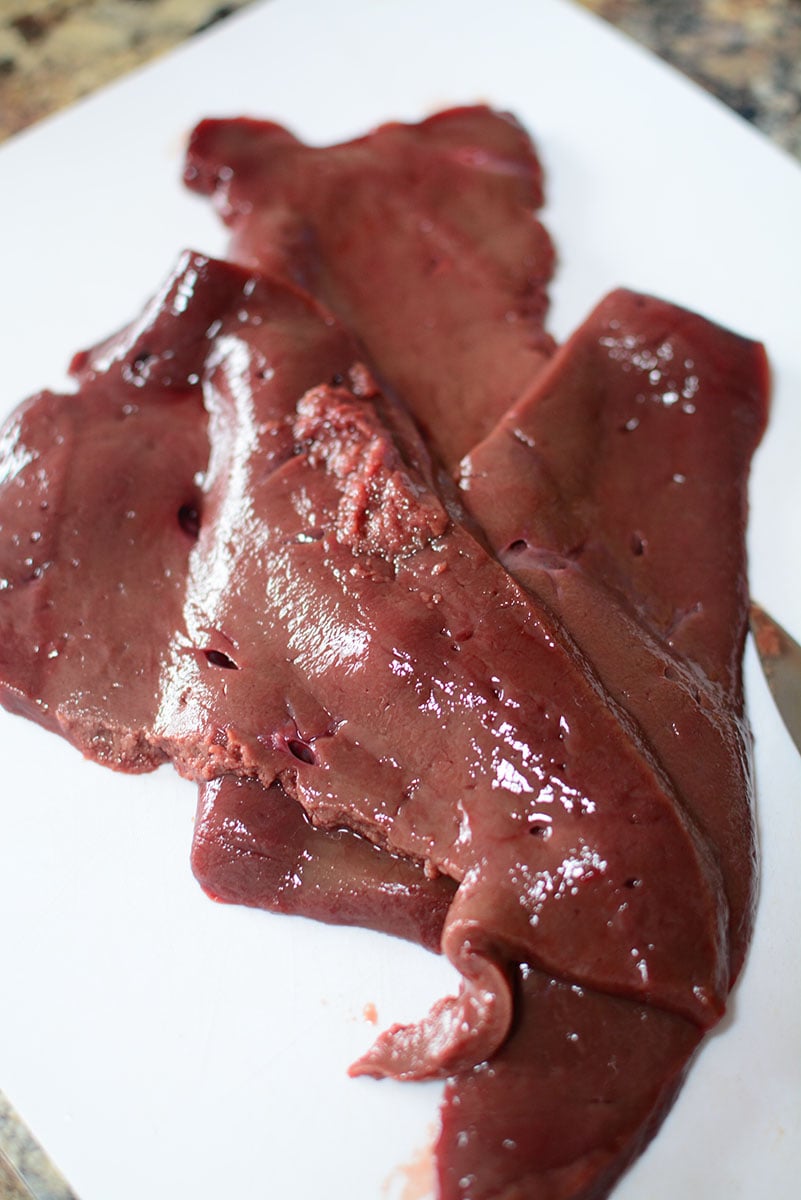 Tips to Remember
Now that you're done whipping up the treats, make sure you remember to offer them to your dog in moderation. Liver may be the healthier choice as opposed to other dog treats available out there, but when consumed in large quantities, it might increase the risk of hypervitaminosis in your dog.
Liver contains an impressive amount of vitamin A, but offering it to your dog every now and then can give him way more of the vitamin than his body needs, increasing the risk of vitamin toxicity.
Stick to 3-4 pieces of liver every week. ALWAYS give your pets treats under your supervision!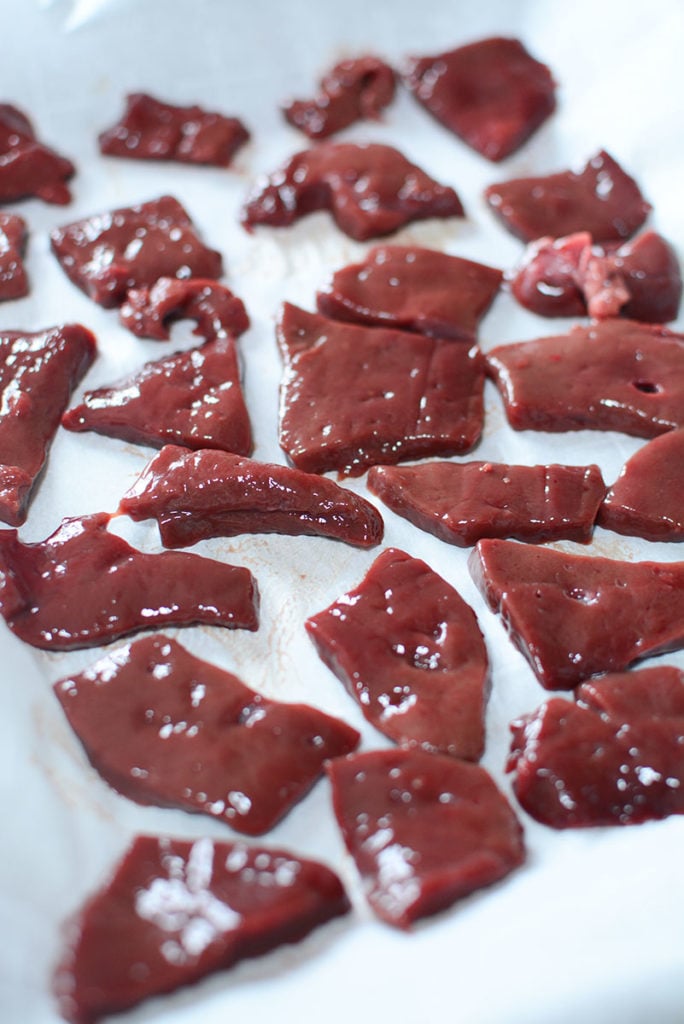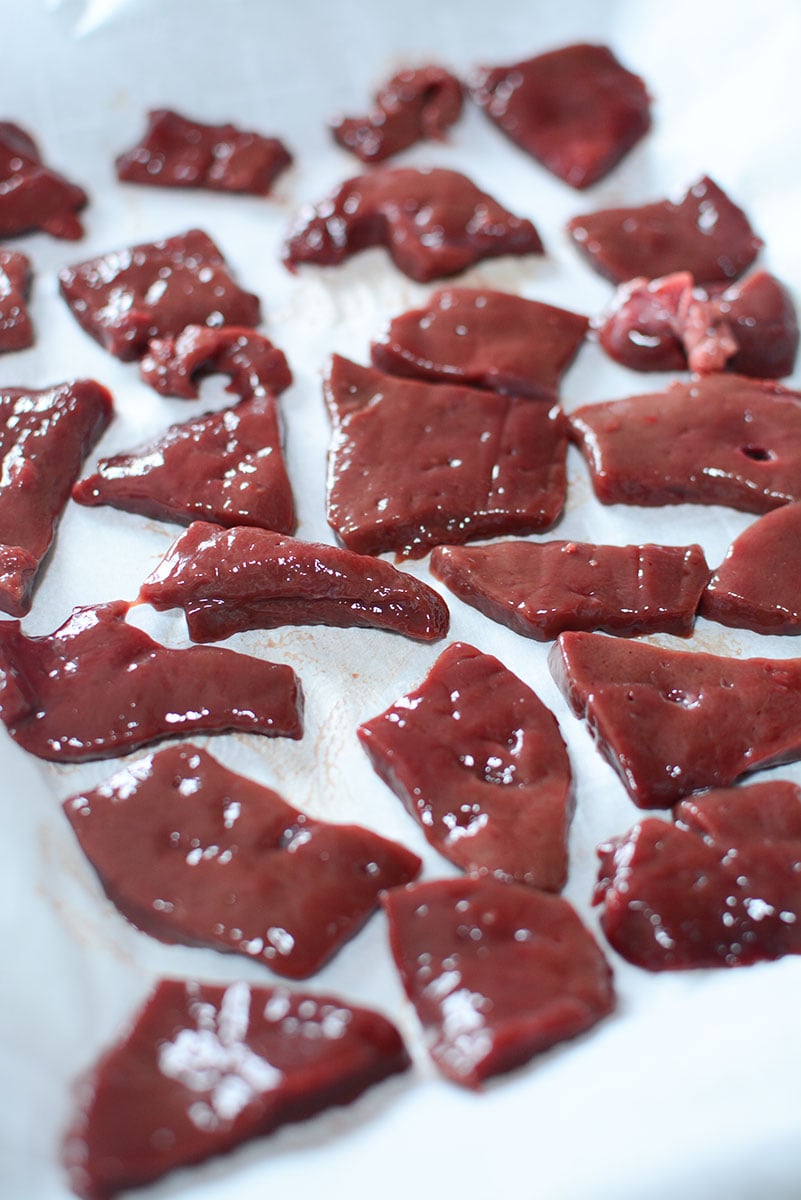 Storing Liver Dog Treats
I keep the treats I make for Bubba in a container in the fridge. I make sure they're covered with a tight-fitting lid and have a piece of paper towel in the container to absorb any possible moisture. They can stay in the fridge for up to a week to 10 days.
Want To Freeze The Homemade Liver Treats?
I haven't done it, but I'm sure it wouldn't be a problem. If I were to freeze them, I would place them in a freezer-safe container or bag, and include a piece of paper towel in the bag to absorb any extra moisture should there be any.
They should stay good in the freezer for up to a few months.
Can I Make A Double Batch?
Sure, I don't see why not. However, you'll want to look at some safe storage. That's when I'd freeze the treats and bring out only the amount I'll use in the next few days. Let them thaw at room temp and then keep them in the fridge as described.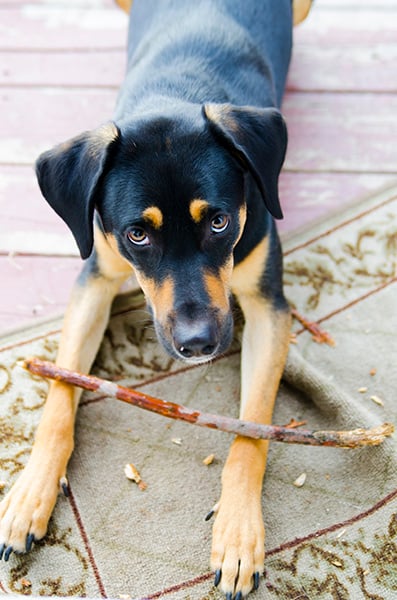 Well, again, I know they don't look the greatest… but… I can almost guarantee that your pooch will LOVE them. My guy is THE pickiest eater on earth, and he loves them.

See, he'll eat a stick before he eats some of those expensive dog treats I bought in the stores. Now I make them and he never refuses a liver treat made by me!
If you're looking for other dog treats I have a recipe for Grain Free Dog Treats that you can check out. Also, I have a compilation of other recipes made by other bloggers that you can check out called DIY DOG TREATS.
Lastly, if you're dog is diabetic (Yes!! They do exist!), the recipe given today makes an occasional treat for them, but if you want more ideas, take a look at another compilation of recipes I have for DIY DIABETIC DOG TREATS
Thanks so much for stopping by The Salty Pot today, and I really hope you have a fantastic day! If you have any questions or comments, please leave them below, or drop me an email at: joanne@thesaltypot.com
~Joanne (and Bubba!)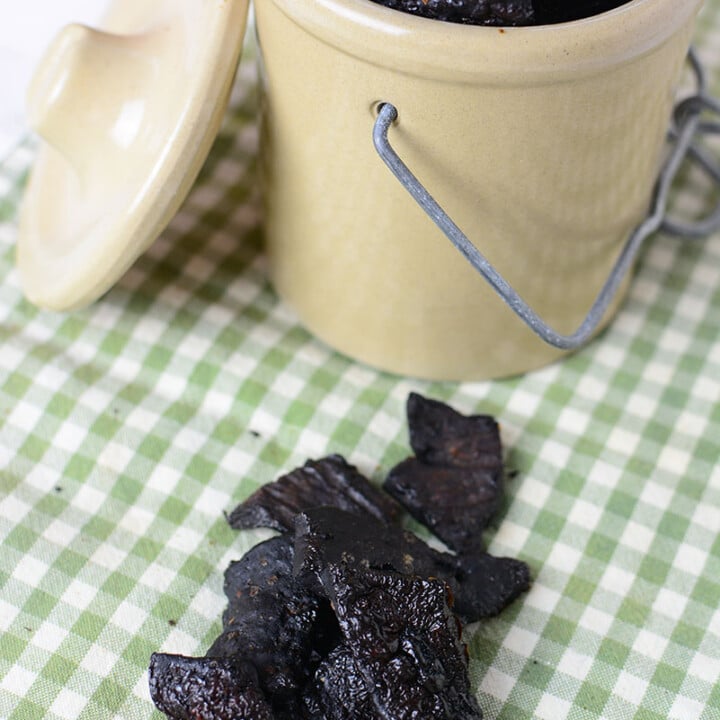 Bubba's Homemade Liver Treats
Total Time:
5 hours
45 minutes
I make these homemade liver treats for my furbaby, Bubba, all the time. Cheap, healthy, 1 ingredient dog treats that can be made right in your own kitchen!
Ingredients
1/2 lb raw beef liver *see notes
water for rinsing
Instructions
1. Preheat the oven to 350
2. Remove the liver from the package and rinse it with water. Tap water is fine. Using a sharp knife, carefully cut the liver into pieces approximately 1.5 - 2" in size.
3. Place them on a parchment-lined baking sheet and roast for 30 minutes.
4. When the roasting time is up, reduce the temperature on your stove to the lowest it can possibly go. 190F or lower is ideal. (see notes).
5. Let the treats dehydrate for 3 - 5 hours. The treats will darken to almost a black color and become hard.
6. Store them in an airtight container in the fridge. (see notes!!)
Notes
Rinsing the liver is an optional step. Sometimes if there is a lot of blood left in the package, I will rinse the liver and pat dry with some kitchen paper towels.

If your oven doesn't have a dehydrate option, reduce the temp to as low as it will go and prop the door open a few inches for the time you are dehydrating the treats.

If you have access to a countertop dehydrator, by all means, use that appliance. It will do an awesome job on dehydrating your liver treats.

You want to be sure there is no remaining moisture in the treats to develop mold, hence storing them in the refrigerator.

Always give the treats under supervision with plenty of fresh water nearby.
Nutrition Information:
Yield:

45
Serving Size:

1
Amount Per Serving:
Calories:

19
Total Fat:

1g
Saturated Fat:

0g
Trans Fat:

0g
Unsaturated Fat:

0g
Cholesterol:

40mg
Sodium:

8mg
Carbohydrates:

1g
Fiber:

0g
Sugar:

0g
Protein:

3g
***DON'T FORGET TO PIN THIS RECIPE FOR HOMEMADE LIVER TREATS TO YOUR FAVORITE PINTEREST BOARD TO USE FOR LATER!! ***