This cheesy ham and hashbrown casserole is perfect for company, Christmas morning breakfast, brunch or any time you want something warm, nourishing, and comforting. Heck, you can even have it for dinner – breakfast for dinner!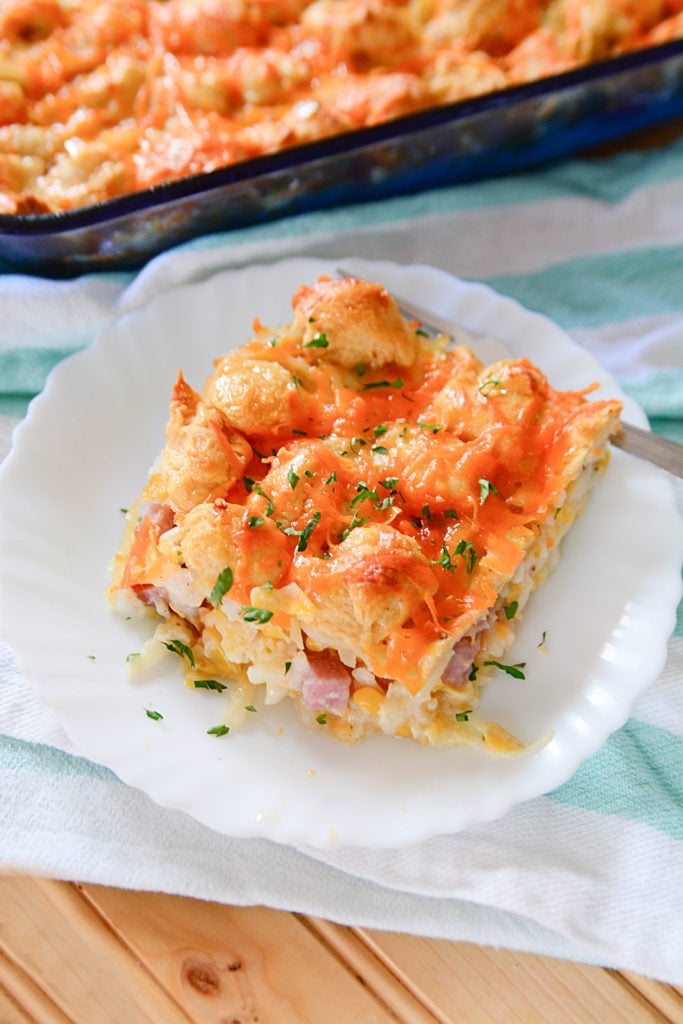 Making This Ham and Hashbrown Casserole
It's really simple actually. You pretty much gather everything into a large bowl, mix it together, put it in a baking dish, top with cheese, and you're off to the races!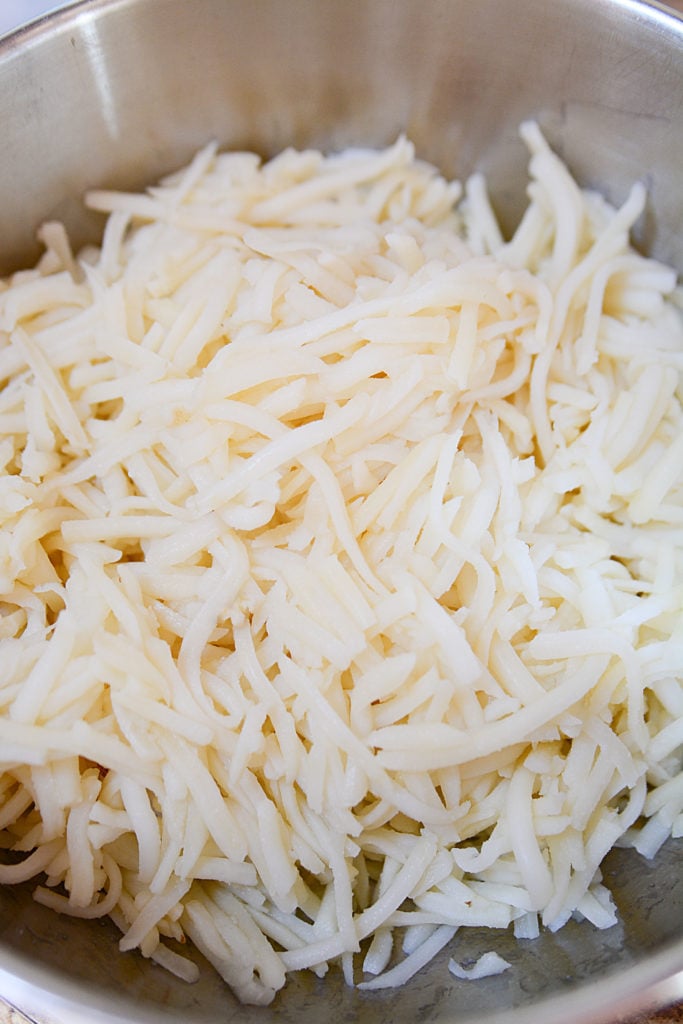 Can I Use Homemade Hashbrowns For This Hashbrown Casserole?
Yes, and actually, it's recommended! Making homemade hashbrowns is a bit more work, but it's cheaper, contains no preservatives like the commercial brands, and is 100% fresher!
I would, however, dip the hashbrowns into acidulated water (water with lemon juice added), so help slow down the oxidization process that happens when fresh-cut potatoes turn that funky brown color. The potatoes are still yummy, they just look funny when they oxidize.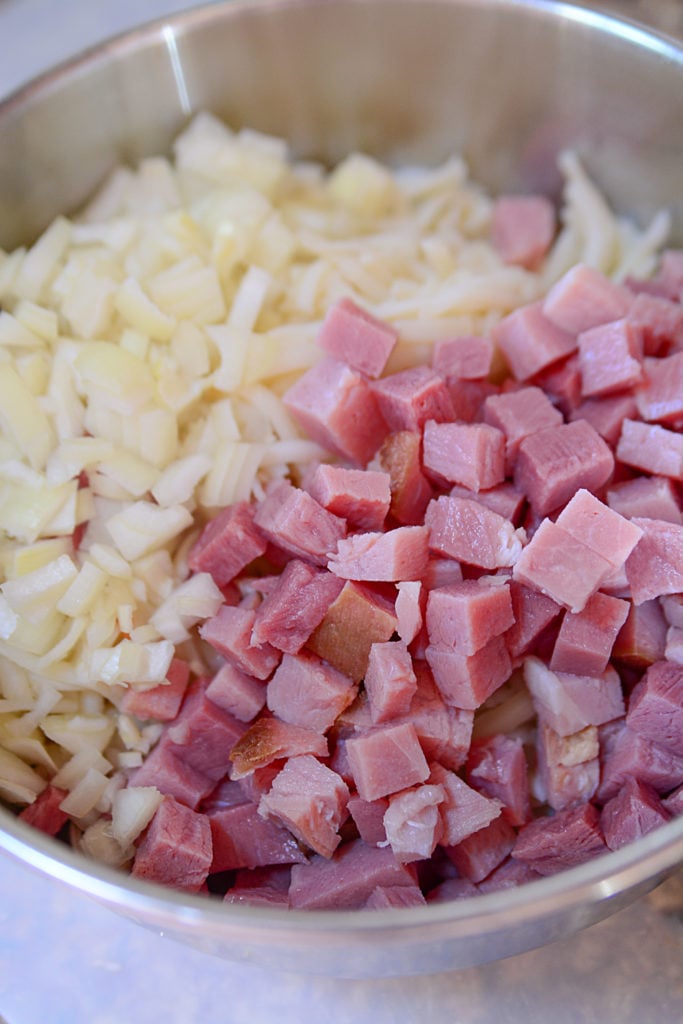 What If I Have Leftover Ham?
This is all the better. For this recipe, I used a ham steak that I wanted to use up, but using ham leftovers from let's say something like Roasted Ham with Peach Glaze, would be ideal. Using up leftovers is always a great way to stretch your grocery dollar.
If you made a ham for a special occasion and weren't ready to make the casserole, it's perfectly fine to freeze the leftovers in a freezer storage container, and then use it (thawed) for this recipe! Incidentally, if you have even MORE leftover ham, check out this flaky and so buttery, Ham Pot Pie recipe I made to use up extra ham!
How To Freeze The Leftovers
When you make this hashbrown casserole with ham, the two major ingredients stand up to being frozen (after cooked) quite well. I do not recommend making this and freezing it with raw potatoes and eggs.
Can I Make This Cheesy Hashbrown Casserole Recipe Ahead Of time?
You could gather and mix all the ingredients together, but do not add the egg step until you are about to put it in the oven.
Also, you would not add the biscuit pieces until you are about to bake the casserole as well.
Remember though, you want to soak those potatoes in lemon water to wash some of the starch off and to keep them from turning brown.
Sides To Serve Along With This Casserole
You actually don't have to serve anything if you don't want to because of the ham that's already there. However, if you want to 'up' the protein a bit, you could add a couple slices of bacon, or some sausage would work really well here too.

Thanks for stopping by The Salty Pot and when you make this delicious cheesy ham and hashbrown casserole, let me know if you made it for breakfast, brunch or dinner!!
Have a great day!
~Joanne
***DON'T FORGET TO PIN THIS CHEESY HAM AND HASHBROWN CASSEROLE RECIPE PIN TO YOUR FAVORITE PINTEREST BOARD TO SAVE FOR LATER!***
CHEESY HAM AND HASHBROWN CASSEROLE
A cheese ham and hash brown casserole that's perfect for easy mornings! A savory, filling breakfast dish that is perfect for brunches, or even having breakfast for dinner!
Ingredients
30 oz shredded hash browns, thawed
2 cup ham, cubed
¼ onion, chopped
1 can creamed corn (can use niblet corn)
2 c cheese
4 eggs, beaten
1 tube Pillsbury biscuits
1 teaspoon garlic powder
as desired, salt and pepper
Instructions
Preheat the oven to 350
In a bowl, combine the hash browns, ham, onion, corn, eggs, 1 cup cheese, and spices. *see notes
Mix together and transfer to a greased 9 x 13 casserole dish
Remove the biscuits from the tube and tear into pieces. Sprinkle the pieces over the top of the casserole.
Sprinkle the remaining cheese over the top of the casserole.
Bake for 25 - 30 minutes or until the casserole is cooked through, the cheese is melted and golden brown.
Remove from the oven and let sit for 5 minutes. Enjoy!
Notes
* Be careful for the amount of salt you use in the dish as the ham will add extra salt seasoning.

Feel free to use any sort of cheese you wish. I would not use something like a feta cheese though, as it's very salty and doesn't really melt well.
Nutrition Information:
Yield:

6
Serving Size:

2 cups
Amount Per Serving:
Calories:

717
Total Fat:

45g
Saturated Fat:

13g
Trans Fat:

1g
Unsaturated Fat:

27g
Cholesterol:

193mg
Sodium:

1697mg
Carbohydrates:

53g
Fiber:

5g
Sugar:

4g
Protein:

29g