So you've wondered about Creme Fraiche VS Sour Cream? What are the differences? There are many!

No fears, my beautiful reader. I have your answers and I've included a fantastic recipe on how to make your own Creme Fraiche that you'll find below.
And you'll see, the differences are much more than just cost.
This post may contain affiliate links. If you make a purchase after clicking a link, I may earn a small commission AT NO COST TO YOU. As an Amazon Affiliate, I earn from qualifying purchases.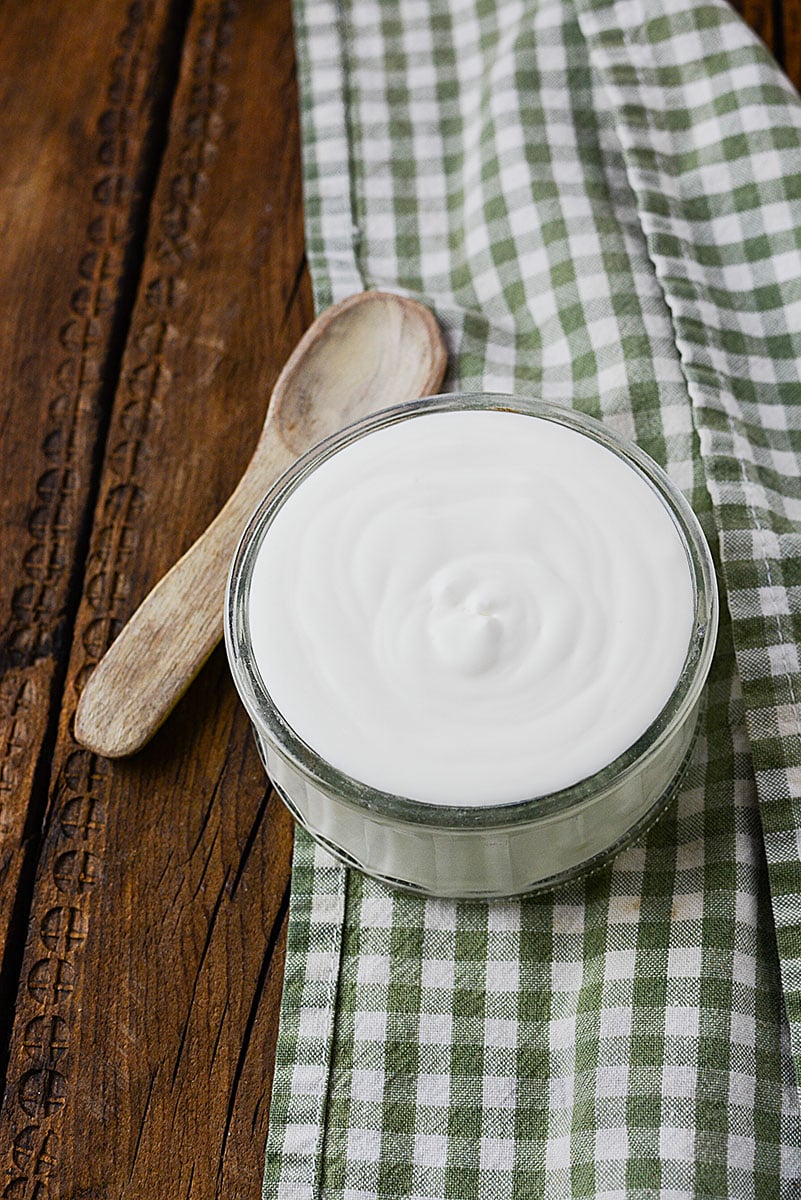 Creme Fraiche VS Sour Cream: What's the difference?
Similarities between Sour Cream and Creme Fraiche
Both products are dairy products
Both are made from heavy whipping cream
Each product brings a level of tanginess to recipes.
They both have a higher fat content than other dairy products
Used in recipes they bring a rich, decadent flavor and silky mouth feel to the dishes they're added to.
Creame Fraiche and Sour cream are both used in desserts and savory dishes.
Now, the Differences between Creme Fraiche and Sour Cream
Fat content: While they both contain higher amounts of fat, Creme Fraiche contains 30% fat, whereas Sour Cream is made up of 20% fat.
Protein: Sour cream contains more protein than Creme Fraiche because of its fat content.
Price: Sour cream is usually much cheaper than Creme Fraiche because of the additives and processes both must undergo to become what they are.
Tang: Sour cream is much tangier than Creme Fraiche.
Ingredients: Creme Fraiche is cultured using special fermenting bacteria to help give it that characteristic tang. Sour cream, when made in North America, uses a lactic acid culture to give it that tang, as well as Rennin or Gelatin to help give it thickness.
Uses: Creme Fraiche is usually used in desserts and savory dishes, where sour cream may break and curdle when used in hot dishes.
Origins: Sour cream was developed in Eastern Europe, whereas Creme Fraiche was developed in France.
Making Creme Fraiche at home
So how do you get started with it really? All you need is some whole fresh cream. In other terms, this is heavy whipping cream. You'll also need some cultured buttermilk and a glass jar. That's it.
Combine the two ingredients in the right proportions (see recipe below), pour the mixture into a glass jar and cover it with a piece of cheesecloth.
Let the glass jar stay at room temperature for an entire day or even overnight. After 24 hours, stir the mixture, it should be thicker than when you started!
If it's not as thick as you would like, leave it a bit longer.
When it's ready, screw the lid on top and pop it into the refrigerator. Let it refrigerate for at least 24 hours before you use it.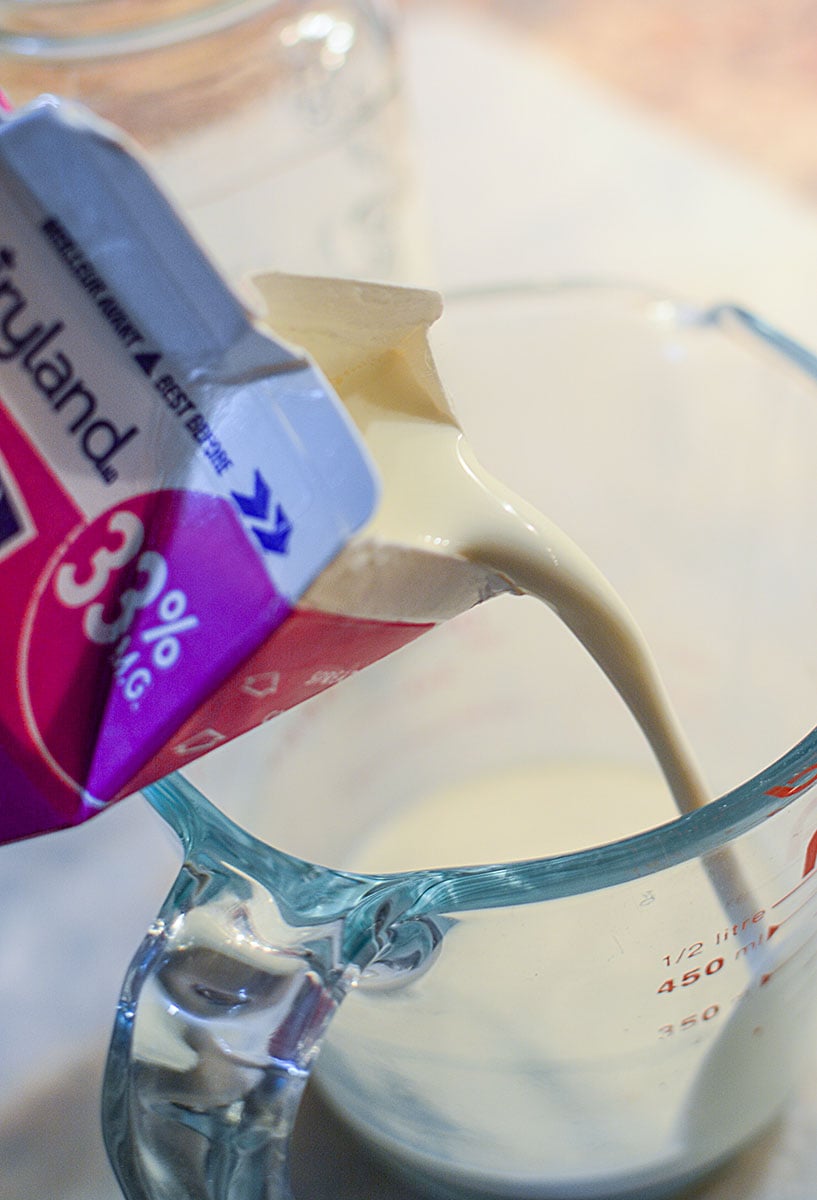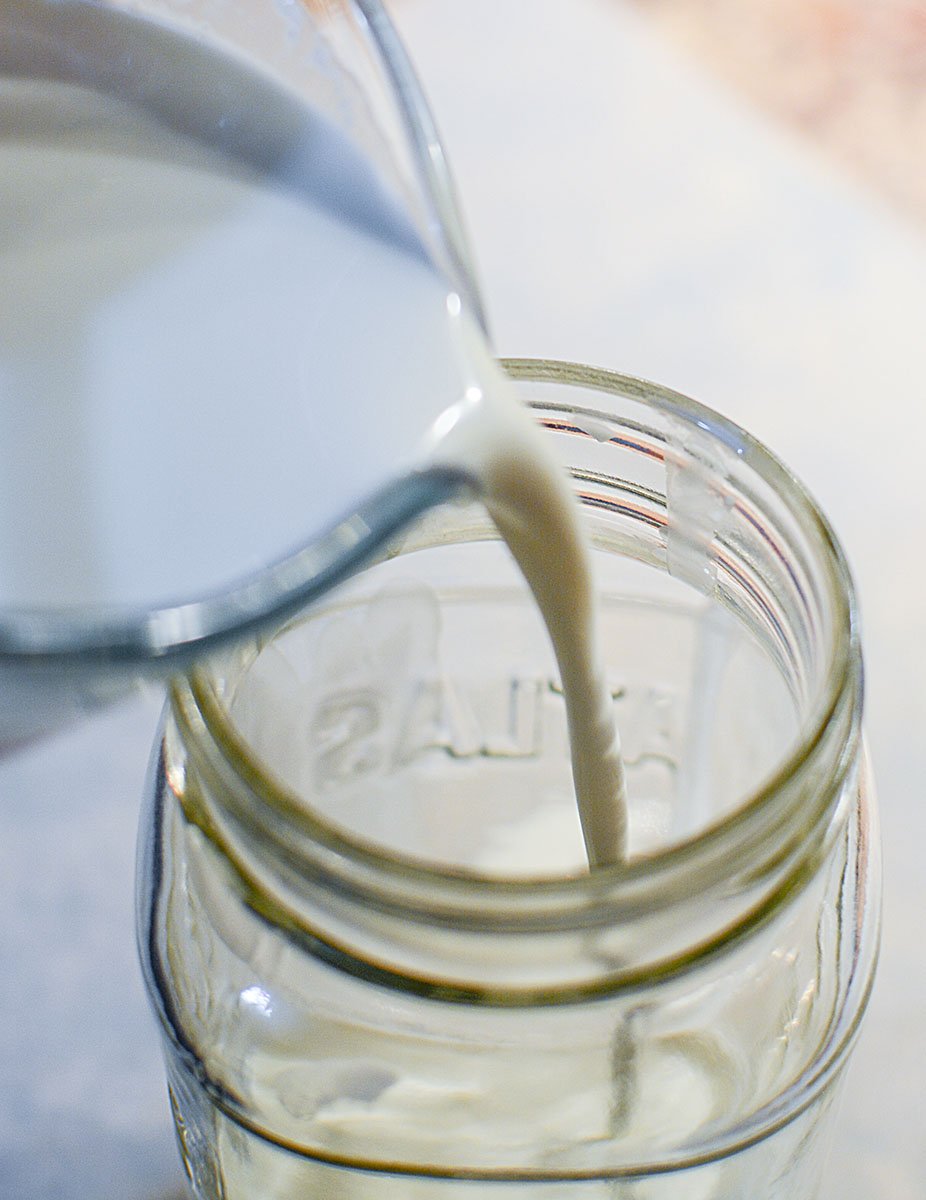 Is Mascarpone the same as Creme Fraiche?
No. Mascarpone is very similar to cream cheese, and its origins come from Italy. It's similar in the way that both products need bacterial cultures to culture, and they both use whole cream, but the cultures are very different, thus making the flavors very different.

Putting that Decadent Crème Fraîche to Use
And now finally comes the exciting part- putting the actual luscious cream spread you just made to some good use.
You can create a bowl of herbed crème fraîche by combining some of it with some freshly chopped herbs (think dill, coriander, etc). This can work great as a dip for accompaniments and even on top of roasted veggies like carrots.

Try topping baked potatoes with the creme fraiche, like these Smoky Bacon Hasselback Potatoes!
Also, dip your grilled cheese sandwiches into a dollop of creme fraiche, it's delicious!
Use it as a base for different baked tarts and such, like this Caramelized Onion and Bacon Tart.

Use crème fraîche as a base for salad dressings. 

Thicken your soups and lend them a nice creamy and delicious flavor by adding some crème fraîche into the mix. 

Looking to take your pasta sauce up a notch? Crème fraîche can do that for you too! Add a dollop or two to fresh pasta with a sprinkle of salt,, YUMMY!

Adding a tad bit of sugar gives you a slightly sweet/sour flavor with a creamy texture, which makes it a great choice for dessert preparations like these chocolate pots. 

You can also use crème fraîche as a topping on muffins and cakes, or whip up a quick homemade ice cream using it as the base ingredient. 
Can I use Crème Fraîche like Whipped Cream?
Yes, you CAN whip it just like whipped cream! Be sure to use a chilled metal/glass bowl, and chill the creme fraiche before you attempt it. The coolness will help it whip faster, and give you fluffier peaks!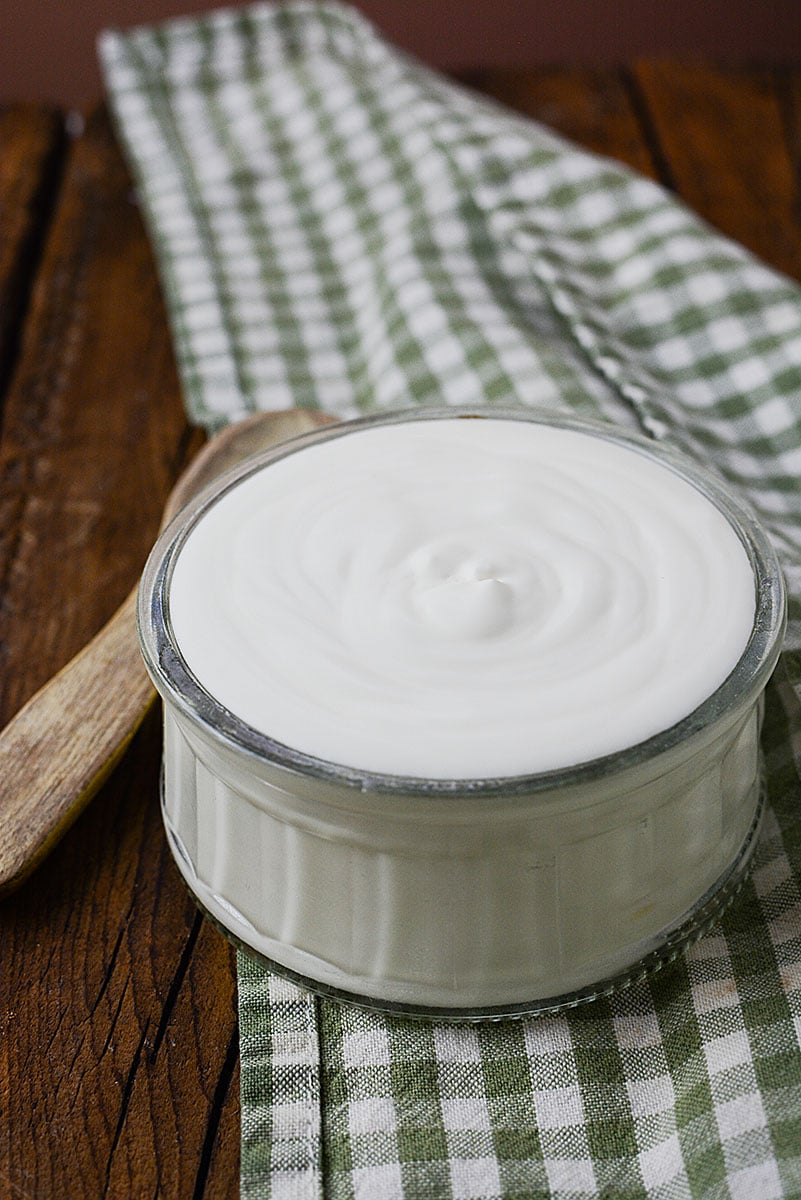 How long will the Creme Fraiche keep in the fridge?
Because creme fraiche is somewhat fermented (I know, I know, the term is freaky, but the product is totally fine! The fermentation gives it the tangy flavor), it can last as long as sour cream would last in your fridge.
So, I'd say around two weeks or so if kept in a glass container an airtight lid.
Can I Freeze Creme Fraiche?
You can, yes. It will stay good for up to 4 months. The problem comes in when we're talking about the thawing process. The water may separate from the cream and get all discolored and funky looking. However, there are ways to bring it back to life, as described in this article from Can You Freeze This.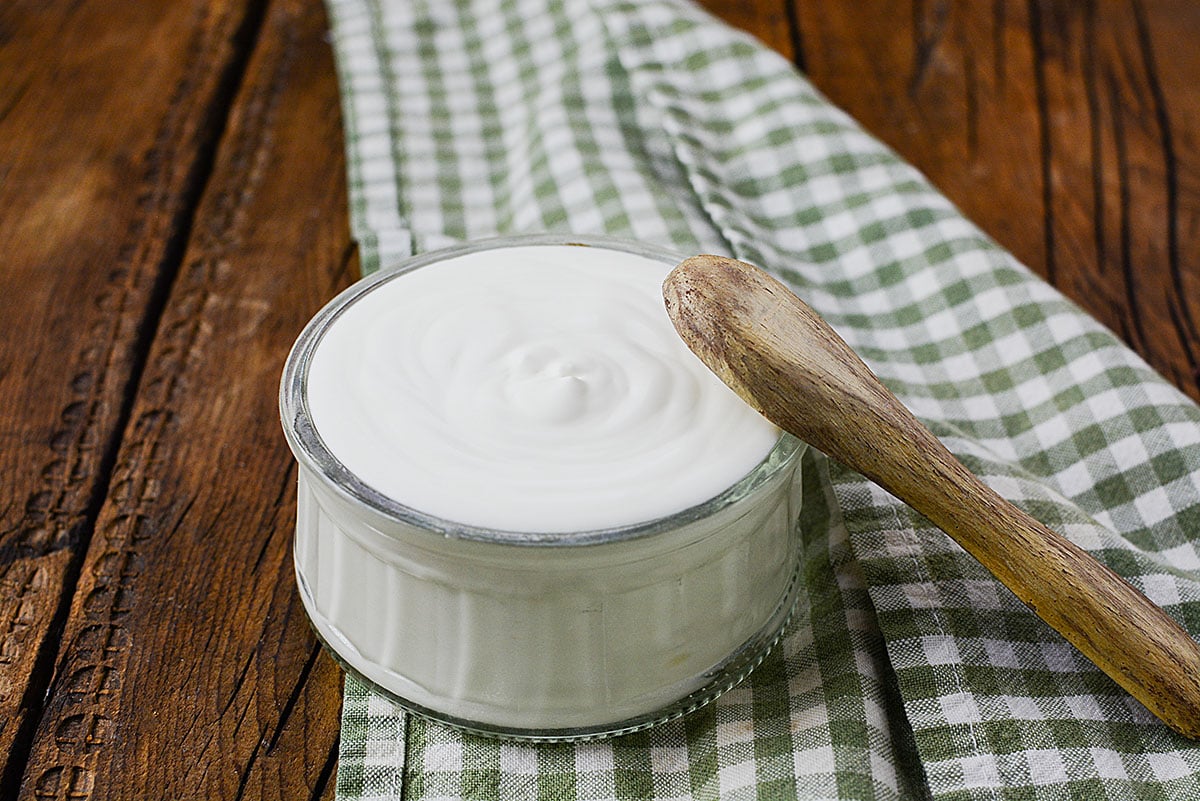 Loved my simple creme fraiche recipe? Don't forget to share it and spread the love (and yumminess!). Thanks so much for stopping by The Salty Pot today and I hope you have a fantastic day!!
~ Joanne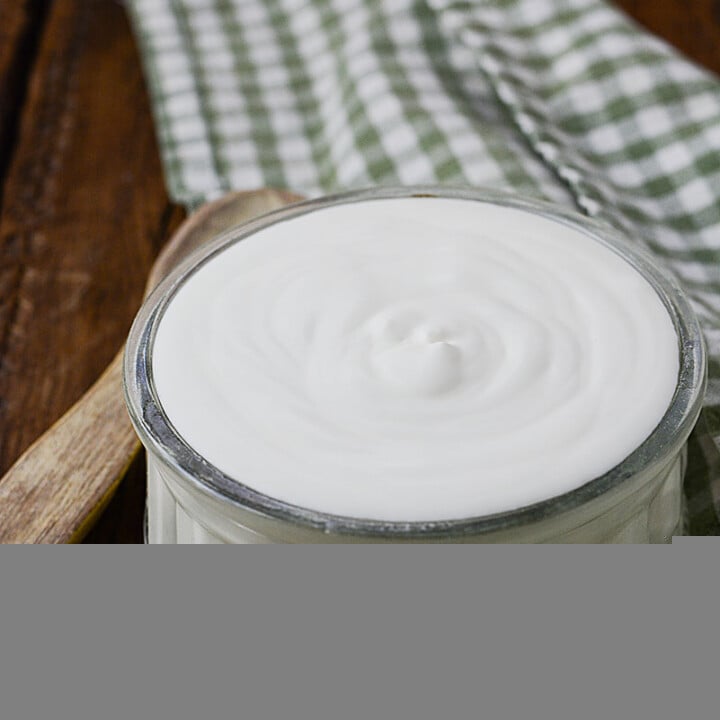 Make Your Own Creme Fraiche
Total Time:
2 days
5 minutes
With creme fraiche costing so much in the stores, why not make your own for a fraction of the cost? Creme fraiche is a flavor combination of fresh heavy cream and sour cream, and it's divine in so many recipes!! Try it, you won't be sorry!
Ingredients
2 cups of fresh, heavy whipping cream
4 tbsp of cultured buttermilk
Instructions
Place the heavy whipping cream into a glass container or jar big enough to hold over 2 cups of liquid.
Mix the 4 tbsp of buttermilk into the cream, stirring with a plastic or wood stir stick. Try not to use metal.
Cover the cream with a loose lid, or preferably, a section of cheesecloth, and bind it with an elastic band.
Let the mixture sit at room temperature for 24 -48 hours. *see notes
Notes
Do not be alarmed for the cream to sit at room temperature for so long. It will not 'sour' per se, it will culture, and begin to become something a sour cream if that makes any sense. It is a development of fermentation, a bacterial culture that is working on the cream, very similar to probiotics that are healthy for your gut.
You want the creme fraiche to have the consistency of a slightly looser sour cream. Very thick and creamy.
Nutrition Information:
Yield:

16
Serving Size:

1
Amount Per Serving:
Calories:

103
Total Fat:

11g
Saturated Fat:

7g
Trans Fat:

0g
Unsaturated Fat:

3g
Cholesterol:

34mg
Sodium:

15mg
Carbohydrates:

1g
Fiber:

0g
Sugar:

1g
Protein:

1g
****DON'T FORGET TO PIN THIS CREME FRAICHE RECIPE TO YOUR FAVORITE PINTEREST BOARD FOR SAFEKEEPING!!****