Roast pork loin with onion gravy starts with an often economical cut of pork that is slow-roasted into tender morsels of juicy pork that renders the most delicious gravy because it cooks on a bed of onions. Those onions caramelize and help create the most savory gravy to drizzle over the slices of pork.
This pork roast recipe is a sure winner that has an incredible flavor that your whole family will enjoy.
Pork Loin with Onion Gravy
Groceries You'll Need For This Pork Roast Recipe
Pork loin roast – Be careful to choose the pork loin over the pork tenderloin. There is a difference between the two cuts and I explain a little about that below.
Onions – I prefer to use Spanish (yellow onions) or white onions for this recipe. They are less sweet than others and really help with flavoring the savory gravy.
Chicken or vegetable broth – You can use water in a pinch, but using the broths mentioned also contribute to flavoring the roast and the gravy.
Seasonings – Fresh garlic & Garlic powder, Onion powder, Smoked paprika, Salt and pepper, Dried thyme, Dried oregano
Cornstarch – For thickening the gravy.
Butter – For adding a bit more richness to the gravy.
What is the Difference Between Pork Loin and Pork Tenderloin?
Pork loin comes from the area along the backbone of the pig, and is usually much larger in size, while pork tenderloin comes from the area of the rib cage.
Even though both cuts are tender, the tenderloin is known for being more tender than the loin. Because of the tenderness quality, pork tenderloin tends to be quite pricey, whereas the loin is much more economical.
Pork loin makes a great slow-roasted option to make it just as tender and juicy as any other cut of meat while saving money at the grocery store. Typically the loin will come with a fat cap on the roast that can be removed yourself or simply ask your butcher. Tenderloin is much leaner so the cooking time must be monitored closely so it doesn't dry out.
A Quick Review on How to Roast Pork Loin with Gravy
Preheat your oven while your mix the spice rub and cover the pork roast. Set aside.
Slice the onion and lay it on the bottom of the baking dish. Place the roast on top of the onions.
Place pats of butter on top of the roast and add the fresh seasonings around the meat in the pan.
Pour in the broth.
Cover and roast in the oven, then halfway through, remove the lid (or foil) and continue to roast until the internal temperature has been reached. Let rest.
While the roast rests, make the gravy.
Slice the roast and drizzle the gravy over top.
Enjoy!
**** All the exact ingredient amounts and detailed instructions are listed below in the printable recipe card.
Safe Pork Internal Temperatures
According to the USDA, pork roasts and tenderloin, chops, etc should be cooked to a minimum of 145 degrees Fahrenheit. Then, for safety reasons, they recommend letting the roast rest for 3-5 minutes to finish cooking.
It should be known however that ground pork (because of the multiple surface areas from being ground) needs to be cooked to a minimum of 165 degrees Fahrenheit.
Suggestions for Putting a Twist on the Recipe
Add a fruity twist by incorporating sliced apples, pears, or dried fruits such as cranberries or apricots into the roasting pan. The fruits will infuse their natural sweetness into the pork, complementing the savory flavors.
Try roasting with root vegetables like carrots and potatoes or turnips for a complete meal like we often do with beef roasts.
Another fun way to make this roast is to serve it, open-faced, on toasted garlic bread with the gravy over top. It's delicious!
If you're not sold on the onions for your pork roast, I have an absolutely delicious Honey Mustard Glaze recipe for pork that might suit you and your family better.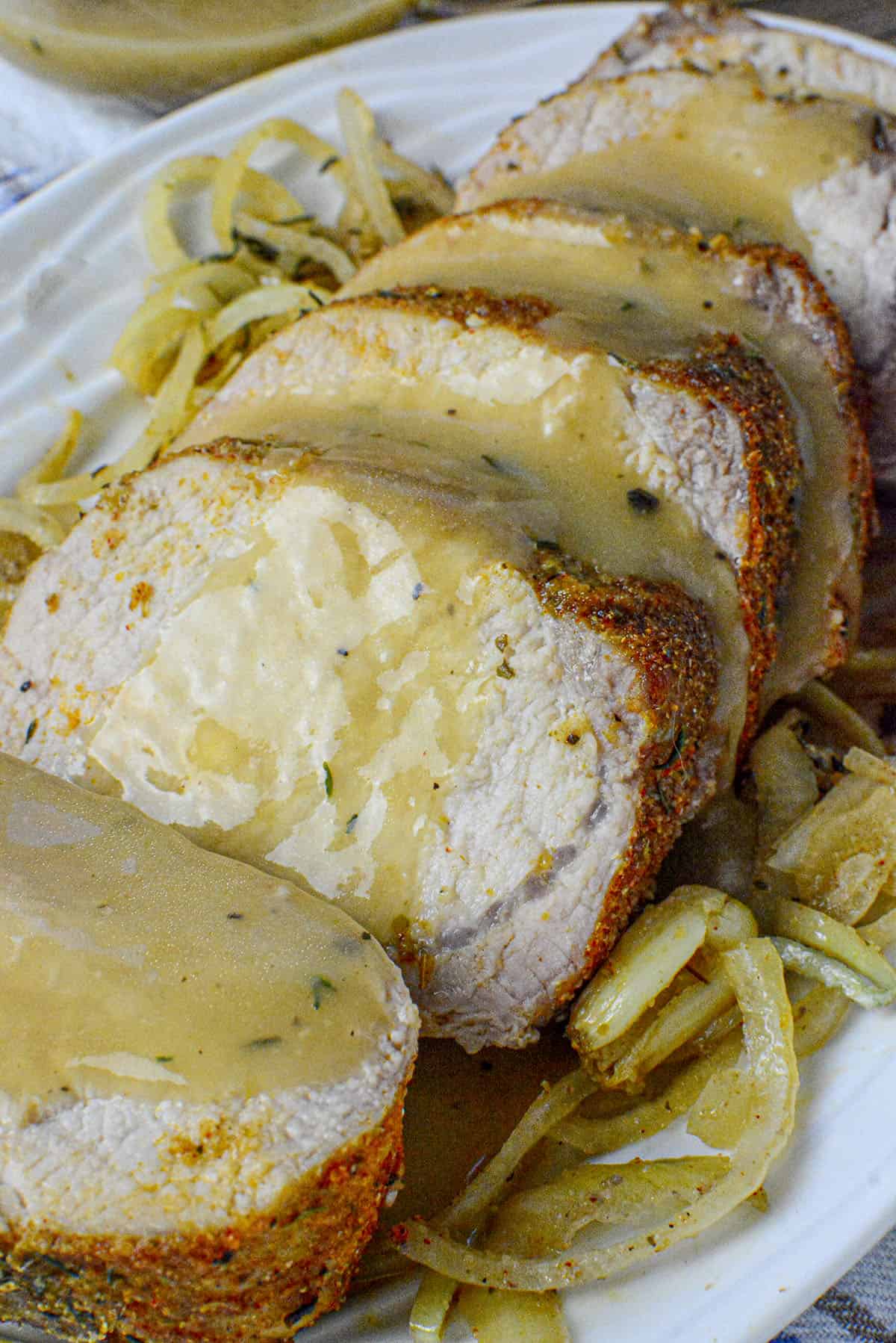 What Can I Serve this With?
Roasted loin and the gravy it produces is absolutely divine served with mashed potatoes, mashed parsnip, or cauliflower mash.
Other sides to consider are ones like my Buttery Brown Sugar Honey Glazed Carrots, or any of your favorite vegetables for a simple side dish. The gravy from this roast also makes a great topping for your vegetables.
If you wanted to serve some freshly made homemade bread, this No Knead Dutch Oven Bread recipe is one of the easiest I've ever made and is now my go-to.
Pork recipes like this go great with tropical drinks like this Pineapple Slushie.
Storing Leftovers
This roast stores beautifully in the fridge, covered tightly, for 3 to 4 days. To reheat, the microwave will work, but you could also try laying slices of the pork in a frying pan and adding a quarter cup or so of broth. Cover with a lid and slowly reheat the pork – this will help retain the moisture levels in the meat.
Storing the leftovers in the freezer for later meals or even meal-prepped freezer dinners will be great for about 3 months, as long as the contents are in a freezer-friendly container. I also recommend storing any extra gravy in a container on its own so that it can be reheated and then drizzled on individual pieces.
Questions You Might Have
Should I sear the pork roast before roasting it?
You can if you'd like, but I don't. I like the spice rub that I put on top of the roast so that's a lot of flavor for me. If you decide to, sear it fast and in a hot pan but be careful not to burn the spices.
Do pork loin and pork tenderloin taste different?
Yes. Besides having a fat content difference between the two, pork loin does not taste the same as pork tenderloin as they come from different areas of the animal.
Did you make this Roast Pork Loin with Onion Gravy Recipe? If you loved it as much as I do, please consider leaving a ***STAR*** rating in the recipe card below, along with a comment, and if you have any questions about the recipe, please let me know so I can help you make the pie filling absolutely scrumptious! Thanks for stopping by The Salty Pot and I hope to see you next time!
Roast Pork Loin with Onion Gravy
Additional Time:
15 minutes
Total Time:
1 hour
15 minutes
This Roast Pork Loin with Onion Gravy is succulent and tender, and the onion gravy is made from the pan drippings while the pork is roasted. The flavor from the onions and the seasonings make this pork loin roast an easy repeat dinner!
Ingredients
1 x 2-3 pound pork loin
1-2 onions, large, sliced
1 cup chicken broth
1 clove fresh garlic
1 teaspoon Onion Powder
½ teaspoon Paprika, smoked
1 teaspoon garlic powder
½ teaspoon oregano dried,
½ teaspoon thyme, dried
As desired, salt and pepper
2 pats of butter for enriching the gravy.
Fresh thyme and rosemary (optional)
Water and cornstarch to make a slurry for thickening. (2-3 tablespoons of water and 1-2 teaspoon of cornstarch)
Instructions
Preheat your oven to 375°F.
In a small bowl, combine the minced garlic, garlic powder, onion powder, smoked paprika, salt, pepper, thyme, and oregano. Mix well to create a spice rub for the pork loin.
Rub the spice mixture all over the pork loin, ensuring it is evenly coated.
Place the sliced onions in the bottom of a roasting pan and add the pork loin on top.
Pour the broth into the roasting pan, and add any fresh herbs you might be using, to the pan.
Cover the roasting pan with foil and place it in the preheated oven. Roast for about 50-60 minutes, or until the internal temperature of the pork loin reaches 145°F. Remove the foil halfway through the cooking time.
Once the pork loin is cooked, remove it from the oven and transfer it to a cutting board. Allow it to rest for 10-15 minutes before slicing.
While the roast rests, prepare the onion gravy. Place the roasting pan with the onions and broth on the stovetop over medium heat.
In a separate small bowl, whisk together the cornstarch with a little water to make a slurry. Slowly pour the cornstarch slurry into the simmering broth, stirring continuously until the gravy thickens to your desired consistency.
Add a tablespoon of butter to the gravy and stir until melted to add richness of the flavor.
Slice the roasted pork loin and serve it with the onion gravy drizzled on top.
Notes
Resting the roast for about 10 to 15 minutes will result in a juicier roast instead of resting it for a shorter amount of time. It's a good idea to tent (place a piece of foil over the top) as it rests. Keep in mind, as the roast rests, it will continue to cook more so use an instant-read thermometer to check the internal temperature for the level of doneness you want.
DONENESS GUIDE:
Medium-Rare: 145-150 degrees F (63-66 degrees C)
Medium: 150-155 degrees F (66-69 degrees C)
Medium-Well: 155-160 degrees F (69-72 degrees C)
Well: 160 degrees F (72 degrees C)
*Adding butter to the gravy is optional. If your roast rendered out a good amount of fat, then you may want to skip this addition.
*Feel free to add more onions if you absolutely love them!
Nutrition Information:
Yield:

8
Serving Size:

1 slice
Amount Per Serving:
Calories:

375
Total Fat:

18g
Saturated Fat:

7g
Trans Fat:

0g
Unsaturated Fat:

9g
Cholesterol:

145mg
Sodium:

283mg
Carbohydrates:

5g
Fiber:

1g
Sugar:

2g
Protein:

46g
All nutritional information is based on third-party calculations and is only an estimate. Each recipe and nutritional value will vary depending on the brands you use, measuring methods, and portion sizes per household.