These make-ahead Breakfast Egger Sandwiches are PERFECT for those busy mornings when we're short on time (and dollars!) Don't get me wrong, I love me some breakfast from the golden arches. They know how to make it!
But sometimes we get so busy, and often that means missing our first meal of the day. I know that if we skip breakfast, by mid-morning, we get a touch HANGRY, am I right? Because hangry isn't a good look for me, ( or for you either! ) the whole situation got me thinking….. what about making breakfast ahead of time?
Make ahead Breakfast Eggers are perfect for a breakfast on the run
DIY SAUSAGE AND EGG BREAKFAST SANDWICHES
So often, we end up skipping breakfast. Not a good look on you or me. HOWEVER !! There is IS a way to have breakfast without making it, or going through the drive-thru.
It's called………. MAKE AHEAD 🙂
Which brings me to today's breakfast sandwich recipe.
INGREDIENTS FOR THE SAUSAGE AND EGG MUFFINS
Eggs: Get the freshest you can get your hands on, in a size large or extra-large.
Sausage meat: Purchase the loose meat, not in patties. (We'll be adding extra flavor to ours!). You could also buy sausage links and remove the meat from the casings.
English Muffins: Again, the freshest available is perfect.
Cheddar Cheese: We'll be working with shredded cheese, so if you want to purchase pre-shredded, that's fine, or you can choose to shred it yourself.
Onion: If you have no fresh onion on hand, onion powder will work as well.
Seasonings: Garlic powder, seasoning salt, and pepper.
HOW TO MAKE THESE BREAKFAST SANDWICHES
In a bowl, combine the sausage meat, ½ cup of the cheese and onion. Add the seasonings, mix well and divide into 6 portions in the bowl.
Take each portion and roll into a meatball. Place each portion inside a large, greased muffin tin.
Flatten each meatball to the bottom of the cup and slightly raise the edges to form a small cup.
Crack an egg into each cup, placing it on top of the sausage.
Top each muffin cup with the remaining cheese, and bake for approximately 18 minutes until the cheese is melted and egg is cooked. Let cool slightly before taking them out of the pan.
CAN I USE JUST EGG WHITES?
Absolutely. Having the yolk is not mandatory, and in fact, if using liquid egg whites is something you prefer, go for it!
Another cool tip would be to add a bit of onion, chives or even Everything But the Bagel Seasoning to the eggs before you cook them for added flavor.
Can I use bagels instead of English Muffins?
You sure can. Bagels are a bit denser in texture, but they will hold up incredibly well for these breakfast sandwiches.
You could even use a tortilla wrap and wrap the sausage egg muffin up in those. They would work really well for handheld, on-the-go eating!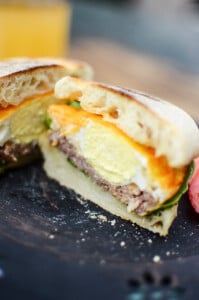 How To Store These DIY Breakfast Eggers
The most convenient way would be to wrap each sandwich in a piece of kitchen towel and then wrap that in some plastic wrap.
This recipe makes 6 breakfast eggers, so when all are wrapped individually, I would then put all the sandwiches into a freezer-safe bag, seal it tight, and freeze. That way, you can pull them out individually, and they are protected against that crazy nasty freezer burn!
Upping The Nutrition On These DIY Sausage Egg Muffins
After you reheat the breakfast eggers, remove the top part of the English muffin, grab a bit of lettuce, or spinach and pile it on top of the sandwich. Replace the top and voila!
You have increased the nutrition of your breakfast egger by hardly trying! I don't suggest you freeze the breakfast muffins with the greens, as the texture might be a bit wonky when you reheat them.
The best advice is to add them after you reheat.
How Can I Reheat These Breakfast Egger Muffins?
If you took them out the night before and thawed them in the fridge, the quickest way would be for about 60 seconds (depending on the power) in the microwave. You could also use a toaster oven which would probably take about 5 minutes.

Now, if you were running SUPER late and needed to grab it frozen from the freezer, then heat it for about 2 minutes in the microwave from frozen.
If you were to heat up all six at one time, I would unwrap them all, place them in an oven-safe baking dish, cover with some foil and reheat them for about 8 – 10 minutes at 300.
When you make these delicious make-ahead breakfast eggers, you'll see the convenience of having them ready to go in a snap is like having your own private chef!
Well… kinda. (We can all pretend, can't we? ) lol
Looking For More Make-Ahead Breakfast Ideas?
If you are, take a peek at this Peaches and Coconut Steel Cut Oat recipe and this super delicious Apple Cinnamon Oatmeal recipe (with video!) as well. Both can be portioned out, froze, and reheated for busy chilly mornings!!
Let me know how you what you thought of this awesome sausage and egg McMuffin type sandwich recipe. I'd love to hear your thoughts!
**DON'T FORGET TO PIN THIS BREAKFAST EGGERS RECIPE TO YOUR FAVORITE PINTEREST BOARD FOR SAVE AND USE FOR LATER!!**