If bacon had its own Twitter account it would have millions of followers just like famous stars. I mean, come on, who doesn't love bacon?!  Now, your salty-sweet loving mouth is going to love these 25 Bodacious Bacon Recipes I've found! I'm pretty confident that you'll want to try at least one, if not all of these kick-butt bacon recipes!!
Everyone loves those slabs of salty goodness, right? No matter how you like your bacon, crispy, softer, burnt (some ppl do!!), raw (pretty much only my dog), there'll be a recipe in here to try that will bring you to bacon bliss.. lol. Kidding, but not really.  Ok, so let's get on with it!!!!!!
Low Carb? Yes!  Make it as a bread substitute!!!
Authentic Bacon Lettuce Tomato @ http://wannabite.com/authentic-bacon-lettuce-and-tomato-boldbacon/
Pizza for breakfast? You'll definitely earn a major brownie points with anyone you serve it to !!!!
BACON CHEDDAR Breakfast Pizza:  http://howtothisandthat.com/easy-homemade-bacon-cheddar-breakfast-pizza/
Maple? Bacon? Trifle??? Ohhhhh yeaaahhh!!!

Maple Bacon Trifle: http://busybeingjennifer.com/2017/04/maple-bacon-trifle/
This will bring back lots of good old childhood memories!
BACON MAC & CHEESE: https://dancingthroughtherain.com/bacon-mac-cheese/
A great savoury dip that will become your family's favourite!!!
CREAMY BACON DIPS: https://www.savvysavingcouple.net/2015/10/01/gametime-entertaining-creamy-bacon-dip/
Its cheesy, creamy, saucy goodness taste will definitely make your eyes pop and taste buds excited! It is amazingly good!!!!
Cheesy Chicken Bacon Fusilli Casserole: https://thesaltypot.com/chicken-bacon-fusilli/
Are you drooling? I'll hand you a napkin. I know, this QUICHE recipe is just so irresistible!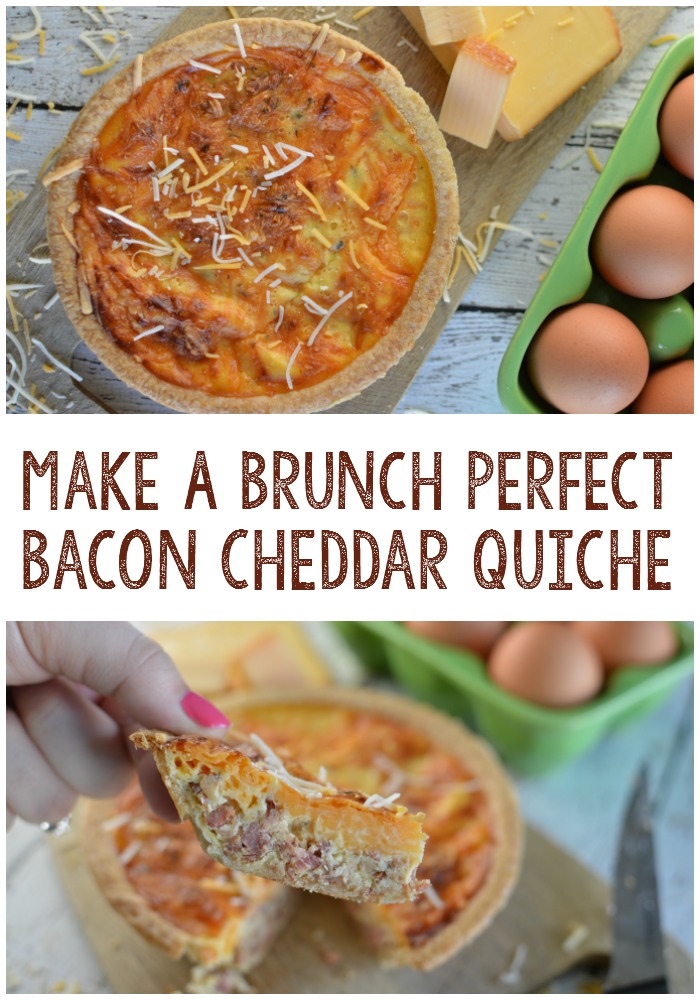 BACON CHEDDAR QUICHE: http://www.gretasday.com/2016/02/how-to-make-a-brunch-perfect-bacon-cheddar-quiche/
A perfect blend of sweet and salty!!! Super love this one! 
CHOCOLATE CARAMEL BACON CANDY: http://www.mommarambles.com/chocolate-caramel-bacon-candy-recipe/
Tender, delicious and flavourful!!! Anyone can make this easy bacon-chicken dinner…
Bacon Wrapped Brown Sugar Glazed Chicken: https://www.threedifferentdirections.com/bacon-wrapped-brown-sugar-glazed-chicken.html
A super easy dish packed with amazing flavour!!!
BACON WRAPPED PORK CHOPS: https://dancingthroughtherain.com/bacon-wrapped-pork-chops/
Don't miss this yummy goodness!!! Maple bacon cheesecake! Don't worry, it's cheat day today! LOL!
Maple Bacon Cheesecake: https://thisoldgal.com/pressure-cooker-maple-bacon-cheesecake/
Make this a staple for outdoor picnics and parties…soooo delicious!!! Some sauce please!
Bacon Wrapped Little Smokie Baked Jalapeno Poppers: http://www.copykat.com/2015/04/06/bacon-wrapped-little-smokie-baked-jalapeno-poppers/
   This is great for weekend breakfast and for your guests on different occasions!! Can't wait to try this one!
Meat Lovers Breakfast Casserole: http://pennypincherjenny.com/meatlovers-breakfast-casserole/
This one is sure to be a hit!!!These tempting potatoes are one finger food that's sure to be a hit on parties and as a snack!!
Bacon and cheddar steak fries: http://3boysandadog.com/bacon-and-cheddar-steak-fries-recipe/
Ummm yeah, make a double batch 'cause you're not gonna want to share this… not even with those you love like, alot.
 SRIRACHA SPICED BACON: http://secondchancetodream.com/2014/06/sriracha-spiced-bacon.html
Simple, delicious, full of flavour, quick and easy to prepare!!!
Succulent Bacon Wrapped Pork Tenderloin: http://www.copykat.com/2016/02/24/succulent-bacon-wrapped-pork-tenderloin/
Make your day a bacon day!!! Here's a perfect breakfast in one cookie!!!!!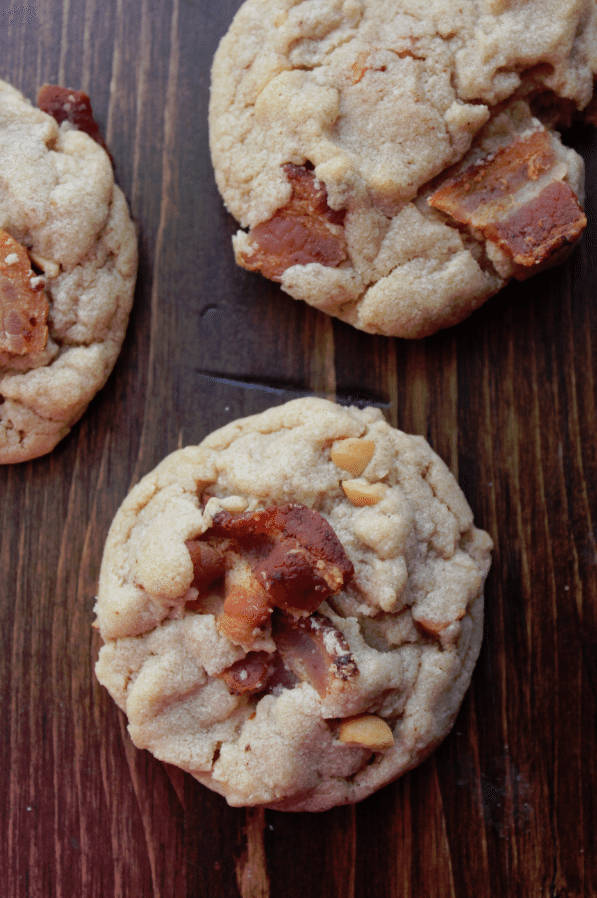 Bacon Peanut Butter Cookies: https://www.tammileetips.com/2014/03/bacon-peanut-butter-cookies/
Looking for a great recipe to add to your table spread? This is it!! Sweet and just a bit spicy!
Bacon – Wrapped Apricots & Jalapenos: http://homemadeforelle.com/bacon-wrapped-apricots-jalapenos/
Try these sweet and a bit salty bacon chocolate chip cookies. They're anything but ordinary!!!!!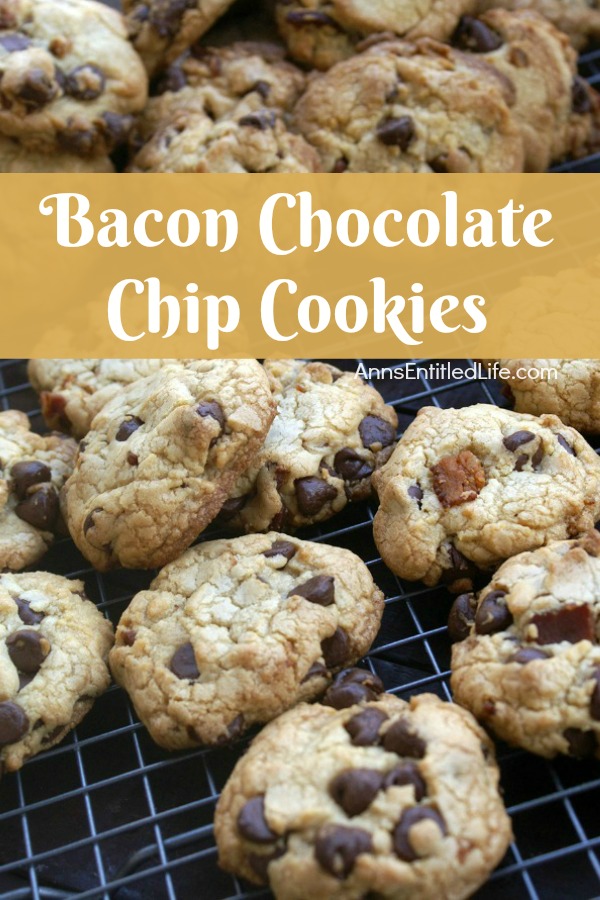 Bacon Chocolate Chip Cookies: http://www.annsentitledlife.com/recipes/bacon-chocolate-chip-cookies-recipe/
The perfect comfort food you can prepare in minutes! 
 Cheesy Bacon Gnocchi Bake: https://thesaltypot.com/cheesy-bacon-gnocchi/
 So? How awesome was that? Ultimate comfort food recipes and so easy to make! Seriously, these 25 bodacious bacon recipes will satisfy every salty, sweet, crispy, crunchy, smooth, and creamy craving you might have. Now, I'm going to go because I need to start some cookin'!!!