If bacon had its own Twitter account it would have millions of followers just like a Hollywood star. Everyone loves bacon and now I have compiled twenty of the VERY BEST BACON RECIPES ever!!!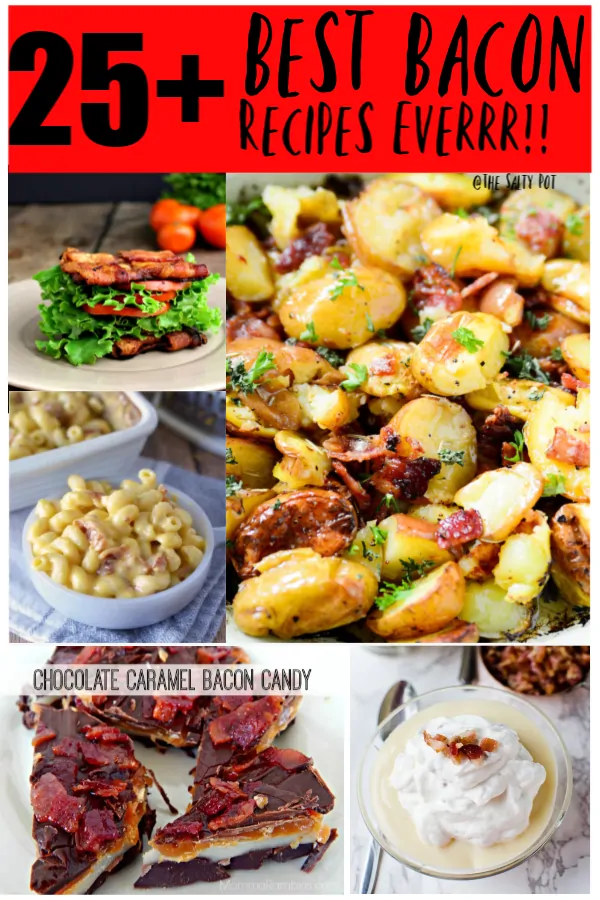 20+ BEST BACON RECIPES EVER!
Everyone loves those slabs of salty yumminess, right?
No matter how you like your bacon, crispy, softer, burnt (some ppl do!!), raw (pretty much only my dog), there'll be a
recipe in here to try that will bring you to bacon bliss.. lol.
Kidding,…….. but not really.
Ok, so let's get on with it!
Talk about bacony deliciousness!! These little buns are DIVINE!!
GARLIC BUTTER BACON CHEDDAR WHEELS @ THE SALTY POT
Low Carb? Yes! Make it as a bread substitute!!!
AUTHENTIC BACON LETTUCE TOMATO SANDWICH @WANNABITE.COM
These Instant Pot mashed potatoes will be on the weekly rotation!!

CREAMY INSTANT POT MASHED POTATOES WITH CARAMELIZED ONIONS AND BACON @ THE SALTY POT
Bacon Pizza for Breakfast?? If that's wrong, I don't wanna be right!!!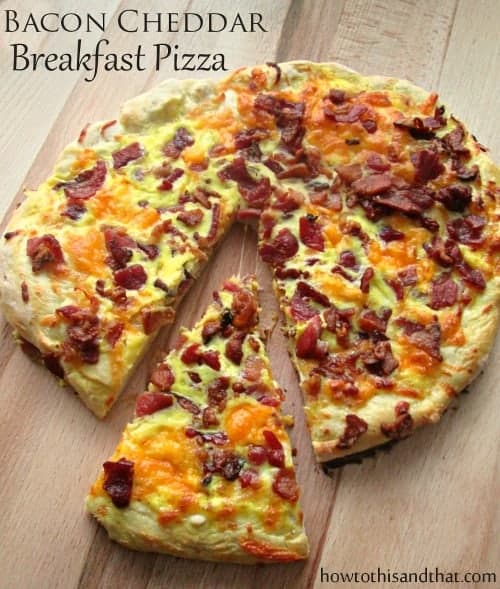 BACON CHEDDAR BREAKFAST PIZZA @ HOWTOTHISANDTHAT.COM
Maple? Bacon? Trifle??? Ohhhhh yeaaahhh!!!

MAPLE BACON TRIFLE WITH MAPLE WHIPPED CREAM @ BUSY BEING JENNIFER
These PERFECT sweet and salty snacks will keep them comin' back for more!
Bacon Wrapped Crackers with Brown Sugar @ A Bride On A Budget
This one-pot meal is so quick, easy and soooo delicious!
ROSEMARY BACON ROASTED POTATOES @ THE SALTY POT
This will bring back lots of good old childhood memories!
BACON MAC & CHEESE @ DANCING THROUGH THE RAIN
A great savory dip that will become your family's favorite!!!
CREAMY BACON DIPS @ SAVVY SAVING COUPLE
If you've been looking for a cabbage and bacon recipe, you've hit the jackpot!

TOMATO, BACON AND CABBAGE SAUTE @ DANCING THROUGH THE RAIN
Its cheesy, creamy, saucy goodness will definitely bring you to flavor town! It is amazingly good!!!!
CHEESY CHICKEN BACON FUSILLI CASSEROLE @ THE SALTY POT
Are you drooling? I'll hand you a napkin. I know, this QUICHE recipe is just so irresistible!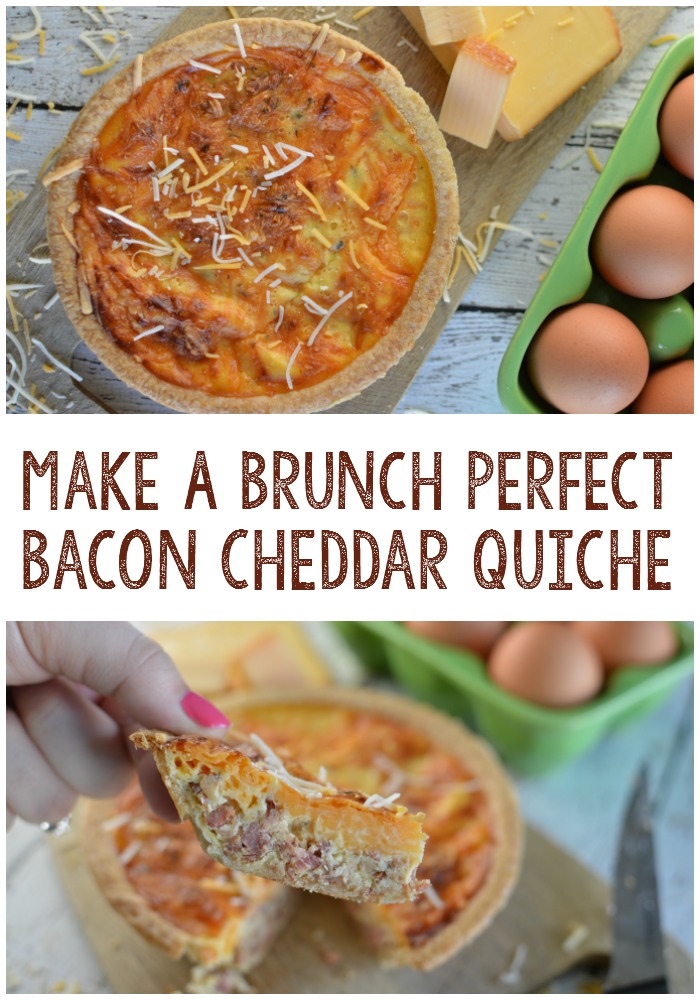 BACON CHEDDAR QUICHE @ GRETAS DAY
A perfect blend of sweet and salty!!! Super love this one!
CHOCOLATE CARAMEL BACON CANDY @ MOMMA RAMBLES
A super easy dish packed with amazing flavor!!!
BACON WRAPPED PORK CHOPS @ DANCING THROUGH THE RAIN
Seriously, these Best Bacon Recipes should be called the most satisfying bacon recipes ever!
Here's another bacon wrapped goodie for you to try!
COPYCAT CANDIED BACON BOMBS @ THE FOOD HUSSY
What a great appetizer idea!!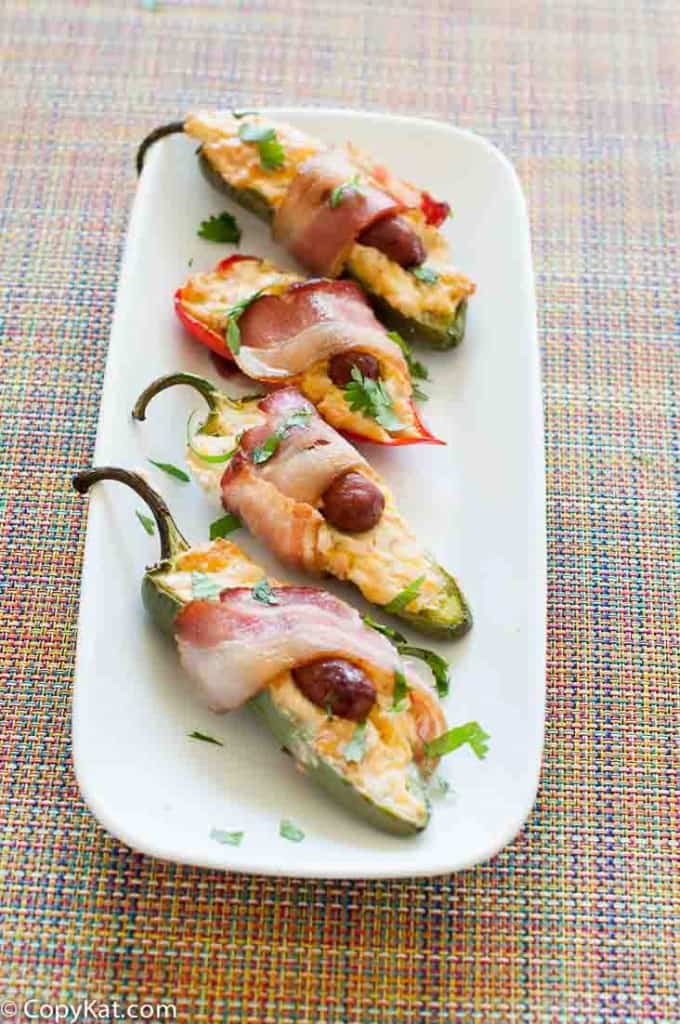 BACON WRAPPED LITTLE SMOKIE BAKED JALAPENO POPPERS @ COPYKAT
This is great for weekend breakfast!!
MEAT LOVERS BREAKFAST CASSEROLE @ COOK EAT GO
This one is sure to be a hit!!! These tasty steak fries have everything you could want on them!
BACON AND CHEDDAR STEAK FRIES @ 3 BOYS AND A DOG
Ummm yeah, make a double batch 'cause you're not gonna want to share this… not even with those you love like, alot.
SRIRACHA SPICED BACON @ SECOND CHANCE TO DREAM
Simple, delicious, full of flavor, quick and easy to prepare!!!
SUCCULENT BACON WRAPPED PORK TENDERLOIN @ COPY KAT
Here's a perfect breakfast in one cookie!!!!!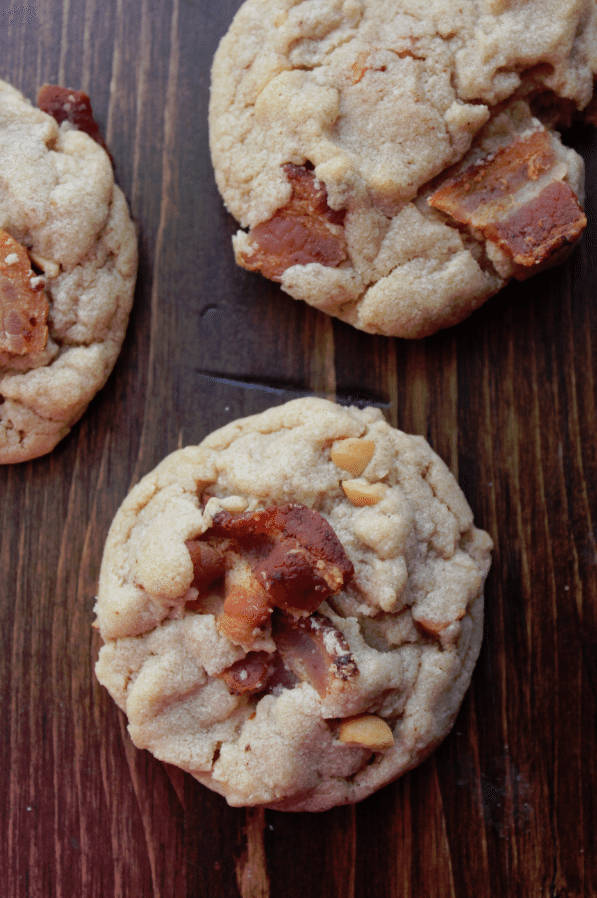 BACON PEANUT BUTTER COOKIES @ TAMMILEE TIPS
Looking for a great recipe to add to your table spread? This is it!! Sweet and just a bit spicy!
BACON WRAPPED APRICOTS WITH JALAPENOS @ HOME MADE FOR ELLE
Try these sweet and a bit salty bacon chocolate chip cookies. They're anything but ordinary!!!!!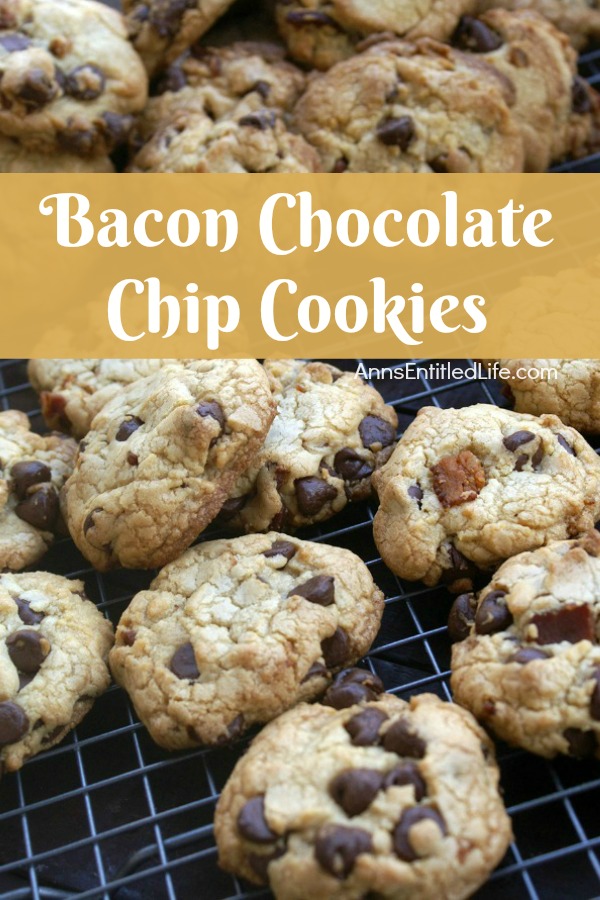 BACON CHOCOLATE CHIP COOKIES @ ANNS ENTITLED LIFE
The perfect comfort food you can prepare in minutes!
CHEESY BACON GNOCCHI BAKE @ THE SALT POT
So? How awesome was that? Ultimate comfort food recipes and so easy to make!
Now, I'm going to go because I need to start some cookin'!!!
I hope that you find that a few of these recipes make it into your weekly meal rotation, and if so, I'd love to hear what you thought about them. Thanks for stopping by The Salty Pot today, and have a wonderful day!
**DON'T FORGET TO SAVE THESE BEST BACON RECIPES PIN TO YOUR FAVORITE PINTEREST BOARD TO USE FOR LATER!!**