If bacon had its own Twitter account it would have millions of followers just like a Hollywood star. Everyone loves bacon and just for that reason, I have compiled over twenty five of the VERY BEST BACON RECIPES ever!!!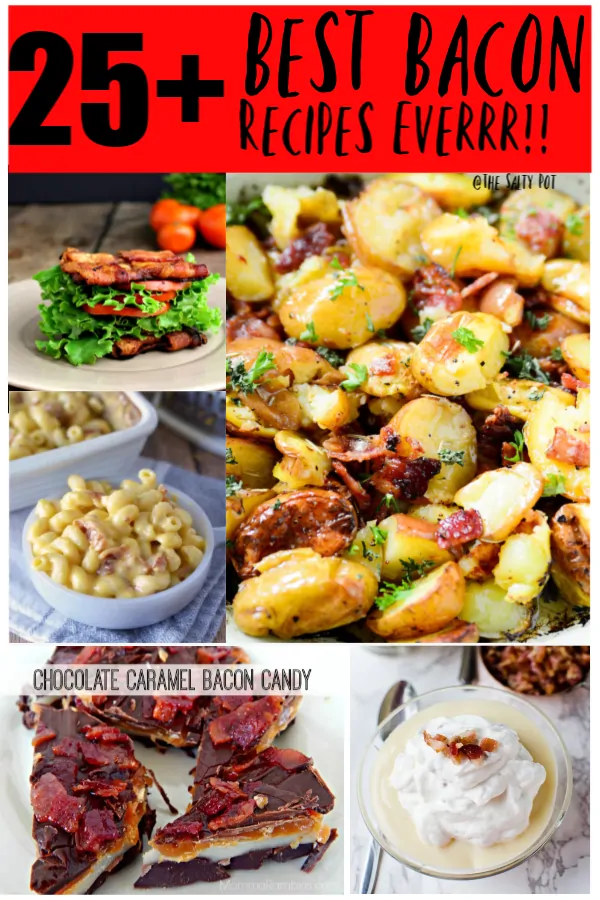 25+ BEST BACON RECIPES EVER!
Prepare For A Bacon Recipe Overload!! YUM!!
20 BEST BACON RECIPES EVER
Everyone loves those slabs of salty yumminess, right? No matter how you like your bacon, crispy, softer, burnt (some ppl do!!), raw (pretty much only my dog), there'll be a recipe in here to try that will bring you bacon bliss.. lol. Kidding,........ but not really.   Ok, so let's get on with it!
So? How awesome was that? Ultimate comfort food recipes and so easy to make!
Now, I'm going to go because I need to start some cookin'!!!
I hope that you find that a few of these recipes make it into your weekly meal rotation, and if so, I'd love to hear what you thought about them. Thanks for stopping by The Salty Pot today, and have a wonderful day!
**DON'T FORGET TO SAVE THESE BEST BACON RECIPES PIN TO YOUR FAVORITE PINTEREST BOARD TO USE FOR LATER!!**