Love the tangy and pickle-y taste that pickled onions add to all those home-cooked meals you add it to? Well, guess what? You can now say goodbye to those store-bought versions and make your very own pink pickled onions in a jiffy right in your kitchen!
Easy Pink Pickled Onions Recipe – PIN THIS RECIPE TO SAFE FOR LATER!!!!!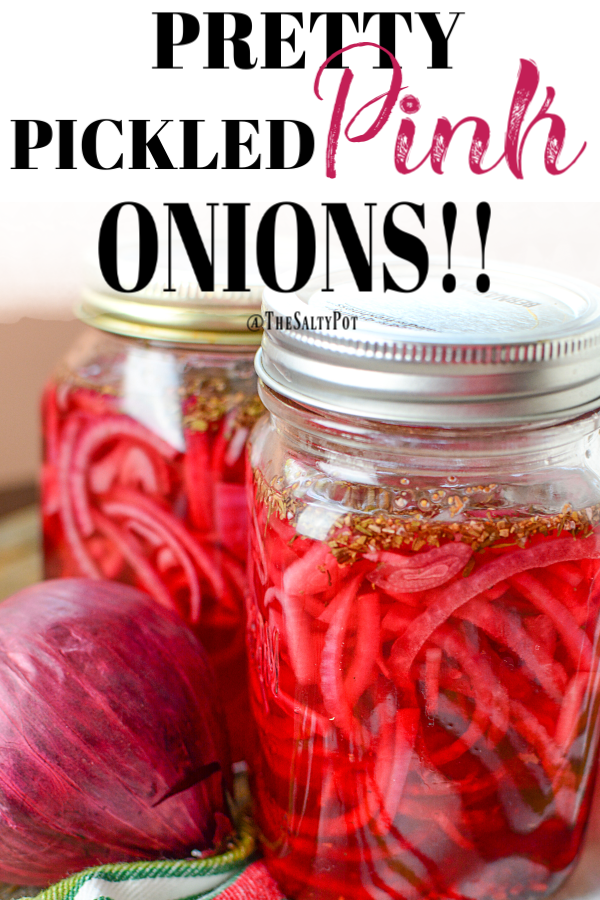 Once you give it a shot, you'll wonder why you never tried making them earlier!! Seriously – they're that easy to make. Read on to discover some simple steps to help you nail them, and some cool recipe ideas to put 'em to use.
Ok, So What Kind Of Onions Do I Need For These Pink Onions
Yes, my friends, little baby white creamer onions are not the only onions that we can pickle! I used, as you probably guessed, red onions. Y
es, probably not your most conventional onion to pickle, but WOW.. the flavor payoff is HUGE!
While they are obviously packed full of a pickle-y onion flavor, using red onions are a bit more gentle in onion flavor. So when combined with all the seasonings and herbs and such, these pink onions make a superb side condiment!!
But, Could I Use Other Types Of Onions?
Absolutely. BUT.. you know if you use a white, yellow, or sweet onion, there are no red flavanoids to color the brine pink!
According to Onions USA, red onions taste different throughout the growing season. So it's best to make your pink onions in spring as the red onions are sweet and crispy. However, having said that, I made these in late fall and they are still aahhhmazing!!!
How to Make 'Em All Pickle-y Like
To make pickled onions, you just need a few simple ingredients- onions, sugar, vinegars, seasonings, and water. That's it.
Take a glass jar and stuff it with the sliced onions. In a pot on the stovetop, combine vinegars (you can also opt for regular white vinegar), sugar and water. Mix well under the sugar has completely dissolved. Pour this mixture into the jar of onions that have the seasonings in them, and mix it well before you pop it into the refrigerator. Simple Dimple!
Tips & Tricks To Making Pink Onions Right
While the basic recipe of pickled onions is an absolute no-brainer, you might need to keep these teeny-tiny tips in mind to make sure you make them the best way.
First, pick your onions. You can choose literally any kind of onions, but if you're looking for that distinct pinkish color, consider using red onions. Plus, red onions also have a mild, sweeter flavor as opposed to white and yellow onions, which have a much sharper taste.
Once you're done making them, store them in your refrigerator with the lid closed. They can stay good for up to 3 months if you haven't used them by that time already!
Lastly, you can use any kind of vinegar- even balsamic vinegar if you're up for it. Apple cider vinegar, however, is preferable considering how healthy it is, and how it lends the onions a nice, subtle flavor.
Putting Them to Use!
Now that you're done making these kick-butt amazingly flavored pickled pink onions, its time to discover some delicious ways to put them to use.
The thing is, pickled onions are actually really versatile. You can-
Top them on your homemade pizzas to lend it a nice punch of flavor.

Layer them between your basic sandwiches that need a delicious pick-me-up.

Serve them on the side with grilled chicken or other roasts.

Pickled onions taste wonderful in most tacos.

Throw in some in your salads too.

And last, but not least, they can really take those regular burgers up a notch!
By the way, what else goes well with these onions? A charcuterie plate!!! Make up some Pickled Beets , Bucket Pickles, crackers, and different cheeses and deli meats!! Maybe serve them with these super easy Hot Ham and Cheese Sandwiches. Yum!!
How Long Will These Pickled Onions Keep in the Fridge?
They will be ready to consume just a few hours after you make them, and will last a good 3 weeks in the fridge! (If they last that long!!)
Well, I hope you can see that you can quickly make a great condiment in no time with these Easy Pickled Pink Onions! Watch out though, they're super addicting!!
When you make these onions, I'd love to hear if you changed up the recipe and what you thought of them! Thanks so much for stopping by The Salty Pot today!!! Have a fantastic day and we'll see you next time!
~Joanne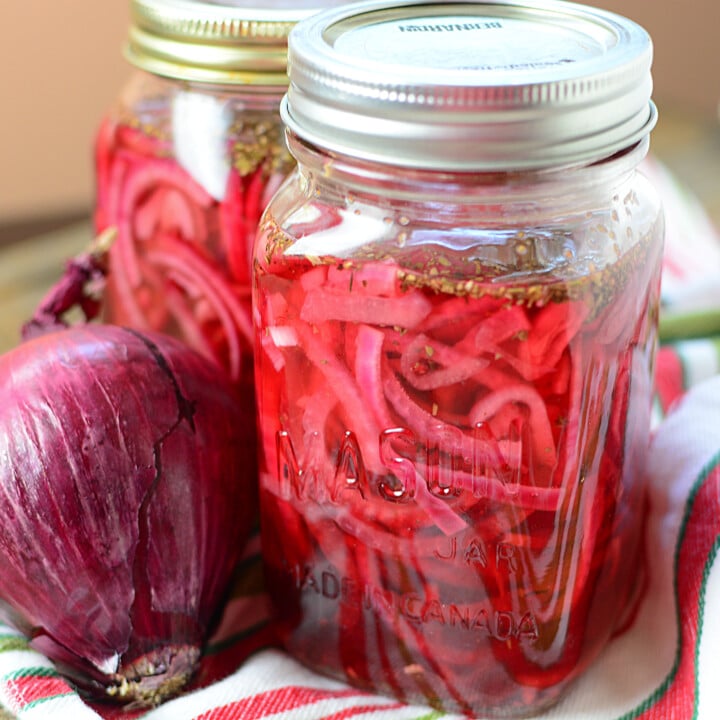 PICKLED PINK ONIONS
Crispy, pickle-y, sweet and sour & zest pink pickled onions are the perfect condiment! They're easy to make, easy to serve with almost anything, and SUPER easy to eat!
Ingredients
1 - 2 Red onions, medium, sliced very thinly
1/4c red Wine Vinegar
1/4c apple cider vinegar
2 tbsp sugar
1/4 tsp minced garlic
1/4 tsp oregano
1/2c water
Instructions
Clean the container you're using with hot soapy water. Rinse and dry. Set aside.
Carefully slice the onions very thin with a mandoline or a sharp knife
Stuff the onions into your jar
Add the garlic and oregano on top of the onions.
In a saucepan, combine the water, 2 kinds of vinegar and sugar. Mix well to dissolve the sugar and heat to boiling. Boil for about two minutes and until the sugar is dissolved.
Slowly and carefully, pour the brine into the jar with the onions so that the onions are completely covered. (this process is made safer by using a funnel)
Using a fork or blunt knife to poke around in the onions to remove any air pockets.
Cover with the lid and refrigerate for at least a few hours before eating. *see notes
Notes
1. use only fresh, unblemished onions
2. Use a glass container for your onions. A mason jar or glass pop n lock container would work as well. Plastic containers are not recommended because of the vinegar.
3. The longer you leave the onions, the better they will taste! They will be ready to eat a few hours after you make them, but will last in the fridge for up to 3 weeks!
Nutrition Information:
Yield:

16
Serving Size:

2 tablespoons
Amount Per Serving:
Calories:

13
Total Fat:

0g
Saturated Fat:

0g
Trans Fat:

0g
Unsaturated Fat:

0g
Cholesterol:

0mg
Sodium:

1mg
Carbohydrates:

3g
Fiber:

0g
Sugar:

2g
Protein:

0g