So when I say this is a crazy 3 ingredient cheesecake, I REALLY mean this is a crazy recipe. Seriously. Read on…. you'll see.
********** DON'T FORGET TO PIN THIS 3 INGREDIENT CHEESECAKE RECIPE TO YOUR FAVORITE PINTEREST BOARD TO SAVE FOR LATER!!!**********
Crazy 3 Ingredient Cheesecake
To say I was skeptical of this recipe is an understatement. I've seen it rolling around the web for a little while and I have to say it really piqued my interest.
I mean, come on.. 3 ingredients?? CHEESECAKE??
I had to try it, of course!
Where Did This Cheesecake Recipe Come From?
I'm going to confess here and say this is not my recipe. I didn't invent it. (wish I did though!)
I'm using a recipe that I came across from a website called ESSENTIALS based out of New Zealand. They've got a great website with lots of awesome looking recipes, fashion tips, etc. I'll link the recipe below so you should take a peek. It's worth it.
Why it's called a Cheater Cheesecake
Well…. for one, it has only 3 ingredients. And second… IT HAS NO CHEESE IN IT!! Can you believe that??
Alright, I know you're wondering if it's only three ingredients, and there's no cheese in it,… what is in it then?
The 3 Ingredients In This Cheesecake are:
Graham Crumbs
Greek Yogurt
Sweetened Condensed Milk
I know.. I know..you're shocked. So was I. THAT'S why I had to try it making it!
How does someone make this awesome 3 ingredient dessert?
Easy peasy, lemon squeezy! That's one of the reasons why I like this recipe so much. Ok, so here we go…..
You put the graham crumbs into the pie pan or whatever container you're going to use. Press them in.
I know.. I know. It's weird because traditionally, those kinds of crusts have butter added to them to help bind them. Not this one.
I was skeptical, but I pushed on.
Mix together the yogurt and the sweetened condensed milk. Umm,. yes, interesting combination without a doubt. No eggs, nothing to help bind it.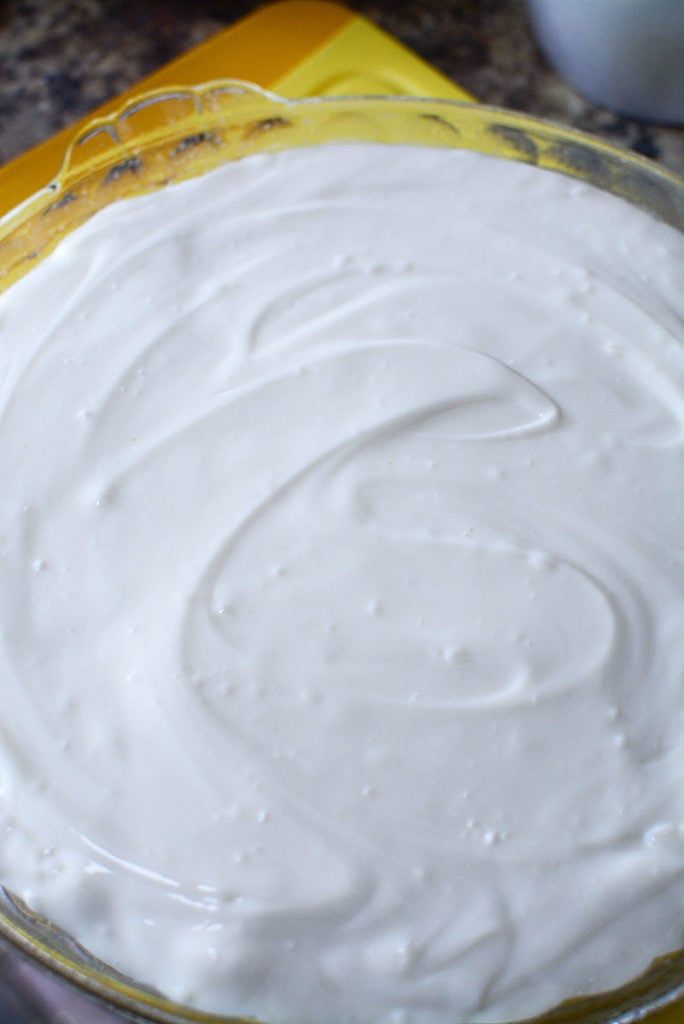 I was skeptical. Uh-huh.
So you mix it together and pour it into the crust. Then…. you MICROWAVE IT!
Don't worry my lovelies, I can hear you from here!! Microwave it??????? Yes. It's crazy, I know.
Take it out after the cook time and chill overnight. That's it!!!
(I made a simple compote to serve on top of the dessert. The recipe and directions for that will be found in the recipe card below as well!)
What's crazy (not in a good way) about this crazy cheater cheesecake?
Ok, well, the crust. Admittedly, the crust sort of came together because of the whey that comes out of the yogurt. Surprisingly, it seeped into the crumbs and helped them come together.
However, there were some crumbs that didn't get the addition of that whey, and so they stayed crumbs.

No Beuno.
Also, if you don't eat the entire dessert in one event, the 'cheesecake' mixture begins to have a small amount of whey seep out the cut sides, which honestly, is no big deal. It's not that much but it would have been nicer if it didn't do that.
However, since having yogurt as one of the major ingredients, I don't think that can be avoided.
I guess you just have to eat the whole darn thing in one day! haha!!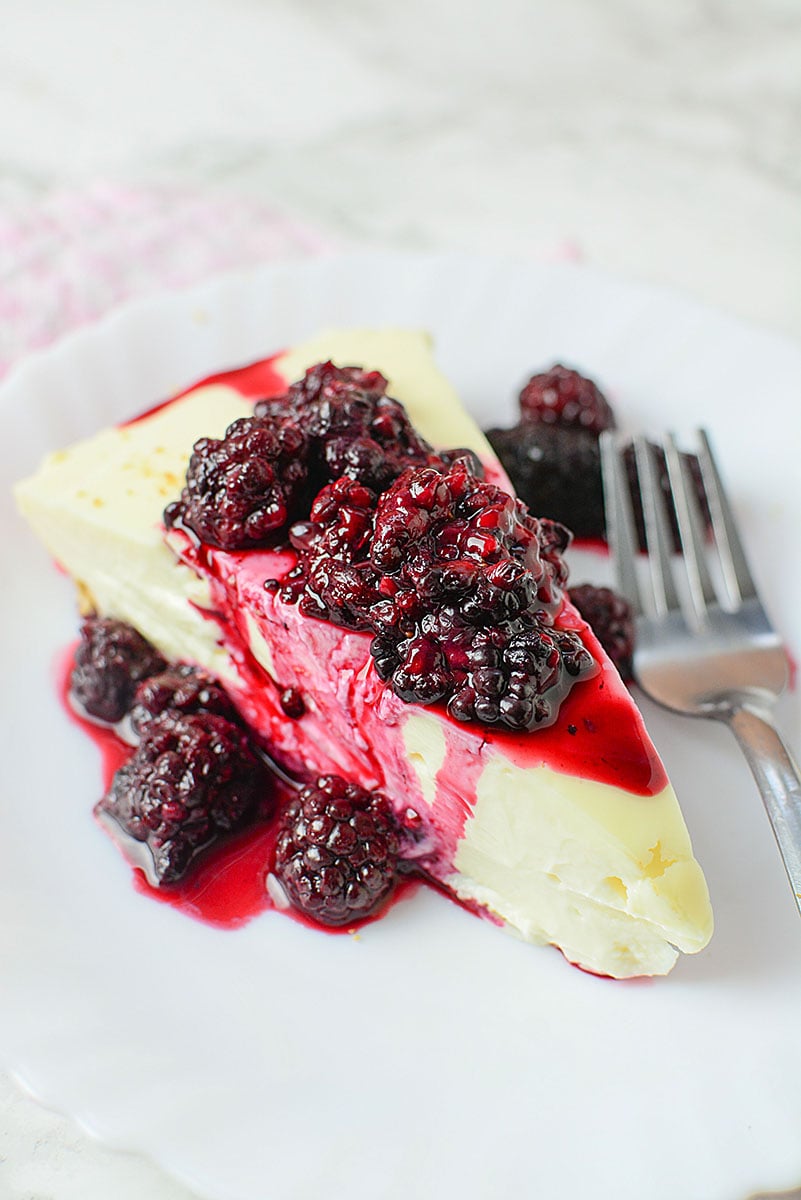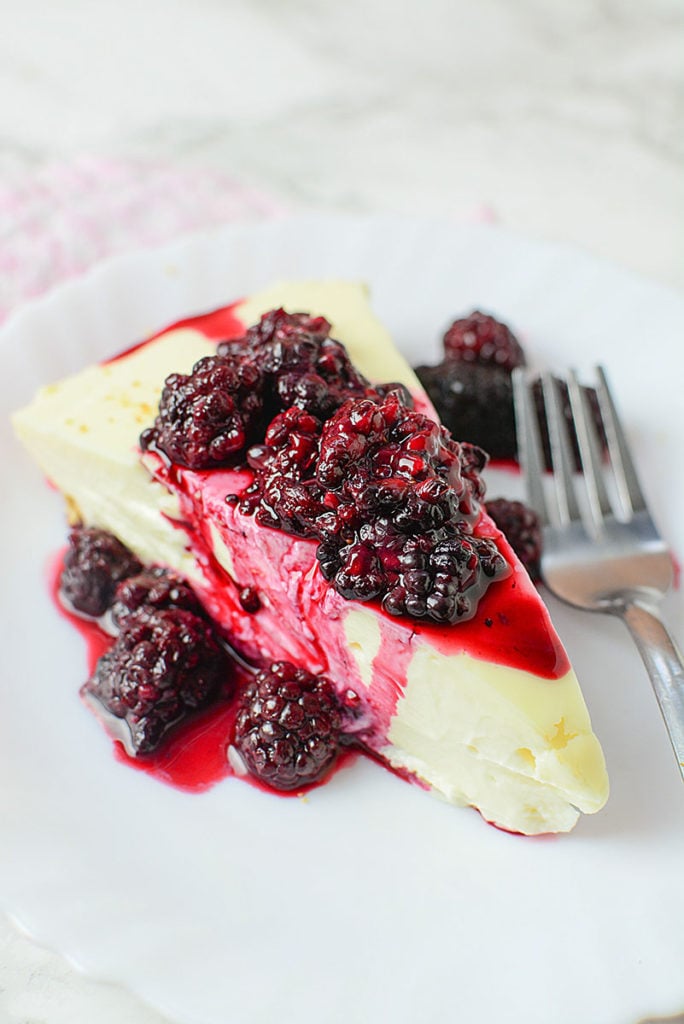 What's crazy (in a GOOD way) about this crazy 3 ingredient cheesecake?
Well my dear reader, pretty much everything else. I was BLOWN AWAY at how good this recipe turned out, flavor-wise.
To make it easy and quicker, I'll point form my comments:
– The flavor tasted like cheesecake!
– The texture was smooth and creamy. I'll say it didn't have that really heavy, almost stodgy type of texture most cheesecakes have. But it was creamy and smooth and OH so delicious.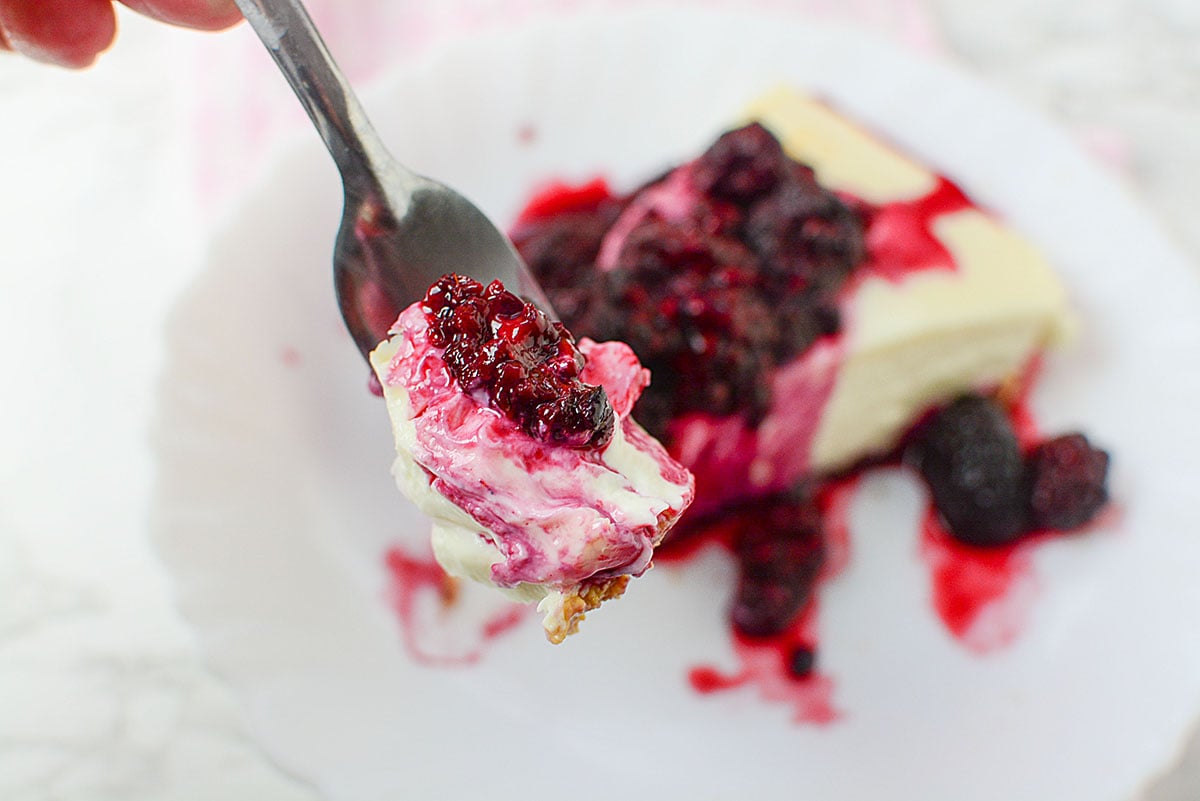 So I Made This 3 Ingredient Cheesecake AGAIN!
THIS time I did a few things differently.
I used flavored VANILLA yogurt.
I added butter to the crumbs to make a nicer crust. YES.. yes, I realize this is no longer a 3 ingredient recipe, and actually a 4 ingredient recipe, but hey… it's still pretty amazing so that's all worth it!
I only made a half recipe this time and I used a small 7″ springform pan. After putting the crust in the pan, I poured the filling in and then chilled it overnight.
The chilling of the pie helped to set it up a bit without the microwaving part, but you still have to do it have it set the rest of the way. So the next day, I removed it from the springform pan (thank you parchment paper!).
I placed it on a dish and microwaved it for a few minutes. Then, put it back into the springform pan and into the fridge to cool.
For this smaller cheater cheesecake, I topped it with my Homemade Pomegranate Sauce. SO delicious!! (recipe coming!!)
Important note:
You can avoid the taking out and putting back in part of the springform pan if you use a glass baking dish. I REALLY advise using parchment paper for ease of removal when you want to serve.


This version of the cheesecake turned out MUCH nicer!! I was happy with the crust and how it turned out!!
I will say, it doesn't have that super crunchy crust, but I do appreciate that it has a nice buttery flavor, it's firm, and it stays together much better than just simply pouring the crumbs in there and relying on the whey to make it stick together.

Ok, so there you have it my pretty lovelies! Super easy, really delicious (and maybe even made a tad bit healthier with the use of the yogurt), 3 Ingredient Cheesecake! (ok.. ok. 4 ingredient cheesecake, sheesh! haahaa!)
If you're looking for other "cheater" or easy desserts to make, check out this Cheater Fruit Cobbler , or these 2 Ingredient Pumpkin Brownies
I hope you give this cute recipe a try and when you do, I would LOVE to hear how it went for you, and how you switched it up! What did you use for a topping? Did you serve any fruit with it? Let me hear your experiences!
Here is the link for Essentials website and the recipe: https://www.essentials.co.za/recipe/cheats-3-ingredient-cheesecake . Take a peek at the recipe there as they made this cheesecake in a different pan and it also looks prettier than mine.. haha!
Thanks so much for stopping by The Salty Pot today, and I hope you have a really fantastic day! Talk with you again soon!
~Joanne
CRAZY 3 INGREDIENT CHEESECAKE
A 3 ingredient cheesecake that has no cheese! It's SO delicious, the texture is smooth and creamy and if no one told you it didn't contain cheese, you'd think it was authentic cheesecake!
Ingredients
1 liter of vanilla greek yogurt (see notes)
1 can of sweetened condensed milk
1 c graham cracker crumbs
1/4 c butter, melted *optional
Topping: (optional)
1 c frozen berries
1 tbsp honey
a squeeze of lemon juice
Instructions
In a bowl, mix together the butter and the crumbs until they resemble sand. (The butter is optional but I advise using it for reasons explained in the post)
Press them into the bottom of a glass or microwave-safe pie or cake pan. Chill
In a separate bowl, mix together the yogurt and the sweetened condensed milk. Mix until well combined.
Pour the filling into the crust, slowly. Smooth out the top of the cake.
Place in the microwave and cook on high for 5 - 6 minutes.
Remove and place into the fridge to cool for a few hours.

To make the topping
In a saucepan, combine the frozen berries and lemon juice. Melt the berries over low heat until they are soft and starting to breakdown.
Add the honey and stir until dissolved. Taste for sweetness preference and add more honey if desired. Let cool completely before topping the cake slices with the topping.
Notes
I purchased the greek yogurt with the highest milk fat content that I could find. The brand I used was Olympic and it had 10%MF. If this brand is available to you, I highly suggest using it.
If you don't have access to this yogurt, simply buy the best available to you.

You certainly don't have to add the butter to the crumbs, as the whey from the yogurt will seep into it and help it set up. It tastes delicious and works as an option. It's just not a guarantee that the whole recipe of crumbs will be saturated with the whey, that's why I wanted to test it again with the butter in the crust.
Nutrition Information:
Yield:

8
Serving Size:

1
Amount Per Serving:
Calories:

225
Total Fat:

8g
Saturated Fat:

4g
Trans Fat:

0g
Unsaturated Fat:

3g
Cholesterol:

20mg
Sodium:

145mg
Carbohydrates:

28g
Fiber:

2g
Sugar:

20g
Protein:

12g