This 3 Ingredient No Bake Cheesecake dessert is creamy, delicately sweet, and tastes like cheesecake, but believe it or not, doesn't contain one lick of cream cheese. It's truly amazing and delicious!
***This recipe was updated on March 2023
Crazy Three Ingredient Cheesecake
Why This No-Bake Cheesecake Recipe Is So Awesome
The flavor is just like traditional cheesecake but doesn't have that thick, stodgy texture that traditional cheesecake has.
Second… IT HAS NO CREAM CHEESE IN IT!! That's correct, no cream cheese.
Also, there are no eggs to crack and incorporate which is perfect for those with egg allergies.
Third, this creamy yogurt cheesecake is easy to make, and lighter in calories than traditional cheesecake although you wouldn't know it by its decadent flavor.
Ingredients For This 3 Ingredient Cheesecake
Graham Cracker Crust – Whether you buy a premade crust, or graham crumbs to make the base yourself, either way, it doesn't matter. I've used both ways, and they both work wonderfully. (see notes in the recipe card about making your own crust).
Vanilla Greek Yogurt – So I have to say that milk fat percentage makes a difference here. You want to look for the highest milk-fat yogurt you can find as it gives that rich, decadent flavor that helps replace that same feeling from using cream cheese.
Sweetened Condensed Milk – A standard can of sweetened condensed milk is perfect. It should be 14 fluid ounces and be sure not to mistakingly buy evaporated milk as they are not the same thing.
Making a cheesecake with yogurt wasn't something I had thought about because well, CHEESEcake. But it makes sense as I've made a savory, spreadable Lemon Dill Cheese spread using yogurt and it's absolutely amazing. Seriously, one of my favorite things I've made.
***All the exact ingredients and cooking instructions will be on a printable recipe card at the bottom of this post.
How To Make This No Bake Cheesecake
Step One: If you are making your own graham cracker crust, go ahead and do that now. If you purchased a ready-made crust, check to see if you need to prebake it or not. Some crusts require it, some don't. Let the crust cool down before going ahead with the recipe.
Step Two: Mix together the sweetened condensed milk and yogurt together. Using a simple whisk is fine but if you want, feel free to use an electric hand mixer.
Step Three: Fill the pie crust with the yogurt mixture and then microwave according to the directions in the recipe card. Yep! Microwave it!
Step Four: After the cooking portion is done, cover and place the cheesecake in the fridge and chill for at least 4 hours or overnight is even better.
Toppings To Serve On Cheesecake Desserts
Really, the sky is the limit here. You could try:
-Making a compote, like I did, with blackberries (or even making a blackberry pie filling would work as well.) Blueberry compote/pie filling, peach butter, homemade caramel sauce, Pomegranate Honey Sauce would be divine.
-Even simple whipped cream would be delicious.
Storage Suggestions
Store the yogurt cheesecake in a lidded container in the fridge for up to 5 days. I recommend keeping the topping separate from the cake and topping the slice of cake when you're about to serve it.
I don't recommend freezing the cake or any of its leftovers because when thawing, the filling may not have the same texture as it did before you froze it.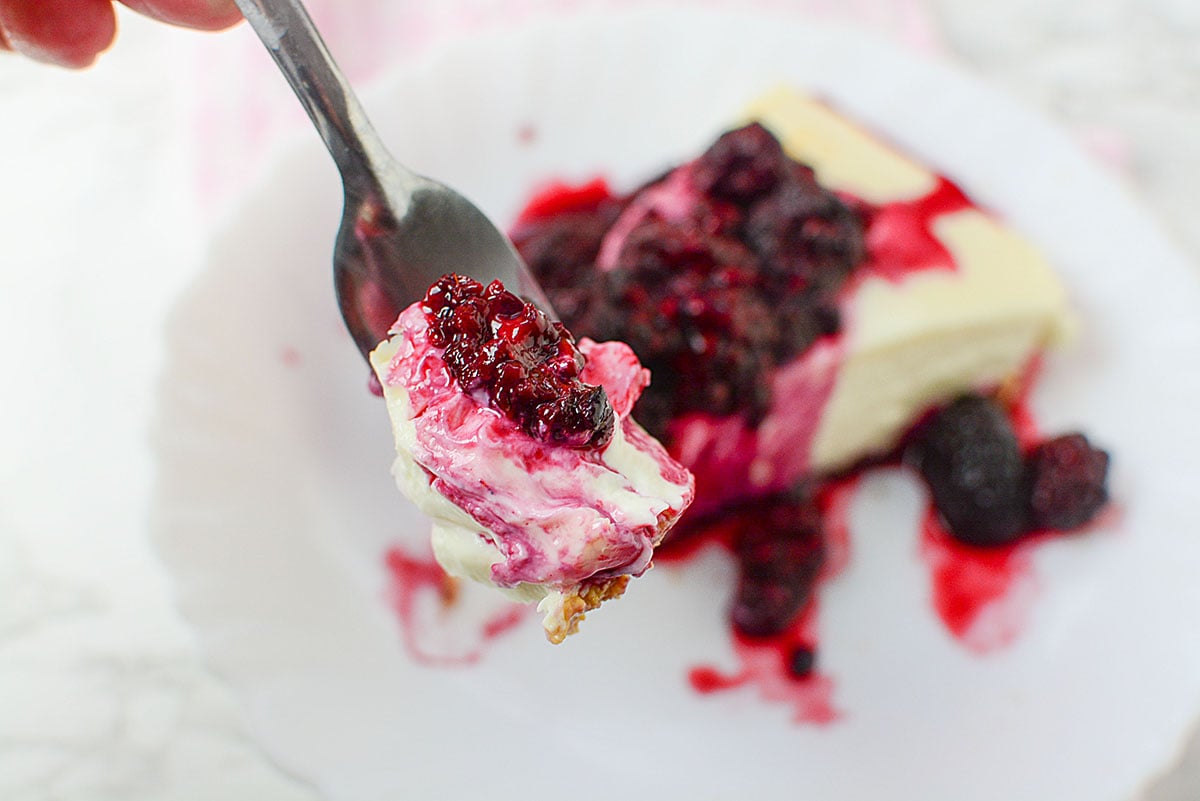 Questions You Might Have
Can I use regular yogurt instead of Greek yogurt?
I would urge you not to use regular yogurt because the consistency may not turn out right for the cheesecake. If all you have on hand is regular yogurt, try lining a sieve with coffee filters, and then scooping the regular yogurt into it. The yogurt will thicken as the extra liquid runs off it. This may take a little while so plan to have an hour or so for the process to complete.
I have evaporated milk. Can I use that instead of condensed milk?
Unfortunately, no. Evaporated milk is something completely different than condensed milk and won't work for this recipe.
Looking For Other Easy Desserts?
If you're looking for other super easy desserts to make, check out this insanely easy Cheater Fruit Cobbler, or this 2 Ingredient Pumpkin Brownies recipe that is incredibly fudgy and delicious!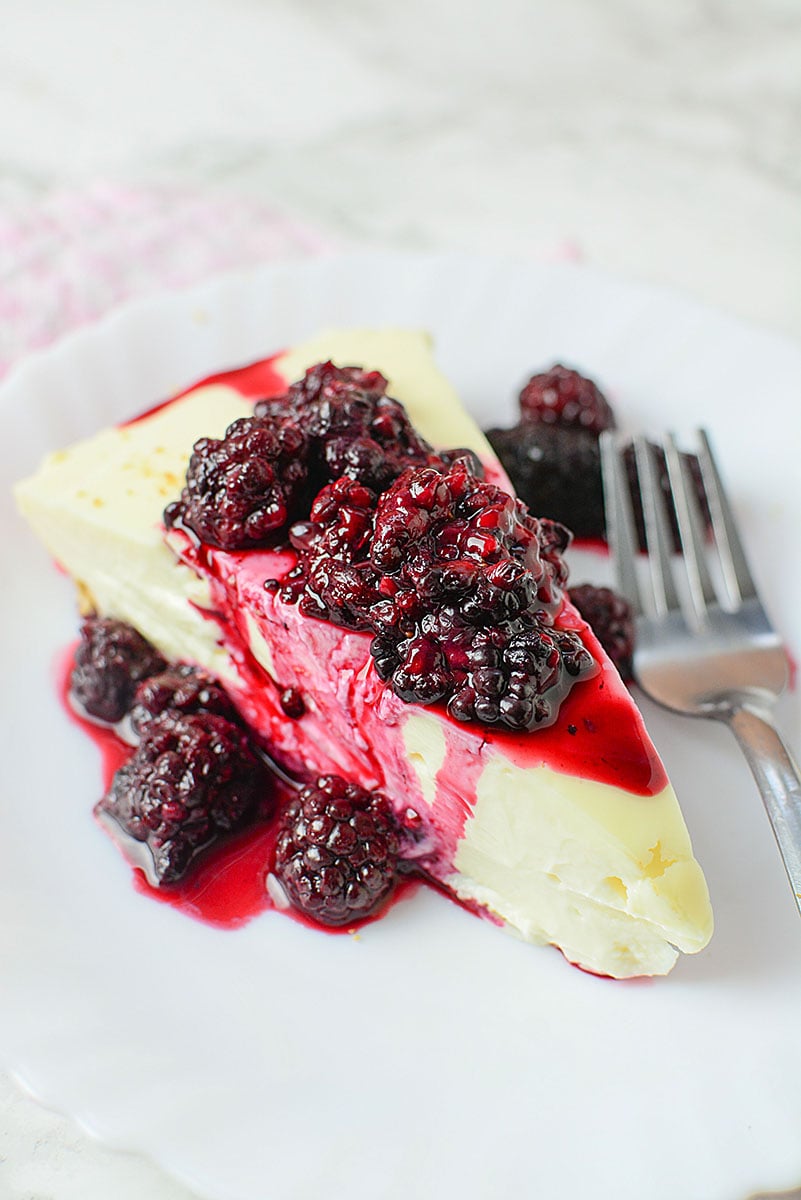 Have you tried this 3 Ingredient No Bake Cheesecake Recipe? If so, please leave the recipe a star rating and a comment below, letting me know what you thought. I love hearing from you! Have a fantastic day!
~Joanne
3 Ingredient No Bake Cheesecake
Total Time:
4 hours
15 minutes
This 3 Ingredient cheesecake is sweet and creamy, easy to make, and amazing how it comes together. It's SO delicious, and if no one told you it didn't contain cheese, you'd think it was authentic cheesecake!
Ingredients
1 liter of vanilla GREEK yogurt (see notes)
1 can of sweetened condensed milk
1 graham cracker crust.
Topping: (optional)
1 c frozen berries
1 tablespoon honey
a squeeze of lemon juice
Instructions
Prepare your pre-made crust according to the directions. Some require baking, some do not.
In a separate bowl, mix together the yogurt and the sweetened condensed milk. Mix until well combined.
Pour the filling into the crust, slowly. Smooth out the top of the cake.
Place in the microwave and cook on high for 5 - 6 minutes.
Remove and place into the fridge to cool for a few 4-5 hours or overnight.

To make the topping
In a saucepan, combine the frozen berries and lemon juice. Melt the berries over low heat until they are soft and starting to break down.
Add the honey and stir until dissolved. Taste for sweetness preference and add more honey if desired. Let cool completely before topping the cake slices with the topping.
Notes
I purchased the Greek yogurt with the highest milk fat content that I could find. The brand I used was Olympic and it had 10%MF. If this brand is available to you, I highly suggest using it.
If you don't have access to this yogurt, simply buy the best available to you.


Nutrition Information:
Yield:

8
Serving Size:

1
Amount Per Serving:
Calories:

225
Total Fat:

8g
Saturated Fat:

4g
Trans Fat:

0g
Unsaturated Fat:

3g
Cholesterol:

20mg
Sodium:

145mg
Carbohydrates:

28g
Fiber:

2g
Sugar:

20g
Protein:

12g
********** DON'T FORGET TO PIN THIS 3 INGREDIENT CHEESECAKE RECIPE TO YOUR FAVORITE PINTEREST BOARD TO SAVE FOR LATER!!!**********