You seriously can't get enough of this sausage foil packets with corn! It's packed with tons of flavor, and the bonus is that it's easy to make! Total win!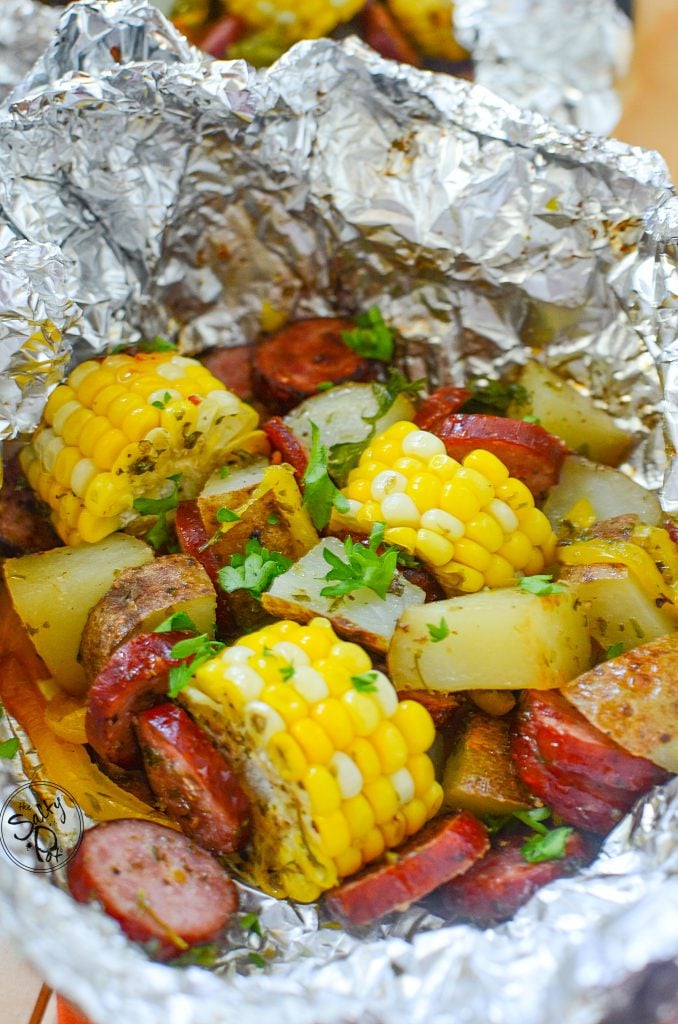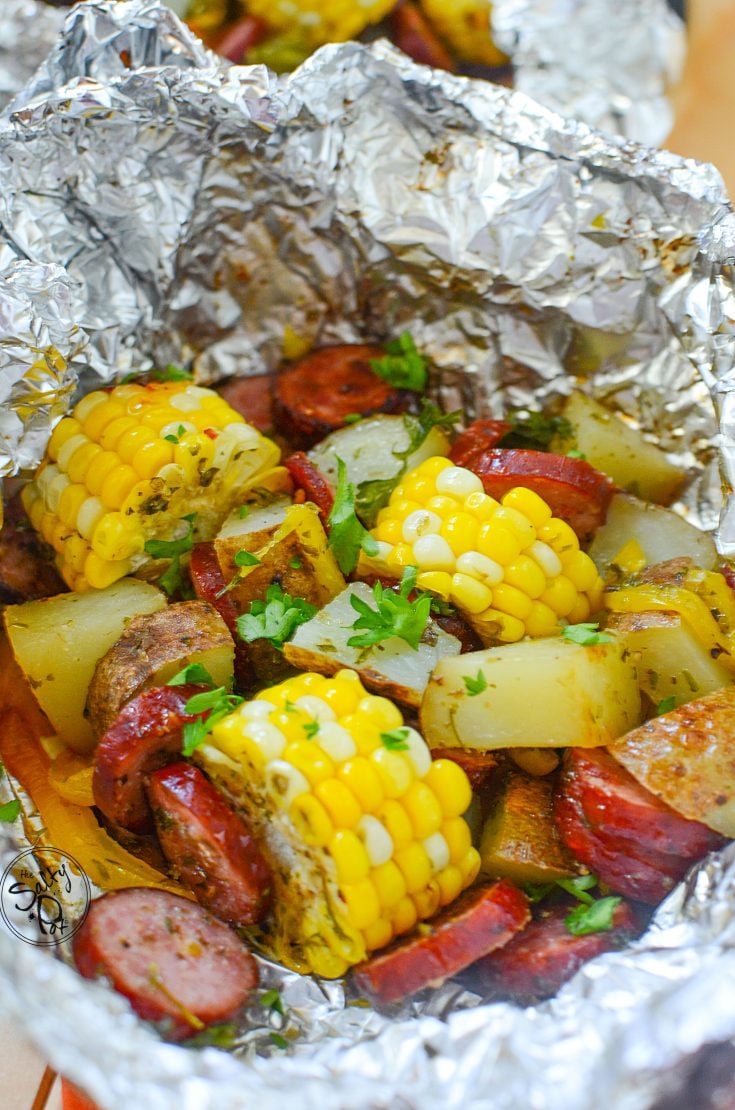 How To Make Sausage Foil Packets
You will be pleased to know that you don't have to spend a lot of effort throwing together this sausage, potato, corn foil packet! But it ends up tasting like a million bucks! Take a look at how easy it is to make:
First Step: Begin by heating the grill and getting four pieces of aluminum foil ready.
Second Step: Place sliced sausage into a bowl.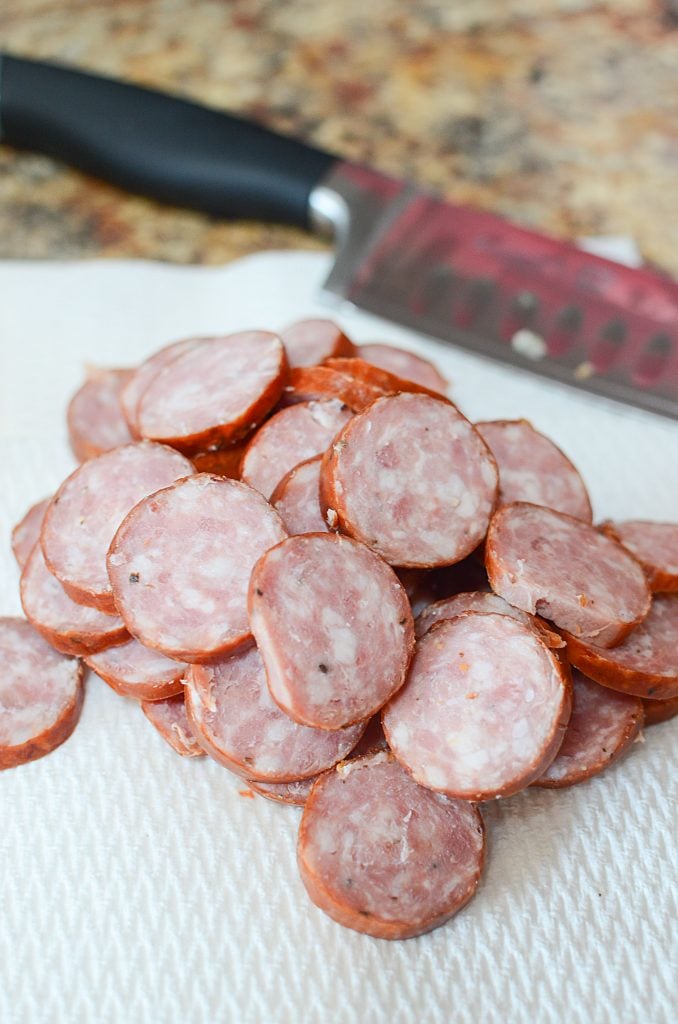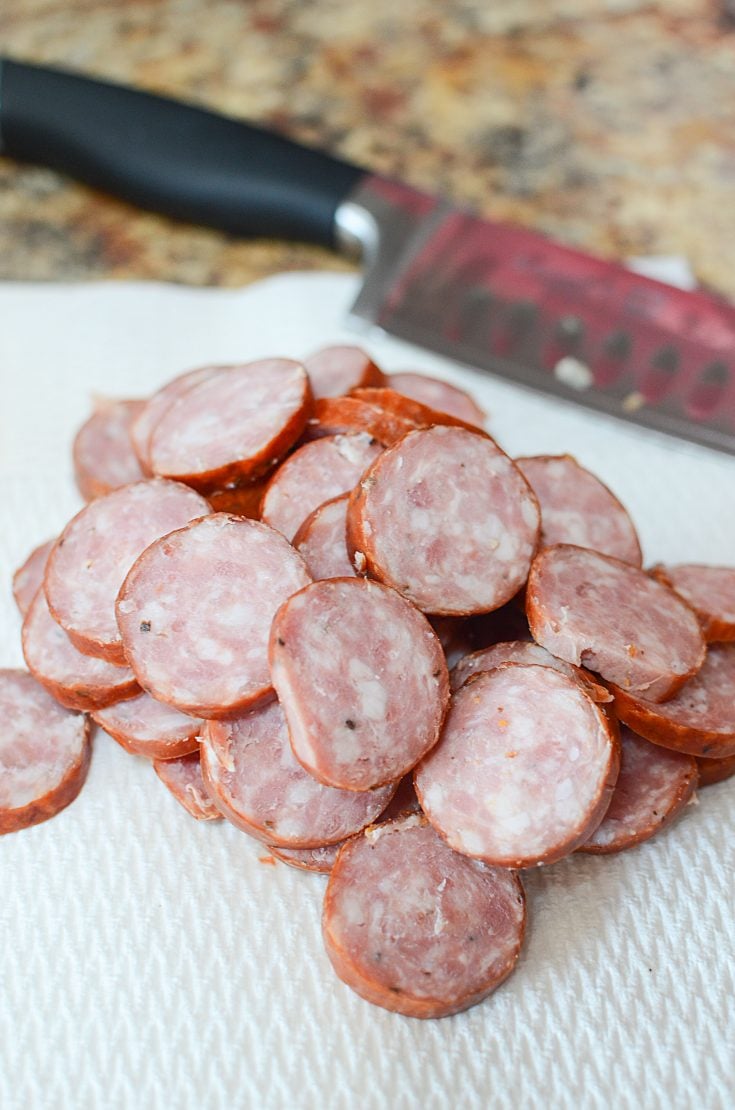 Third Step: Next, Slice the potatoes, peppers in corn, so they are in easy to eat pieces. Add them to the sausage.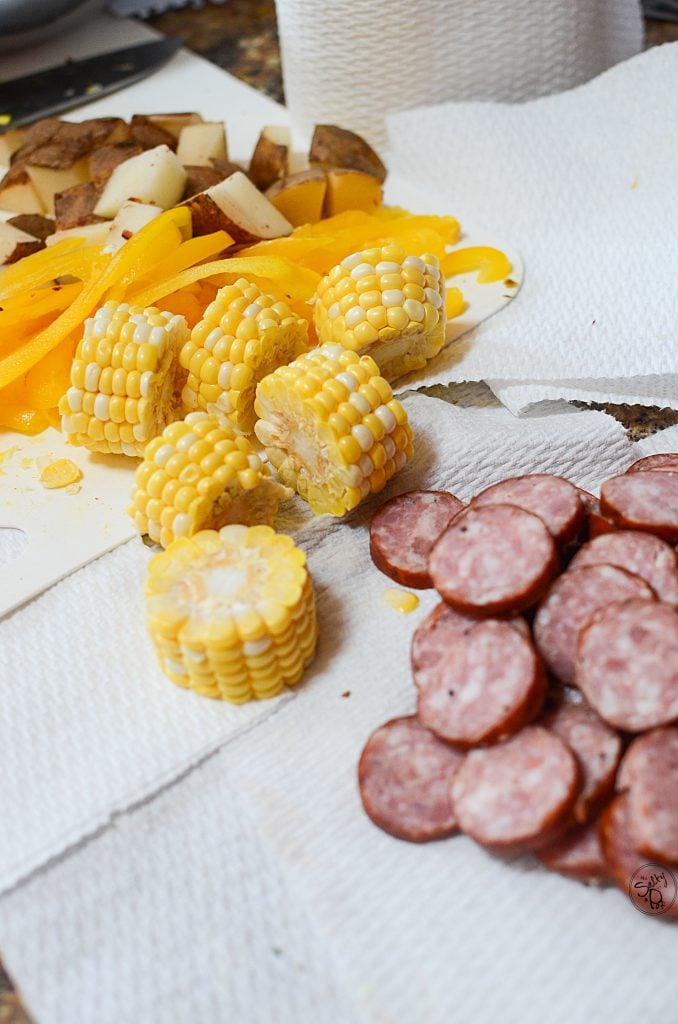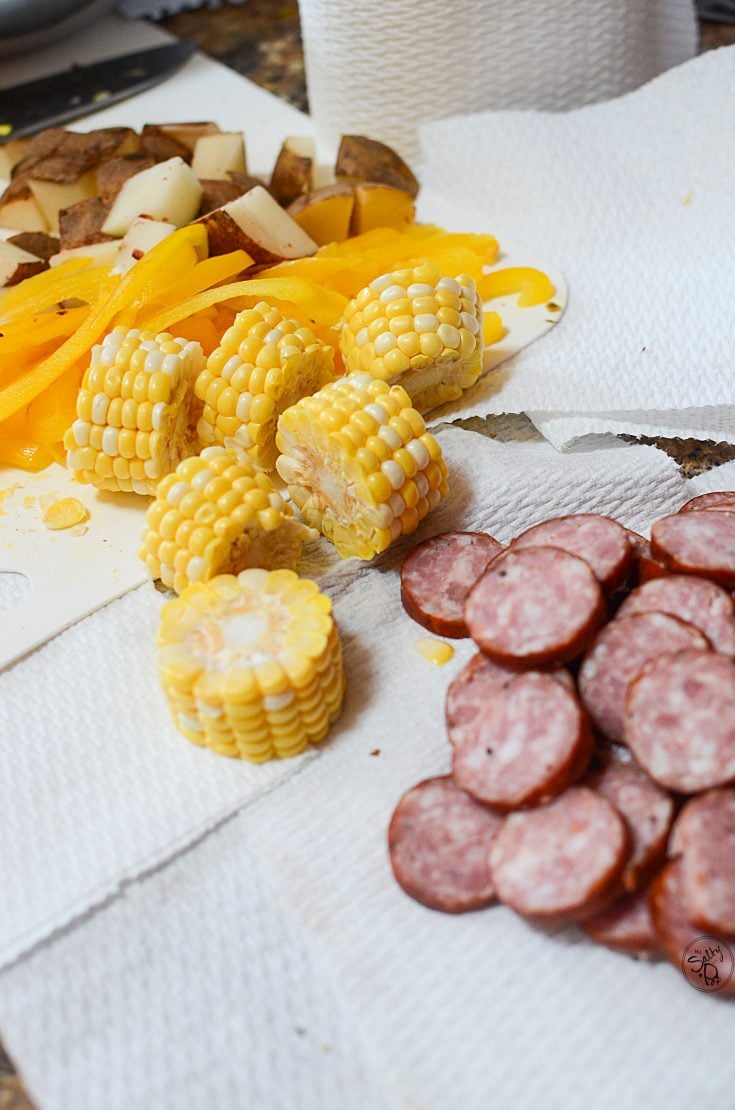 Fourth Step: Prepare the seasoning mixture by combining the oil, Italian seasoning, garlic, onion powder, salt, and pepper. Then give it a quick stir and pour it over the sausage and corn. Mix well, so seasoning is evenly distributed.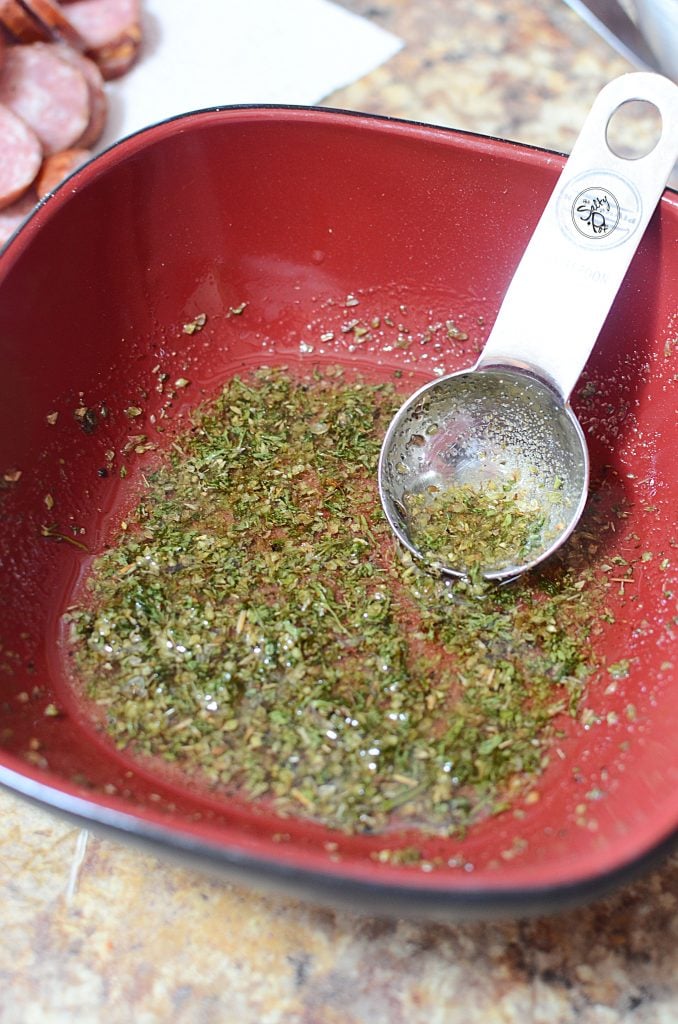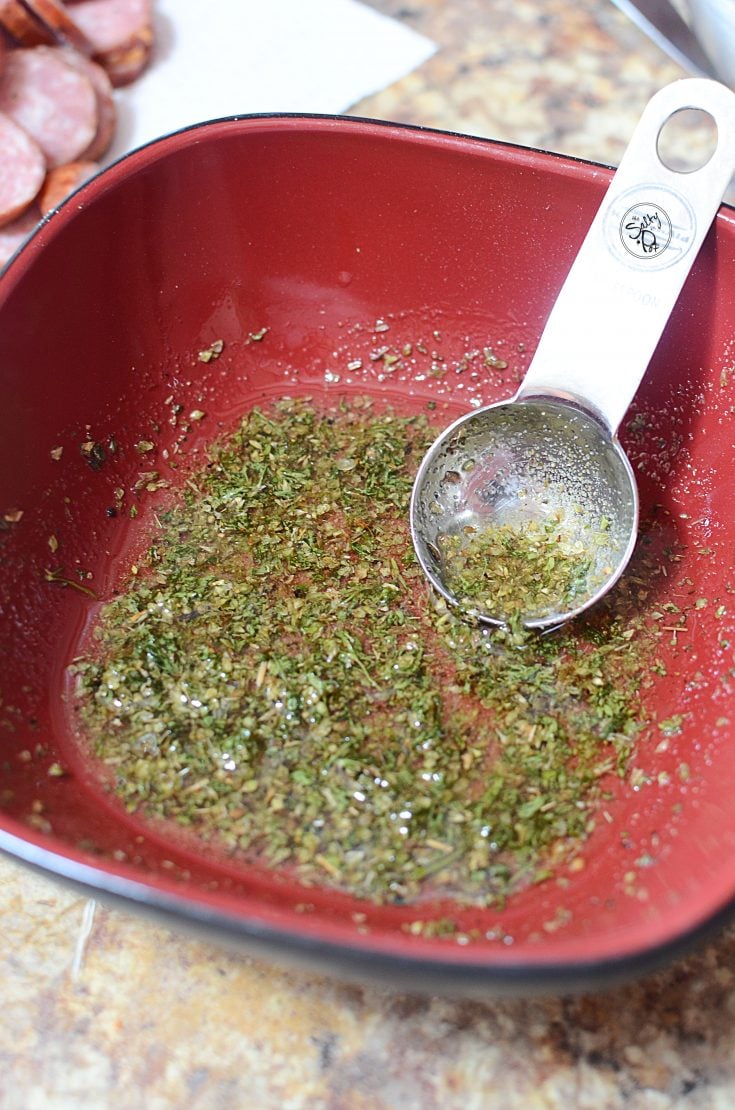 Fifth Step: Divide the mixture into 2 of the pieces of aluminum foil and fold like you would a gift. Then use the extra pieces of aluminum foil to wrap them a second time. This will keep juices and oil in the packet when grilling.
Sixth Step: Grill for approximately 10-12 minutes, then flip and cook for an additional 10-12 minutes. Then open one packet to see if potatoes are done. When they are, it's ready.
Can you believe this awesome smoked sausage foil packet takes that little amount of work? When you buy into it, you are going to feel like you just won the lottery! YUMMY!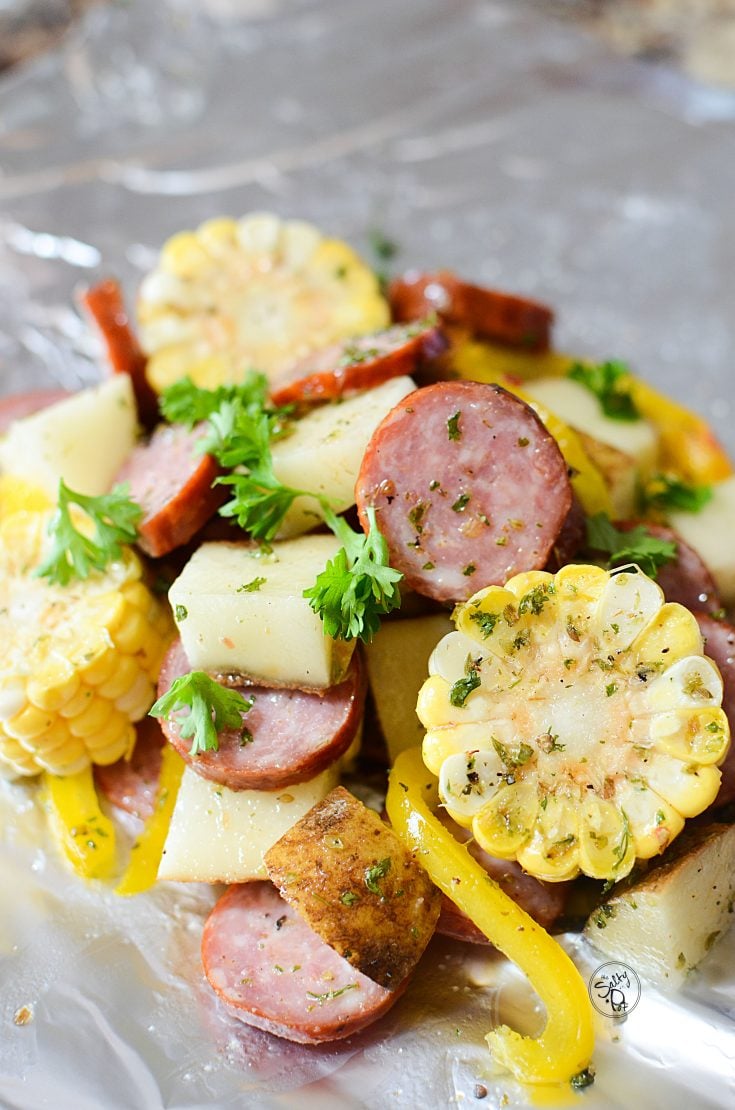 Sausage Foil Packets On The Grill Variations
You can transform this recipe into all kinds of different meals! I wanted to give you the low down on what other ingredients you can toss in there if you are feeling like it. Here are some ideas to get you started:
Shrimp – Turn this into a shrimp foil packet by adding your favorite shrimp to the mix. It will make a wonderful texture and taste awesome.
Cajun Seasonings – Try a new spin with some cajun seasoning. This is why it's one of my favorite foil packet recipes because you can do so much with it!
Green Beans – Throw in some fresh green beans to give you even more tasty nutrients.
Cheese – Add a few sprinkles of shredded or parmesan cheese after it's all cooked. Phenomenal!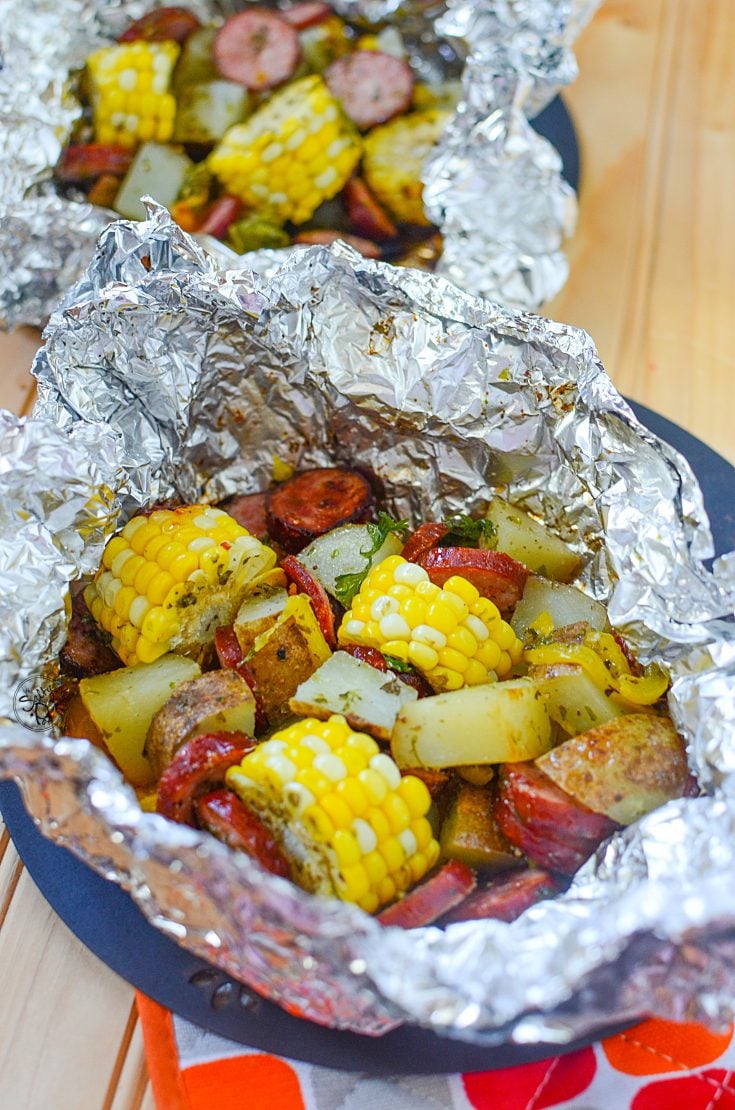 When Should I Serve Sausage Foil Packets On Grill?
Grill foil packet recipes are so popular that you will find them at all kinds of events. There are no wrong answers, but here are some of my favorite places to serve them:
Backyard Barbecue
Camping
Picnics
Reunions
Potlucks
Dinner Party
Outdoor Wedding
Birthday Party
Graduation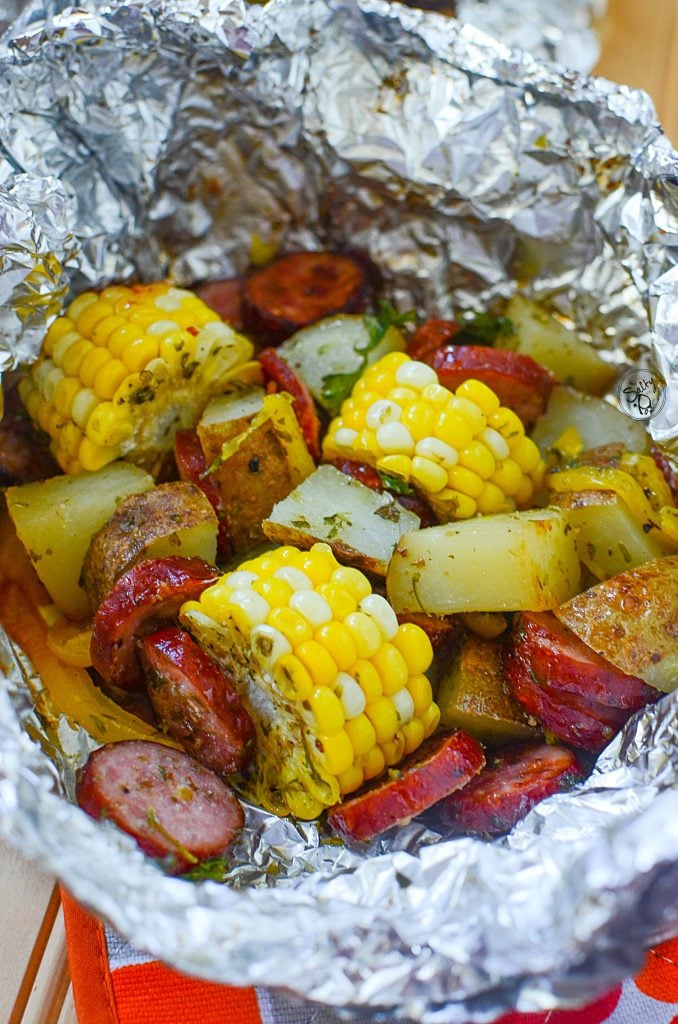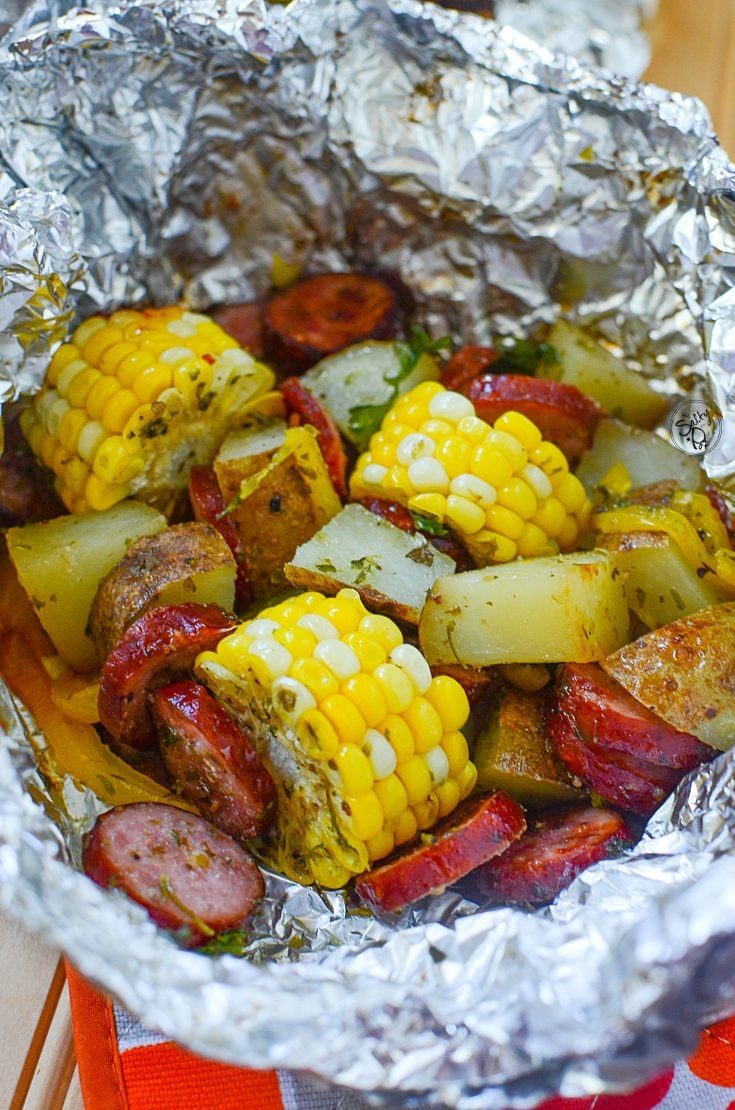 How To Freeze Foil Packets
You can freeze cooked or uncooked foil packets, so they are ideal for meal prepping. Sometimes I will double the recipe and only grill half, then freeze the other half. If you want to freeze them, wrap them tightly in the aluminum foil, then place them in a large freezer bag. When you are ready to grill them, take them out of the freezer to defrost and grill them like you usually would. If you want to reheat leftovers that have been frozen, you are better off to bake them in the oven at 300 degrees F. for 20-30 minutes until they are warmed up.
Can I Make Foil Packets In The Oven?
Yes, you can make sausage foil packets in the oven. Simply preheat the oven to 350 degrees and heat them for 35-45 minutes. They will still have lots of flavors and are perfect for those cold days when you don't want to be grilling outside.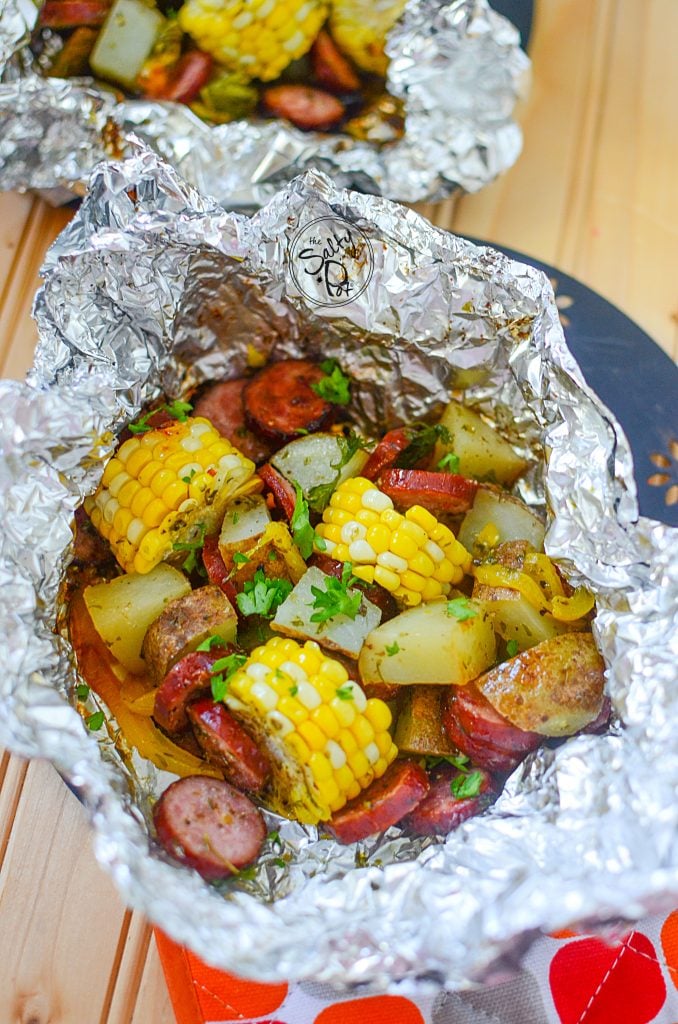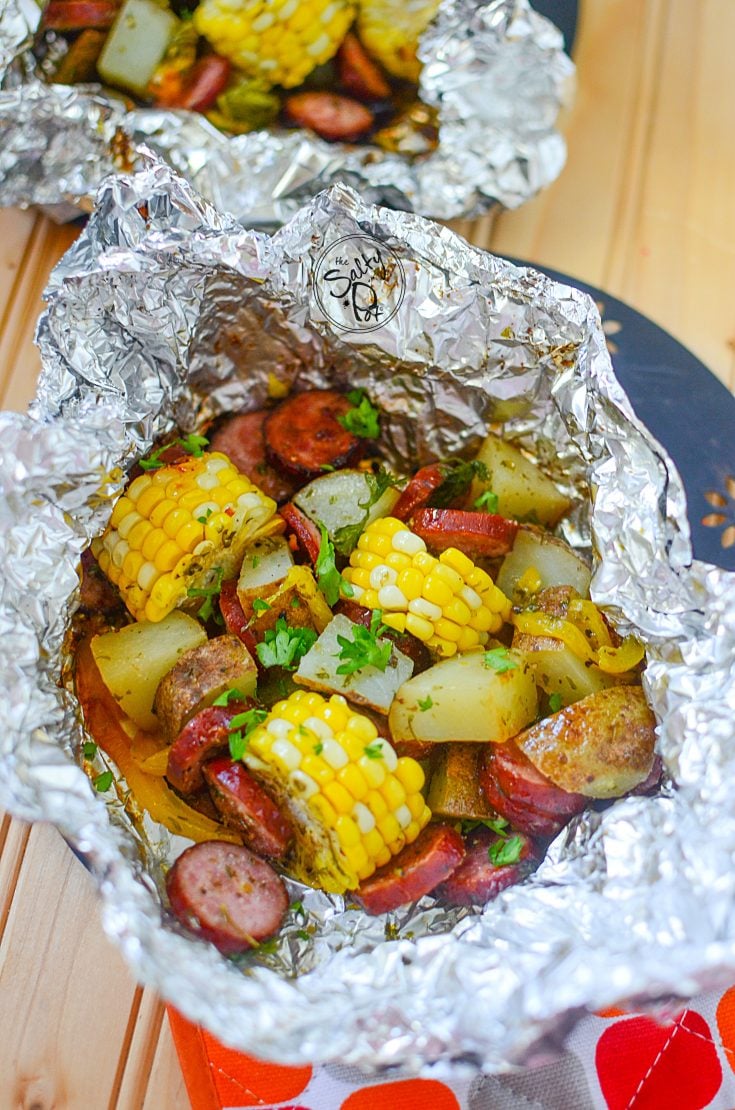 More Scrumptious Dinner Recipes
If you love this smoked sausage foil packet recipe, you should see some of my other delectable dinner recipes:
Well, I hope you love this sausage and corn foil bake as much as we did. I just love how they come together in such a quick and easy way and there's hardly any cleanup! When you make these foil packs, I'd love to hear how you switched them up and what you thought of them! And, as always, thank you SO much for stopping by The Salty Pot today, and I hope you have a fantastic day!!
***OH!! DON'T FORGET TO SAVE THIS SAUSAGE FOIL PACKETS WITH CORN RECIPE TO YOUR FAVORITE PINTEREST BOARD TO USE FOR LATER!! **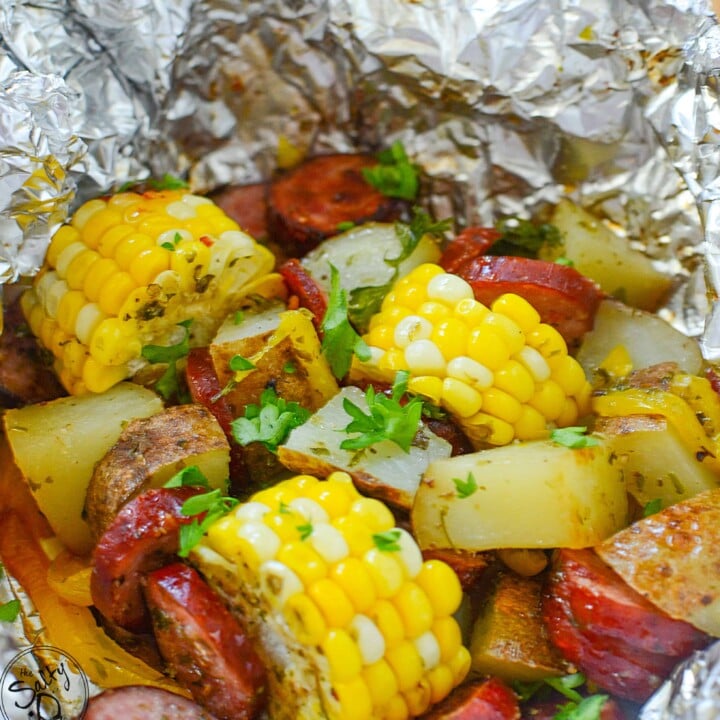 Sausage Foil Packs with Corn
A super easy sausage foil packs with corn done on the grill! Easy cooking, easy cleanup, and fantastic flavors that scream summer!!
Ingredients
1 garlic sausage ring (smallish size)
1-2 corn on the cob (small)
2 potatoes, medium sized, washed/scrubbed
1 sweet pepper, any color
3 tbsp olive oil
1 tsp Italian seasoning
1 tsp garlic powder
1/2 tsp onion powder
salt and pepper as desired
Instructions
Preheat the grill to 350 or on medium heat
Cut 4 pieces of foil, approximately 12" inches long
Slice the garlic sausage in medallions and put them into a bowl.
Slice the potatoes, corn, and peppers all into manageable bite sized pieces. Add to the sausage in the bowl.
In a separate bowl, combine the oil, italian seasoning, garlic and onion powder, salt and pepper. Mix well and pour over the sausage. Mix everything together well.
Take two pieces of foil and divide the contents evenly between the two. Fold the foil around the ingredients like a present.
Take the other two pieces and fold each one around each packet for extra protection so the marinade doesn't leak out during grilling.
Place on the grill and roast for approximately 10 - 12 minutes. Flip and roast again for the same amount of time.
Gingerly open one of the packets and test a piece of potato for doneness. If a fork goes through it easily, the packets are done.
Remove off the grill , open and enjoy!
Notes
The times suggested are approximates. All grills are different and will also depend on how close to the flame, windy days, etc. Please watch the packets closely so they don't burn.
Nutrition Information:
Yield:

2
Serving Size:

1 packet
Amount Per Serving:
Calories:

527
Total Fat:

26g
Saturated Fat:

5g
Trans Fat:

0g
Unsaturated Fat:

20g
Cholesterol:

22mg
Sodium:

505mg
Carbohydrates:

64g
Fiber:

7g
Sugar:

9g
Protein:

15g