Warm and comforting, this Ninja Foodi Split Pea Soup with the ham bone will cure every craving you have for those classic Split Pea Soup flavors!!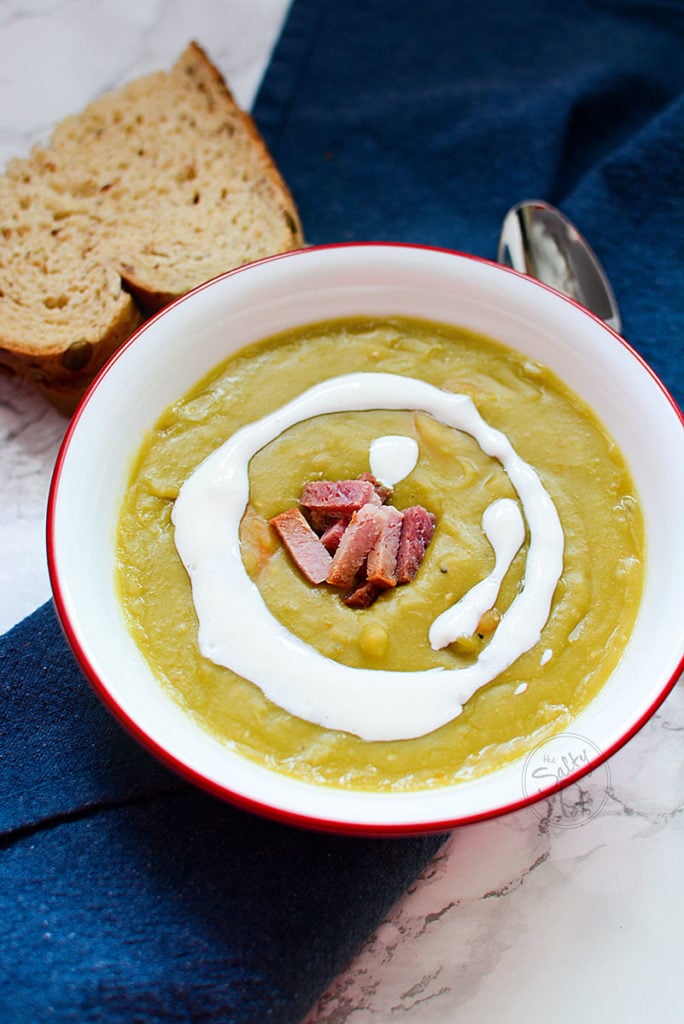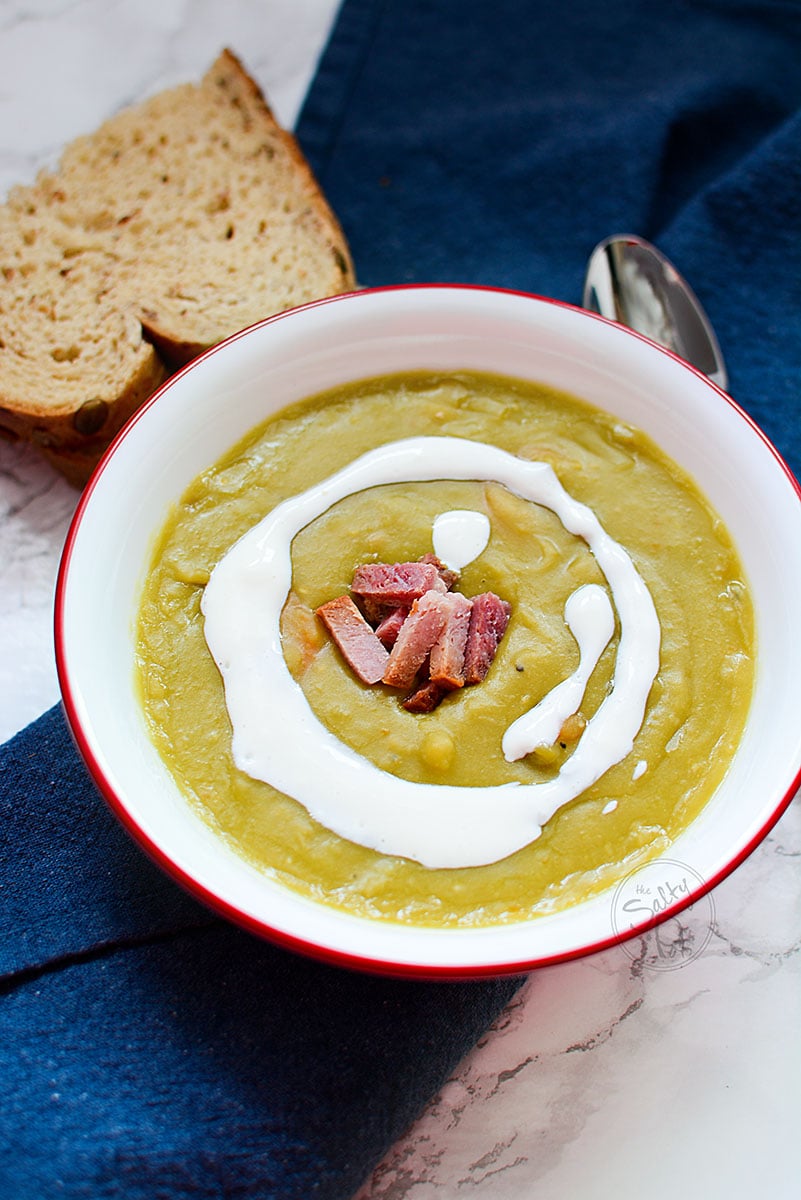 Yummy and comforting, Foodi Split Pea Soup with Ham!
I've made this soup a few times now and every single time it's been really delicious. Best of all, it's INCREDIBLY easy to make!! Omg.. literally .. SO EASY.
How To Make Split Pea Soup With Ham In The Ninja Foodi
So first step you'll want to gather your ingredients, right? Now let's say you've roasted a bone-in ham like this Ninja Foodi Roasted Ham with a Peach Glaze that I made.
So now you have some meat leftover as well as the bone, right?
PERFECT!!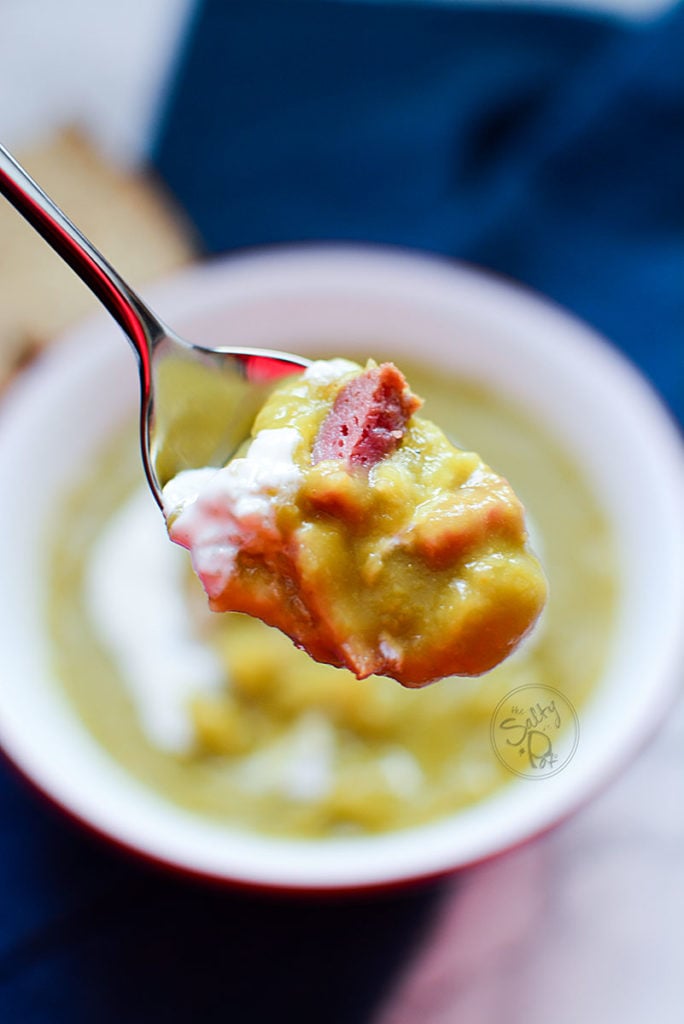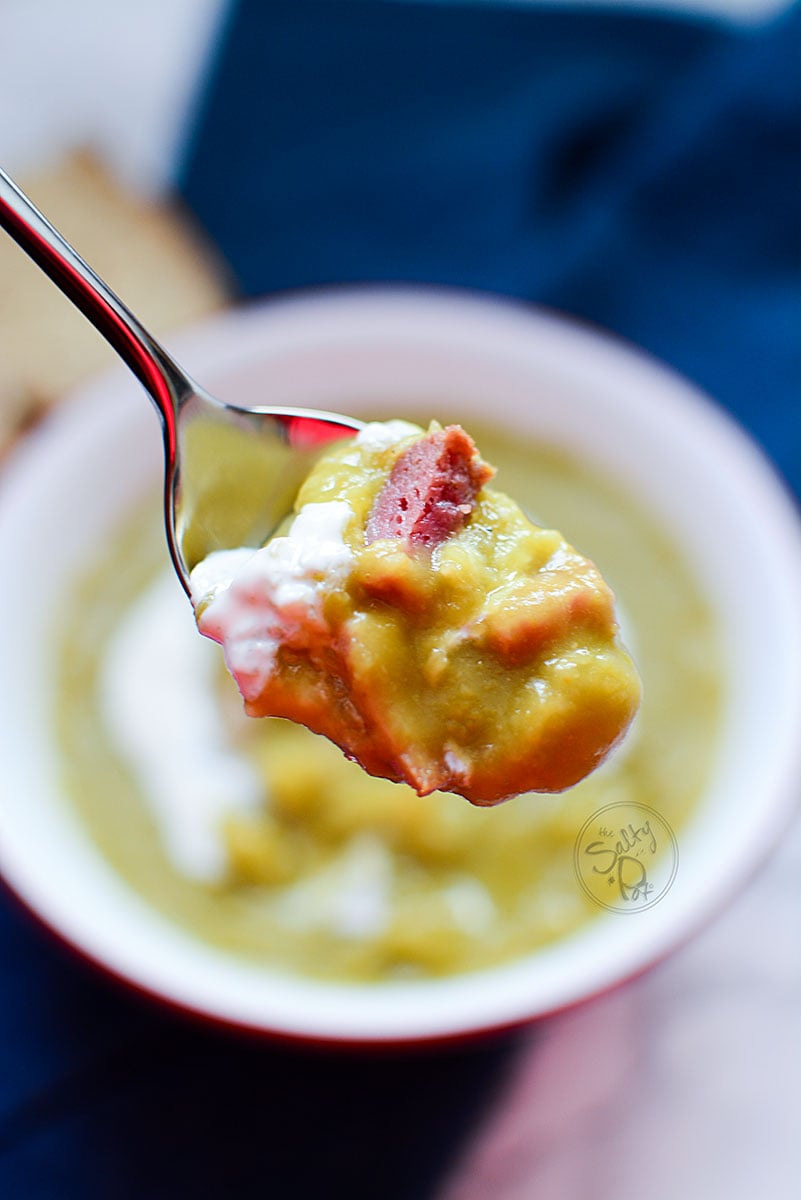 Get These Ingredients Together For The Pea Soup:
The ham bone (don't worry about the meat attached to it or not)
Split Peas (dried, not soaked)
Carrots, Onions & Celery
Bit o' Bacon *optional
Spices such as Pepper, Garlic, Thyme, and a Bay leaf
Chicken or Veggie Stock
Whipping cream for garnish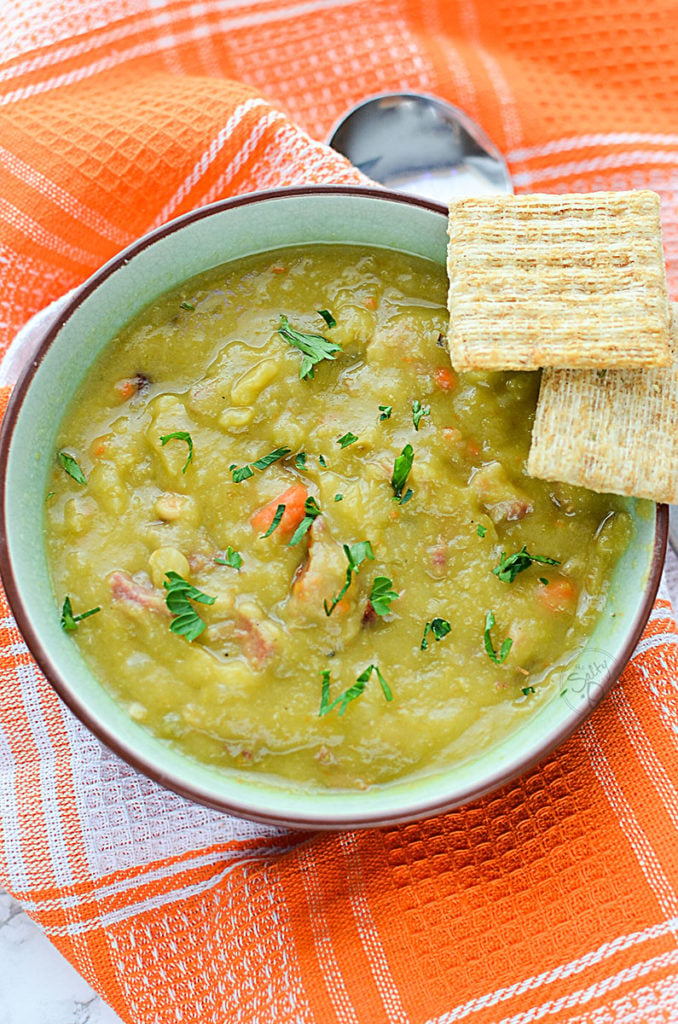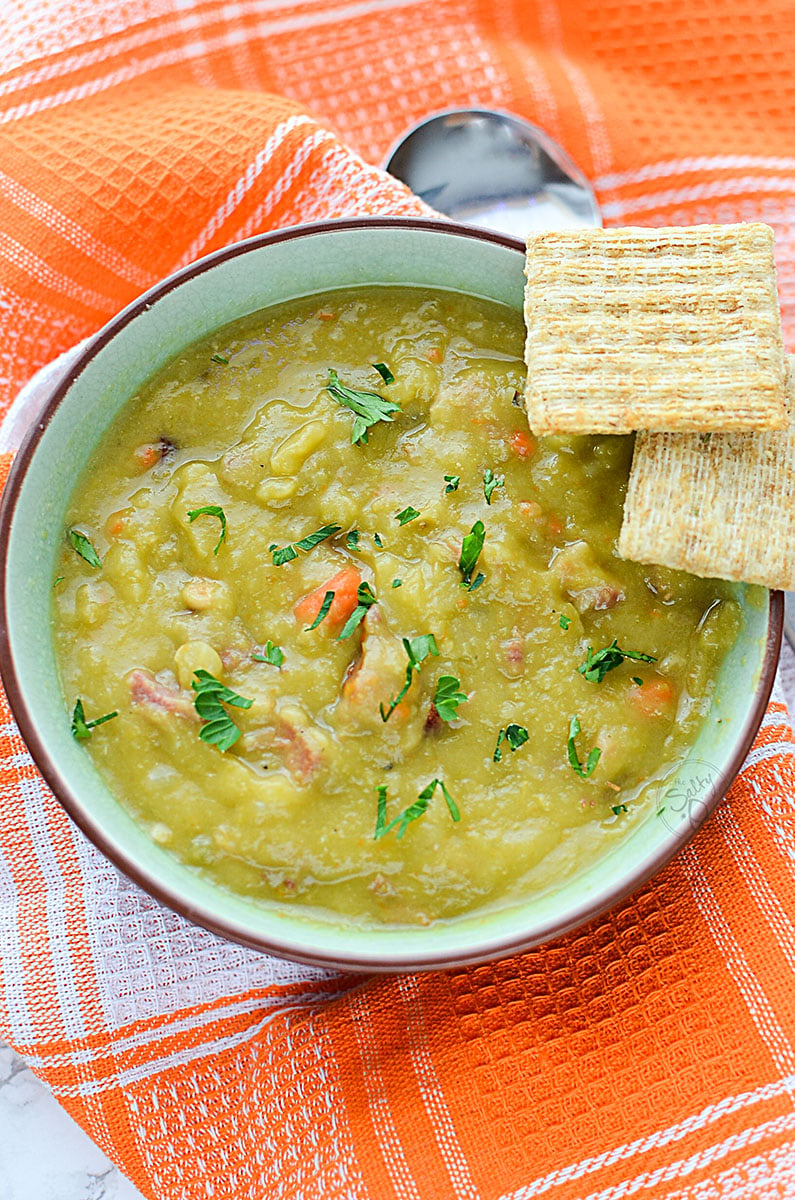 What are Split Peas?
Did you know that split peas are the same thing as your regular green peas? Crazy right?? The only difference is how the peas are processed.
Split peas are regular peas that are simply split in half and then completely dried to a very hard state. When split, they take less time to dry and cook.
So no pre-soaking! Yaaay!!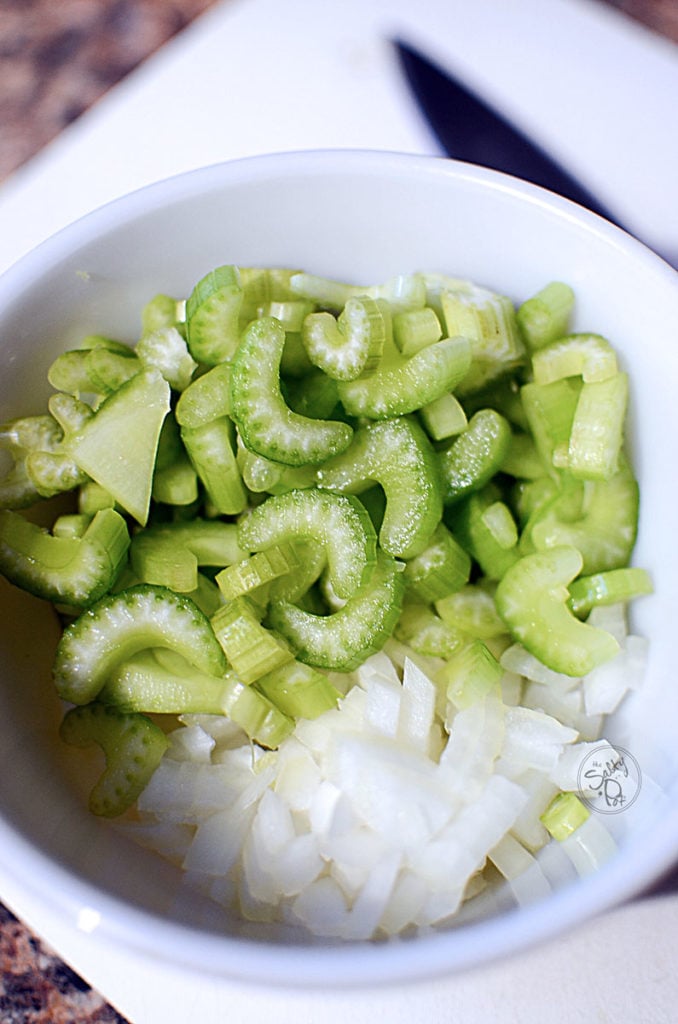 Do I Have To Use A Pressure Cooker?
Well, no, you certainly don't have to. But using a pressure cooker like the Ninja Foodi or the Instant Pot can really make short and easy work of making this split pea soup.
If you're concerned or apprehensive about using your Ninja Foodi, I wrote a beginner's guide to all things Ninja Foodi Pressure Cooker. It should help you feel a bit more comfortable with using it!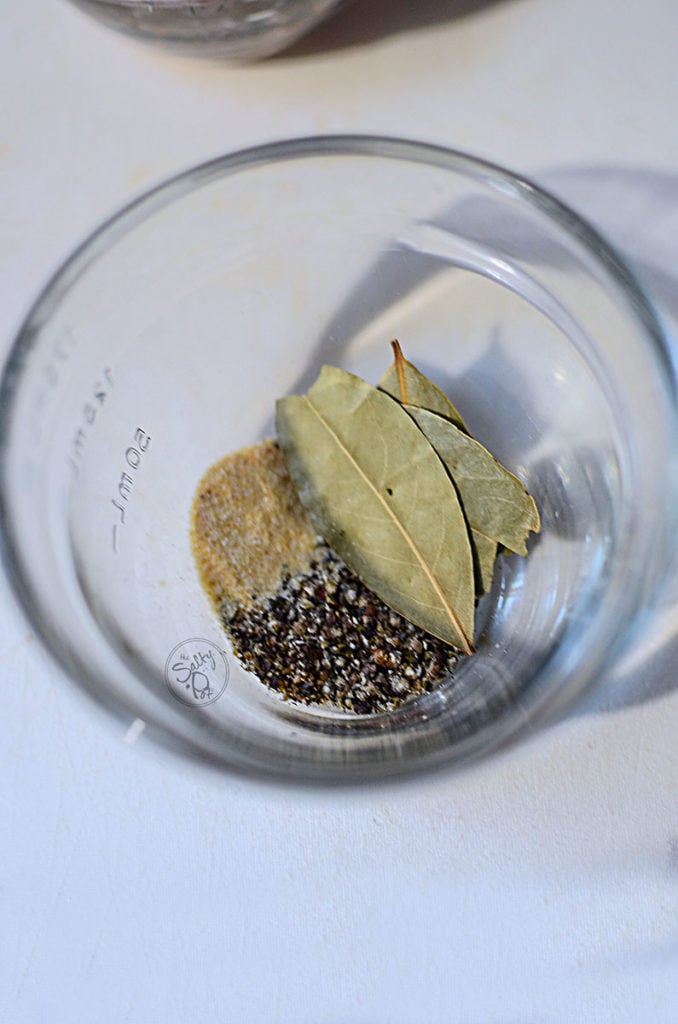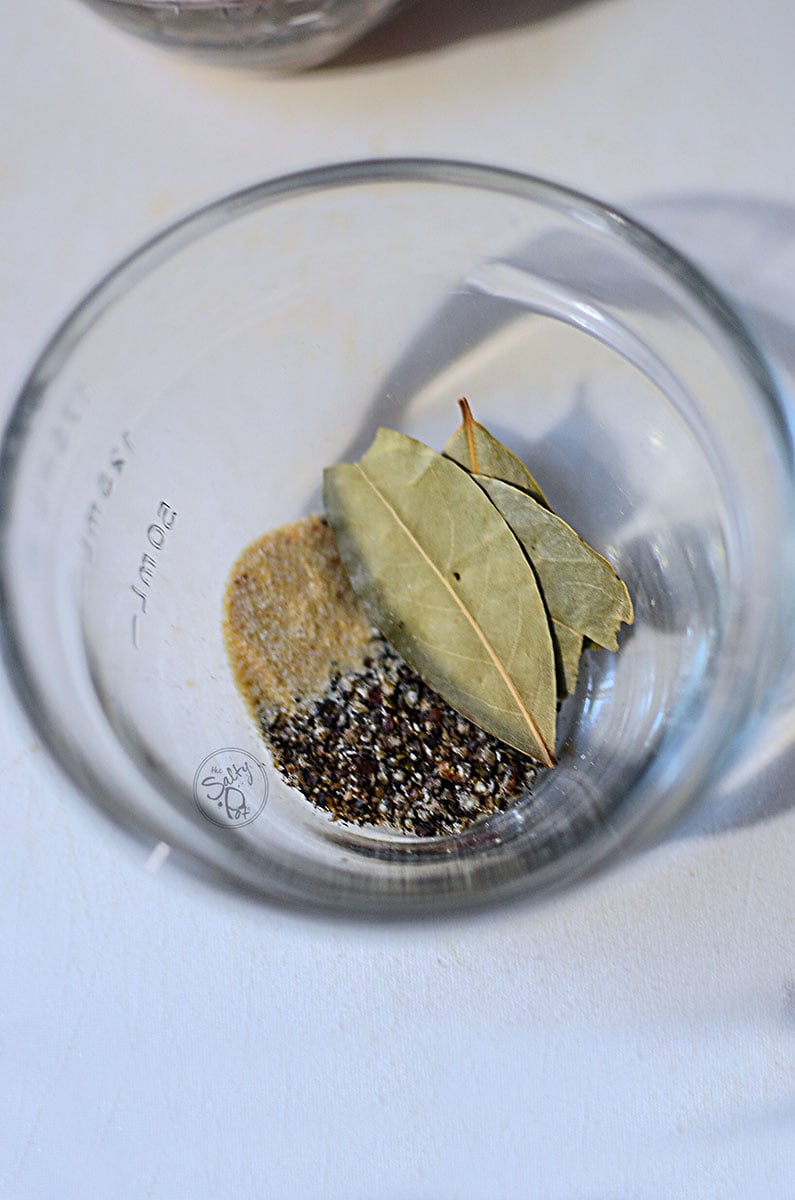 Can I Use My Instant Pot Instead?
Absolutely! If you scroll down to the recipe card, I will include instructions on how to use it to make Instant Pot Split Pea Soup!
Incidentally, if you're looking for other Instant Pot recipes, check out my Crazy Delicious Instant pot 3 Packet Roast, which is one of the most popular recipes on the blog!
What About Using My Slow Cooker?
Sure, using your slow cooker to make the ham and pea soup will work just as fine as well. Just know that because it's a slow cooker, it will take quite a bit longer to make the soup.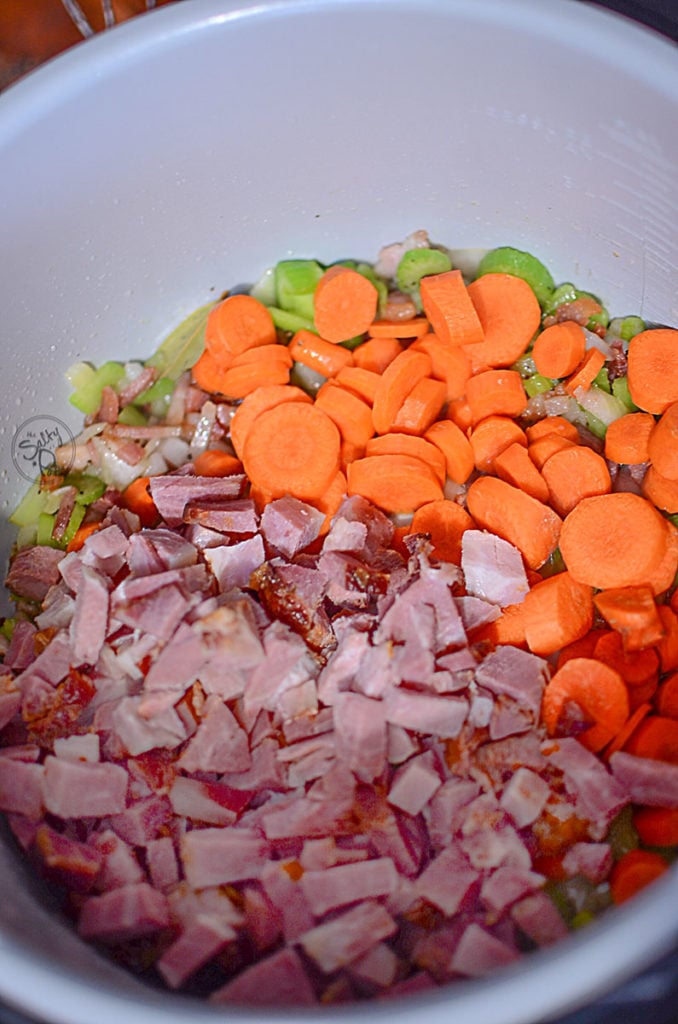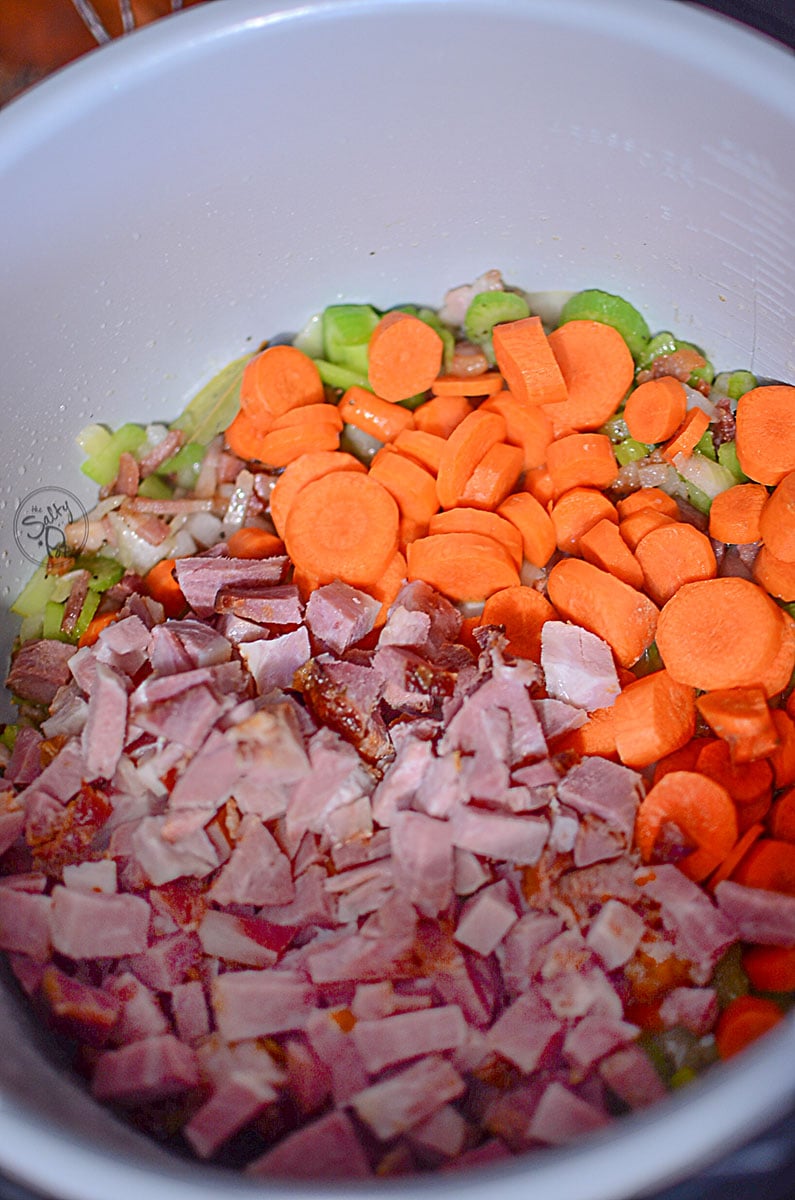 Also, you'll probably want to use a large capacity crockpot to make the soup because once you have the ingredients AND the ham bone, it will take up a lot of room!
Look in the recipe card below for instructions using the slow cooker for this soup!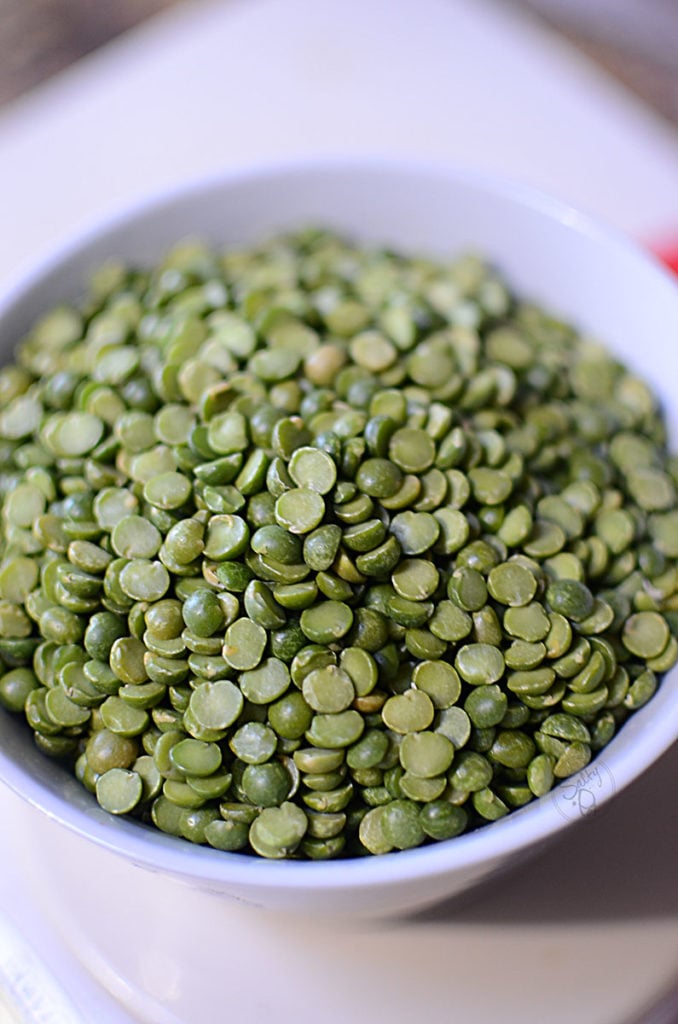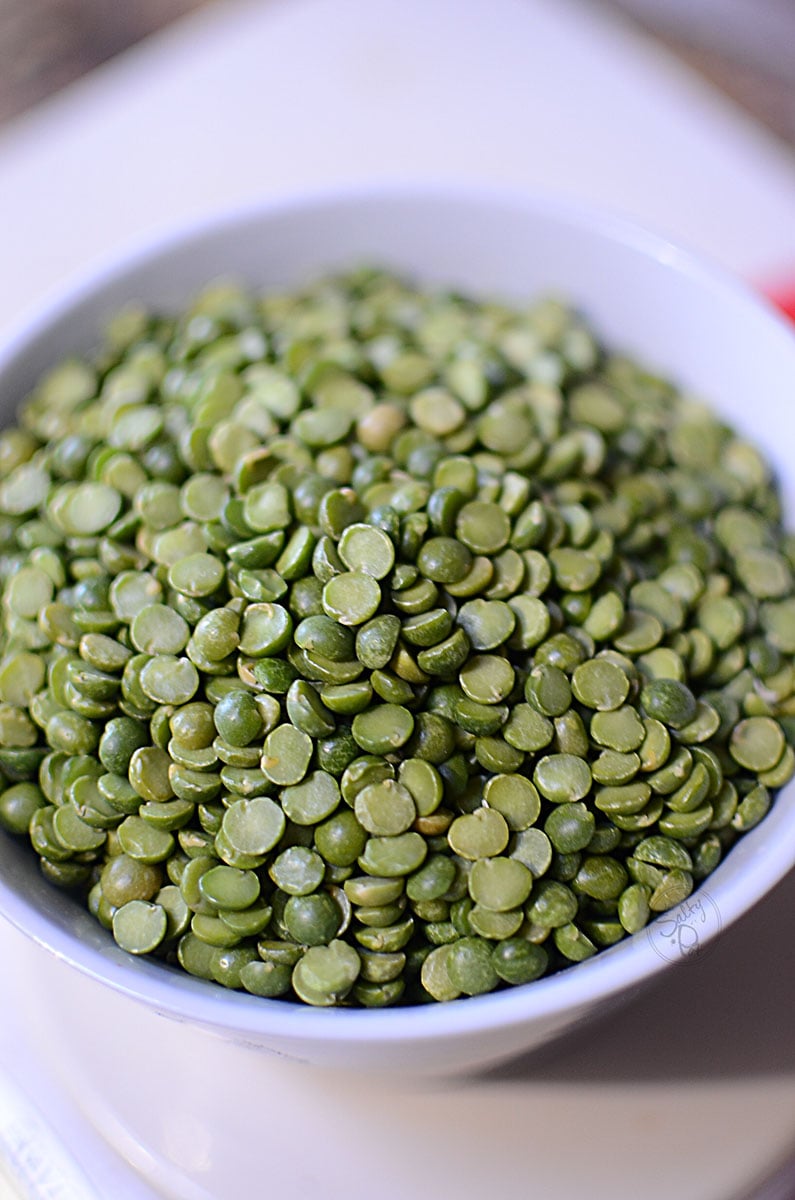 What If I Don't Have A Hambone?
That's totally ok!

The bacon will help add some of the smoky, salty flavors. Also, a smoked ham hock would be perfect as a substitution as well.
Simply making the Foodi Split Pea Soup with your leftover ham will be excellent as well.
And if you don't have leftover ham, you can look at purchasing a ham steak and cubing that up to use in the soup.
Just don't use deli ham. Haha!! … seriously though, don't.
What Can I Serve With Pea Soup?
This recipe for Foodi Split Pea Soup is hearty enough as a meal on its own. If you wanted to serve something along with it, then I'd probably serve: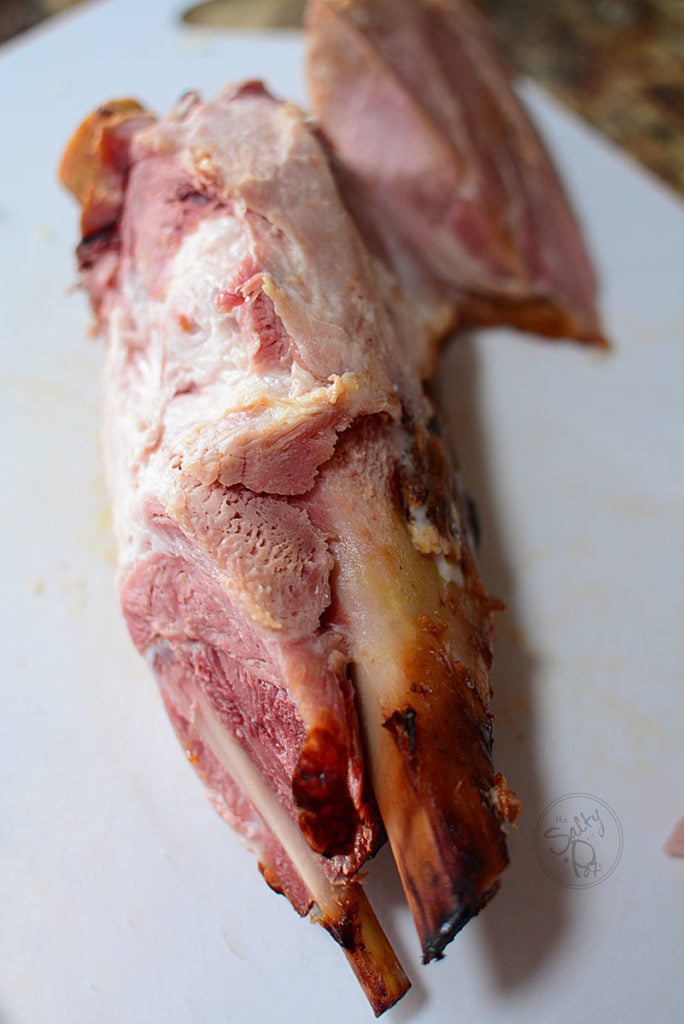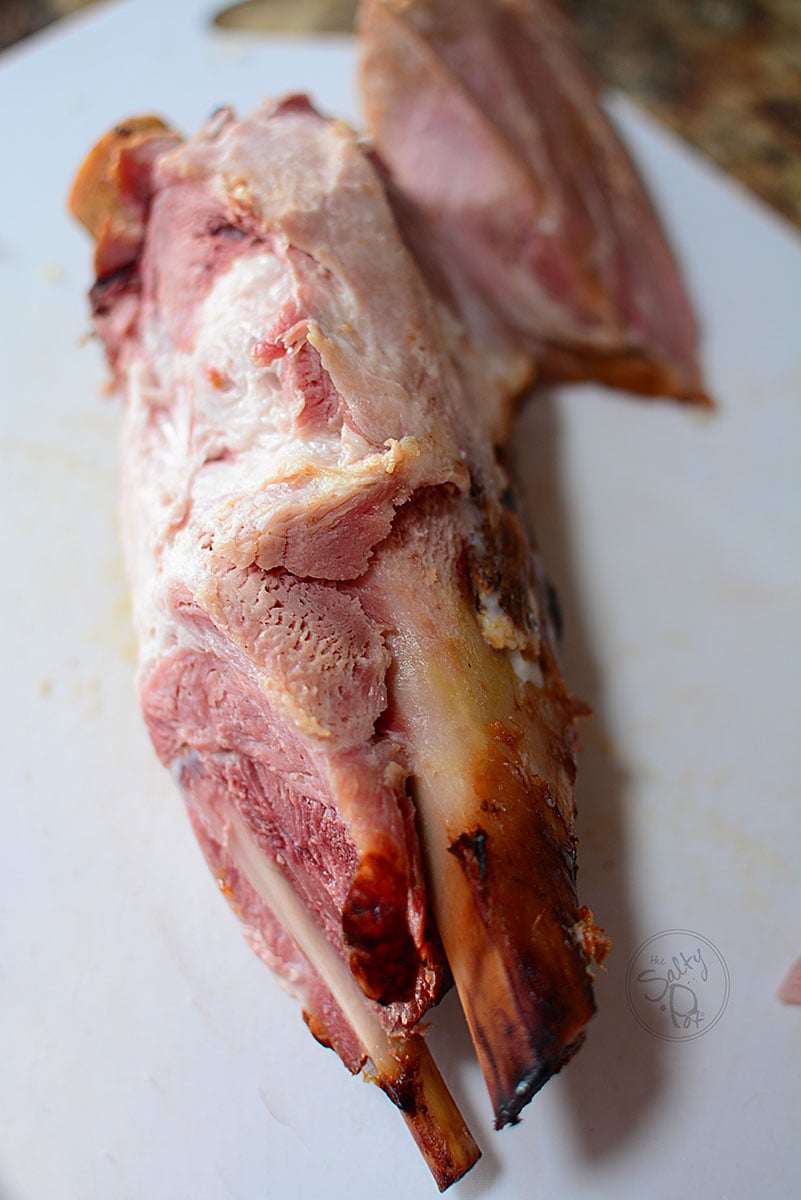 Is Split Pea Soup Keto / Low Carb?
Unfortunately, no, it's not. Split peas have about 60 grams of carbs for every 100 grams. They're super high in fiber, but even with the fiber subtracted, they're still very high.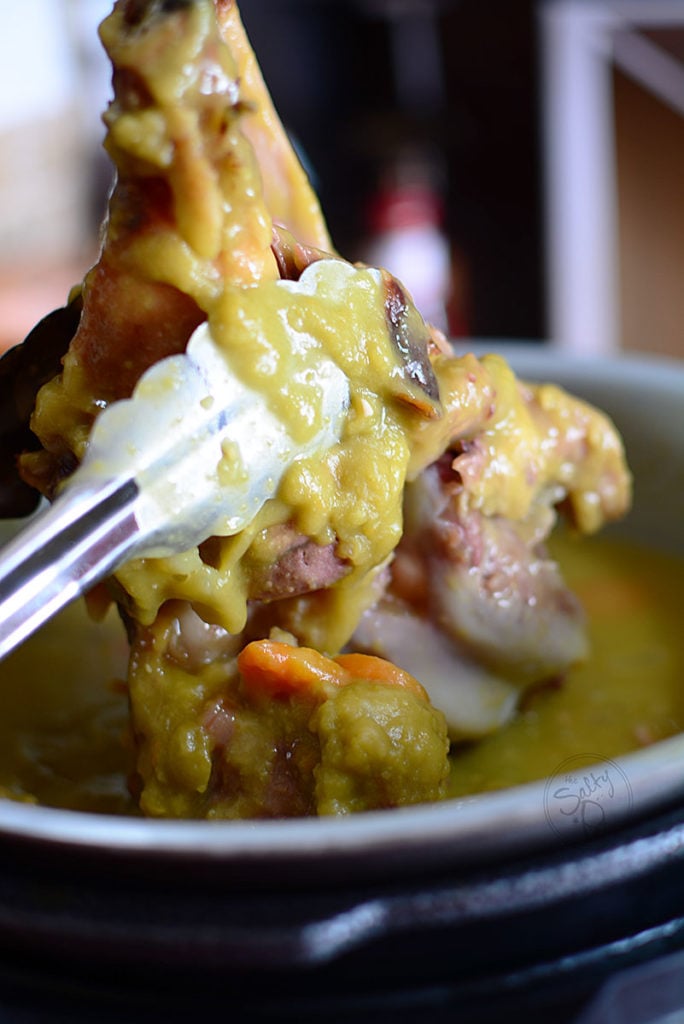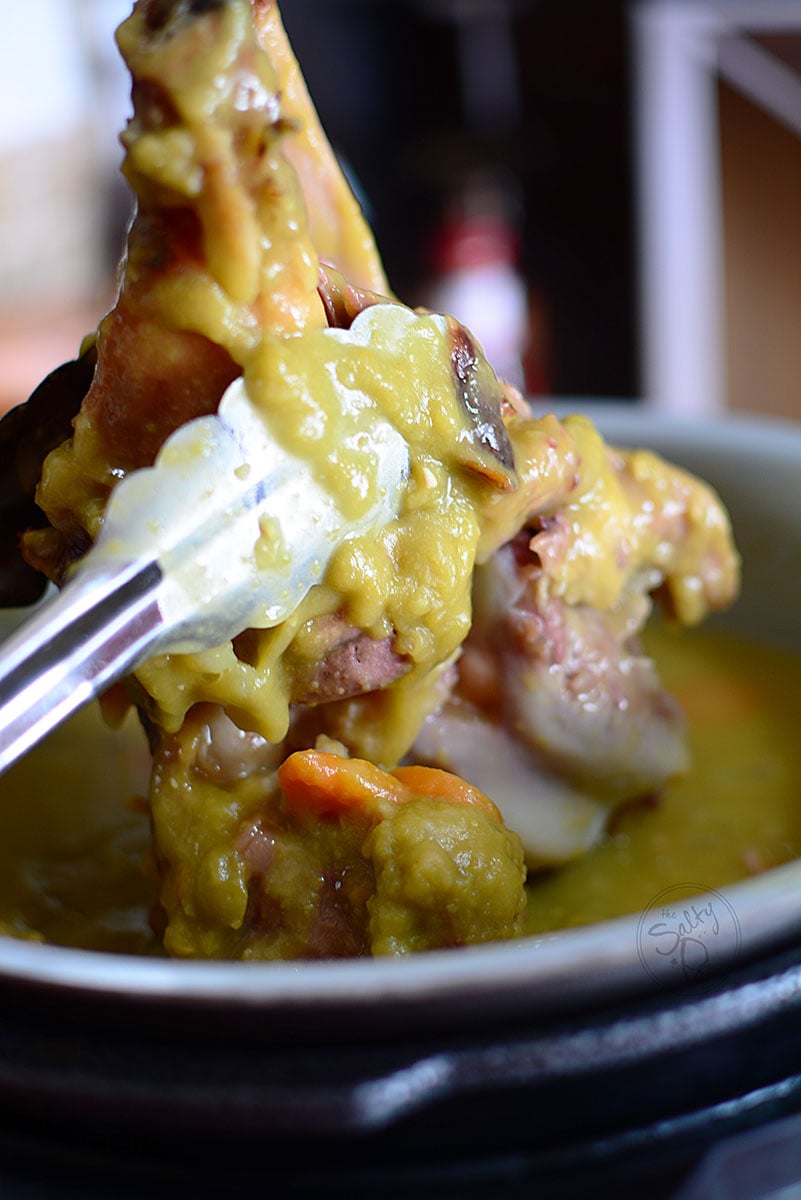 How Can I Make Split Pea Soup Vegan/Vegetarian?
It's totally possible!! You would leave out the ham and optional bacon, increase the seasonings and replace the chicken stock with vegetable stock.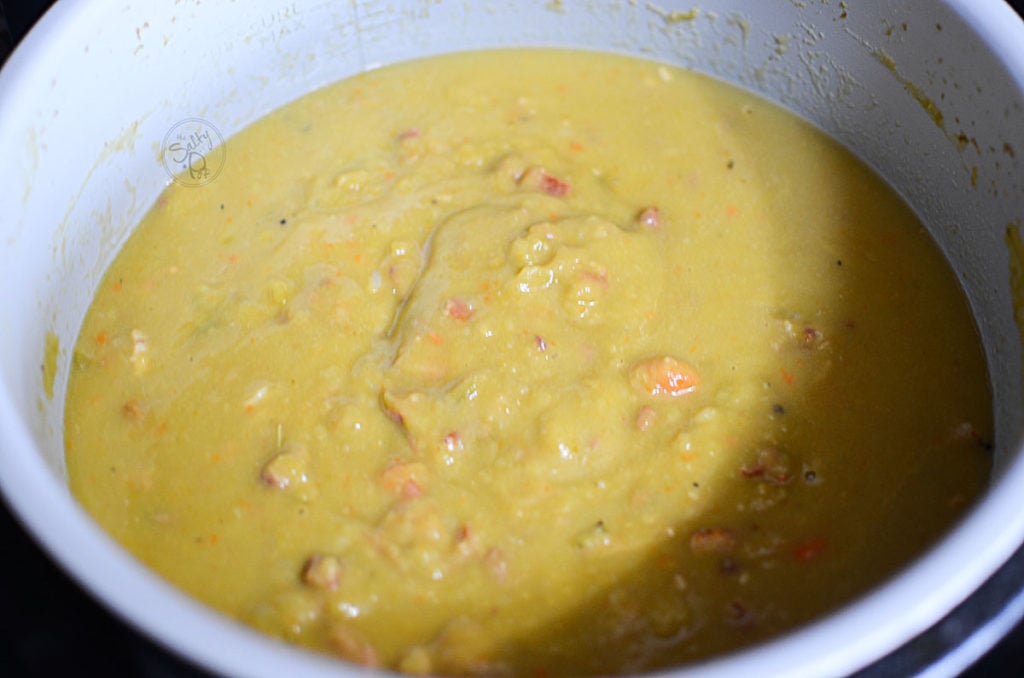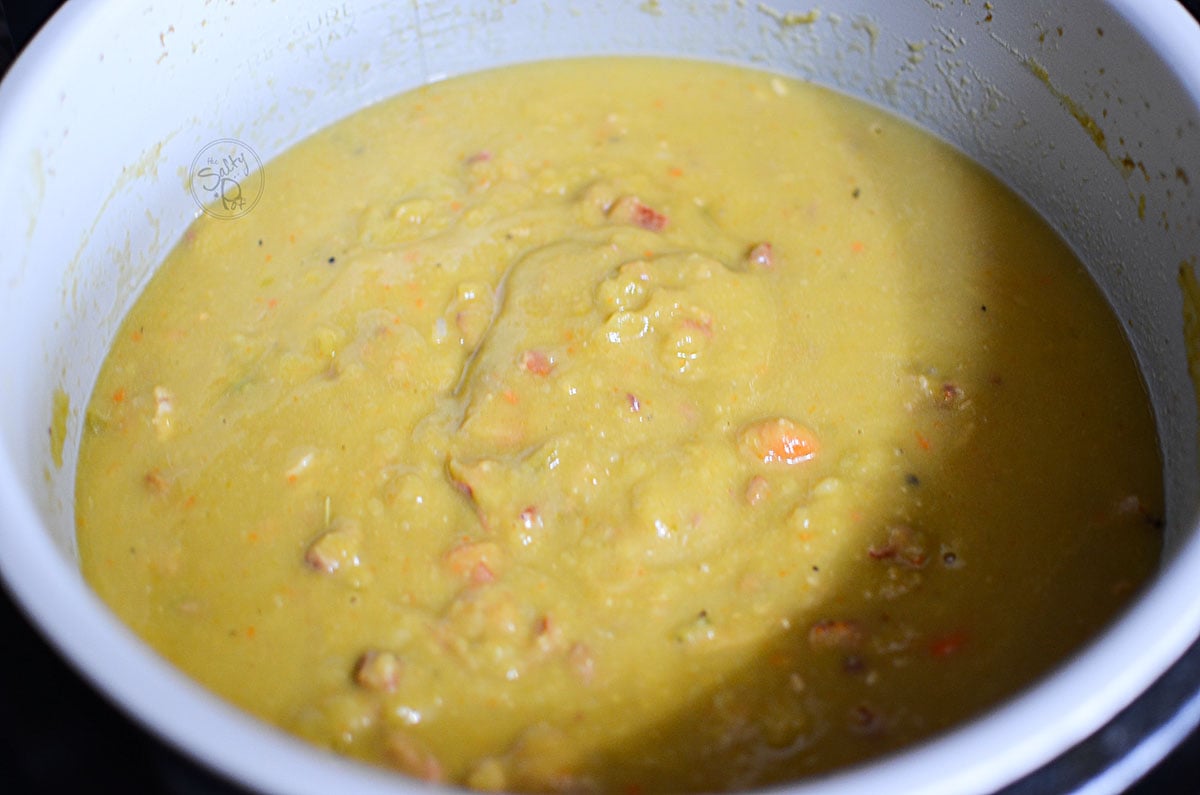 Follow the regular directions and boom! That's it! Now it's vegan split pea soup!
(see the recipe card below for more instructions!)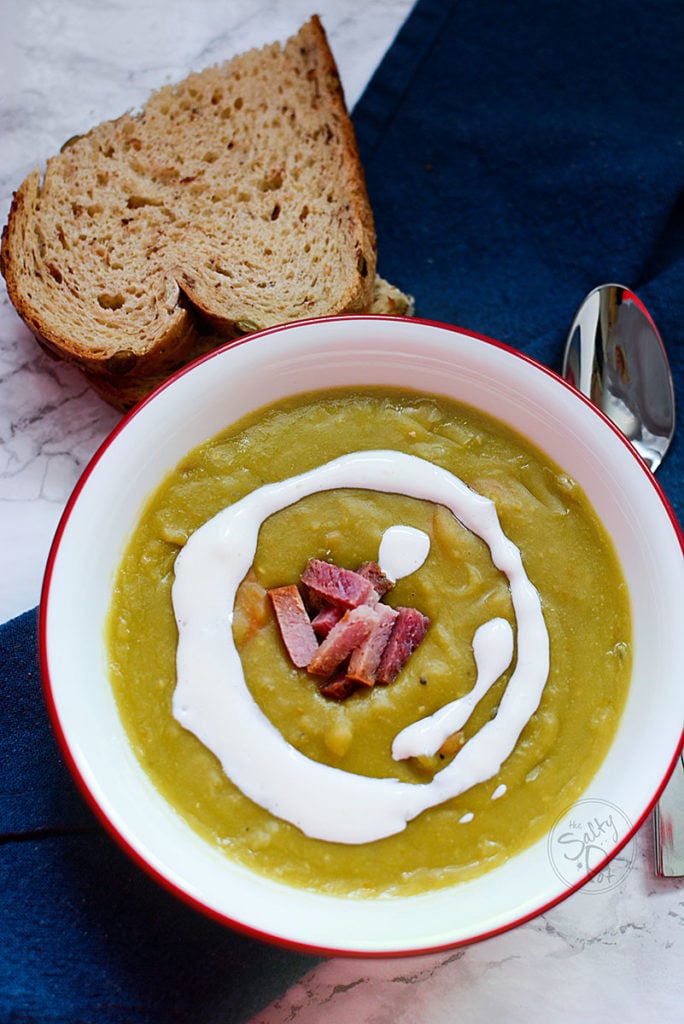 Can You Freeze Split Pea Soup?
Sure can! Freeze the soup in a freezer-safe container or bag, and it should stay good for up to six months.
When wanting to reheat, thaw for a few hours and reheat on the stovetop.
You could use the microwave to reheat, but I would portion the soup in serving sizes for easier heating.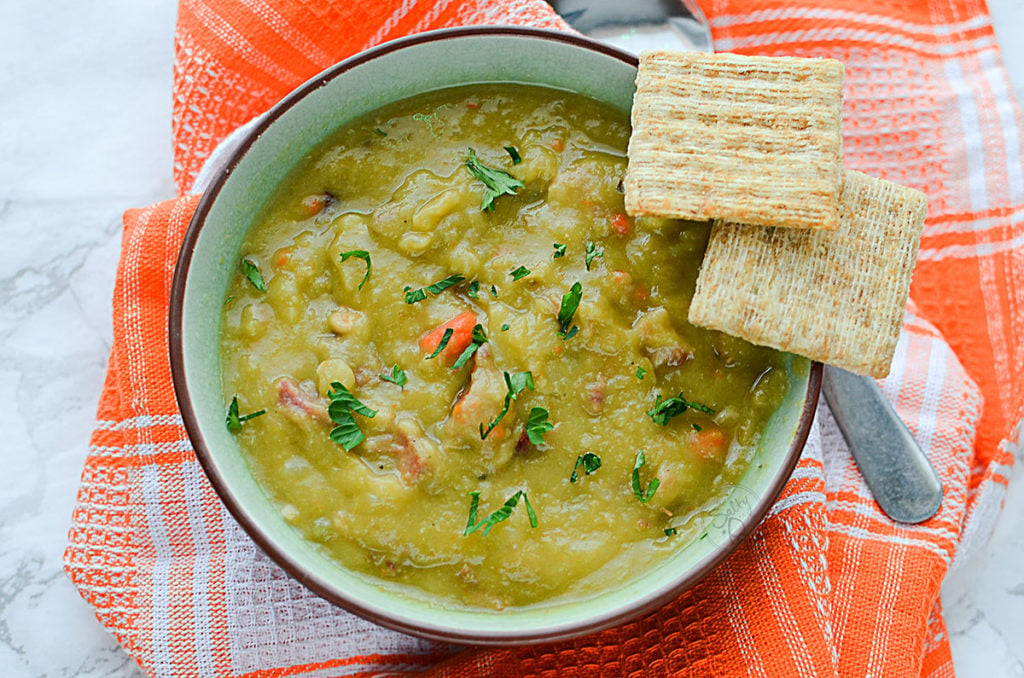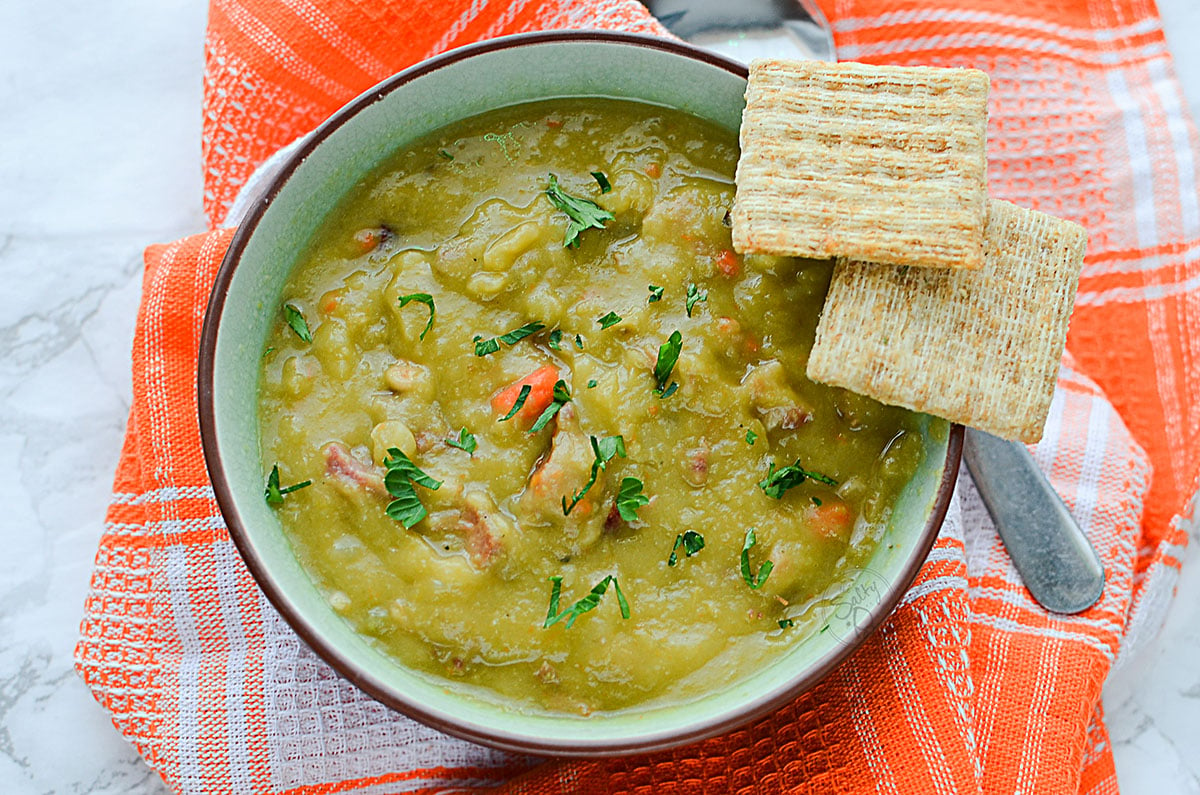 Is The Foodi Split Pea Soup with Ham Gluten Free?
Well, yes and no. First of all, dried split peas are naturally gluten free. However, you have to watch for potential gluten in the ham as all hams are not created equal.
That being said, most hams are usually gluten free, but sometimes in the processing, they aren't. The brand I used today, Cook's brand, IS gluten free.
I would watch the label or ask your butcher if the ham you want to use is gluten free, or you can take a peek at a list that covers a lot of gluten free products.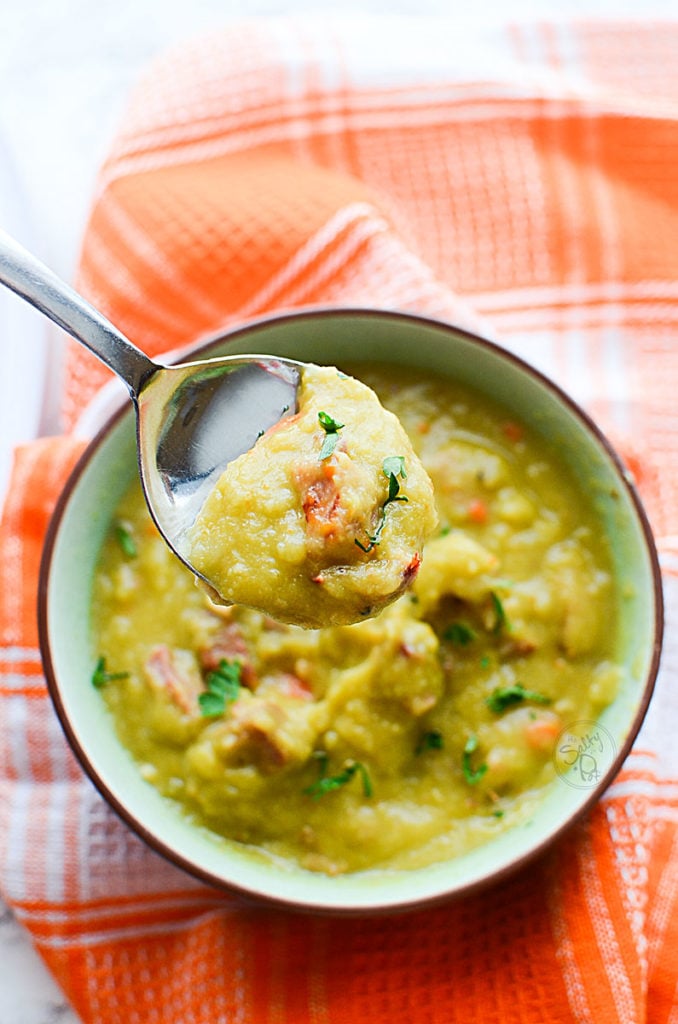 So there you have my gorgeous reader! Ninja Foodi Split Pea Soup (using the ham bone!). I really think using the ham bone just brings that extra level of flavor to an already fantastic tasting soup!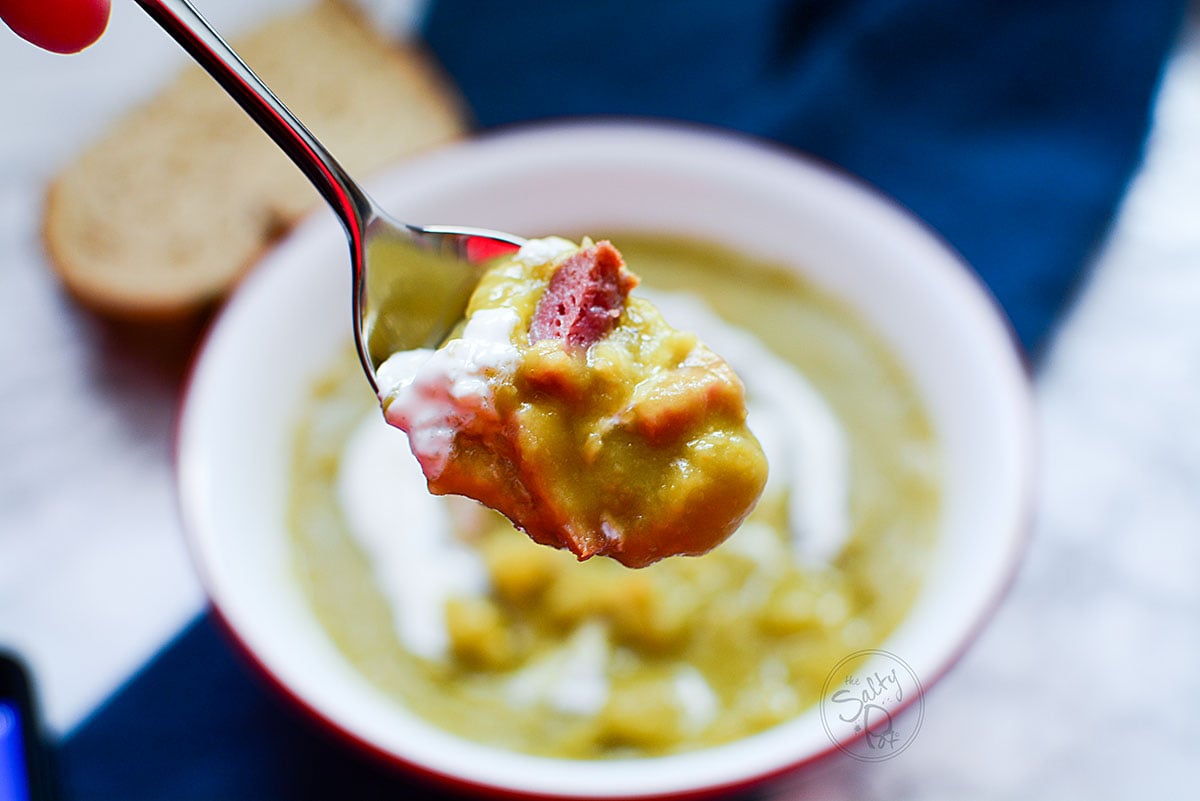 If you have any questions about this recipe, or you've made it but you switched up the recipe a bit, let me know in the comments below!! Or, if you prefer, drop me an email at joanne@thesaltypot.com and tell me all about it!
I want to thank you for stopping by The Salty Pot today, and I hope you have a truly fantastic day!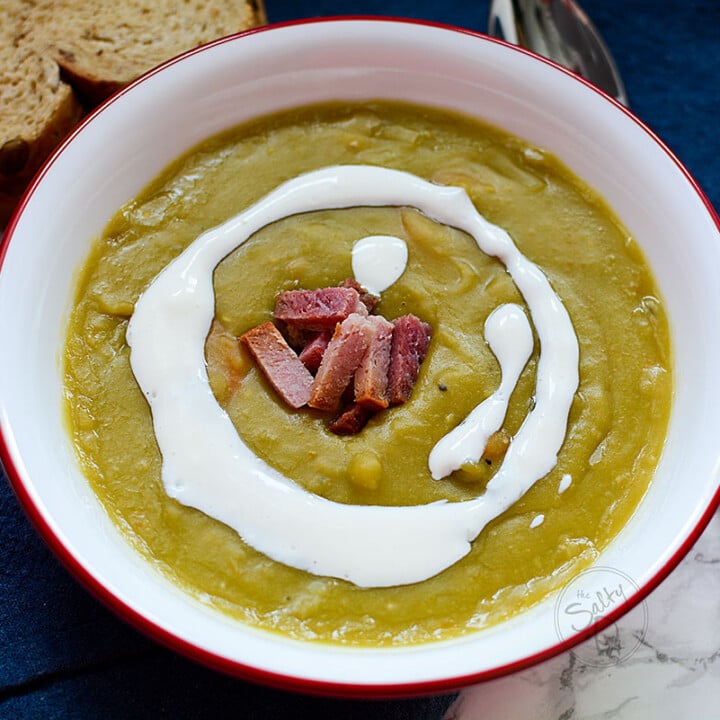 NINJA FOODI SPLIT PEA SOUP
Additional Time:
10 minutes
Hearty and delicious, this Ninja Foodi Split Pea Soup uses the goodness of the ham bone as well to help make this delicious soup absolutely fantastic. Easily adjustable to your liking and cooked in the pressure cooker, this smoky, creamy and filling soup brings it's classic split pea soup flavors to your table in record time!!
Ingredients
2--3 cups of diced ham (Plus whatever is on the ham bone itself)
1 ham bone
1 lb split peas
2 ribs celery, diced
2 carrots, sliced
1 small onion, diced (or half a large onion)
2-3 strips of bacon **Optional
1 large bay leaf or a few small ones
6-8 cups of chicken broth ** see notes
as desired, pepper *see notes
1 teaspoon garlic powder
1 tablespoon oil ** see notes
Sour cream for garnish
Instructions
NINJA FOODI AND INSTANT POT DIRECTIONS:
Press saute on the Foodi .
If using the bacon, begin to saute now to render some of the fat into the pot. If NOT using the bacon, add the 1 tablespoon of oil to the pot to heat.
When the bacon is rendered, add the celery and onion to saute in the fat. If not using the bacon, simply add the celery, onions, and carrots to saute.
Saute the veggies for 2 - 3 minutes. Add the ham and spices. Continue to saute another minute.
Add the ham bone (or ham hock) and peas.
Add the broth. ** See notes
Place the lid on the pot and turn the toggle switch to "seal".
Press manual to "high' and pressure cook for 15 minutes.
After the cooking time is up, do a natural release for 10 minutes. Then slowly release the remaining pressure in the pot.
Upon opening the lid, give the soup a good stir as a lot of the peas may be settled on the bottom.
Carefully, remove the bone from the soup, and take any remaining ham off the bone. It should fall off easily. Add the ham back to the pot and give it another stir. Remove the bay leaf!
Upon serving, drizzle some sour cream on top for a pretty presentation and to add a bit more richness to the soup.

SLOW COOKER DIRECTIONS FOR SPLIT PEA SOUP:
1. Follow directions 1 - 5 but in a pot in the stove. Transfer the contents to a large capacity slow cooker.
2. Follow directions 6 & 7.
3. Cook on low for 8 - 9 hours or high for 6 - 7. Give the soup a stir a few times along the cooking time to prevent burning on the bottom.
Notes
1. To make this soup vegan, replace the chicken broth with vegetable broth. Also, omit the ham, ham bone and optional bacon. You can replace the bacon with vegan bacon for the flavor as well as a few links of vegan sausages for the ham.
2. I would advise not to add any salt to this soup initially. The ham will lend some salty flavors and it's best to taste and adjust to your preference after the soup is made to avoid it being too salty.
3. If you are using the bacon in the recipe, begin to saute the bacon first in order to render the fat in the bacon to then saute the veggies and omit the oil. If you are NOT using the bacon, use the oil and begin to saute the vegetables in the pot.
4. I called for 6 - 8 cups of broth (or more) because depending on how large the ham bone is will depend on how much soup you have to use. I poured enough broth to cover the ingredients, the bone and it almost reached the 18 cup mark on the side of the Foodi insert. Feel free to add enough liquid to almost come up to that mark.
5. After cooking, if you find the soup too thick, add a bit more chicken broth to loosen the soup to your liking. Personally, I liked the thickness of the soup, it makes it very hearty!!
6. IMPORTANT!! Remember to remove the bay leaf before consuming!!
****DON'T FORGET TO PIN THIS NINJA FOODI SPLIT PEA SOUP TO YOUR FAVORITE PINTEREST BOARD TO USE FOR LATER!!****