With Air fryers becoming all the rage in recent years, it's obvious we're still going strong with our fried foods adoration. Come along with me for my Cosori Air Fryer Review to see how it stacks up!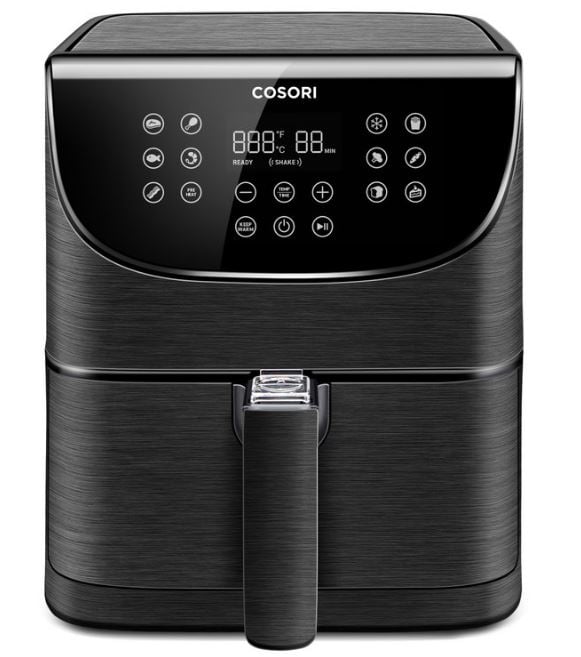 COSORI AIR FRYER REVIEW – My truthful thoughts on it.
With so many of us understanding how unhealthy our lifestyle and eating habits have become, some of us find ourselves turning to healthy eating. In trying to make better choices, we find ourselves wanting "better" versions of our 'unhealthy' culinary pleasures.
Bring on the air fryers! They arrived in stores, quickly trying to fill the need for an appliance that magically pops out healthier, delicious snacks.
The extremely kind people over at Cosori approached me to see if I'd be willing to review their Cosori Premium 5.8 Quart Air Fryer. I looked up the product and thought it I'd like to see what kind of job it does, so I agreed.
So What's The Claim?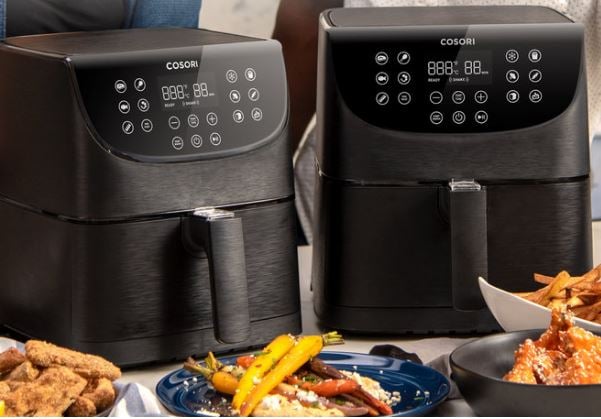 The Cosori Air Fryer comes in two different sizes (3.7 qt and the 5.8 qt.) The company claims this appliance can provide healthy, little to no oil-free frying. With its 360 degrees rapid hot air circulation, it cuts out as much as 85% fat of traditional deep-frying while still giving that crispy texture and flavor that we all love in traditional fryers.
So it works similar to a mini convection oven- only way hotter and way better. Basically, enjoy all the fried foods you love, but without all the deep fry part! lol
The Cosori Air Fryer: First Impressions
So when Cosori sent me their air fryer to test, it arrived at my door with super quick shipping, and it was really well packed. It came with the main air frying unit, the instruction manual, and a really comprehensive air fryer cookbook!

The main appliance had a pretty LED screen with a bunch of presets. I liked the blue light indication of what was working and such when you plugged it in. Because my camera was acting up a bit and the lighting was funky, I have included a pic of the preset screen from Cosori's website.


At the bottom of the unit, it housed a basket-type drawer at the bottom which also had an inside basket within it, that had large perforations in order for grease to drain into the main basket.
I was eager to start fryin' up some stuff! LOL
Cosori Air Fryer Review Item: AIR FRYER BACON!
I tested the Cosori air fryer out for the first time with some bacon. Now because I'm a bit particular in how I like my bacon, I wanted it cooked flat. YES, I said flat! (except for that rogue peice at the top… lol)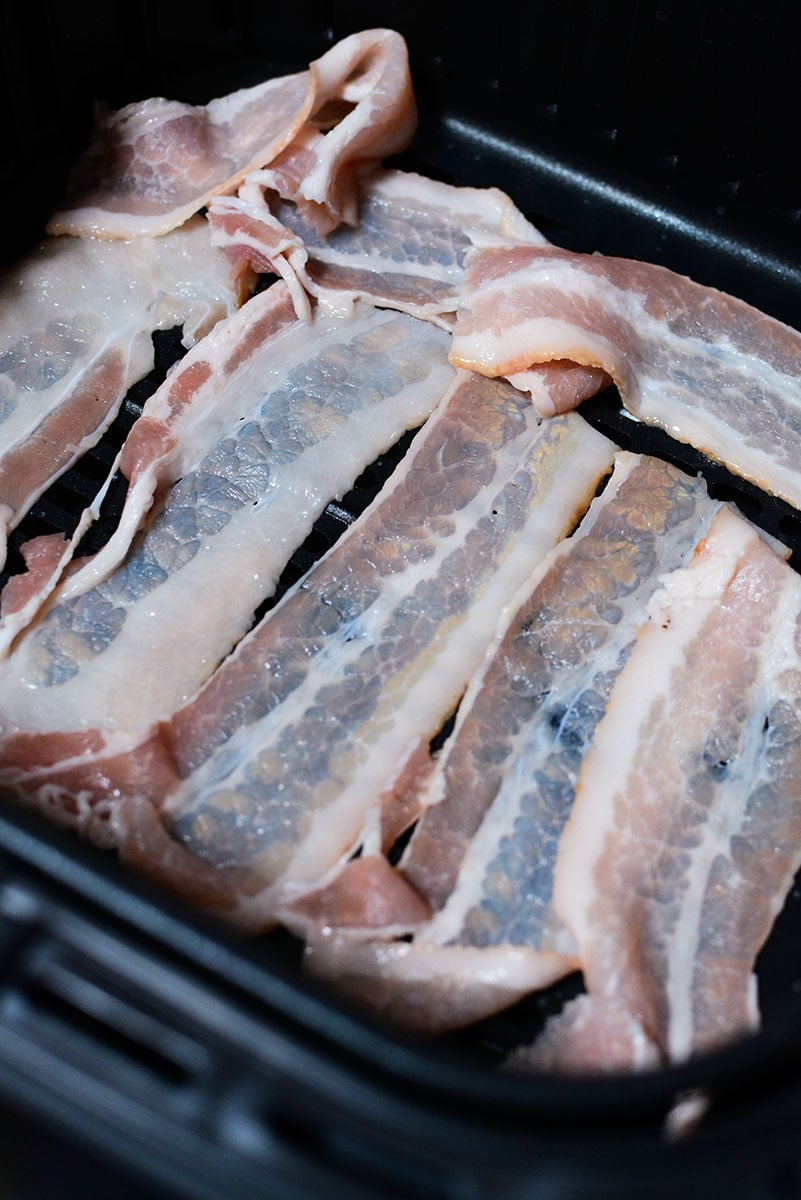 I normally cook bacon on a sheet pan in the oven because it comes out nice and crispy AND FLAT. So the basket didn't allow for a full pound of bacon to be cooked at once. I'm ok with that though.
That being said, if you don't care or prefer your bacon curly and twisty, all the power to you! Throw those bacon strips on in the basket girl, (or guy), get it all in there, willy nilly!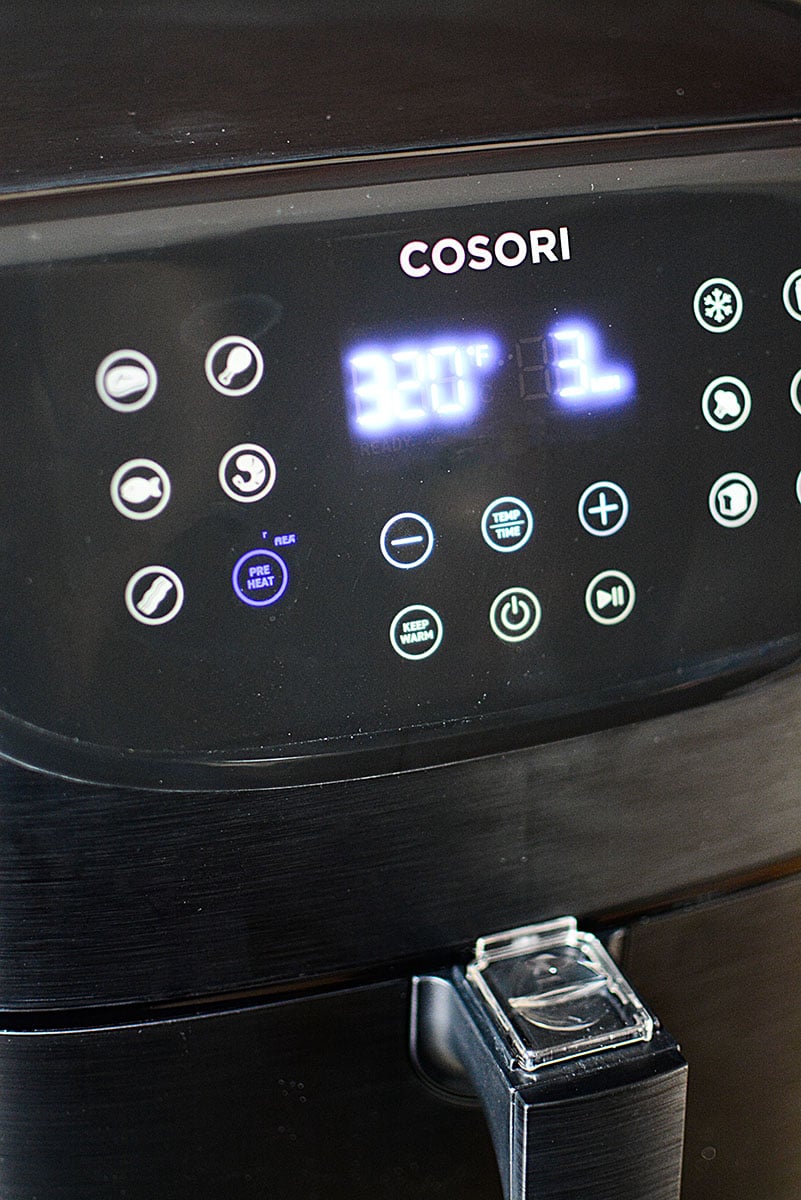 So Cosori advises that you should first preheat the air fryer before actually cooking (much like an oven}. I think it's a great idea because you don't waste the time with the food sitting in the basket, waiting for the unit to heat up.
Luckily, there's a convenient PREHEAT button to do just that.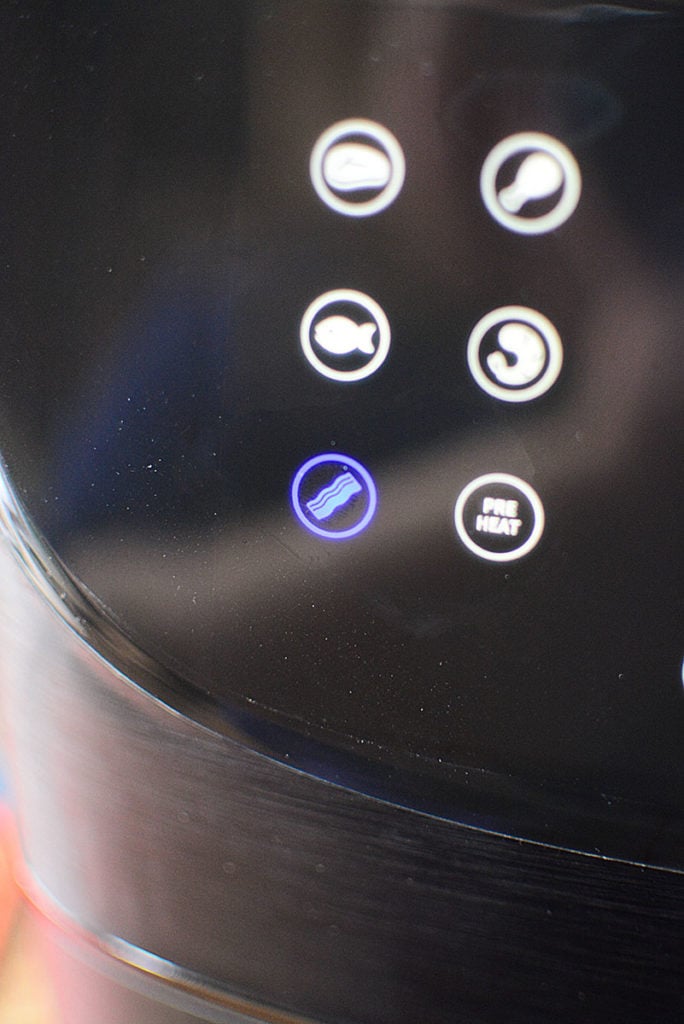 (Sorry for my sketchy, out of focus photos!!) 3 minute preheat time.
Also as part of the preset functions, one of them is bacon, so I used it as well. I let it do it's thing the first round, and for my own personal preference for bacon, I did have to do it twice to achieve that perfect crispiness that most of us love.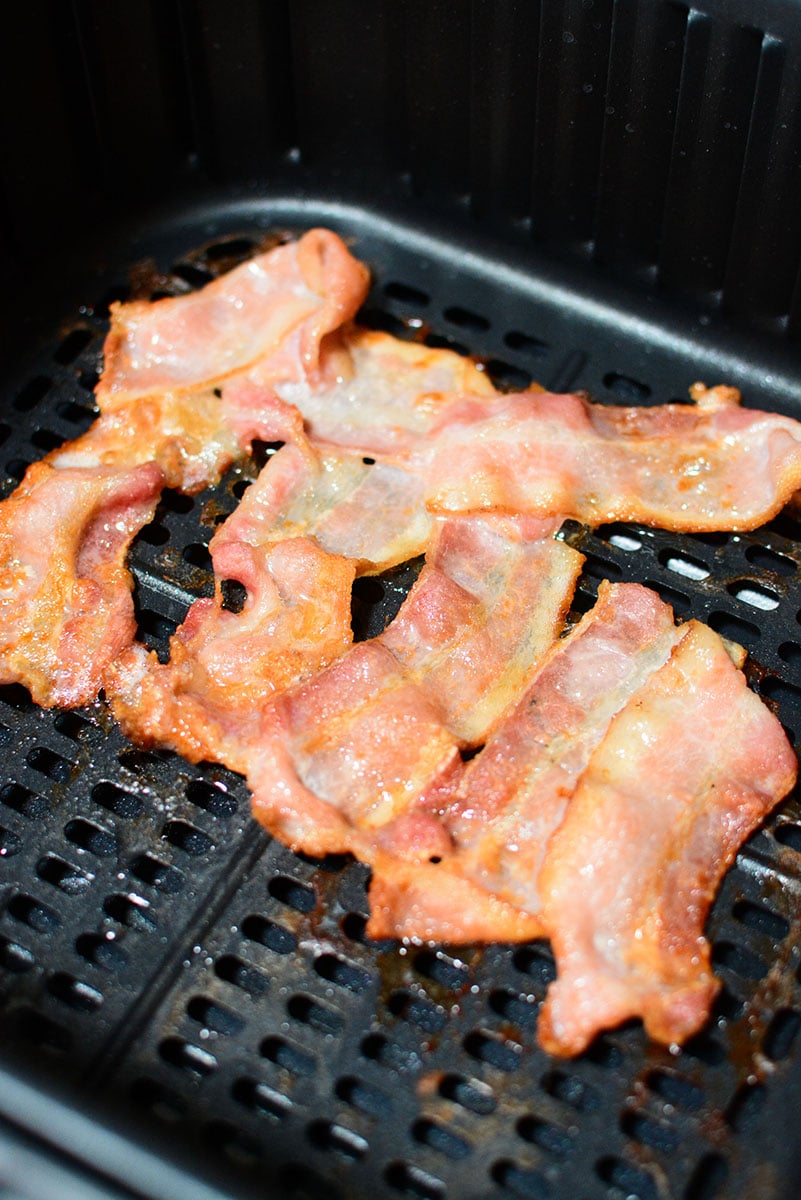 You also have the option to manually input your times so you don't have to do the bacon preset twice if you prefer crispier bacon.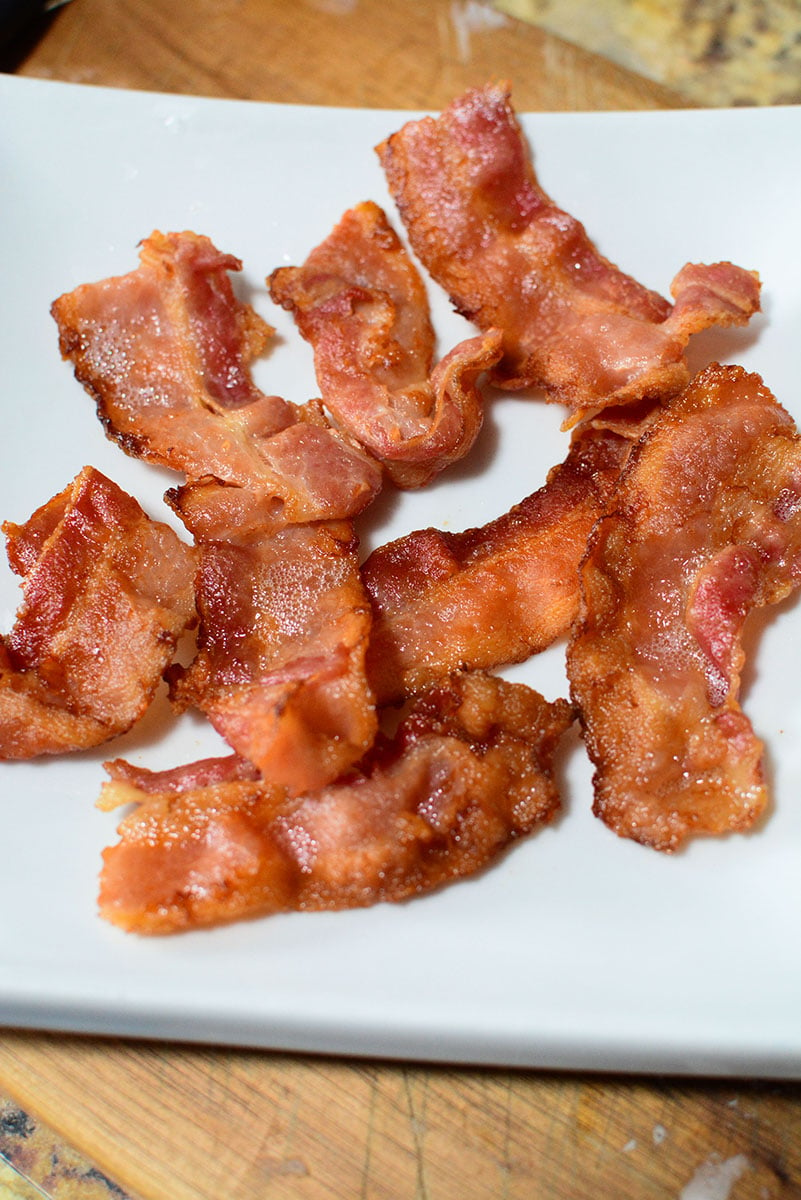 And yes, all that extra fat and grease dripped down to the bottom of the tray- cool eh?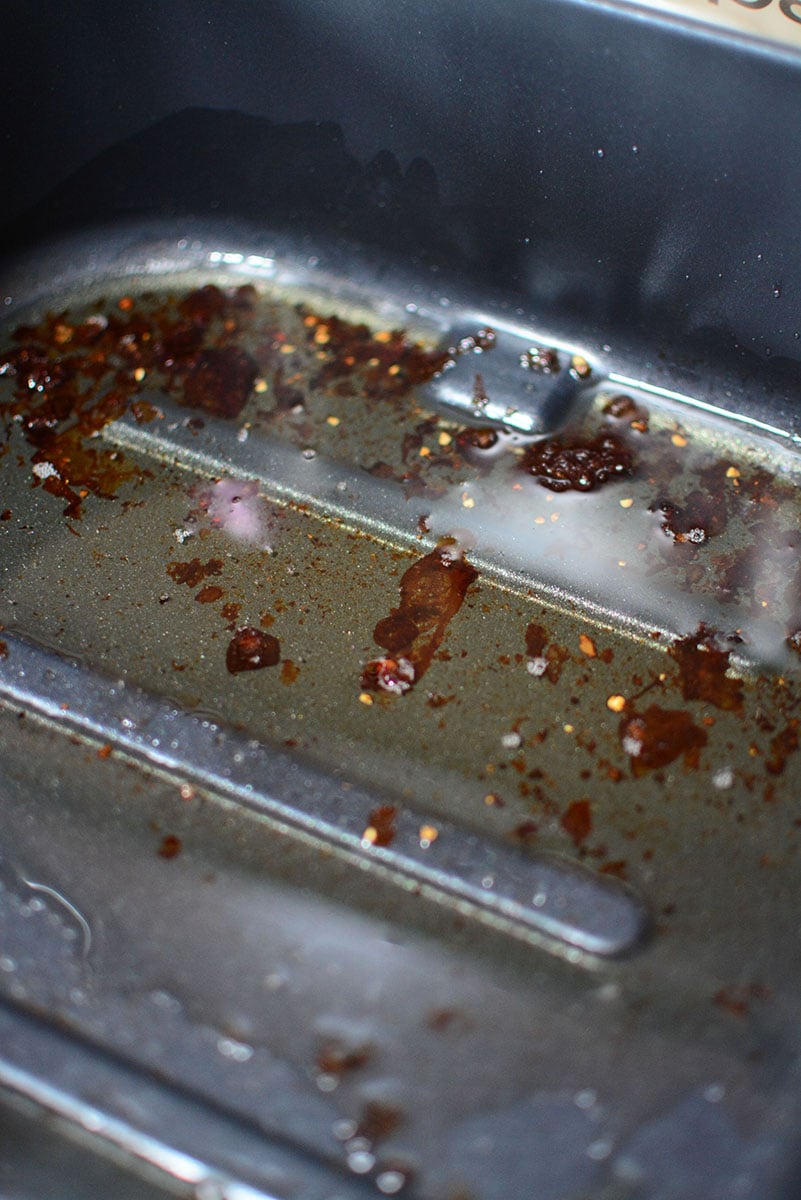 Cosori Air Fryer Review Item: AIR FRYER POTATOES!
Next, I tried baby potatoes in the air fryer. You know those baby sweets, with thin skin that crisps up in the oven almost like paper and the fluffy creamy insides. (geez, that description sounds weird, but it's accurate!! LOL)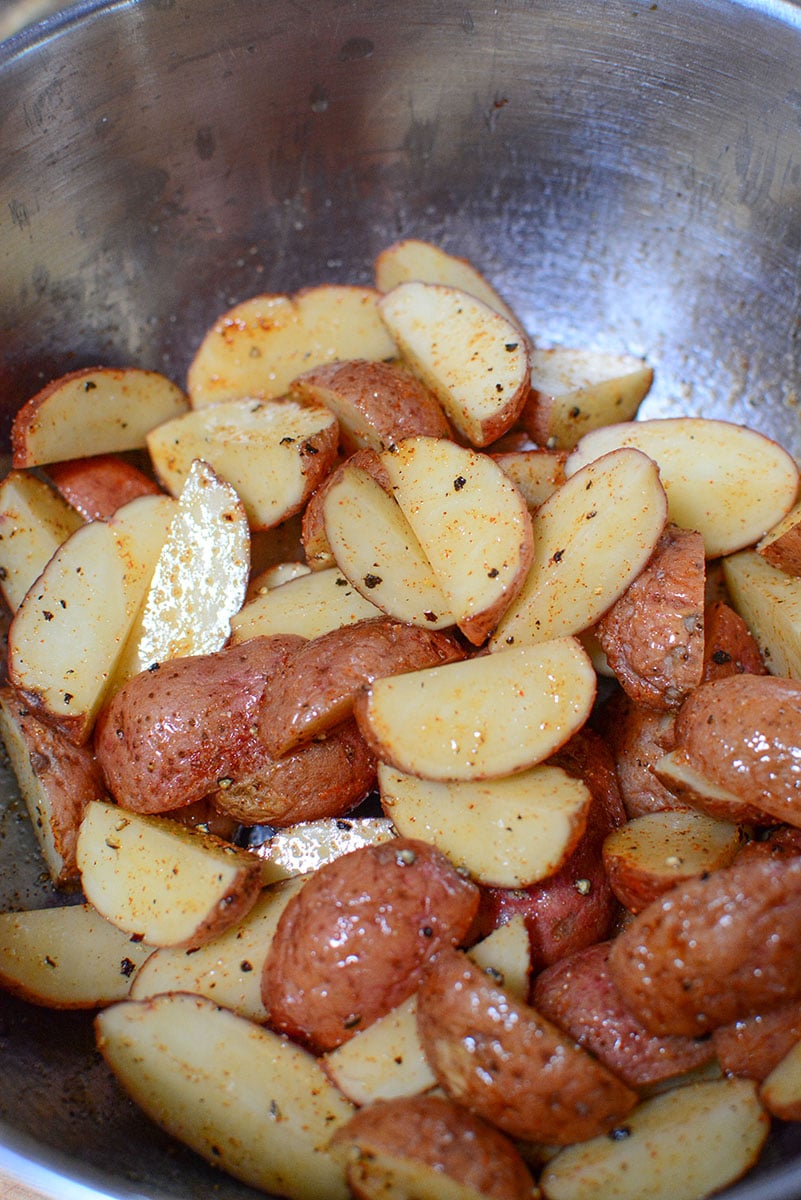 I seasoned them with some with salt, pepper, onion powder, garlic powder, and smoked paprika and popped them in with a drizzle of avocado oil.
I manually inputted the time and temp according to the french fries directions in the air fryer recipe book. They stayed in the basket for around 25 minutes at 380 degrees, and it has this really cool function where it lights up with an indicator that says "SHAKE", so you know when you lightly give the basket a shake for even frying. The potatoe wedges came out super crisp on the outside, fluffy on the inside and tasted divine!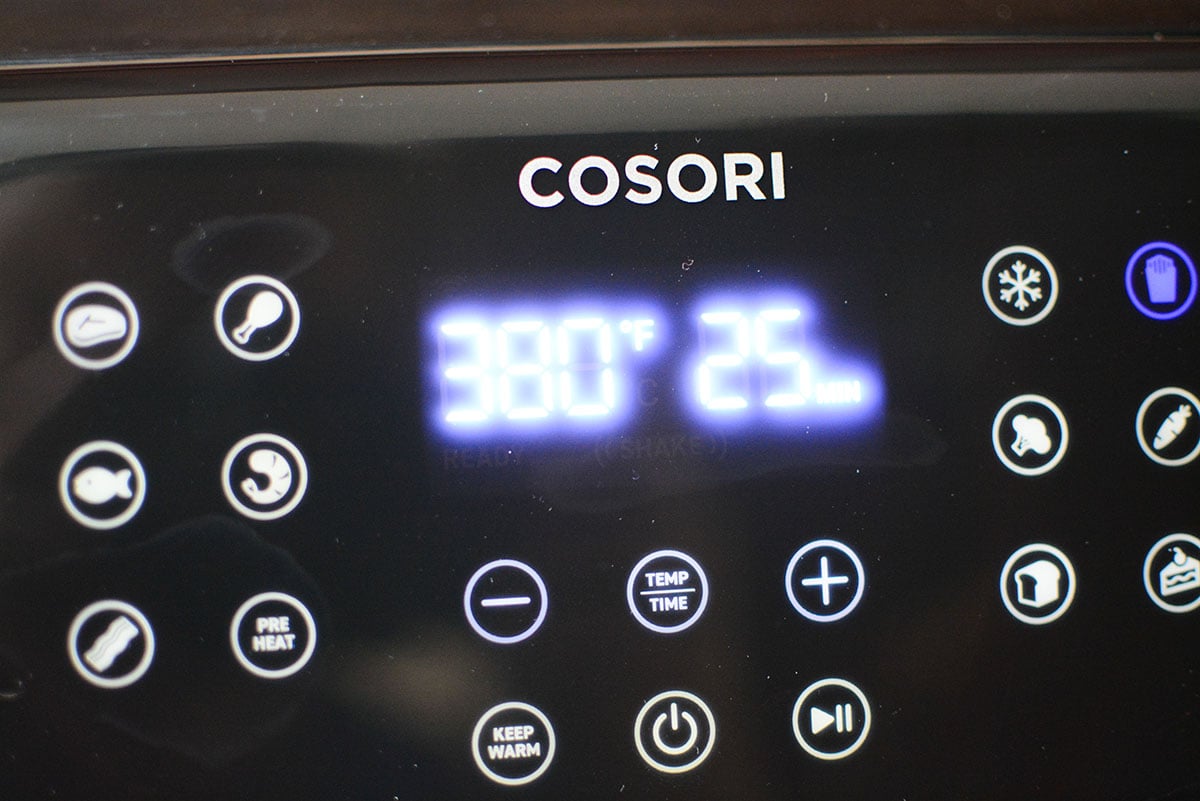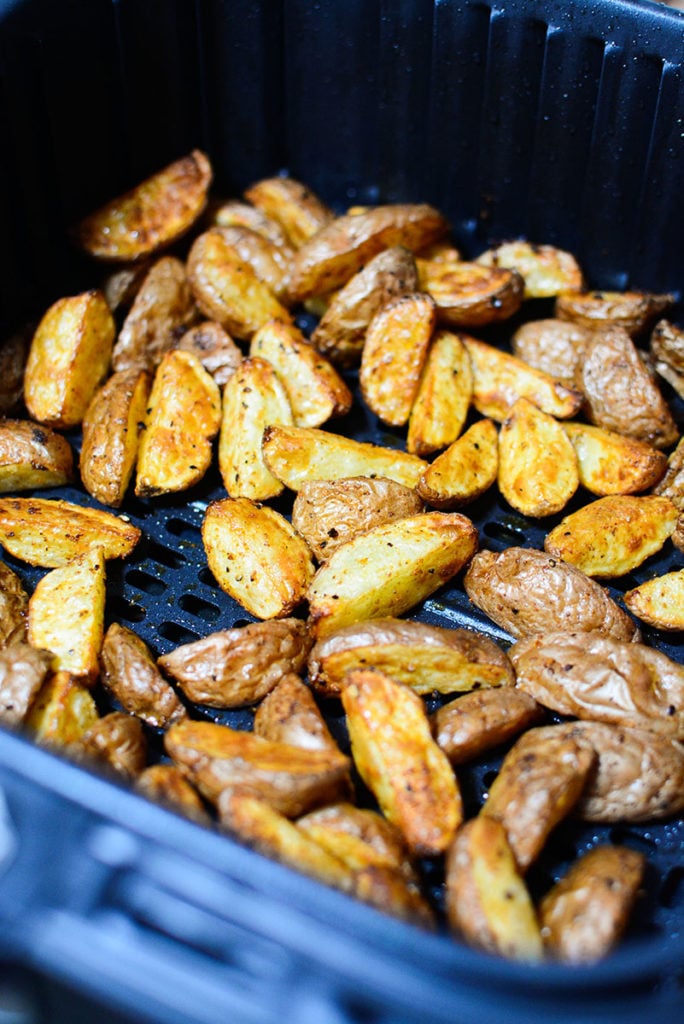 Don't they look amazing?? Like little tiny baby potato wedges!!
I combined both items, dished them out with a dollop of sour cream! DELISH!!
Both ingredients didn't get soggy or lose their crispness with being combined or sitting for a small amount of time!!
Cosori Air Fryer Review Item: AIR FRYER MUFFINS!!!!
I saw in the Cosori Air Fryer recipe book that you can make muffins (among other baked goods!!). So I wanted to give them a shot. I had a pack of bran muffin mix I picked up from the store and made them as per the instructions on the package. I didn't have silicone cupcake liners, so I had to resort to using the paper ones.
Using the PIP method (pan in pan), I lined the muffin cupcake liners in a cake pan and popped them right in for 12 minutes at 350.
The muffins too, turned out great.!!
They were soft inside, firm and crisp outside. (not firm as in burnt or dried out, but I LOVE that slightly crunchy top you get when you bake muffins, and then they have the soft, pillowy inside).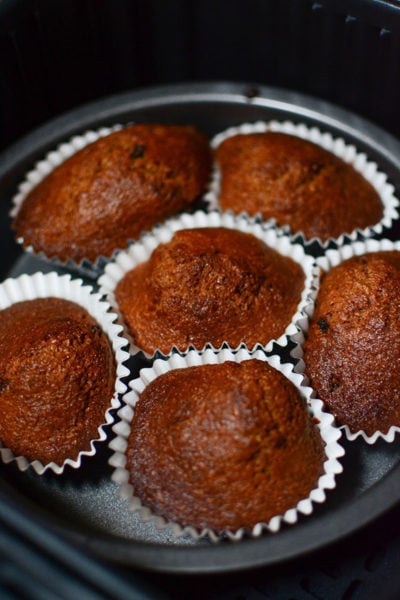 I would, however, recommend sticking to silicone cupcake liners, unless you want your muffins to come out shaped all wonky- like mine did! But hey, they tasted great and my tummy doesn't care what shape they were in! LOL
Cosori Air Fryer Review Item: AIR FRYER GARLIC RIBS!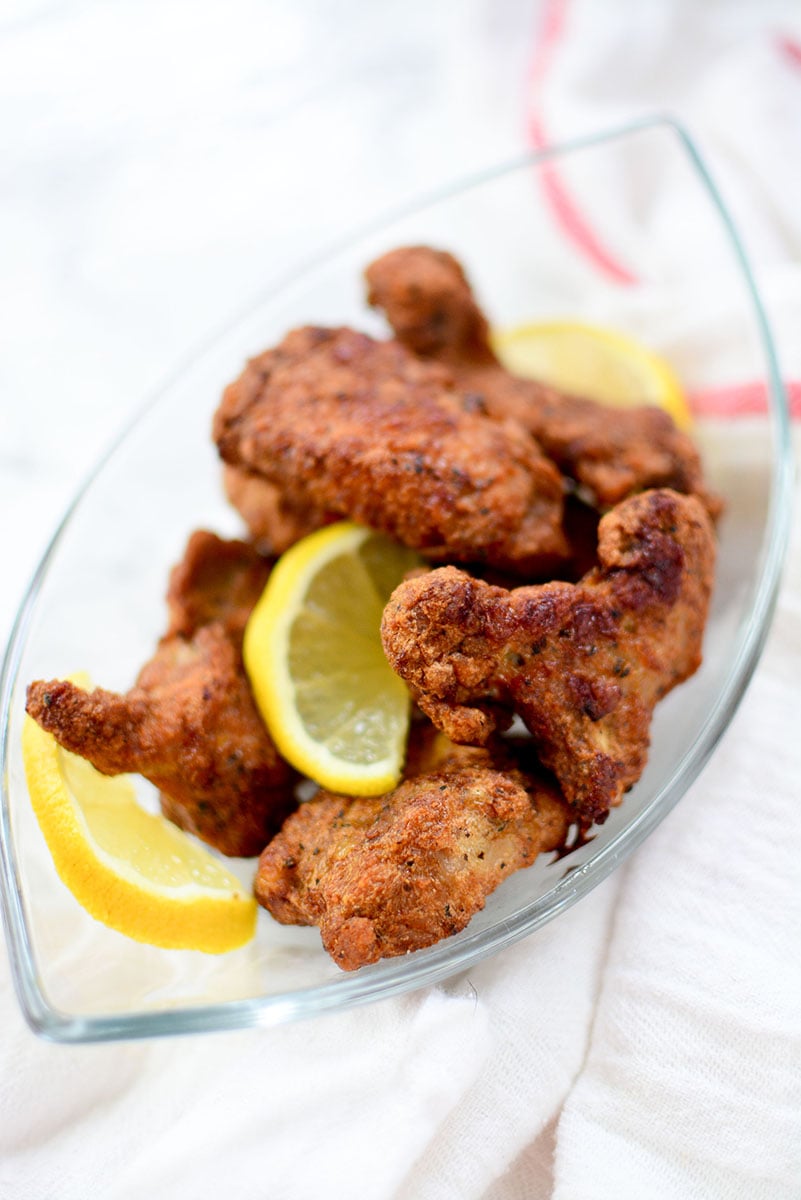 Last, I tried some pre-cooked ribs. I had some frozen and seasoned ones available- I thawed them first, placed them in the basket and allowed them to cook in for around 7 minutes at 400. They were just how I wanted them to be- crispy, but not dry at all!
I forgot to take pics of them before they were cooked, while inside the basket. Sigh.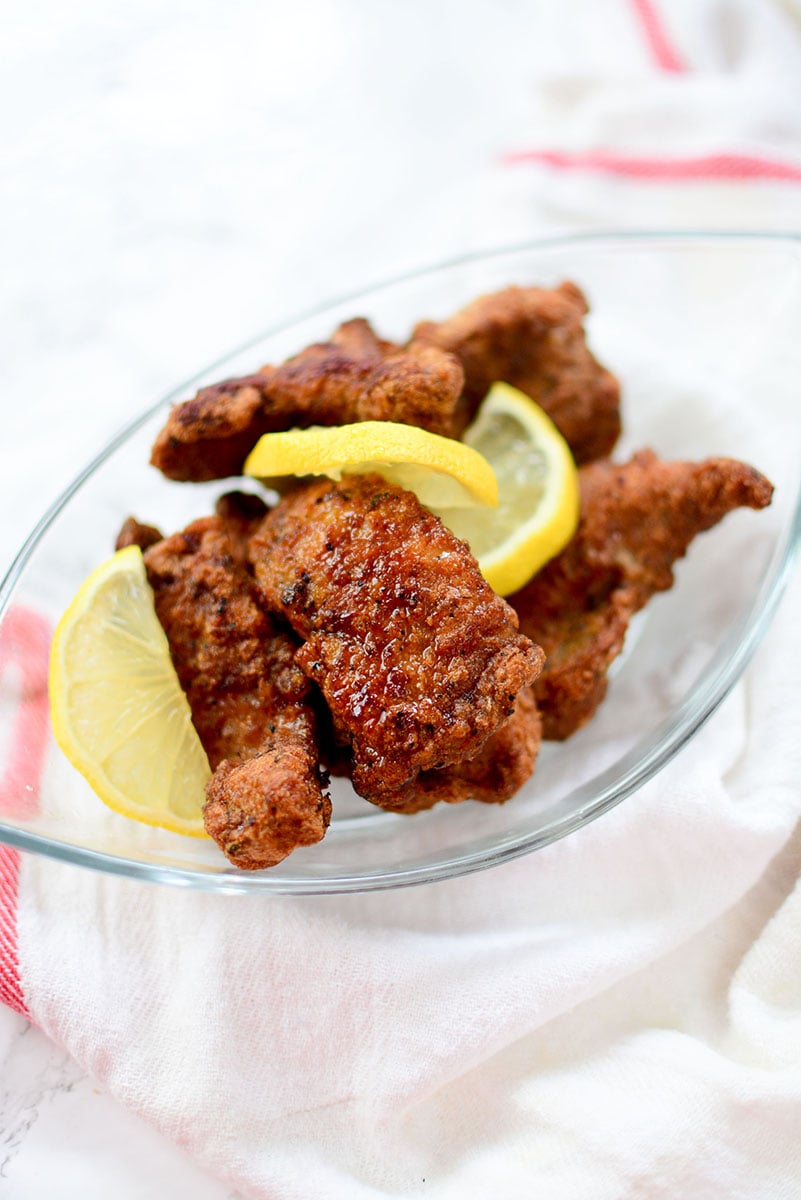 Drizzled a little lemon juice on the top and they were good to go! I was honestly really shocked that they weren't dried out.
They were still juicy and crispy on the outside. And because I love TONS of lemon on my dry ribs, when I drizzled that lemon in there, they didn't soften up! Impressed I was!
I was thinking, I'd like to try out this Popcorn Pork Bites recipe that I made a while ago. I think the bites would turn out incredibly good air-fried!!
The Cosori Air Fryer Cookbook
The cookbook that is included in the shipment is chock-full of around 100 recipes that left me really, truly impressed! Plus, there are some facebook groups strictly devoted to air frying and some of them include the Cosori brand, but once you get to really know the machine, a lot of the other brands of air fryer recipes will convert to this machine easily.
Here are a few of the recipes titles!!
Breakfasts: Everything from strawberry cream scones to french toast, muffins, potted eggs, and breakfast pizza!
Entrees: (omg, so many!) Many steak recipes, chicken parm, Lamb meatballs, steak sandwiches, honey lemon chicken, shrimp dishes, stromboli, etc etc etc
Appetizers: Mozzarella bites, various chicken wing recipes, stuffed mushrooms, coconut shrimp, sausage stuffed mushrooms, etc.
Sides: (almost every vegetable you could think of) plus buttermilk biscuits, blooming onions, etc!!
Desserts: Ohhhhhhh the desserts! Everything from cinnamon rolls to pound cake, to chocolate souffle!!
Ok ok ok. So you've heard me talk about all the things I tried and how they turned out. I mentioned a few things that I like in the design of the unit as well.
So here comes the other part.
What's Wrong?
While there's nothing technically 'wrong' with the product whatsoever, I did have a couple of teeny issues.
The 5.8 quart model of the Cosori air fryer is bulky- it does take up a decent amount of space, so you might not want it on your kitchen counter, especially if you're in a small apartment or have a small kitchen.
A good way to work around this one is to get a small cart with wheels, which you can have the unit sit on, and it then becomes easy for you to tuck it anywhere until you need to use it.
I would suggest a trolly like this: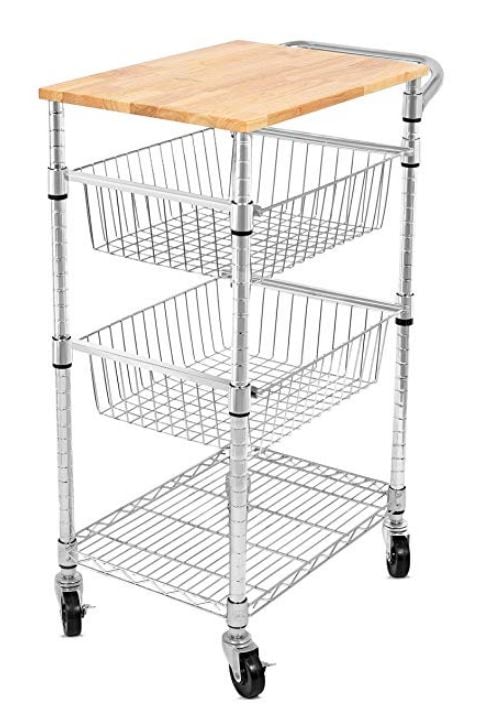 I have this exact one and I find it super handy. The unit can sit on top, and any accessories and such can sit in the baskets. Who wouldn't love extra storage!! 🙂
Ok. carrying on….
The casing of the Cosori air fryer is a fingerprint magnet. I found even with clean hands and such, the prints were easily left behind.
But hey- that's not a big deal right? All you need is a couple of swipes of with a cloth on it once you're done using it, and that should be just fine. That's a little price to pay for an amazing appliance that helps keep you going on your healthy eating attempts- isn't it?
Lastly, I found that while I was cooking a few items (not all of them) that there was a bunch of steam escaping from the bottom of the air basket. I don't know if this is normal or not, I couldn't find anything in the book.
But it didn't affect the final product of the food.
The Verdict On Cosori Air Fryer
All in all, the Cosori air fryer is an excellent choice for all those who've been living on fried foods and have started to take the plunge into healthy eating. What's more, the air fryer also cooks certain food items in a shorter amount of time as opposed to other conventional cooking methods- great if you're almost always on a time crunch.
Living on salads and soups all day can be a tad bit difficult, but air fryers really help you enjoy the best of both worlds and enjoy crispy and fried items guilt-free!
I Highly recommend this appliance if you are in the market to buy a new air fryer. I really don't think you'll be sorry.
If you want more information on Cosori's line up of products or have further questions, here's their website.
Take a moment and save this Cosori Air Fryer Review article to your favorite Pinterest board to save and reference for later!!