I just wanted to drop by and tell you about this dish I made the other night. I'm telling you, by the time I was done, I was pretty impressed. I made a chicken pancetta cheddar bake! What's that, you ask? Let me explain…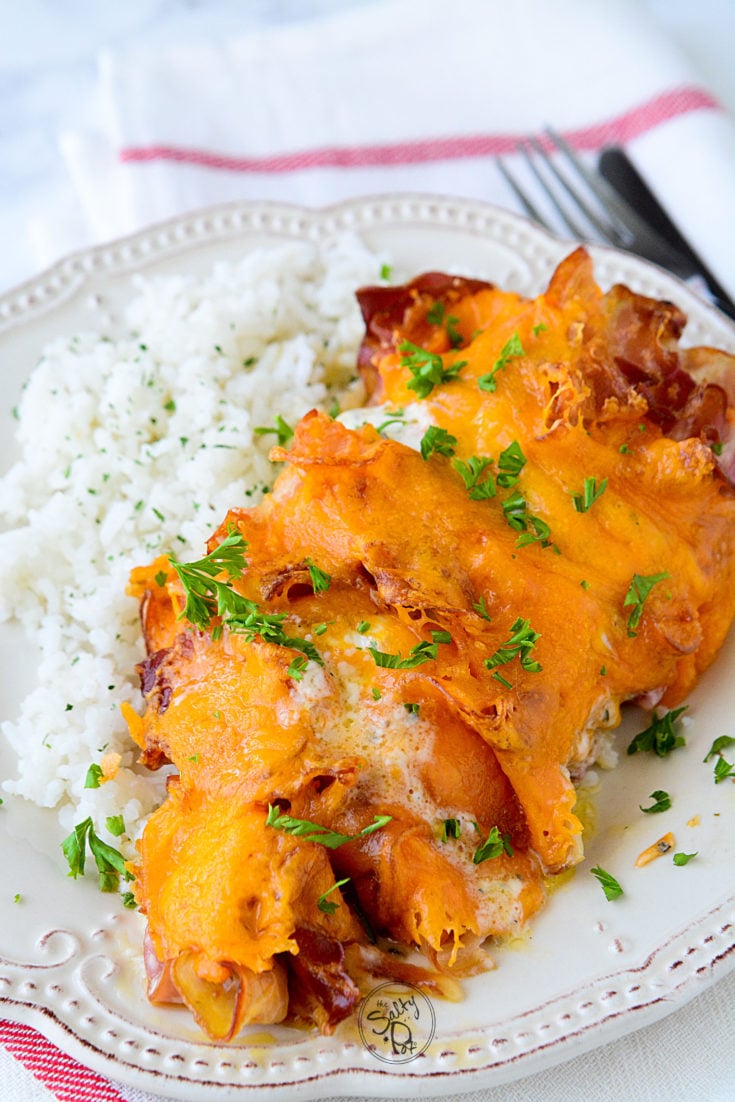 It's not complicated. Chicken breast, ranch dressing, pancetta and cheddar. LOTS of cheddar. Not so much cheddar that you can't #2 for a week (cheese has been known to do that), but just, you know, a nice, gooey, cheesy amount.
Don't be freaked out by the pancetta. Pancetta is simply a product made from pork belly and cured very similar to bacon. The main difference between the two is that bacon is smoked and pancetta is not. Pancetta is often sold in thin strips like bacon, or in circular rounds, or in tiny cubes. So my gorgeous readers, if you don't have pancetta, use bacon. In fact, if I didn't have the pancetta left over from a different dish, I totally would have used bacon.
So, let's get to the "how to"!
Chicken breasts. Place them in a baking dish. Season those breasts with pepper, garlic powder and a SPRINKLING of salt. Like, almost like a pretend amount. The reason why is that the pancetta has salt in it, and you don't want this chicken pancetta cheddar bake to taste like you're eating a salt lick.
Next, drizzle with your favorite ranch dressing. Don't cheap out here… buy a decent, thick brand. Putting runny ranch dressing on the chicken would taste like failure. You want to taste the creamy ranchness on the chicken. So again, thick, creamy luscious dressing. Like, a brand that knows what they're doing when making ranch dressing. You won't be sorry.
Now, the super delicious part. Take your pancetta (or bacon), and artistically, like you're an artist, wave or ripple or ribbon (whatever verb you'd like to use) it on top of the chicken. Don't just lay it on there like a wet noodle. You want to create some air in between the folds and piles of glorious meat. Reason being is that when you get the cheese on top, you don't want the cheese acting all smothering like, not allowing any air to get at the pancetta and it becoming flabby like under cooked bacon. *shudder*. You wan't CRISPY CRISPY CRISPY!
You'll want to bake the chicken without the cheese first so that it helps add that crispness. Also, if you put the cheese on too early, there's a chance that it might get over baked, and the goal here is cheesy gooey-ness. So bake the chicken until it cooked through and the pancetta is nice and crispy.
Quickly remove the chicken from the oven and sprinkle the shredded cheddar on top. I said earlier that you want a healthy amount of cheddar, but honestly, this recipe is so nice that you don't have to go crazy with it. BUT… trust me when I say you need it.. it just adds that extra amount of YUMMMM to the dish. Throw it back in the oven, and turn off the heat. Go set the table for dinner. The residual temps will melt that cheddar into a gooey-party on the chicken by the time you're done.
*** DON'T FORGET TO PIN THIS AWESOME CHICKEN PANCETTA CHEDDAR BAKE RECIPE TO YOUR FAVORITE PINTEREST BOARD TO SAVE FOR LATER! ***
By the way, if you like the sounds of this dish, I have a few other chicken dishes you might want to try like one pan tzatziki chicken and baby potatoes, or cheesy chicken bacon fusilli casserole. To serve this amazing chicken dish, try it with some rice if you'd like, and then sit back and watch the family, friends, or whomever your cooking for, ooooooh and aaaahhh over this chicken dish. Heck, your kids might even spontaneously jump up after eating and clean their rooms in sheer appreciation for presenting such deliciousness for dinner. Ok, this chicken pancetta cheddar bake is super good.. but maybe not THAT good. Getting kids to do that … well… that's miracle territory.
CHICKEN PANCETTA AND CHEDDAR BAKE
Additional Time:
10 minutes
Crispy pancetta, creamy ranch, and gooey cheddar all topped over a perfectly cooked and seasoned chicken breast..... what else could you want with this perfect dish!
Ingredients
2 boneless, skinless chicken breasts
4 tablespoon ranch dressing
6-8 slices of thin pancetta
1c cheddar cheese, shredded
½ teaspoon garlic powder
as desired, salt and pepper
Instructions
Preheat the oven to 375
Season the chicken breasts with the garlic, salt and pepper
Place the chicken into a parchment lined baking dish
Drizzle the ranch dressing equally over both breasts
Lay the pancetta over the chicken in twists (rather than layering it flat)
Bake in the oven for 20 - 25 minutes or until the internal temp reaches 165 degrees
When the cooking time is up or the temperature has been reached, sprinkle the cheese equally over both breasts and place back into the oven for the residual heat to melt the cheese for 10 minutes.
Serve with rice and enjoy!
Notes
1. Use a good quality ranch dressing that is thick so that a thinner ranch dressing might slip off the chicken as it cooks.
2. Ribbon or twist the pancetta onto the breasts so more surface area is created so it becomes crisp during baking.
3. If the residual heat doesn't completely melt the cheese, turn the broiler on for 1-2 minutes to thoroughly melt the cheese.
Nutrition Information:
Yield:

2
Serving Size:

1
Amount Per Serving:
Calories:

632
Total Fat:

44g
Saturated Fat:

17g
Trans Fat:

1g
Unsaturated Fat:

23g
Cholesterol:

176mg
Sodium:

881mg
Carbohydrates:

4g
Fiber:

0g
Sugar:

2g
Protein:

52g