Crispy on the outside, creamy and fluffy on the inside, my Crispy Roasted Bacon Potatoes are the perfect side for practically any main. Crispy with slightly smoky and salty bacon, and herby, hearty rosemary are best friends with the potatoes in this dish. This potato recipe is a keeper.
*** This recipe was updated in June 2023.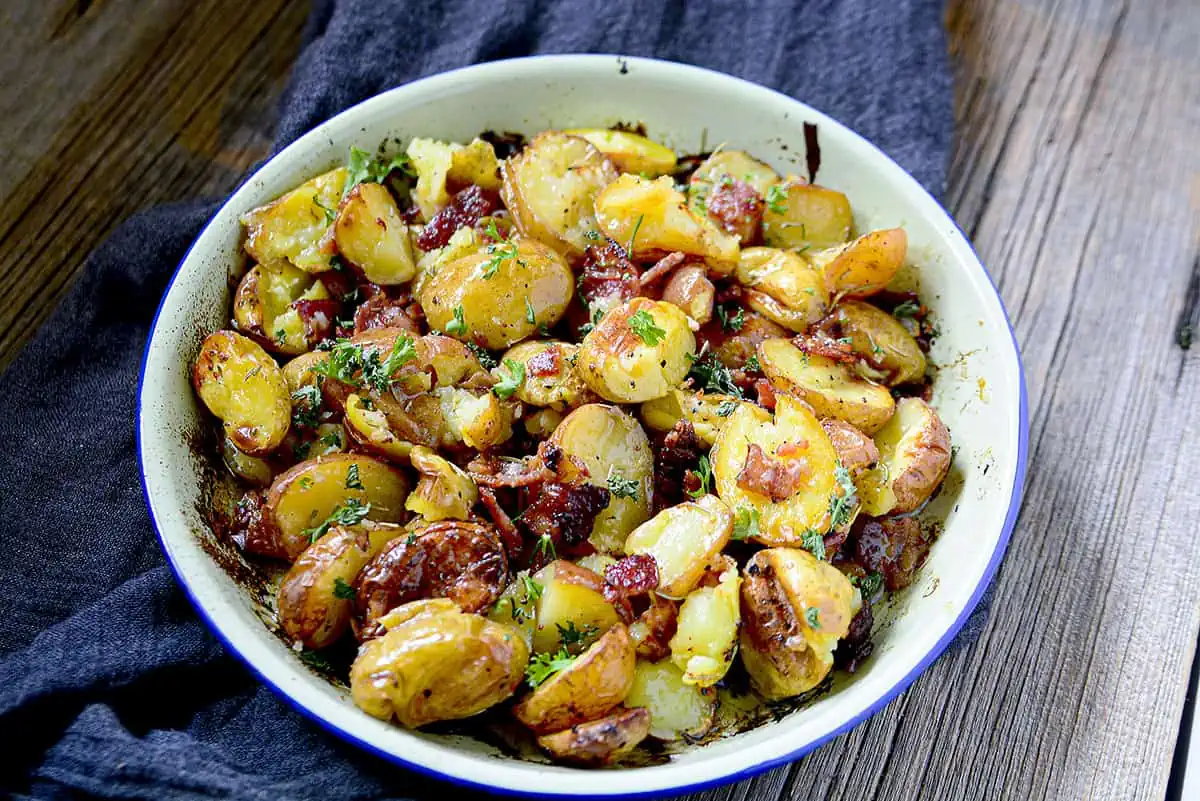 A Delicious Roasted Potatoes Recipe For Anytime
As a Canadian, we celebrate Thanksgiving a month before the United States does, and I made these potatoes specifically for our dinner. However, this roasted potato recipe is a winner for any meal or celebratory table. I'd go as far as saying that it might even give the turkey or ham a run for its money on being the showstopper of the meal. Yep.. I said it.

Heck, I've even had these potatoes as the main with just a nice side salad.
Using baby potatoes is the key to elevating this roasted potato recipe. Don't get me wrong, using regular, full-sized potatoes will definitely work, but baby potatoes are just on another level. They're creamy on the inside and the skins of the potatoes are tender and get crispy so much easier, I find, than regular potatoes.
Regardless, baby potatoes or regular ones, this recipe will be one you make over and over.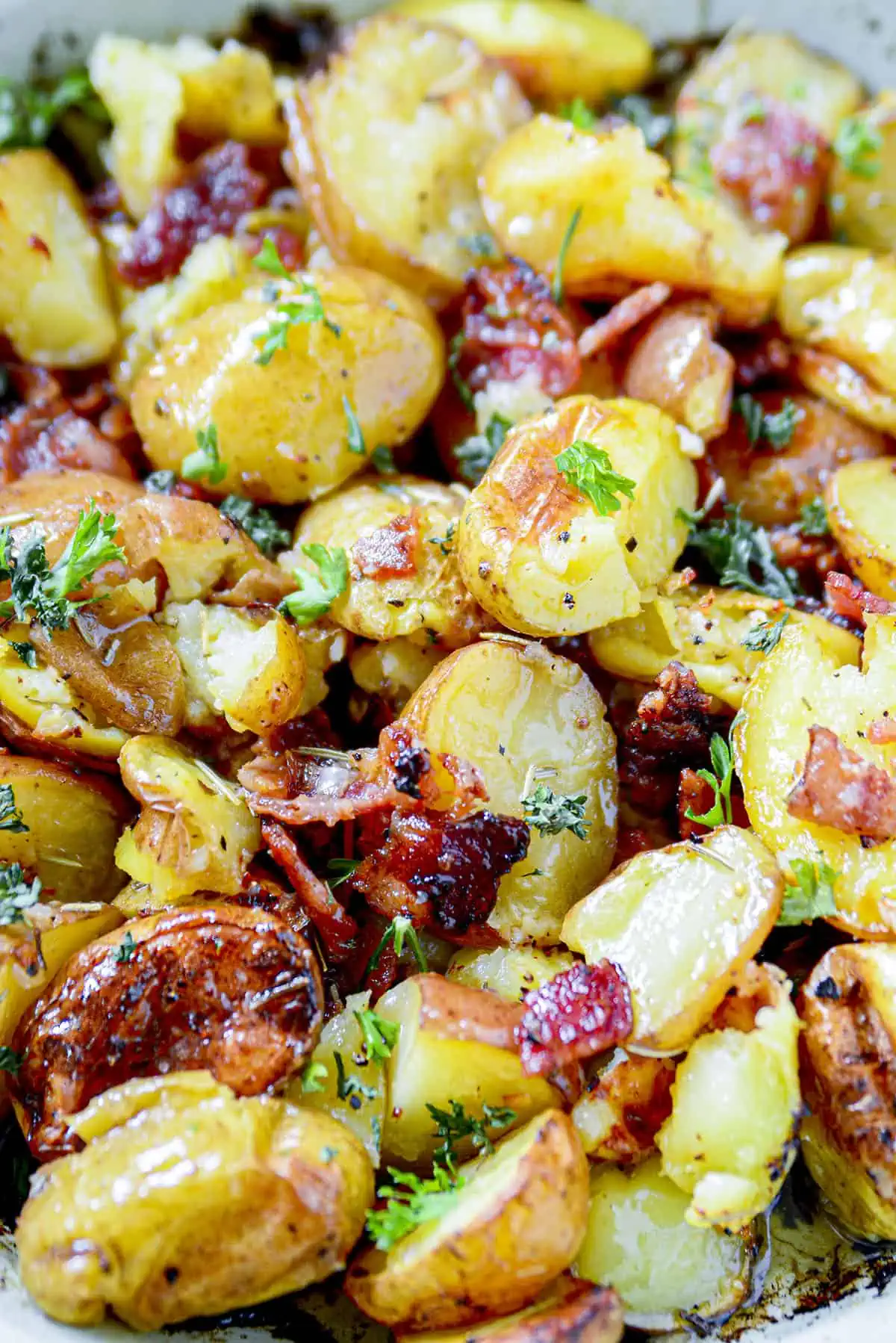 Ingredients Needed
Potatoes – As I mentioned earlier, using baby or new potatoes brings this roasted bacon potatoes side dish to a new level. If all you have on hand are regular potatoes, please use them. They will work totally fine for this recipe and still be very, very delicious.
Bacon – I like to use my favorite bacon and so should you. Thick cut or thin, it doesn't matter. As long as the smoke level is on point for you, the recipe will turn out perfect. We use precooked bacon here so this is a perfect opportunity to use up leftover bacon if you have it. (Or, cook extra to make this recipe!).
Rosemary – You can use fresh or dry for this recipe. Just know that if you use fresh, you should use about 50% more than if you used dry. Dry herbs are more potent than fresh.
Seasonings – Garlic, salt, pepper, etc.
Butter – You can use margarine if you prefer.
Chicken Boullion Powder – This is optional but it really adds to the savoryness of this herby potato side dish.
***A printable recipe card with exact measurements and directions is at the bottom of this post.
Let's Make These Roasted Bacon Potatoes!
Preheat the oven.
Combine all the ingredients except the butter in a bowl.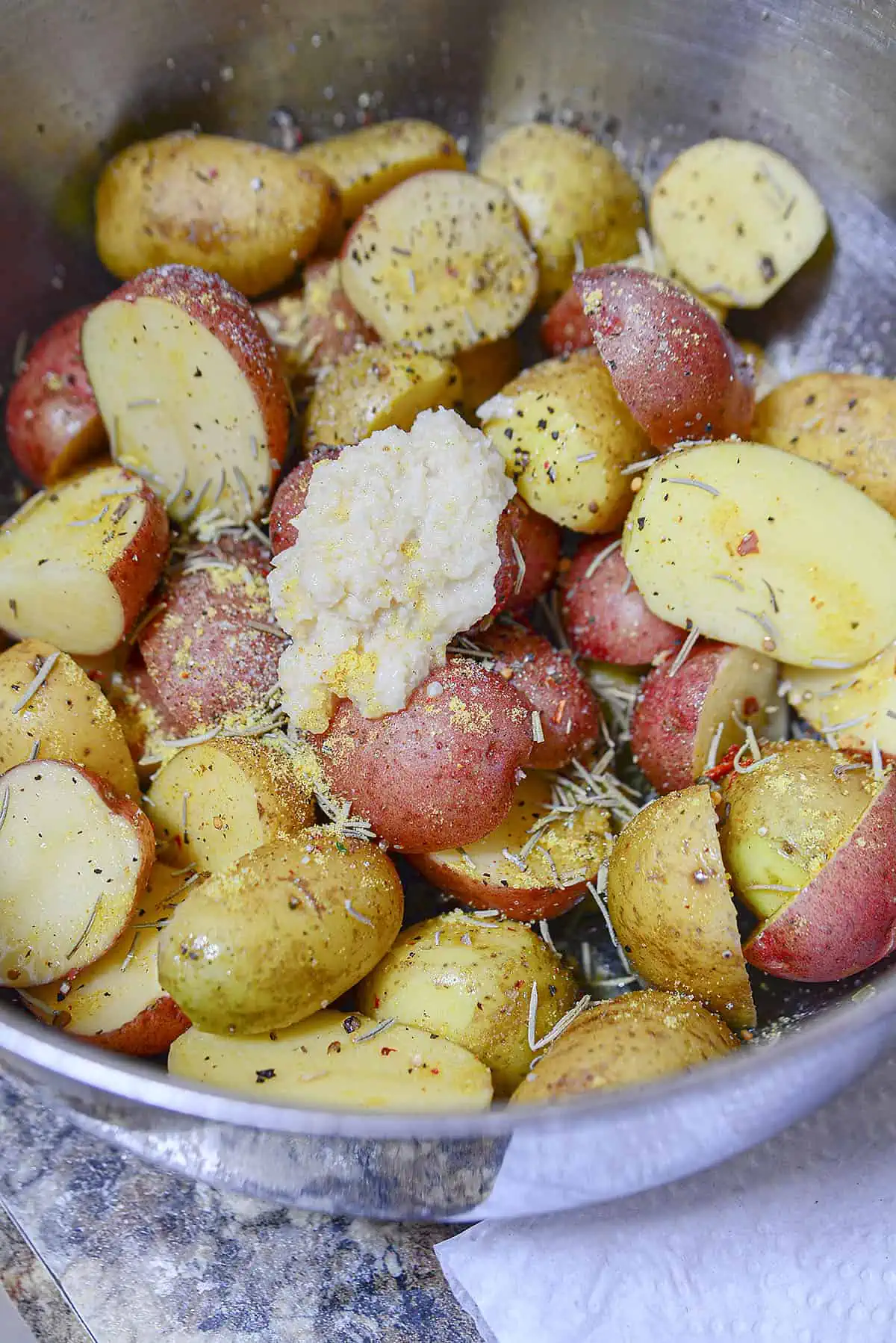 Transfer to a shallow baking dish and roast the potatoes until crispy.
On removing the potatoes, give them a mash to break them up a bit then drizzle the melted butter over top.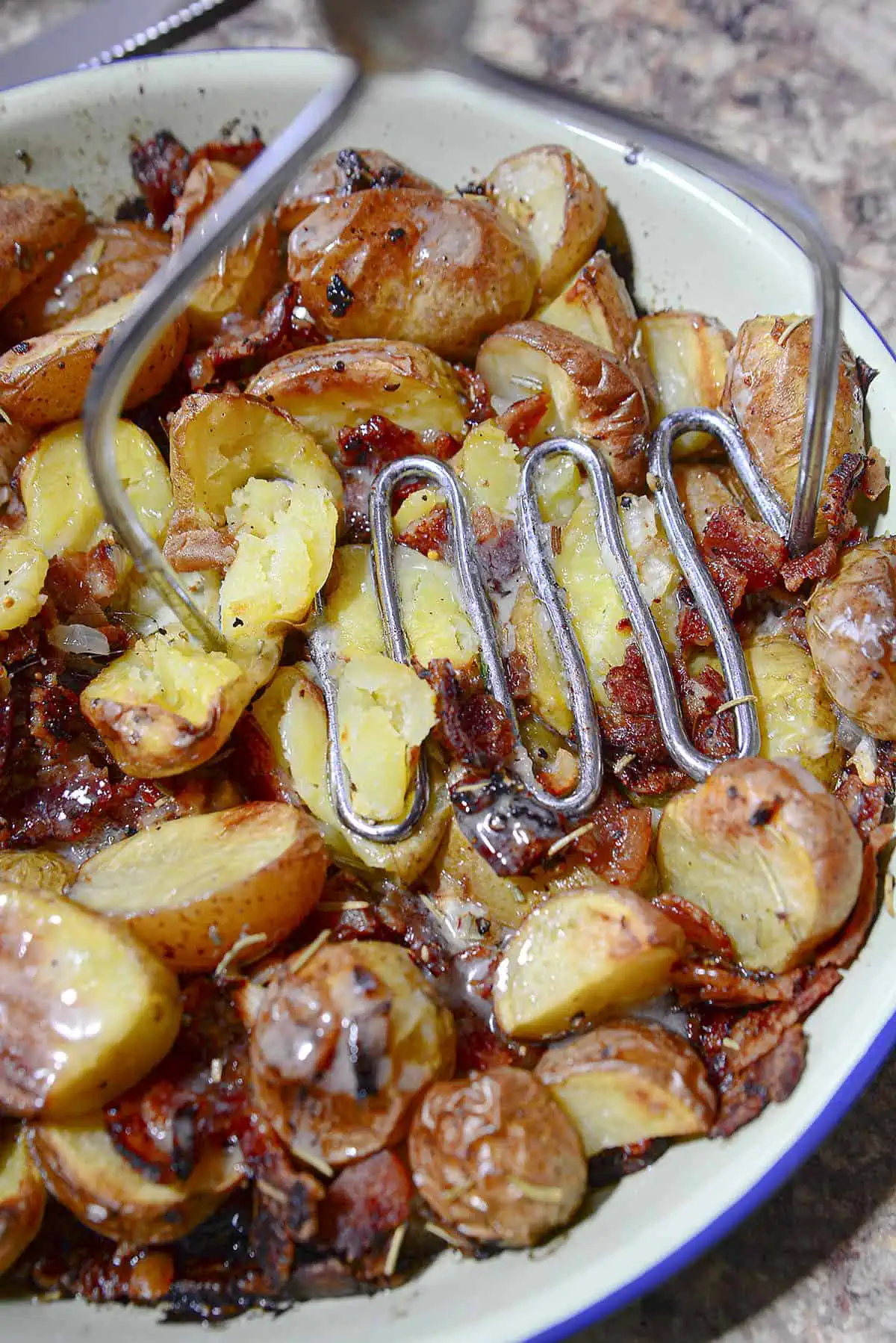 Broil for 2 minutes. Serve and enjoy!
What To Serve With Roasted Bacon Potatoes
Honestly, serve them with practically any protein that you're having for the main meal. Some suggestions might be:
Storing Leftovers
These bacon and rosemary roasted potatoes will be perfect in the fridge for up to 5 days as long as they are kept in a lidded, airtight container.
If you wanted to freeze the leftovers, place them in a freezer-friendly container that minimized freezer burn and keep them for up to a month or two.
To thaw, leave them overnight in the fridge to thaw naturally, or place them in a container and thaw them in the microwave. I find that thawing in the microwave diminishes the crispiness of both the outside of the potato and the bacon.
Tips and Variations
Please don't go through the bother of peeling the potatoes. Even if you're not using baby potatoes, still, don't peel them. Just scrub them up well and pat dry. You remove so much of the goodness of the spud if you peel it, and keeping the skins on accentuates the texture after they're cooked!! Let them keep their little jackets on and hear me when I say the reward will come when you taste it. Crispy on the outside, fluffy on the inside, buttery, smoky-salty flavors from the bacon, herby and garlicky………………. oh wow – need I go on?
Roasting them doesn't have to be in a roasting pan. Try using a cookie sheet (parchment lined, easier for cleanup), and then drizzle the butter over the top when they come out of the oven after the final broil.
What's the best potato to use for this recipe? As I mentioned before, I like waxy potatoes like baby reds or the tri-color "fancy" potatoes you can get, but even if you only have starchy russets, those are totally fine as well as the starch will help get them even more crispy in the oven.
The smaller you cut the potatoes, the quicker they will roast, but I recommend not going smaller than an inch, mouth-sized type pieces.
You can use back bacon instead of regular bacon but I suggest that you use back bacon raw instead of precooked. The time in the oven could dry out the back bacon if you use pre-cooked.
No rosemary? No problem. Try using thyme or oregano, or even Italian seasoning.
Try drizzling a tiny bit of fresh lemon juice (or sprinkling lemon zest) over the potatoes when they come out of the oven. This will a touch of brightness and acid against the fattiness of the butter and bacon.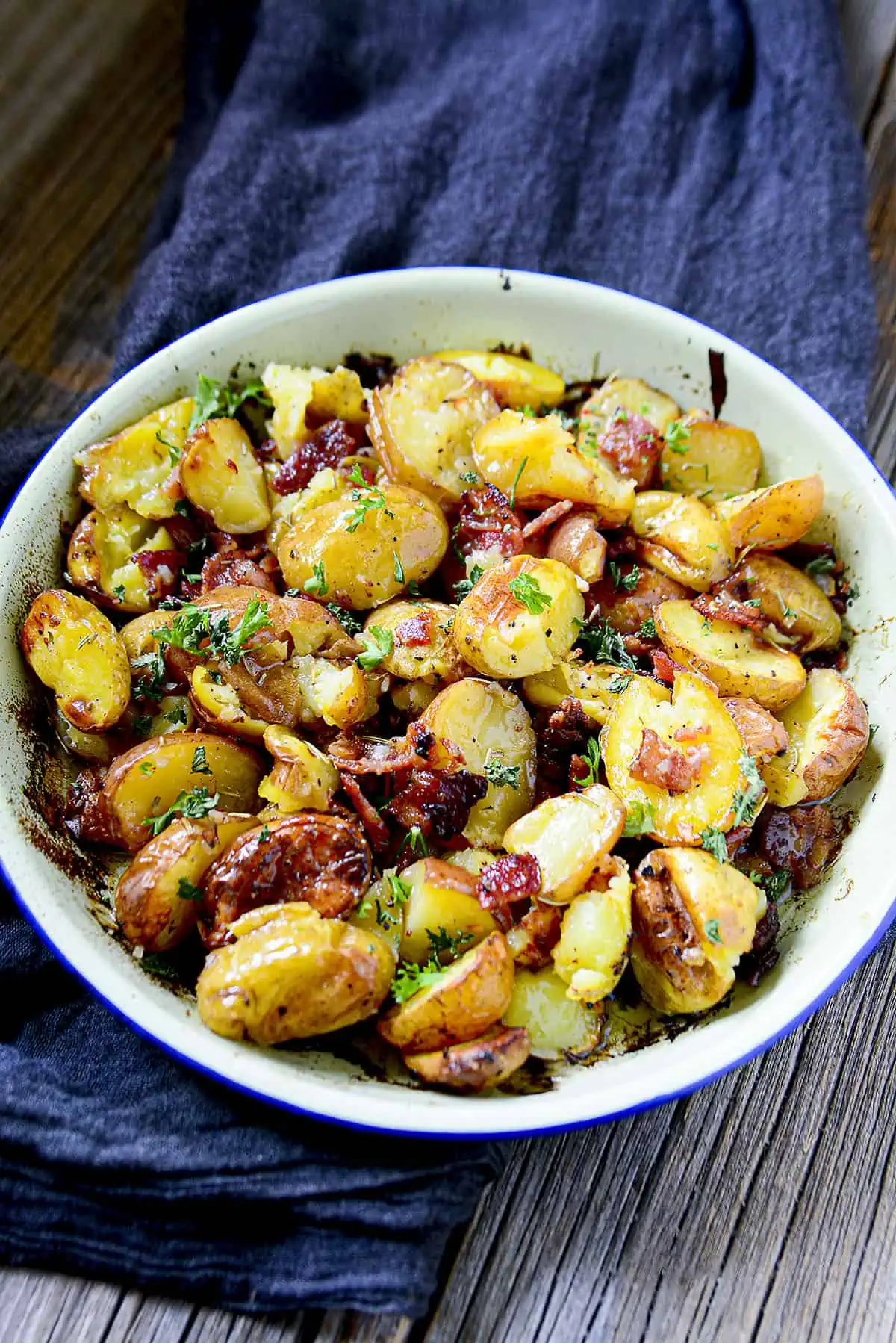 By the way, if you LOVE potato recipes like I do, check out this Boursin Cheese Mashed Potatoes recipe. Creamy, herby, and delicious. Or, take a peek at one of my other favorites, Instant Pot Mashed Potatoes with Caramelized Onions and Bacon – You won't be sorry! My Crock Pot Baked Potatoes recipe is one that takes all the work out serving a side!
Do I have to boil the potatoes before roasting them?
No, you don't have to. Especially when using baby potatoes. However, if you have leftover boiled potatoes from the night before, PERFECT! Make this recipe just how it states, but cut the roasting time down by half.
Do I have to cover the potatoes while they're in the oven?
No, covering them with foil or parchment will trap the steam from the potatoes, preventing them from getting crispy. You can LINE the baking dish with parchment if you'd like for easier cleanup.
Did You Try This Roasted Bacon Potatoes Recipe?
Did you switch up the bacon? What kind of potato did you use? What sides did you serve it with? I'd love to hear about it in the comments below! Thanks so much for stopping by The Salty Pot today!
~Joanne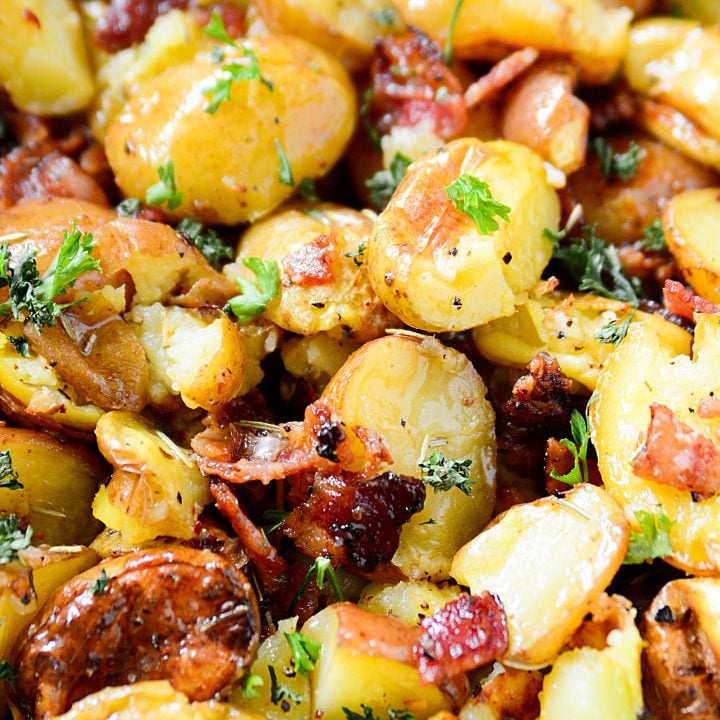 Roasted Bacon Potatoes
Crispy, buttery, smoky, salty, herby - Roasted Bacon Potatoes is a side dish you'll love and make on regular rotation!
Ingredients
2 lb baby potatoes cut into bite size pieces, you can use ANY potato you have on hand though
5 - 6 slices of cooked bacon
2 teaspoon garlic, minced
2 teaspoon rosemary, dried or a few sprigs fresh
1 teaspoon chicken boullion, powder *optional
2 - 3 tablespoon butter
as desired, pepper
Instructions
In a bowl, combine all ingredients together (except the melted butter) and mix well so that all the potatoes are completely covered with the seasonings
Place into a shallow baking dish.
Bake in the oven at 375 for 30 - 35 minutes or until the potatoes are crispy on the outside and soft on the inside.
Remove from the oven and with a potato masher, squash the potatoes a bit to roughen them up
Drizzle the butter over the top, toss, and broil them for 2-3 minutes
Serve and enjoy!
Notes
Lining the baking pan with parchment paper helps with cleanup.
You can use any type of potato, but baby potatoes are the best for this recipe.
The bacon and chicken bouillon powder can be salty, so it's a good idea to reduce the amount of salt you add to the potatoes.
Nutrition Information:
Yield:

4
Serving Size:

1
Amount Per Serving:
Calories:

493
Total Fat:

24g
Saturated Fat:

13g
Trans Fat:

1g
Unsaturated Fat:

9g
Cholesterol:

64mg
Sodium:

575mg
Carbohydrates:

59g
Fiber:

6g
Sugar:

3g
Protein:

13g
All nutritional information is based on third-party calculations and is only an estimate. Each recipe and nutritional value will vary depending on the brands you use, measuring methods, and portion sizes per household.