These amazing rosemary bacon roasted potatoes are amazing. Yes. It's a weird sentence until you try this recipe, then you will be "all knowing". You will fully understand why these bacon roasted potatoes are… Seriously….. Amazing. If you like potatoes – you will want this potato recipe to be your best friend. They might even change your life. Ok.. you're culinary life at least. 🙂
If you're Canadian, you know we are celebrating Thanksgiving this weekend. (Happy Thanksgiving everyone in Canada!!!!!)
We celebrate a month before the United States does. I'm not sure why, but we do. These potatoes would be incredible for the thankful table! Heck, they'd be ideal for ANY celebration. Birthdays, anniversaries, teaching the dog to sit,.. etc. ANY event worth celebrating, big or small, these potatoes would fit perfectly on the table.
I should caution you though. If you are Canadian, you also know that we produce some spectacular spuds here. All types and varieties, Canada pretty much kicks butt in the growing arena. Pair our incredible home-grown potatoes with a bit of bacon, and some earthy herbs and you simply, truly, cannot go wrong with this recipe. I'd go as far as saying that it might even give the turkey or ham a run for its money on being the showstopper of the meal. Yep.. I said it.
In fact, potatoes often can be their own main attraction for meals! There's absolutely nothing wrong with dressing up even a plain baked potato and making it the star of the dinner. Just imagine, a plain, baked potato – what could you dress it up with?
– butter, sour cream, chives
– cream and dill
– chili
– broccoli and cheddar
– pulled pork and bbq sauce
Those are just a FEW ideas of things to do with a regular plain potato. But hey, just remember to make these potatoes first! LOL
Please don't go through the bother of peeling the potatoes. You remove so much of the goodness of the spud if you peel it, and keeping the skins on accentuates the texture after they're cooked!! Let them keep their little jackets on and hear me when I say the reward will come when you taste it. Crispy on the outside, fluffy on the inside, buttery, smoky-salty flavors from the bacon, herby and garlicky………………. oh Lord. It's crazy o'clock in the morning as I write this, and I could seriously go for a bowl of these for breakfast. And actually, why not? What an incredible idea!!!!! Double this recipe and make enough to serve to your family, fried for breakfast, with a dollop of sour cream or so.. served next to some eggs!!!!!!!!!
Actually, I could cry a tiny bit because I didn't make more for leftovers. Next time, I will be DOUBLING THIS RECIPE!!
By the way, if you LOVE potato recipes like I do, here are a few more to check out. Just click HERE and HERE!! But remember to come back for this recipe. You won't be sorry!
I used new baby potatoes with this dish but honestly, you could use ANY variety. If it's a potato, use it! Mix varieties if you want! Be a rebel!! Just don't skimp on the bacon. The bacon in this dish loves up the potato in ways that the human mind cannot comprehend. LOL. Make these rosemary bacon roasted potatoes and you'll see. Trust me…….. just make them. Then shoot me a message letting me know how amazing you think these potatoes are too!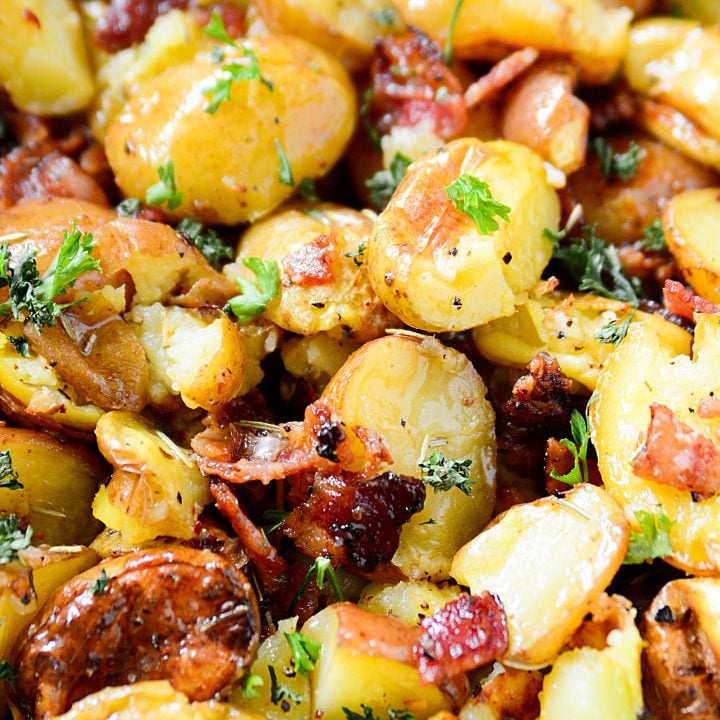 Rosemary bacon roasted potatoes
Crispy, buttery, smoky, salty, herb-y - this roasted potato dish with bacon and rosemary is a show stopper!!
Ingredients
2 lb baby potatoes cut into bite size pieces, you can use ANY potato you have on hand though
5 - 6 slices of cooked bacon
2 tsp garlic, minced
2 tsp rosemary, dried or a few sprigs fresh
1 tsp chicken boullion, powder *optional
2 - 3 tbsp butter
as desired, pepper
Instructions
In a bowl, combine all ingredients together and mix well so that all the potatoes are completely covered with the seasonings
Place in to a shallow baking dish (I used a pie plate)
Bake in the oven at 375 for 30 - 35 minutes or until the potatoes are crispy on the outside and soft in the inside
Remove from the oven and with a potato masher, squash the potatoes a bit to roughen them up
Drizzle the butter over the top, toss, and bake them for another 5 minutes
Serve!
Nutrition Information:
Yield:

4
Serving Size:

1
Amount Per Serving:
Calories:

493
Total Fat:

24g
Saturated Fat:

13g
Trans Fat:

1g
Unsaturated Fat:

9g
Cholesterol:

64mg
Sodium:

575mg
Carbohydrates:

59g
Fiber:

6g
Sugar:

3g
Protein:

13g
All nutritional information is based on third-party calculations and is only an estimate. Each recipe and nutritional value will vary depending on the brands you use, measuring methods, and portion sizes per household.