Cooking frozen sausage patties in the air fryer is ideal for getting your first meal of the day on the go in little time. What's so great about it?
The perfect thing about cooking sausage in the air fryer is that there's no constant babysitting the meat so you can get the rest of your breakfast components on the go in record time.
This post may contain affiliate links. If you make a purchase after clicking a link, I may earn a small commission AT NO COST TO YOU. As an Amazon Affiliate, I earn from qualifying purchases.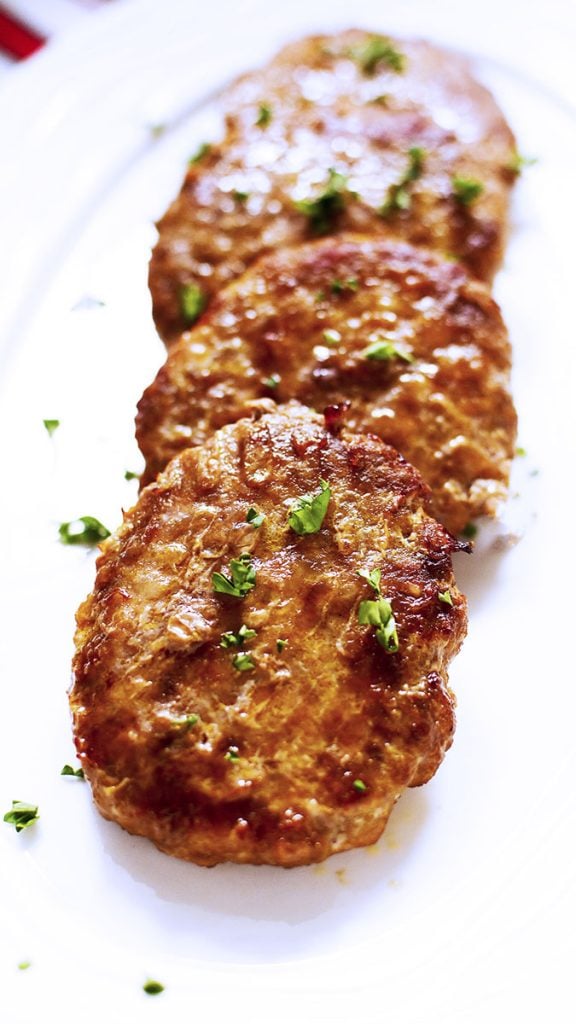 Air Frying Frozen Sausage Patties
Honestly, it's not just about breakfast. What's so great about cooking frozen sausage in the air fryer is they're perfect for anything.
It's great for any quick meal and it keeps that meaty and juicy flavor all the way through…plus, you really don't have to worry about cleaning up a greasy mess.
What can I say? Simple and delicious is the theme here.
Air Fryer Brands to Use
I used the Ninja Foodi Pressure Cooker with the air fryer (crisper) function to cook these patties. It's an amazing kitchen appliance and it can accommodate almost any cooking function!
It's excellent for pressure cooking, air frying, slow cooking, steaming, baking, even dehydrating…you name it! My article talking about All About the Ninja Foodi will help if you're new to this multi-function appliance. You should definitely check it out.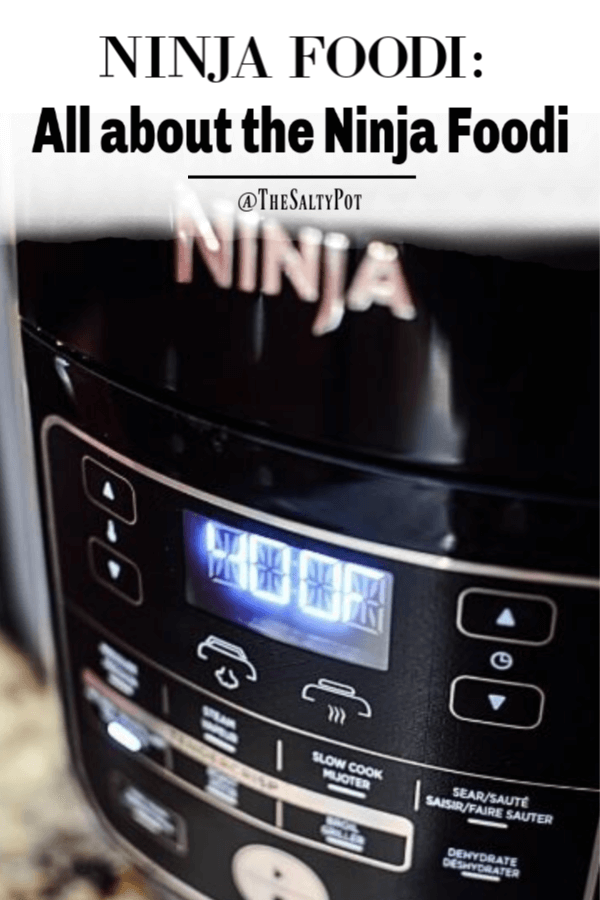 If you don't have a Ninja Foodi, ANY air fryer will work (I also have a Corsori Air Fryer that I LOVE and would work fantastic on these sausage patties as well!).
As long as your air fryer will reach a temperature of 375F, you're good to go!
Ingredients You'll Need
Basically, you'll need frozen sausage patties and you're air fryer.
If you find your fryer works better with a spritz or two of cooking oil in the basket so things won't stick, go ahead and use that. I find there's enough fat in the sausage usually that it's not needed.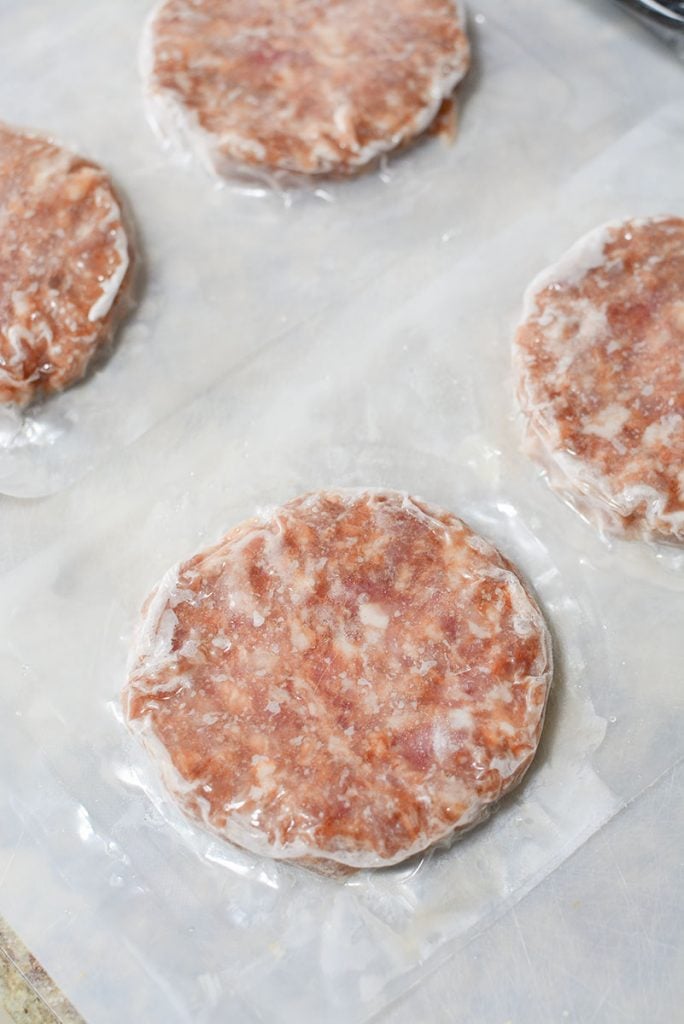 Types of Sausage
This article is only dealing with sausage PATTIES, not links. So there are a few options for you to start with.
Raw, frozen sausage patties.
Cooked, frozen sausage patties.
Raw sausage meat still in bulk but not made into patty shapes. This product will need to be thawed first to make the patty shapes.
Air Frying Breakfast Sausage
With all types of sausage patties to air fry, we always begin by preheating the air fryer for 5 minutes, usually at 350F. It helps to get the air frying off to a quicker start.
Raw, frozen sausage patties can be placed directly into the air frying basket after preheating.
Cooked, frozen sausage patties will require less time than cooking raw ones, but because they are frozen, they can also be placed directly into the air frying basket after preheating.
Raw sausage meat must be thawed initially in order to make the patty shapes. I find the best way to make the patties is to lightly score with a butter knife, 4-6 sections (depending on how big you want the patties), of the bulk meat on the tray.

And that's it! The guidelines regarding air frying time are estimates so it's important to check on them halfway through the cooking time.
You may not even need the whole time instructed to cook the patties because it depends on how thick the patty is, and how crispy you like the sausage patty to be.
Check the full detailed information on air frying these frozen patties below.
Storing and Reheating
Storing: You can store these air-fried frozen patties in an airtight container in the fridge for up to 4 days. You can also store it in the freezer, and it'll last for up to three months. Though, as a heads up, it will not be as crispy after thawing because of the moisture.
Reheating: Reheating these air-fried sausage patties is a dream. You can microwave them or put them in a toaster oven for a few minutes. The toaster oven will be your best bet if you want to retain that crispy texture you achieved in the first air fry.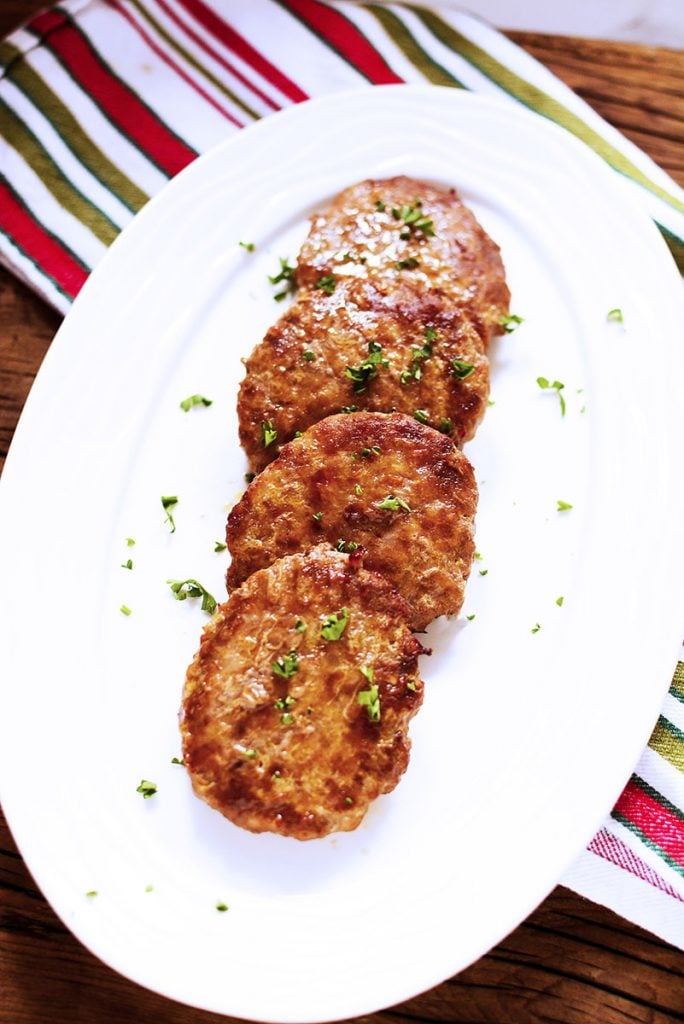 Handy Facts and Tips
If the sausage patty is made of pork sausage, turkey sausage or chicken sausage, all the cooking times will remain the same. You may find that you have to use a little more oil in the air fryer basket to ensure the turkey and chicken sausage don't stick.
Make sure to keep watch of the patties for desired crispiness. I flipped mine halfway through for more even browning, but it's certainly not essential. If the frying is done in a basket, the hot air convection will travel under the sausage patty and help brown it, but I preferred to flip.
The cooking time to air fry raw sausage from frozen will take a bit longer to air fry frozen sausage that's already cooked.
Internal cooking temps can vary depending on the meat the sausage is made of. Typically, internal temperatures will vary from 160F – 165F.You should check your box of sausage patties internal temp safety to be sure of safe handling according to the manufacturer.
Is it Safe to Cook Sausage from Frozen in the Air Fryer?
Yes! As I mentioned before, some patties are cooked when you get them from the store, and some are raw frozen sausage. It's important to know if you're air frying the meat patty to cook it thoroughly through, or simply warming it up to eat.
Look at the box that the patties come in, it will indicate which type you're buying (along with the temperatures for safe handling) if you're unsure.
What Can I Serve With Sausage Patties?
These sausage patties are perfect to serve with anything! Fried eggs and hashbrowns would be a classic pairing. If you wanted to try something different, my recipe for Honey Berry pancakes, or this Banana Pecan Donut French Toast would be amazing!
If you're looking to do some food prep, an idea that's perfect for breakfast on the go is these Made Ahead Breakfast Eggers. Just heat and go!
Cooking Frozen Sausage Patties in the Air Fryer
Cooking frozen sausage patties in the air fryer will be your go-to way to cook sausage patties. No splatter on the stove top, no babysitting. Only crispy, juicy, tender sausage patties made easy peasy!
Ingredients
4 sausage patties, frozen
1 teaspoon cooking oil (optional).
Instructions
RAW, FROZEN SAUSAGE PATTIES: (See the Notes section for further cooking times for other types of patties)
Spray the air fryer basket with the cooking oil if you are using it and then begin by preheating the air fryer for 5 minutes at 350F.
When the air fryer is done preheating, place 4 patties in the basket. (see notes).
Adjust the cooking temperature to 375F and place the timer for 10 minutes.
Begin to air fry.
Halfway through the cooking time, check on the patties. You may feel that you want to flip the patties for even cooking if they need it, or simply leave them alone and continue cooking.
If the patties are developing color on the surface, and getting crispy before the ten-minute timer is finished, feel free to remove them from the basket after stopping the cooking.
If you prefer the sausage patty more crispy, continue to cook another minute or two or until you're desired crispiness has been achieved. The internal temperature should be 160F.
Let them sit 2-3 minutes before serving.
Notes
1. It's important that you don't overlap the sausage patties too much. They will shrink slightly (usually) as they air fry, but if you have too many patties on top of each other, blocking the heat, they will all cook unevenly.

2. If the sausage patties are made from chicken or turkey, the internal cooking temperature should be 165F or the temperature indicated on the box from the manufacturer.
COOKED THROUGH, FROZEN SAUSAGE PATTIES:
Follow all the directions above, but cook for 6-8 minutes. Begin checking on them at the 5-minute mark. The internal temperature should be 160F.
BULK, RAW FROZEN SAUSAGE MEAT:
Thaw the sausage meat in the tray, in the fridge overnight. Remove the plastic wrap and lightly score 4-6 sections of the bulk meat to section off the patties. With clean hands, remove each section of the sausage and form it into a patty shape. After the preheating function is complete, oil the basket (if desired), and place the patties in the basket. Air fry for approximately 5-6 minutes or until the sausage is crispy and reached an internal temperature of 160F.
Nutrition Information:
Yield:

4 patties
Serving Size:

1 patty
Amount Per Serving:
Calories:

98
Total Fat:

9g
Saturated Fat:

2g
Trans Fat:

0g
Unsaturated Fat:

6g
Cholesterol:

23mg
Sodium:

220mg
Carbohydrates:

0g
Fiber:

0g
Sugar:

0g
Protein:

5g
All nutritional information is based on third-party calculations and is only an estimate. Each recipe and nutritional value will vary depending on the brands you use, measuring methods, and portion sizes per household.