Ever heard of Slow Cooker Taco Stew? Me neither until I made it. I'm not saying I invented it… as I'm pretty darn sure that unless you're a wacky high-end chef, using wacky, far-out ingredients, there's not a lot of "never made before" recipes out there. But.. I could be wrong. With this Taco Stew, if I was a betting gal, I wouldn't place any money on the fact that this recipe idea is new. Having said that, it's new to me, and it's incredibly delicious, and that's all that matters!!
It came about with a craving. Mmmmmmmmm… "Mexican Flavors" one part of my head was saying. "But I don't have any tortillas.. or even taco shells in the house".. the other part of my head was saying. "Make it work," a voice in my head said. "And make it delicious". So I listened.
So this isn't a taco soup per se, even though it can easily be converted to one, but I seriously was wanting …. "hearty" …. so that's where the taco stew thing happened. So it's not thick enough to be a "taco casserole".. but it's too thick to be a "taco soup" kinda thing…. Do you like all the quotation marks I'm including in this post? lol
Regardless of the consistency dilemma, let me re-iterate again – this taco stew concoction is plainly DELICIOUS!!. If you like Mexican flavors, you WILL… LOVE… THIS………….. STEW.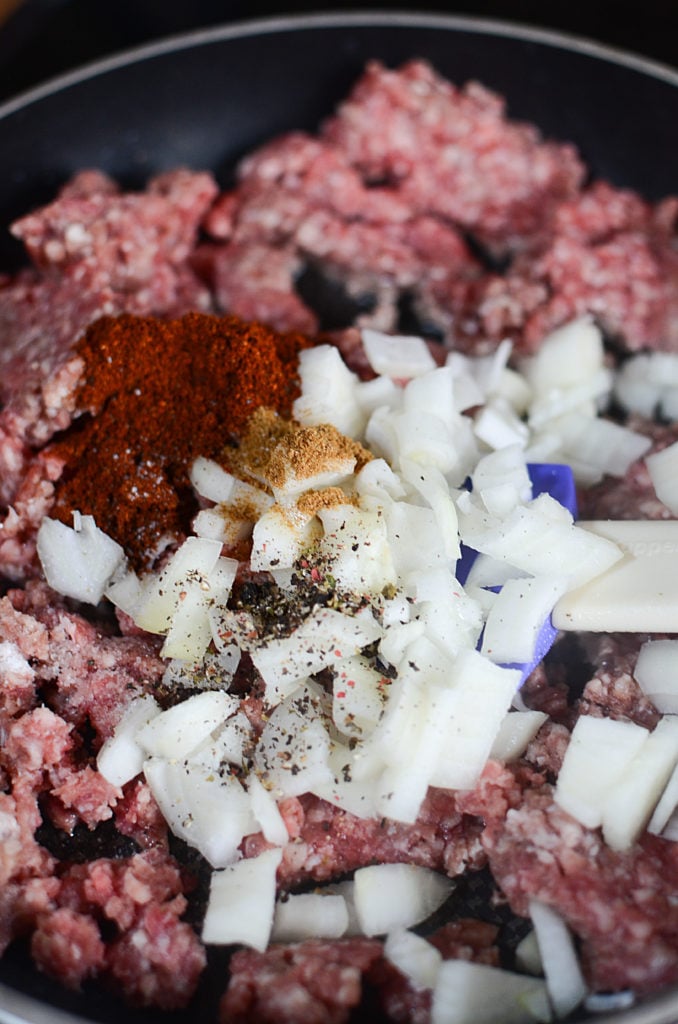 No fancy ingredients. In fact, I'll bet you have all the stuff you'll need in the pantry right at this moment. Beef, tomatoes, onion, seasonings, cream cheese, pasta, broth, and then garnishes! Seriously, this is crazy easy to make. Best of all, it's done in the slow cooker (or crock pot, which ever term you call it) – so no having to watch it at the stove so it doesn't boil over.
I seriously have SO many incredibly important things going on at alllll times of the day.. I just don't have time to sit and watch and stir!!!! lol… ok, truthfully, I'm simply just lazy, so that's why I like… no, LOVE, my crock pot. I throw it all in, stir it up, and walk away! What's not to love about that????
You will want to brown the burger first only so you can drain the fat and well, I know that you know that browning meat (and onions) creates a much more flavorful dish in a slow cooker. It's just one of the laws of Flavor Town and if we want to go there, we just have to do these things, ya know??
Brown the burger with the onions, and add the seasonings. If you would rather use Taco Seasoning instead of the chili powder and cumin, awesome! Go ahead! But, let me tell you something.. click Here and you can make your own!! Seriously, it's waaay cheaper, you know what's in it, and well… you made it yourself, so how cool is that???
You can tell that snobby neighbor.. "ohhh…that wonderful smell? Oh.. that's the taco stew I'm making. Pardon me? What's that you said? Oh, what spice brand did I buy?.. ohh. No no honey.. I made it myself." ………… or something like that. Then turn and walk away fast so she can't ask you for the recipe and she will forever be envious of your culinary skills. 🙂
Add the cooked burger mixture to the slow cooker. Add the rest of the ingredients (except the pasta of course), and let it go! Cook on high.. cook low… do whatever suits you and your schedule! Cook the pasta shortly before serving, drain, add to the stew, give it a mixup, and you're ready to garnish! It's really that simple.
Again, this taco stew isn't a brand new recipe invention. But you could sit outside at the patio table with your family while you eat it, and let the incredibly tantalizing scent waft over to Ms. Snobby Neighbor's place. She'll wonder how is it that you're so amazing to make your own slow cooker taco stew with your very own taco seasoning spice blend. She might even think you invented the recipe…. and you know what? I think you should let her!
******* Pin this Slow Cooker Taco Stew Recipe to your favorite Pinterest board for safe keeping!!*******
Slow Cooker Taco Stew
Total Time:
4 hours
15 minutes
This Slow Cooker Taco Stew is not only delicious, but it's excellent at stretching that grocery dollar! The pasta makes it hearty and comforting, the beef is a healthy and frugal ingredient, and the taco flavors are sure to hit the spot!
Ingredients
1 lb ground beef
1/2 small onion, diced (or onion powder, 1 tsp)
1 tsp minced garlic
1 Tbsp Chili powder
1 tsp cumin, OR leave out the chili powder and cumin, and used 1 Tbsp of taco seasoning
4 oz cream cheese, room temp and cut into little chunks
14 oz canned diced tomatoes
1 small can green chilies
2 c beef broth
8 oz uncooked pasta, smaller type pasta
Gamishes avocado, shredded cheddar, black olives, sour cream
Instructions
In a pan, brown the beef. While browning, add the onions, garlic, chili, cumin and salt and pepper.
Transfer beef mixture to the slow cooker bowl
Add the beef broth, cream cheese, green chilies and canned tomatoes. Cook on low for 4-5 hours, high for 2 – 3.
In the last half hour of cooking, cook the pasta stovetop, drain, and then add to the stew.
On serving, garnish with any of the listed ingredients you wish.