Making these savory beer brats on the stove is sure to steal the show at your next big game party or family dinner. This beer-braised brats recipe lets you take any brat and make them incredibly delicious, without having to use a grill!
This post may contain affiliate links. If you make a purchase after clicking a link, I may earn a small commission AT NO COST TO YOU. As an Amazon Affiliate, I earn from qualifying purchases.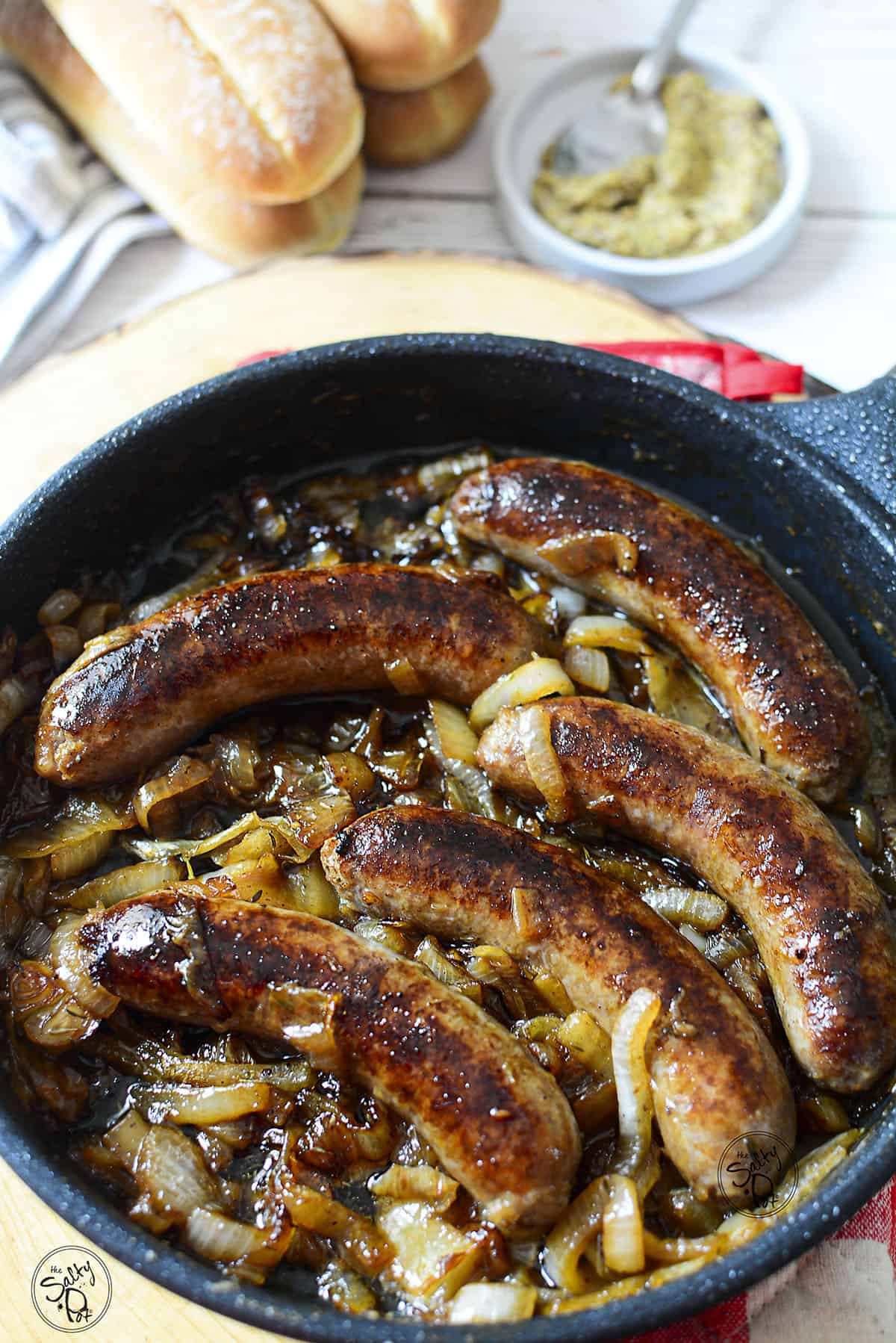 Why You'll Love These Beer-Braised Brats
Do you want a dish that will stand out and add more flavor to classic brats? These beer-braised brats are easy to make and customize using your favorite beer to flavor your sausage. Try serving these on game day to all of your friends and family stopping by to watch, or maybe at your tailgate party, or just a weeknight dinner when you need something hearty to cheer you up on a cold day.
Groceries Needed
Brats – Choose your favorite brats for this recipe. I've used regular brats, mild and hot Italian brats and the recipe turns out fantastic every time.
Beer – I recommend choosing a beer you enjoy the taste of. If you don't like the flavor of a particular beer, don't use it as it will impart its flavor in the dish. It doesn't have to be an expensive beer, just one you like to drink. If you're not sure, I recommend a crisp, light beer.
Onion – I used sweet onions for this recipe. Look below for a more in-depth answer about onions to use.
Thyme – Dry is perfect to use, but if you want to use fresh, that's great. Just use double the amount as dried herbs are more potent than fresh ones.
Butter
Salt and pepper (if desired)
How to Make Stovetop Beer Brats
Fry your regular brats in your skillet.
Remove your brats and add sliced onions, butter, salt and pepper, and fresh thyme.
After your onions have gained some color and softened, add the brats back to the pan.
Add in the beer, pouring it slowly around the brats.
Braise until the beer has evaporated and the onions have caramelized and become slightly sticky.
Remove the brats and onions from the heat and serve while hot. You can keep them warm in a slow cooker on the keep-warm setting or in a food warmer during parties and gatherings.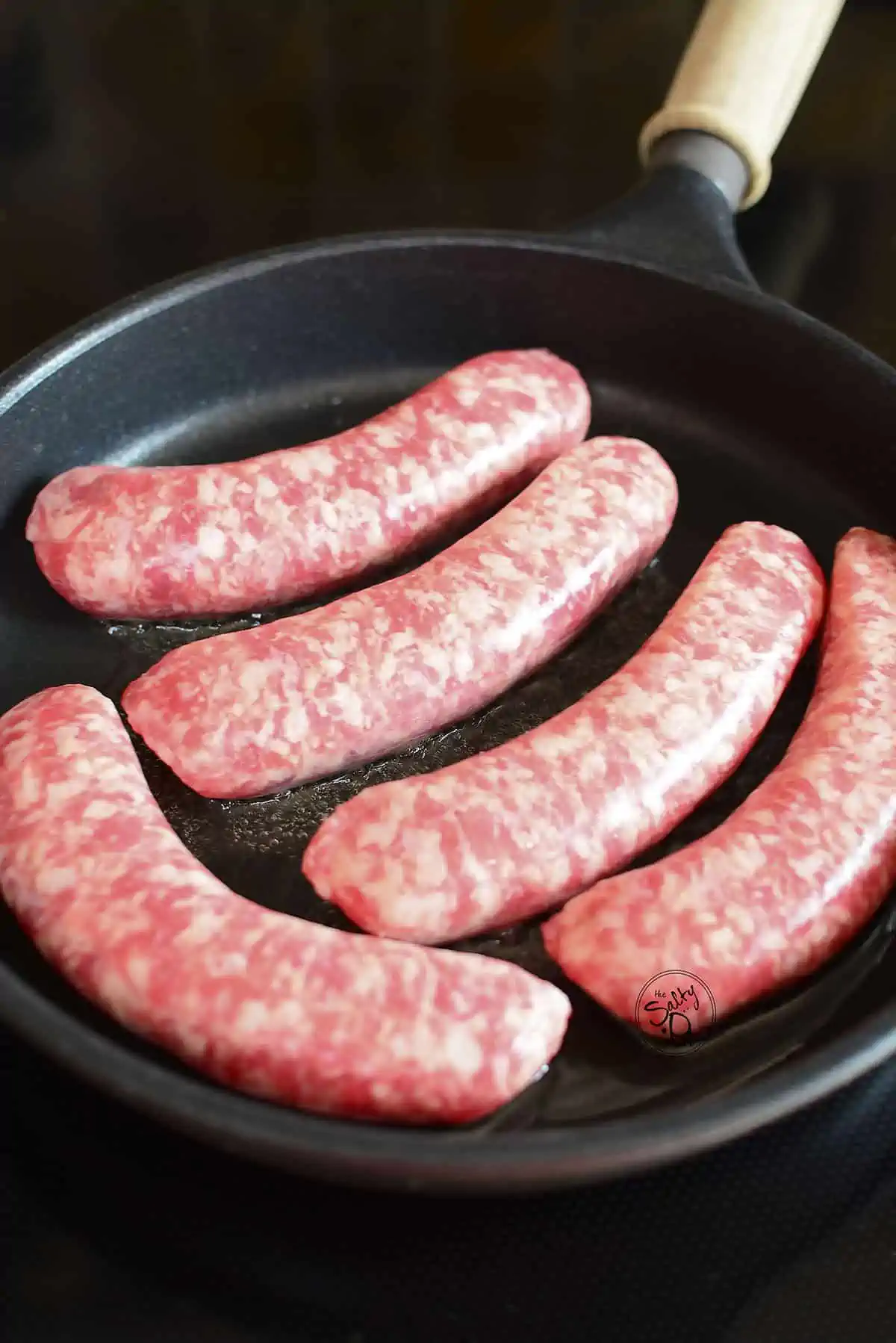 The fully detailed (and printable!) recipe with valuable hints is located at the bottom of this post.
Cooking Tip: Pouring the beer around the brats (and not on top) helps to preserve the delicious caramelized color and flavor you achieved when frying them on the stovetop!
How To Make This Brat Recipe Your Own
Beer: Put a twist on this by trying different beers you enjoy and seeing what flavors you like the most. Lighter beers will give a lighter flavor whereas ales/stouts will offer a richer, more malty flavor.
Extra Veggies: You can switch things up by trying different seasonings and even adding in some bell pepper, and sliced or diced tomatoes. Add these in the last step while you cook down the beer to take the flavor up a notch and make a unique topping for your brats. There are multiple ideas for topping brats!
Add some Heat: Sprinkling some red chili flakes or cowboy candy will add a nice kick to the overall dish. Just be sure that whoever you're serving likes some heat!
Do I Need To Boil Brats Before Frying?
You can if this is a method you prefer. Personally, though, I find that frying them beforehand, and then adding them back to the skillet for braising in the beer brings them to be fully cooked.
I like a lot of deep caramelization on the bratwurst and because boiling them cooks them so there's less frying time, the level of color that I like isn't achievable by boiling them first.
Also, if you have a grill, you can 'par grill' the brats. Cook them at a high temperature to gain some great color, and then continue on to cook them in a skillet with the onions and beer.
The most important thing is to be sure to bring the brats up to a finished internal temperature of 160 degrees Fahrenheit.
This handy digital thermometer is the one I use in my kitchen all the time. I like it because it's easy to use, and most importantly, accurate.
What About The Alcohol In This Dish?
The beer that you use in this recipe will have the alcohol burned off through the braising time so only the flavor and not the alcohol will be left behind.
However, if you're not looking to use an alcoholized beer, feel free to use alcohol-free lagers. There are quite a few brands are available at your local grocer, and you can still enjoy the flavor it imparts while still cooking beer brats on the stove.
Lastly, you can enjoy these pan-fried brats using chicken stock, or even a french onion soup broth.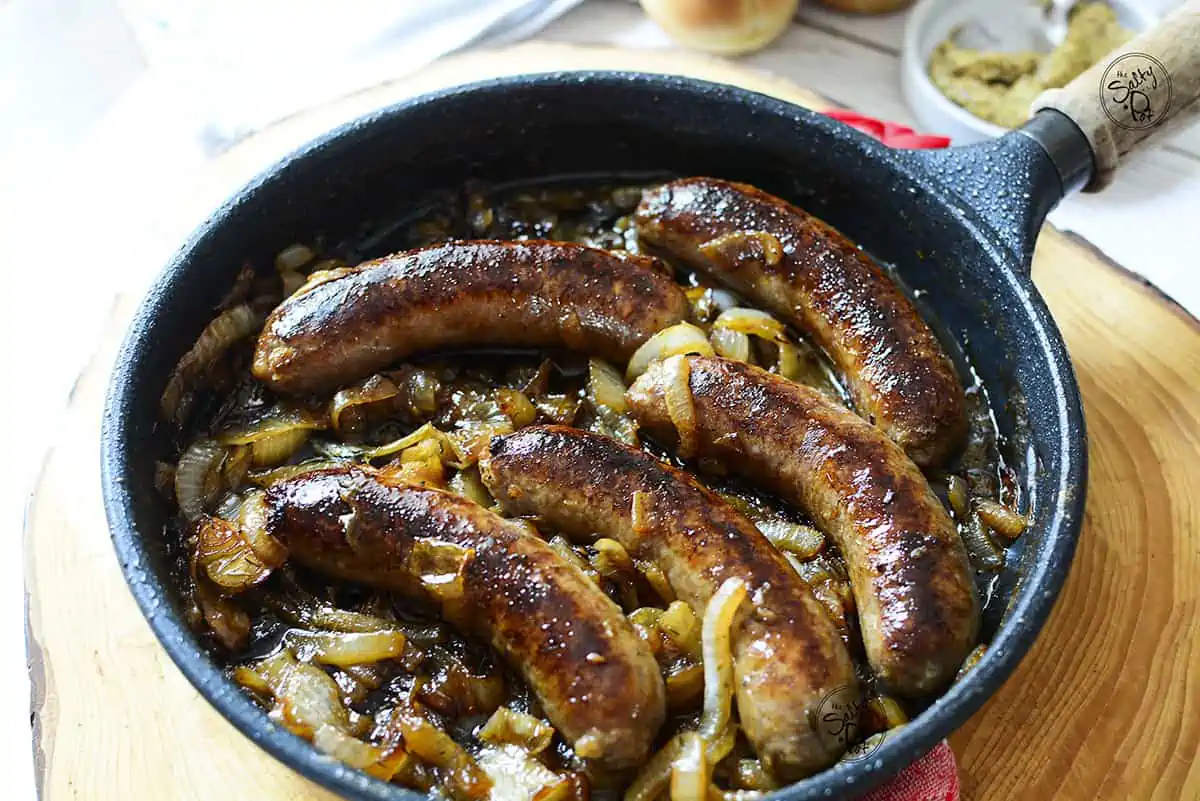 What Can I Serve This Sausage Dish With?
I served my beer-braised brats in seedy buns with mustard, although there are a lot of great toppings you can add to your brats (like sauerkraut!) to help compliment those bratwurst flavors.
If you're looking for a regular weeknight meal, try serving these brats with mashed potatoes and vegetables for a complete hearty meal. For those game-day eats, cooking these beer brats on the stovetop is so easy because you can make a bunch at a time, and then serve them with chips, or try my Slow Cooker Pineapple Baked Beans, Buttery Ranch Corn Chips, Slow Cooked Garlic Ranch Pretzels, and other game-day favorites.
Storing Leftovers
Store your leftover brats in the refrigerator for 3 to 4 days or freeze them in an air-tight container for up to 3 months. Thaw overnight in the refrigerator and reheat in the microwave or a skillet over medium heat with a small amount of beer or water.
Try using your leftovers to make a casserole or chop them up and add them to fresh scrambled eggs for a quick and easy breakfast.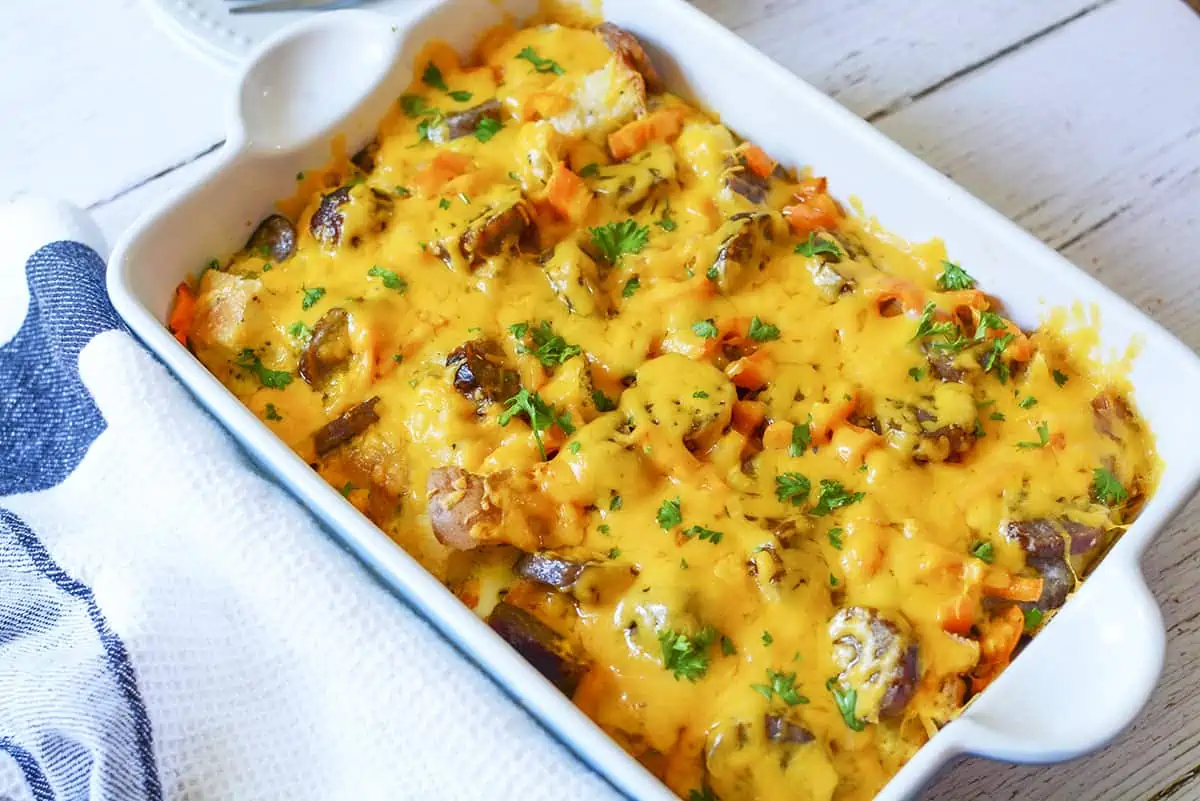 How Can I Make These Ahead Of Time?
If you want to start these ahead of time, precook the brats and leave the beer-braising step right before you plan to serve them. Take them out of the refrigerator for about 30 minutes to come to room temperature and then proceed with the braising step.
What Kind Of Onions Should I Use?
My preference is to use sweet onions because they have more sugar content than regular onions and they tend to caramelize really nicely. That said, you can use pretty much any onion that you have on hand. If you want a deeper caramelization on the onions, try adding half a teaspoon of sugar to the pan as you're browning the onions.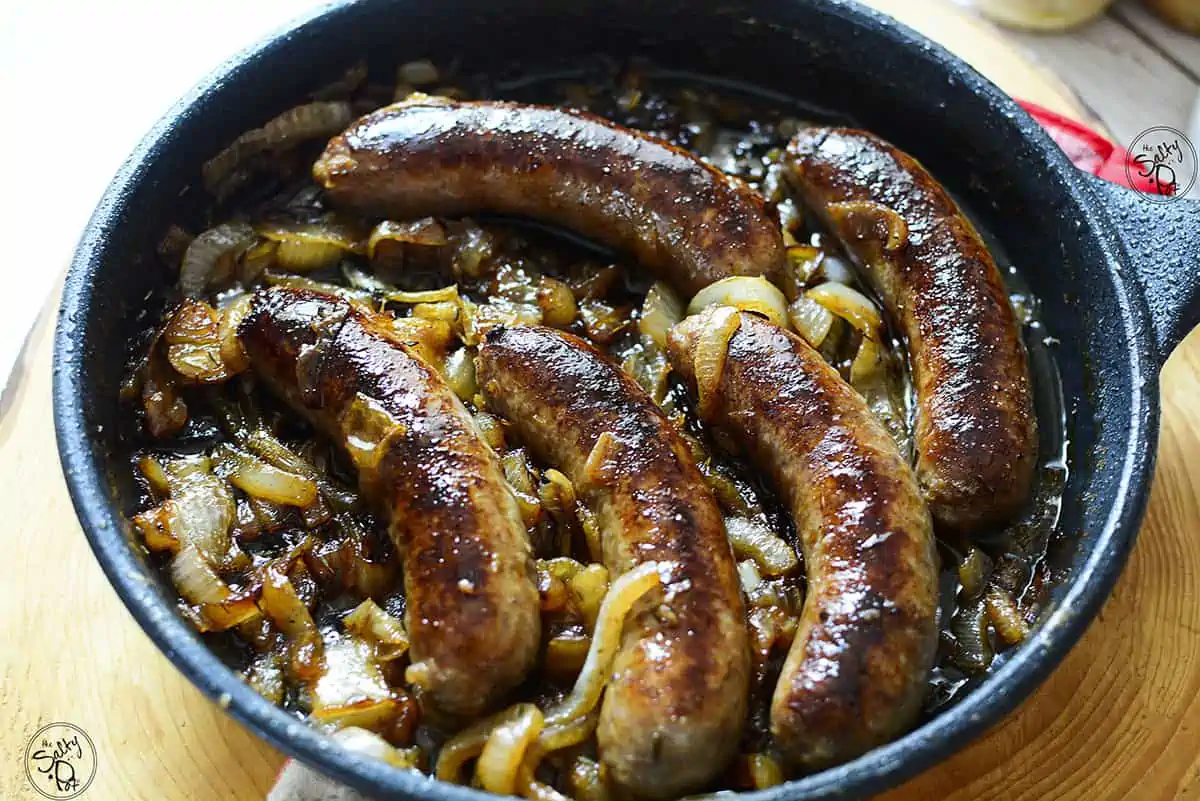 Have you tried this recipe yet? If you have, please leave a star rating and a comment below to let me know what you thought of cooking beer brats on the stove. Did you like it better than grilled brats? I'm interested in hearing your thoughts. If you have any further questions, shoot me an email at Joanne@thesaltypot.com. Have a fantastic day!
~Joanne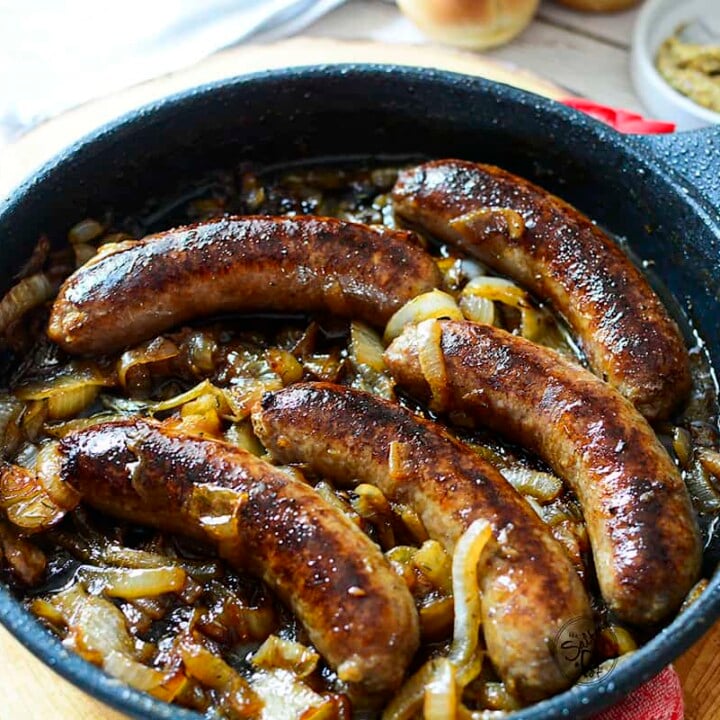 How to Cook Beer Brats on the Stove
Seared to keep the juices in, braised with beer until the onions are deliciously caramelized and sweet, making these beer brats on the stove couldn't be easier. No grill required!
Ingredients
5 Bratwurst sausages
1 can of beer
2 onions, large, sliced to your preference (see notes)
2 Tablespoons butter
as desired, salt and pepper
½ teaspoon thyme, dried
Instructions
Begin by searing and getting color on the brats. Over medium heat, add the brats to the skillet. Usually, they don't need oil to brown, but if you prefer, add a tablespoon or so of oil. Sear them on all sides until they have some nice color on the sausage.
After about 10-15 minutes, remove the brats from the skillet. They won't be fully cooked at this point but that's ok. Set them aside for the moment.
Add the sliced onions to the skillet. Add the butter, thyme, salt, and pepper if you choose. Saute the onions until they develop some caramelization on them.
Add the brats back to the pan and nestle them in and around the onions.
Pour the beer into the skillet, on top of the onions, being careful not to pour it directly on top of the brats, removing all the color you worked hard to develop on them.
Braise the dish until most of the beer has evaporated and the onions have caramelized and become slightly sticky.
Remove the brats and onions from the heat and serve while hot. You can keep them warm in a slow cooker on the keep-warm setting or in a food warmer during parties and gatherings.
Notes
Use beer that you like the flavor of. Just like cooking with red wine, you want to use the ones that you like the flavor as they will impart their flavor to the dish.
Using sweet onions is nice in this recipe because the sweetness plays well against the savoriness of the brat. When slicing your onions, slice them thin or somewhat thicker (¼ inch) if you prefer. Thinner onions will caramelize faster but can burn easily. Thicker onions will take longer but are heartier in the dish.
If you want extra heat, add some dried chili flakes to the beer while braising.
Nutrition Information:
Yield:

5
Serving Size:

1
Amount Per Serving:
Calories:

419
Total Fat:

33g
Saturated Fat:

13g
Trans Fat:

0g
Unsaturated Fat:

18g
Cholesterol:

83mg
Sodium:

932mg
Carbohydrates:

10g
Fiber:

1g
Sugar:

3g
Protein:

14g
All nutritional information is based on third-party calculations and is only an estimate. Each recipe and nutritional value will vary depending on the brands you use, measuring methods, and portion sizes per household.