Please allow me to tell you how these cute little Raspberry Lime Scone Sticks are and just how IDEAL they are for when.. you know, sometimes, you just need a little "sumpthin' " during the day. 
RASPBERRY LIME SCONE STICKS
So you want something  kinda sweet, but not so sweet that it will rot the teeth out of your head, right? Something small, just enough to make you feel happy and content, and that you can take on the rest of the day without ripping someone's head off in Hanger.  (It's a word!! lol). These my friend, fit. the. bill. 
These scone sticks have the nicest texture to them and they're like a nice little blanket for your tummy when it's growling, .. or .. throwing a full out temper tantrum.
Pair them with a nice hot cup of your favorite tea (can you imagine raspberry tea???? YUUMMM!!),  or flavored coffee and you got it made. You can conquer the world! .. or at least feel like you can.
RASPBERRY SCONE STICKS: Perfect for Snacks!
Half the work is already done for you with the addition of Bisquick, and with the fresh raspberries baked in throughout, these sweet little cuties are perfect for that snacking moment! I'll be you could even sneak them into the kids lunches! Hey, any opportunity for more fruit and yogurt in their diet is a good one!
By the way, if you're wondering just how to purchase the PERFECT raspberries from the grocery store, check out this article I linked. It's a great website, and I refer (and trust!) all the information they have write about on produce!
I kept the added sugar amount fairly low for these because of course, they're dusted in confectioners (fancy dancy word for icing sugar) so that adds to the sweetness. Also, the yogurt has sugar in it as well.
Just as side note, here are a few ways you can change up this cute little recipe:
1. – Use regular sugar for dusting on top (but do this just as it goes in for baking)
2. – Use toasted sliced almonds on top instead of sugar (or use both!)
3. – You could use a coarser type of sugar for sprinkling on top – makes it sparkle!
4. – Change up the berry type. You could use blackberries, strawberries, currants/raisins, etc.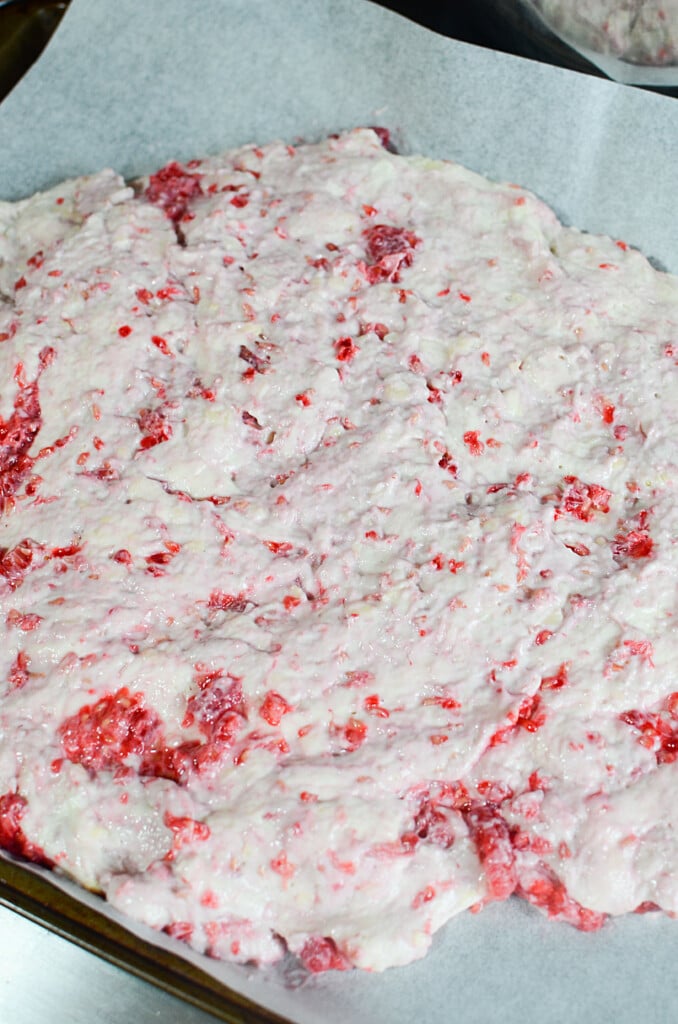 You'll want to make the cuts into the dough during the baking time. I found that if you cut the sticks before they go into the oven, they just get lost as the mixture bakes and becomes one a huge raspberry bun….. not that there's anything wrong with a huge raspberry bun.. it's just not easy to share 😉 hehe
Let me know if you make these raspberry lime scone sticks and just in case your looking for other easy berry dishes, check out this Strawberry Angel Cake that Sparkles, or this crazy easy Fruit Cobbler Dessert.  Hey, an idea just came to me! Wouldn't this be amazing? Try a bit of ice cream in a bowl,.. heat the raspberry scone sticks up in the microwave, drizzle a bit of heated raspberry jelly/jam over the ice cream and use the raspberry scone sticks as your spoon!!! I'm off to try that right now! … and Yes………………you're welcome.
******* Pin this RASPBERRY LIME SCONE STICKS PIN to your favorite Pinterest board so you don't lose the recipe!! *******
Raspberry Lime Scone Sticks
Raspberry Scone Sticks! The best hanger buster there is! Sweet, not too heavy. Just the perfect snack to bring your sanity back!
Ingredients
2 ½ c bisquick
¼ c lime yogurt
½ c sugar
½ c milk
1 pint raspberries
as needed flour
as desired icing sugar
Instructions
Preheat oven to 400
Mix the yogurt, milk and sugar together. Stir until sugar is dissolved.
Add the rest of the ingredients except the icing sugar. Add extra flour if the dough is a bit sticky.
Transfer dough to a parchment lined baking sheet
Roll out dough in either an oval or rectangle (whichever you prefer). Bake in the oven for 6 -
minutes. Remove and with a pizza cutter, cut into 1" strips
Bake the scone sticks for another 5 - 6 minutes or until they are baked through and golden.
Remove from the oven and let cool.
Upon serving, sprinkle icing sugar over the scones.