Who said healthy was boring? Roasted Spicy Sweet Potatoes is a recipe that dances a line between spicy and sweet, capturing the best of both worlds. These delicious nuggets of goodness, are a unique combination that doesn't just tickle your taste buds but also creates an explosion of flavors that few other dishes can emulate.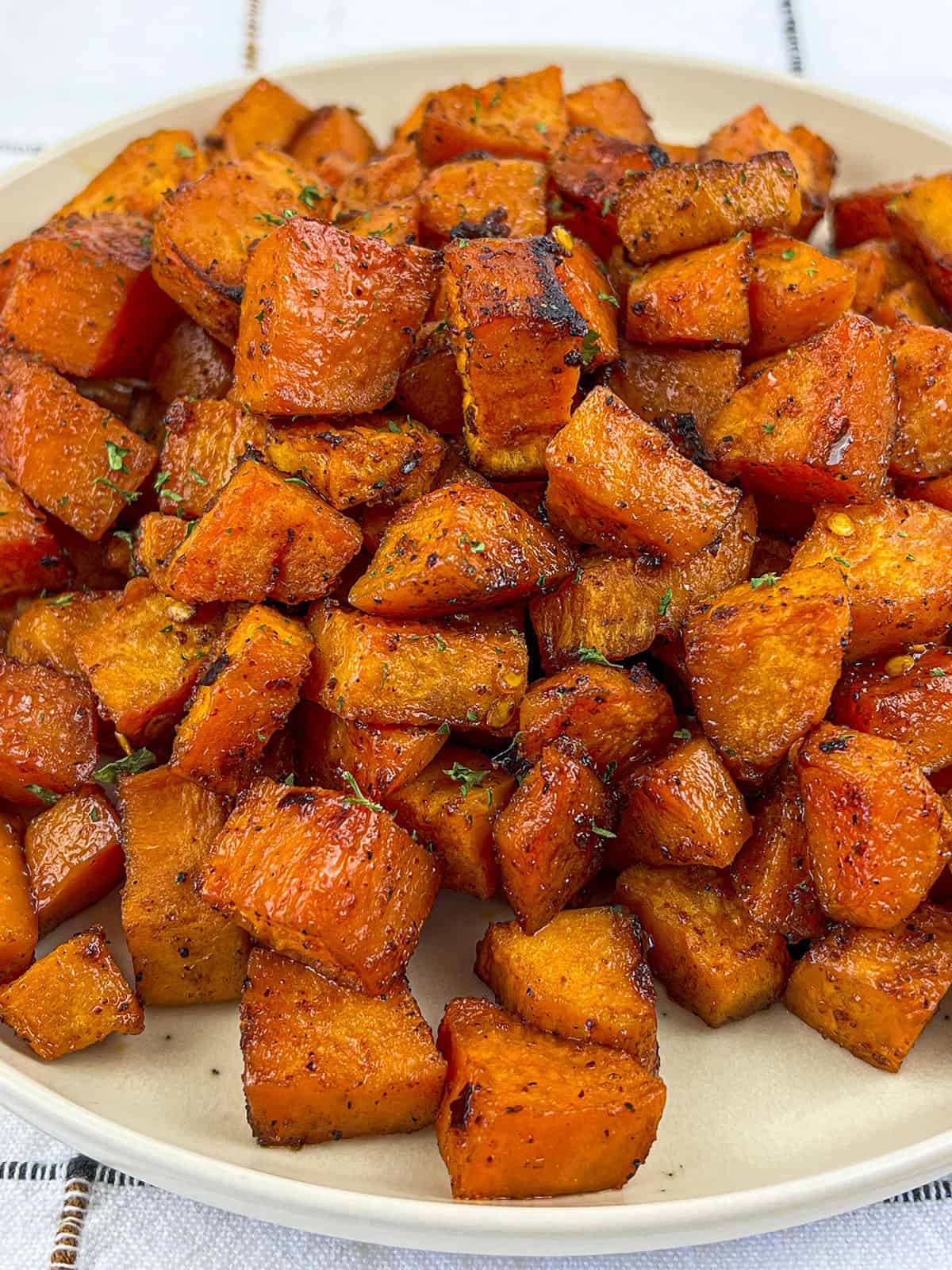 The Love of Spicy Roasted Sweet Potatoes
The recipe for spicy roasted sweet potatoes stands out for three core reasons.
Heat Control: Perhaps the most appealing aspect is the ability to control the heat factor. Whether you're a fan of mild, palate-tingling spice, or prefer a full-on fiery experience, the choice is entirely yours. This recipe gives you the flexibility to adapt it to your personal preference.
Versatility: This sheet pan recipe is really versatile and easy to make. It goes with so many different mains and once they are cubed and seasoned, the oven does all the work.
Make-Ahead: These roasted potatoes can be made ahead of time and easily stored, making them perfect for meal prepping.
Economical: Sweet potatoes are an economical, delicious, and nutritious side dish that is dressed up by all the fantastic spices that elevate them to a whole new exciting potato side dish!
Ingredients For These Spectacular Sweet Potatoes
Sweet Potatoes – Just like my Maple Pecan Sweet Potato Boats recipe, you'll want to look for firm, large sweet potatoes. The skin should be relatively smooth and free of any blemishes.
Avocado Oil – I like using avocado oil because it has a high smoke point and can take higher oven temperatures. If you don't have avocado oil, any other oil with a high smoke point will work.
Brown Sugar – There really is no substitute for brown sugar. Brown sugar is regular sugar with molasses added to it. The brown sugar really gives the potatoes that depth of flavor that's so characteristic of brown sugar.
Spices – Chili powder, smoked paprika, onion flakes, red pepper flakes. Feel free to add even hotter spices like cayenne pepper or even ghost pepper powder if you enjoy super hot flavors.
Salt and Pepper – The salt and pepper add a lot to this recipe, so make sure not to leave them out!
***Check the printable recipe card below that lists the exact amounts and directions to make this recipe absolutely perfect.
Peel or No Peel: That is the Question
When preparing the sweet potatoes, I opt to peel them for this side dish. The decision between peeling and leaving the skin on often boils down to personal preference, but there are a few things to keep in mind.
Peeling sweet potatoes provides a uniform texture and allows the spices to directly penetrate the sweet flesh, intensifying the flavor. Also, some may find the texture of the skin after roasting to be a little too tough or chewy. So, peeling the sweet potatoes helps in achieving tender, yummy, and fluffy inside cubes of spice-kissed bites.
Making Sheet Pan Sweet and Spicy Potatoes
This really can't be any easier. Make them once and you'll put these caramelized sweet potatoes on regular rotation.
Preheat the oven while you wash and peel the potatoes. Cut them into cubes and put them into a bowl.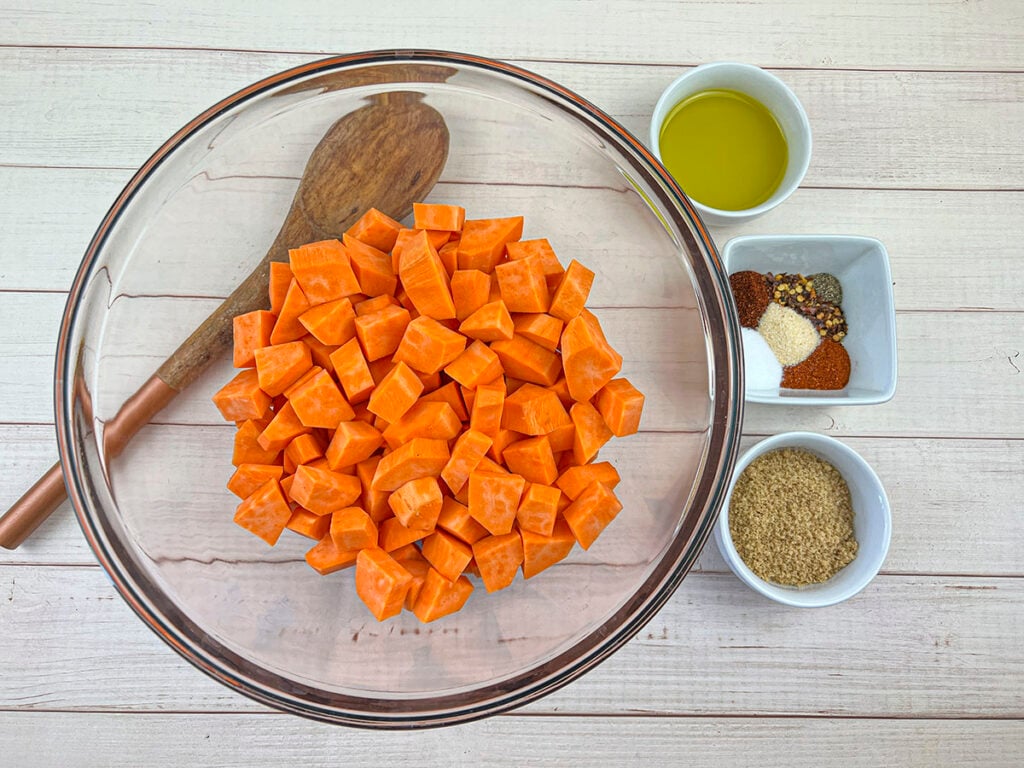 Drizzle with the oil and spices.
Place them on the sheet pan and roast them in the oven.
Remove when they're tender, caramelized, and cooked through.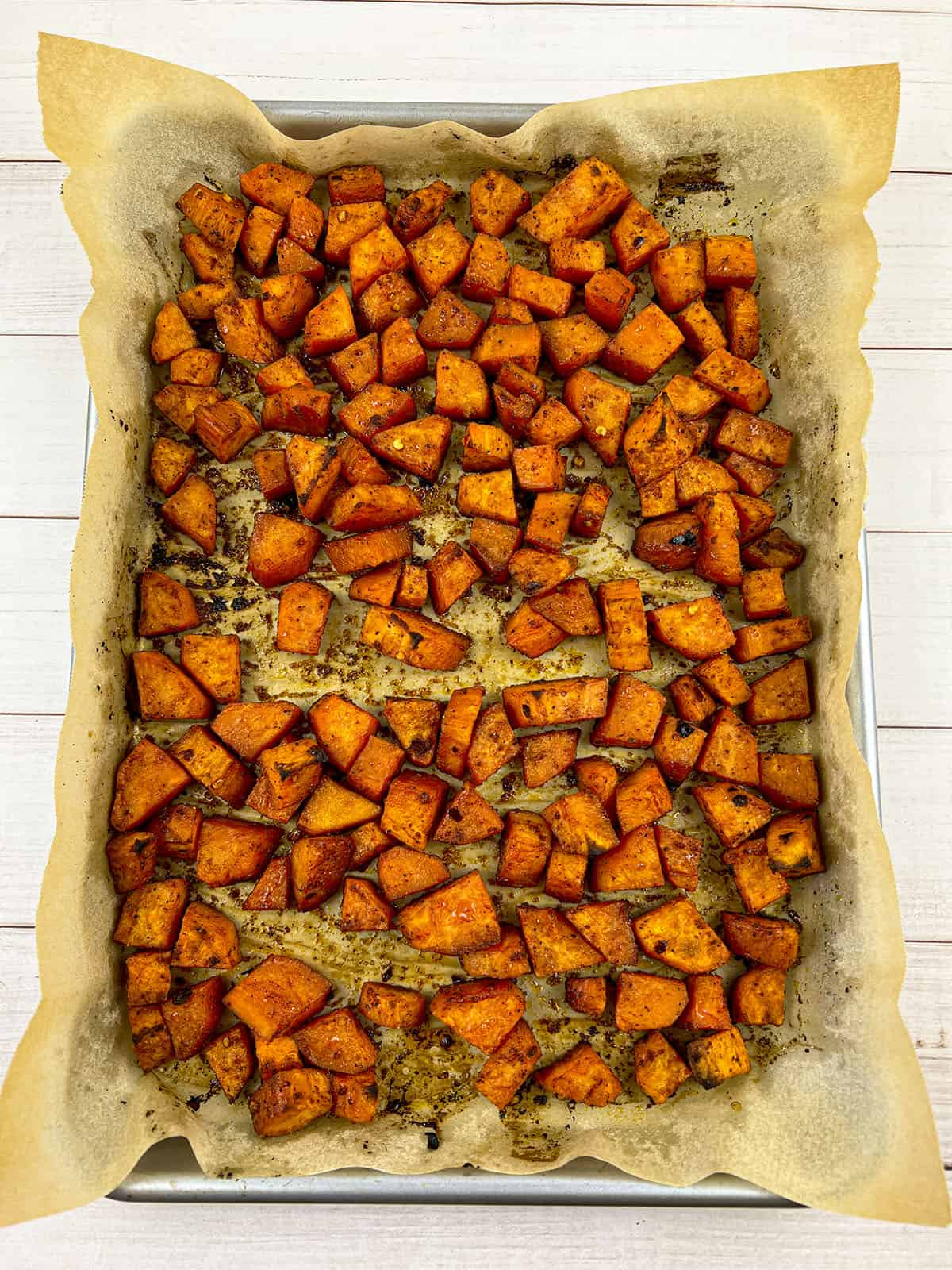 Serving Roasted Potatoes
When it comes to pairing, the versatility of these spicy roasted sweet potatoes shines bright. They go remarkably well with grilled proteins, offering a sweet and spicy juxtaposition to the smoky flavors. A few recommended pairings include herbed chicken, steak with a garlic butter sauce, or grilled tofu with a drizzle of soy for a vegan-friendly option.
Beyond the main meal, these spicy roasted sweet potatoes can also serve as a star ingredient in warm salads, adding an unexpected twist of flavor and a hearty texture. Or if you're in the mood for a savory breakfast, simply top these potatoes with a sunny-side-up or poached egg – the runny yolk mingling with the spicy potatoes is a combination that's hard to beat.
Variations To Make This Recipe Your Own
Instead of using brown sugar, try drizzling delicious hot honey over the top of the potatoes while they roast in the same way I made my Roasted Hot Honey Carrots.
If you don't have hot honey on hand, substituting a little maple syrup instead would add insanely delicious complexity to the sweet potatoes.
You could also cut the potatoes into french fry shapes and season them the same way. Be careful not to cut them too thick or you'll have to cook them longer to achieve that same caramelization on the outside.
Storing Leftover Sweet Potatoes
These little mouth-tingling potato gems store beautifully in the fridge. Keep them in an airtight container for up to 5 days for the best freshness.
For reheating you have a few choices.
Microwave: You can quickly heat them up in the microwave. A couple of minutes should do it but just know that if there were any crispy corners on the potatoes, the microwave will diminish that. They'll still be delicious though!
Oven: Place them back on a parchment-lined baking dish. Reheat for 15 to 20 minutes at 400.
Air Fryer and Frying Pan: These are two of the best ways I find to reheat them. They keep their crispiness and they're still so delicious and fluffy inside. Oil a hot pan and fry quickly until heated through or throw them in the air fryer with a light spray of oil. Air fry at 350 for about 4-5 minutes to reheat them.
Freezing: When it comes to freezing, the potatoes hold up exceptionally well. They can be frozen after being cooked and quickly thawed and reheated when you need a fast meal. This not only saves time but also ensures that a healthy and delicious side dish is always just a few minutes away.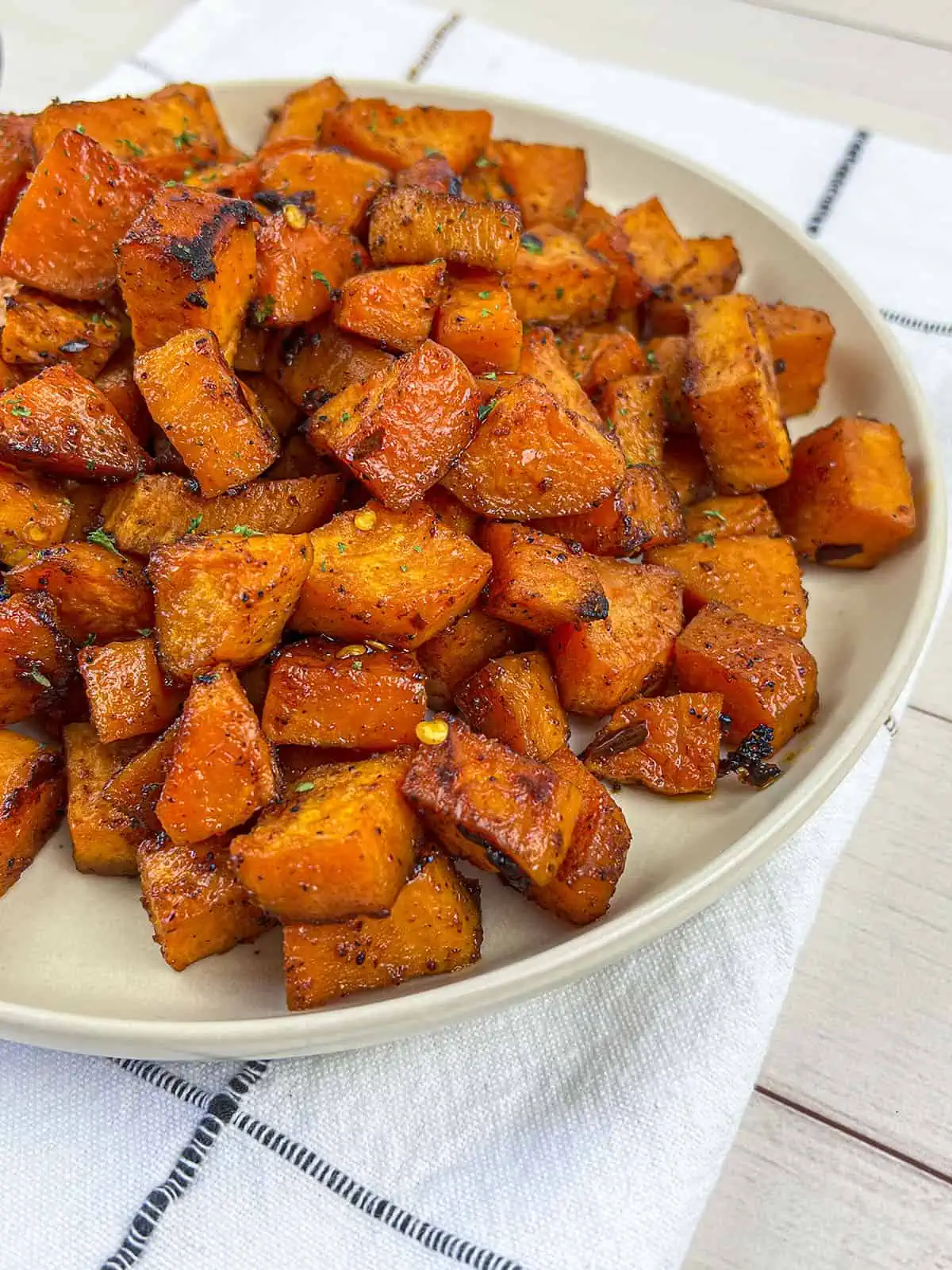 Questions You Might Have
Which is sweeter, sweet potatoes or yams?
Sweet potatoes are generally sweeter than yams. The name "sweet potato" is indicative of its naturally sweet flavor, especially the orange-fleshed variety. Yams, on the other hand, are starchy and not as sweet, often requiring additional sweeteners when used in dishes that require a sweet profile. This difference is one of the reasons why the two are often differentiated in culinary contexts, despite the frequent confusion between them.
Why are my roasted sweet potatoes mushy?
That could happen for a few reasons. Overcrowding of the pan could make them mushy because they didn't have enough space and basically were steamed instead of roasted.
Whether you're planning a quiet dinner at home or a festive holiday meal, these spicy roasted sweet potatoes are a reliable and delicious choice. Their hue of fiery red brings a visually appealing aspect to your spread, while their sweet-spicy flavor delights the palate.
You're free to customize the spice level to cater to various taste preferences, ensuring everyone at the table can enjoy them, and don't forget – you're in control of the heat!
Did you make this roasted spicy sweet potato recipe? If you loved it as much as I do, please consider leaving a ***STAR*** rating in the recipe card below, and if you have any questions about the recipe, leave a comment below so I can help you make these carrots perfectly!
Thanks for stopping by The Salty Pot and I hope to see you next time!
~Joanne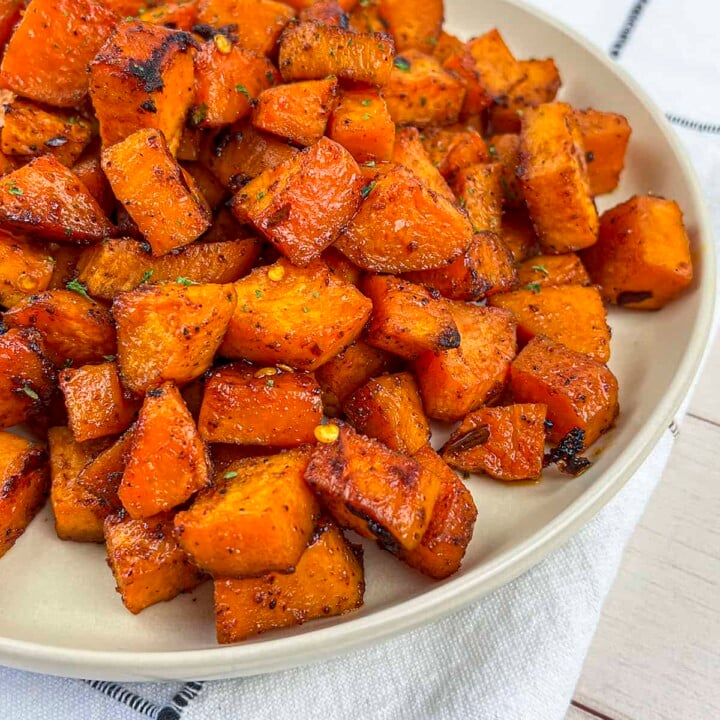 Roasted Spicy Sweet Potatoes
Savor the mouth-tingling flavors of sweet and spicy with these roasted spicy sweet potatoes. Perfectly seasoned to bring out a zesty kick, they're bound to become a favorite on your supper table.
Ingredients
3 sweet potatoes - (about 2 lbs) washed, peeled, cut into cubes
3 tablespoons olive oil
2 tablespoons brown sugar
¾ teaspoon salt
¼ teaspoon pepper
½ teaspoon chili powder
½ teaspoon smoked paprika
½ teaspoon onion powder
½ teaspoon red pepper flakes
Instructions
Preheat oven to 425 degrees and line a baking sheet with parchment paper or grease the pan liberally.
In a large bowl toss the sweet potatoes in olive oil and seasonings until well coated.
Spread the coated potatoes evenly out on the lined baking sheet
Roast for 20 minutes, stir, then bake for an additional 10 to 15 minutes.
Serve and enjoy!
Notes
Feel free to add spices that pack an even spicier punch like cayenne, jalapeno flakes, or even ghost peppers.
Do not crowd the pan with the potatoes as they will not get crispy and will simply steam in the oven.
You can choose to peel or not peel the potatoes. Not peeling them may offer a tougher chew to the spicy nuggets but it's up to your preference.
Nutrition Information:
Yield:

4
Serving Size:

.5 cup
Amount Per Serving:
Calories:

191
Total Fat:

10g
Saturated Fat:

1g
Trans Fat:

0g
Unsaturated Fat:

9g
Cholesterol:

0mg
Sodium:

439mg
Carbohydrates:

24g
Fiber:

3g
Sugar:

11g
Protein:

2g
All nutritional information is based on third-party calculations and is only an estimate. Each recipe and nutritional value will vary depending on the brands you use, measuring methods, and portion sizes per household.