Got some parsnips? Not sure what to make with them? Make these oven-roasted parsnips with pomegranate sauce and blow everyone's mind at the table!!
This post may contain affiliate links. If you make a purchase after clicking a link, I may earn a small commission AT NO COST TO YOU. As an Amazon Affiliate, I earn from qualifying purchases.
The colder months of the year call for more comfort food and home-cooked meals, especially with ingredients that have a nice earthy taste to them. Parsnips are just that- versatile, sweet and with a nice nutty taste to them, and can work wonderfully as a side dish to your main meals. They belong to the carrot family, so if you love root veggies, you definitely must give them a try!
Oven Roasted Parsnips With Pomegranate Sauce
Whether you're hosting a Christmas dinner or are just looking to try your hand at something a bit different, here's a super interesting (and easy) and delicious recipe to try!
Why Parsnips
With their sweet and slightly nutty flavor, parsnips, when cooked the right way, can actually make your home-cooked meals a lot more interesting and delicious. And of course, apart from lending a cool flavor to your dinner table, they are also chock full of health benefits!
They contain a generous amount of fiber along with several vitamins (specifically vitamin C and K) and minerals.

They are also rich in antioxidants, which protect your body against a range of chronic diseases.

They are packed with both soluble and insoluble fiber, which helps improve digestive health and promotes regularity.

Being a rich source of vitamin C, they also boost immunity.

They are extremely low in calories, which makes them a great addition to your diet if you're looking to keep your weight in check.
How to Make these Oven Roasted Parsnips Right!
Okay, now that I've probably convinced you to give them a try, it's time to decode the recipe.
Making oven-roasted parsnips is actually really easy. Start by peeling the parsnips and cutting a bit off both ends to get the rough parts off. Remember that younger parsnips have a very thin peel as opposed to older ones.
Now, slice each parsnip in half, lengthwise.
In a bowl, combine a teaspoon of oil with some salt and pepper, followed by the parsnips. Make sure the parsnips are coated well with the oil mixture.
Spread the parsnips out on a baking sheet with the cut side facing downwards, and bake for around 40-45 minutes until they turn tender or get caramelized.
That's it!
Incredibly easy right?!?!?!
The pomegranate sauce is a recipe I have on my blog. It's sweet and tangy and is almost like syrup. The sauce pairs up with the parsnips like they're best friends!!!! (Look below for the link for the sauce!!! You can use it on so many different things… think PORK CHOPS!! yumm!!!) 
If you didn't want to make the pomegranate sauce, I would simply roast them the same way, and drizzle a little honey on them, or even melted butter 🙂
What Other Ways Can I Prepare Parsnips?
Well my gorgeous, curious reader, check out a few of these other ways!
You could cook them FAST in the Instant Pot like these mashed parsnips and potatoes made by Abra's Kitchen.
Also, you could boil them as you do with potatoes. I would add some butter, salt and pepper, and then mash!
Crazy as it sounds, you could even grill them! The grill would impart a slightly smoky flavor and teamed up with a bit o' butter, they would be AHmazing!
While you can always have the oven-roasted parsnips as is, they team up wonderfully with a nice homemade honey pomegranate sauce like I did today. I made the sauce myself and it's sweet/sour which really complements these veggies. The sauce is SUPER easy to make too! Simply arrange them in a serving platter, drizzle the rich sauce over them and serve immediately!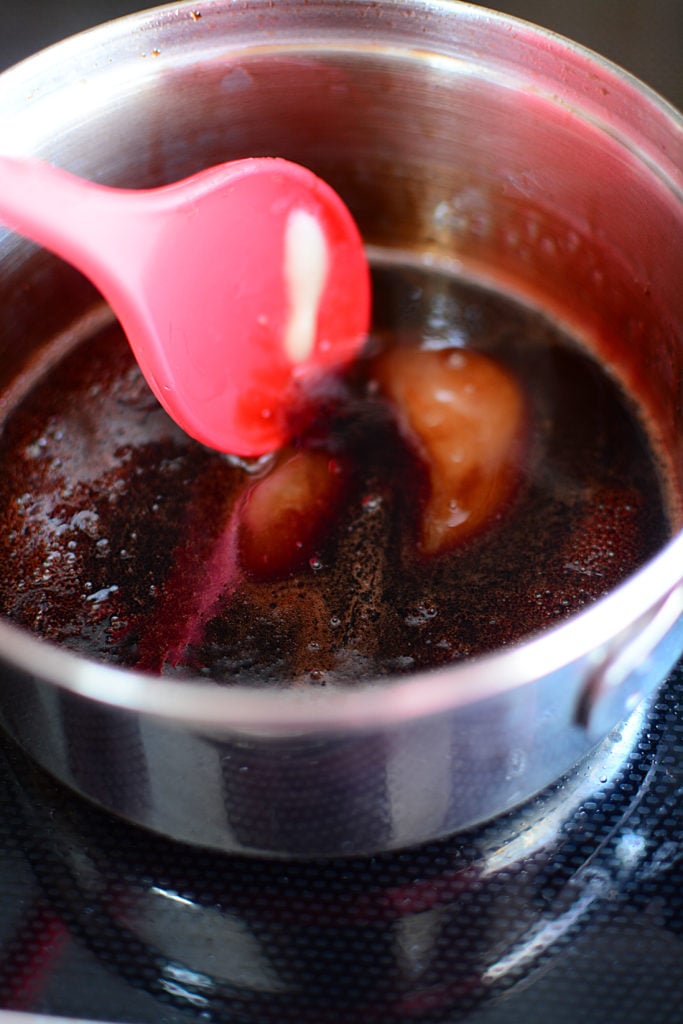 Serving Suggestions
They're actually one of the most underrated vegetables of the vegetable world, considering how versatile and easy to cook they really are.
You could serve them:
Mashed with any roasted meats and stews
Boiled in soups
A buttered side for Roast chicken
Oven roasted and then chopped and sprinkled on salads
You could even mash them well, season, and make a spread with them! Spread them on any wrap contain meat, they would be sooo incredibly delicious!!
And, if you ended up loving them more than you had expected, you can always try your hand at parsnip chips and other ways to put them to use!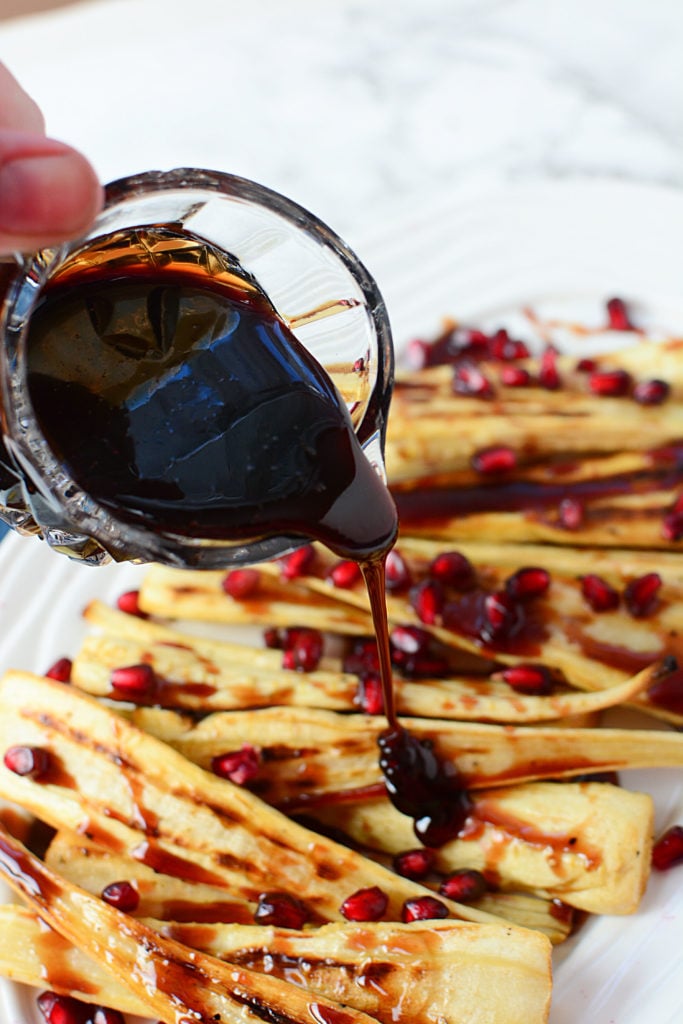 The flavors are so unique and delicious, it's really crazy how delectable they are. Thank you so much for stopping by The Salty Pot today for this yummy oven-roasted parsnip recipe!
OVEN ROASTED PARSNIPS WITH HONEY POMEGRANATE SAUCE
These oven roasted parsnips are sweet and tangy with that unmistakable earthy flavor from the parsnips. All the ingredients pair and complement the parsnips into a side dish you can't forget!!
Ingredients
1 lb parsnips
2 tablespoon oil
as desired, salt and pepper
Instructions
Peel the parsnips and cut a small portion off both ends. Discard waste.
Preheat the oven to 400 and line a baking sheet with parchment paper.
In a bowl or shallow plate, coat the parsnips with salt, pepper, and oil. Mix well to coat evenly.
Roast in the oven for 30 - 35 minutes.
While the parsnips are roasting, make the pomegranate sauce here, or use a purchased sauce.
When the cooking time is up, remove from the oven and drizzle the sauce over the parsnips.
Serve and enjoy!
Nutrition Information:
Yield:

6
Serving Size:

½ cup
Amount Per Serving:
Calories:

95
Total Fat:

5g
Saturated Fat:

0g
Trans Fat:

0g
Unsaturated Fat:

4g
Cholesterol:

0mg
Sodium:

57mg
Carbohydrates:

13g
Fiber:

3g
Sugar:

4g
Protein:

1g
This does not include the pomegranate sauce as the calculations are done on the other recipe.
****DON'T FORGET TO PIN THIS OVEN ROASTED PARSNIPS WITH POMEGRANATE SAUCE RECIPE TO A PINTEREST BOARD TO SAVE FOR LATER!!****