Ohhhh honey berries! So delicious right? Well, my gorgeous reader, honey berry pancakes are EVEN BETTER!
Perfect honey berry pancakes for the little ones: They'll love them!!
First of all, what are Honey Berries???
Ok, so Haskap berries have a few other names – Honey berries and also Edible Blue Honeysuckle. They look just like a blueberry, but long and skinny-ish. They taste like a combination of blueberries with the sweetness/tartness of raspberries.
The Canadian Haskap Association offers TONS OF INFORMATION in an article that could answer any question you have about them. I have two bushes in my yard, and this year was the best year they've produced since I've planted them.
I HAD to do something awesome with them!!
Toddler Pancakes
So I'm sure you can guess by the name that toddler pancakes are pancakes that are a perfect size for toddlers. Just the right size that two or three of them will fit the bill for breakfast.
(Also a nice size that they can hold them with their tiny hands easily!)
So not only are toddler pancakes adorable to begin with, Honey Berry Pancakes are even cuter!!!!!! (And even more delicious than regular toddler pancakes!!)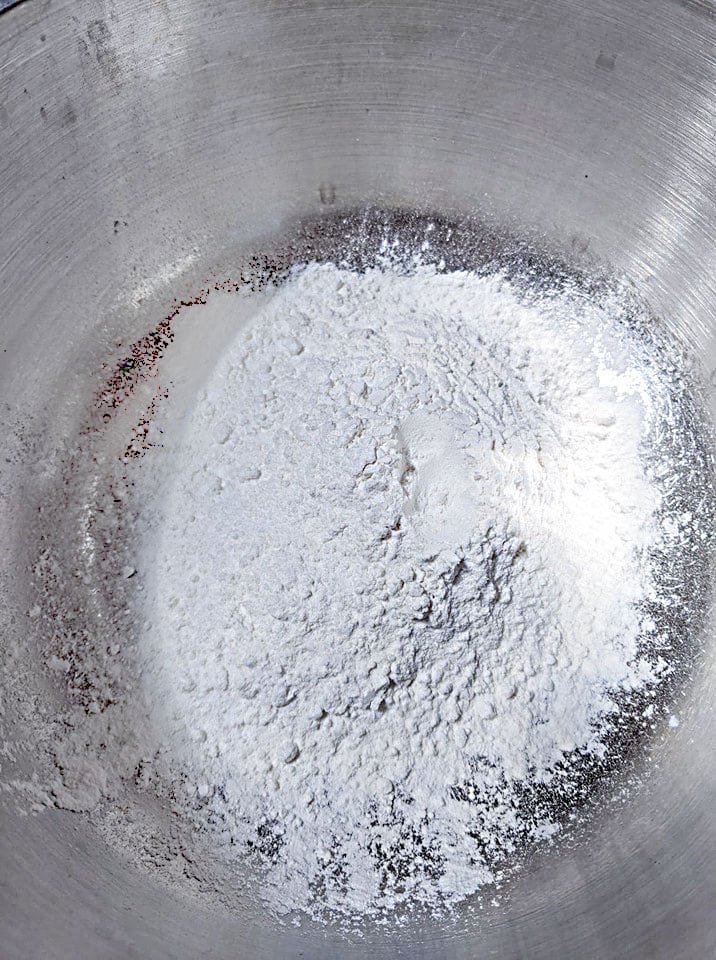 Prepping For The Berry Pancakes
You'll just want to be sure that the honey berries are fresh and not wilted. The skin should be not bruised and they should be still really juicy. All stems and leaves should be removed and I'd give them a quick rinse.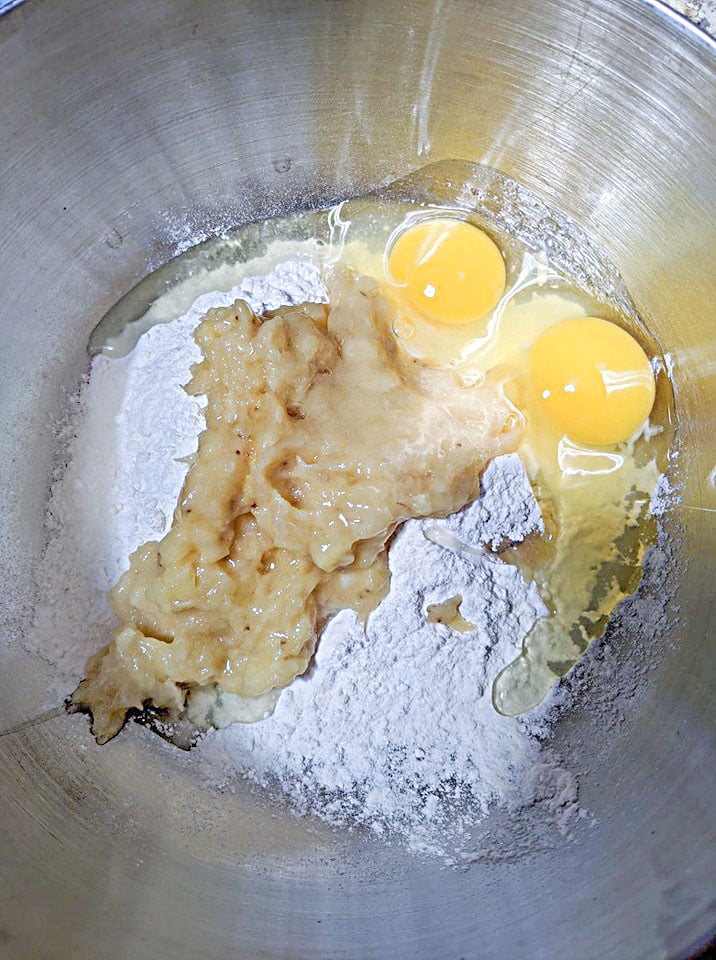 Can you freeze the pancakes?
Absolutely!! I've done it a few tmes and what I prefer to do is make the pancakes and then let them completely cool. Then, using squares of parchment, I'll stack them with parchment in between each one so they are super easy to remove and use what you need.
Alternatively, you can line a sheetpan with parchment, lay each cooled toddler pancake on the sheet and freeze it. Then when they're hard, you can easily stack them frozen into a container and just use what you need, when you need it!
They'll last in the freezer for up to 2-3 months if you use a freezer friendly storage container or bag.
What if I can't find honey berries?
If you can't find honey berries, (haskap berries), then blueberries will do just fine. In fact, you could combine a few berries like blueberries and raspberries. The outcome won't taste like honey berries, but they'll still be delicious!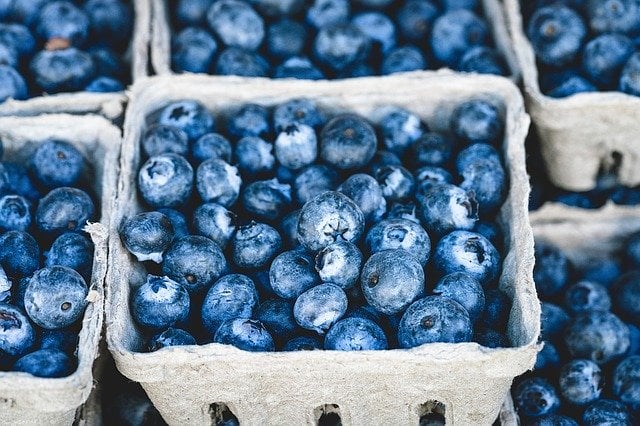 Can I use whole wheat in these berry pancakes?
You could, yes. However, replacing the entire recipe with whole wheat flour may make them heavy and dense. I would probably mix it half whole wheat and half white flour.
What about almond flour or coconut flours?
Honestly, I've never done it but there are a few things to keep in mind. Almond flour doesn't have the gluten in order to give the pancake structure to rise, so you maybe have to add more eggs to work as the leavener.
Using coconut flour is tricky as coconut flour absorbs A LOT of liquid, so the proportions of flour are not interchangeable. That being said, if anyone tries this recipe and uses any of the flours above, please contact me and let me know how it went! I'll give you full credit in the post for your advice and experience!
Can I use coconut oil instead of regular oil or butter to fry them in?
Absolutely! Use either one as you wish, (and as you would use vegetable oil).
How do I serve these pancakes for little ones?
You could add syrup of course. But I think a nice sublte touch is simply sprinking some confectioners sugar over the top and adding a few more crushed berries.
How long will they last in the fridge for?
Personally, I wouldn't keep them past three days. They may last a bit longer than that, but I think because they have a fruit component in them, the berries will be the first thing to go "off".
But use your judgement. If it smells, looks or tastes "off", throw them in the bin!
(I highly doubt they'll last that long before being gobbled up!! LOL)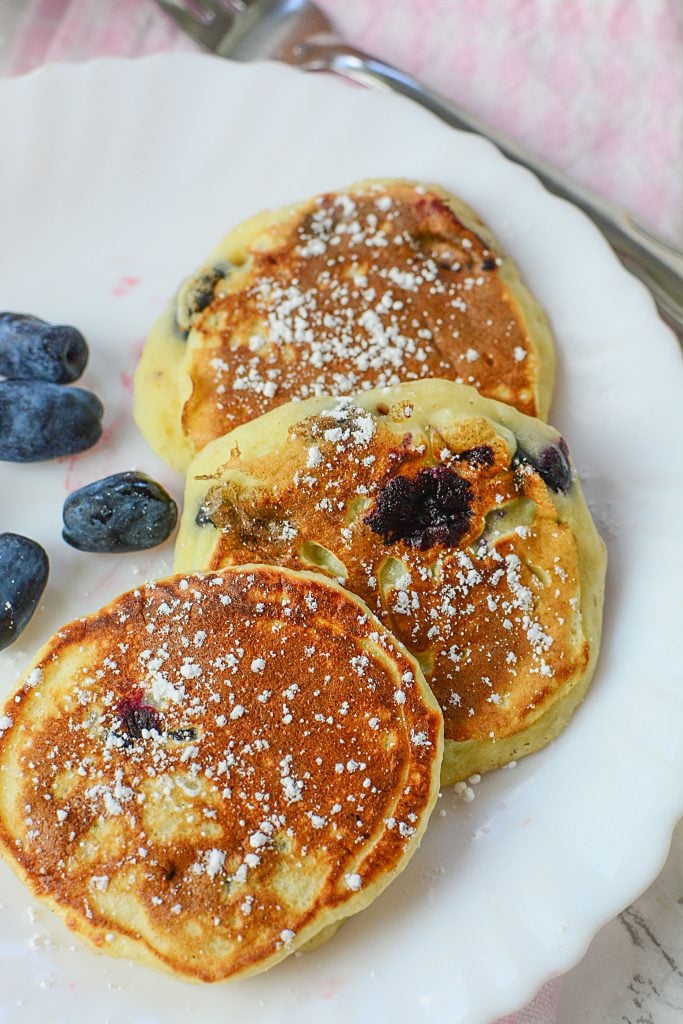 Can I make these Honey Berry Pancakes for adults??
You betcha! I just made these into toddler sized pancakes for my sweet niece Freya. They're a great size for her and she loves anything with BERRIES!!
If you're making them for adults, you'll want to double (generously), the amounts used for making the toddler size portions!
Well my sweet friend, I hope I've convinced you to give these adorable and delicious Honey Berry Pancakes a go for your littles!
If you change up the recipe, please let me know how it turned out by shooting me an email at joanne@thesaltypot.com! As always, thank you for stopping by The Salty Pot today, and I hope you have a fantastic day!!
HONEY BERRY PANCAKES
A perfectly sized little bunch of pancakes specifically make for your little ones! The honey berries are super delicious in this recipe and add some fantastic nutrition!!
Ingredients
Honey berries (Haskap berries) ** see notes
2 Bananas
1c Self Raising Flour **See Notes
2 Egg
1/2c Milk
Maple Syrup ** See Notes
Instructions
In a bowl, mash the ripe bananas with a fork. Set aside.
In a bigger bowl, combine the flour, eggs, and bananas. Mix well.
Add the milk in small increments (couple tablespoon at a time) to thin out the batter. You'll want a batter that resembles a heavy syrup consistency.
Let the batter rest 15 minutes. Add the butter or coconut oil to the frypan. Melt over medium-low heat.
Add the honey berries to the batter and fold in, being careful not to break the berries up too much.
With a tablespoon measure, drop two tablespoons in the frying pan per one pancake. Let the pancakes fry undisturbed for about 2 minutes per side. Once you see a lot of bubbles coming up to the top of the pancake, flip the pancake to fry the other side.
Transfer the cooked pancakes to a plate. Cover with confectioners sugar and extra fruit, and enjoy!
Notes
1. If you don't have access to honey berries, blueberries will work just fine.
2. If you don't have self-raising flour, here's a recipe to teach you how.
3. You can use maple syrup to add extra sweetness to the recipe however, I found that using the two bananas along with the berries added enough sweetness. (plus, adding the dusting of icing sugar over the top made them just perfect!)
4. Adding small amounts of milk at a time will help you get a perfect consistency. You don't want too thin of a batter, but too thick isn't great either. So if you add the milk in small amounts, you can achieve the perfect consistency, easily. Again, it should resemble thick syrup.
5. If you want to make adult sized pancakes, simply use more pancake batter per pancake.
Nutrition Information:
Yield:

24
Serving Size:

2 pancakes
Amount Per Serving:
Calories:

43
Total Fat:

1g
Saturated Fat:

0g
Trans Fat:

0g
Unsaturated Fat:

0g
Cholesterol:

16mg
Sodium:

71mg
Carbohydrates:

8g
Fiber:

1g
Sugar:

3g
Protein:

1g
**DON'T FORGET TO PIN THIS HONEY BERRY PANCAKE RECIPE TO YOUR FAVORITE PINTEREST BOARD TO USE LATER!**