This White Bean Mediterranean Hummus recipe is super delicious and can be the perfect one to try if you've run out of chickpeas. Read on to discover how to make it, and some easy tips and hacks to put it to use. 

Mediterranean Hummus using White Beans – Yum!
Packed with protein, fiber and a ton of micronutrients, cannellini beans (also known as white kidney beans) are among the top choices to consider when you're looking to cook (and eat) healthy.
1 cup of cannellini beans is packed with 17 grams of protein and 11 grams of fiber!!!
They're inexpensive and so versatile! Here's helping you get more of them apart from just soups, chilis and stews.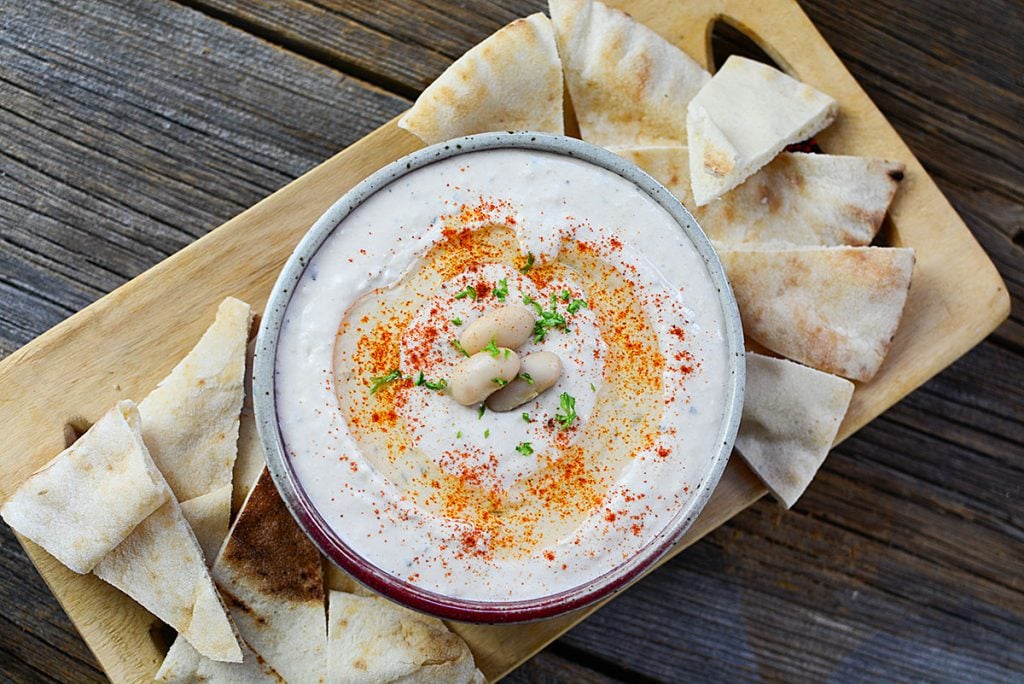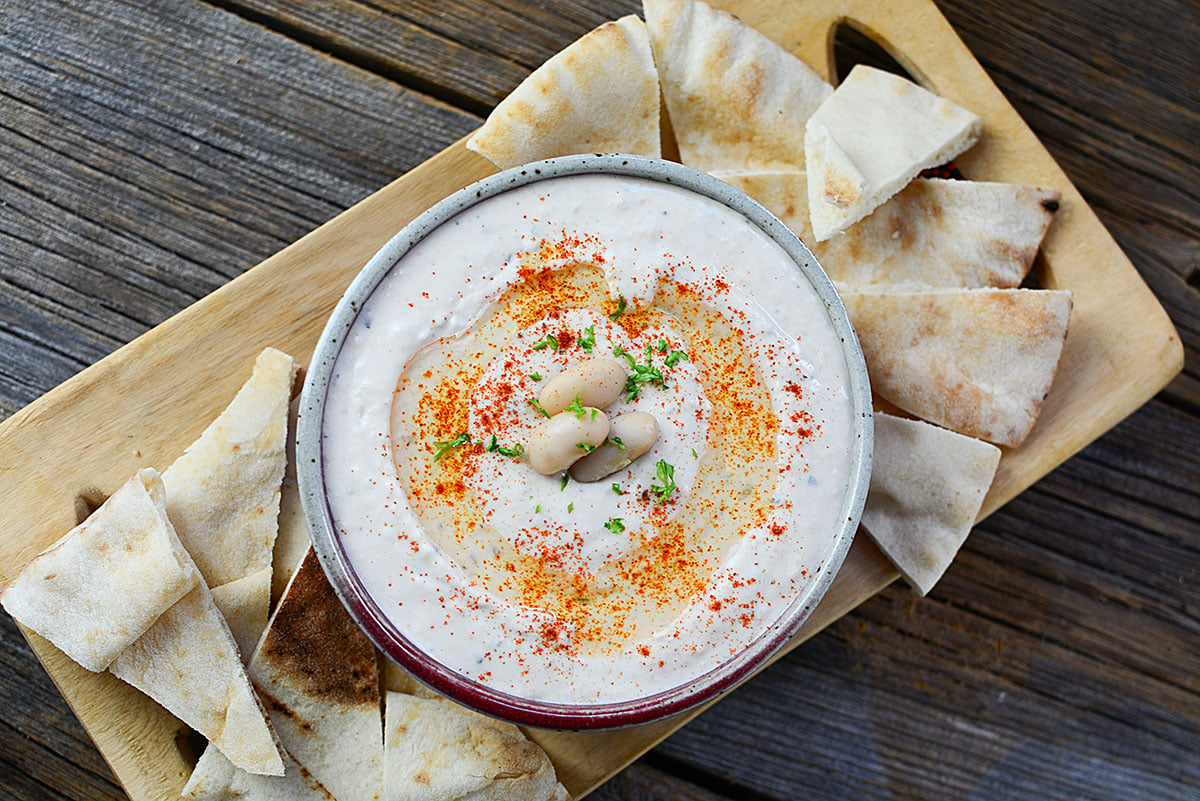 What You'll Need For The Mediterranean Hummus
Just like regular hummus, you'll need just a bunch of simple ingredients to whip this up.
Cannellini beans (white kidney beans)
Lemon
Garlic
Tahini
Rosemary
Olive oil
Salt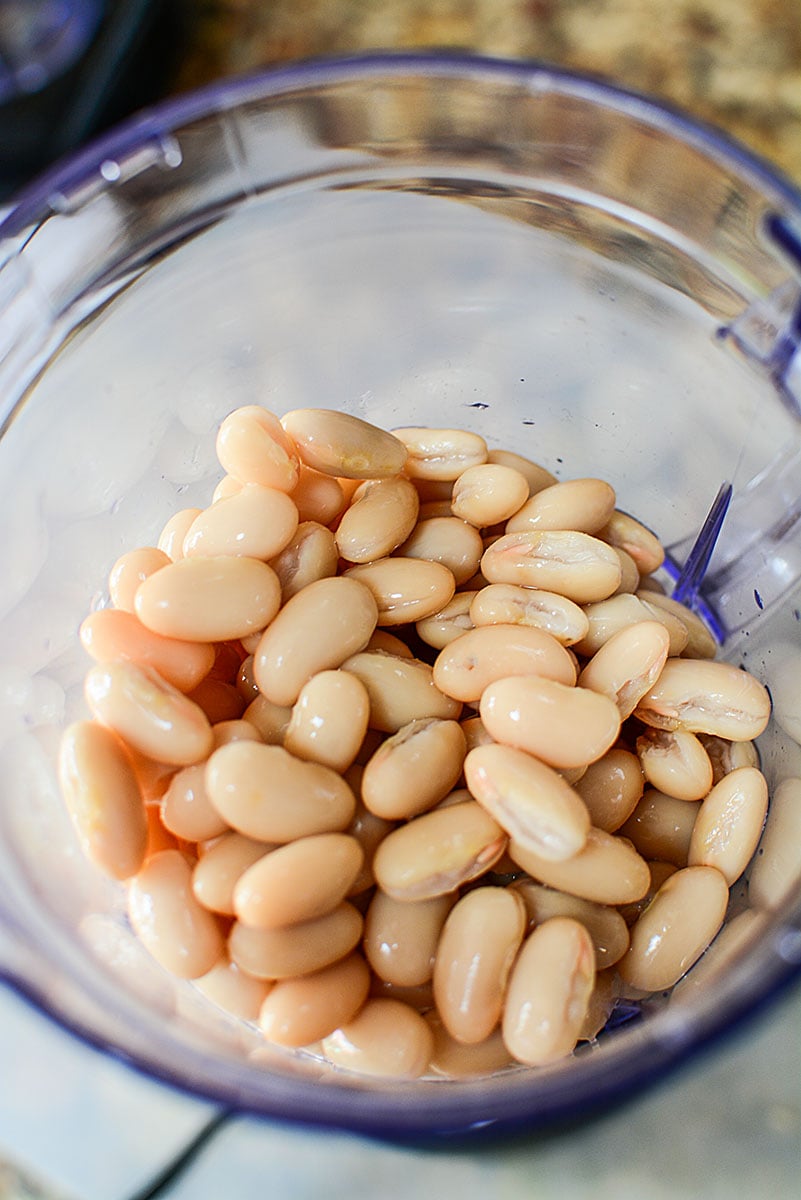 Making This Greek Style Hummus Right
Ready to get started with making this delicious Mediterranean White Bean Hummus? Here's how you would go about it.
Blend the (drained) canned cannellini beans in a food processor (or a good blender – that's what I used), adding in the seasoning, lemon juice, garlic and other ingredients.
I added olive oil as I went, according to how the blender was mixing everything together and how the consistency was looking.
And that's it. It is that simple! Of course, you can also top it with some chili flakes (to lend it an element of spice/kick) or some crushed coriander seeds, as well as some extra olive oil.
Pro tip: Make it a day ahead of the day you're planning to have it- it helps add a nice depth of flavor.

Can I use White Northern Beans instead?
Well, you could I suppose. The main difference between Cannelli beans and White Northern beans is that Cannelli beans tend to be creamier in the middle when cooked.
Also, Northern Beans have a tougher, thicker skin on the bean which may not puree as nicely as the white kidney beans for this recipe.
Putting The White Bean Hummus To Use
There are tons of ways you can put this creamy and delicious creation to use. They can turn out to be an excellent healthy snack option when served as a dip along with veggie sticks (cucumber, beet, carrots etc).
This Mediterranean hummus can also be a delicious spread for your quick sandwiches. Just make sure the texture is slightly soft and easily spreadable when you're making it, so don't take it right out of the fridge and try to spread it on – tearing the bread for a sammy is no Bueno.
It also tastes delicious when spread on a crostini and along with some fresh tomatoes. I recently made some Morning Veggie Toast using the Mediterranean Hummus as a base with tons of great toppers on it!
Wholy cow was it deeeeeelicious!!
And of course, you can always serve it with the good 'old pita bread.

Storing This Mediterranean Hummus
Storing this hummus is pretty easy too.
Just place it into an airtight container and pop it into the refrigerator! Easy peasy!!
It should stay good in there for up to 12 days. I'm willing to bet it doesn't last that long though!!
Can I Freeze This White Bean Hummus?
It will freeze nicely for up to 4 months. Freeze in small, single or double use amounts so that you're not thawing a ton and you're risking a lot of the spread going bad.
And always use freezer-safe containers or bags.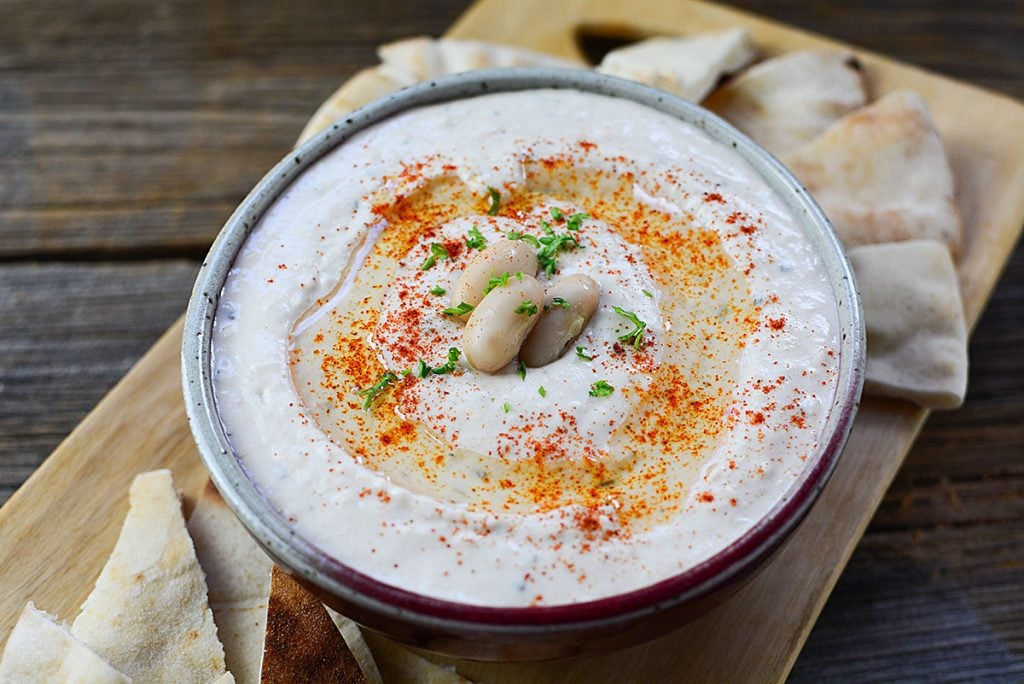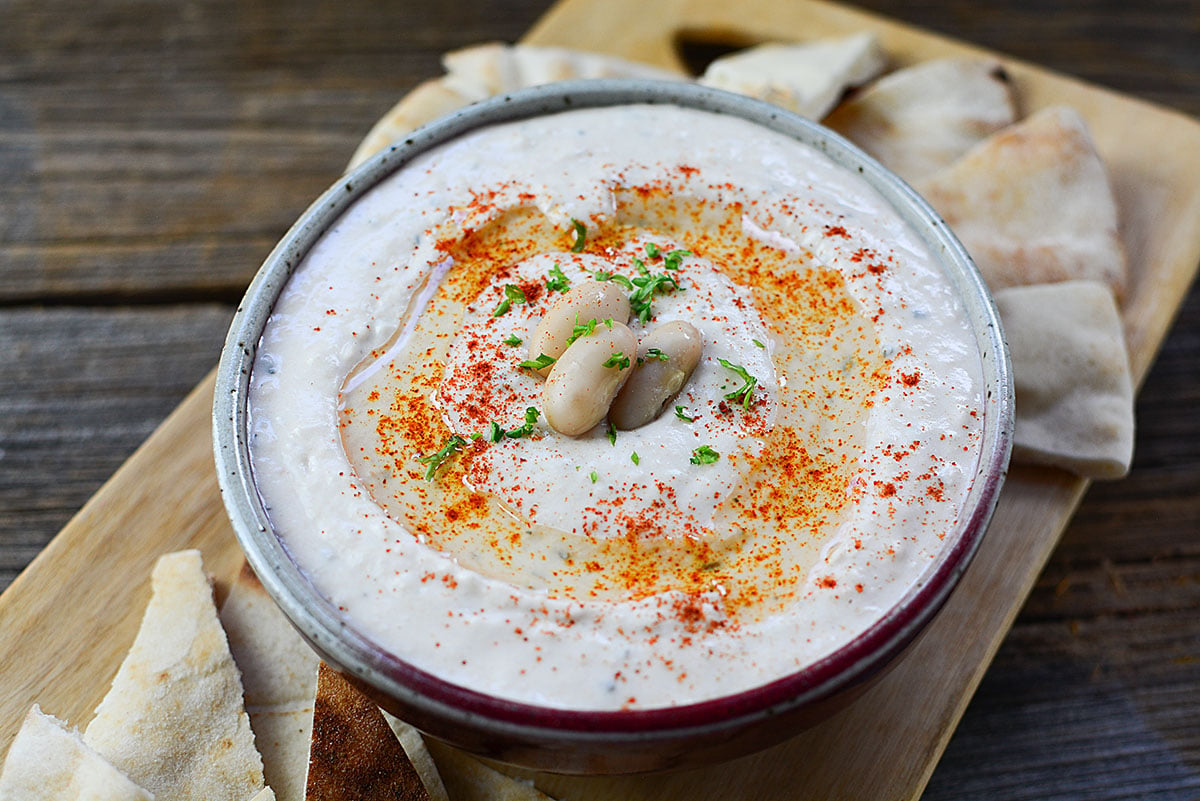 What About Other Herbs?
If you're not keen on rosemary, then by all means, feel free to add any of the following herbs. (Dried or fresh!)
Majoram
Thyme
Oregano
Dill
Fennel
**Don't Forget To Pin This Mediterranean Hummus Recipe To Your Favorite Pinterest Board To Use For Later!!**
Well my lovelies, it's time for me to get going in the kitchen. I"m off to test some grilling recipes!! Yum!!!
And when you try this amazing Mediterranean hummus ('cuz I know you wanna!), please let me know how you used it! Did you use it as a dip? A spread? Let's hear about it!
As always, thank you so much for spending some time here at The Salty Pot. If you have any questions, concerns, or you just wanna say 'heyylooo', drop me an email at joanne@thesaltypot.com!
MEDITERRANEAN HUMMUS
A delicious and creamy white bean hummus with those Mediterranean flavors! Perfect to make for parties as a dip, a spread for sandwiches, or even when you're out of chickpeas!
Ingredients
18 - 20 oz can of White Kidney Beans (Cannellini Beans), drained
1 teaspoon garlic, minced (see notes)
3 tablespoon Lemon Juice (see notes)
2 tablespoon Tahini
½ c Oil (see notes)
Extra oil for drizzling
dash of paprika (optional)
as desired, salt
Water, optional (see notes)
Instructions
Place all the ingredients into a food processor or high powered blender
Begin blending. If you find the consistency is too thick, add a bit more oil or water to thin it out a bit.
Taste the mixture. Adjust for seasoning (see notes)
Remove from the blender into a container, cover, and refrigerate for 1 hour or more so the flavors mingle. Remove 15 minutes before serving.
Notes
So this hummus will be a masterpiece to your liking! When adjusting to taste, please feel free to add a bit more lemon juice (or even lemon zest) if you prefer a more tart, lemony tone to the hummus.
If you want to thin out the mixture, adding extra oil will help (but be careful not to add too much!). Thinning out with water AND oil can help retain the smooth, rich mouth feel and still keep it light and not oily tasting.
The paprika sprinkle and olive oil drizzle are completely optional. Feel free to omit if you prefer.
Start with 1 teaspoon of minced garlic and then add more if you prefer. (Or, if you're a garlic lover, add more!!)