Slow Cooker Pulled Chicken Breast has got to be one of the easiest things to make in your slow cooker hands down. Also, the amount of things you can make with that pulled chicken is ENDLESS!

SLOW COOKER PULLED CHICKEN BREAST

This post may contain affiliate links. If you make a purchase after clicking a link, I may earn a small commission AT NO COST TO YOU. As an Amazon Affiliate, I earn from qualifying purchases.
Why Should I Make Pulled Chicken Breast?
Well, it's seriously SO versatile! Because chicken is a great protein that has a fairly mild flavor (the breast, anyway), it can be paired with so many different things to make some pretty spectacular dishes!
Plus, chicken is readily available and fairly inexpensive. Making a 'pulled' or 'shredded' chicken stretches those chicken breasts further in the meals, so it turns out to be pretty frugal as well!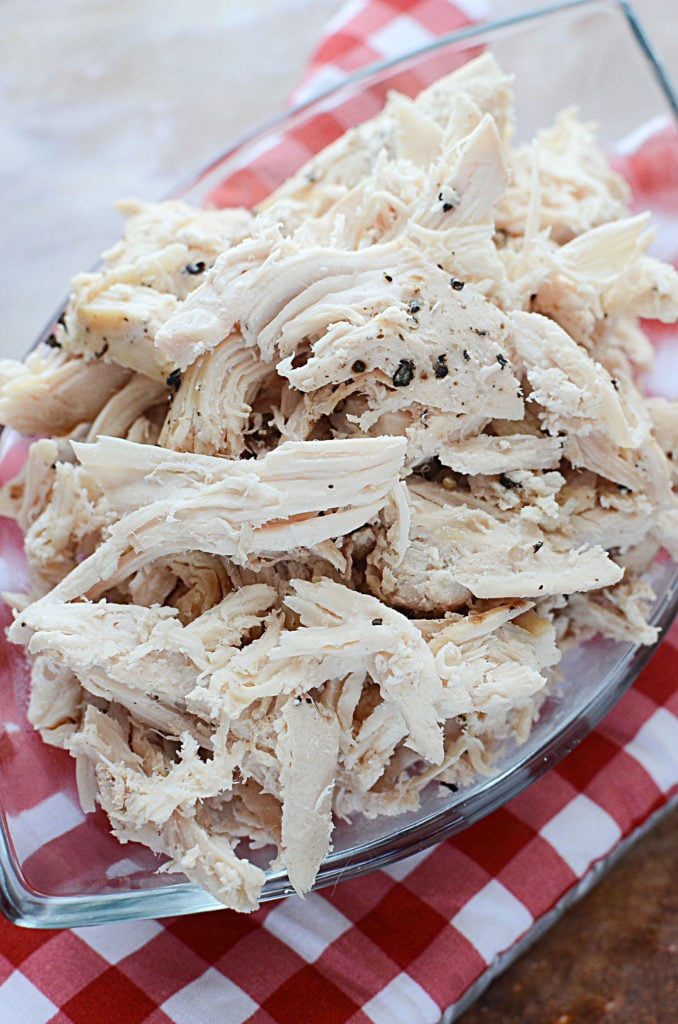 Do I keep the skin on?
You can, but I would recommend you remove it.
The chicken skin tends to get flabby and soft, and not very appealing because I think it gives it a funny mouth feel in terms of texture.
However, if that sort of texture is your jam, go for it! It won't change the flavor of the chicken, and in fact, it may add even MORE flavor because as well all know, fat=flavor!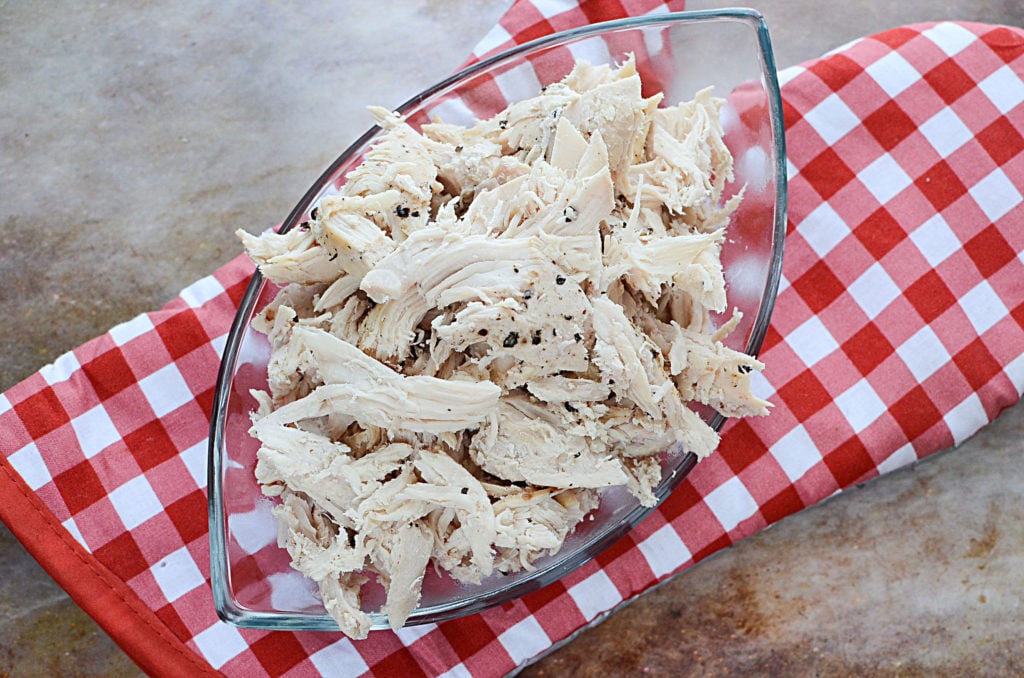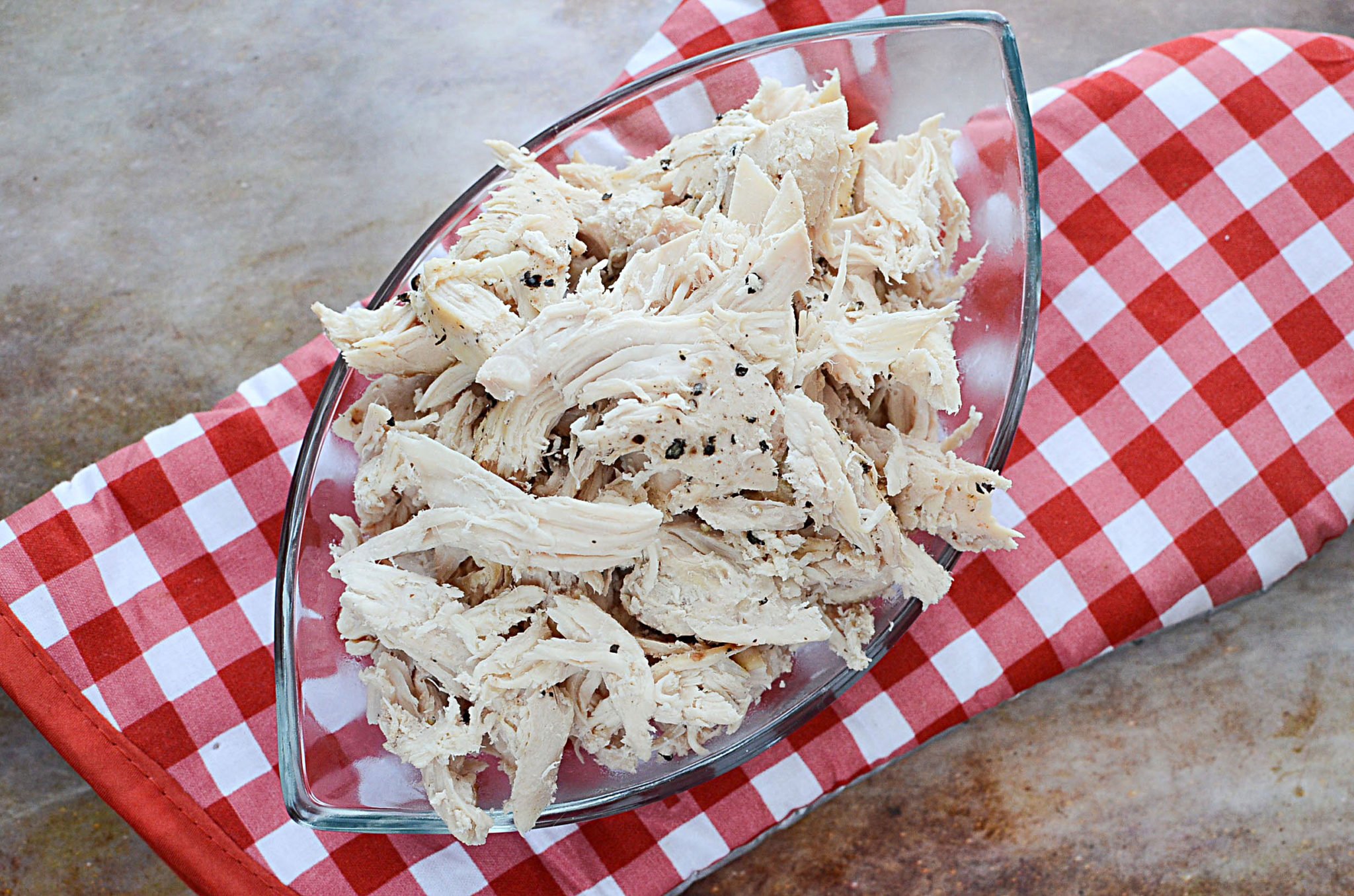 Can I Use Frozen Chicken Breasts?
Well, sure, but just know that your cook time will be significantly longer because the slow cooker will have to spend time thawing the breasts before it even cooks them.
You would add at least another 2 hours onto your cook time if cooking on high, and even more if cooking on low.

Personally, I recommend thawing the breasts overnight or in the microwave first before you begin to cook them in the slow cooker. Plus.. thawing them will allow all your yummy seasoning to stick to the chicken! lol
Can I Freeze the Chicken Once It's Pulled or Shredded?
Absolutely! If you find you have extra chicken leftover, definitely freeze it to use for later!
I would recommend that you use a freezer-safe container or even better, use a freezer-safe bag, place the chicken in the bag, and remove as much of the oxygen in the bag as possible by using The Straw Method, or The Water Displacement Method!
To thaw the pulled chicken, simply remove it from the freezer and leave it in the fridge overnight.
If you need to use it right away in a hot meal, then dip the bag or container in hot water to remove it from the sides of the container and turn it out onto a fry pan with a bit of water. Cover with a lid and let it steam until it's thawed.
Watch that you don't steam it too long though, you might overcook it!
Lastly, you can use the microwave to thaw the shredded chicken.
How Long Will The Chicken Be Good In The Freezer?
As long as you get as much air out of the bag as possible, or your container is airtight, I'd say the shredded chicken will be good for up to 2-3 months in the freezer.
Be sure to write on a paper label/sticker on the container or bag, the date that you placed it in the freezer. It's so easy to lose track of how long it's been in there.
How Long Can You Keep The Shredded Chicken In The Fridge?
In the fridge, I'd say that it would be safe to use up to 3-4 days. I wouldn't feel comfortable using it past that timeline.
Uses for Slow Cooker Pulled Chicken
So many uses! Because it's already cooked, you can use it for:
Chicken salad sandwiches – or spice it up like these Buffalo Chicken Boats

Yummy chicken tacos – simply heat up the chicken and sprinkle on your taco seasoning and lime juice!
Savory chicken soups – like this leftover Basic Chicken Noodle Soup

Quick curry chicken – add it to your mixtures of seasonings and curries, add some coconut sauce and serve over rice!
Toppings for chicken pizza or chicken and cheddar quesadillas!
SO many casserole ideas like this Chicken Ranch Potato Bake, or how about Cheesy Chicken Gnocchi Casserole

Salads salads salads – this chicken can be seasoned so many different ways to top any type of salad you want to make!
Can I Double The Recipe?
If you have extra chicken and you want to meal prep it ahead of time, I would definitely double or even triple the recipe, depending on how big your crockpot is!
Just remember to add extra time for cooking and you'll be good to go. This is when your food thermometer comes in handy!!
Having the pulled chicken prepared ahead of time will be super handy!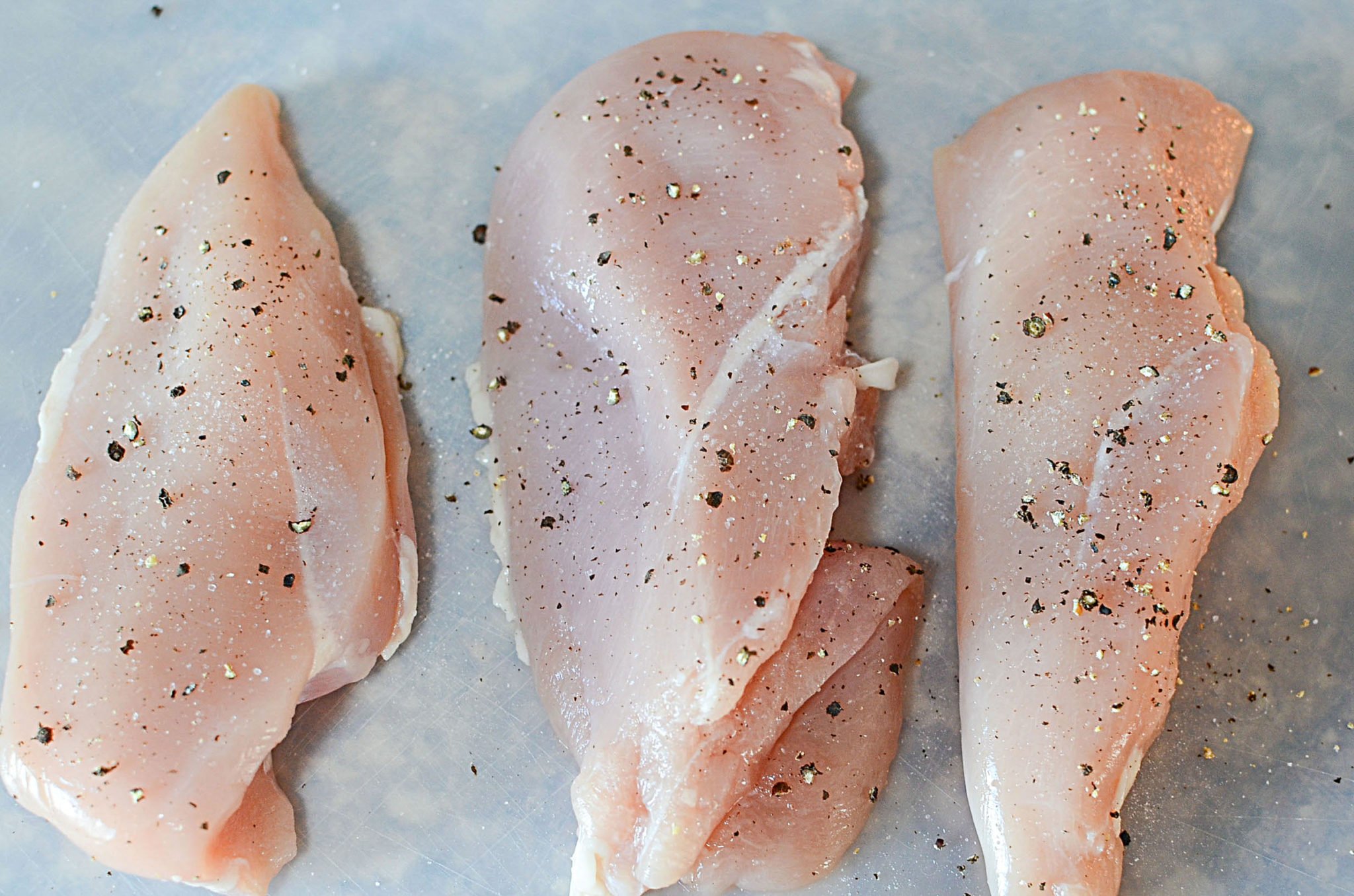 Do I only have to use breasts?
No, absolutely not. You can use chicken thighs as well. Just be sure they are boneless and skinless as well.
I don't recommend using legs or wings because I don't think you can find boneless legs and wings, and honestly, there's not a lot of meat on them to justify this recipe.
Will Turkey Breasts do the same thing?
Sure will. Just keep in mind that turkey breasts are much bigger than chicken breasts, so you may only need 1 or two to measure up to a pound of poultry. But if you have them, for sure, use them!
Again, make sure they are boneless and skinless.
Can I use water instead of chicken broth
In a pinch, sure, use water if you have nothing else on hand. If you didn't have chicken broth to use, I would use vegetable broth next.
Please don't use beef broth. The mix of those flavors is a tad offputting, in my opinion.
Can I add extra spices in the chicken while cooking?
I would be careful with adding extra spices only because of the versatility of the pulled chicken. You might want to use it in some other application that the spices you used, won't match with.
Having said that, if you cook A LOT with garlic, let's say, then most likely you'll add garlic to almost every dish you make.
So I would go ahead then in that case and add garlic as well.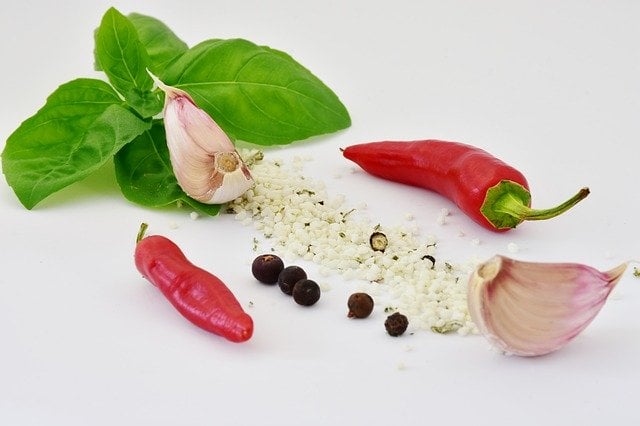 Can I Make Shredded Chicken on the Stovetop?
Yes. If you do this stovetop, know that you might want to use water instead of broth as your cooking liquid. Using that much broth to cook the breasts might be daunting, however, it adds a lot of flavor to the chicken.
So if you use broth, don't discard it! Save it and make some yummy soup with it!
Ok, moving on, simply add the ingredients to a pot with enough broth or water to cover the chicken by about an inch or so. Season the water (if you're using it) with your salt and pepper and any other spices you're wanting to add.
As soon as the water boils, turn the heat down to a simmer, and gently simmer the chicken for around 20 – 25 minutes. Check with a temperature gauge for an internal temperature of 165 – 170.
Can I make this Chicken in the Instant Pot or the Ninja Foodi Pressure Cooker?
If you're using the Instant pot, put all the ingredients into the pot. The lid goes on, and switch the toggle switch to "sealing'. Press the "poultry' button if your model has one, if not, press manual, 15 minutes.
For the Ninja Foodi, the same steps up to the sealing, and entering 15 minutes, high pressure for getting the chicken breasts to the right temp in order to shred them.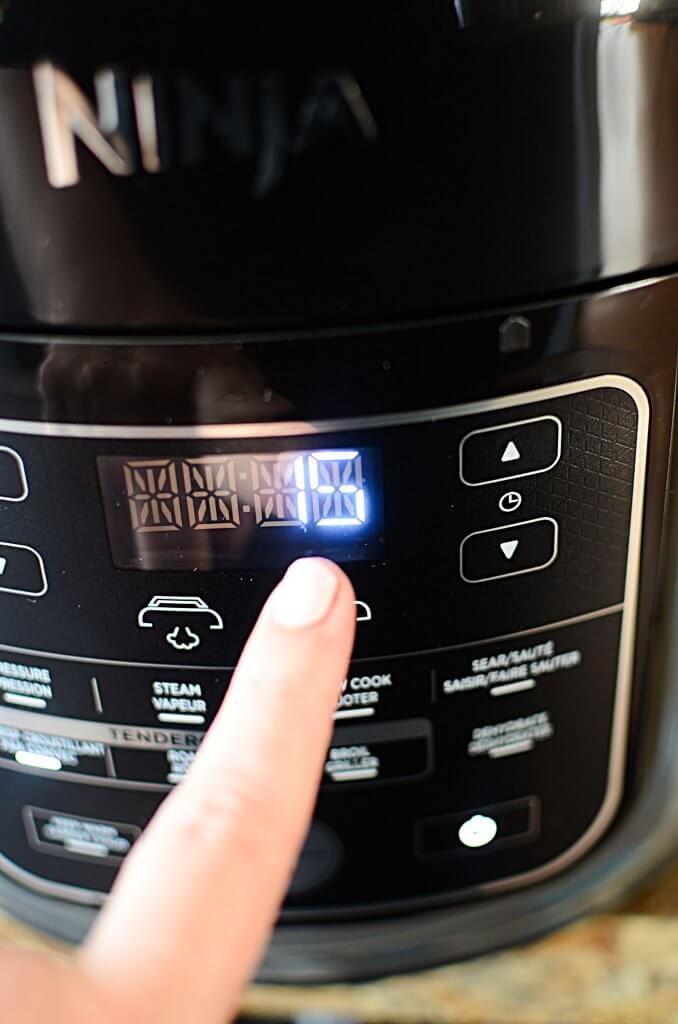 Well, there you go! I sure hope I convinced you how easy it is to make this pulled chicken! There are so many uses for it that it's kinda crazy! LOL. I would LOVE to hear how you used this shredded chicken in recipes!

As usual, I want to thank you for stopping by The Salty Pot today, and I hope you have a super-duper day!! Please leave me any comments below, or feel free to send me an email at joanne@thesaltypot.com.
~Joanne
Slow Cooker Pulled Chicken Breast
Yield:
1 pound of shredded chicken breast
Additional Time:
5 minutes
Total Time:
5 hours
10 minutes
This is a super easy and fantastic way to make bulk amounts of shredded chicken. Set it and forget it, the appliance does it all for you. All you have to do is shred it and you're good to go!
Ingredients
1 pound chicken breasts, boneless, skinless
½ cup chicken broth, low sodium
as desired, salt and pepper
Instructions
Place the chicken broth in the bottom of the slow cooker insert.
Season the chicken breasts with the salt and pepper
Cook on high for 3-4 hours or low for 5 - 6.
When cooking time is complete, and the chicken has come to an internal temperature of 165 or so, remove the breasts and let them cool slightly so you can manage them easier.
Then, with two forks, shred the chicken.
Continue on with your recipe that requires shredded chicken or place into an airtight container and store in the fridge or freezer.
Nutrition Information:
Yield:

4
Serving Size:

¼ lb
Amount Per Serving:
Calories:

192
Total Fat:

4g
Saturated Fat:

1g
Trans Fat:

0g
Unsaturated Fat:

2g
Cholesterol:

96mg
Sodium:

167mg
Carbohydrates:

0g
Fiber:

0g
Sugar:

0g
Protein:

36g
All nutritional information is based on third-party calculations and is only an estimate. Each recipe and nutritional value will vary depending on the brands you use, measuring methods, and portion sizes per household.
***DON'T FORGET TO PIN THIS SLOW COOKER PULLED CHICKEN BREAST RECIPE TO YOUR FAVORITE PINTEREST BOARD TO USE FOR LATER!***