Make these perfect crispy-skinned Air Fryer BBQ Chicken Thighs for dinner tonight, you won't be sorry. This quick and easy main dish will leave you deliciously satisfied and will work with any of your favorite barbeque sauces.
On the table in less than 15 minutes, these barbeque chicken thighs made in your air fryer, couldn't be easier.
This post may contain affiliate links. If you make a purchase after clicking a link, I may earn a small commission AT NO COST TO YOU. As an Amazon Affiliate, I earn from qualifying purchases.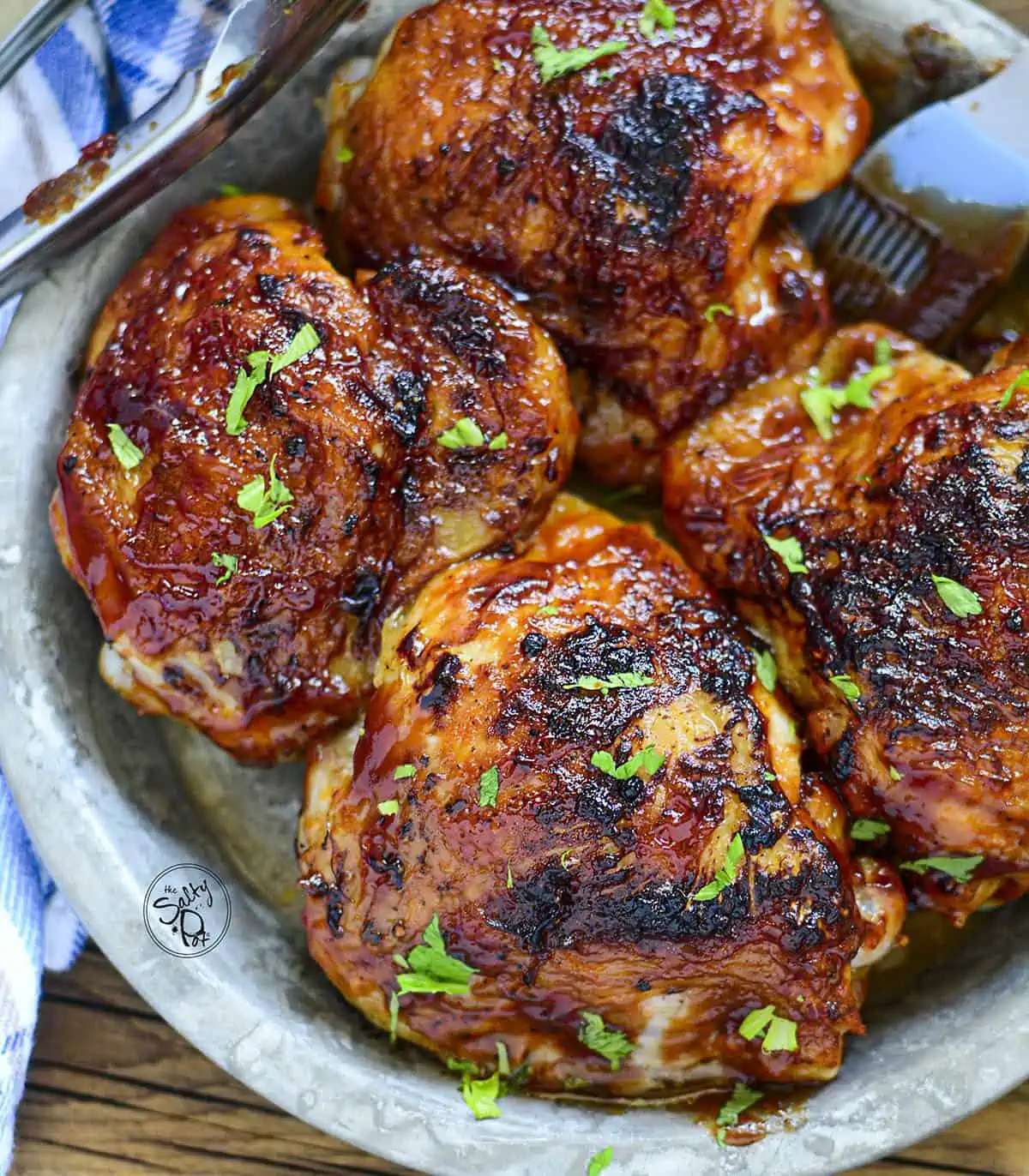 Why you will love this method
Making barbeque chicken thighs this way is a great way to get that much loved crispy outside and unctuous inside, much like grilling, the easy way.
While the chicken is cooking, you don't have to babysit the thighs and it frees you up for making any side dishes ( like this Shaved Carrot salad with Sweet Orange Dressing).
Also, these chicken thighs taste better than anything you could get through the drive-through lane.
Groceries Needed
Chicken legs
Barbecue sauce of choice
Salt and Pepper
Garlic powder
How to Make Them
To make this air fryer chicken recipe, start by preheating your air fryer to 360 degrees. Pre-heating your air fryer helps to give the skin a nice head start on crisping up.
While your air fryer is pre-heating, pat the skin of your chicken dry. You can use a spray of oil if you want (or put them in a bowl and drizzle oil over top and toss) for an even crispier skin. Season lightly with the salt, pepper and garlic powder.
Place your chicken thighs into the air fryer skin side down first, then flip and continue to air fry until the skin has gotten crispy.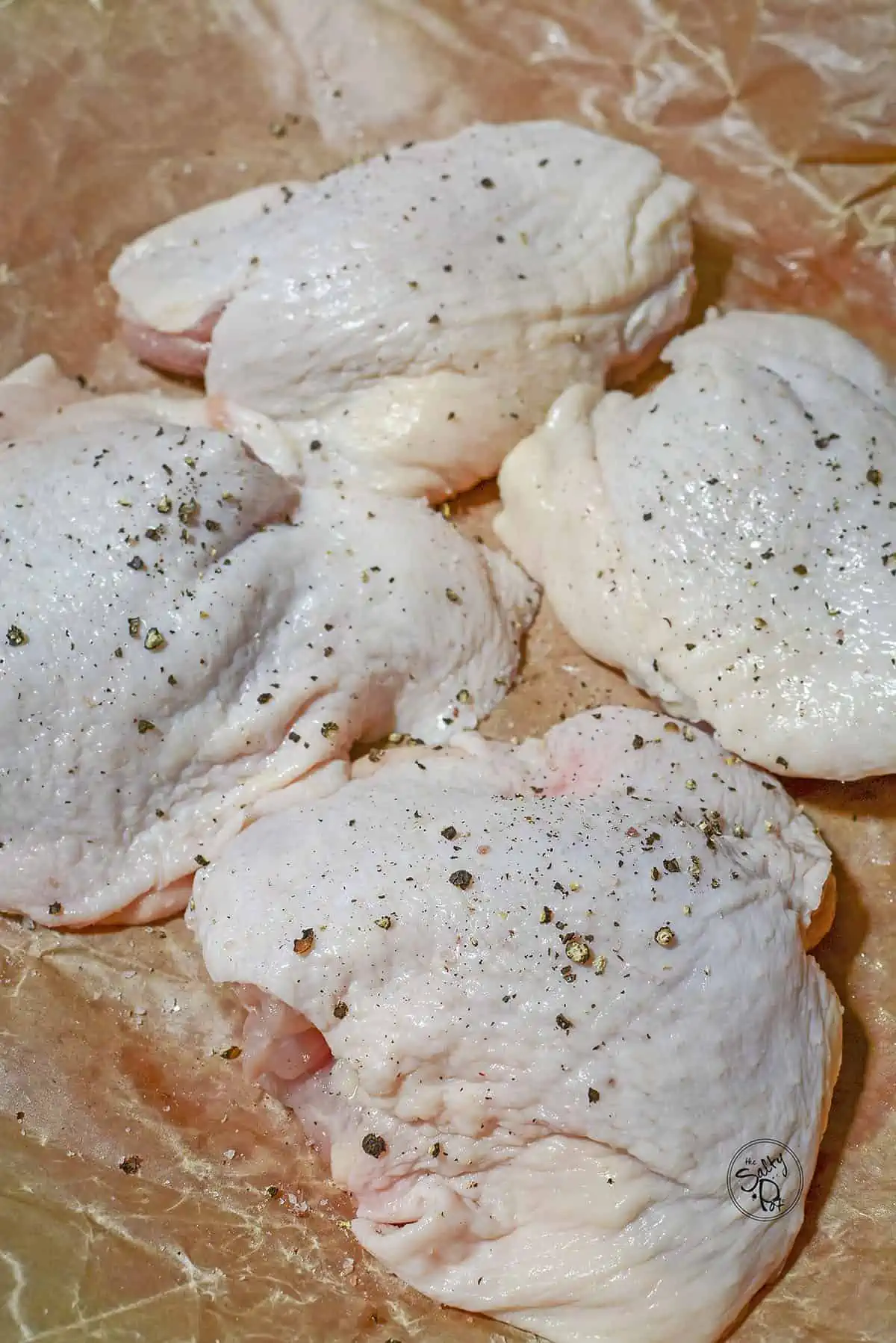 Helpful Cooking Tip: I highly recommend using these air fryer liners. They help prevent having to scrub any cooked on food that got baked on during the cooking process.
Near the end of cooking, baste the chicken with your bbq sauce. Air fry till the sauce bubbles and the skin is crispy.
Be careful though, periodically keep an eye on the chicken because if the sauce you're choosing to use has a high amount of sugar, the sauce can burn on the chicken because it. That said, some char can help give a grilled flavor that is so appealing with BBQ chicken.
Cook until the internal temperature reaches 165 degrees using a meat thermometer. This process can take about 18 to 20 minutes to complete. Rest the chicken for 5 minutes.
Look below for the printable recipe card giving you all the exact cooking times, tips and tricks needed to make this recipe perfect.
Putting Your own Twist on It
I used bone-in, skin-on chicken thighs. This cut is a little less popular so it is more affordable in most grocery stores these days. I find the higher fat content and keeping the bone in makes this chicken definitely more juicy and flavorful.
When seasoning the chicken, try adding some cayenne or dried chili flakes for a hit of heat. or, you can even add some sriracha or your favorite hot pepper sauce to the barbeque sauce for more heat.
If you have the time, try making up a basic poultry marinade the night before for the thighs to sit in overnight. Those flavors will seep into the fibers of the thighs adding incredible flavor that your favorite barbecue sauce will compliment.
What Can I Serve this With?
Barbeque chicken is a favorite cookout food and with your air fryer you can enjoy it anytime you want even on a rainy day or a cold winter day. While you can serve this with almost anything, a great option is rice (like I did it today) or these delectable cheesy Boursin Mashed Potatoes.
One fun option is to make the same kinds of food you would serve at a backyard cookout. This includes fun things like fresh salads, this fun Tangy and Creamy Dill Pickle Pasta Salad, or try these sweet and smoky slow cooker Pineapple Baked Beans..
Don't forget to also serve with extra sauce for dipping on the side. This is a great option if some of your family loves a sweeter or a spicier BBQ.
Storing Leftover BBQ chicken
Leftover chicken thighs that are fully cooked will store well in the refrigerator in a covered container for about 3-4 days. Keep well covered to prevent drying out and consider adding a coat of BBQ sauce when reheating to help keep the chicken moist.
BBQ chicken does freeze well though you will need to add more sauce after thawing as the sauce on your chicken will likely be watery. Keep the chicken in an air-tight freezer-rated container for up to two months.
To thaw, putting the chicken in the fridge overnight to reheat the next day is great. Another option if you want to eat right away is to thaw them in the microwave completely, and then add it back to the air fryer for a few minutes to crisp back up.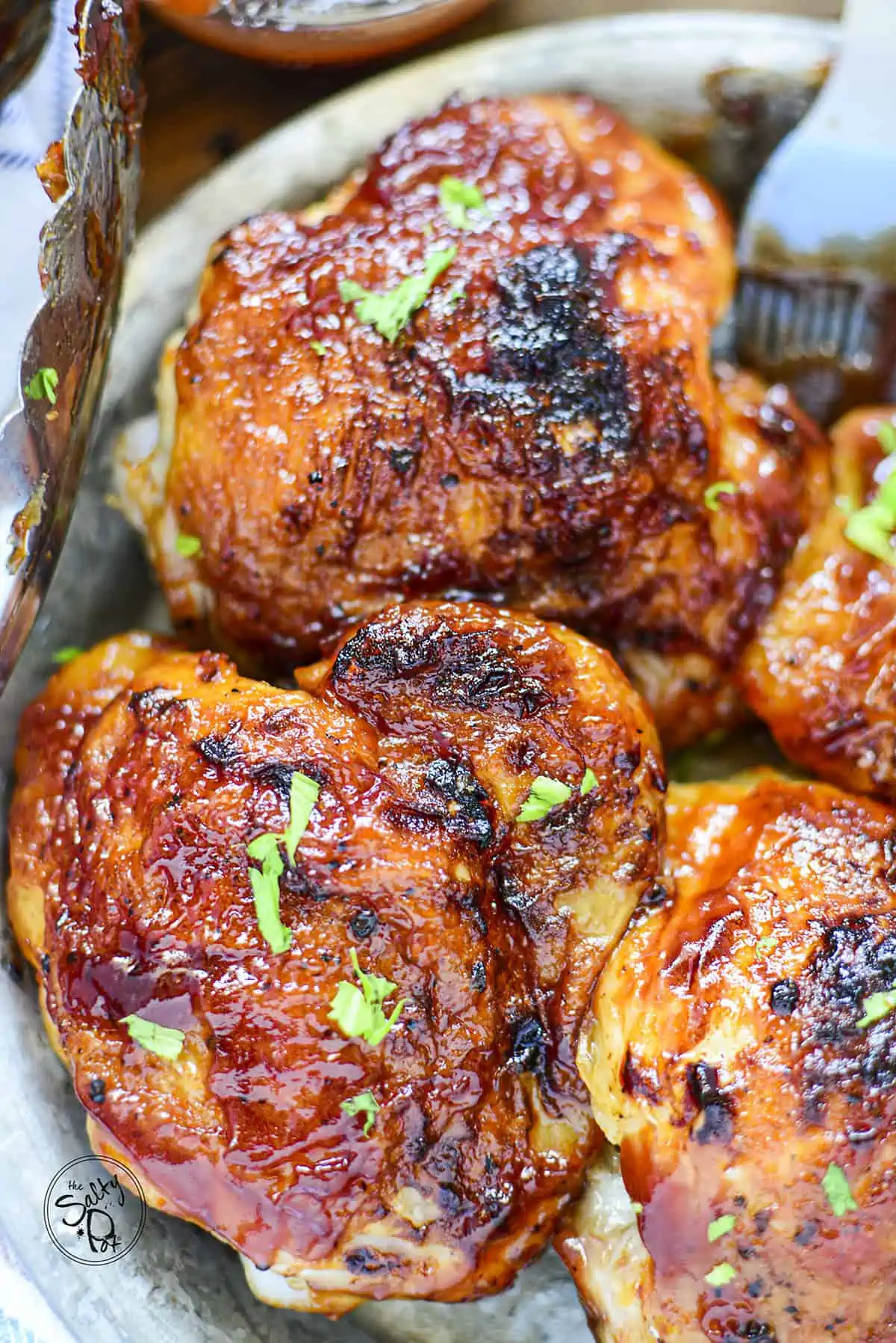 Questions You Might Have:
Can I use skinless and boneless chicken thighs for this recipe?
For sure! The instructions would be the same, as would be the temperature in the air fryer. Just know that you may not have to cook them as long because typically, meat on the bone takes a bit longer to cook to temperature than boneless. The best rule of thumb is to use a kitchen thermometer to gauge the doneness.
Can I use chicken breasts instead of thighs?
Not a problem. Again, the internal cooking temperature of chicken breasts is 165F for a typical 4-ounce chicken breast. So because they are usually larger than thighs, the timing will be a bit different so this is where the thermometer comes in handy again.
I hope you enjoy this air fryer chicken recipe as much as I do. It's such a nice recipe that gives you those grilled textures without having to fire up your BBQ.
Have you tried this chicken thigh recipe before? If so, please leave the recipe a star rating and a comment below, letting me know what you thought. I love hearing from you! Have a fantastic day!
~Joanne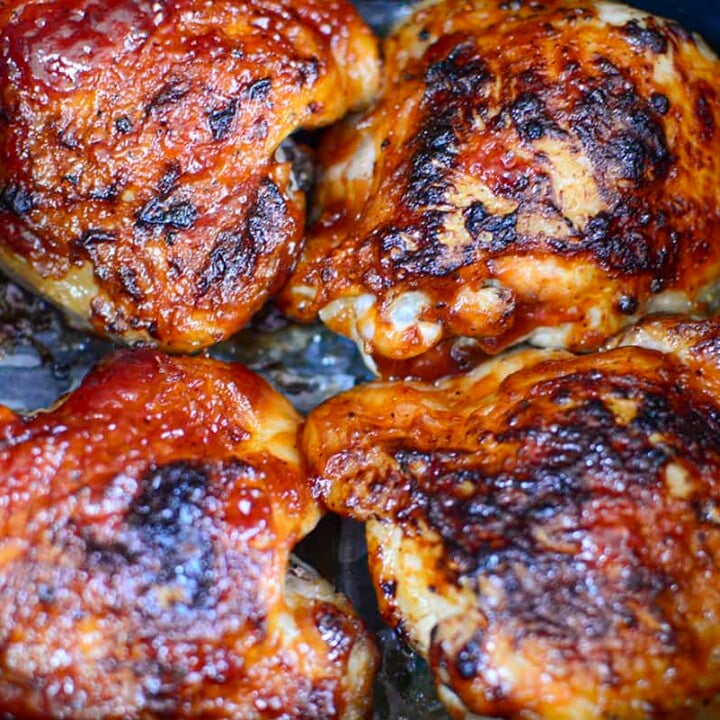 Air Fryer BBQ Chicken Thighs
Yield:
4 Air Fryer Chicken Thighs
Additional Time:
5 minutes
Succulent chicken is the result when you make these air fryer BBQ chicken thighs. Crispy savory outside with a juicy inside, these air fryer thighs will become a regular on your menu.
Ingredients
4 Chicken thighs, bone-in, skin-on
1 Tablespoon oil
1 teaspoon each, salt, pepper and garlic powder
1/2 c (or as desired), barbeque sauce
Instructions
Pat dry the chicken thighs with paper towel.
Place the thighs in a bowl, and drizzle to coat the oil over the thighs. Rub the oil all over the thighs, top and underside.
Season the thighs including the underside as well and let rest 10 minutes.
Preheat air fryer, 400 degrees for 5 minutes
Place the thighs in the air fry basket, skin side down.
Air fry for 8 - 10 minutes.
Brush on some BBQ then using tongs, carefully flip the chicken to skin side up.
Air fry from another 5-6 minutes.
Sauce the top of the thighs and air fry for another 5 minutes to get the skin even crispier. Check the internal temperature which should read 165 degrees Farenheit.
Let rest for 5 minutes.
Enjoy!
Notes
It's important to pat the skin dry from any moisture as it will prevent the thighs from getting as crispy as they can be.
Checking the internal temperature of the chicken is important so you don't undercook and potentially make someone ill.
The exact cooking time will depend on the size of the chicken thighs you use. This is another good reason to use a meat thermometer.
The five minute rest time helps redistribute the juices and finish cooking.
Nutrition Information:
Yield:

4
Serving Size:

1
Amount Per Serving:
Calories:

373
Total Fat:

22g
Saturated Fat:

6g
Trans Fat:

0g
Unsaturated Fat:

16g
Cholesterol:

166mg
Sodium:

1111mg
Carbohydrates:

15g
Fiber:

1g
Sugar:

12g
Protein:

31g
All nutritional information is based on third-party calculations and is only an estimate. Each recipe and nutritional value will vary depending on the brands you use, measuring methods, and portion sizes per household.