Hearty, subtly sweet, with the pop of fresh juicy blueberries, these Blueberry Oat Slice Bars are a tasty and handy way to get your day on the go!
Blueberry Baked Oatmeal Bars = Healthy Deliciousness!
Whether you're hunting for a healthy and delicious breakfast option or are looking for a versatile ingredient that's perfect when teamed up with your baked goodies and dessert creations, baked oats most certainly top the list. 
What Ingredients Will I Need?
Blueberries – you can opt for literally any variety you can get your hands on. Feel free to use fresh, frozen (thawed), and wild! Plus, the blueberries, which are also commonly known as superfoods, when teamed up with oatmeal, can really take things up a notch! They are chock full of antioxidants and have a naturally sweet taste that we all love.
Btw, if you have extra blueberries, making this Blueberry Apple Cobbler is a FANTASTIC way to use up the remaining ones! It's such a delicious dessert.
Oats – The oats in these bars are loaded with soluble fiber known as beta-glucan, along with protein, magnesium, and lignans. Adding more oatmeal to your diet can help keep your digestive system in top shape – keep things a'movin, ya know what I'm saying? lol
Extra oats too? Check out my recipe for warm and toasty Spiced Caramel Apple Crisp. Talk about comfort desserts!!
Eggs – You only need one!
Sweetener – I used brown sugar, but feel free to use any type you prefer. Maple syrup would be an excellent substitute!
Milk – I used whole milk, but if you are using alternative kinds of milk, (almond milk, cashew milk, etc) that's totally fine.

Butter – I used salted butter here and please have it melted and cooled (but not to the point where it hardens again. lol)
Baking Powder – Use the freshest you have on hand.
Vanilla – I love using vanilla in my recipes so I used 2 tsp. However, you can cut that back if you'd rather.
Plus, you can also throw in some chopped nuts for additional flavor and a crunch factor, and they'll obviously bump up the nutritive value of these bars.
Making Blueberry Bars Right
These blueberry baked oat bars come together so easily, you'll make them on rotation because they're so yummy!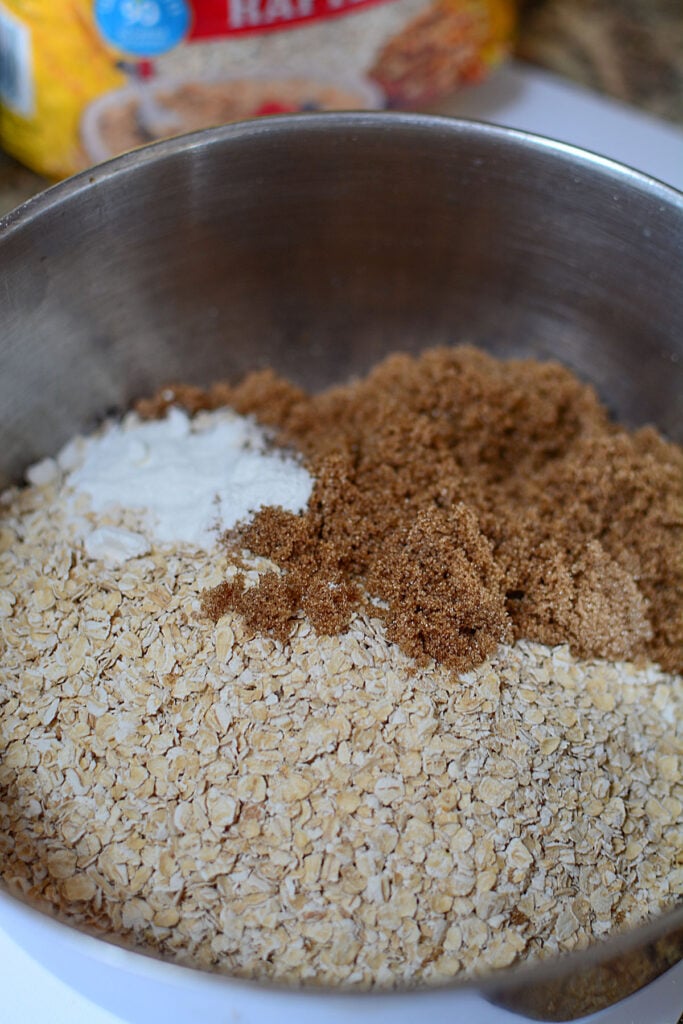 The oat mixture comes together pretty quickly and easily. Begin by mixing all the dry ingredients together. In a second bowl, add the liquid ingredients and whisk well. Add the wet to the dry and let it sit for a few minutes to let it absorb.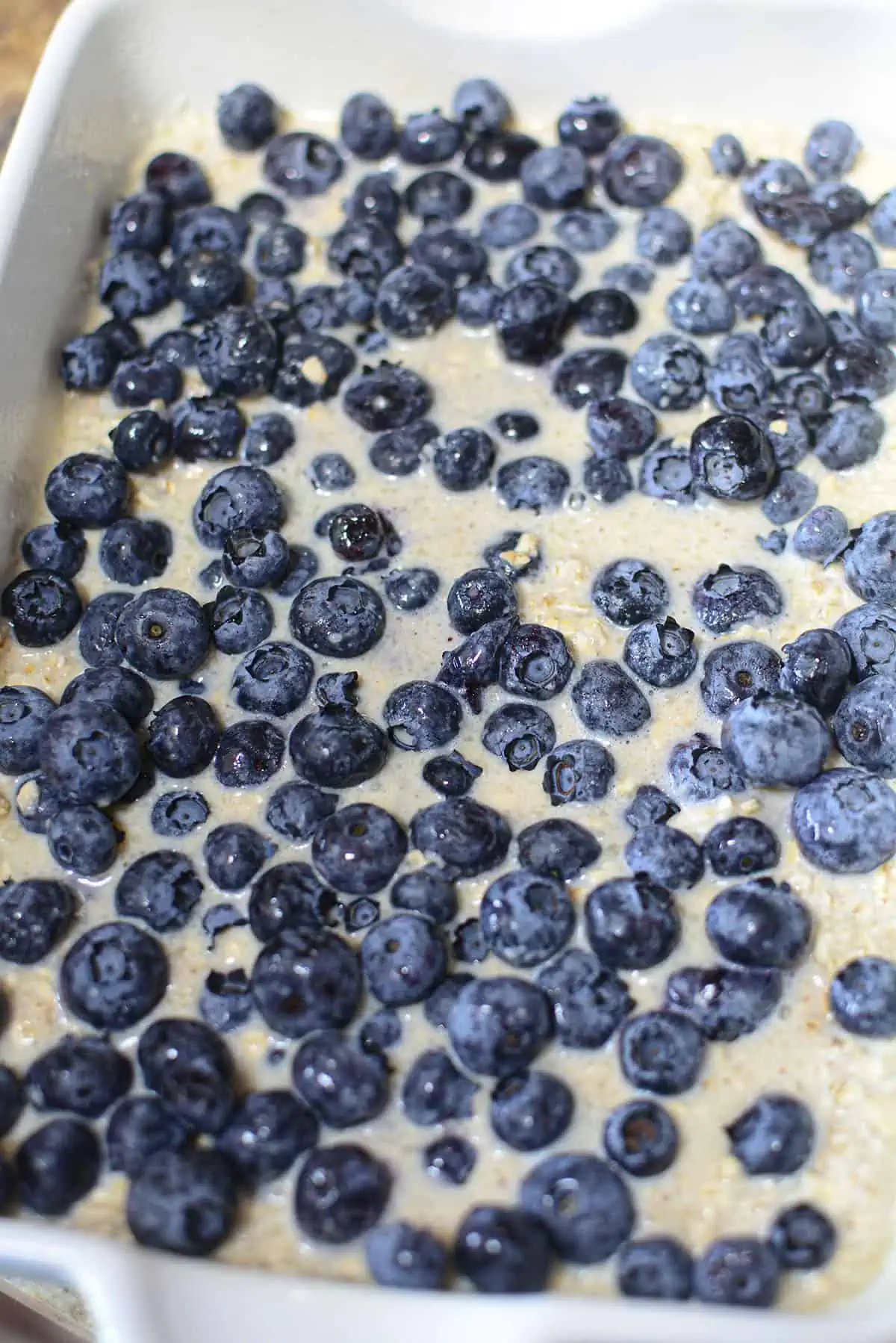 Pour some of the batter into a prepared baking dish, then add some fresh blueberries. Cover with the remaining batter and add the rest of the berries on top. Bake and voila! Beautiful and delicious blueberry oat bars!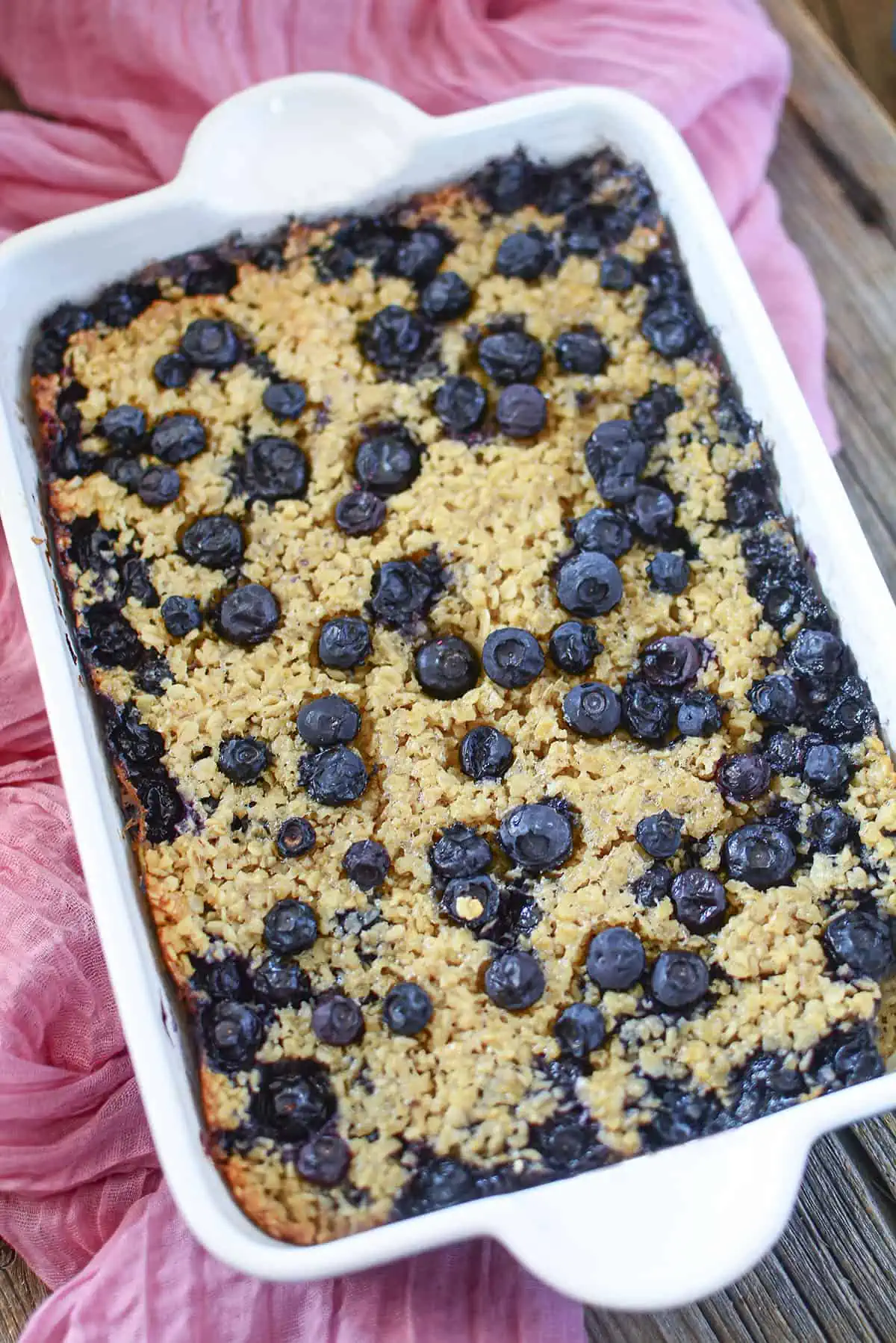 How Long Can I Store Them For?
These blueberry breakfast oat bars stay good in the freezer for up to 3 months. Just make sure you cut them first. Place them on a silicone or parchment paper and freeze them individually for 2 hours.
After they're frozen, you can layer them in a freezer-safe bag or container. If you don't freeze them separately, they will all stick together and be difficult to eat individually.
And of course, you can store them for up to a week in your refrigerator too. Just make sure the container is airtight and you should be good.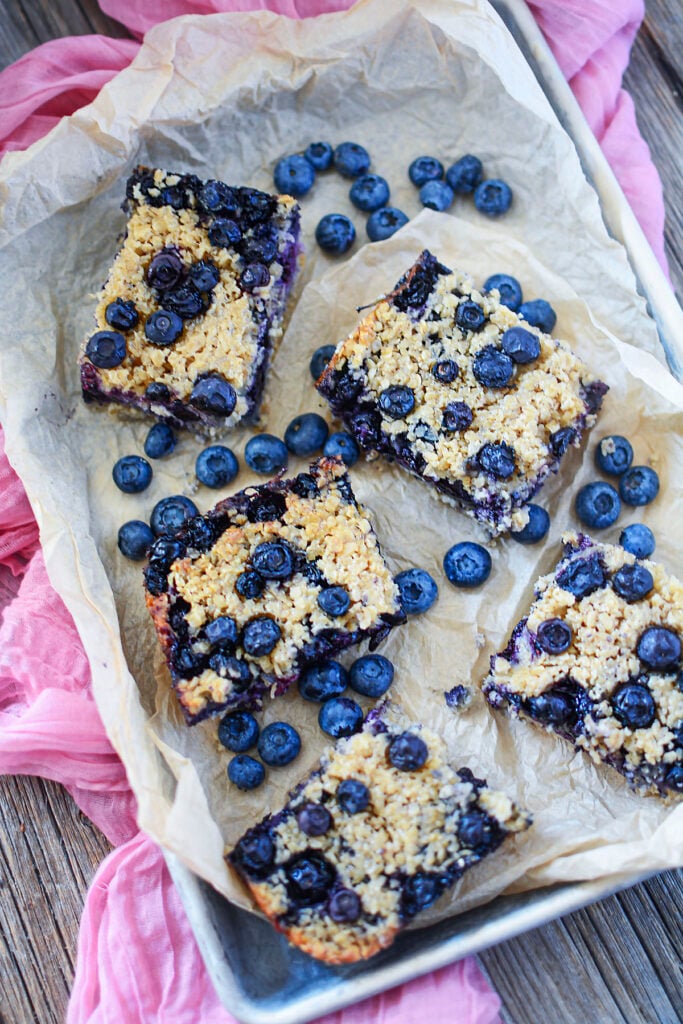 Serving Ideas & Suggestions
These blueberry slices are fantastically versatile. You can also try switching up the fruit. Try other berries like strawberries or raspberries. Chopped peaches would be absolutely amazing in this oat square recipe.
You can have them as is, room temp – or warm them slightly and have them with a cup of coffee or with a glass of warm milk. 
Another great idea is to drizzle a bit of icing on the top or just them with some powdered sugar to make them look prettier like you worked up a sweat for hours in the kitchen making them! (But we all know easy it was! lol!)
When you make these Blueberry Oatmeal Bars, I'd love to hear if you switched them up! Different berries? Different sweeteners? Let me know by leaving a comment below and please leave a ***STAR*** rating in the recipe card.
Thank you so much for stopping by The Salty Pot today and I hope you have a wonderful day!
Blueberry Oatmeal Bars
These blueberry oatmeal bars are a hearty and healthy way to start your day! They're filling and delicious, and easy to make!
Ingredients
2c oats
1c blueberries (fresh or frozen)
1 egg
⅓c brown sugar
1 teaspoon baking powder
2c milk
2 teaspoon vanilla
4 tablespoon butter, melted
dash salt
Instructions
Preheat the oven to 350
In a bowl, combine the oats, brown sugar, salt and baking powder.
In a separate bowl, beat the egg well. Add the milk and vanilla.
Mix the butter in with the egg mixture.
Pour the wet ingredients into the dry and mix well. Let the mixture sit for 5 minutes.
Meanwhile, grease or line with parchment, a 8x8 baking dish
Pour the oat batter into the pan.
Take the blueberries and scatter them over the top of the batter. Press them in slightly.
Bake for approximately 35 - 40 minutes or until the top is golden and the blueberries look jammy.
Remove from the oven and let cool. Cut into 8 bars.
Notes
If the berries are frozen, thaw before using.
Maple syrup goes well as a different sweetener with these bars.
Serve slightly warmed or cold.
Nutrition Information:
Yield:

8 bars
Serving Size:

1 bar
Amount Per Serving:
Calories:

210
Total Fat:

9g
Saturated Fat:

5g
Trans Fat:

0g
Unsaturated Fat:

3g
Cholesterol:

43mg
Sodium:

170mg
Carbohydrates:

27g
Fiber:

2g
Sugar:

9g
Protein:

6g
All nutritional information is based on third party calculations and is only an estimate. Each recipe and nutritional value will vary depending on the brands you use, measuring methods and portion sizes per household.