This spicy tuna dip is creamy and smoky with just the right kick of warmth from the chipotle seasoning. It's economical and makes a perfect pantry appetizer like my Garlic Butter Bacon Cheddar Wheels and my Mediterranean White Bean Hummus!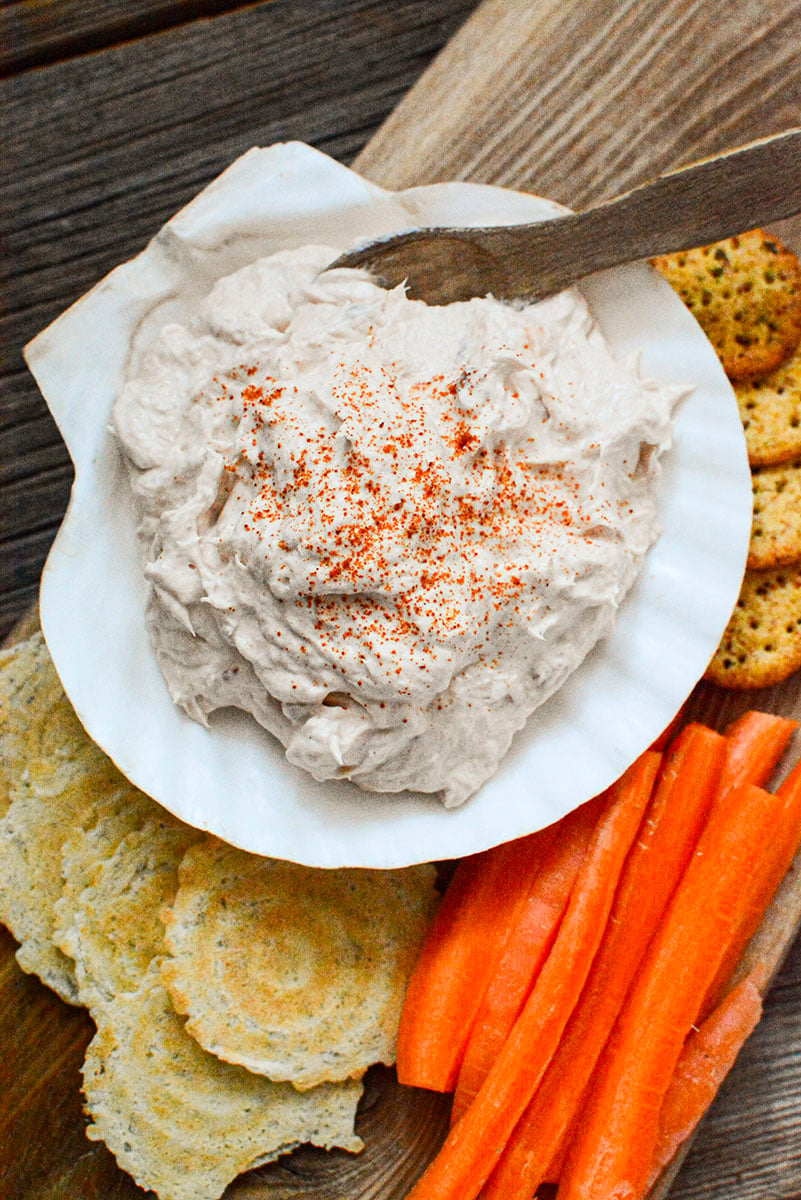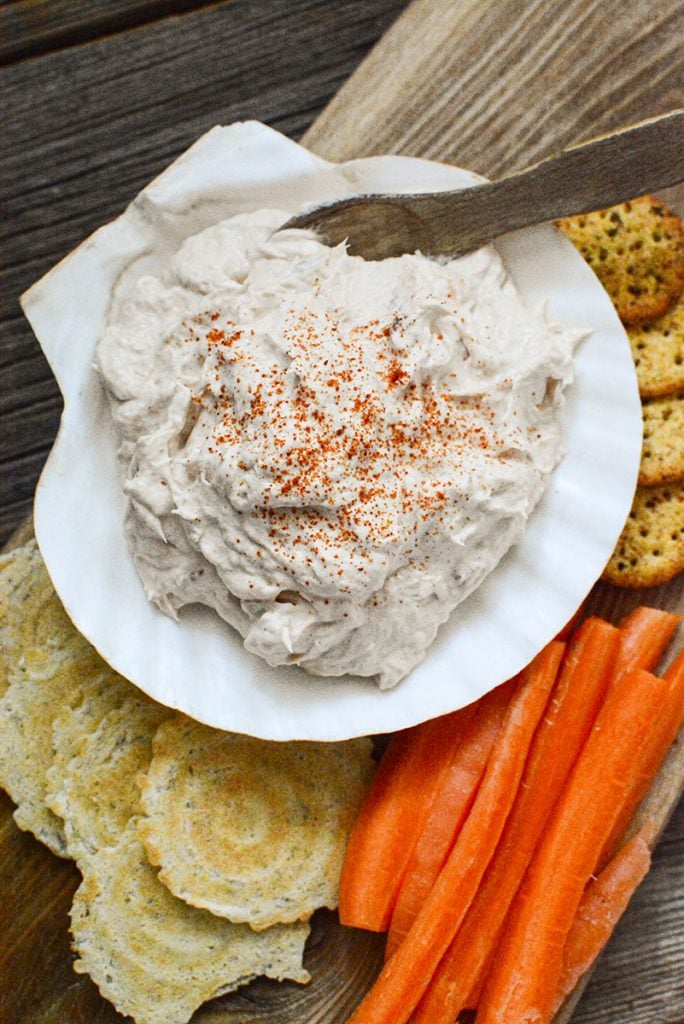 Easy Tuna Dip – Not JUST a dip!
SPICY TUNA DIP RECIPE
If you need a super quick and really delicious dip to bring to a party, or you're having someone over and want to serve a little appetizer of some sort – this spicy tuna dip recipe is for you.
The spiciness is easily adjustable to your heat preferences which makes this simple dip even better. I prefer just a warm heat – nothing that's going to blow my face off, hot. You could actually even leave the chipotle peppers out if you want, and this tuna dip will still be amazing!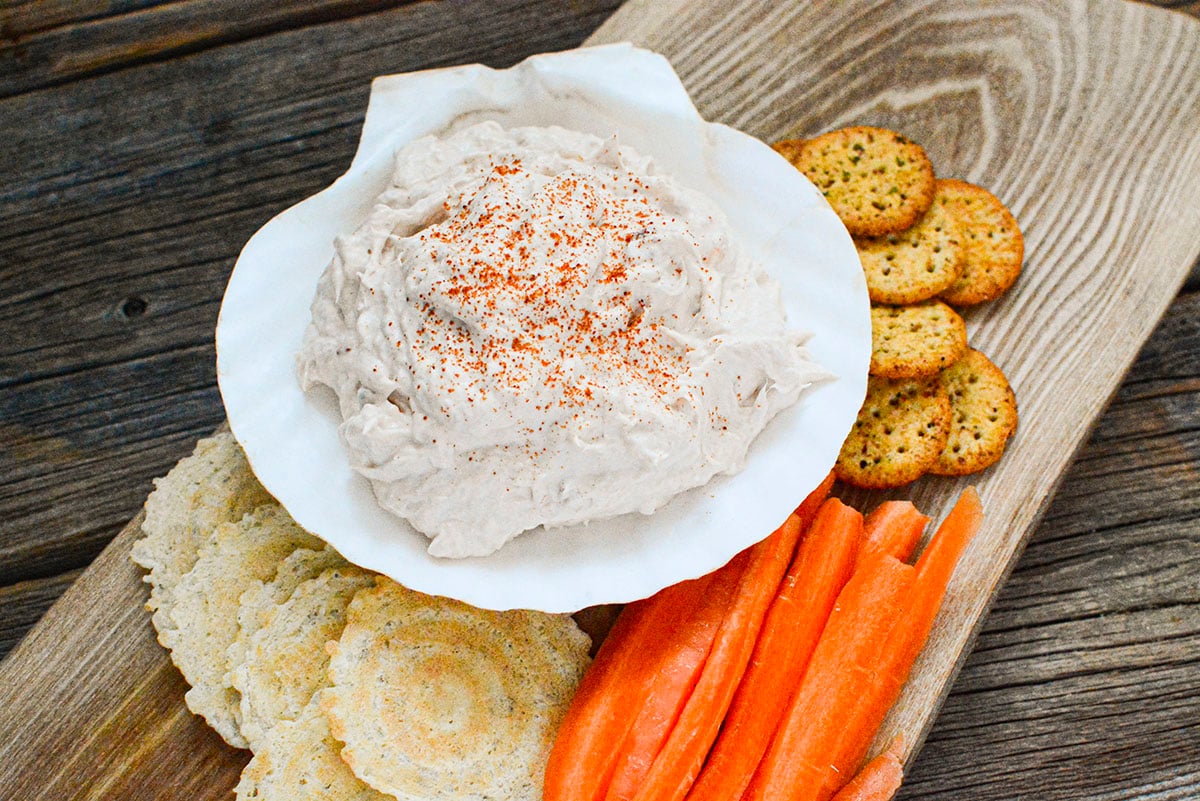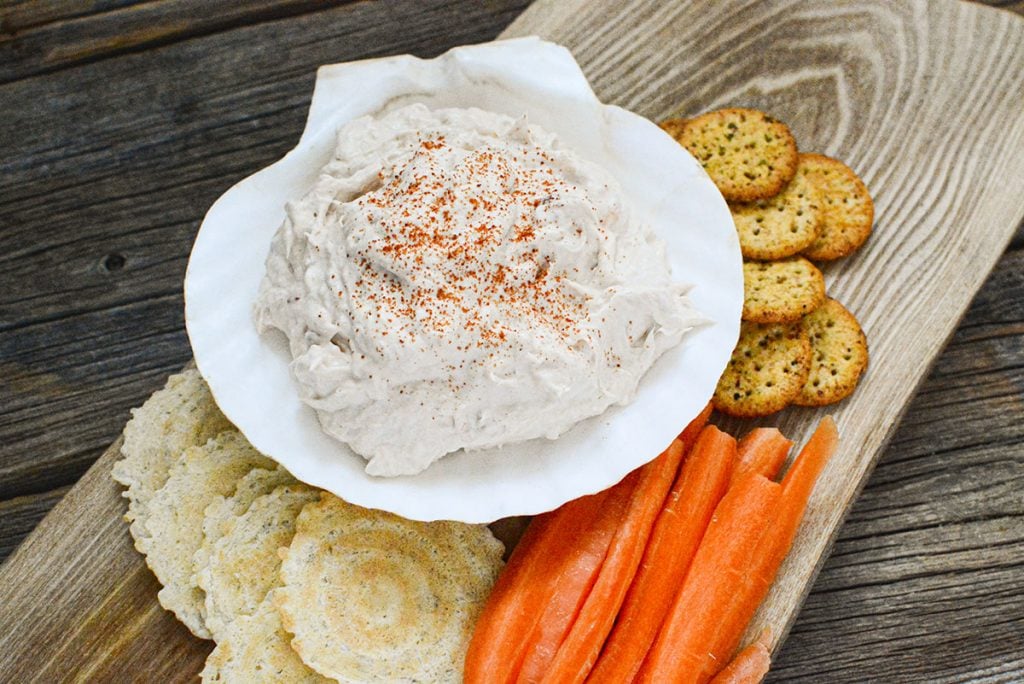 INGREDIENTS NEEDED:
This dip recipe is super simple and easy on the wallet for ingredients –
Tuna – Please use canned tuna for this recipe because it's packed with water which is needed for the consistency of the dip. Flaked is best because chunked tuna will require you to spend time squishing it up to break up the pieces.
Also, PLEASE, consider purchasing LINE, POLE, or TROLL CAUGHT tuna if at all possible. These ways of fishing for tuna will be indicated on the label and is a much better choice for all other marine species. It prevents "bycatch" – which is when nets are used to catch fish, but sharks, turtles, and dolphins get caught as well and are killed. Additionally, it helps prevent overfishing.
Cream Cheese – Use your favorite brand, and you'll need it at room temp before you use it. Room temp will make everything blend together nicely.
Chipoltle Peppers – I used the small can of chipotle peppers in sauce. I like a bit of warmth so I only used half a pepper with a bit of the sauce included. Use more if you like things spicy 😉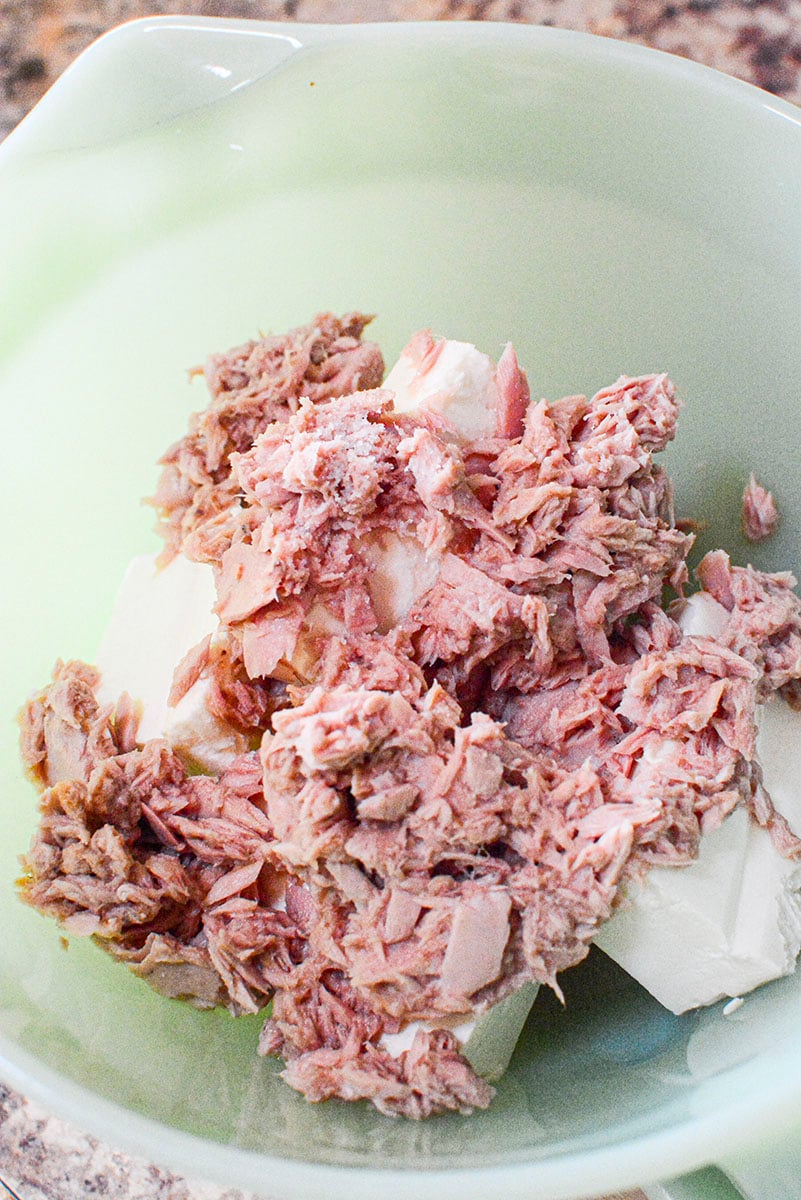 MAKING THE DIP
This tuna dip can't any easier to make. Literally, the steps are just a few!
Combine the cream cheese and the tuna together in a bowl. Give it a quick spin with your electric hand mixer or you could use a food processor.
Add the chipotle peppers and combine. Refrigerate until serving, that's it!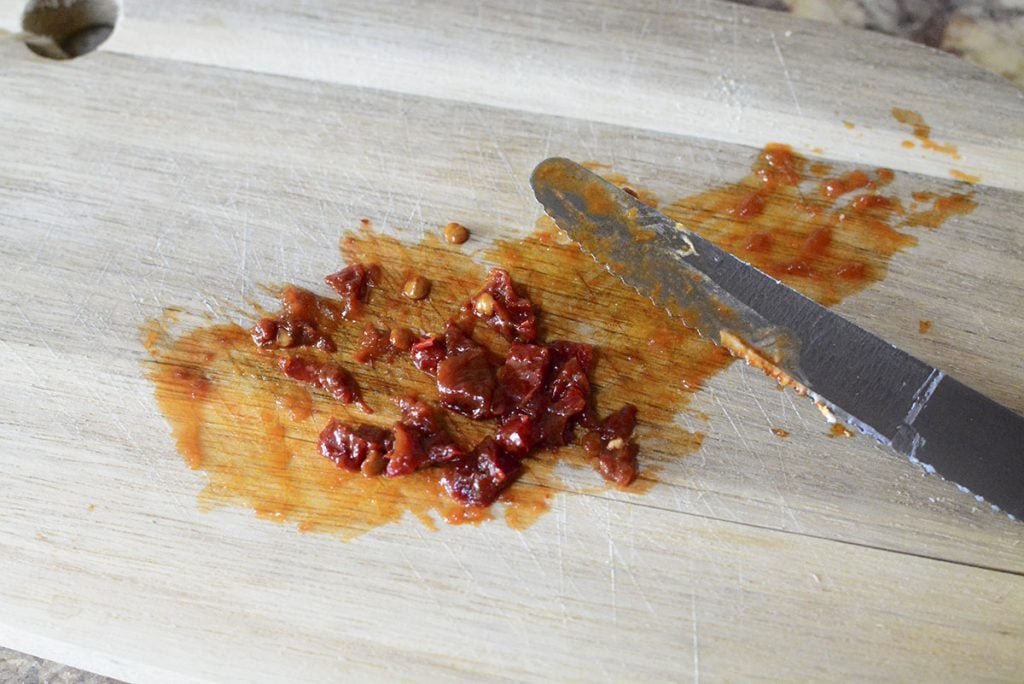 SERVING AND SUBSTITUTIONS
Because this recipe is pretty basic, there aren't a lot of things you could substitute the ingredients for. You could use flavored cream cheese, something flavored with herbs, chives, garlic, or even jalapenos would be a nice addition.
As for the peppers, I happen to like the smokiness from the peppers, so I wouldn't change that up. But if you're not a fan of that, you could use a can of green chilis or even some finely minced jalapeno. Or, as mentioned earlier, you can totally leave out the peppers altogether.
When serving this delicious spicy tuna dip, the sky's the limit in terms of things to dip in it. Any fresh vegetable will work as long as it's sturdy enough for dipping. The same goes for crackers.
Remember when I said it's not just a dip? No my friend.. not just a dip!!
Spread the dip on wraps or bread and add veggies for a great lunch.
Quarter a sweet pepper and spread a light layer of the spicy tuna dip on top for another great appetizer idea.
Boil up some pasta, drain, and add the dip for a creamy tuna pasta dish.
STORAGE
The dip should be refrigerated for a few hours before serving just to let the flavors meld together. Remove and let the dip sit for 30 minutes before serving just to soften up a little and that your crackers aren't breaking off in the dip, haha!
Also, this tuna dip should stay good in the fridge for up to 5 days. As for freezing, I've never had to freeze it because it's usually eaten before that ever happens. However, personally, I don't think I would freeze it because sometimes cream cheese can have a funny consistency after it thaws.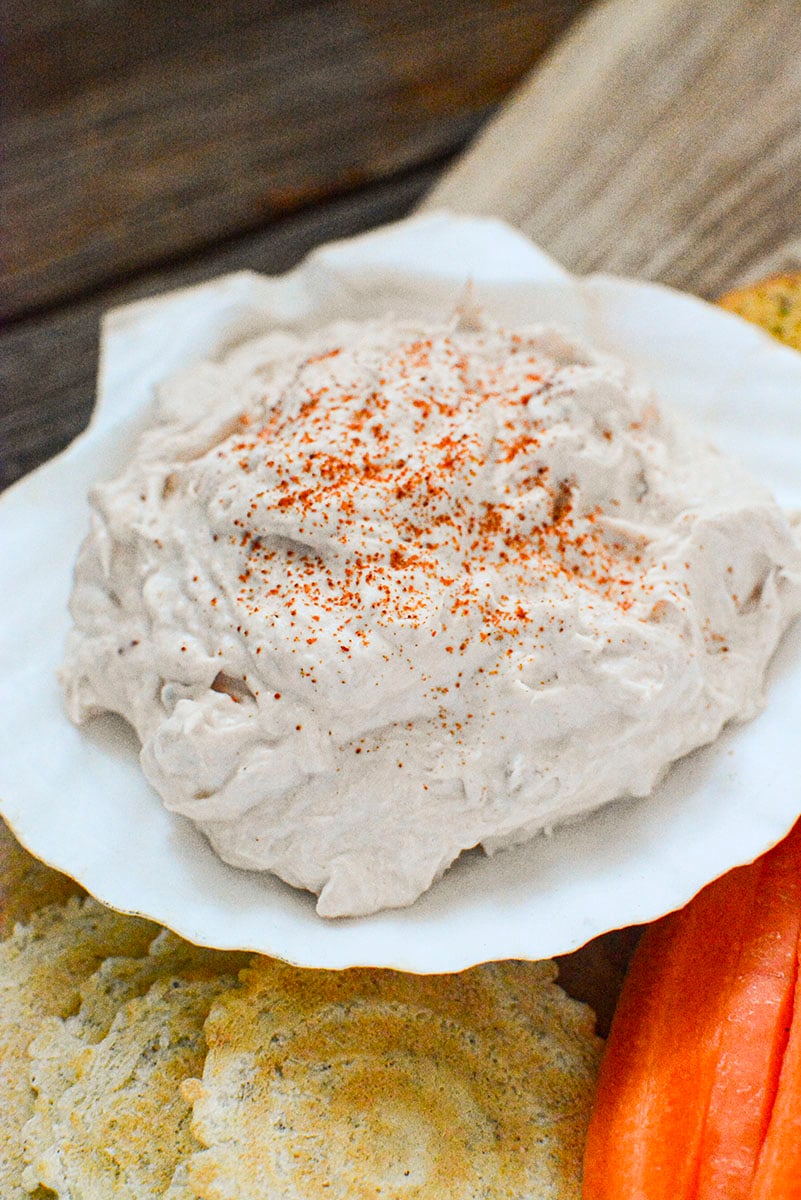 While you're here, I'd love it if you wanted to check out my Salty Pot FB PAGE and became part of The Salty Pot family! I also have a FB Group all about frugal ideas, and I'd love to see you there!!
CLASSIC LEMON CURD
This classic lemon curd recipe is a zingy winner! The condiment is perfect on toast, as a topping on your morning oatmeal, or your center jam to thumbprint cookies. The possibilities are endless.
Ingredients
1 C Sugar
4 Large Lemons, zested and juiced
1/2c Butter, unsalted, softened
4 Large Eggs
1 Large Egg Yolks
3/4 C Fresh Squeezed Lemon Juice (from above lemons, see notes)
Instructions
1. Cream together the sugar, butter, and lemon zest until well combined and creamy.
2. Slowly, beat in one egg at a time (including the last egg yolk).
3. Add the lemon juice and incorporate until it's smooth.
4. Transfer to a pot and slowly begin to heat the mixture over medium heat. Bring to a simmer, constantly stirring so it doesn't scorch on the bottom.
5. Within 10 - 15 minutes or so, the curd should start to thicken and become the consistency of pudding.
6. Remove off the heat. You can leave it as is, but I like to strain the mixture to ensure extra smoothness.
7. Transfer the curd into clean, empty jars and let cool before placing them in the fridge. The mixture will set up a bit more as it gets cooler.
8. Enjoy!
Notes
If the lemons you use don't yield enough juice to make the 3/4 cup, then you can add a bit of the bottled lemon juice to make up the difference, or simply add another fresh lemon to the recipe if you prefer.
For storage containers, you can split this curd into batches, storing in 3x6 ounce jars, or 6x3 ounce jars. You can also use what you have on hand, and if you're going to freeze the curd, just be sure that the container you're using is freezer-friendly.
- You can use a sugar substitute such as honey instead of pure sugar and it won't affect the texture.
- Use the freshest eggs you can to ensure a nice thick curd.
- Rolling room temperature lemons on the countertop before cutting them helps get as much juice as possible from the fruit!
- Zest the fruit BEFORE juicing. It's much more difficult to try and zest lemons after the fruit has been opened/cut and juiced.
Nutrition Information:
Yield:

18
Serving Size:

2 Tablespoons
Amount Per Serving:
Calories:

119
Total Fat:

7g
Saturated Fat:

4g
Trans Fat:

0g
Unsaturated Fat:

3g
Cholesterol:

75mg
Sodium:

21mg
Carbohydrates:

14g
Fiber:

1g
Sugar:

12g
Protein:

2g
All nutritional information is based on third-party calculations and is only an estimate. Each recipe and nutritional value will vary depending on the brands you use, measuring methods, and portion sizes per household.
SUPER EASY SPICY TUNA DIP
Ingredients
6 ounces Tuna, flaked, not drained
8 ounces Cream cheese, room temperature
1/2 tbsp chipotle peppers, diced small
Instructions
Combine the tuna and cream cheese in a bowl.
Using a hand mixer, combine the two ingredients until well incorporated.
Add the chipotle peppers and continue to mix. (see notes)
Place into the serving container, wrap in plastic wrap and chill until 30 minutes before serving.
To serve, remove 30 minutes beforehand, and let warm up so the dip is pliable with crackers. Enjoy!
Notes
Feel free to add more (or less) chipotle peppers according to your spice tolerance and preference.
Please consider purchasing Line, Pole or Troll caught tuna for sustainability reasons.
Flavored cream cheese can also be used, such as garlic and herb, chive or jalapeno, for extra flavor.
Nutrition Information:
Yield:

14
Serving Size:

1 ounce
Amount Per Serving:
Calories:

74
Total Fat:

6g
Saturated Fat:

3g
Trans Fat:

0g
Unsaturated Fat:

2g
Cholesterol:

22mg
Sodium:

58mg
Carbohydrates:

1g
Fiber:

0g
Sugar:

1g
Protein:

5g