Brrrrrrrrr!!! This crazy cold weather that's been gripping most of North America this winter has been brutal, don't you think? I can't remember weather being this cold for such a long time. But, you know what warms the tootsie's and the tushie in this kind of temps? SLOW COOKER meals!! I made this cream of mushroom meatballs dish on a day that was bitterly cold and it was a perfect warm-you-up-comfort-food. My friend who had stopped by after work said that he thought this was the epitome of comfort food. I'd have to say it's definitely up there!
Easy peasy to make. I usually like to line my slow cooker with parchment paper as it makes the clean up SOOO much easier! And I'm all about the easier.
I used frozen, store-bought meatballs for convenience. You could make them by hand which would be probably healthier and of course more customizable, but there's nothing like the easiness of the dump and go type of meal with a slow cooker. So, regardless. if you use home-made, or store-bought…. be sure they're cooked, and frozen.
Add a can of cream of mushroom soup and a can of drained mushrooms. BTW, I plan on creating a few recipes on how to make your own cream of mushroom soup, so keep a lookout for that!
I usually like to use mushroom "stems and pieces" if I'm going to use cans because they're usually less expensive and you seem to get more mushroom "bits" than whats included in a can of whole mushrooms. Reserve the can to measure out the beef broth for the recipe. If you don't have beef broth, it's totally fine to use chicken broth or even just water if that's all you have!
Add the seasonings to the pot of ingredients, and you're off to the races!
It's nice to serve this on creamy mashed potatoes, but rice or quinoa are great ideas, or even cauliflower rice if you're following a low carb lifestyle.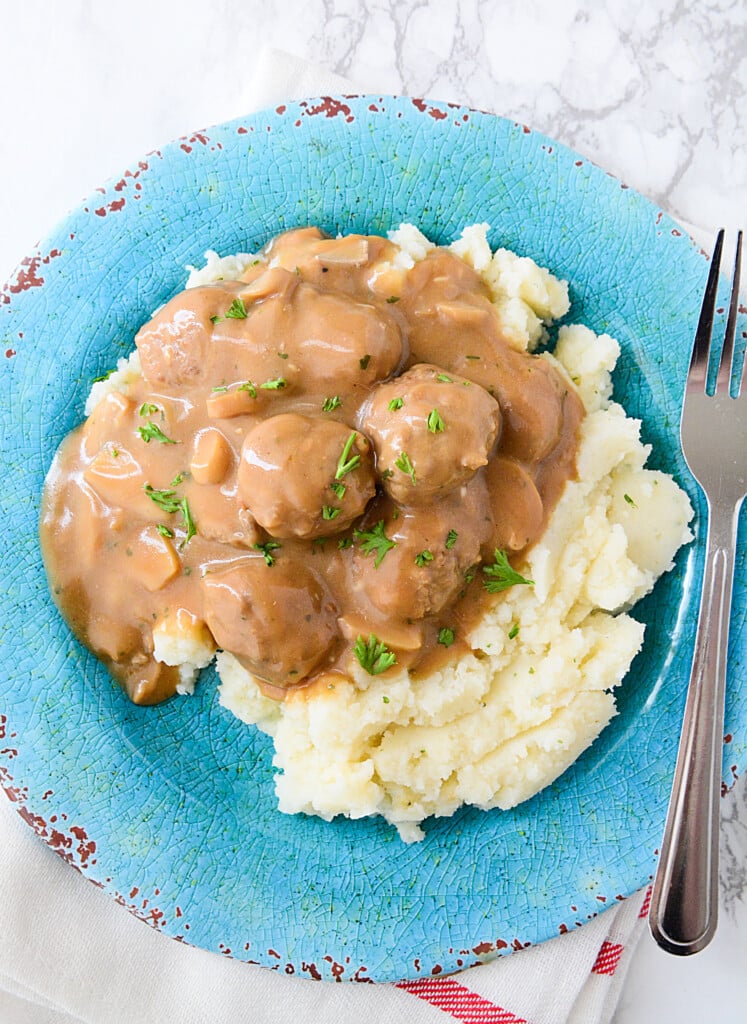 What about other cooking methods?

You could also make this cream of mushroom meatballs on the stove top. I'd begin by thawing the meatballs first though. Then, still add all the ingredients together, (except the sour cream), and I might pay attention to adding a bit more liquid in the pot as it cooks.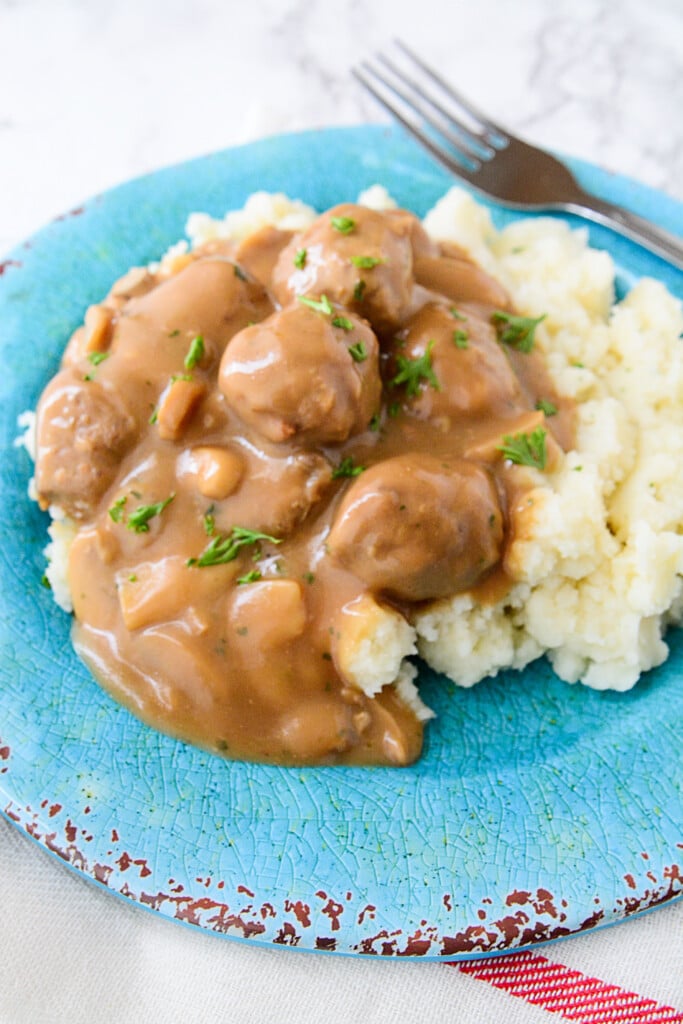 If want to make this in the oven, use the frozen meatballs, add all ingredients together (except the sour cream), and cover with foil. Bake for about 20 – 25 minutes at 350, again, keeping an eye on it in regards to enough broth.
I love this cream of mushroom meatballs in the slow cooker because it lets the flavors mingle together over a longer period of time and I like to "set it and forget it", but there's nothing wrong with the other cooking methods. It all turns out in incredible deliciousness!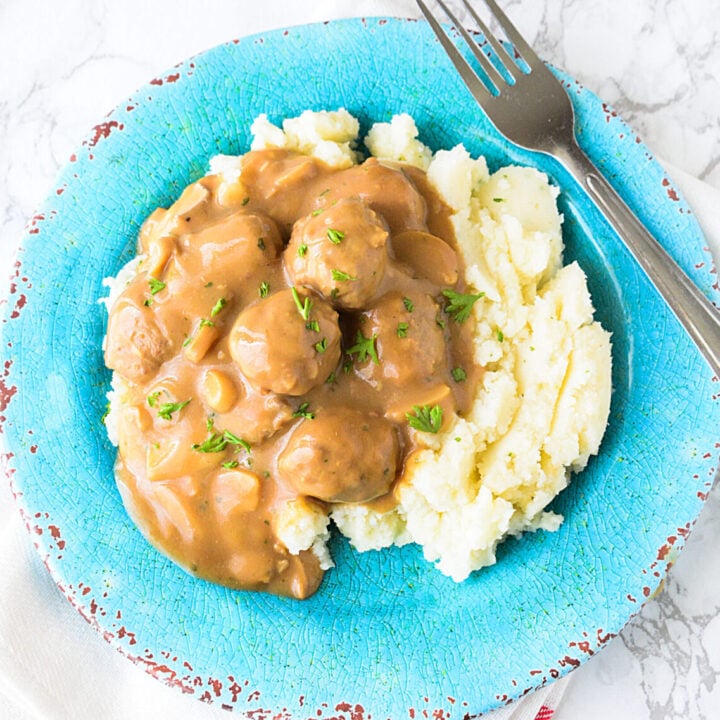 Slow Cooker Creamy Mushrooms and Meatballs
Total Time:
4 hours
5 minutes
A super yummy slow cooker easy swedish meatballs recipe that has added mushrooms just to make it that much more yummy!
Ingredients
1 lb. meatballs, cooked
1 can mushrooms, drained
1 can cream of mushroom soup, reserve can
dash Worcestershire sauce
1 teaspoon garlic, minced
½ can beef broth, use the can from the mushroom soup to measure
½ c sour cream
as desired, salt and pepper
Sour cream for garnish
as desired, salt and pepper
Instructions
combine all ingredients except the sour cream in the slow cooker bowl.
cook on low for 6 – 7 hours or on high for 3 – 4
When cooking time is complete, and just before serving, stir in the sour cream.
Serve on mashed potatoes and garnish with a dollop of sour cream.