This Ninja Foodi air fryer flatbread makes an excellent side dish to pretty much anything. Soups, stews, chili, or hey, make it your main meal and have it on its own! It's super delicious whichever way you choose to serve it.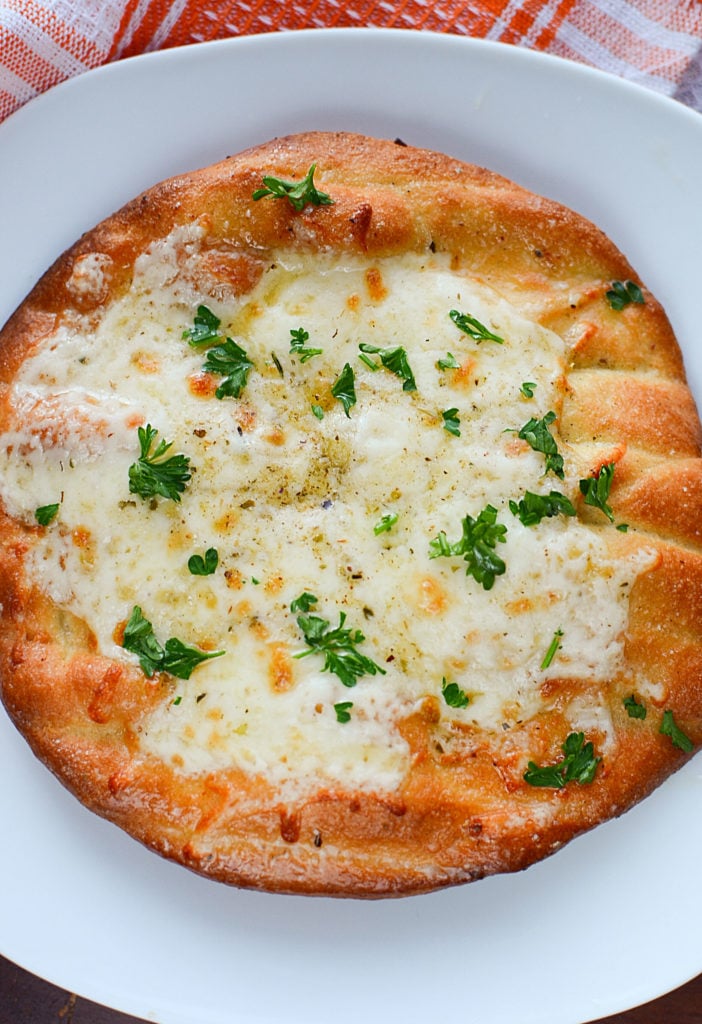 Ninja Foodi Air Fryer Cheesy Flatbread Recipe
I love this cheesy flatbread because it comes together really quick and if you use premade, commercially prepared dough, it's even quicker! That being said, if you wanted to make your own dough, here's a really easy homemade bread recipe that you can make fry bread from!
Making Flatbread
Take the dough out of the tube and unroll to be sure there are no holes or tears in the dough.  Roll it back up lengthwise, like a cinnamon bun dough, and cut 1″ sections.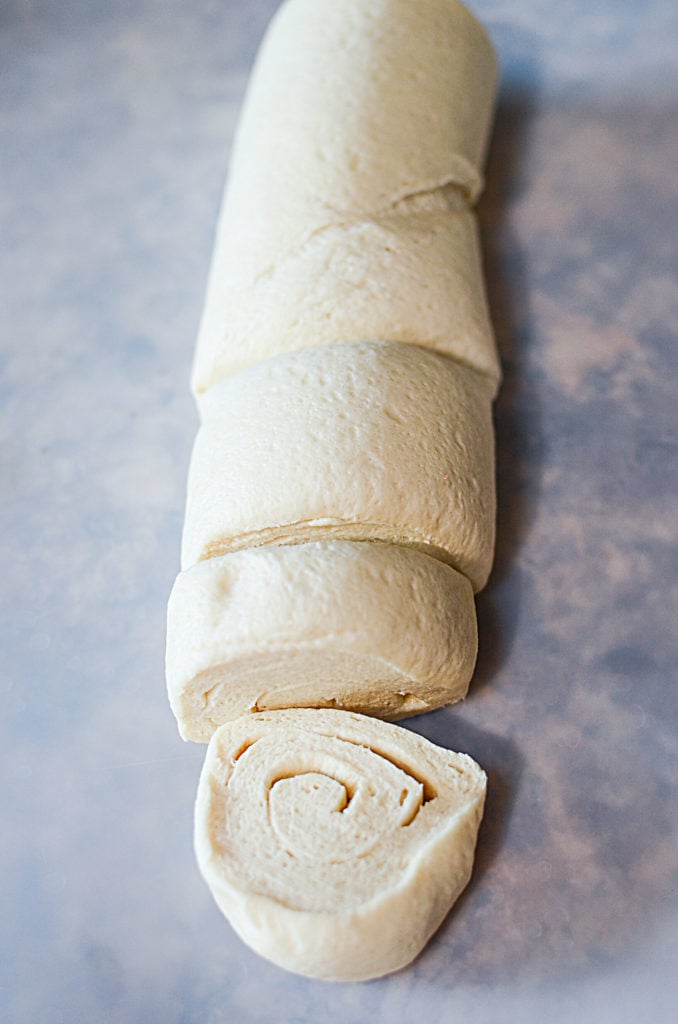 Roll out the dough flat into about a 6 -7″ circle

Make up the garlic herbed butter

Brush the dough with the herbed butter
Place the metal rack in the Foodi pot and then place the buttered dough on top of the rack. Air fry (air crisp) the dough at 350 for 4 – 5 minutes. Keep watch so that it doesn't burn and flip the dough to the other side once one side gets golden brown.
Once the dough has been flipped, add the cheese to the top. Continue air frying until the cheese has melted and become all ooey-gooey!
Can I Use Other Pre-Made Doughs?
Yes, I think you can. However, I wouldn't use any of the croissant (crescent) doughs or the biscuit doughs. They have much more leavener in them and will result in a different end product. Pizza dough is the best choice when using a premade dough.
What Other Toppings Can I Use On This Cheesy Flatbread?
Oh, the possibilities are endless!! You could use all sorts of things, just think of your favorite flavor combinations. You could go with:
Shredded chicken and brie or cheddar
Fresh tomatoes (peeled or unpeeled) and salami pieces
Cooked ground beef and cheddar with other toppings like a cheeseburger
Instead of using garlic butter, you could use a bbq sauce and put pineapple pieces and bacon (apply the bbq sauce when you place on the toppings)
Proscuitto and pears with brie (no sauce)
Do I Have To Use Only The Ninja Foodi?
Not necessarily. I like using the Foodi because it doesn't heat up the kitchen and takes less power to use but you could certainly use the oven or toaster oven. You could also use your BBQ grill and which would add a great flavor.
If you use your grill, you could also make a sweet flatbread, similar to these grilled cinnamon bun flatbreads I made on my grill for brunch! They were AWESOME!
Also, if you're new to the Ninja Foodi and are a little shy about working with it, take a peek at this article I wrote All About The Ninja Foodi that has some great tips and tricks. It might make you feel more comfortable working around it!
When you make this ultimate Ninja Foodi Cheesy Flatbread, I'd LOVE to hear what toppings you used! Honestly, it's fantastically delicious just as is, but having some extra toppings from time to time just takes it to the next level!
Thanks so much for stopping by The Salty Pot today, and I hope you have a fantastic day!!
~Joanne
***DON'T FORGET TO PIN THIS NINJA FOODI CHEESY FLATBREAD TO YOUR FAVORITE PINTEREST BOARD TO USE FOR LATER!!***
NINJA FOODI CHEESY FLATBREAD
This Ninja Foodi air-fried cheesy flatbread is buttery, cheesy, crispy and OH SO YUMMY! Side it with soup, stews, chili, etc, the possibilities are endless!
Ingredients
1 Tube of commercially prepared pizza dough (see notes)
½ c butter
1 teaspoon garlic
a sprinkle of dried or fresh parsley and dried Italian seasoning
2c Mozza cheese, shredded
Other preferred toppings
Instructions
Open and unroll the pizza dough. Check for cracks or holes in the dough.
Reroll the dough, rolling it on the long side
Cut 1" rolls and then flatten and roll them out to approximately 6" diameter
Mix the butter, garlic, and herbs together. Brush over the top of the dough.
Place them on the Foodi rack and air crisp the dough for about 4 minutes or until it becomes golden brown. Flip, brush the dough again with the butter and do the air fry till golden for the other side.
Sprinkle some of the cheese over the top of the bread and air fry until the cheese melts
Add any extra toppings but watch that they don't burn.
Serve hot and enjoy!
Notes
I used Pillsbury brand pizza dough, feel free to make your own pizza dough if you prefer. Additional notes are in the body of the post for other garnish ideas.
Nutrition Information:
Yield:

10
Serving Size:

1
Amount Per Serving:
Calories:

182
Total Fat:

17g
Saturated Fat:

10g
Trans Fat:

1g
Unsaturated Fat:

5g
Cholesterol:

47mg
Sodium:

231mg
Carbohydrates:

2g
Fiber:

0g
Sugar:

0g
Protein:

6g