Air fryer chicken meatballs couldn't be easier to make and you'll love how making them in the air fryer gives them great texture on the outside while still leaving them juicy on the inside! They're so easy to whip up and enjoy at home quickly and easily.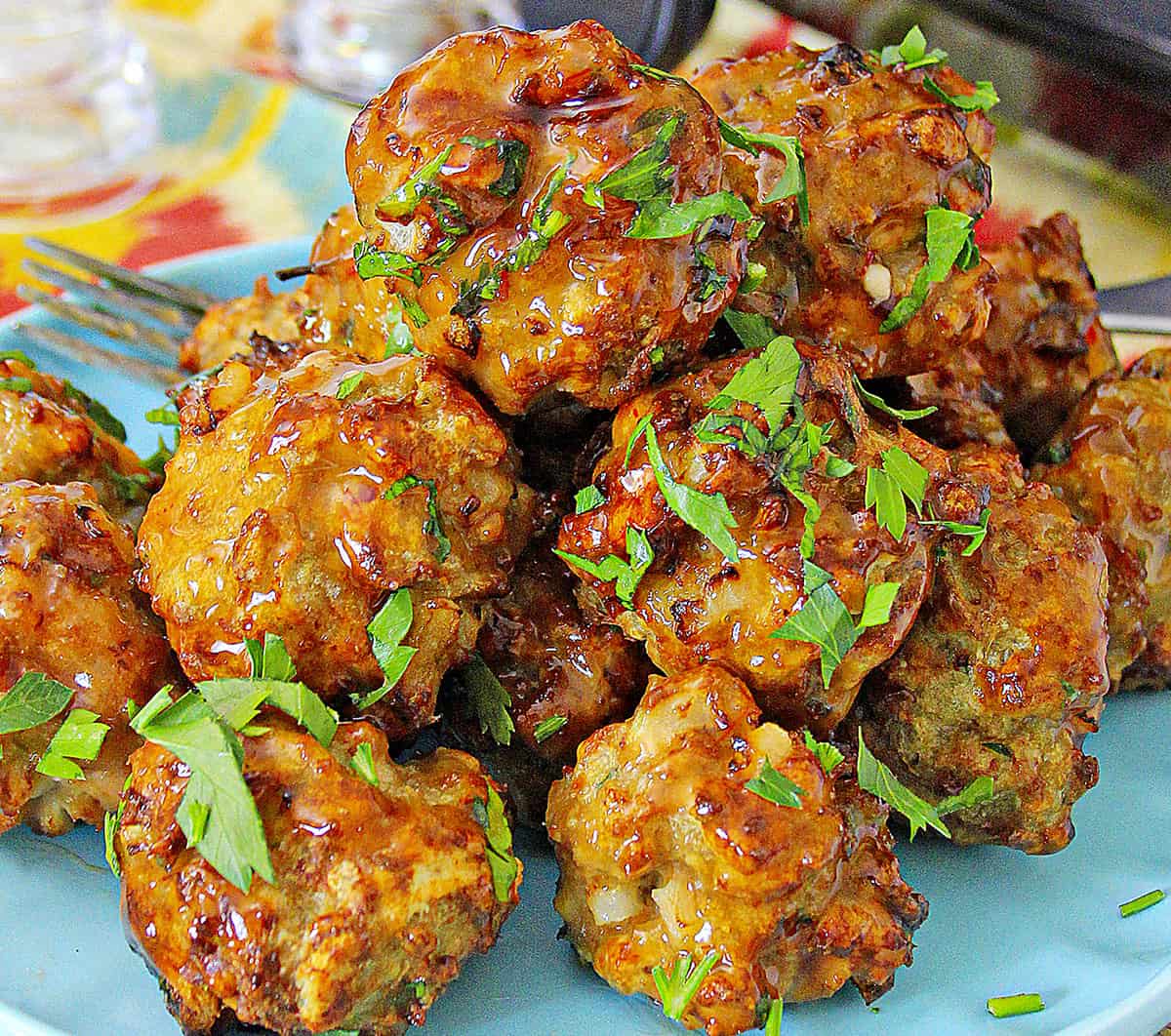 What's Great About Chicken Meatballs In The Air Fryer?
Air Frying meatballs give a great crispy texture on the outside while still being juicy inside.
It's a versatile recipe that can easily be switched up with different ingredients or sauces.
Little ones can help make (shape) the meatballs!
Groceries Needed For The Meatballs
Ground Chicken: If you can find a ground chicken mixture of both white and dark meat, this combo will definitely be your best bet. Usually found at your local butchers but most of the time, ground chicken breast is what they sell in the grocery stores, and this will do just fine.
Herbs: Fresh parsley is what was used in today's recipe, but feel free to use dry parsley if that's what you have. If you're using dry herbs, remember to use half the amount of what's called for in fresh herbs.
Onion – You can use whatever type of onion you have on hand. White, Spanish, sweet, or even green onions – shallots will work as well but I'd use 50% more than what's called for in the recipe.
Crackers – I usually use Ritz or other crackers such as saltines. You can also use breadcrumbs or panko if you prefer.
Bacon – This is OPTIONAL, but I love the hint of a smoky flavor it adds. Here's how to cook a few strips of bacon quickly and easily for this recipe if you want to use it.
Egg – just a binder to keep all the meat together.
***Be sure to check the fully printable recipe down below giving exact amounts and directions to make these fantastic chicken meatball recipe.
Salty Pot Tip: Another fun cracker to use in place of saltines is Goldfish Cheesy crackers! (not sponsored, just a good idea.)
Let's Make These Delicious Chicken Meatballs!
In a large bowl, mix all the ingredients together and be careful not to overwork it. (It could toughen up the meatballs).
Form the meatballs by hand or use a cookie scoop for more uniform portions.
Preheat the air fryer.
Place the balls into the air fryer and spray with cooking oil (Don't use baking spray, it ruins the finish on the basket of the air fryer.) You can also use air fryer liners that are super handy for cleanup.
Air fry the chicken meatballs, turning them halfway for even, golden, and crispy cooking. (For extra assurance of them being done, cook to an internal temperature of 165 degrees. Use a digital thermometer like the one I use. I love it because it's accurate and super simple to use.
It's worthwhile to note that I use a Cosori brand air fryer. My air fryer might differ compared to yours so again, I would recommend using a digital thermometer to be sure you don't overcook or undercook the chicken balls.
Substitutions and Variations
This recipe lends itself well to customizing the spice level of the dish. A great way to do this is to add red pepper flakes if you would like a spicier chicken. You can even try adding more pepper or even use Szechuan pepper instead.
Substitute ground turkey meat for the chicken meat if that's what you have on hand.
Using different 'binders' such as panko breadcrumbs, seasoned breadcrumbs or even goldfish crackers is a fun idea.
To add a bit more scrumptiousness, try adding different grated cheese. Parmesan, grand padano, or even sharp cheddar would be super tasty.
Serving the Ground Chicken Meatballs
The side ideas are endless! Try a side of rice (my recipe for 4 Ingredient Stick of Butter Rice is really popular on the blog!), my Corn Salad with Bacon side would be a super delicious combo, or hot buttered noodles, or your favorite vegetables. This recipe is great for serving as a main dish or even adding some toothpicks and serving as an appetizer with a variety of different sauces like teriyaki or even sweet chili sauce.
These are ideal for making fun dishes like meatball subs or throw them in your favorite spaghetti sauce for a twist on spaghetti and meatballs!
Try drizzling sweet chili sauce over them and serving them on rice, or make up a hot sauce mixture using equal parts of hot sauce and melted butter to drizzle over top.
Storing Leftovers
Fridge: These meatballs will stay fine in a container with a tight-fitting lid for up to 4 days.
Freezing: Like with other meatballs, you can easily make these and then freeze them individually on a lined cookie sheet before placing them in an air-tight container for a quick and easy-to-reheat option.
Thawing and Reheating: Thaw the meatballs overnight in the fridge and then reheat in the microwave, or in a covered skillet with a few tablespoons of water over medium heat. Personally, I don't reheat them in the air fryer because I feel they would dry out too much trying to get up to temperature.
Have You Tried this Air Fryer Chicken Meatballs Recipe?
How did you switch up the recipe, if you did? What sides did you serve it with? I'd love to hear about it in the comments below! Have a fantastic day and thanks for stopping by The Salty Pot today!
~Joanne
Delicious and Easy Air Fryer Chicken Meatballs
Crispy on the outside and moist on the inside, these air fryer chicken meatballs are a fantastic and delicious idea for a busy weeknight supper!
Ingredients
1 pound of ground Chicken
⅓ cup Onion, chopped
½ cup Parsely, fresh, chopped
3-4 slices of cooked bacon, chopped *Optional
1 teaspoon of minced Garlic
1 egg
¾ cup of crushed Ritz crackers
1 Tablespoon Milk or Cream
As desired, salt and pepper
Finely chopped Parsley - garnish
Instructions
In a large bowl, place the chicken, onion, and parsley.
Add the crackers, egg, bacon, milk, garlic, salt, and pepper.
Stir together (or using very clean hands), and mix all the ingredients just until combined. Be careful not to overwork the mixture as doing so will make the meatballs tough.
Form into meatballs, about 1 ½ to 2" inches around.
Preheat the air fryer to 400 for 3 minutes. Place the meatballs in the basket and give them a quick spray with cooking oil. Cook for 8 minutes, turning the meatballs halfway through (or shaking the basket if your air fryer has that function).
Continue cooking until golden brown on the outside and an internal temperature reads 165F. The meatballs should not be pink on the inside at all.
When fully cooked, remove the meatballs from the basket and serve.
Enjoy!

Notes
Adding the bacon is optional but highly recommended! It helps add a bit of moistness and smokiness to the chicken.
If using dried parsley, only use ¼ cup.
Use cream if don't want to use milk.
Using a cookie scoop to portion out the meatball mixture helps with even-sized meatballs.
Start checking the meatballs at the 10-minute mark for the internal temperature as all air fryers are slightly different.
Check the body of the post for different serving suggestions.
Be sure not to crowd the air fryer basket when cooking the meatballs. It's better to fry them in batches than too close together as they could just steam in the fryer and not get crispy.
Nutrition Information:
Yield:

6
Serving Size:

4
Amount Per Serving:
Calories:

238
Total Fat:

14g
Saturated Fat:

5g
Trans Fat:

0g
Unsaturated Fat:

9g
Cholesterol:

123mg
Sodium:

274mg
Carbohydrates:

6g
Fiber:

1g
Sugar:

1g
Protein:

22g
All nutritional information is based on third-party calculations and is only an estimate. Each recipe and nutritional value will vary depending on the brands you use, measuring methods, and portion sizes per household.