This Creamy Roasted Tomato and Garlic Soup is like a hug in a bowl. Roasting the tomatoes and garlic beforehand gives this soup a depth of flavor that can't be found in your canned variety soups.

Pair the cooking method with garden-fresh tomatoes and buttery homemade croutons and you have a spectacular soup recipe that's knock-your-socks-off worthy.
This post may contain affiliate links. If you make a purchase after clicking a link, I may earn a small commission AT NO COST TO YOU. As an Amazon Affiliate, I earn from qualifying purchases.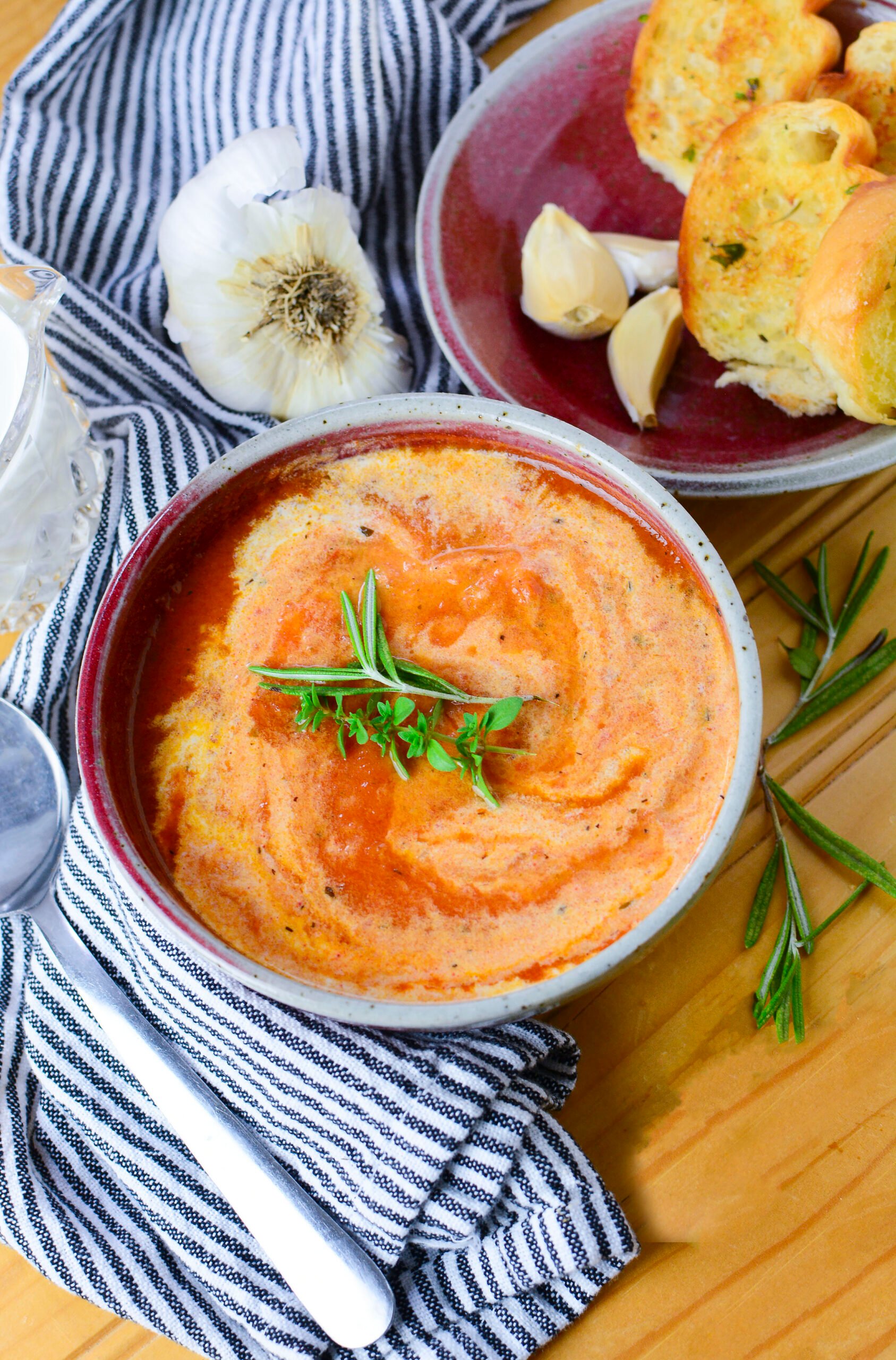 Roasted Tomato and Garlic Soup
When our gardens gift us with an amazing harvest, we look for ways to make use of it. Last summer my garden grew an abundance of fresh and flavorful tomatoes, it was awesome.
I decided I wanted to develop a recipe for some tomato soup but I wanted something unique and flavorful that stands out from the ordinary.
This is where the deep flavor of roasted garlic and the amazing creamy texture of this soup shine.
What's to love about this recipe
Roasting the garlic deepens the flavor and helps to release some of the nutrients garlic has to offer.
Cooking garlic helps to make it easier on the stomach reducing the risk of gastric distress while allowing you to take advantage of the many benefits of garlic.
The recipe itself is super easy and most of the cooking is hands-off.Roasting your garlic, tomatoes, and spices before you start is a great way to add more flavor to your soup. This gives you a beautiful fragrant final result.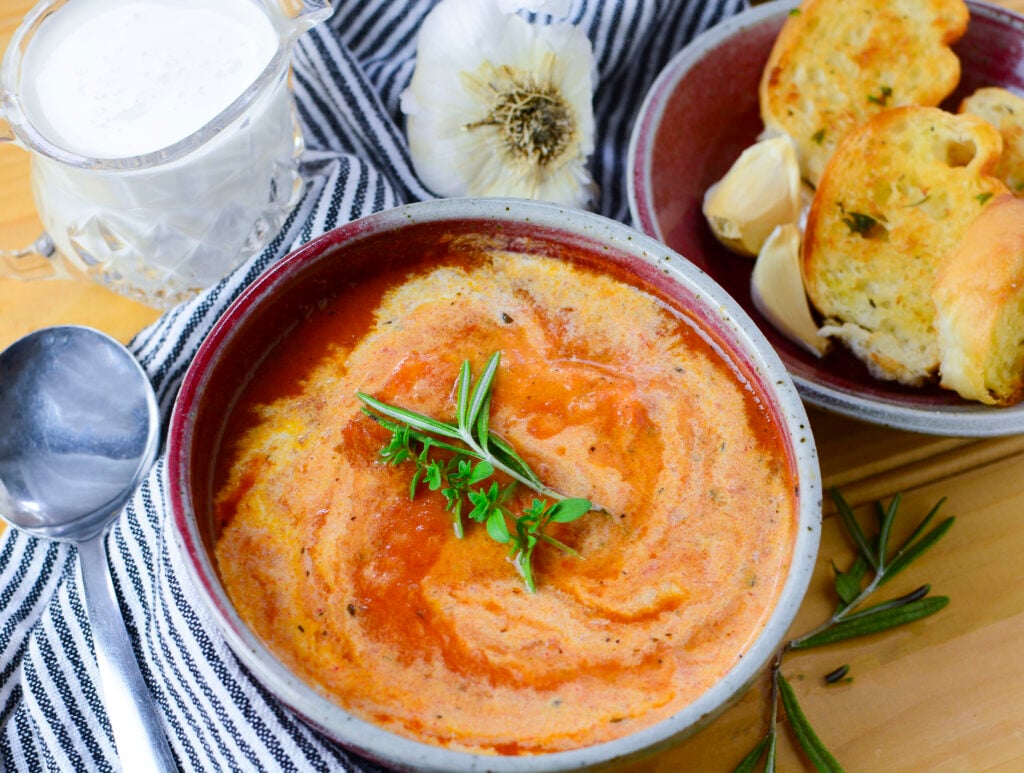 How roast garlic and tomatoes
To roast your garlic and tomatoes to help give your soup the best flavor, you will want to de-seed the tomatoes, quarter them, add the peeled garlic and seasoning to a baking dish.

Pour in a bit of olive oil and stir before placing into the oven. You will know when your ingredients are done when they have a bit of caramelization on the edges. This will leave them with a roasted flavor but still make it easy to blend into a soup.
How to make tomato soup
Place your roasted vegetables into a big pot over low heat and use an immersion blender to get a smooth consistency. If your tomatoes did not have a lot of juice after roasting and you want a thinner soup you can add some tomato juice to give you a smoother texture and a thinner soup.
If you don't have an immersion blender, you can use your own blender but this must be done with absolute caution. The contents are hot, and I would advise blending them in batches while leaving the center portion of the lid removed on the appliance while blending.
Cover it with a clean kitchen towel to catch any hot splashes of soup that might come up through the hole.
How to make your tomato soup creamy
I love a nice creamy soup. Making your tomato soup creamy is very easy. You can add just a bit of heavy cream string and add a bit more until you get the right creamy texture for your needs. You can do this right into your bowl allowing everyone to have a custom level of creaminess to their soup.
Serving ideas for this soup
You will notice in the photos that I served this soup with some amazing-looking croutons. These are toasted pieces of baguette. This is a great way to use up extra bread or even a clearance from the grocery store.
Simply cut into slices about the size of a piece of sandwich bread. Set aside.
To get the color, texture, and flavor that compliments the soup so perfectly I took butter and mixed in herbs, and added a thick layer to each side before placing it in a hot skillet to toast.
Flip over after 2 minutes or so to toast the other side. The thick layer of butter will melt and spread into the toasted bread giving you the perfect flavorful addition to your soup. To spice it up a bit you can even add some crushed red pepper flakes to the herb butter mixture.
What to serve along with soup
Most often you'll see on restaurant menus, that they pair the soup with salad which makes a perfect light meal. The types of salads that would go great with this roasted vegetable soup would be:
Cesar Salad
House Vegetable Salads
Chicken Berry Salads – this would be a great addition if you wanted to 'bulk' up the meal by adding extra protein like chicken.
Another idea to serve alongside the soup would be sandwiches, of course. Sandwiches such as Grilled cheese with ham would be IDEAL for this soup. If not grilled cheese, you could try:
Salmon or tuna salad sandwiches
Bacon lettuce tomato sandwiches would be fantastic as well.
Lastly, serving easy-to-make SLIDERS would be a satisfying and yet lighter meal as well. Try sliders with protein and cheese like my Italian Sliders recipe, this Italian Sausage Meatball slider, or even my Chicken Cordon Bleu slider recipe!
Storing Leftovers
If you find yourself having extra soup leftover, it can safely be kept in the fridge in a container with a tight lid for up to 4 days.
I wouldn't recommend freezing leftover soup in this case as the cream may separate when thawed.
All the specific ingredients and directions will be in the recipe card below.
Thank you so much for stopping by The Salty Pot today, and I hope you have a wonderful day! Please leave a STAR RATING and a comment below if you made this recipe and loved it!
~Joanne
Roasted Tomato and Garlic Soup (with croutons!)
Creamy and delicious, this Roasted tomato and garlic soup hits the spot on a day where cooking and eating are light and easy!
Ingredients
2lbs tomatoes ("meaty' tomatoes are the best to use in this soup)
3 Garlic cloves, peeled and barely chopped, very rough chop (see notes)
2 tsp Italian seasoning (see notes)
2 tablespoon Olive oil
1 cup Chicken stock
½c Heavy whipping cream
as desired, salt and pepper
FOR THE CROUTONS:
1 small baguette
⅓ c butter
½ teaspoon parsley
Pinch of Italian seasoning
¼ teaspoon garlic powder (optional)
Instructions
Preheat oven to 400F

1. Wash and cut off the blossom end of the tomatoes. Cut them into quarters.
2. With a sharp knife, carefully cut out the center core portion of the tomato.
3. Place all the tomato slices into a baking dish. Add the rest of the
ingredients (except crouton ingredients) and roast in the oven for 30-40 minutes. You want the tomatoes cooked down to about half the volume, wrinkled and saucy. Even better if there is a little charring on the tomatoes for improved flavor.
4. Transfer the tomato mixture to a soup pot and add 1 cup chicken or vegetable
broth. (See notes)
5. With an immersion blender, (or regular blender), blend the contents of the soup.** Important: Read the notes on how to blend this soup.
6. Serve the soup in bowls and drizzle the amount of cream as desired over the
top of the soup. Typically, a few tablespoons add a nice creaminess to the
soup.

Croutons:

Cut the baguette into ½ inch rounds.
Combine the butter, garlic powder (optional), and parsley. (see notes).
Toast the croutons on both sides until golden brown.

Notes
- (Deseeding the tomatoes) If you prefer the soup without the seeds, simply remove those along with the core of the tomato when cutting. The seeds can add a bit of texture to the soup which some may find enjoyable, other people may
not like it.
-chopping the garlic up roughly helps it roast nicely at the oven temperature.
If it's minced, it may burn adding a bitter taste.

- if there's no Italian seasoning on hand, you can use thyme, rosemary, oregano
dried herbs.

- This recipe adds only 1 cup of chicken/vegetable broth. To stretch the recipe
another serving or two, feel free to add an additional cup of broth. This will
reduce the 'tomatoey" flavor a tad but will still be delicious.

-After the tomatoes are roasted, you can remove
the garlic if you'd like at this point. The garlic has flavored the tomatoes,
but if you prefer a stronger garlic flavor, leave the cloves in.

- Using a toaster oven or in the oven on a sheet tray works well, or simply
toast them in a frying pan for a few minutes. Serve alongside the soup for
dipping or place on top of the soup for textural contrasts. 



Nutrition Information:
Yield:

3
Serving Size:

1 cup
Amount Per Serving:
Calories:

778
Total Fat:

48g
Saturated Fat:

24g
Trans Fat:

1g
Unsaturated Fat:

20g
Cholesterol:

101mg
Sodium:

1051mg
Carbohydrates:

73g
Fiber:

6g
Sugar:

15g
Protein:

18g
All nutritional information is based on third-party calculations and is only an estimate. Each recipe and nutritional value will vary depending on the brands you use, measuring methods, and portion sizes per household.