These low and slow BBQ ribs are roasted slowly, on low heat to produce the most succulent bbq ribs EVER!! Most of the work in this recipe is from putting the rub together because the rest of the work is a piece of cake!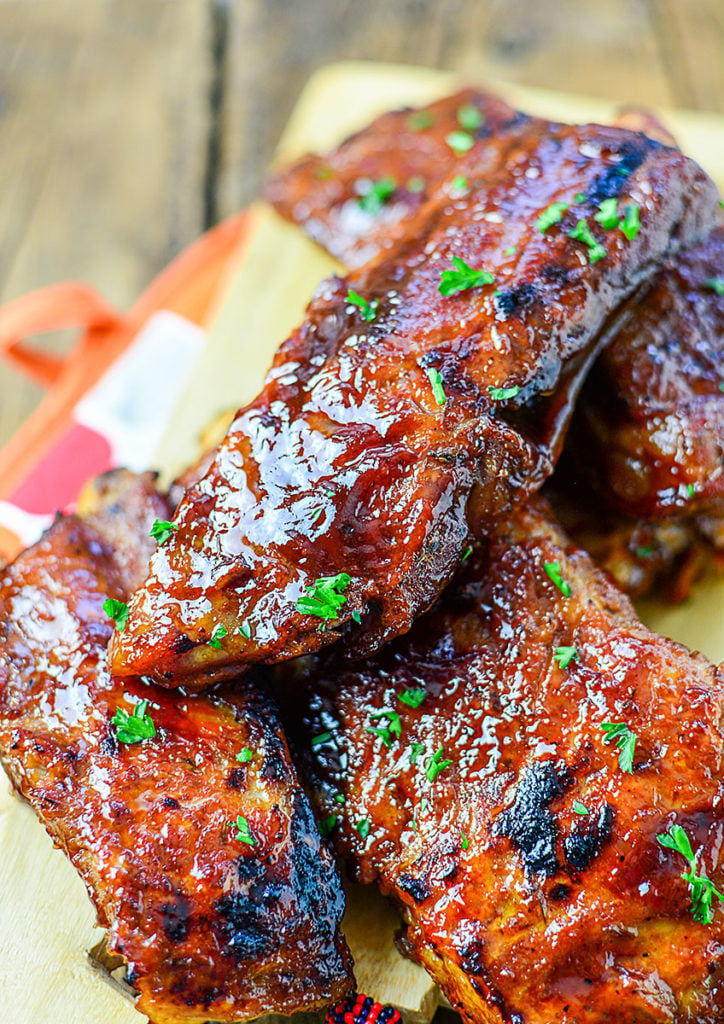 Oven Roasted Low and Slow BBQ Ribs
I just love how easy these low and slow ribs are to make. The beauty of this recipe is that you can make one rack, or two racks, or as many racks as your oven (and your effort!) will allow! Make sure to have your favorite barbeque sauce on hand so you can finish off these ribs under the broiler for some nice caramelization!
Incidentally, if you're looking for a rib recipe that's a lot faster to make, take a peek at my Instant Pot Pineapple BBQ Ribs recipe! These are super popular on the blog, and turn out just as tender as these oven-roasted low and slow bbq ribs!
The Difference between Side ribs and Back ribs
Ok, first, side ribs are also known as SPARE ribs. Either term is correct. Back ribs are also known as baby back, or loin ribs.
Baby back ribs are shorter than spare ribs, hence the term "baby".
They sometimes tend to be meatier, however, the side ribs are bigger and have a higher fat content, so they are usually more flavorful. Fat equals flavor, folks, lol.
Side ribs will feed more people than back ribs, and usually, back ribs are more expensive than side ribs.
Also, side ribs come from the side of the pig, near the belly, and back ribs come from the part of the ribs that are closer/connected to the spine.
How are spare ribs and baby back ribs the same?
Well, they're both pork products (obviously), and they can both be cooked in various ways:
-Baked
-Grilled
-Roasted
-Braised
-Smoked
Also, they both have what is called silver skin on them. There is some controversy about removing it before the cooking process happens, and personal preference usually prevails.
What Is Silver Skin?
Silver skin is like .. hmm.. imagine lining up a bunch of popsicle sticks, and then laying down a long strip of duct tape on top of them, just to keep them together. You could then lift the whole lot of the sticks and bend them in a wavy way, but the duct tape will keep them together as one unit.
The silver skin basically keeps the rib bones and muscles extra support to stay together and yet allow a flexible movement for them.
There is a more sciencey explanation for the silver skin in this article by Genuine Ideas. Besides the sciencey explanation, he also says they're like SPANX for the ribs.
*****Ahem*****
Well, the guy obviously does not know what SPANX are actually for because he mentions the silver skin "helping to lift and separate muscle groups". So.. most women who read this will know that we don't wear SPANX (or girdles, for that matter) to 'lift and separate"… lol.
Cute and nice try, guy from Genuine Ideas….. but no. LOL
Most of the time, your butcher will remove the silver skin before you even purchase the ribs. Sometimes, however, it won't be removed and you'll have to make the choice to remove it or not.
It's not difficult to do, but know that it does soften up in a low and slow cooking format such as this. But again, the choice to remove it is yours. You'll want to CAREFULLY slide a sharp knife under the corner membrane of the skin and separate the skin from the meat.
A lot of times, once you get started and can grab the corner with your fingers, you can just rip (sounds gross, I know) the silver skin from the ribs.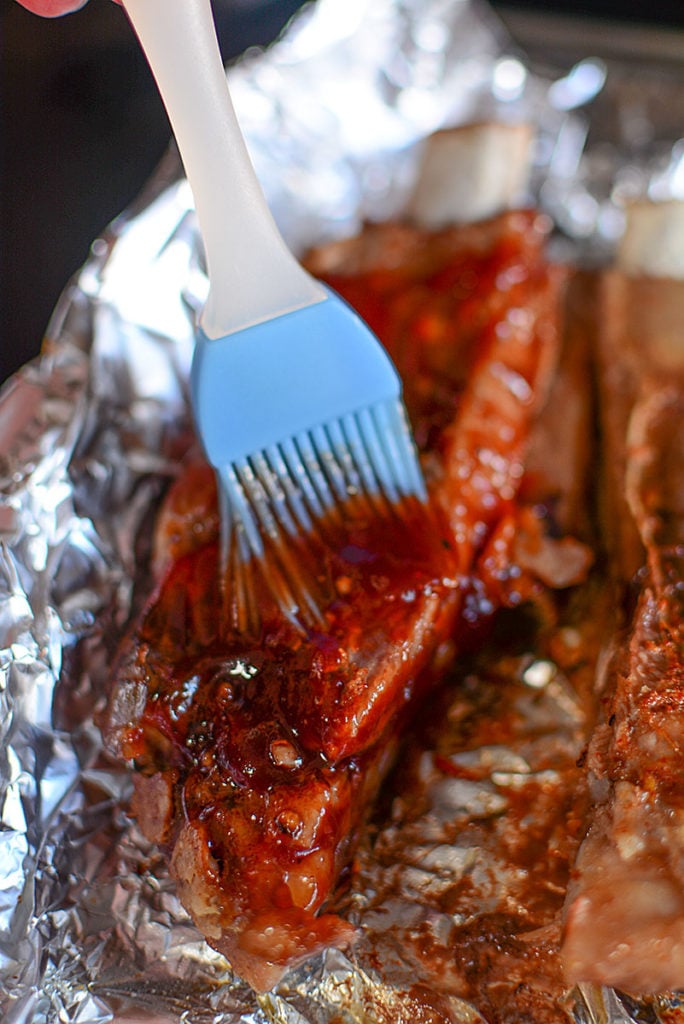 Getting That Smoky Flavor On The Ribs
Ok, so besides the BBQ sauce that you use that might lend a smoky flavor to the ribs, how would you attain it by oven roasting? Because obviously, there's no 'smoke' per se to add it's flavor to the pork ribs.
So, today we're going to get that smoky flavor by using smoked paprika. Yes.. I realize it's not a "wood" smoke flavor, but it does lend some nice smoky flavors that give the nod to a grilled rack of pork ribs!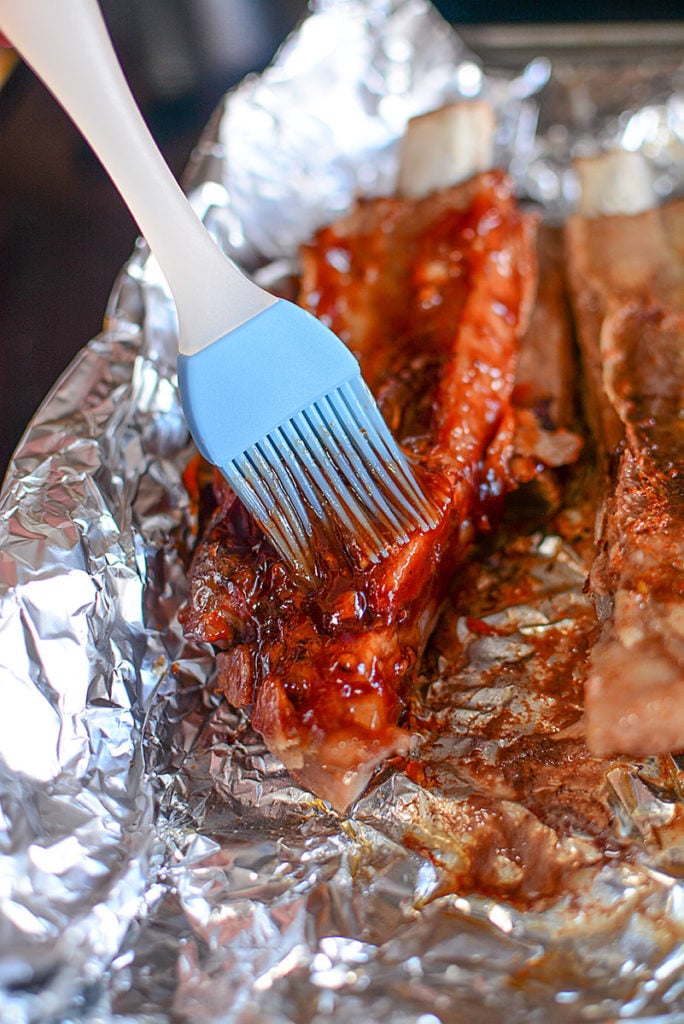 If you don't have smoked paprika, another alternative is some liquid smoke. If I didn't use the paprika, I would use liquid smoke in one of two ways:
– I would take a few tablespoons of chicken broth and add drops of smoke flavoring into the broth and brush it onto the ribs. Then I would season, and continue on with the cooking.
– The second way would be to add drops of smoke flavoring into a few tablespoons of quality butter, and I would also then add the seasonings to the butter and mix it well, then spread it onto the ribs.
Yes, you're adding more fat to the recipe, BUT WHOLLY MOLEY would those ribs be amazing! ………….. I might just have to try that!! (If you try it before I get a chance, PLEASE email me and let me know how it goes.. any pictures you might take and testimonial to this method would be added to the post with you named as the reference!!!!)
Let's Talk Cooking Temperatures
The technical temperature of doneness for these roasted ribs would be 145 degrees Celcius. However, remember those tough membranes (collagen) that make the ribs chewy? Well, they don't begin to break down till around 160 degrees or so.
So, I would be tempted to take them out when they reach 165 – 170.
Using a meat thermometer like this one makes the job easy, but if you don't have one, you can tell that the ribs are done by trying to 'lift and separate' (haha, see what I did there?) one of the bones from the meat. If it is loose and wants to come away easily, they're done!
Can I Cook The Ribs From Frozen?
Honestly, I've never tried it. I suppose in theory you could, but I really wouldn't.
The cook time would be significantly longer and there would also be a lot of extra moisture (aka flavor) that might pool at the bottom of the foil that comes from the ribs.
Do I Need To Boil The Ribs Before Cooking?
Nope! That's the beauty of cooking these oven-cooked pork ribs low and slow. This method takes longer, yes, BUT it really aids in slowly breaking down those collagen-rich tough membranes making the ribs tender and succulent.
Boiling the ribs helps quicken the cooking process if you don't have a pressure cooker, but I believe compromises the flavor a bit because a lot of those cooking juices go into the water that we discard.
What Sides To Serve With These Roasted Low And Slow BBQ Ribs
Ohhhhhh the sides! There are so many great ideas on what to serve as sides with these ribs!
Instant Pot Corn on the Cob with Garlic Butter
Creamy Dill Pickle Pasta Salad
Bacon Roasted Potatoes
Twice Baked Potatoes
Mac n Cheese!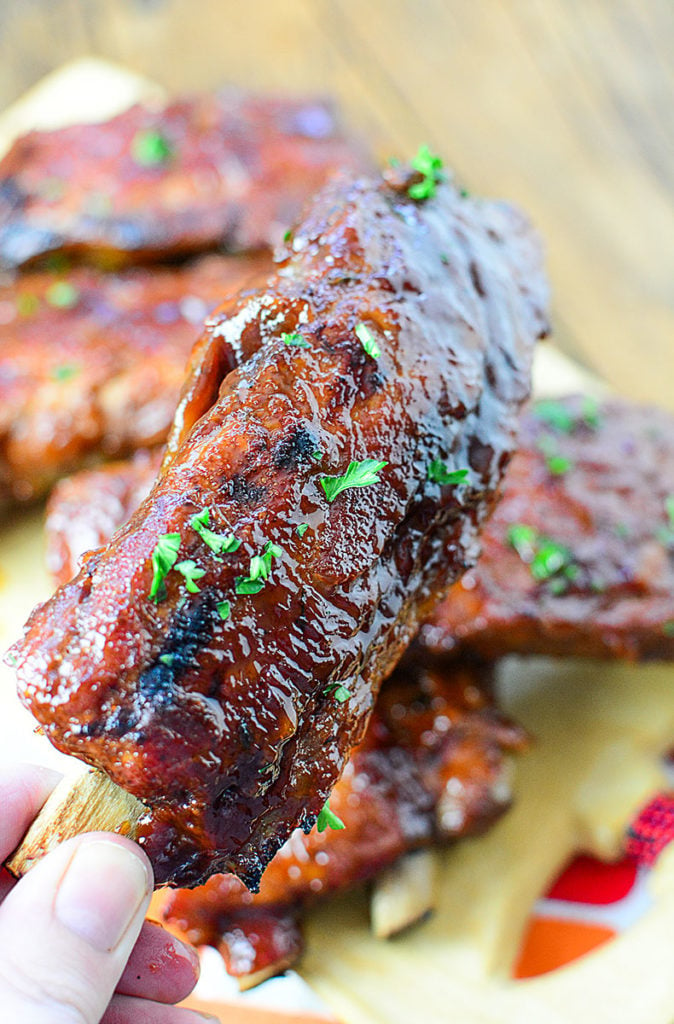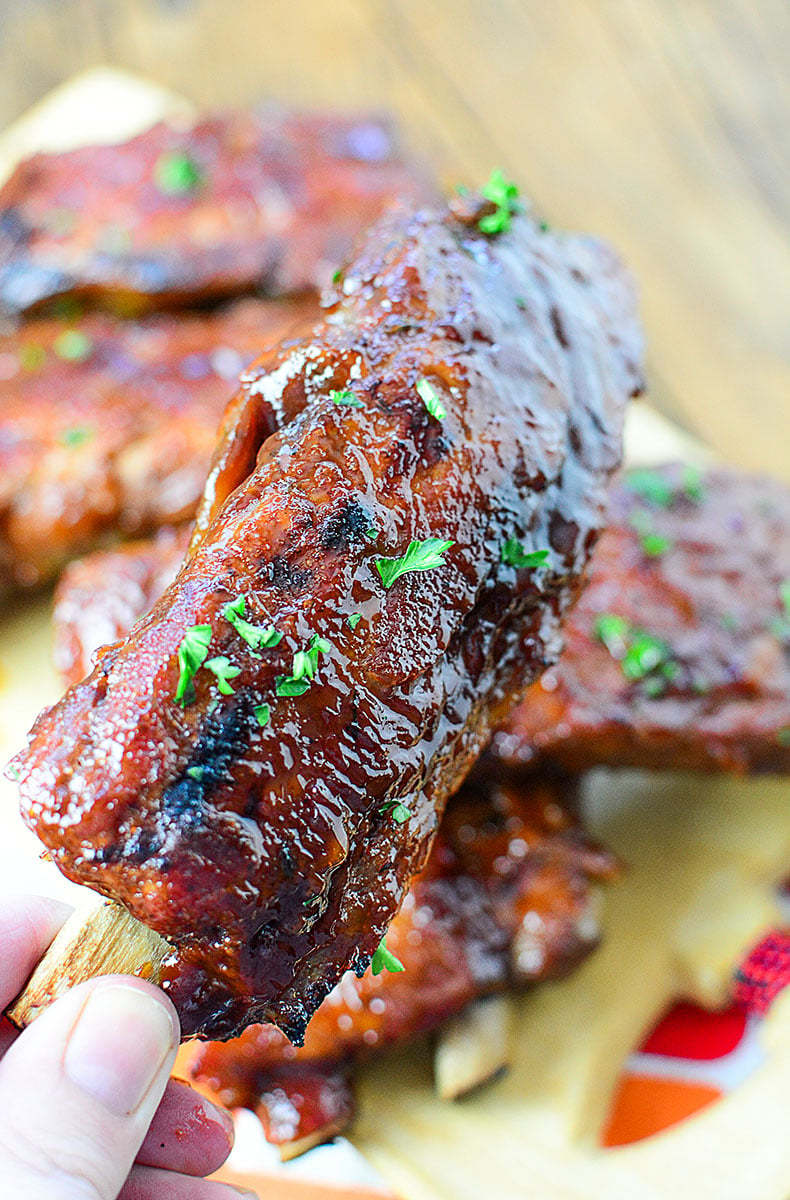 Ok, so there you have it my lovelies! Oven Roasted Low and Slow BBQ Ribs! They're not your normal, grilled at a cookout type of rib, but they're still mighty delicious and easy to make. Plus,… there's no bugs while you cook. lol.
Thanks so much for stopping by The Salty Pot today! If you have any questions or comments, please leave them below, or shoot me an email at: joanne@thesaltypot.com! I truly hope you have a fantastic day!!
~Joanne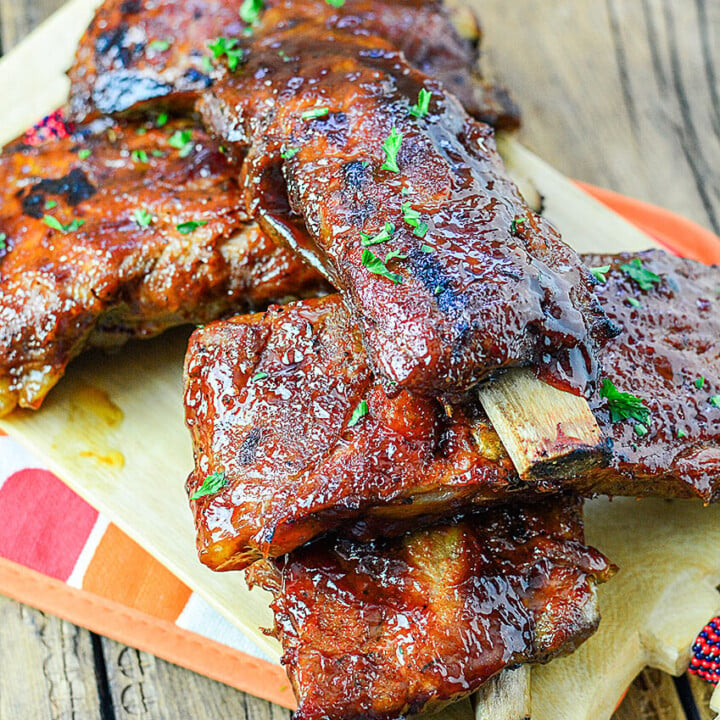 Oven Roasted Low and Slow BBQ Ribs
Total Time:
3 hours
15 minutes
These low and slow BBQ ribs are roasted slowly, on low heat to produce the most succulent bbq ribs EVER!! Most of the work in this recipe is putting the rub together because the rest of the work is a piece of cake!
Ingredients
1 rack side pork ribs
2 Tbsp brown sugar
1/2 t garlic powder
1/2 t onion powder
1 tsp thyme, dried
1/2 t mustard powder
1/2 t smoked paprika
as desired, salt and pepper
1c BBQ sauce
Instructions
1.rinse the ribs and pat dry.
*optional step* - Remove the silver skin.
2. Cut ribs into 2 - 3 rib portions
3. Mix together all the seasonings and sprinkle on top, bottom and sides of the rib portions.
4. Place into a bag or container and marinate 6 - 8 hours, or even overnight.
5. Preheat oven to 250F
6. Wrap the rib portions in foil and place in the oven.
7. Roast for 2.5 - 3 hours.
8. Remove from the oven when they've come to temperature and take the ribs out of the foil.
9. Place the ribs on a rack and brush with the bbq sauce.
10 Broil on both sides to produce some crispy char bits on the outside of the ribs.

Enjoy!
Notes
1. I prefer to use side ribs as they are generally cheaper and just as hearty as back ribs. (and a bit larger). But you can use any pork rib you prefer for this recipe, they will both turn out nicely.
2. You don't HAVE to marinate the ribs overnight if you short on time, but I really recommend you do if you can. Marinating for as long as possible really helps infuse the flavors from the rub into the meat.
3. Don't go using spices you've had in your pantry for 2 years on these ribs! You will be disappointed in the flavor quality if instead, you used fresh spices!
4. Using a meat thermometer takes the guesswork out of deciding when the ribs are ready.
When broiling, WATCH those ribs like a hawk because most BBQ sauces have sugar, which will burn super quick!
Nutrition Information:
Yield:

3
Serving Size:

4 ribs
Amount Per Serving:
Calories:

234
Total Fat:

4g
Saturated Fat:

1g
Trans Fat:

0g
Unsaturated Fat:

2g
Cholesterol:

12mg
Sodium:

1061mg
Carbohydrates:

46g
Fiber:

1g
Sugar:

38g
Protein:

3g
***DON'T FORGET TO PIN THIS OVEN ROASTED LOW AND SLOW BBQ RIBS RECIPE TO YOUR FAVORITE PINTEREST BOARD TO USE FOR LATER!! ***