Have you ever heard of Pineapple BBQ Instant Pot Ribs? Well, you have now! These finger lickin' sweet and tangy tropical ribs will make you SO happy that you bought an Instant Pot.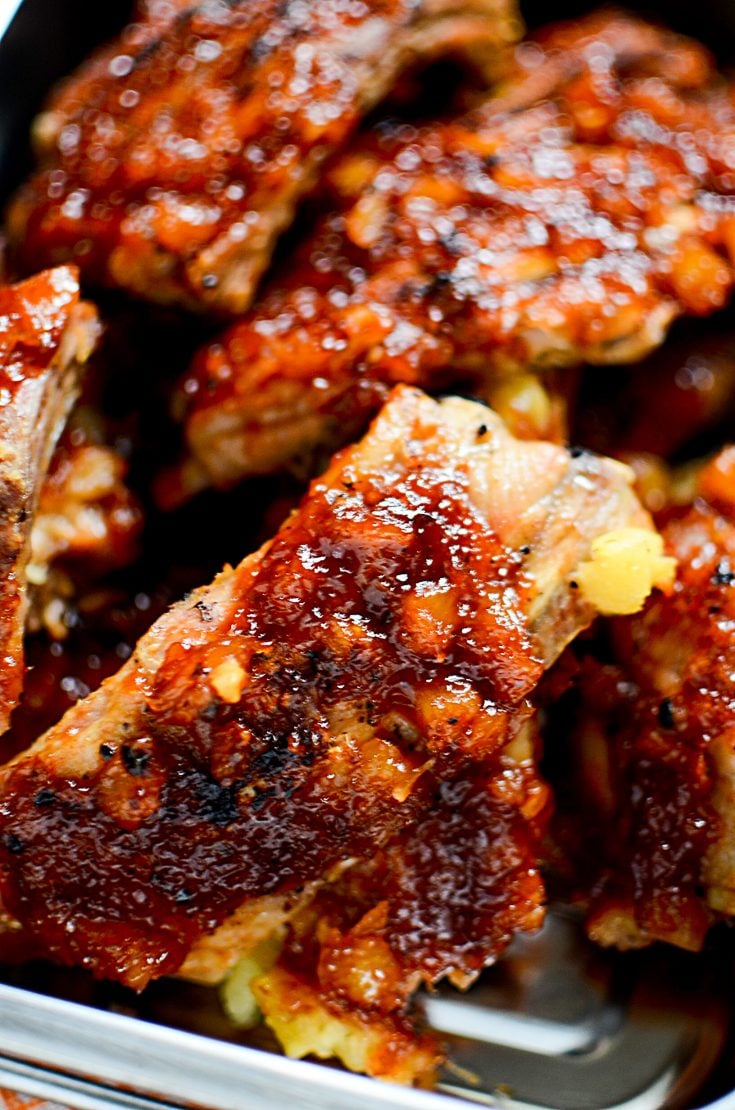 How To Make Pineapple BBQ Instant Pot Ribs
I'd never made ribs like with these flavors before, but I thought, heck, why not? Sweet and tangy, it would hit all the bliss points if you had the perfect vessel – and of course, that would be PORK RIBS!
Not only do they taste phenomenal, but they are also indeed the easiest instant pot pork ribs I have ever made. You will be thanking yourself once you sink your teeth into this instant pot ribs recipe.
Have a look at these easy to follow instructions, and it won't be long, and you will be enjoying these lip-smacking pineapple ribs!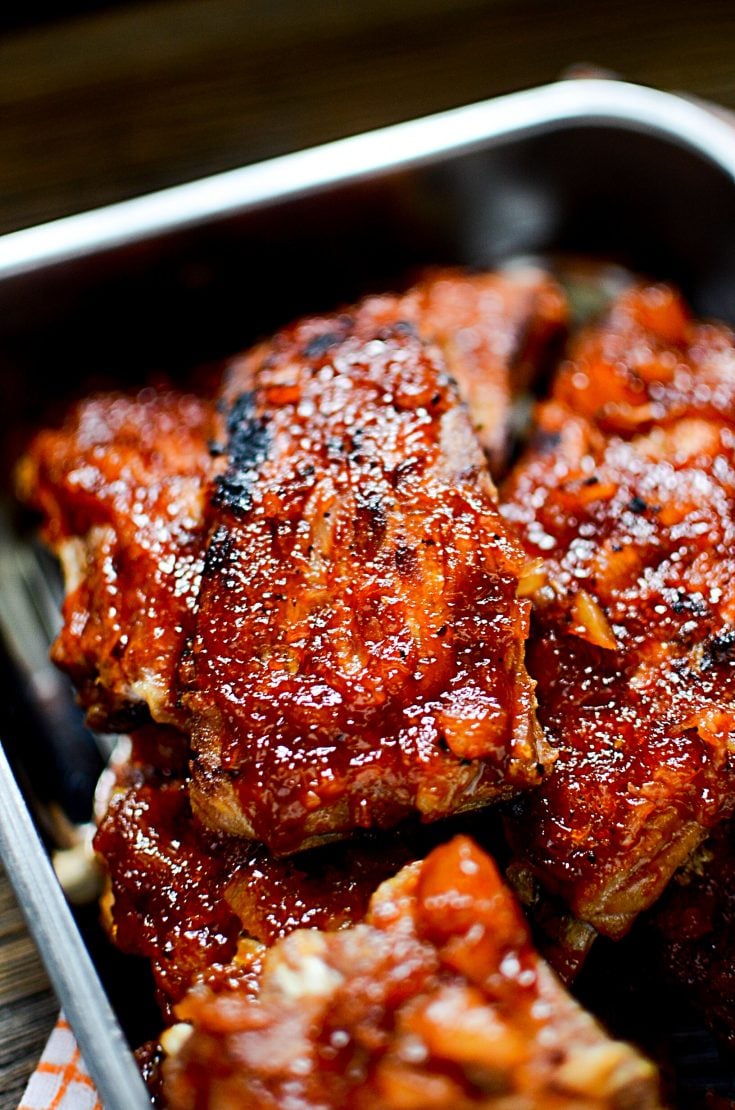 They are seriously so easy to make, it's like throwing everything together, cooking, and a short time later, you're done and ready to chow down!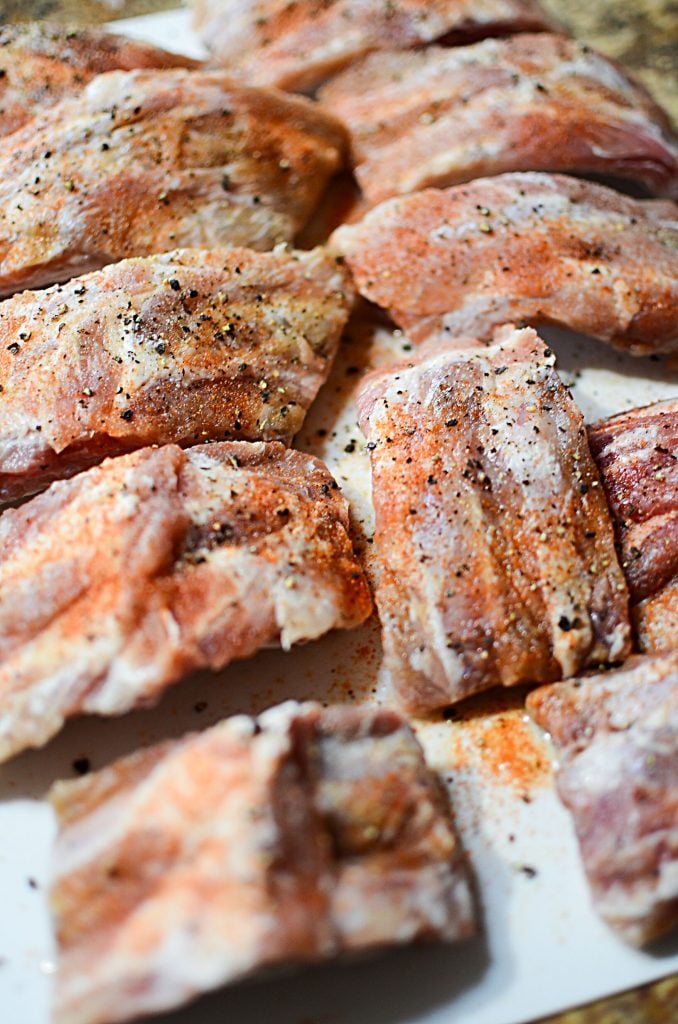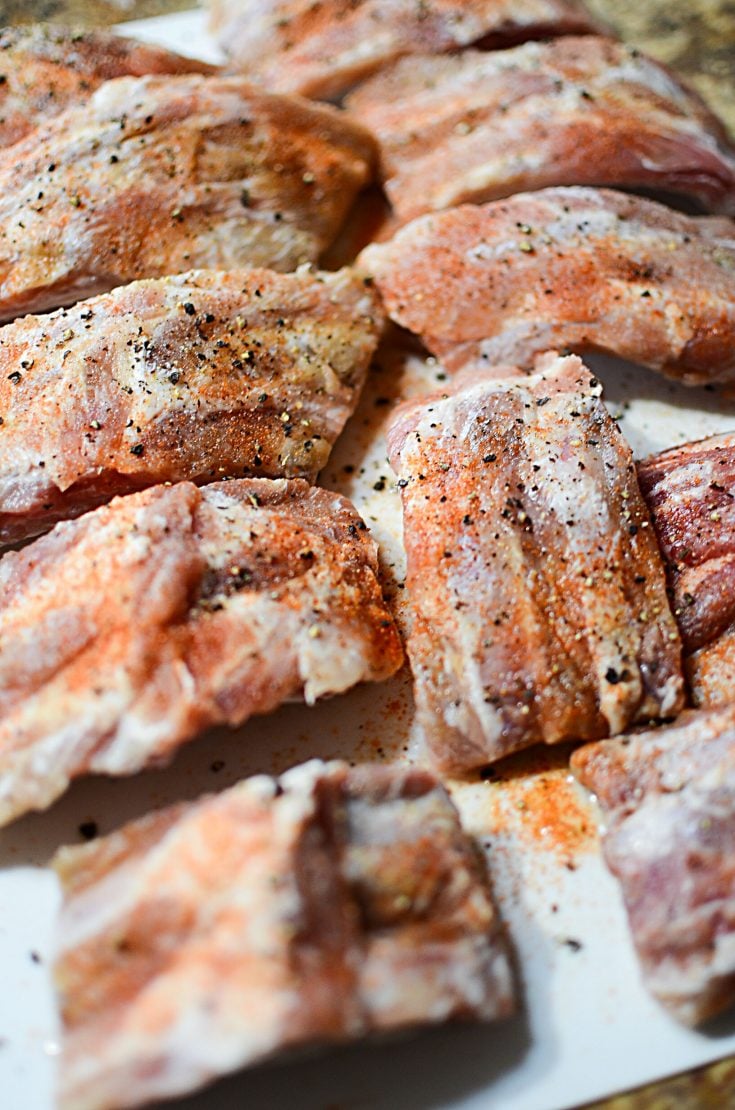 To get started, season the pork ribs up right!! I used side ribs for this recipe, but you can certainly use baby backs if you prefer. Just remember to season them liberally!
You will appreciate it later when you have lots of yummy seasonings flavoring those ribs. No one likes bland ribs, am I right???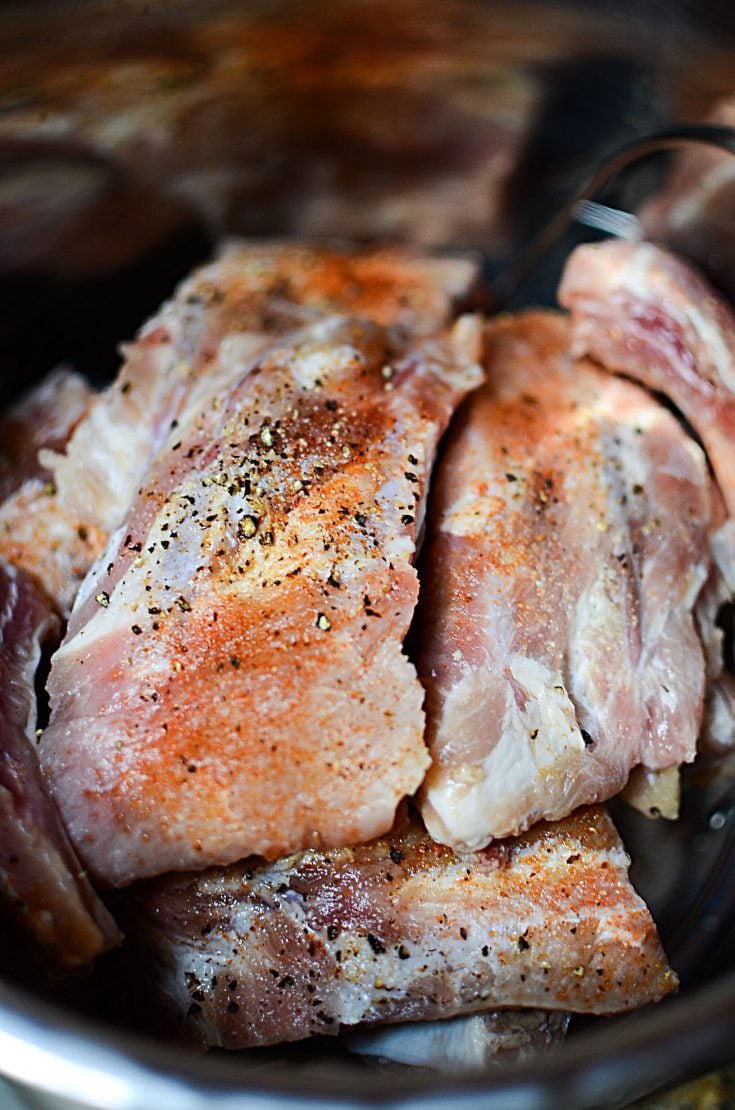 Add the ribs to the inner bowl.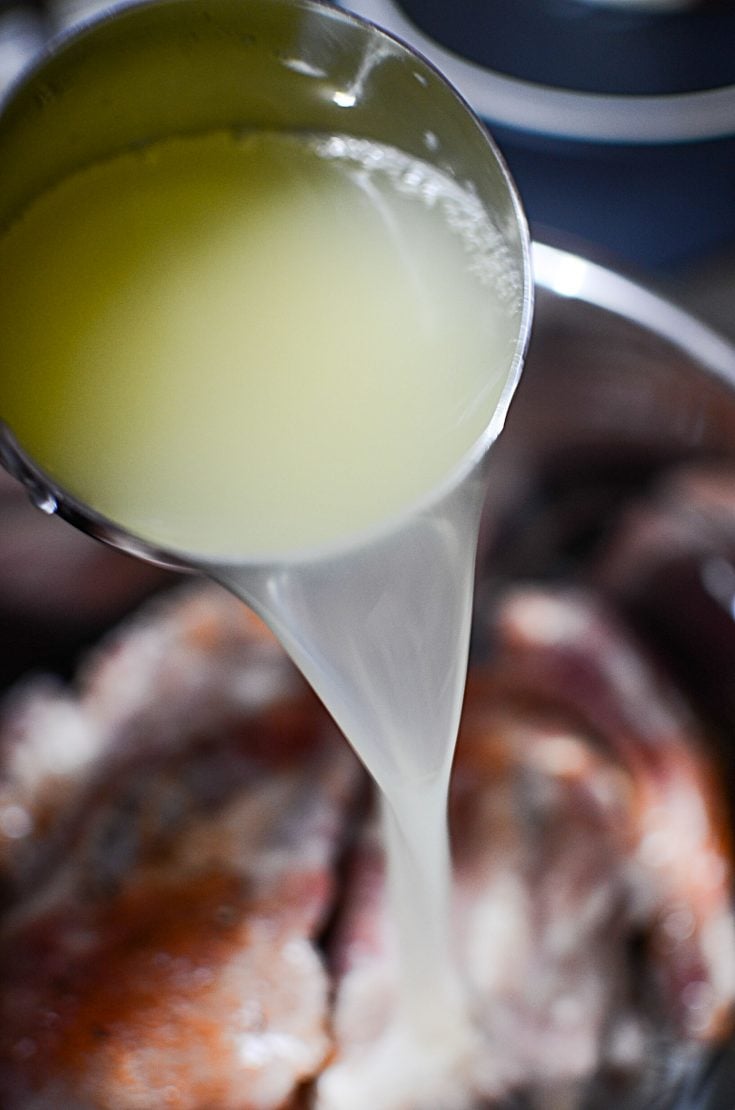 Add the juice! (don't forget this step, it's super important!!)
Tip: The ribs can't cook properly if there isn't liquid. That is what helps it pressurize and cook.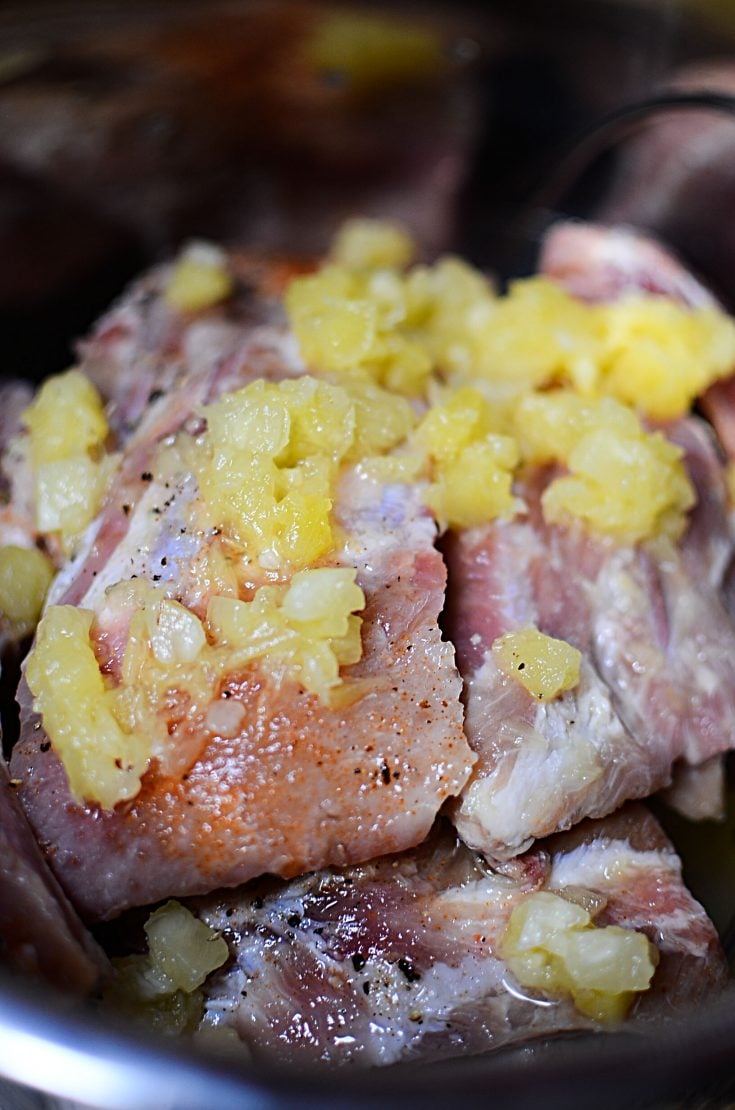 Add the pineapple on top of the ribs. Now, we are getting somewhere. 🙂
Let the Instant Pot do its thing! While you are cooking ribs in the Instant Pot, you will begin catching a few whiffs of them. Don't worry; it's perfectly normal for you to become starving during this stage.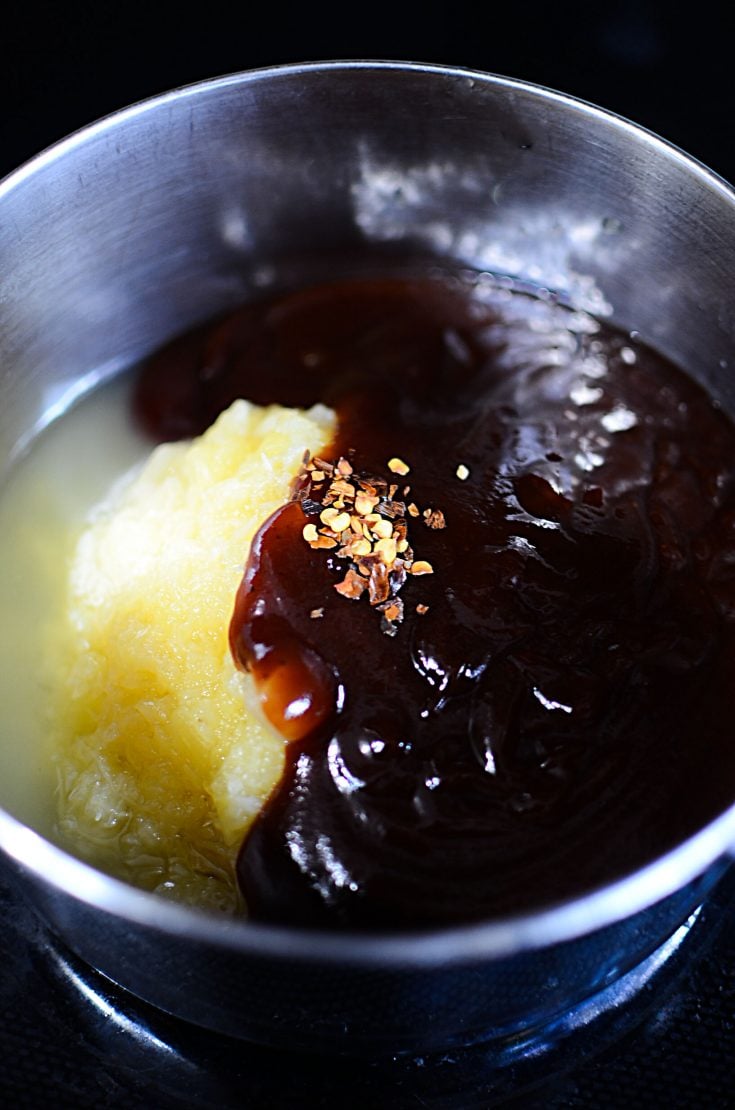 Make up the basting sauce. This sauce is so important because it will make the pineapple ribs tangy and delicious.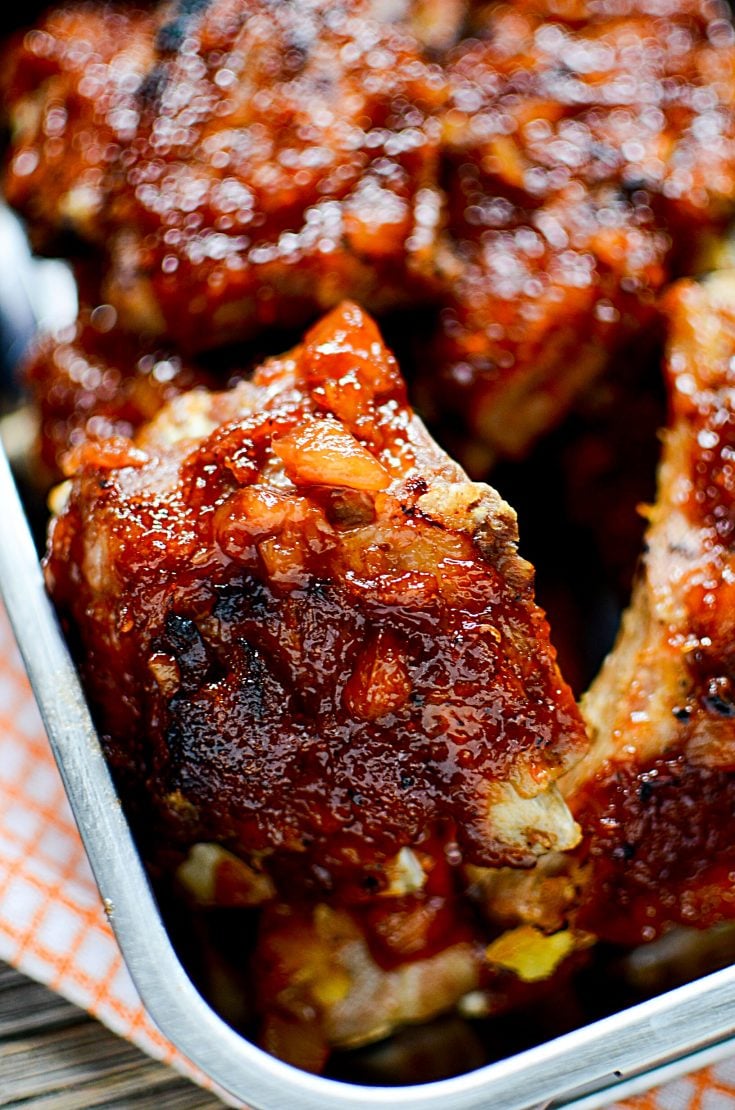 Brush on the sauce and broil! Watch them and make sure they don't burn!!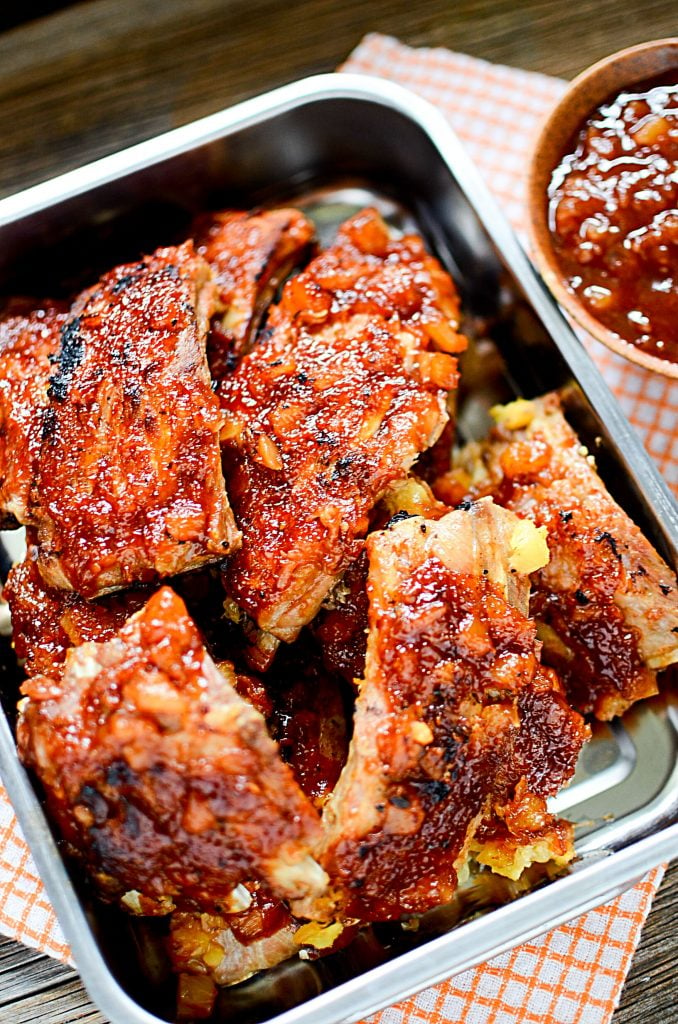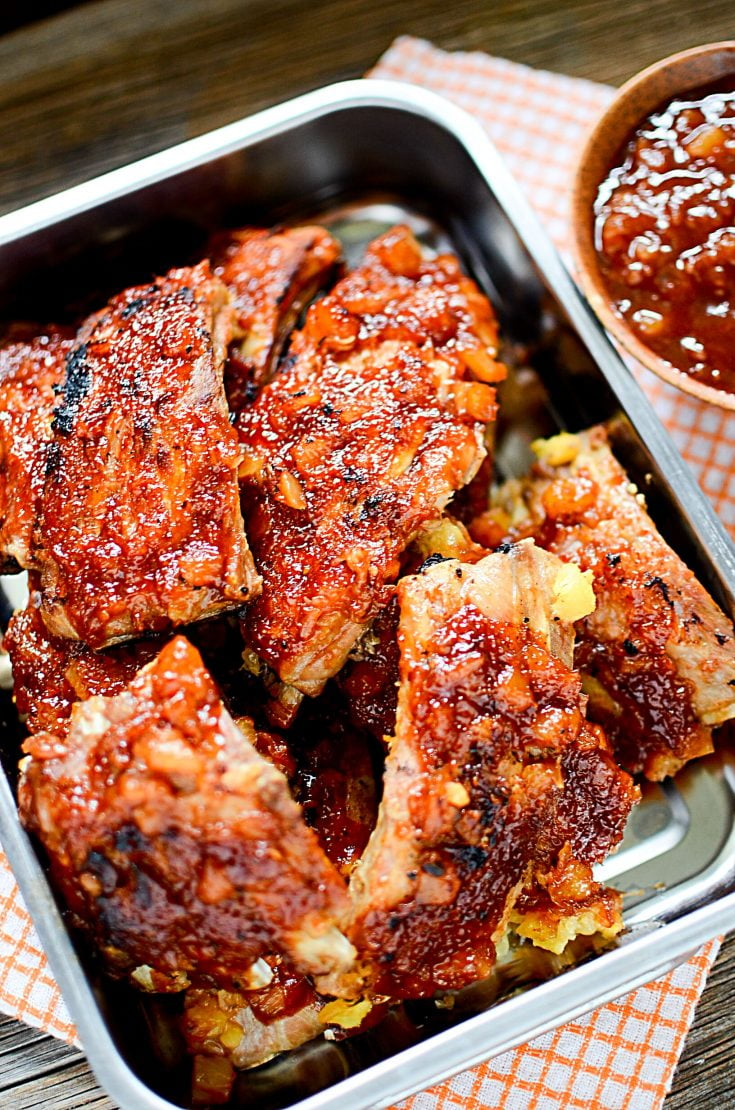 Have some sauce on the side for extra dipping if you'd like!
Can I Use Frozen Ribs When I Make This Instant Pot Ribs Recipe?
Yes, you can use frozen ribs when you make these barbecue pork ribs recipe! That is the beauty of cooking in the Instant Pot because it cooks frozen meat like it was nothing! Just add about 6-8 extra minutes to the Instant Pot when you are preparing to ensure they get cooked all the way through. You don't want to eat under cooked pork ribs for sure!
Do Barbecue Pork Ribs Have To Rest After Cooking?
No, you do not have to allow time for barbecue pork ribs to rest after cooking. As a matter of fact, if you do allow them to rest, they will cool off a lot and simply won't taste as good. Many types of meat do need time to rest, but you can devour these finger-licking ribs as soon as they are done.
How Do You Reheat Pressure Cooker Barbecue Ribs?
If for some crazy reason you don't eat all the ribs up, (which is crazy talk I know, but hey, it could happen!! lol) then you may end up with leftovers. The best thing to do to reheat them is to heat the oven to 250 degrees F. I prefer to cover them with foil, so they don't dry out. Then cook them for 20-30 minutes. Set a heat safe bowl of water in the oven too, to help put steam in the air, so the pineapple ribs stay moist. I typically put it on the pan with the ribs, but you can do whatever you want.
What Goes Good With Ribs In Instant Pot?
There are so many tasty recipes that go great with these yummy barbecue pork ribs! I wanted to share a few of my favorites for you to try:
I hope you'll find these pineapple barbecue ribs as delicious as we did! (.. and easy to make!). The Instant Pot makes fixing ribs such an easy job!! If you added extra spice to your sauce, let me know below what you thought! Did you change up the recipe at all? I want to hear about it!! Thanks so much for stopping by The Salty Pot today and I hope you have a fantastic day!
**DON'T FORGET TO SAVE THIS PINEAPPLE BBQ INSTANT POT RIBS RECIPE TO YOUR FAVORITE PINTEREST BOARD TO SAVE FOR LATER!!**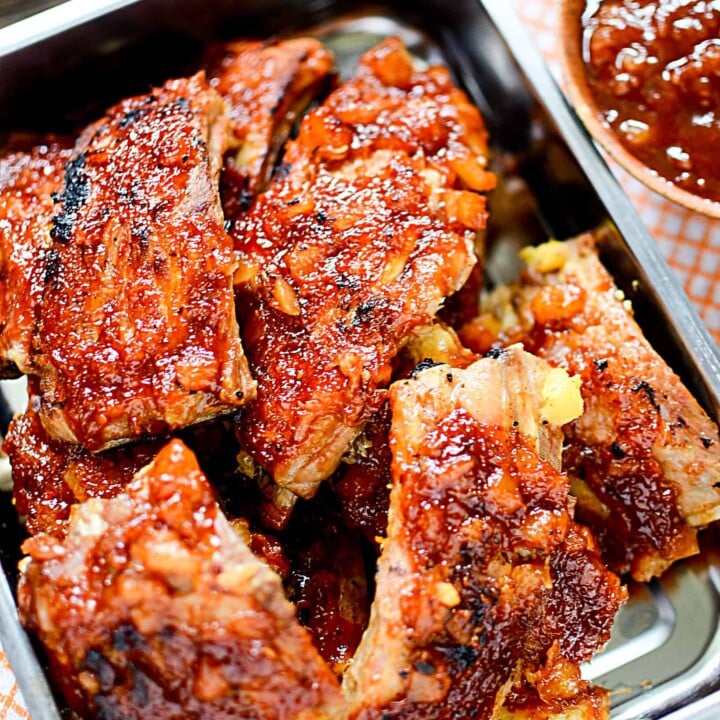 Pineapple BBQ Instant Pot Ribs
Yield:
1 large rack pork side ribs
Additional Time:
5 minutes
Pineapple BBQ Instant Pot ribs!!! These ribs are incredibly delicious and so simple to make! Sweet & tangy, these instant pot ribs are tender with that tropical pineapple flavor! #thesaltypot #instantpotribs #instantpotrecipes #instantpot #porkribrecipes #bbqribs
Ingredients
1 large rack of pork side ribs
2 cans pineapple, crushed (2x20oz) (see notes)
1 cup BBQ sauce (your favorite)
3/4 tsp garlic powder
1/2 tsp onion powder
as desired, seasoning salt and pepper
1 tsp dried chili flakes (OPTIONAL)
Instructions
Season the pork ribs with salt, pepper, garlic and onion powders. Cut the rack into sections so that it fits nicely into the instant pot insert.
Put the ribs in the pot and add 1 cup of the reserved pineapple juice.
Also, add one drained can of the crushed pineapple
Put the lid on and turn the toggle switch to "sealing"
Select manual high pressure for 25 minutes. After cooking time is up, let it do a natural release for 5 minutes and then expel the rest of the steam by doing a quick release.
While the ribs are cooking, in a sauce pan, add a 1/3 cup of reserved pineapple liquid. If there isn't enough, simply use water.
Add the second drained can of pineapple, the bbq sauce, and the chili flakes if you're using them.
Heat to a boiling point and then reduce heat to simmer. If you find the sauce is a bit too runny, just simmer to reduce the sauce to a consistency you prefer.
When the pin drops in the IP lid after completing the natural release, remove the lid and carefully remove the ribs onto a foil lined baking sheet.
Brush on generous amounts of sauce over the ribs and broil for 2 – 3 minutes or until you begin to see some color develop on the ribs. Be very careful to not let them burn!
Remove from the oven and let them rest for 5 minutes before serving.
Enjoy!!
Notes
** Drain both cans of crushed pineapple but reserve the juice from both cans.