This moist zucchini bread is so incredibly delicious. Warm spices with toasted nutty walnuts, it's perfect with a cup of coffee or tea and you wouldn't know it has healthy zucchini in it!
Okay, so you've heard of banana bread and now you're willing to try your hand at something a bit different. Well, this moist zucchini bread recipe is just that, and guess what- it is amazingly pretty delicious (not to mention healthy) too!
Ready to give it a shot? Read on to discover how to make it, and put it to use!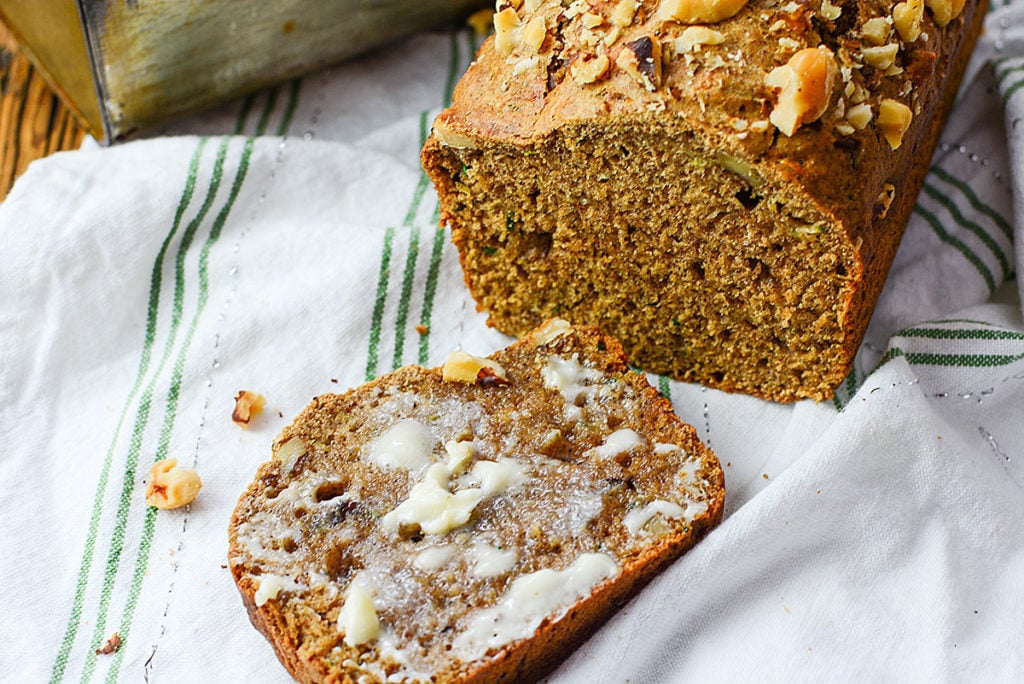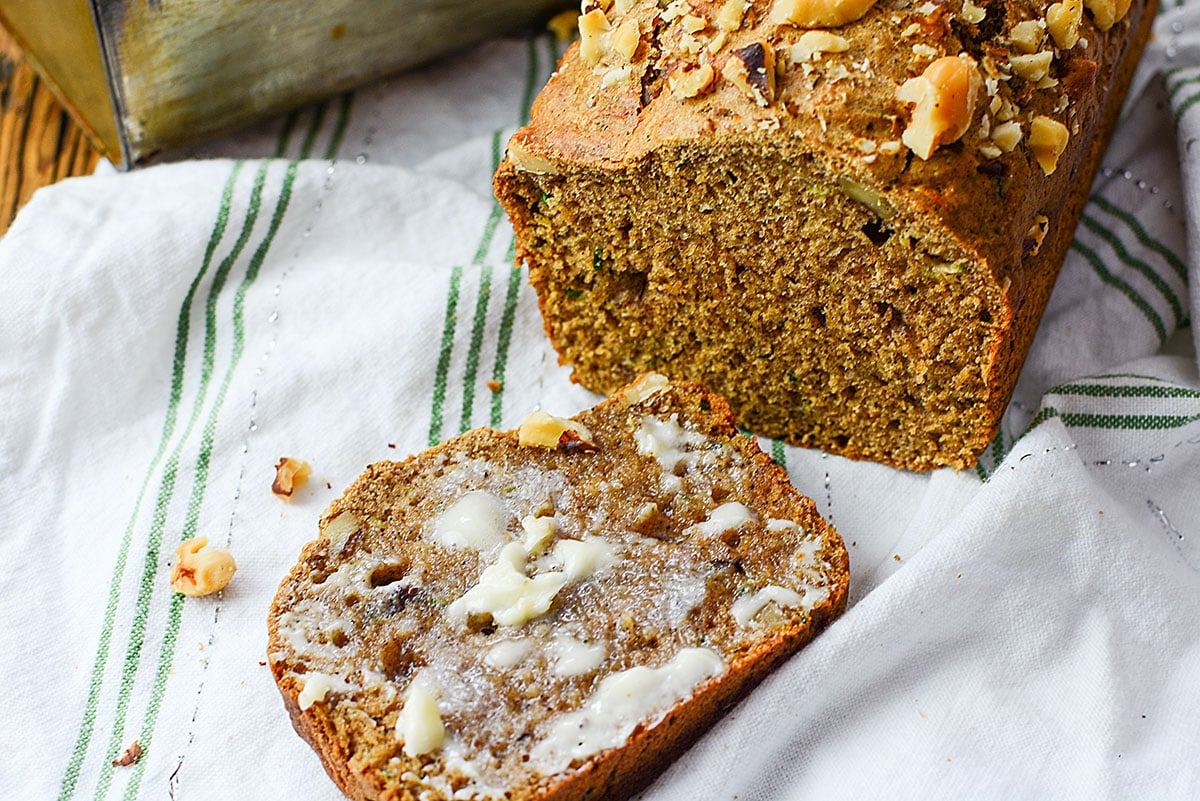 Ok, So Why Zucchini Though?
Whether you're thinking of putting those extra zucchinis to use or just thinking of switching to something a bit healthier, this easy dessert loaf recipe is the answer.
Zucchini is low in calories, high in vitamins and fiber. Our green friend also possesses good amounts of calcium, iron, and potassium!
Apart from being an excellent source of many nutrients and antioxidants, zucchini is also the perfect food choice if you're trying to create a healthier version of a meal.
Why?
Well, because it has a very mild flavor, which can be easily hidden by pairing it with something stronger to hide the flavor.
In fact, a lot of bakers swear by how it can add a ton of moisture and a healthy punch to your bakes without any veggie flavor. Plus, it is so tender, its texture almost disappears once you bake it.
Sounds perfect right? … That's because it is!!

Ingredients needed for this dessert bread
So of course, you'll need the obvious- zucchini, to whip up this bread, but there are other interesting ingredients in this zucchini bread recipe you might like. You'll need-
shredded zucchini
applesauce 
oil 
white sugar 
brown sugar 
regular baking ingredients, (flour, baking powder, etc)
spices!
This zucchini bread recipe is as simple as mixing the ingredients together, pour it into a greased bread loaf, and bake until a toothpick inserted in the center comes out clean. 
Freezing Zucchini The Right Way
So if you find yourself with too much zucchini, never let it go to waste! Simply clean it up, shred, and freeze.
When you're shredding zucchini, you don't actually have to peel it. Just washing it is fine.
Also, when you pop it in the freezer, (in freezer-safe bags please!) make sure you lay it flat instead of in a clump or a ball. They store nicer that way and thaws in a snap.
Plus, this moist dessert bread recipe also contains applesauce, which is another moisture lending ingredient that packs in a lot of antioxidants and heart-healthy benefits!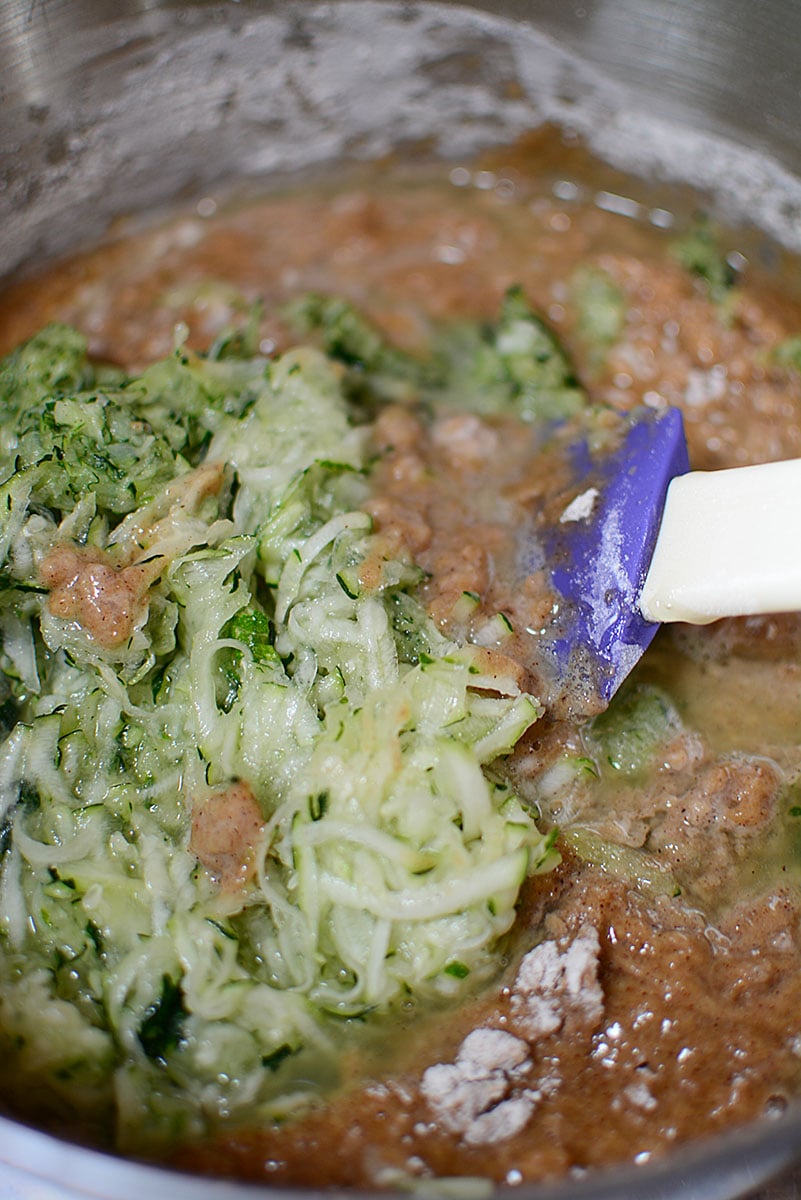 Cook's tips and tricks
When you're finally putting the frozen zucchini to use for this recipe, don't discard the extra water that it releases. The water can actually help retain moisture in the bread.
If you don't have brown sugar, you can replace it the whole amount with white sugar. I added brown sugar just to give the bread a nice depth of flavor.
What Nuts Can I Use In This Zucchini Bread?
Walnuts are classic in a slice of nice moist zucchini bread, but feel free to use your favorite nuts, or whatever nuts you have on hand. In fact, you can leave the nuts out, but I highly recommend adding them for extra texture and flavor!

How To Serve Moist Zucchini Bread
Well, apart from having it as is, or with a little pat of butter, there are many different ways you can put this to use.
Ice cream: How about serving it alongside a nice scoop of ice cream? Warming the zucchini bread and eating it with the cold icecream would be flavor and textural contrast that would be amazeballs!!
Croutons: You can also allow some of the bread to dry out, cut it out into small squares and then use them as dessert croutons! Then take the dessert croutons and make a super delicious parfait dessert similar to this Banana Bread Parfait that I made!
Cookies: If you're not sold on making two loaves, how about making one loaf, and then you can also try making cookies using the same batter. Simply drop the mixture on a baking sheet into small rounds and bake for 10-12 minutes until they are crisp from the outside and baked throughout. 
Muffins: And yes, add some chocolate chips and they can turn out to be great muffins too! 
How Long Will Zucchini Bread Keep Stored?
This moist zucchini bread can stay fresh in the fridge for 7-10 days. Keep in mind, you can freeze it too- it can stay good when wrapped in a cling wrap, and then placed in a freezer-safe bag and frozen for up to 3 months.
Well, that's it for today, my gorgeous reader! I hope you enjoy this moist zucchini bread recipe and when you go to make it, please comment below or email me about how you changed it up!! As always, thank you so much for stopping by The Salty Pot today and I can't wait to see you next time!!
~Joanne
Moist Zucchini Bread Recipe
Total Time:
1 hour
10 minutes
This super moist zucchini bread recipe makes two delicious loaves. One to eat now, one to freeze for later! You can use fresh or frozen zucchini for this recipe and it comes together so quickly, it's insanely easy. Plus the addition of tasty walnuts just brings this zucchini bread to a whole new level!
Ingredients
2c zucchini, shredded (can use fresh or frozen - see notes below)
3c all purpose flour
dash salt
1 teaspoon baking soda
1 teaspoon baking powder
1 ½ tablespoon cinnamon
½ teaspoon nutmeg
3 eggs
½c vegetable oil
½c applesauce
1 ½c brown sugar
½c white sugar
3 teaspoon vanilla
1c walnuts
Instructions
Preheat oven to 325
In a bowl, sift flour salt, baking powder, baking soda, and cinnamon.
In a different bowl, beat eggs, and add vanilla, oil, applesauce, and sugars
Slowly add the wet into the dry ingredients. Mix only until the mixture comes together.
Fold in the zucchini and nuts.
Transfer into 2 greased loaf pans. Garnish with extra walnuts if desired.
Bake for 50 - 55 minutes, or until an inserted toothpick comes out clean.
Remove from the oven and let sit five minutes.
Transfer loaves out of the pans and onto a cooling rack until cool.
Notes
If you're using frozen zucchini for this recipe, don't discard the extra water that it releases. The water can actually help retain moisture in the bread. 

Don't overwork the batter or the bread can become tough.
If you don't have brown sugar, you can use all white sugar. If you like your zucchini bread on the sweeter side, increase the sugar by ½ c.
Nutrition Information:
Yield:

12
Serving Size:

1 slice
Amount Per Serving:
Calories:

347
Total Fat:

16g
Saturated Fat:

2g
Trans Fat:

0g
Unsaturated Fat:

14g
Cholesterol:

47mg
Sodium:

22mg
Carbohydrates:

44g
Fiber:

2g
Sugar:

18g
Protein:

7g