SLOW COOKER CHICKEN AND BISCUITS! What more can I say about it? This yummy cheesy chicken recipe comes together super quick and seriously, is the EPITOME of comfort food. Seriously.

CHEESY CHICKEN AND BISCUITS: Ingredients
I had 3 chicken breasts that needed to be used up, and a limited amount of time to do it in. I knew I had to use the slow cooker on this one. I love my slow cooker because it allows me to set it up, and let it do it's thing while I get a million other things done.
Most likely you'll have most of these ingredients on hand – that's the beauty of this recipe. (and honestly, if you don't have them on hand, you'll be able to quickly pick them up from any grocers because they're quite common!)
Chicken breasts (can use boneless, skinless chicken thighs as well, just use 5-6 or so)
Can of both condensed bacon cheddar soup (regular cheddar soup is fine if you can't find the bacon cheddar one) and cream of chicken soup
Milk or water
Onion and garlic powder
A tube of canned biscuits
Shredded cheddar
Rice or quinoa (cooked)
Making this awesome slow cooker cheesy chicken and biscuits dish
Awww, my gorgeous reader, it's SO simple! First, season the chicken after putting it in the slow cooker insert.
In a different bowl, simply mix the two soups together with the milk or water (whichever you prefer to use). Whisk it together, add the garlic and onion powders, and a bit of pepper if you wish.
I wouldn't add any salt as the soups usually have enough sodium, and besides, you can always add more salt at the end, but you can't really take it away, you know?
So just pour it over the chicken, cover with the lid, and set it on low for 7 -8 hours or high for 4-5 hours.
After that cooking time is up, remove the chicken from the bowl and using two forks, pull apart the chicken breasts to shred them.
Transfer the chicken back to the slow cooker, and give it a good mix. Then the best part – open that crazy tube of canned biscuits and taking each one, just rip them into bits and throw them on top of the chicken mixture.
Cover it all again and let it cook for another ½ hour or so, or until the biscuit bits (haha.. I like that term!) are cooked through.
Lastly, just throw on your shredded cheddar, cover and let it melt and get all nice and melty!!
When you're ready to serve, spoon some of this amazing slow cooker cheddar chicken over top some cooked rice or quinoa.
You could even use wild rice or heck, if you really want, mashed potatoes would be nice as well. That cheesy sauce over mashed potatoes would be divine!!
If you're like me and love slow cooker recipes, here is another yummy and easy dinner idea~ Slow Cooker Pineapple BBQ Meatballs dish: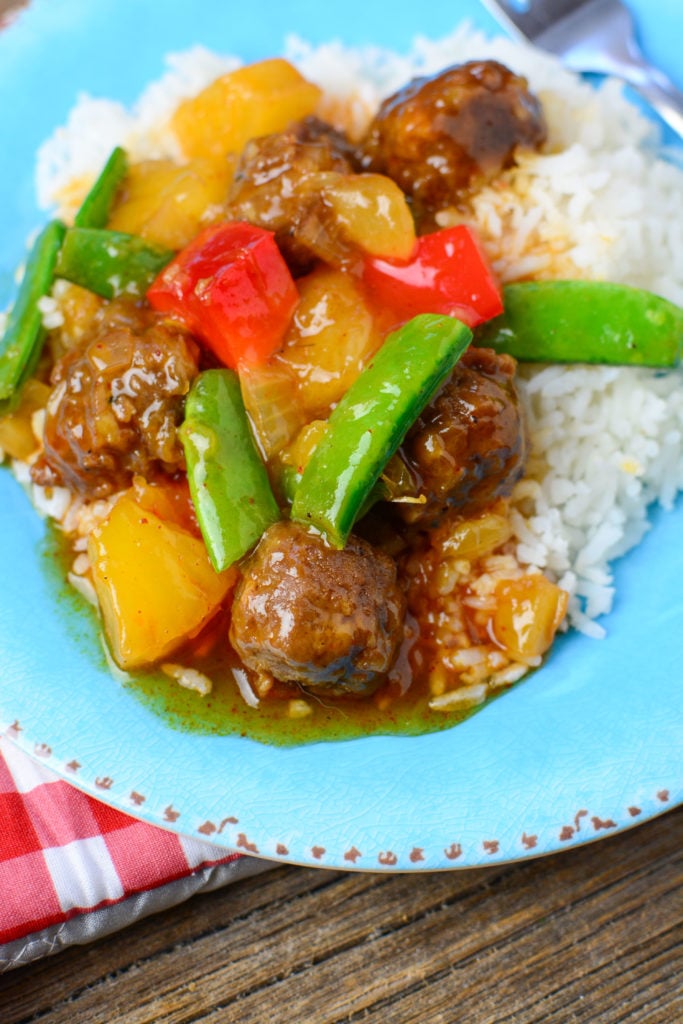 Or how about a dessert? This Slow Cooker Chocolate Cherry Cake is SO easy and SO amazingly good!!!

*******MAKE SURE TO PIN THIS SLOW COOKER CHICKEN AND BISCUITS RECIPE TO YOUR FAVORITE PINTEREST BOARD FOR SAFEKEEPING! *******

Slow Cooker Cheesy Chicken and Biscuits
Total Time:
7 hours
10 minutes
Slow cooker comfort food at it's finest! Creamy cheese sauce, juicy chicken topped with soft biscuits, all done in the slow cooker! This crock pot dish will be one in your regular rotation - it's so easy, using ingredients right from your pantry!
Ingredients
1 lb chicken breast, (usually around 3 breasts)
1 can bacon cheddar soup, (regular condensed cheddar soup will be fine)
1 can cream of chicken soup
1 tube canned biscuits, (5 - 8 biscuits)
½ cup cheddar cheese, shredded
½ cup milk or water
1 teaspoon garlic powder
½ teaspoon onion powder
as desired salt and pepper
Instructions
Place the chicken in the slow cooker bowl. Season with salt and pepper
In a separate bowl, combine the two soups and the milk or water. Whisk to incorporate. It's ok if the soup is slightly lumpy, they will dissolve during cooking. Add the garlic and onion powder.
Cook for approximately 6-7 hours on low or 4-5 hours on high.
When cooking time is up, remove the chicken and with two forks, shred the chicken. Add the chicken back to the slow cooker.
Open the can of biscuits and rip them into small bits. Put them on top of the chicken and cover. Let cook for another ½ hour or until the biscuits are cooked through.
Before serving, sprinkle the shredded cheddar onto the biscuits and cover to let the cheddar melt and get all nice and melty!
Serve on rice or quinoa! Enjoy!
Notes
Do not add extra salt in the cooking process. The soup typically has a lot of sodium in it but if you need to add extra, it's best to determine that at the end.

You can serve this chicken and biscuits over rice or quinoa. Also, mashed potatoes would be excellent!
Nutrition Information:
Yield:

8
Serving Size:

1 ½ c
Amount Per Serving:
Calories:

228
Total Fat:

10g
Saturated Fat:

4g
Trans Fat:

0g
Unsaturated Fat:

5g
Cholesterol:

67mg
Sodium:

597mg
Carbohydrates:

10g
Fiber:

0g
Sugar:

0g
Protein:

23g