Hi lovelies!! I have a Honey Mustard Glaze today that will go great with A.N.Y cut of pork!! It's a game-changer!! All cuts, any cuts!!! Except for bacon, of course.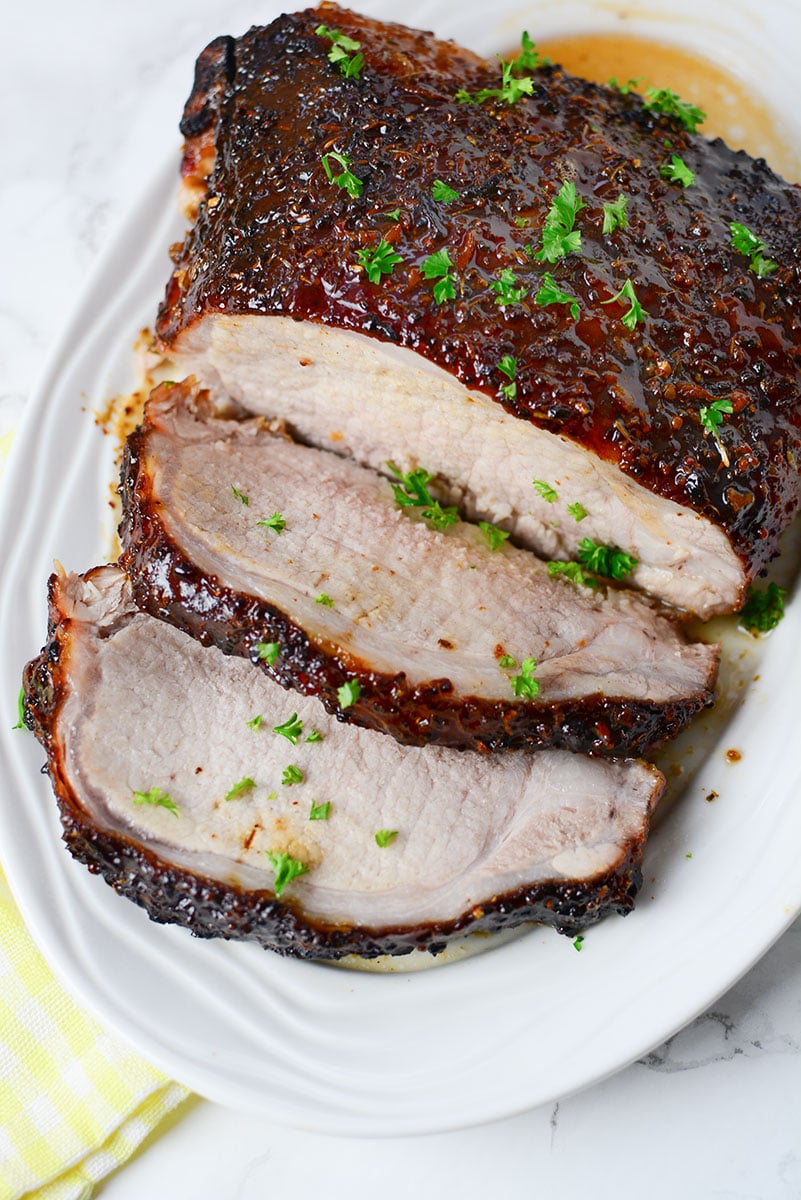 Sweet and Tangy Honey Mustard Glaze
So based on the title, I'm sure you can tell that the glaze for this pork is sweet and tangy, much like the dipping sauce that you'd get when buying chicken nuggets. (Maybe not quite a sweet though).
Anyway, it's super easy to put together and it's a quick way to make usually bland tasting pork taste amazingly delicious!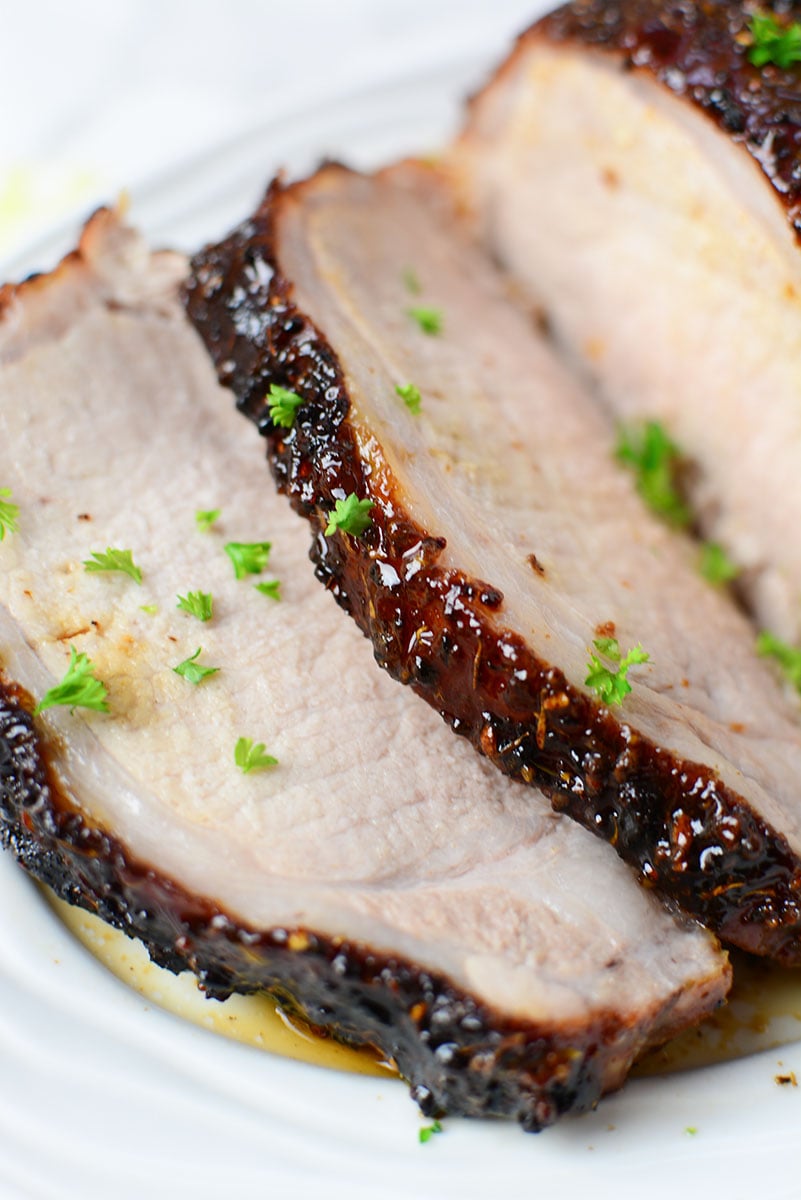 Cuts Of Pork To Use With The Honey Mustard Glaze
So, as I mentioned earlier, you can use pretty much any cut you'd want. Really, the most important thing here is what you'll be doing with the pork that you buy.
Here's what I mean:
1. Today I used a Pork Loin roast. (that's not to be confused with a pork tenderloin roast). I liked this cut because it was on sale (and you know me, I love all that's frugal), and the pork loin roast has a nice 'fat cap' on it that helps add a lovely flavor and keeps the roast moist.
2. Pork Tenderloin Roast. – These are the sort of longer, skinnier type roasts that you see in the stores. Typically they are leaner than a pork loin, so I think I would cook it lower and slower than the pork loin roast, but this honey mustard glaze would be AMAZING as a glaze on the pork.
3. Pork Butt/Shoulder Roast – this is the cut that you'd use if you were to make a pulled pork situation. Again, this glaze would be SO amazing on this cut, and when you pulled the pork roast I would have extra glaze to mix in with the pulled sections of meat, which when put back into the oven would make absolutely incredible carnitas!
4. Pork Chops – Again, pretty simple here, roast them in the oven with the glaze on top so it gets nice and caramelized!
5. Pork Ribs – Ok, so while the glaze on pork ribs would be great, I know I prefer a nice bbq sauce on my ribs. So, that being said, you could always mix some of the glaze in with the bbq and use that to cover the ribs. Having said that, you could always use this pork glaze on country style ribless pork ribs and they would also be super delicious!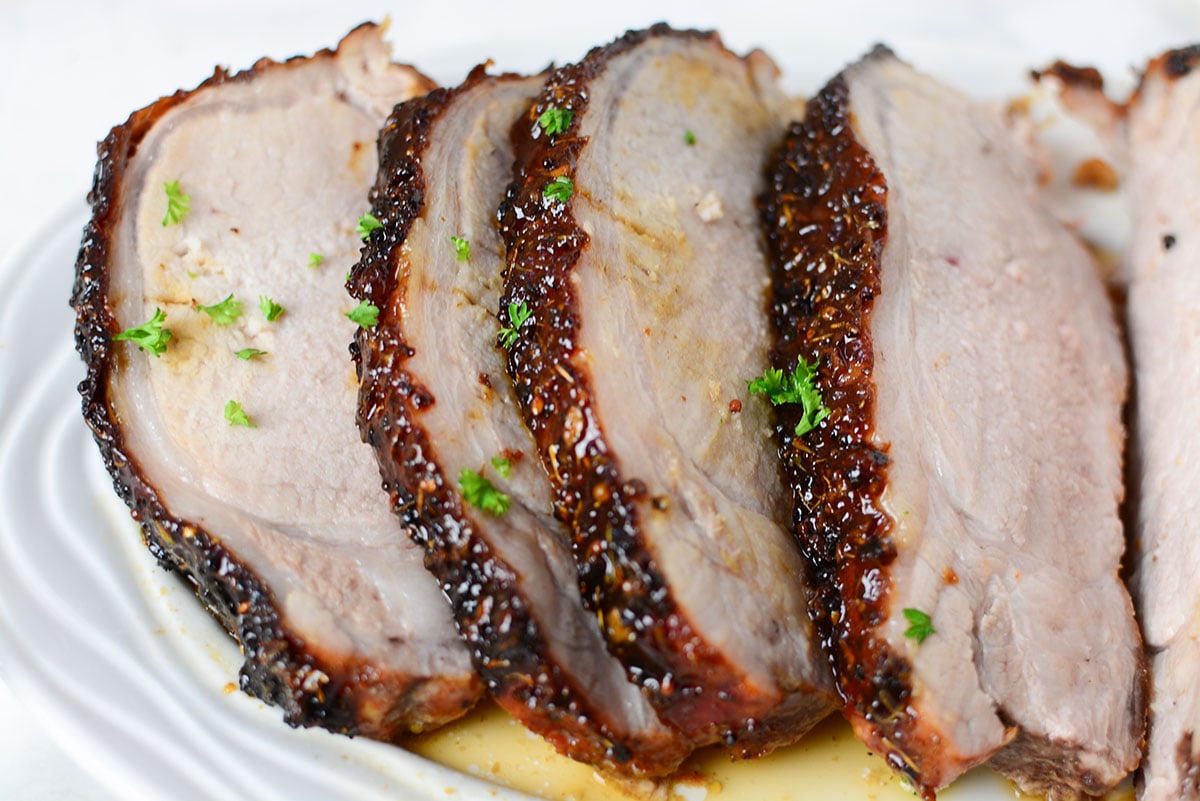 Can You Freeze This Pork Glaze?
I haven't tried it yet, but I think you could if you wanted. So when making it for dinner, why not make a double batch (Why didn't I think of this???), and freeze half of it to use for next time! I would freeze it in a freezer friendly zip-close bag.
If you freeze the bag flat, then it takes up very little space in your freezer. Write the date on it, and then you're off to the races for next time!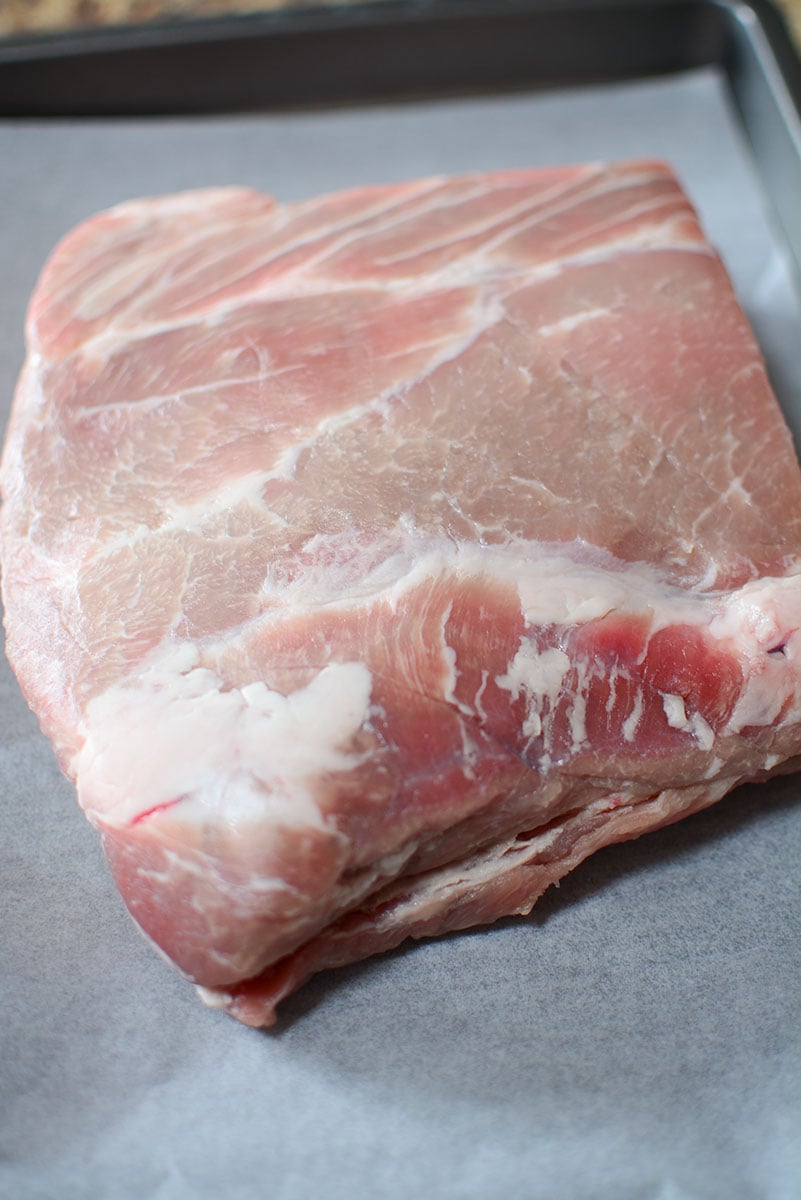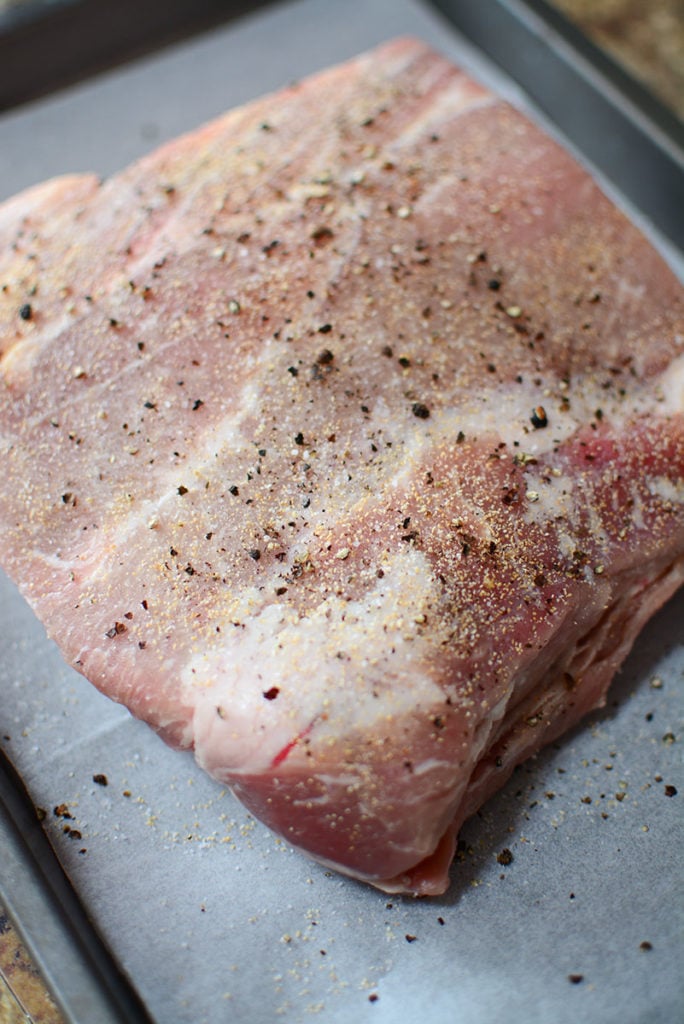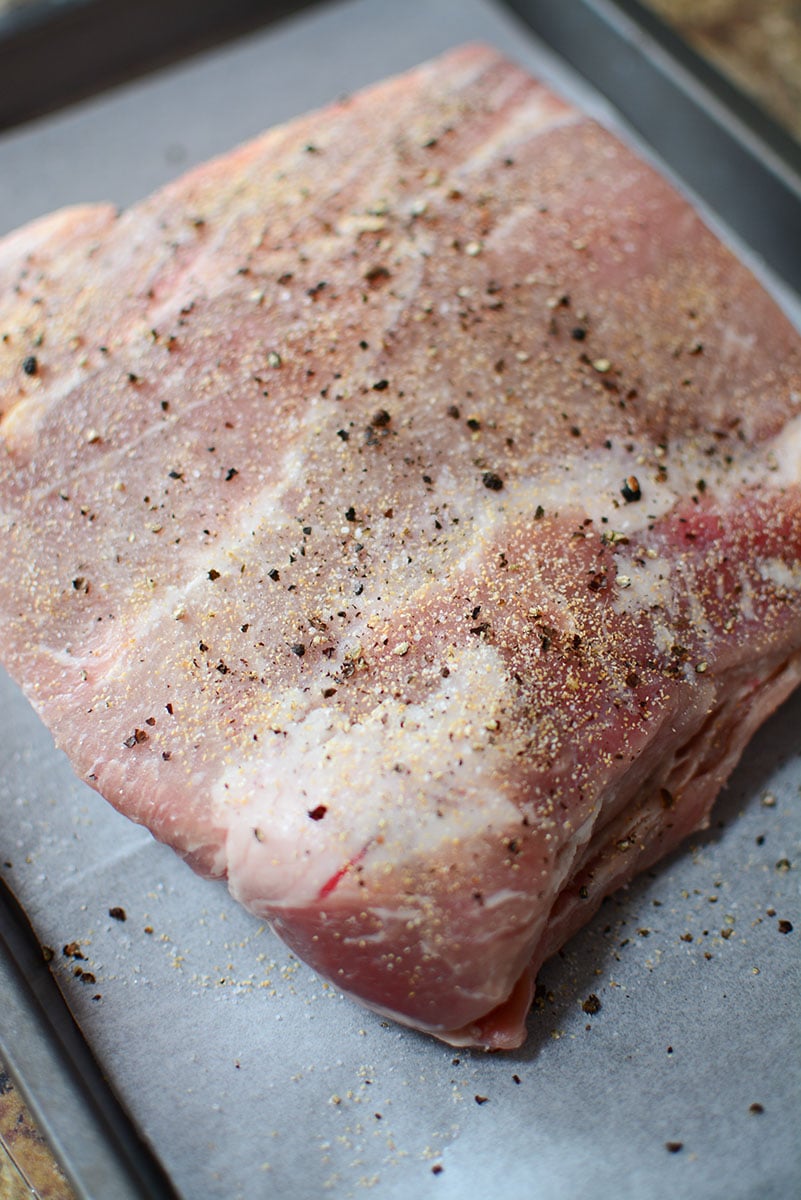 Can I Make The Glaze Ahead of Time?
Yep, why not? You could even use some of the glaze as a marinade for the pork! So season the pork, place the pork in a container, add a quarter or even half of the glaze and let it marinate for 4-6 hours in the fridge. Then use the rest of the glaze for basting as usual.
OR…
You could make the glaze itself up the day before and leave it refrigerated in an airtight container if you're not going to marinate the pork. That way, when you're ready to get your roast on, the glaze is already made up and ready to go.
WIN-WIN! I just love convenience, don't you?? Yaay!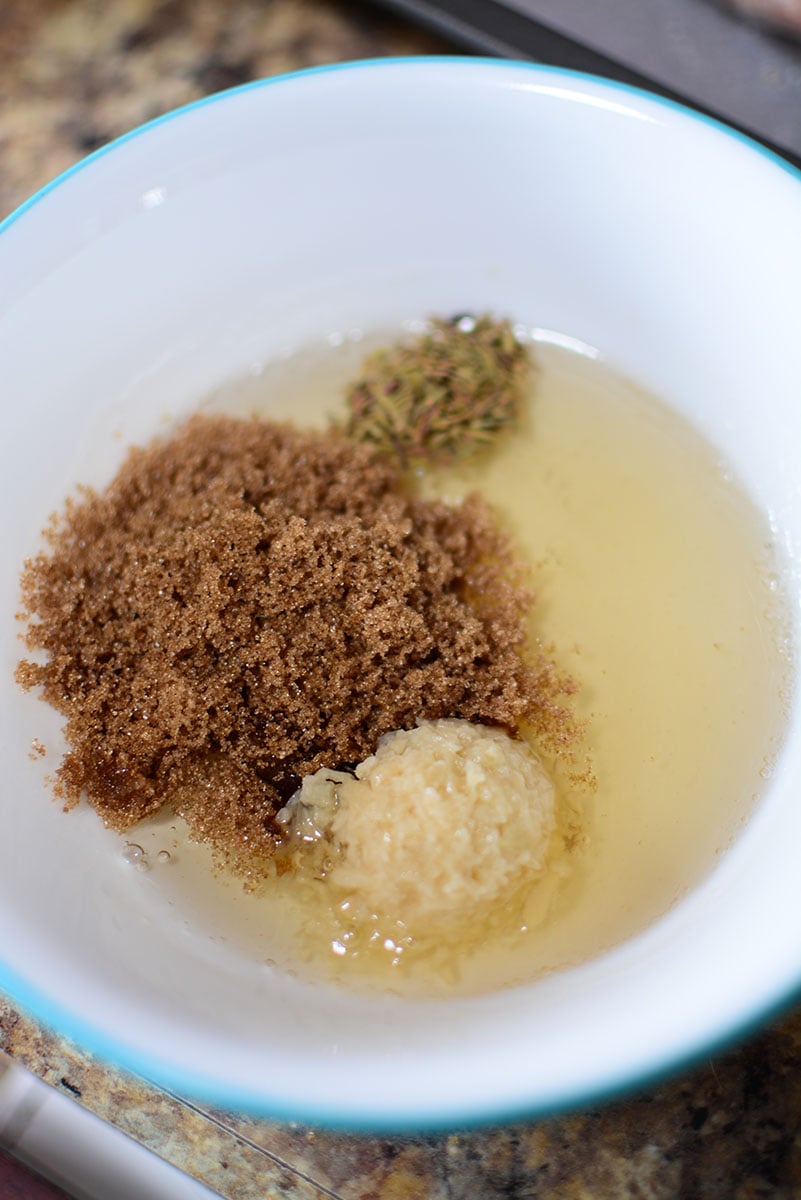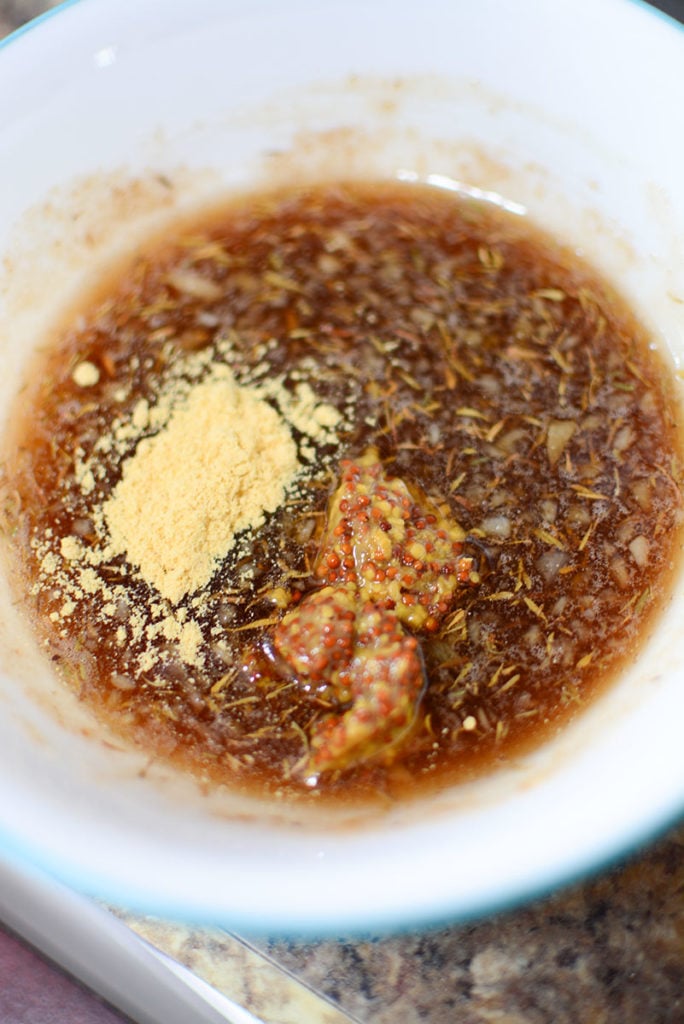 What Else Can I Use This Honey Mustard Glaze With?
Well, pretty much any protein except for beef, I'd say. I don't think beef would take kindly to this sort of glaze, but those would be my flavor preferences. However, I'd use this pork glaze on :
Roast chicken (YUMMMYYYY!!)
A nice firm Fish Filet, such as salmon or halibut
Duck breast would be amazing with this glaze!
Of course, chicken pieces of any sort.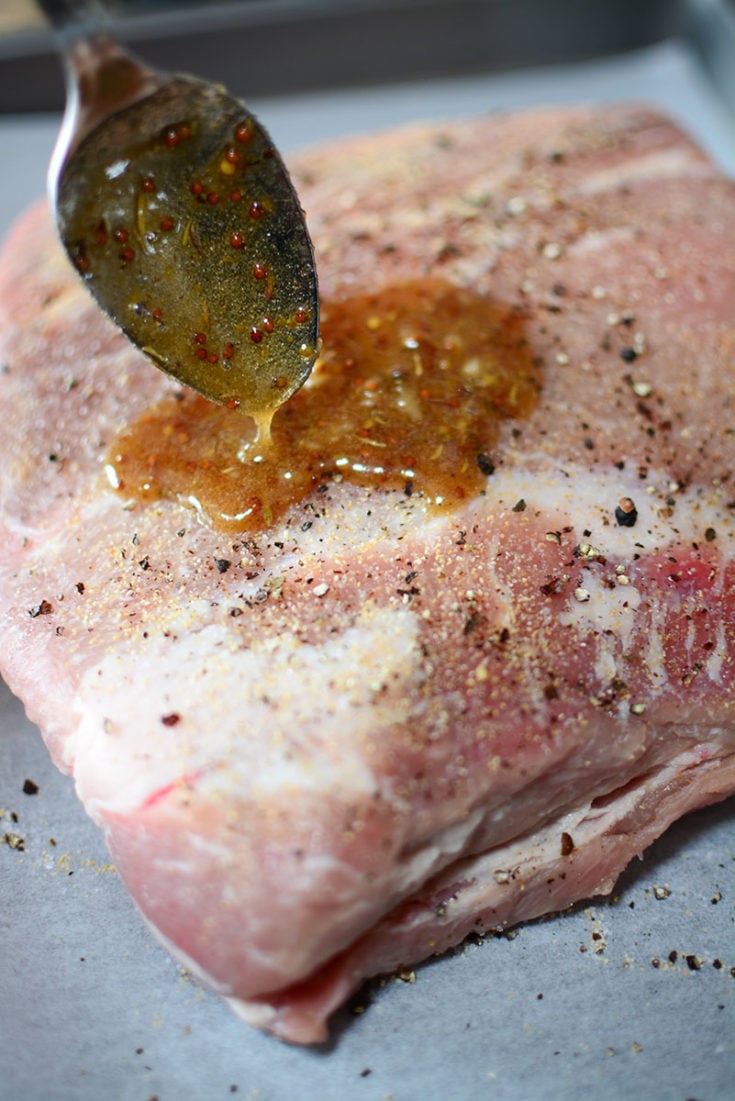 How Long Will The Glaze or the Glazed Pork Be Good For?
The glaze for the pork will stay fine in the fridge for up to a week.
If you're wondering about a COOKED roast, I would say the honey mustard glazed pork would hold nicely in the fridge for up to 4 days.
I don't think I'd go farther than that AND, please don't hold the RAW pork, marinated, for that length of time.
Only marinate the pork 4 – 6 hours or at the very most, overnight. Ideally, I would add the marinade to the pork around noon and then keep in the fridge all afternoon until you're ready to cook.
Please let the pork come to room temperature after coming out of the fridge. Let it sit for approximately 20 – 30 minutes so the internal and external temperatures even out so roasting the pork will be much easier.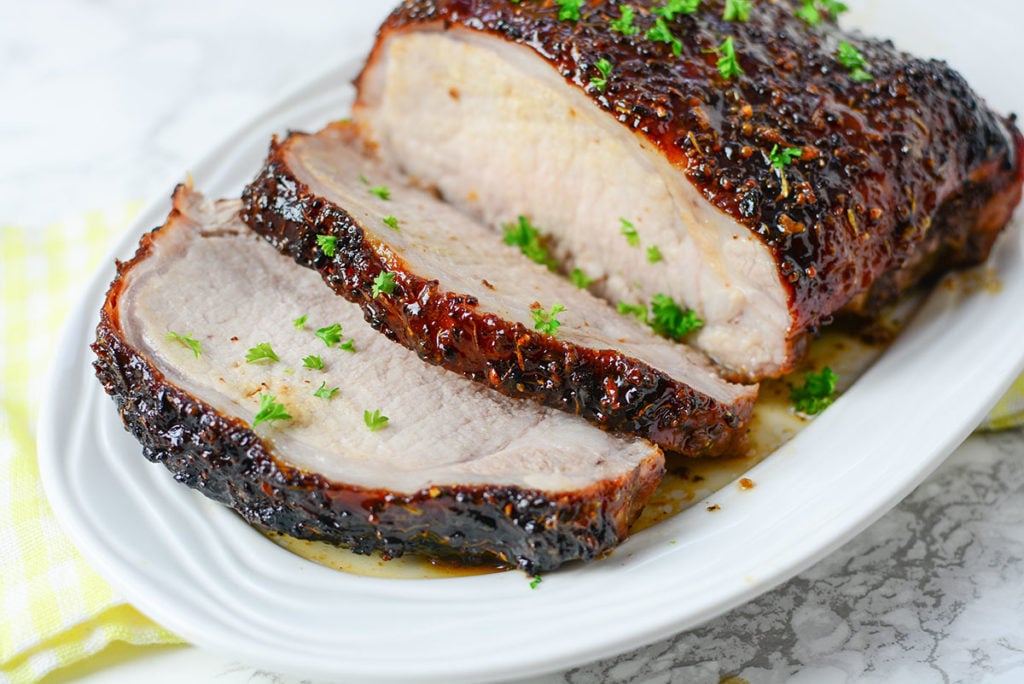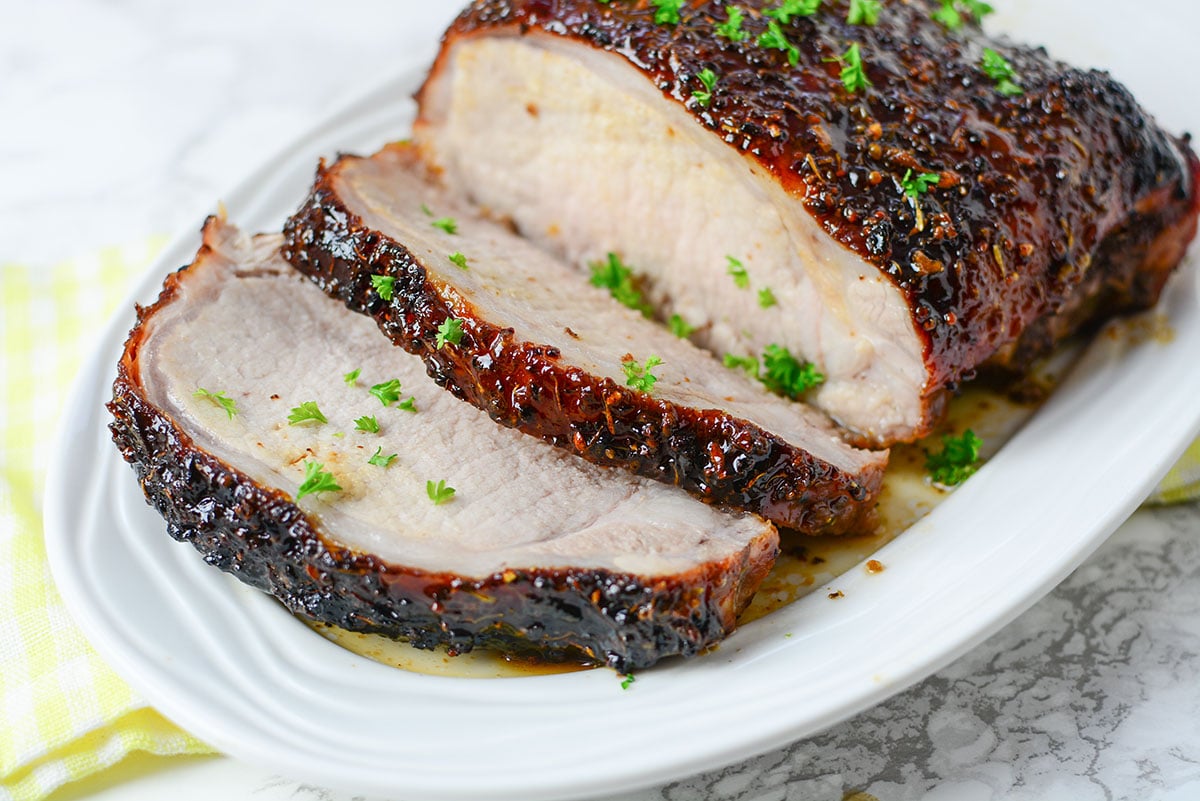 Roasting The Pork
You'll want to use a nice roasting pan and cook it covered for part of the roasting time. Near the last half hour, apply more glaze and then in the last few minutes, add the last bit of pork glaze and broil the roast to achieve that nice crusty, caramelized top.
Please be sure the internal temperature of the pork is 145 degrees Fahrenheit, and when removing the roast, let it sit, tented, for about 5 minutes.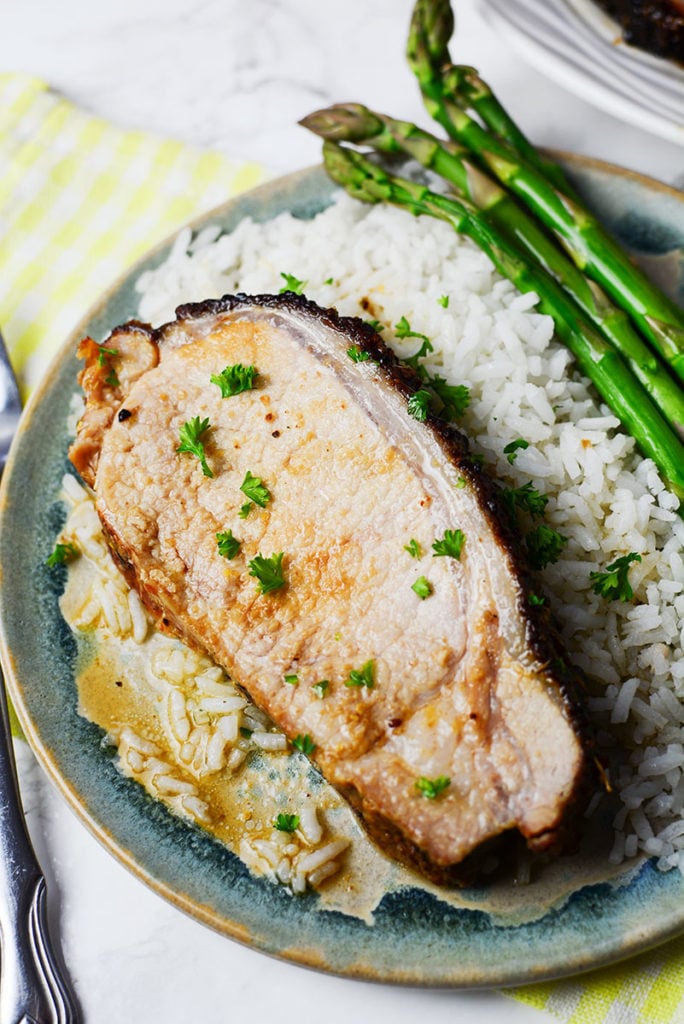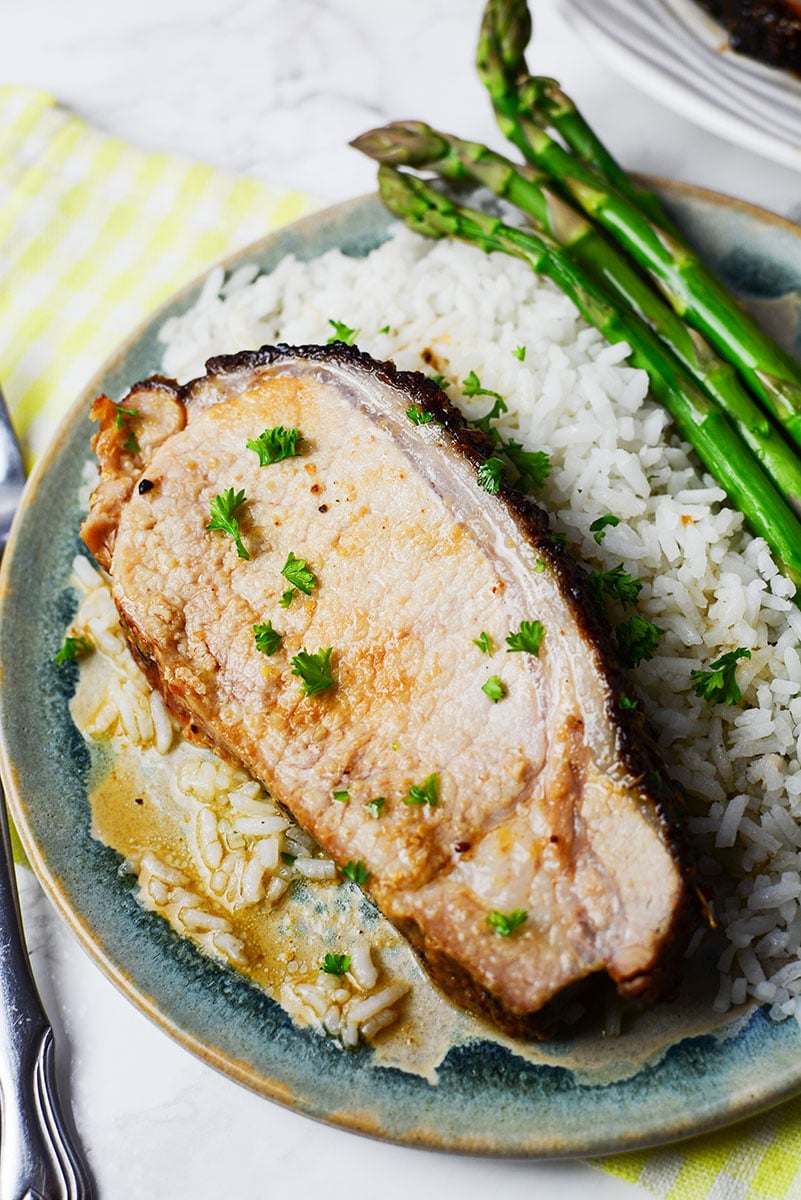 What Sides Should I Serve With The Glazed Pork Roast?
You could serve a number of super yummy sides! How about: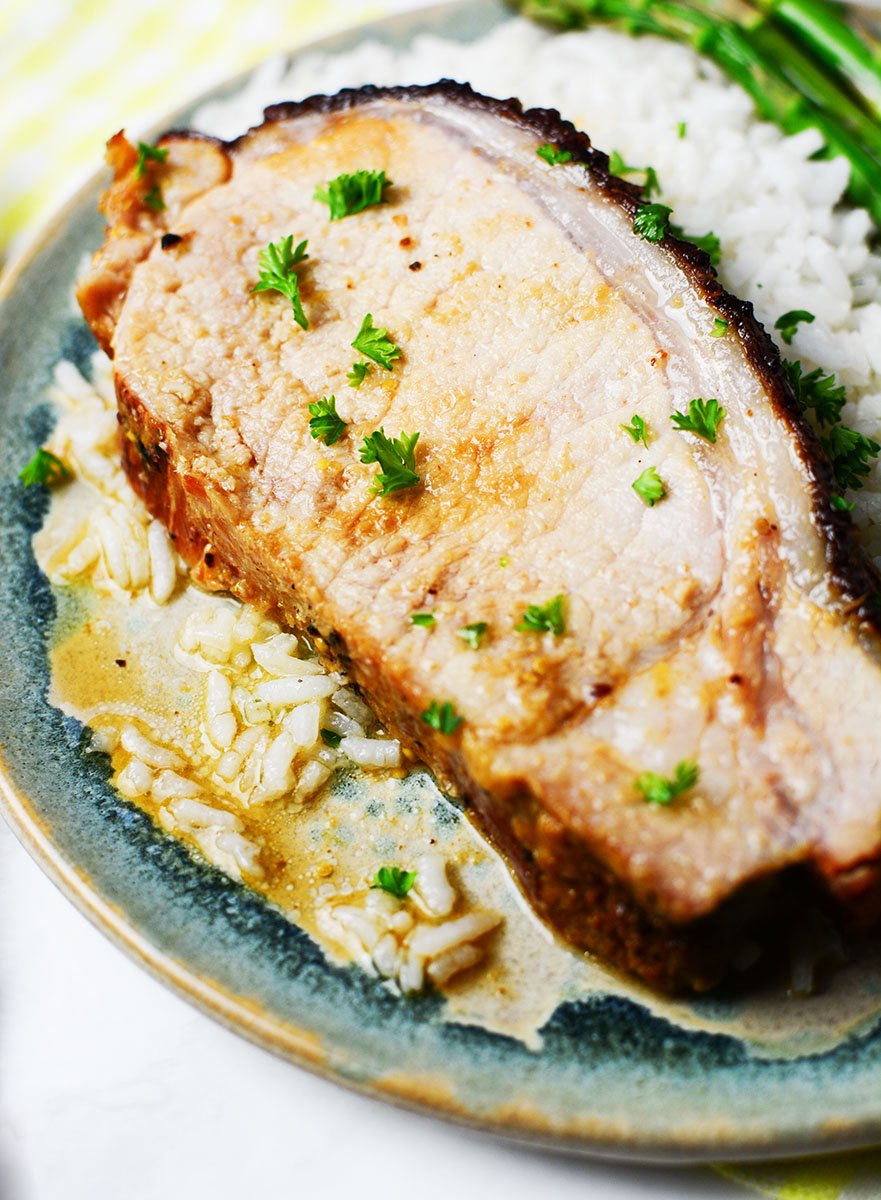 Ok, so there you have it! I hope when you give this Honey Mustard Glaze for Pork a try, you let me know how it worked out for you!! Did you adjust the seasonings to be more sweet or savory? Did you add different herbs? Let me know below or shoot me an email at joanne@thesaltypot.com!
Thanks so much for stopping by The Salty Pot today, and I hope you have an incredible day!! See you again soon!
~Joanne
****BEFORE YOU LOOK AT THE RECIPE BELOW, WHY NOT PIN THIS GLAZED PORK ROAST RECIPE TO YOUR FAVORITE PINTEREST BOARD TO USE FOR LATER! ****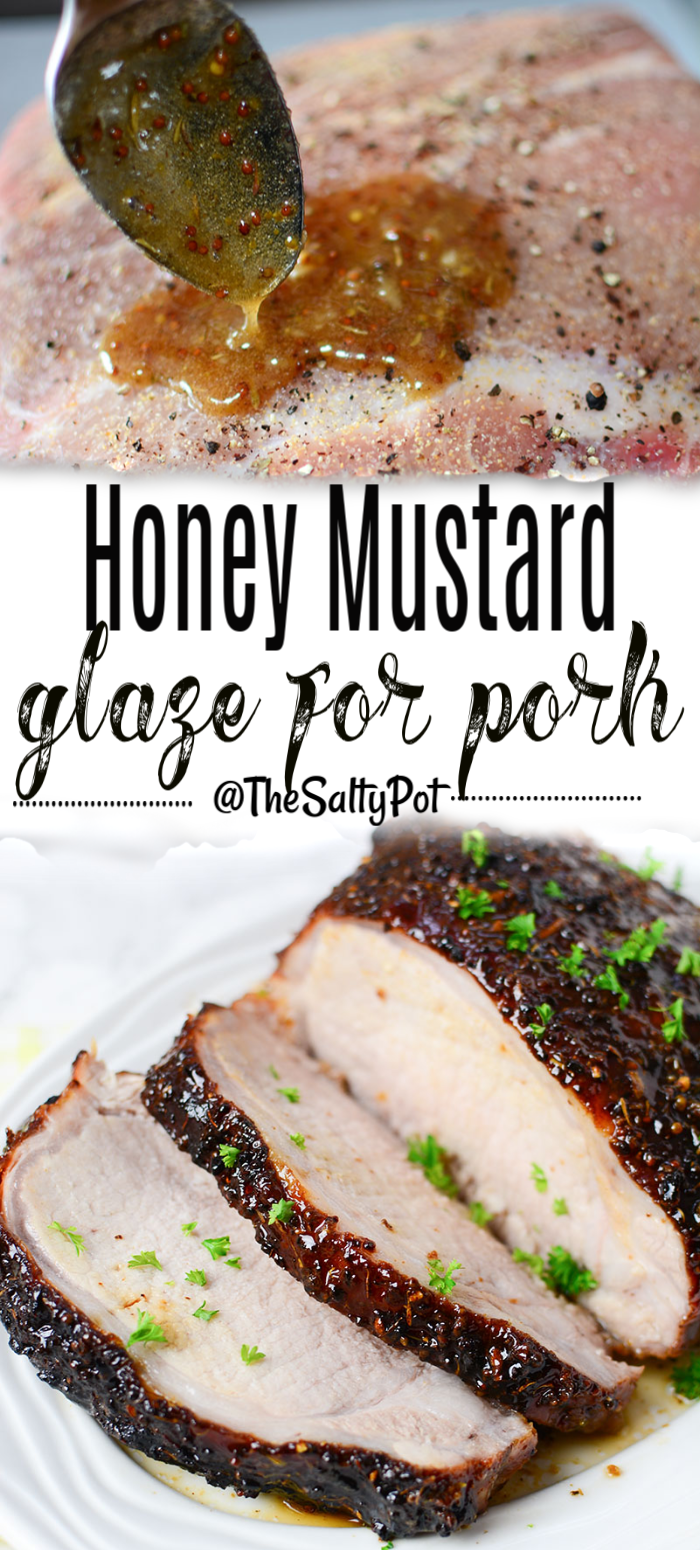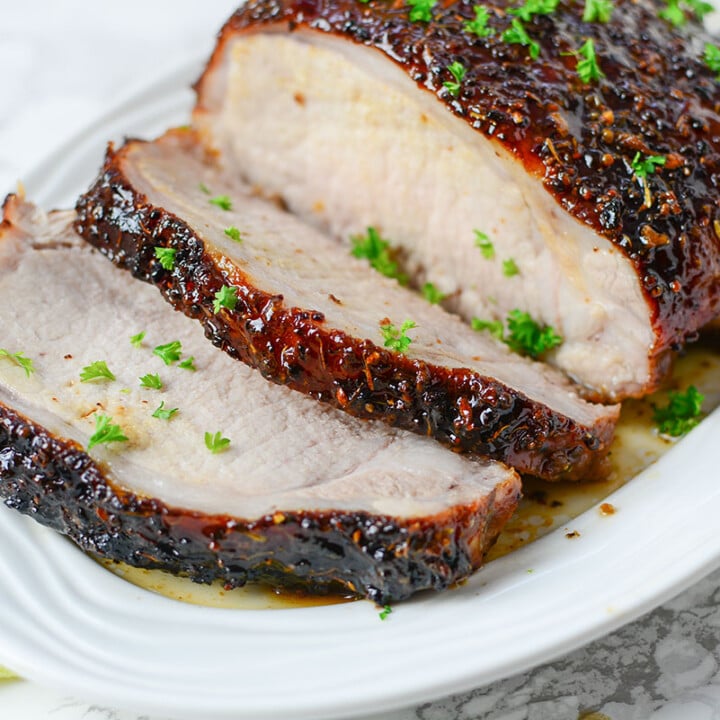 Honey Mustard Glaze for Pork
If you're hankering for sweet and tangy flavors on pork, give this Honey Mustard Glaze for Pork a try! It kind of blew my mind how delicious it is!! The sweetness from the honey and brown sugar, combined with the savory flavors of the different mustards, really combine to make any cut of pork sensational that you use it on!
Ingredients
2-3 tablespoons of oil
1 healthy teaspoon of grated ginger
1/2 tsp dried thyme
2 tablespoons of honey
1 tablespoon of brown sugar
1/2 tsp of mustard powder
1/2 tsp of seedy mustard
as desired, salt and pepper
Instructions
1. Combine all ingredients and mix really well.
2. Take a quarter of the glaze (a few teaspoons) and spread over the top of the seasoned pork roast.
3. Cook the roast according to your preferences, and during the cooking time, baste with 1/2 of the pork glaze.
4. In the last few minutes of cooking, brush the last of the pork glaze to the top of the roast and broil to create a caramelized crust on top.
Notes
Cooks notes:

1. let the pork come to room temperature before cooking to help with even cooking throughout.
2. Double the glaze recipe and freeze half of it to use for later. When using it later, thaw in the fridge ahead of time.
3. If the honey you're using is creamed, place in the microwave to loosen it up and make it more pliable for mixing.
4. Please taste the glaze after you make it and adjust for more sweetness or savoriness, according to your flavor preferences!

Nutrition Information:
Yield:

6
Serving Size:

1 tbsp
Amount Per Serving:
Calories:

71
Total Fat:

5g
Saturated Fat:

0g
Trans Fat:

0g
Unsaturated Fat:

4g
Cholesterol:

0mg
Sodium:

55mg
Carbohydrates:

8g
Fiber:

0g
Sugar:

8g
Protein:

0g
These calculations are approximate and will depend on brand use and other personal use applications.