Dishes with cabbage aren't always my favorite. But THESE Instant Pot Lazy Cabbage Rolls are consistently a hit with me and every other single person I serve them to thinks so as well!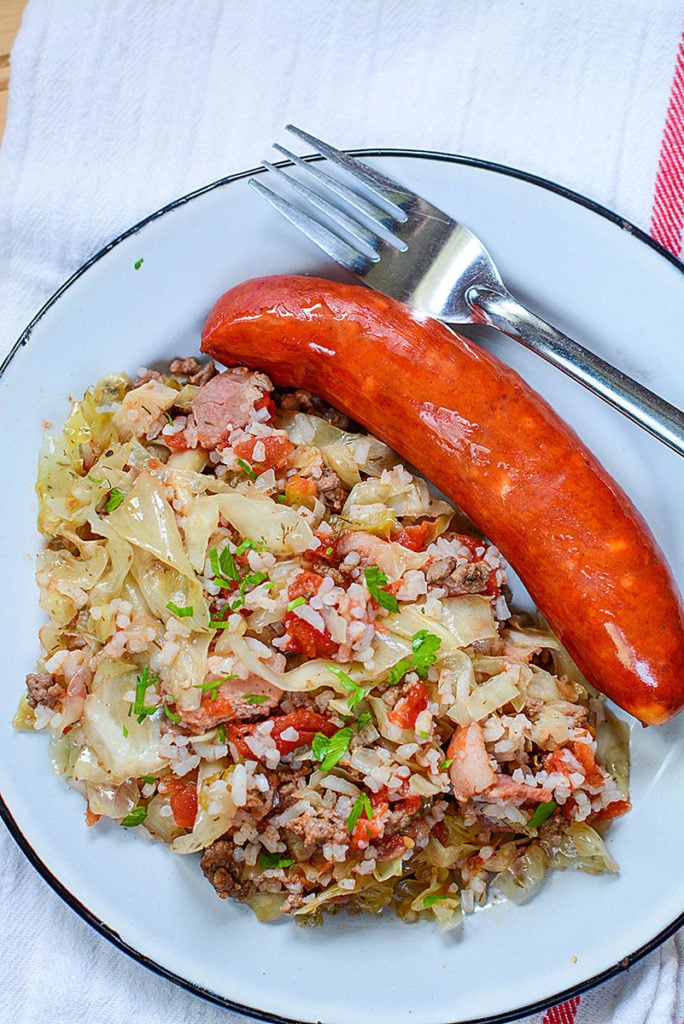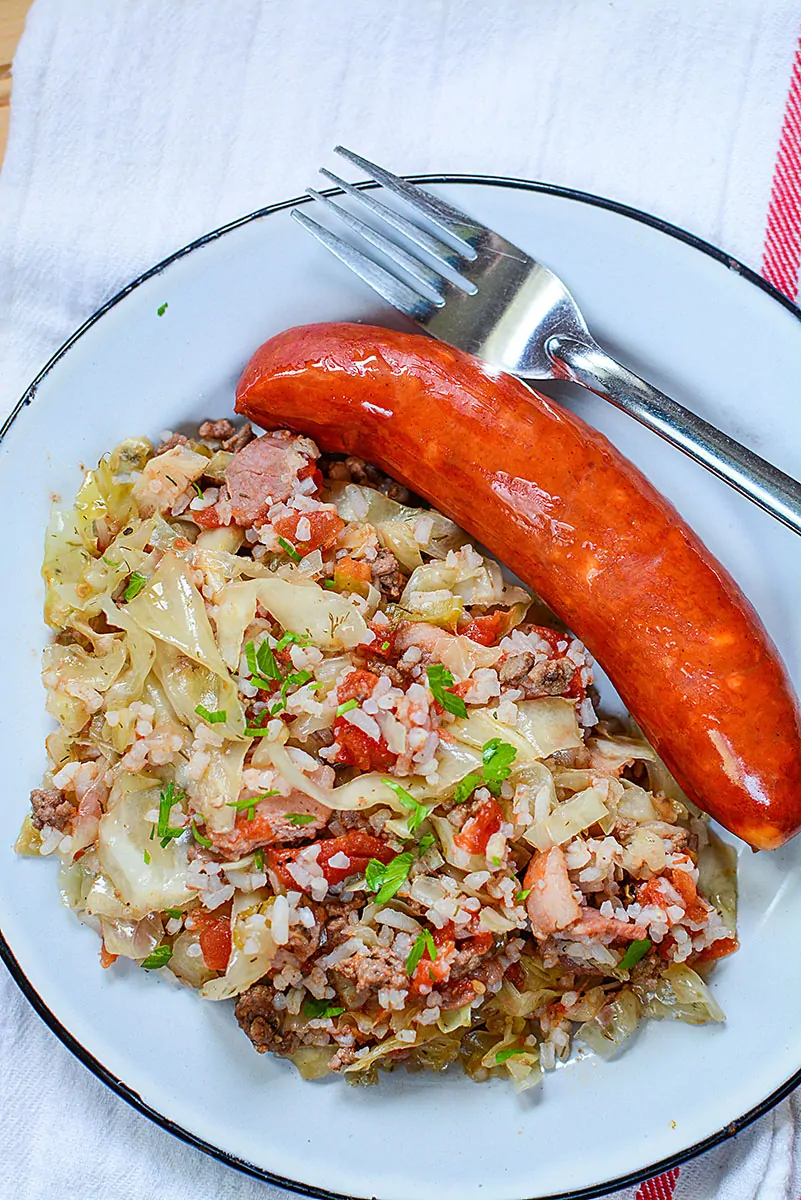 INSTANT POT LAZY CABBAGE ROLLS
My grandmother (God rest her soul) was from Ukraine. She could cook like NOBODY'S business.
The cabbage rolls she would make were about the size of your finger and like little savory pieces of candy. Our family fought about who would get the last few. They were SO INCREDIBLY DELICIOUS.
Her talent of rolling them so tiny was something I could never replicate, and in fact, I pretty much gave up trying because mine was the size baseballs.
So I figured I'd just find the easiest way to replicate her recipe:
Mix it ALL together and VOILA!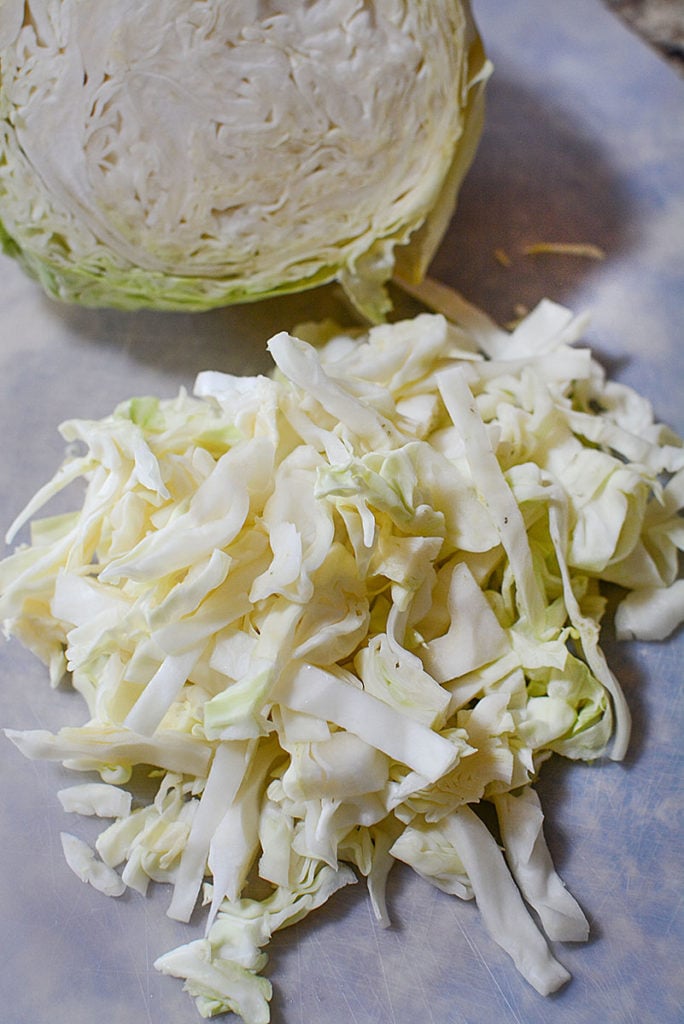 Why Are They Called Lazy Cabbage Rolls?
They're called lazy because typically, a cabbage roll has the filling stuffed inside the cabbage leaf. This whole process does not come easy, my friends.
(Well, not for me, anyway. LOL)
This method basically has all the ingredients, flavors and textures of a stuffed cabbage roll, but not stuffed. So, you could call it kind of messy cabbage roll.
Or, you know, easy cabbage rolls!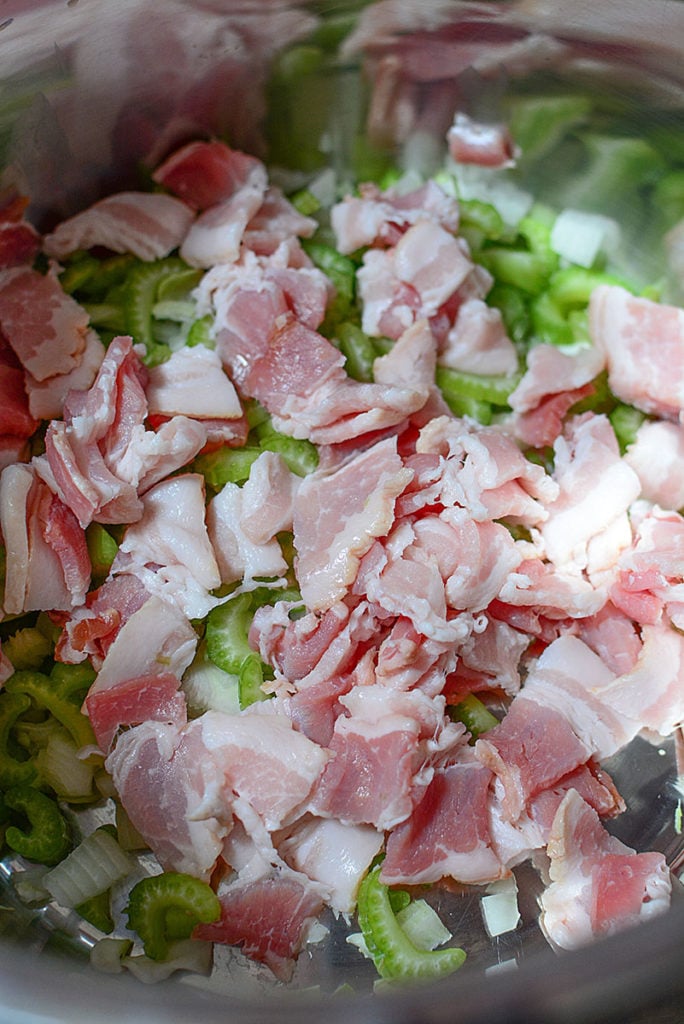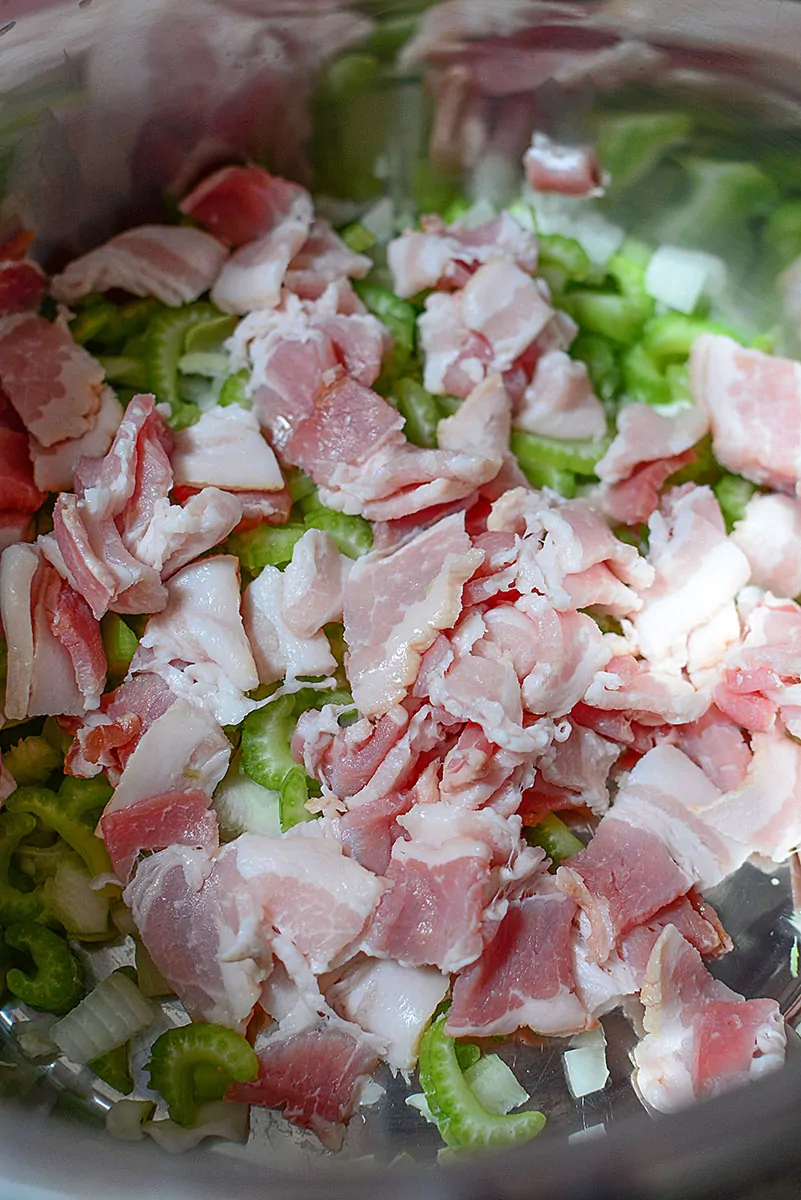 Do I Have To Precook The Cabbage Before Making This Cabbage Casserole?
No, not at all. Simply slice it thin and add it to the Instant Pot.
The low and slow cooking of the Instant Pot Slow Cooker function will soften it up perfectly!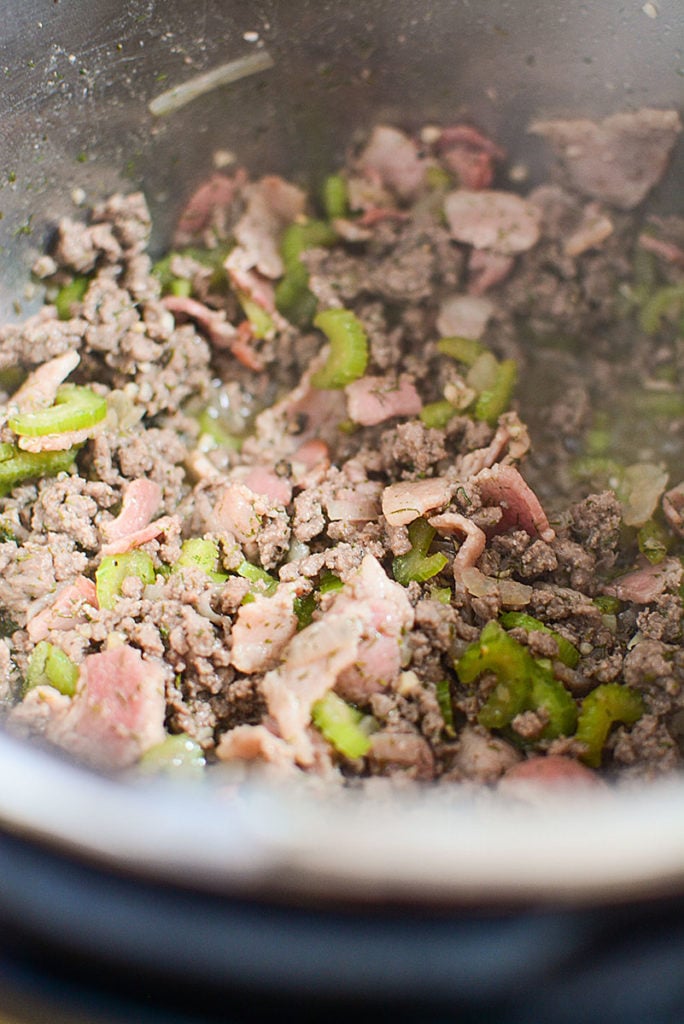 Using Other Greens Instead Of Cabbage
I've used a few different stand-ins for the cabbage. I've used:
Beet Leaves
Savoy Cabbage
Sour Cabbage (not really a stand-in, just a sauerkraut type of cabbage)
Swiss Chard Leaves
I would not use red cabbage because, as a beautiful color that it is, it would bleed the color all over your dish and make everything pink.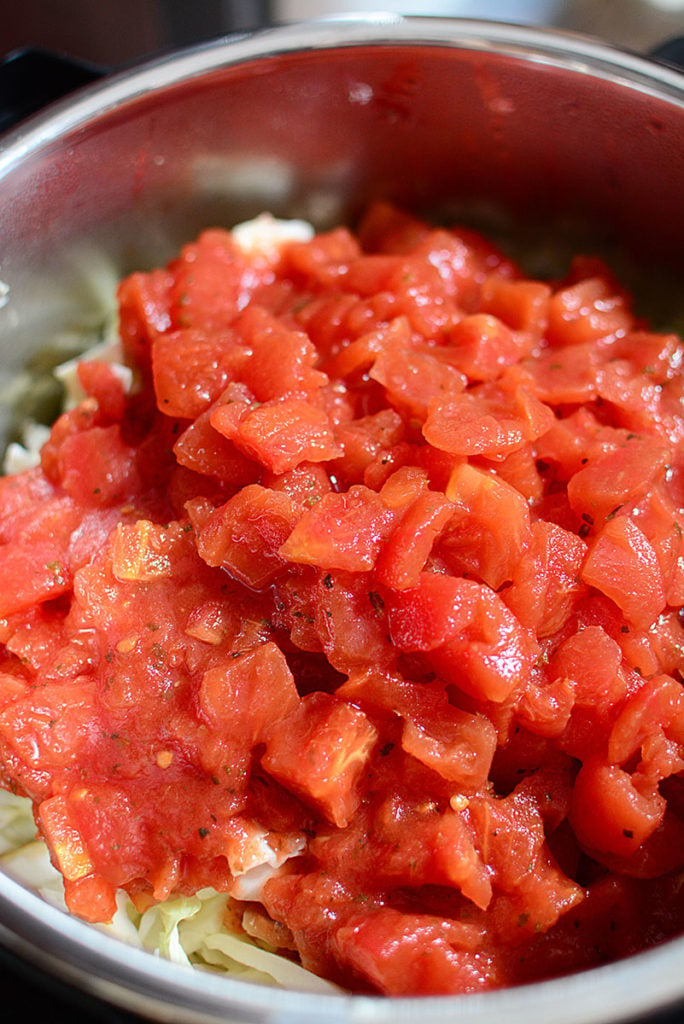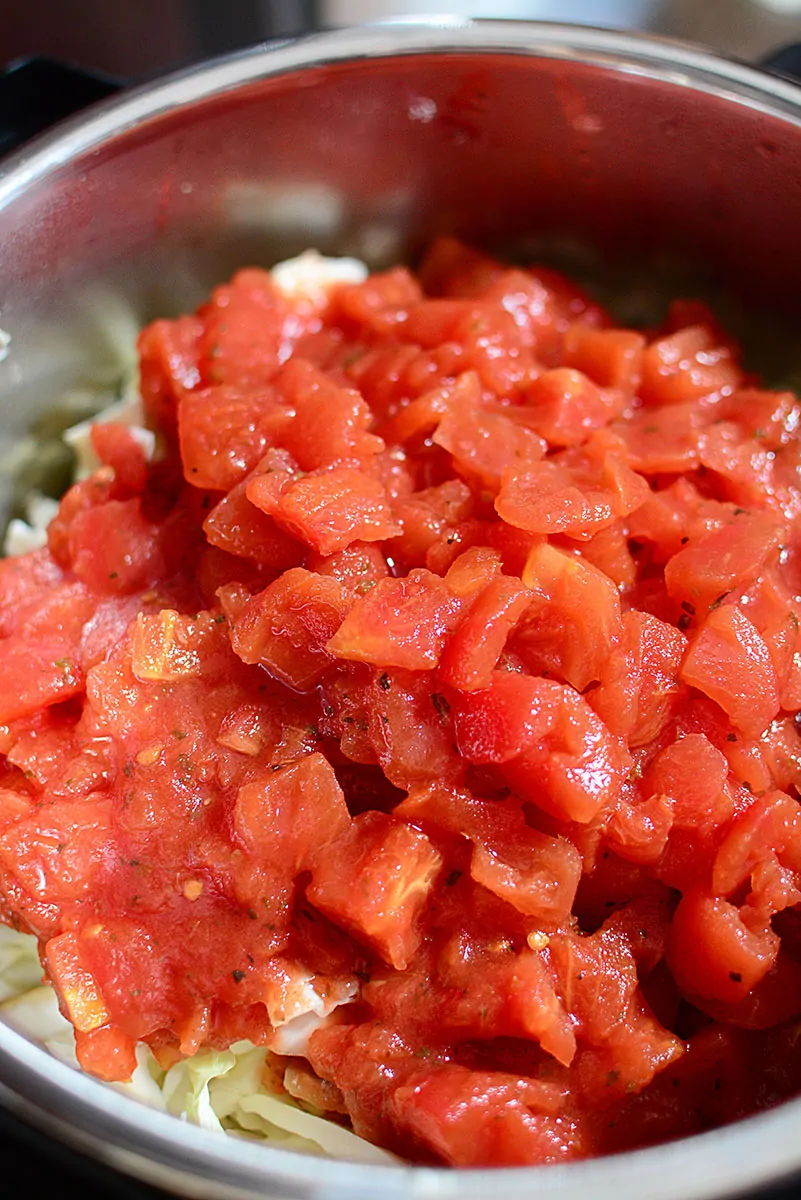 Using Other Meats Instead Of Ground Beef
Similarily to the cabbage options, I've also used different meats. You could try using ground sausage, garlic kielbasa diced small, ground lamb or pork.
You could even leave out the main protein meat and just use more bacon. Who wouldn't love MORE BACON?? lol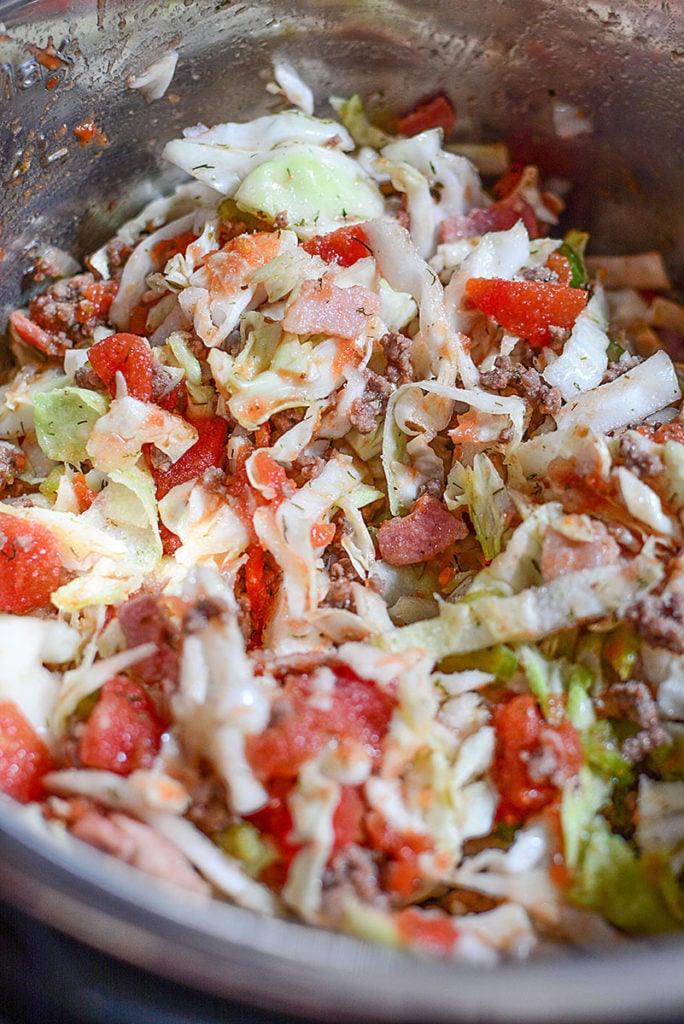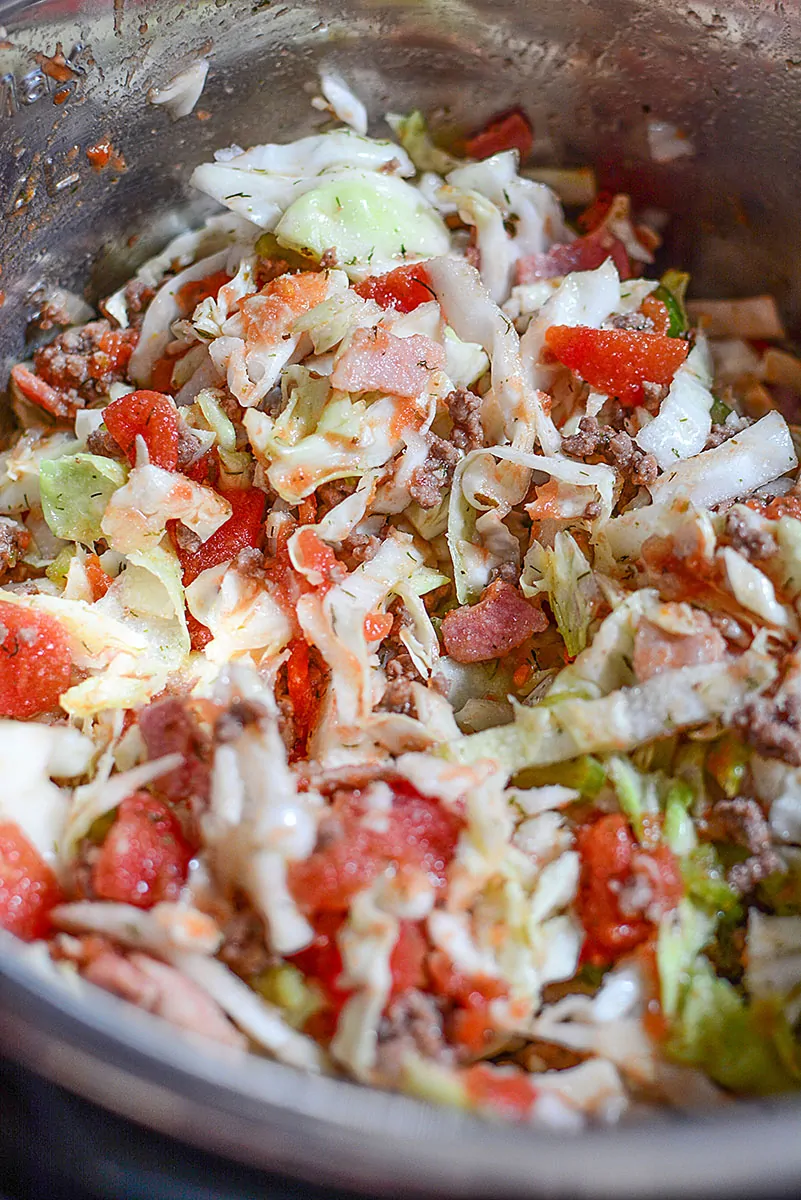 What Can I Eat Cabbage Rolls With?
Growing up, a typical dinner consisting of lazy cabbage rolls would be paired with things like pierogies (Ukrainian dumplings), Nanlysyky (cheese crepes), and sausage. Usually a garlic sausage of some sort.
Or, we would often serve the cabbage rolls with roast turkey or ham on special occasions.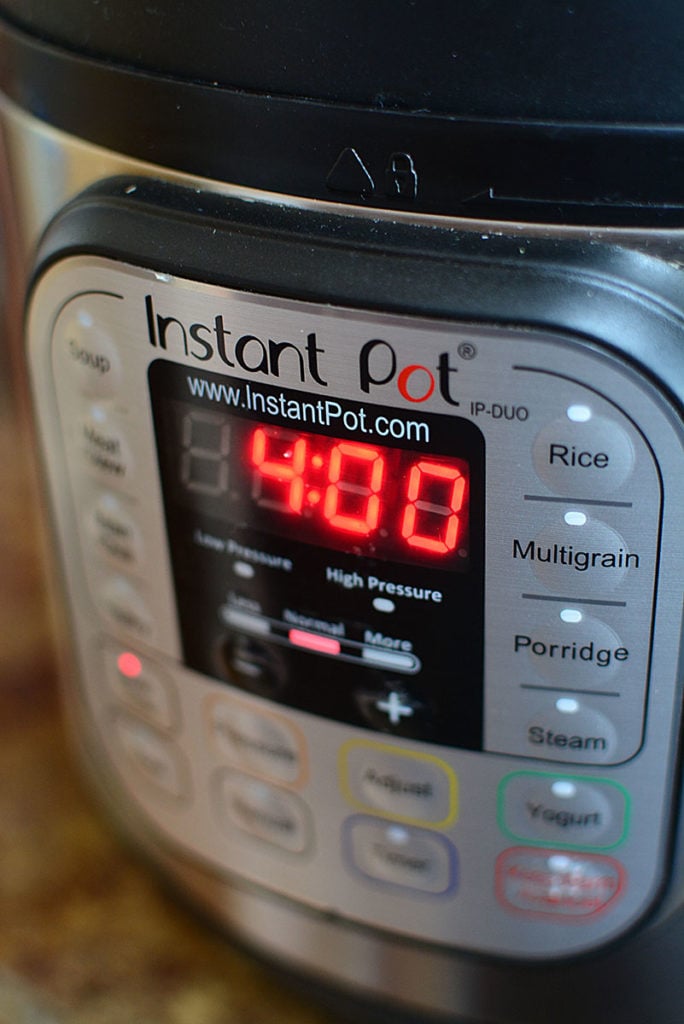 Other Ways To Cook This Unstuffed Cabbage Dish
I was raised to cook this dish for a bazillion people at once, so we cooked ours in the oven, in those blue roasting pans. So yes, this delicious holubtsi (another word for lazy cabbage rolls) can be made in the oven.
Also, I suppose you can make in any other sort of baking type vessel (portable turkey roasters, etc) but I don't think it would work well in things like microwaves or on the stovetop. Basically, because you need it to cook low and slow and those other methods would scorch the ingredients or just not develop the deep gorgeous flavors of the side dish.
A traditional slow cooker would work perfectly as well, obviously! lol
Incidentally, if you're looking for a few other slow cooker dishes, you could take a quick look at my recipe on how to make bread in the slow cooker, and if you wanted a dessert – this Cherry Chocolate Cake is DIVINE!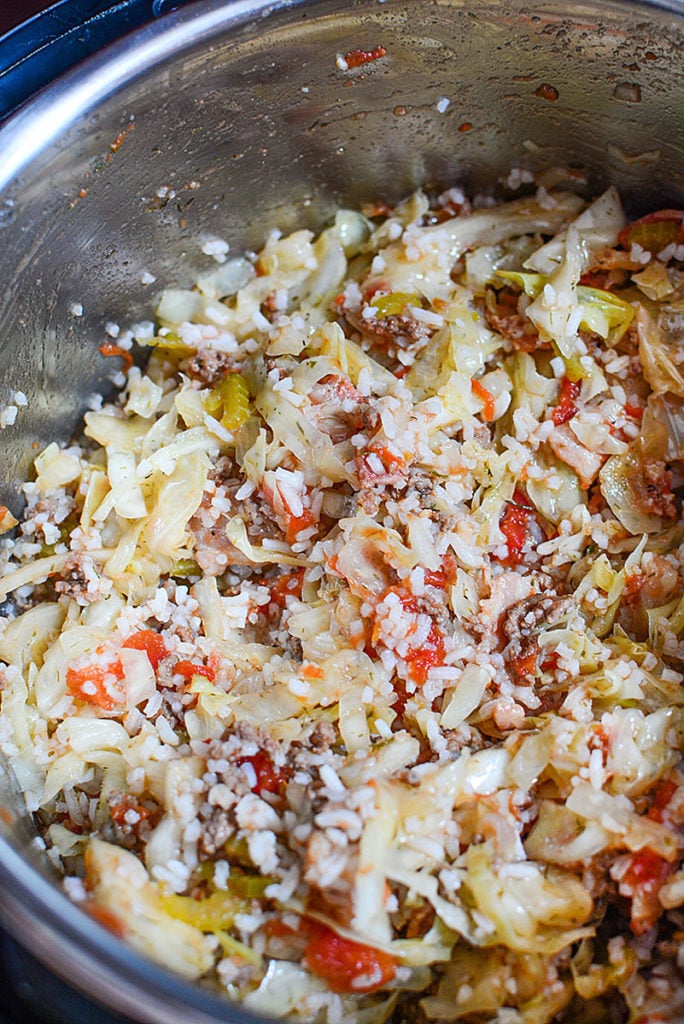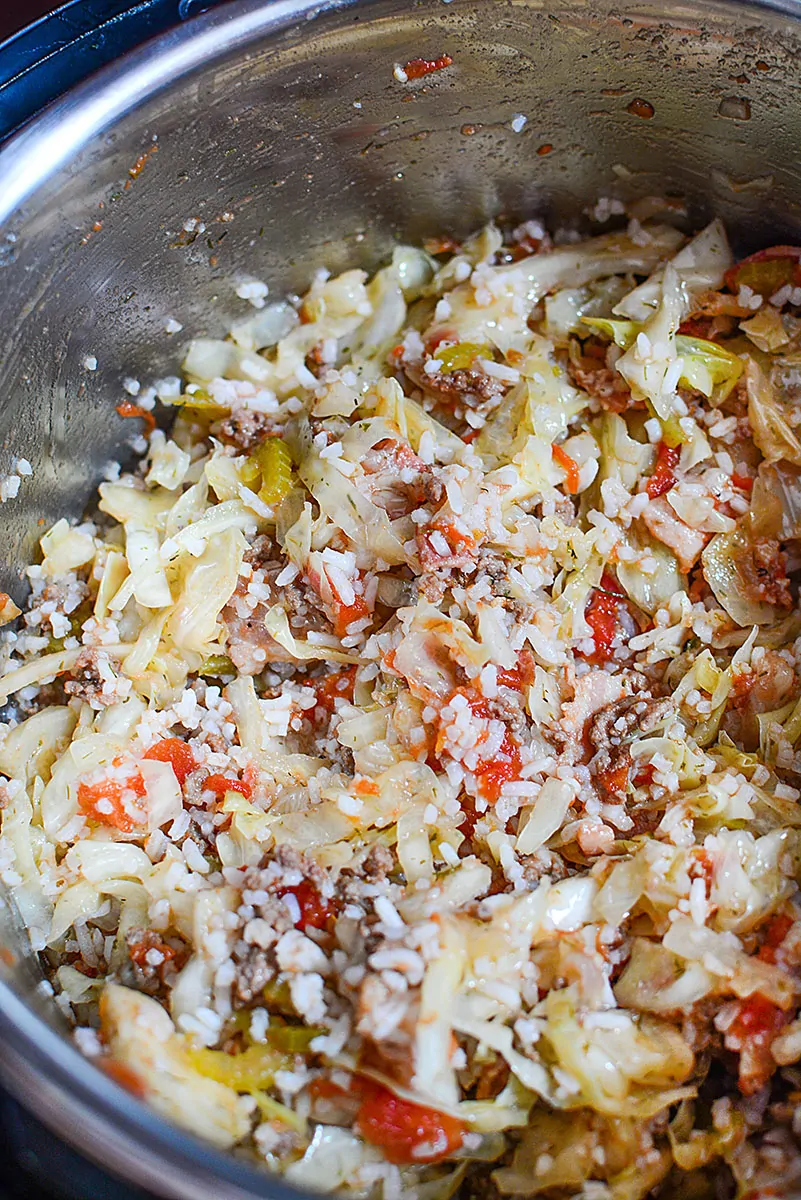 Can I Cook The Rice From Raw Right Mixed With The Other Ingredients?
Honestly, I've never made it this way but I suppose you could. Just be sure to add enough water or chicken stock to accommodate the moisture/cooking needs of the rice and it should work out.
If you've ever tried it this way, I'd love to hear about it!
I'm just always afraid of the rice coming out mushy.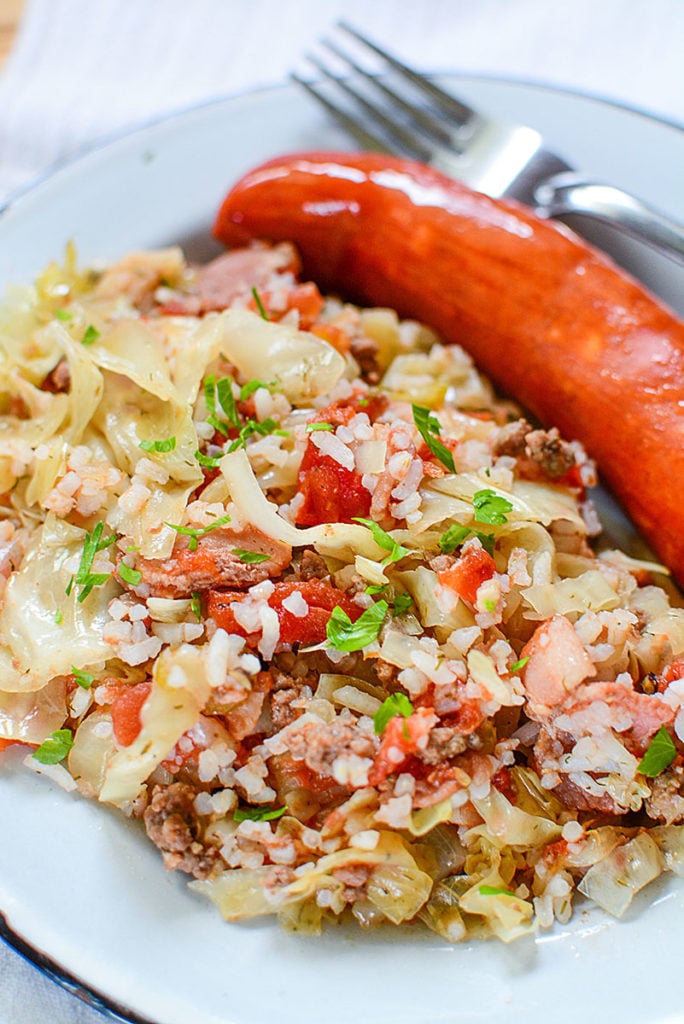 New To Using The Instant Pot?
That's not a problem. Seeing that we are using the slow cooking function, it's pretty straight forward and we're not using the pressure cooking function with makes most people nervous. But I have a handy Instant Pot For Beginners Guide that you can peruse that will hopefully make you feel a bit more comfy about using it!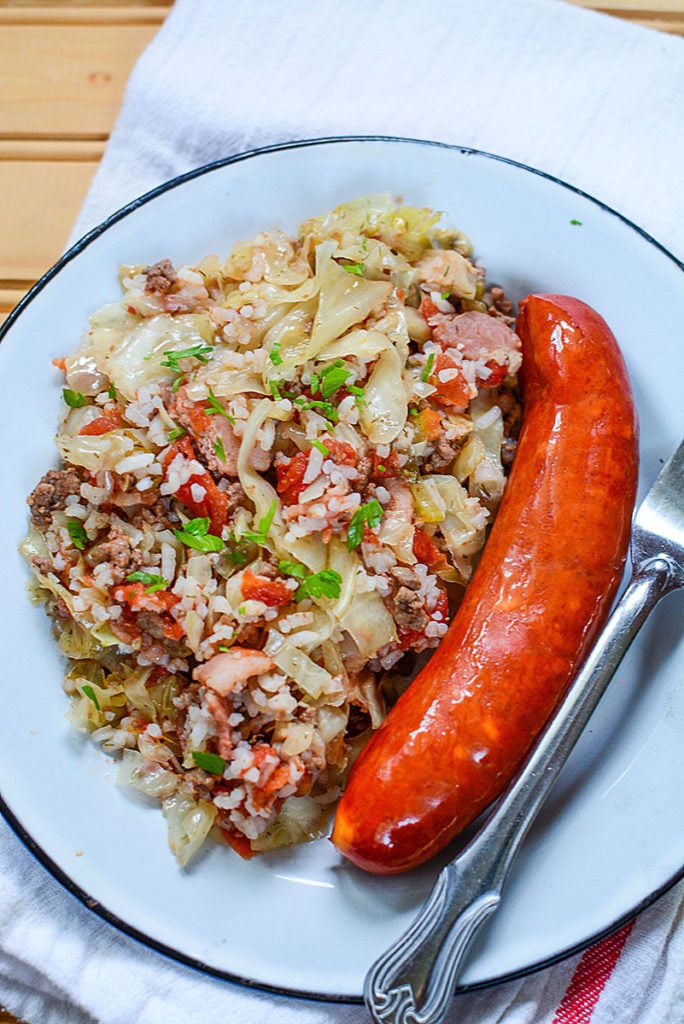 When you try this awesome and I'll admit incredibly delicious instant pot cabbage roll recipe, I'd love to hear your thoughts on the flavors, and how you switched it up to make it yours!
Thanks so much for stopping by The Salty Pot today, and I hope you have really awesome day!! Don't forget to pin this lazy cabbage roll recipe to your favorite Pinterest board to use for later!
**********PIN IT TO SAVE FOR LATER!!!**********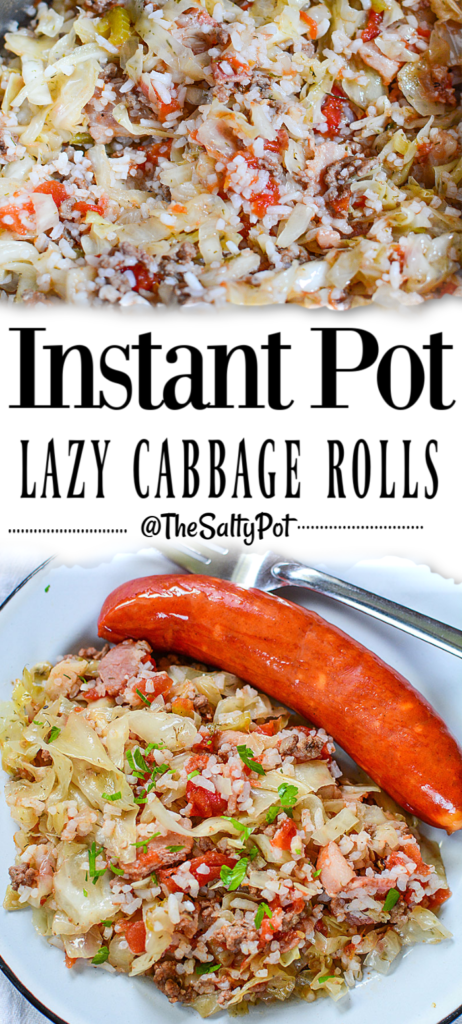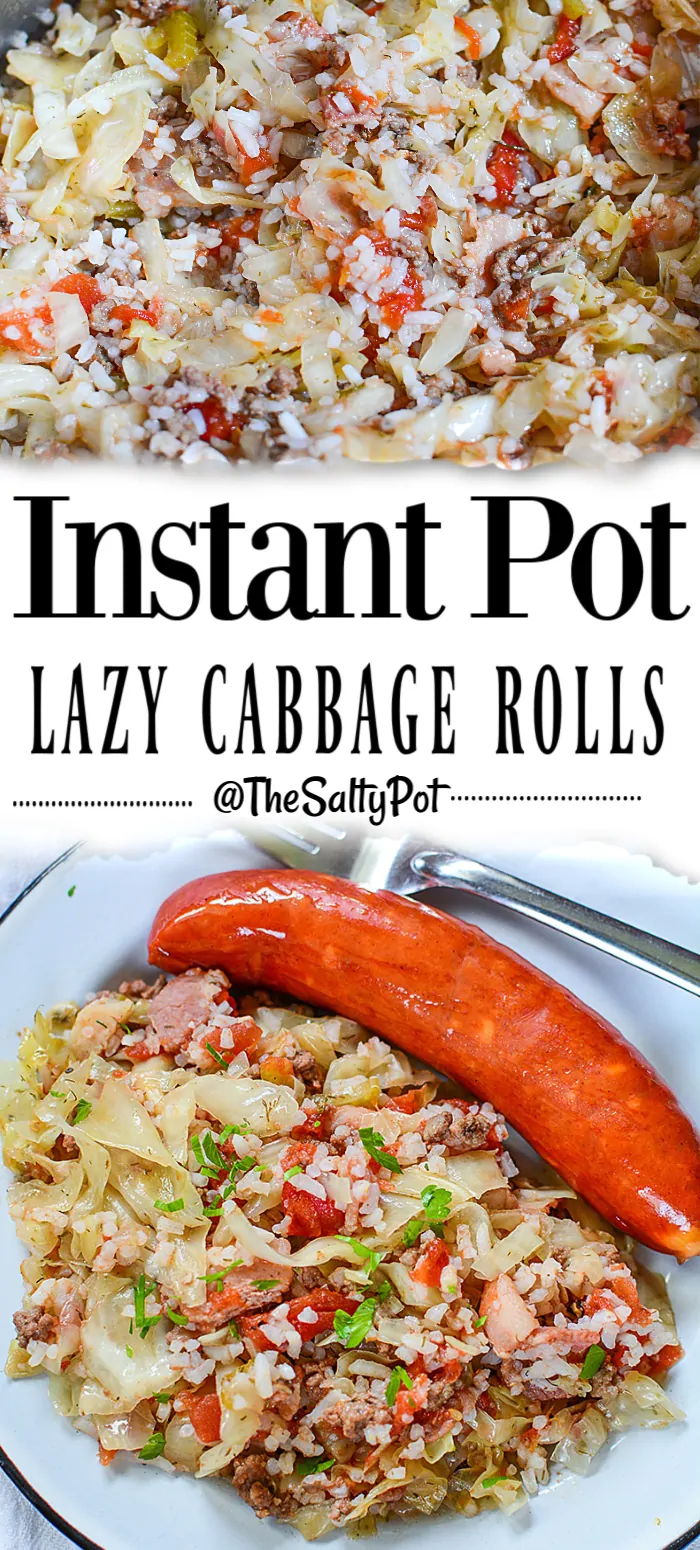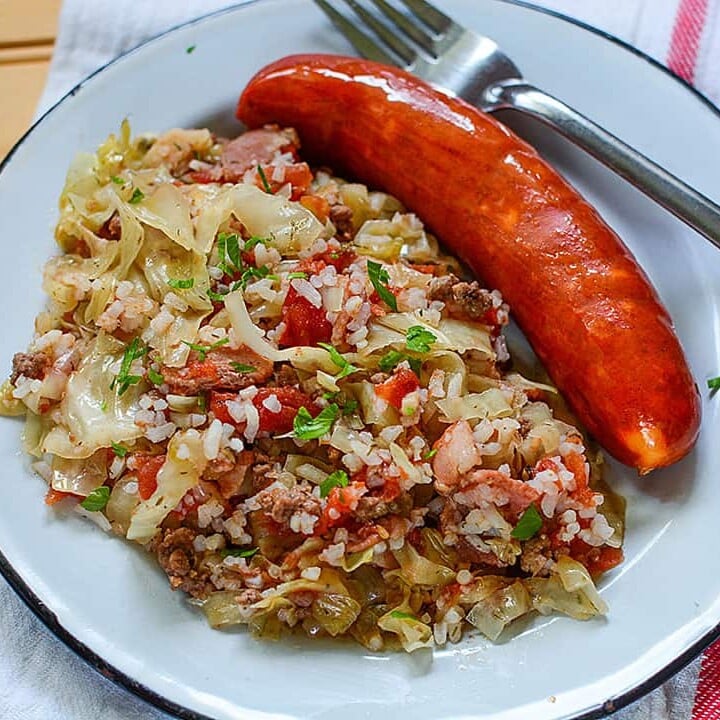 INSTANT POT LAZY CABBAGE ROLLS
Total Time:
4 hours
15 minutes
These Instant Pot Lazy Cabbage Rolls are made using the slow cooker function on your pressure cooker! The savory flavors of the beef, cabbage, tomatoes, and rice, mixed with bacon, garlic and onion, make this side dish everything you could want in a cabbage roll without the work!
Ingredients
1 lb ground beef
1 onion, diced
3 ribs celery, diced
6 - 8 slices of bacon, diced
8 c cabbage, sliced thin
4 c COOKED rice
20 oz diced tomatoes, drained
1c chicken broth
2 teaspoon garlic
1 tablespoon dill, dried
**Optional, ½ c heavy whipping cream
Instructions
1. Press the saute button and add the bacon, celery, and onion to the instant pot cooking insert.
2. Saute until onion is translucent and the bacon is cooked.
3. Add the ground beef and saute until browned
4. Add the shredded cabbage, cooked rice and tomatoes
5. Add the chicken broth. Mix everything really well.
6. Cover with the Instant Pot lid but do not close the vent
7. Press "slow cook" at regular temp and adjust timing to 4 hours
8. When timing is halfway through, give the mixture a stir.
9. Continue cooking until the time is complete.
**Optional step: Drizzle the cream over the top of the dish and stir. Leave an additional 15 minutes to heat the cream through.
10. Serve and enjoy!!

Notes
Adding the whipping cream is an optional step. It adds richness to the dish but is not necessary if you are trying to watch calories.
Nutrition Information:
Yield:

12
Serving Size:

1 cup
Amount Per Serving:
Calories:

278
Total Fat:

13g
Saturated Fat:

6g
Trans Fat:

0g
Unsaturated Fat:

6g
Cholesterol:

52mg
Sodium:

238mg
Carbohydrates:

24g
Fiber:

3g
Sugar:

5g
Protein:

16g