You know what's good about this Instant Pot Shredded Corn Beef and Cabbage? You're right. EVERYTHING. It's easy to make, super quick, insanely tasty, and all of that helps get your St. Patrick's Day (or ANY day, for that matter), so perfect in all the ways.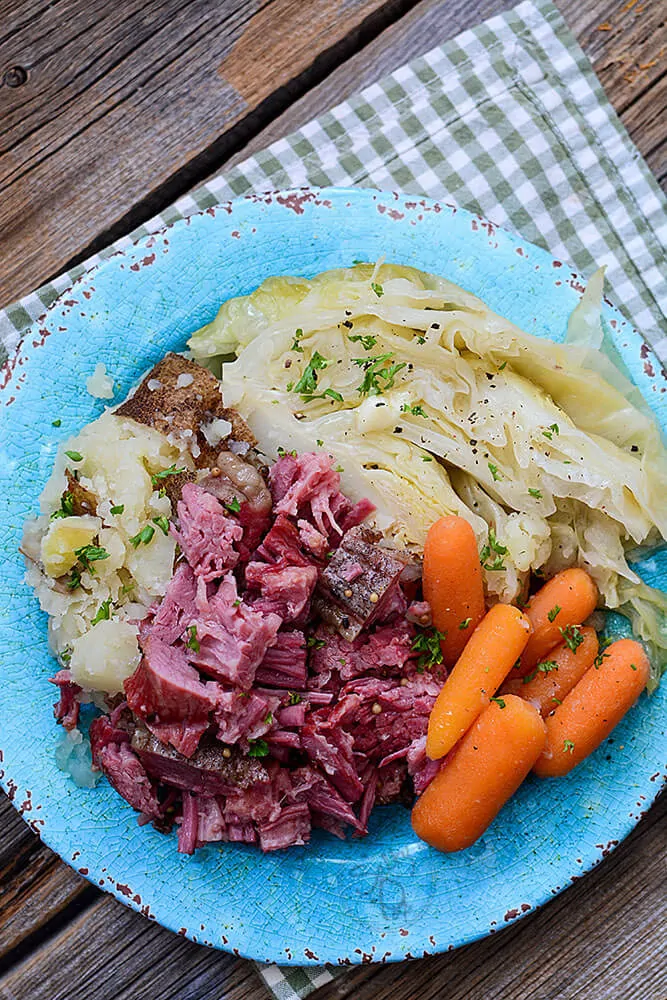 INSTANT POT SHREDDED CORNED BEEF AND CABBAGE
So typically, if you're making this for St. Patrick's Day, it's a multi-hour thing, roasting in the oven, watching it, prodding it, making sure it's not under cooked or over cooked. How awesome is the fact that making it in the Instant Pot saves you time AND your effort?? Cooking this typically looooong labor heavy corned beef brisket takes forever, but when you'r using an Instant Pot it makes creating this whole meal a complete breeze? No prodding and you can unhook yourself from the stove with no worries!
And guess what?
It's got BEER in it!! (not green beer though. That would be a huge no. )
Your ingredient list is crazy simple too!
A corned beef brisket (most grocers have them out around this time for St. Patrick's Day. If you find a great deal, buy a few and freeze them!
Cabbage, of course! Buy a small head that is nice and green, crisp, and heavy for it's size.
An onion, – any type you prefer is fine, but I would advise against any sweeter ones.
Carrots. I used baby carrots, but feel free to use any type you like. If you have garden carrots – YAY!! Those would be the best!
Potatoes. I used Russets, but again, you can use whatever you have in the pantry, or your preference. Red potatoes might hold up better (less mash), but I prefer the starchy mash aspect of the Russets, so I used them. Plus – it's what I had, and I'm all about using what I already have!
Broth. Some people use beef broth, but I prefer to use chicken, as it's lighter in taste. Of course, you use what you prefer!
A beer. Now, if you HAVE to buy a 6-pack to get that one beer for the recipe, feel free to leave out the beer, but honestly?????? Make the sacrifice and buy the 6 pack. It's always perfect to have a beer while you're eating this fantastic meal because.. you know.. it's an Irish Holiday, and it kinda goes with beer,.. and well… almost anything can kinda go with beer if you really want it to.. lol
Spices. – Use the spice packet that comes with the brisket. If you didn't receive one, I have your back. In the recipe below, I list it for you. Super easy!
STAGES
The recipe goes in two stages. First you cook the beef, and when the beef is done and rests, the veggies are in the pot, doing their thing. Easy peasy, lemon squeezy as they say. While the veggies are cooking, you can use that time to shred up the corned beef.
Because a brisket of beef tends to be a bit tougher of a cut, it needs some extra time in the Instant Pot than the vegetables would. Plus, when the meat comes out and the veggies go into that beautiful stock to cook, it makes them just that much more lip smackin' good!
CAN I MAKE THIS IN A SLOW COOKER?
Of course you can! This instant pot corned beef need not ONLY be made in the Instant Pot! If you have a slow cooker, it's not a problem! Again, I would leave the vegetables out for the first stage of cooking the brisket, but add them later in the cooking process. If the potatoes are cut slightly smaller chunks, the cooking time goes faster. I would cook the brisket on low for 8 – 9 hours and add the vegetables at the 7-8 hour mark. High? Cook the brisket for 5 – 6 hours and add the veggies in the last hour of cooking.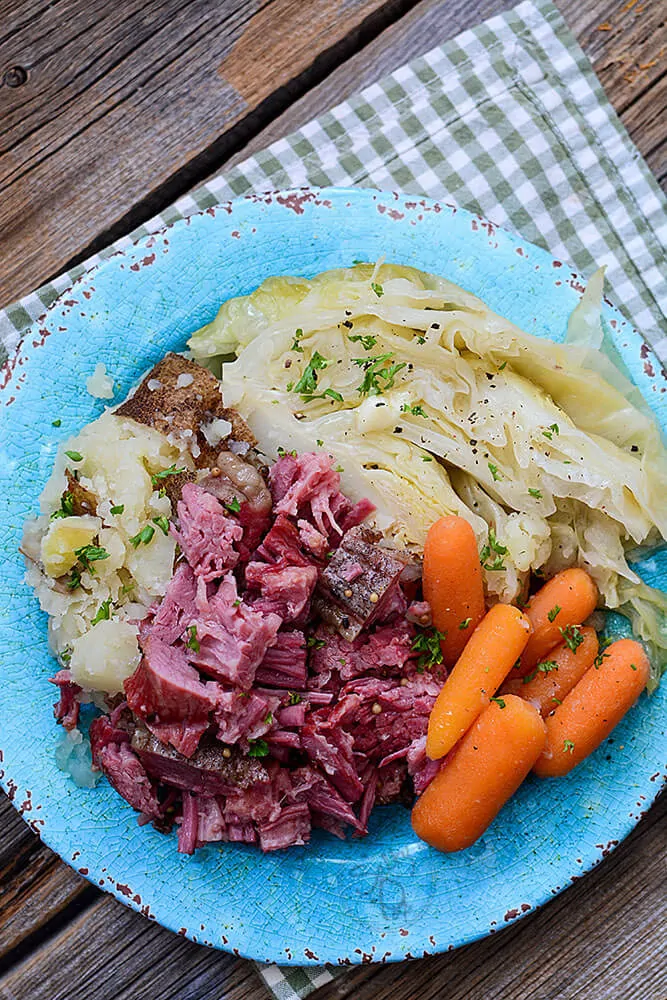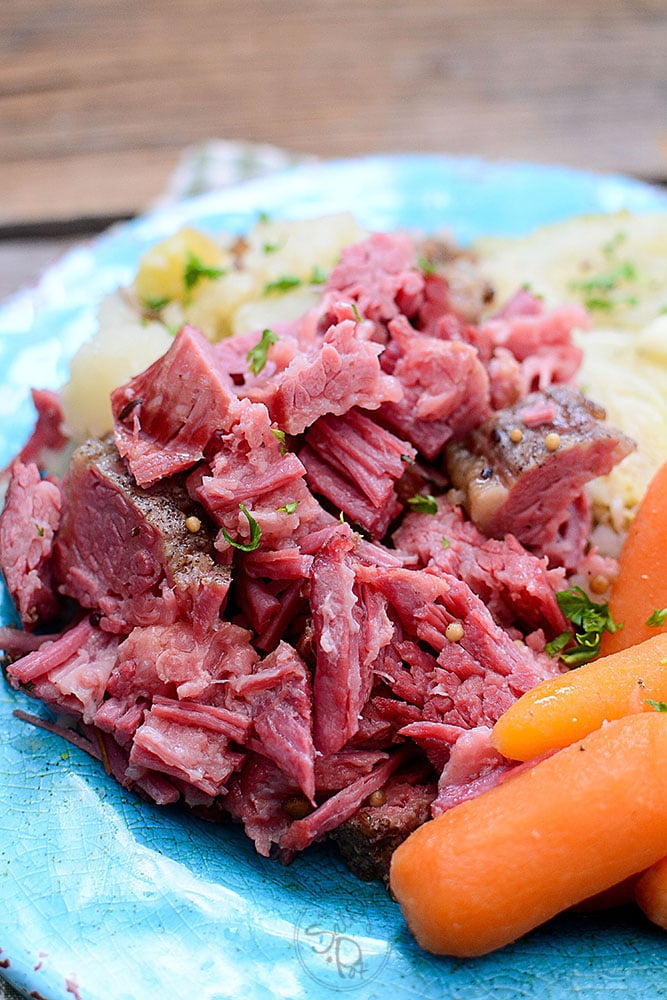 This traditional shredded corned beef and cabbage recipe can't be any easier to make. Using either the Instant Pot or the Slow Cooker, both appliances take on most of the work, making YOUR time and effort investment a fraction of what it would be if you were to cook this in the oven. If you like cooking in an Instant Pot, why not give my Easy Instant Pot Pulled Pork recipe a try, or for dessert, this INSANELY flavorful Instant Pot Creamy Rice Pudding a try! You won't be sorry!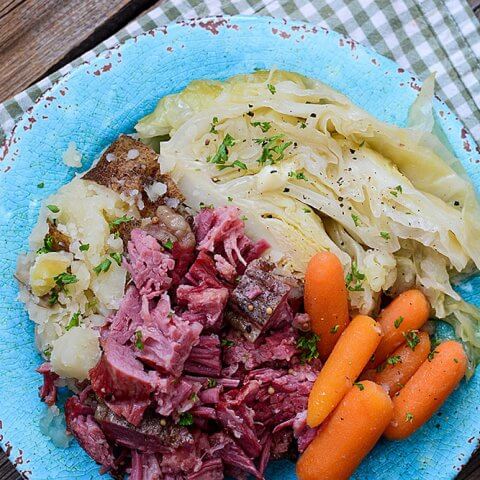 Instant Pot Shredded Corned Beef and Cabbage
Cook Time:
1 hour
36 minutes
Total Time:
1 hour
51 minutes
Instant Pot Shredded Corned Beef and Cabbage is an easy way to cook a beef brisket super tender, that is typically a really tough cut. A bonus is that you can also cook it in the slow cooker! It's a great and tasty meal that's ideal for St. Patrick's day or any holiday recipe!
Ingredients
1 Corned Beef Brisket, 2 - 3 lbs
1 Head of Cabbage, small, cut into thin wedges
1 lb Russet Potatoes, unpeeled and cut into chunks
1 lb Carrots, baby, OR regular, peeled and cut into chunks
½ Onion, sliced
1 c Beer
3 c Chicken broth
Spice packet
1 bay leaf, crushed
4 - 5 peppercorns
½ teaspoon mustard seeds
¼ teaspoon allspice, ground
½ teaspoon garlic powder
sprinkle of salt
Instructions
Add the beer and the stock into the bowl of the instant pot
Place the rack onto the bottom
Place the brisket onto the rack. Sprinkle the spice packet or the diy spice mix onto the top of the brisket
Set the Instant Pot onto the Meat/Stew setting for 90 minutes. When cooking time is up, do a quick release.
Remove the beef and set aside, covered. (Also remove the rack)
Add the onions, potatoes, carrots and cabbage wedges
Cook on manual, high pressure for 6 minutes. While the vegetables cook, take two forks and begin to shred the corned beef. Cover again and set aside.
Do a quick release.
Remove the vegetables.
When serving, use some of the broth from the cooking to use as an au jus or gravy over the vegetables. Enjoy!