Cherry tomatoes!!!! These cute little fruits (yes, they are a fruit!) are delightfully sweet, and fun to eat. Sometimes though, you're a way better gardener than you thought, and you're overloaded with them! Here's a solution!
Roasted cherry tomatoes are as versatile as they are delicious!
Oil Roasted Cherry Tomatoes with Herbs
These cute little baby tomatoes, when ripe, are sweet and juicy and they give this really cool 'burst' of flavor in your mouth. They're really the most perfect for snack any time of the day; easily portable and they don't make a mess when you eat them whole.
Versatile? Heck yeah! You can use them in different kinds of salads or in many other recipes both sweet or savory. Eat them raw, stewed, or sauteed. They're small but absolutely versatile, and not to mention a great source of vitamins and minerals like Vitamin C and lycopene!
If you're looking for more ideas on easy ways to use your cherry tomatoes, I wanted to show you one quick and incredibly delicious idea – ROASTED CHERRY TOMATOES!
These roasted cherry tomatoes are cooked down to a consistency that awesome for using as a spread. Smear them on toast, in sandwiches, on top of cooked eggs, or even on top of roasted meat.
Did you know that there's a different name for each size of tomato? They all have different characteristics and best uses for each. An article at Healthline about 7 different tomatoes spells all that out!
EASY INGREDIENTS FOR ROASTED CHERRY TOMATOES
Fresh cherry tomatoes, in color you want.
Olive oil
salt and pepper
sage
thyme
rosemary
So I started by cutting some cherry tomatoes in half. Put them in a baking pan lined with parchment. Then the easiest part – I drizzled them with some olive oil, herbed them up, and roasted them. EASY PEASY!
BUT WAIT, WHAT IF YOU PREFER SKINLESS TOMATOES?
Ok, so you do have a choice to whether or not to have the skin on your tomatoes. And there's an easy process on how to peel tomatoes. I have a quick tutorial on that.
I will say though that this method really cooks down the tomatoes so the peels are easily melded into the whole dish. But hey, if the tomato peels really bother you, by all means, peel those babies!
HOW TO USE THIS CHERRY TOMATO SPREAD?
You can serve this beautiful cherry tomato spread on toast or on top of crackers with cream cheese! Try mixing it into cooked rice for a nice change, or any other vegetable for that matter. YUM! It also makes a great side dish! That's for sure!
If you wish to use bigger tomatoes for this recipe, it's absolutely A-okay! You can by all means use bigger tomatoes like how I did with these equally beautiful and delicious Mediterranean Roasted Vine Tomatoes.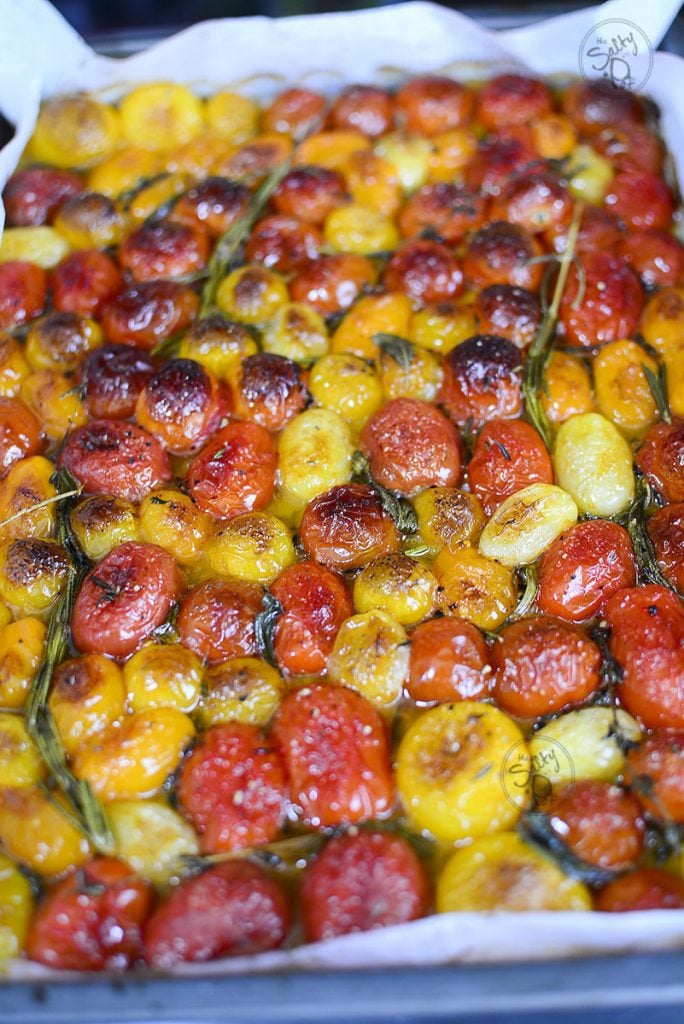 HOW TO KNOW IF YOUR CHERRY TOMATOES ARE PERFECTLY ROASTED?
Your cherry tomatoes need to be soft and cracked. They need to break down and look crumpled.
You might notice some caramelization on top, which is a great thing! Having that color on top add extra flavors that you don't want to miss. Besides, who doesn't love anything caramelized?!
CAN YOU STORE THESE ROASTED CHERRY TOMATOES?
Absolutely YES! You can definitely store them for later use. After your delicious roasted cherry tomatoes cool, simply place them in a squeaky-clean jar and then top off with extra oil. (Use the same type of oil that you used to roast them in!)
Keep the jar in your fridge and you can enjoy your roasted tomatoes for months! Yes, you heard it right! You can store them for that long IF you take these steps:
After using a portion of the tomatoes, always be sure that none of the cooked tomatoes are exposed to air. You'll want to drizzle a bit more oil on top of the tomatoes to ensure they're not exposed and always submerged under oil.
Also, when you initially put the tomatoes into the jar, after adding the oil, take a chop stick or knife and slowly stir it around to break up any air bubble that might have gotten trapped in the oil and around the tomatoes.
Lastly, be absolutely sure your jar is super clean before you store your roasted tomatoes in it. Wash with hot, soapy water and rinse. Compltely dry it before you use it.
As always, if you notice mold or a funky smell coming from the jar, throw the contents away. 😊
CAN YOU FREEZE THESE ROASTED CHERRY TOMATOES?
Yes, you can but do so in a freezer safe container and make sure to allow for expansion. Your frozen roasted cherry tomatoes will be good for up to three months!
Keep in mind that the oil will turn opaque and might even harden up in a weird way, but it's all good. Let the tomato spread thaw at room temp completely and everything will be good to go!
Ok so there you have it! I hope you make these delicious roasted cherry tomatoes and enjoy them in any meal at any time of the day! Let me know what you think about this recipe with a comment below, or if you have further questions or want to talk about it more, shoot me an email at Joanne@thesaltypot.com! I would be happy to hear your comments or suggestions!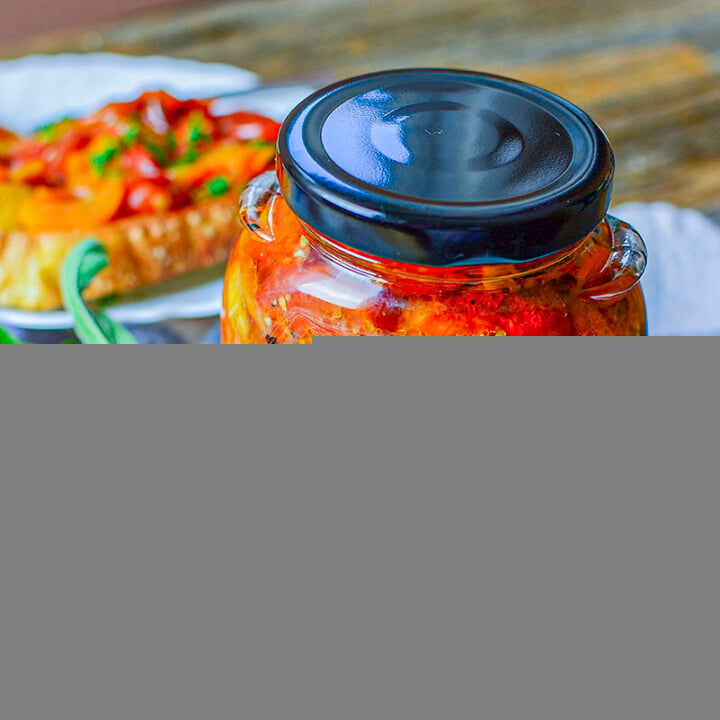 HERB & OIL ROASTED CHERRY TOMATOES
Delicious, herb-infused roasted cherry tomatoes. They reduce down to almost a spread like consistency that's so perfect for so many uses!
Ingredients
20 ounces of cherry tomatoes (any color you wish)
1 cup of oil (see notes)
as desired, salt and pepper
as desired, fresh sage, rosemary and thyme (see notes)
Instructions
Preheat the oven to 400
Cut the cherry tomatoes in half
Place the cut tomatoes cut side down on a parchment-lined baking sheet
Drizzle with the oil
Sprinkle cut herbs over top the tomatoes
Season with salt and pepper
Roast for 20 - 25 minutes, or until the tomatoes are well cooked down, wrinkled, cracked skins and (*optional) caramelized color on the tops.
Remove the tomatoes and let cool completely. Transfer to a very clean jar. Fill the rest of the jar with extra oil to keep the tomatoes submerged. Keep refrigerated.
Notes
Best tips and tricks:
1. Use the freshest cherry tomatoes you can find.
2. Use an oil like olive oil or avocado oil. You can use regular vegetable oil as well, but just use an oil that you prefer the taste of.
3. Adding extra seasonings like garlic and onion powders is possible if you prefer those flavors. I like those flavors as well but I chose to keep the tomatoes without garlic this time for ease of versatility.
Nutrition Information:
Yield:

56
Serving Size:

1
Amount Per Serving:
Calories:

37
Total Fat:

4g
Saturated Fat:

0g
Trans Fat:

0g
Unsaturated Fat:

4g
Cholesterol:

0mg
Sodium:

6mg
Carbohydrates:

0g
Fiber:

0g
Sugar:

0g
Protein:

0g
All nutritional information is based on third party calculations and is only an estimate. Each recipe and nutritional value will vary depending on the brands you use, measuring methods and portion sizes per household.