This Air Fryer Acorn Squash is buttery, sweet, and tender with a deep caramelized flavor. The combination of the sweet squash and the buttery brown sugar topping will make anyone a true forever fan of squash!
Acorn squash is perfect for this recipe because of its sweetness and its versatility. There are so many options for seasoning when making this squash in the air fryer.
This post may contain affiliate links. If you make a purchase after clicking a link, I may earn a small commission AT NO COST TO YOU. As an Amazon Affiliate, I earn from qualifying purchases.
Acorn Squash in the Air Fryer
Acorn squash makes a great side dish for any fall dish, seeing that they are in season around this time. Perfect for serving on any holiday, Thanksgiving or Christmas, they're inexpensive and plentiful.
I found this golden acorn squash in my own garden that just screams to be included in a delicious fall feast. It is a bit funny the story behind this one because I wasn't quite sure about the color. I had always read that when an acorn squash turns orange it is overripe but this was perfectly firm and flavorful.
I just knew it was ideal for making in my air fryer.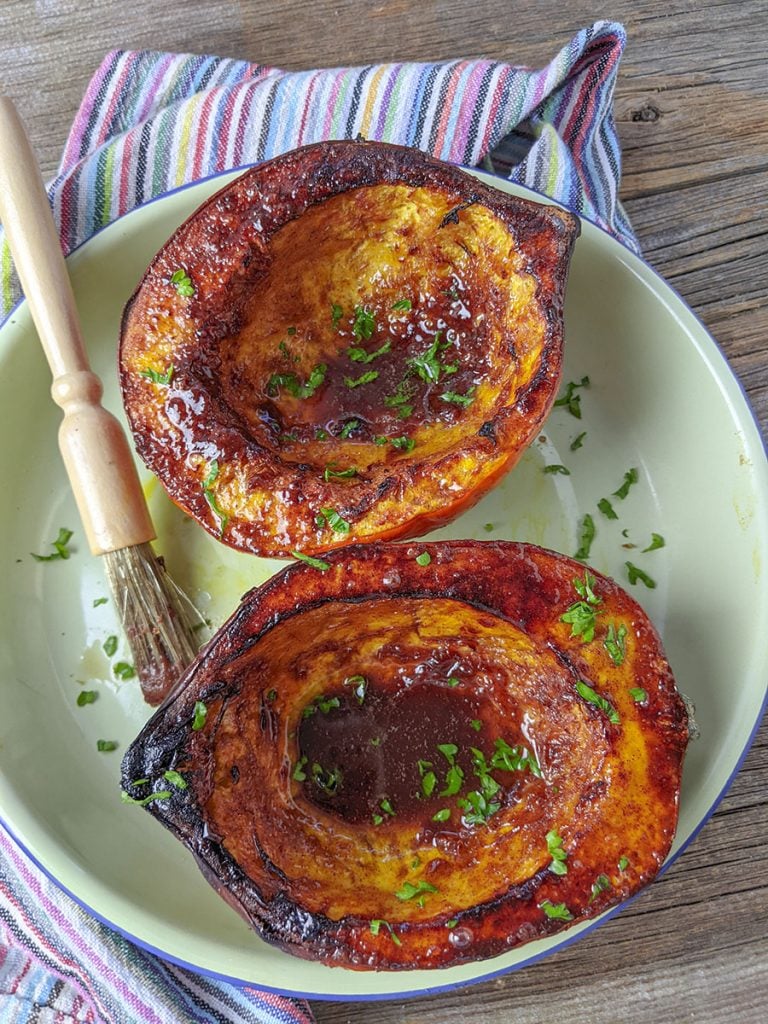 What's to love about this recipe
Deliciousness: Whether you made this squash in the oven, on the grill or in the air fryer, the other ingredients meld like best friends. I mean, who doesn't love butter and brown sugar?
Easy: This squash recipe is so simple to make, even new cooks will have no problem with getting it on the table.
Cost: The cost for this side dish gives you huge flavors for your grocery buck.
Multitasking Ease: Using your air fryer for this recipe makes it super easy to cook other things. While I was cooking this acorn squash, I was also getting a perfectly delicious roast beef made in the Ninja Foodi!
How to cook acorn squash in an air fryer
Not only is it really easy to cook acorn squash in an air fryer it's also an amazing way to get the perfect roasted texture in less time than traditional roasting methods.
Start by washing, cutting your acorn squash, and removing the seeds. By the way, did you know you can clean and roast the seeds from your acorn squash?? Actually, you can roast the seeds from ANY squash and make a super delicious snack as Sue did in her post for roasting the seeds five different ways!
So if you look below, you'll find the printable recipe that gives you detailed instructions on how to air fry acorn squash.
You'll want to fit the squash halves in the air fryer basket and air fry them till they're tender. Then the buttery sweet topping goes on.
However, I just wanted to point something out. I did discover one problem you may find depending on the air fryer you use and the size of your acorn squash.
Because I used my smaller air fryer (the 3.7 qt Cosori) while the Ninja Foodi roast beef was cooking, I could make the squash halves together initially to cook them and make them soft, but after adding the cinnamon and sugar mix I had to cook one at a time, cut side up for the next step so the topping wouldn't run out.
If you have a larger fryer with a bigger basket, this likely won't be a problem. It wasn't a big deal to me, but I wanted to point that out.
After the initial cooking time is complete, then mix together melted butter, brown sugar, and cinnamon to give you a sweet buttery glaze you can then brush on. Cover all exposed areas of squash with a nice thick layer of this sweet buttery blend.
Return to your air fryer for a few more minutes at 400 degrees. This will finish the cooking process leaving you with a tender and sweet squash that makes the perfect side dish.
This sweet squash is perfect for making as a side dish and can be cubed in large chunks or sliced after the first roast to help fit more into the air fryer if you are cooking for a crowd. If you cube it up, you can still add the sweet topping, but you'll need to finish the last portion of cooking under the broiler in your oven in a casserole dish.
You may want to make extra because even people who are not a fan of squash tend to really enjoy this sweet roasted recipe that gives you a melt in your mouth candied flavor.
Other ways to make acorn squash in the air fryer
Sweet is not your only option for acorn squash in the air fryer. You can change up the flavor by swapping the sugar and cinnamon for other tasty flavors like garlic, parmesan cheese, and fresh herbs to add more flavor to your squash.
Serving Ideas
This squash side dish will go with almost any main protein, particularly savory type dishes like my Sausage and Mushroom Pie or my Bacon Wrapped Chicken Thighs. The sweetness of the acorn squash will be contrast wonderfully against the savory flavors of those dishes.
Leftovers
Any leftover squash can be left in the fridge for up to 5 days as long as it's covered tightly. To reheat, simply use the microwave for a few minutes or put it in a preheated oven for 10 – 12 minutes until it's heated through.
I wouldn't recommend air frying it again for reheating purposes because there will be moisture that's accumulated on the squash and it could burn before it evaporated the moisture and is heated it through.
I also would not recommend freezing the squash after cooking, just as it is. It won't retain its shape on thawing, but if you wanted to mash the squash and put it in an airtight container, then it would be great in the freezer for up to 3 months.
I hope I've given you some inspiration today on how to air fry acorn squash. I absolutely love this recipe and everyone who's tried it loves it as well. Thanks so much for stopping by The Salty Pot today!
I hope that you give this recipe a try and when you do, please let me know what you think by leaving a STAR RATING and comment below, or shoot me an email at Joanne@thesaltypot.com.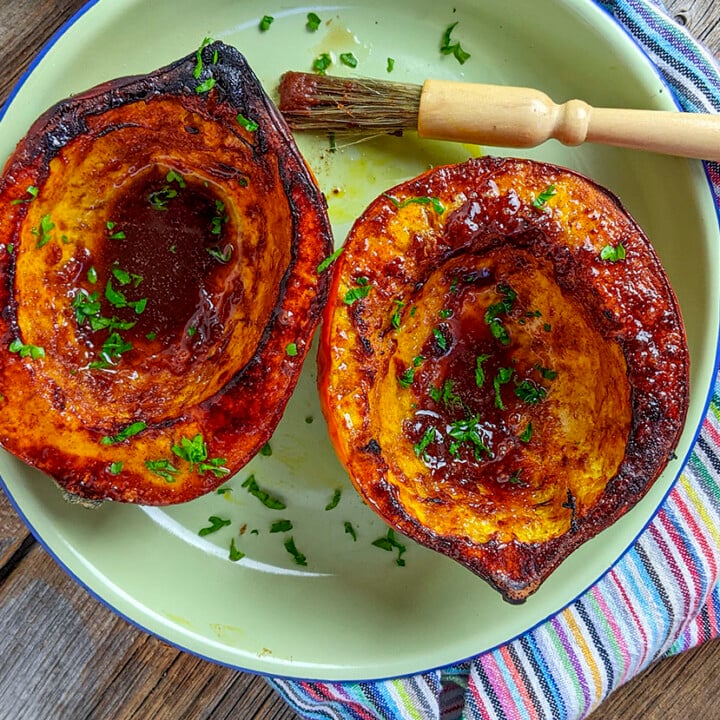 Air Fryer Acorn Squash
Healthy air fryer acorn squash is made super delicious by being air fried and adding a topping of butter, brown sugar, and cinnamon. This side dish is so delicious, you'll want to make it over and over again!
Ingredients
1 acorn squash, medium
½ cup butter, melted
2 tablespoons dark brown sugar
1 teaspoon cinnamon
Instructions
Preheat the air fryer for 5 minutes.
Meanwhile, cut the squash in half and empty the seeds and stringy bits from the center.
Place the squash halves cut side down in the air fryer and air fry for 20 minutes at 300 degrees.
While the squash is cooking, in a bowl, combine the butter, sugar, and cinnamon.
When the cooking time is complete, carefully flip the squash cut side up.
Baste the entire cut surface of the squash with the butter mixture. Be generous.
Air fry the squash again for up to 5 minutes or until the surface is caramelized and has a lot of color on it. Remember to baste the squash a few times with the sugar mixture while it's air fryer for best results.
When the air frying time is up, carefully remove the acorn squash from the basket and let cool slightly. The sugar mixture that may have pooled in the center of the squash is extremely hot and can burn easily, so be very careful.
Notes
1. Use a salted butter in the sugar mixture to enhance the flavor of the topping.
2. The peel/skin of the squash is very tender after cooking and can be eaten! Yum!
3. Cut the halves into two sections for serving four people.
Nutrition Information:
Yield:

4
Serving Size:

¼
Amount Per Serving:
Calories:

255
Total Fat:

23g
Saturated Fat:

15g
Trans Fat:

1g
Unsaturated Fat:

7g
Cholesterol:

61mg
Sodium:

186mg
Carbohydrates:

13g
Fiber:

3g
Sugar:

5g
Protein:

1g
All nutritional information is based on third-party calculations and is only an estimate. Each recipe and nutritional value will vary depending on the brands you use, measuring methods, and portion sizes per household.