Wondering how to chop celery the right way? I can show you how to cut this super crunchy vegetable so famous for it's versatility.
Celery has recently gained a lot of popularity, and quite frankly, you'll be surprised at how much you can really get out of this modest veggie.
Read on to get a sneak peek into the many benefits of this veggie, some quick tips and tricks to help you understand how to chop, dice, and prepare it right, and some ideas to help you put it to use.
Nutritional Facts & Health Benefits of Celery
From reducing inflammation in your body to a myriad of other healthy things, there's actually a lot celery can do. It has a low glycemic index number, which means it is great for those with elevated blood sugar levels.
Plus, it has diuretic action which helps flush out the excess fluid and toxins from your body. To add to that, it is also a good natural source of fiber, which means it can help you keep your digestive system in top shape.
How to Chop Celery the Right Way!
First, one of the most important steps is to wash the celery stalks. Celery is grown above ground, and as it grows, a lot of dirt and sand can get trapped in between the stalks and there's nothing worse than biting down on grains of sand in your salad!
So separate the stalks you're going to use, and give them a good wash under cool running water. With a sharp knife, slice off each end of the celery stalk and discard these pieces.
Celery is known to be crunchy and the level of crunch will depend on how you prepare it. There are fibrous strands that run the length of the stalk of each piece of celery.
If you want some crunch but not TOO much crunch, let's remove those strands. However, if you want your celery to have that SUPER crunch to it, you'll have to keep the fibrous strands that run through its length.
If you want the fibrous strands removed, you'll begin by first slicing the end of the celery from inside the stalk, taking care that you don't go all the way through, and then bend the piece backward and pull down the stalk.
When you do this, you'll see the fibrous strands starting to separate from the celery, which you can then remove.
The rest of the chopping has to do with how you want to use the celery. Usually, in stir-fries, casseroles, and soups, they are cut in larger, half-inch, half-moon shapes.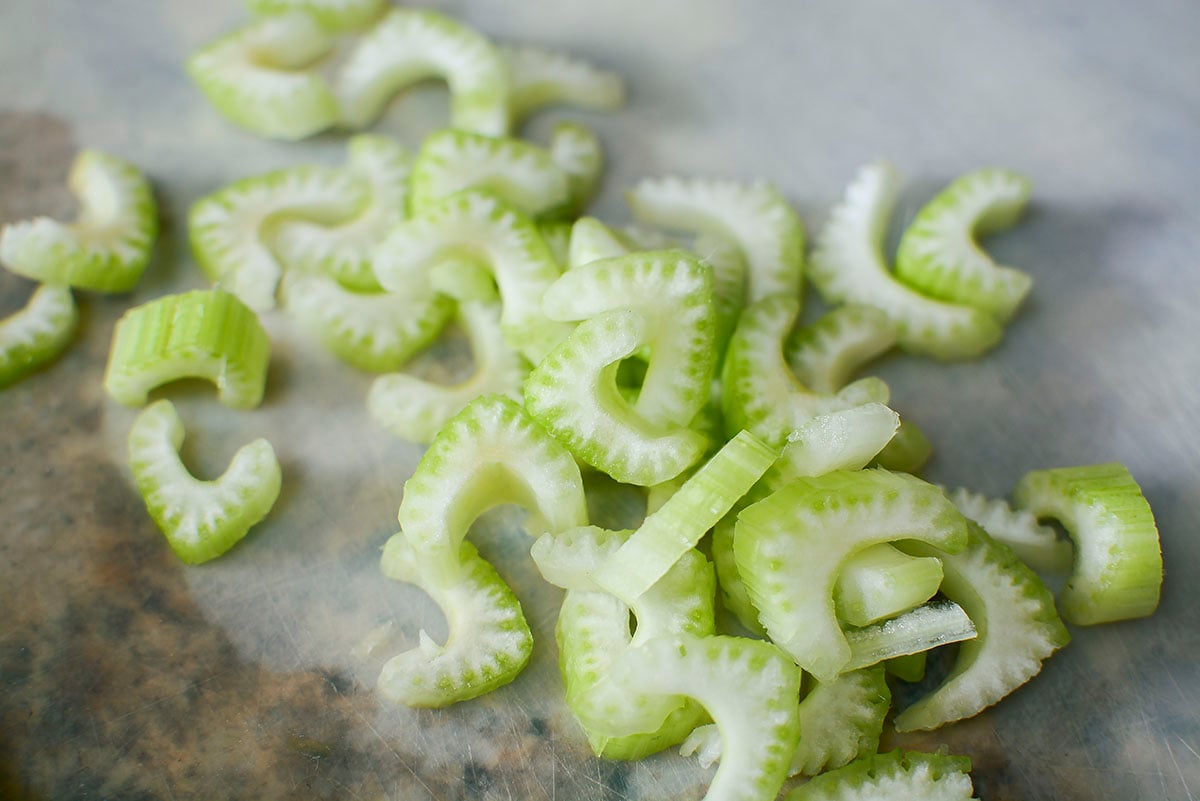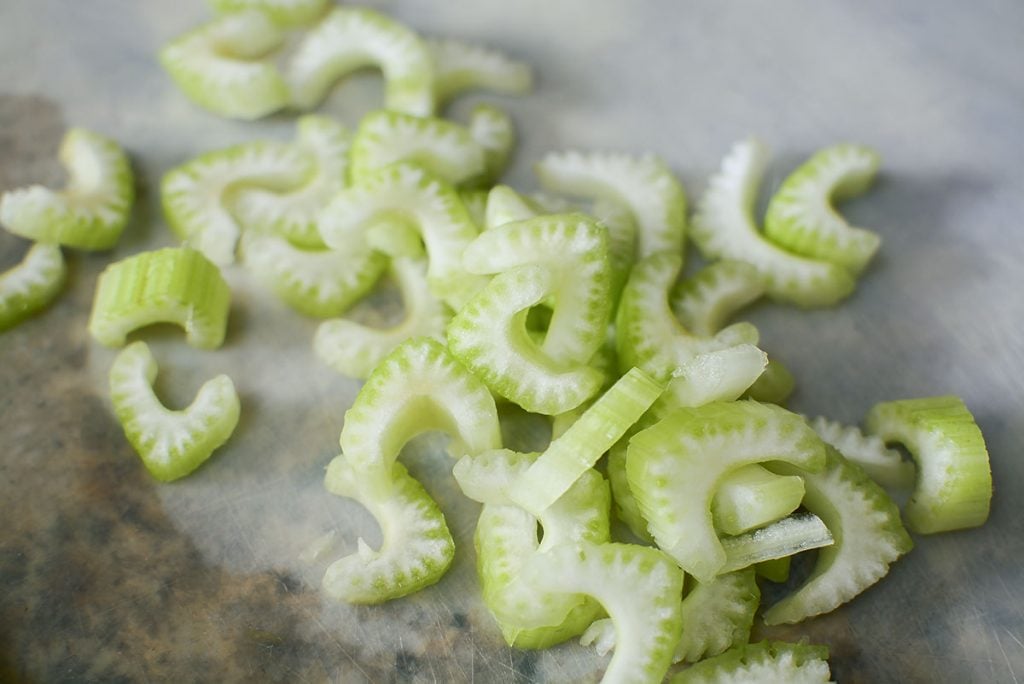 If you want a smaller DICE, then cut the stalk of the celery in half lengthwise, and then cut it up according to the size you prefer. It will result in a smaller morsel of celery which is good for dishes that you don't want to see the celery so much as just have the flavor.
Serving Ideas & Suggestions
Celery is mostly an addition to dishes- rarely the star of the show. But, it does add a nice crunchy element to your food preparations, a tiny salty kick, and hints of vegetal-type flavor too.
Celery stalks can be added when you add other veggies into your food preparations. My Slow Cooker Beef and Barley Stew Recipe is a hit every time as well as soups like this hearty Instant Pot Clam Chowder Soup.
It can also be added as an ingredient into your broths and stocks (you might want to give this Instant Pot Fish Broth a shot), and even in a green salad.
Don't forget about the leaves of the celery stalks! They're fantastic in stuffings and salads as well.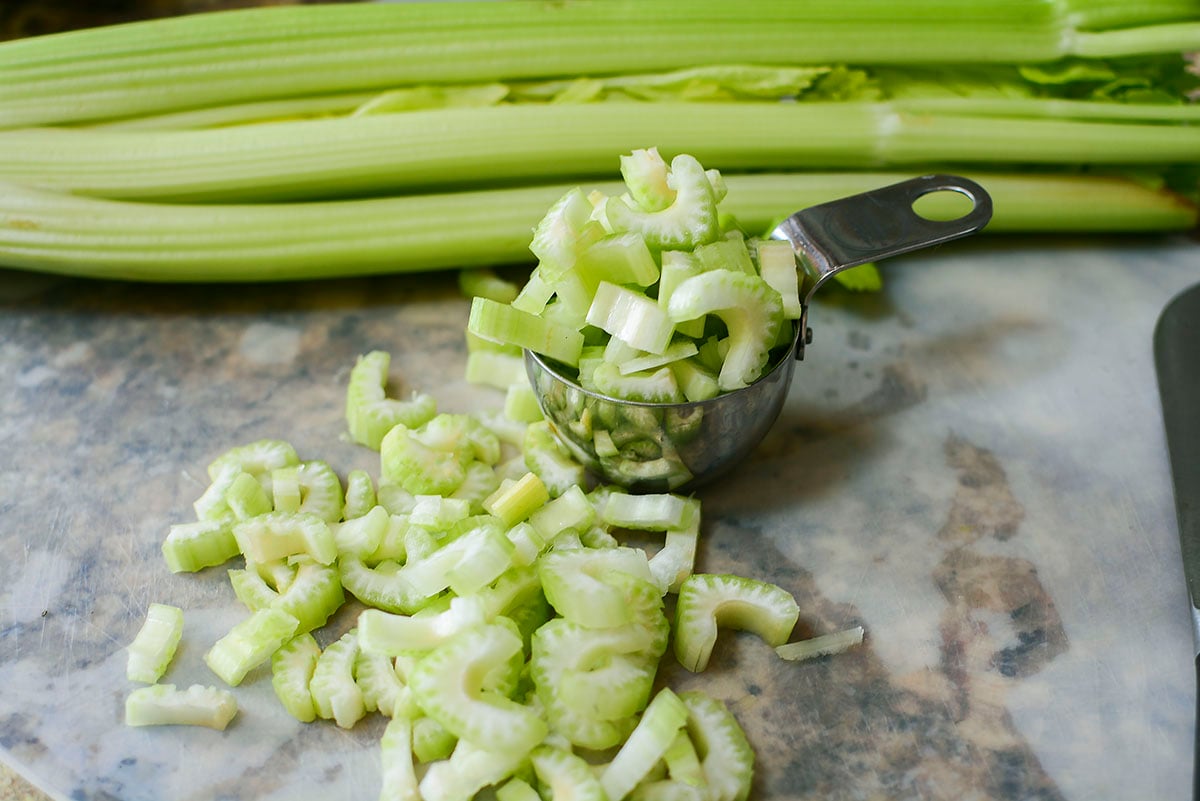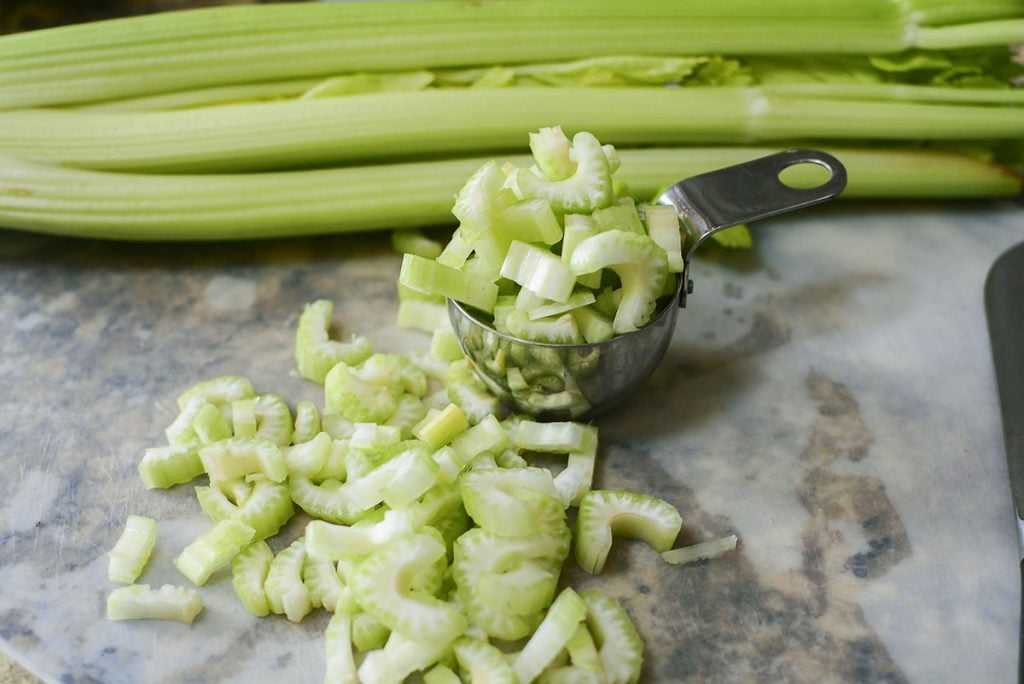 Storing Celery & Other Tips
To keep your celery fresh, wrap the whole celery heads in aluminum foil! They will stay super fresh in your crisper for up to 4 weeks.
Don't forget that celery is actually one of those veggies that grow in bunches (close together) and dirt tends to collect within. Remember to wash it thoroughly before using it in your culinary creations.
If your celery is a bit limp, you can cut off the very ends and stick them in ice cold water for 30 minutes to help crisp them up again!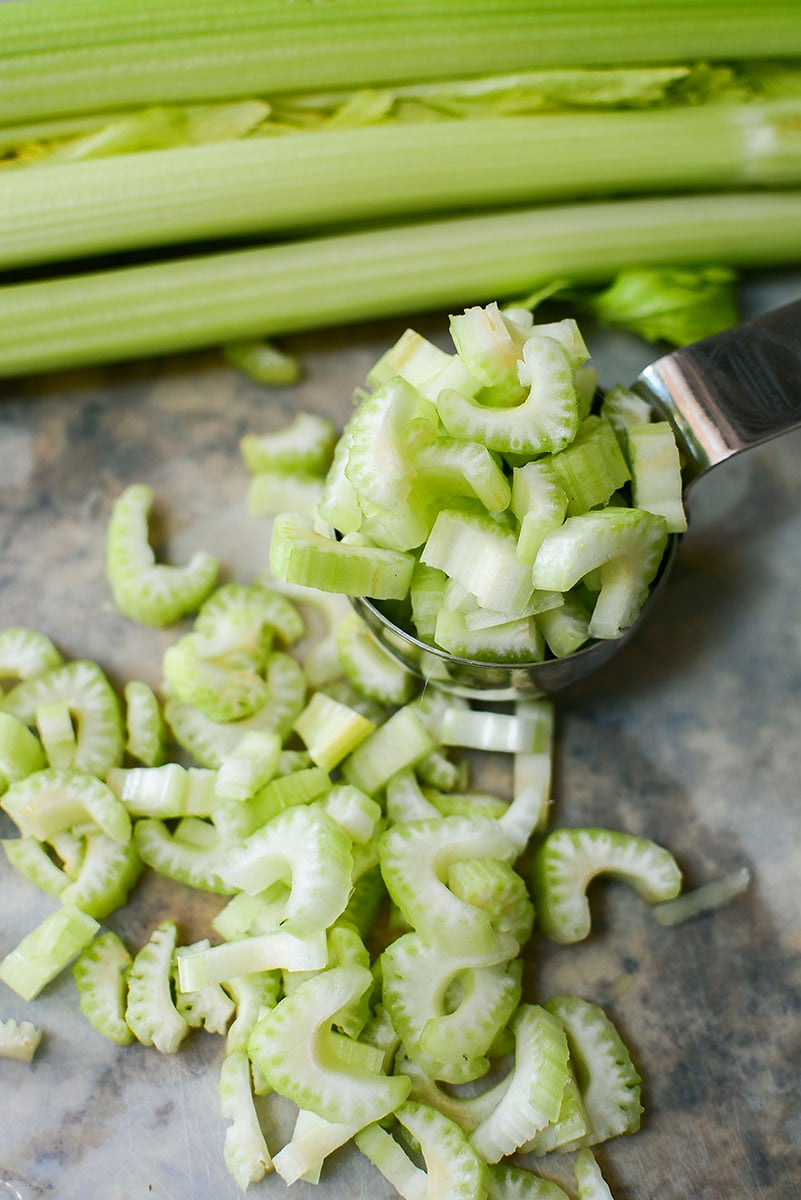 While you're here, I'd love it if you wanted to check out my Salty Pot FB PAGE and became part of The Salty Pot family! I also have a FB Group all about frugal ideas, and I'd love to see you there!!
CLASSIC LEMON CURD
This classic lemon curd recipe is a zingy winner! The condiment is perfect on toast, as a topping on your morning oatmeal, or your center jam to thumbprint cookies. The possibilities are endless.
Ingredients
1 C Sugar
4 Large Lemons, zested and juiced
1/2c Butter, unsalted, softened
4 Large Eggs
1 Large Egg Yolks
3/4 C Fresh Squeezed Lemon Juice (from above lemons, see notes)
Instructions
1. Cream together the sugar, butter, and lemon zest until well combined and creamy.
2. Slowly, beat in one egg at a time (including the last egg yolk).
3. Add the lemon juice and incorporate until it's smooth.
4. Transfer to a pot and slowly begin to heat the mixture over medium heat. Bring to a simmer, constantly stirring so it doesn't scorch on the bottom.
5. Within 10 - 15 minutes or so, the curd should start to thicken and become the consistency of pudding.
6. Remove off the heat. You can leave it as is, but I like to strain the mixture to ensure extra smoothness.
7. Transfer the curd into clean, empty jars and let cool before placing them in the fridge. The mixture will set up a bit more as it gets cooler.
8. Enjoy!
Notes
If the lemons you use don't yield enough juice to make the 3/4 cup, then you can add a bit of the bottled lemon juice to make up the difference, or simply add another fresh lemon to the recipe if you prefer.
For storage containers, you can split this curd into batches, storing in 3x6 ounce jars, or 6x3 ounce jars. You can also use what you have on hand, and if you're going to freeze the curd, just be sure that the container you're using is freezer-friendly.
- You can use a sugar substitute such as honey instead of pure sugar and it won't affect the texture.
- Use the freshest eggs you can to ensure a nice thick curd.
- Rolling room temperature lemons on the countertop before cutting them helps get as much juice as possible from the fruit!
- Zest the fruit BEFORE juicing. It's much more difficult to try and zest lemons after the fruit has been opened/cut and juiced.
Nutrition Information:
Yield:

18
Serving Size:

2 Tablespoons
Amount Per Serving:
Calories:

119
Total Fat:

7g
Saturated Fat:

4g
Trans Fat:

0g
Unsaturated Fat:

3g
Cholesterol:

75mg
Sodium:

21mg
Carbohydrates:

14g
Fiber:

1g
Sugar:

12g
Protein:

2g
All nutritional information is based on third-party calculations and is only an estimate. Each recipe and nutritional value will vary depending on the brands you use, measuring methods, and portion sizes per household.