Wondering how to chop celery the right way? I can show you how to cut this super crunchy vegetable so famous for it's versatility.
Celery has recently gained a lot of popularity, and quite frankly, you'll be surprised at how much you can really get out of this modest veggie.
Read on to get a sneak peek into the many benefits of this veggie, some quick tips and tricks to help you understand how to chop, dice, and prepare it right, and some ideas to help you put it to use.
Nutritional Facts & Health Benefits of Celery
From reducing inflammation in your body to a myriad of other healthy things, there's actually a lot celery can do. It has a low glycemic index number, which means it is great for those with elevated blood sugar levels.
Plus, it has diuretic action which helps flush out the excess fluid and toxins from your body. To add to that, it is also a good natural source of fiber, which means it can help you keep your digestive system in top shape.
How to Chop Celery the Right Way!
First, one of the most important steps is to wash the celery stalks. Celery is grown above ground, and as it grows, a lot of dirt and sand can get trapped in between the stalks and there's nothing worse than biting down on grains of sand in your salad!
So separate the stalks you're going to use, and give them a good wash under cool running water. With a sharp knife, slice off each end of the celery stalk and discard these pieces.
Celery is known to be crunchy and the level of crunch will depend on how you prepare it. There are fibrous strands that run the length of the stalk of each piece of celery.
If you want some crunch but not TOO much crunch, let's remove those strands. However, if you want your celery to have that SUPER crunch to it, you'll have to keep the fibrous strands that run through its length.
If you want the fibrous strands removed, you'll begin by first slicing the end of the celery from inside the stalk, taking care that you don't go all the way through, and then bend the piece backward and pull down the stalk.
When you do this, you'll see the fibrous strands starting to separate from the celery, which you can then remove.
The rest of the chopping has to do with how you want to use the celery. Usually, in stir-fries, casseroles, and soups, they are cut in larger, half-inch, half-moon shapes.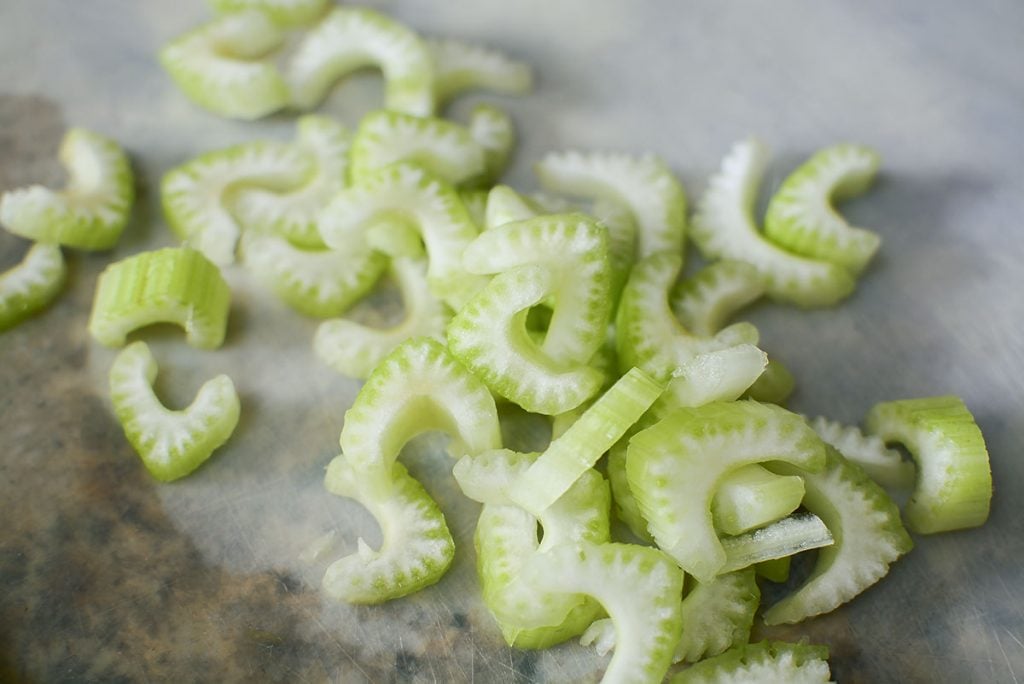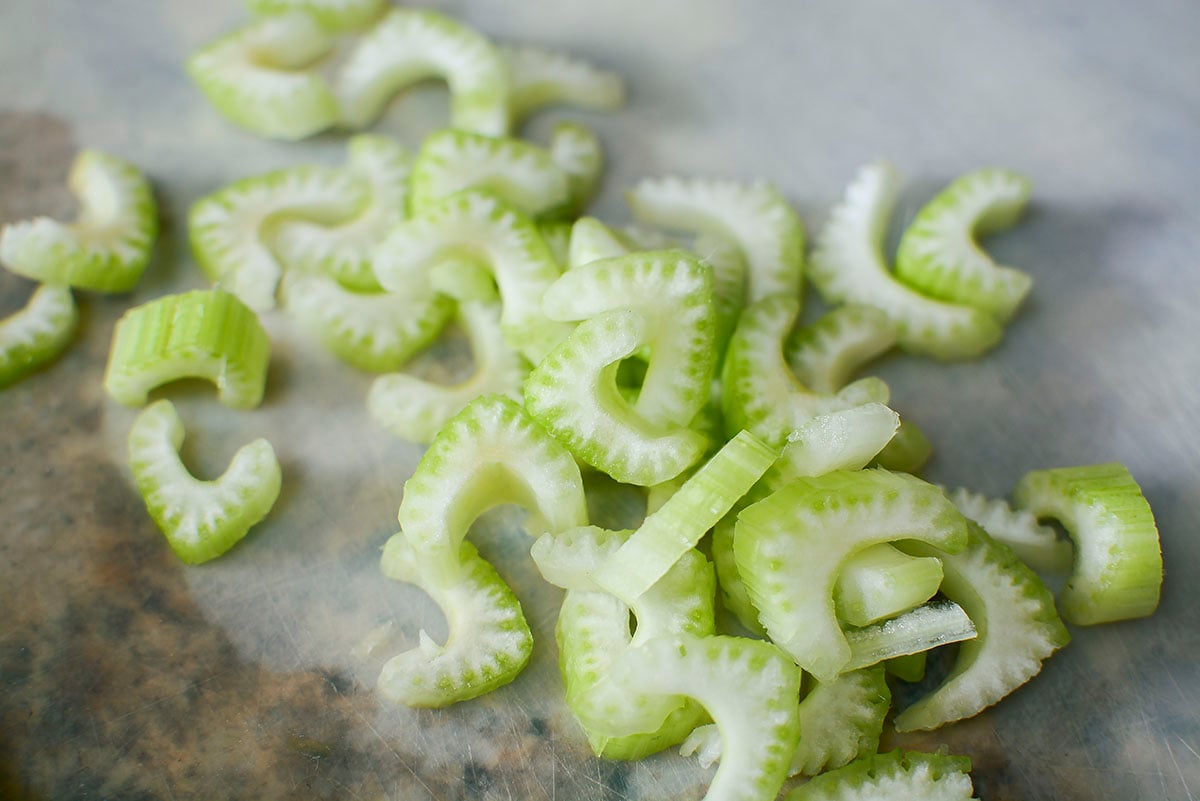 If you want a smaller DICE, then cut the stalk of the celery in half lengthwise, and then cut it up according to the size you prefer. It will result in a smaller morsel of celery which is good for dishes that you don't want to see the celery so much as just have the flavor.
Serving Ideas & Suggestions
Celery is mostly an addition to dishes- rarely the star of the show. But, it does add a nice crunchy element to your food preparations, a tiny salty kick, and hints of vegetal-type flavor too.
Celery stalks can be added when you add other veggies into your food preparations. My Slow Cooker Beef and Barley Stew Recipe is a hit every time as well as soups like this hearty Instant Pot Clam Chowder Soup.
It can also be added as an ingredient into your broths and stocks (you might want to give this Instant Pot Fish Broth a shot), and even in a green salad.
Don't forget about the leaves of the celery stalks! They're fantastic in stuffings and salads as well.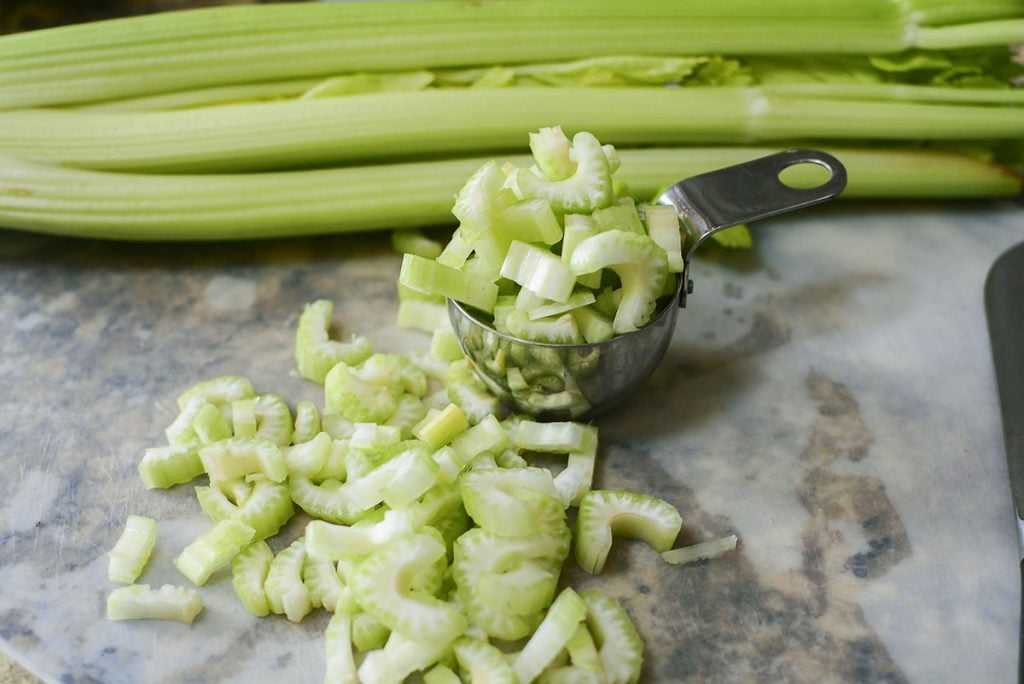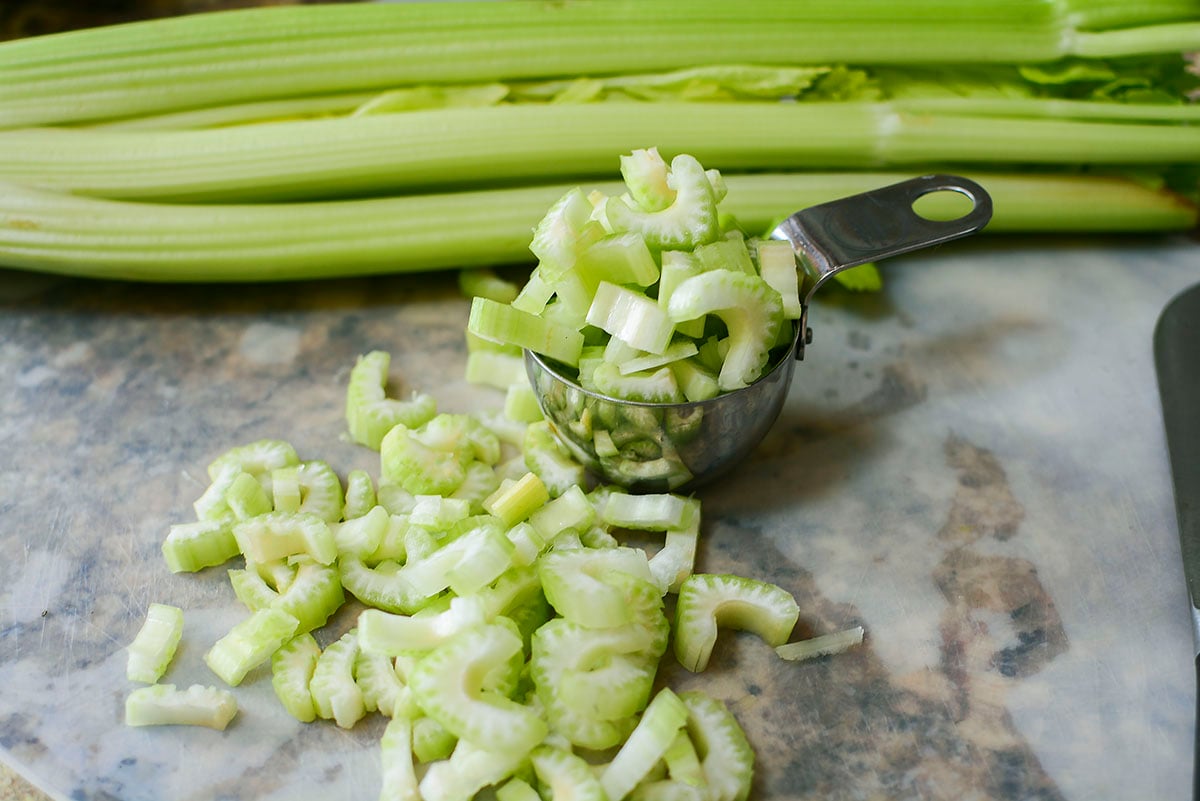 Storing Celery & Other Tips
To keep your celery fresh, wrap the whole celery heads in aluminum foil! They will stay super fresh in your crisper for up to 4 weeks.
Don't forget that celery is actually one of those veggies that grow in bunches (close together) and dirt tends to collect within. Remember to wash it thoroughly before using it in your culinary creations.
If your celery is a bit limp, you can cut off the very ends and stick them in ice-cold water for 30 minutes to help crisp them up again!
I hope this tutorial on how to cut celery for different dishes has helped you! If you have any further questions, please let me know by commenting below, or sending me an email at Joanne@thesaltypot.com.
Thanks so much for stopping by, and I hope you have a fantastic day!
~Joanne