These Ninja Foodi BBQ Wings are incredibly easy to make. They're succulent, juicy, and flavorful because of the way they're cooked. The best part? Have some napkins ready so you can slather on as much barbeque sauce as you'd like!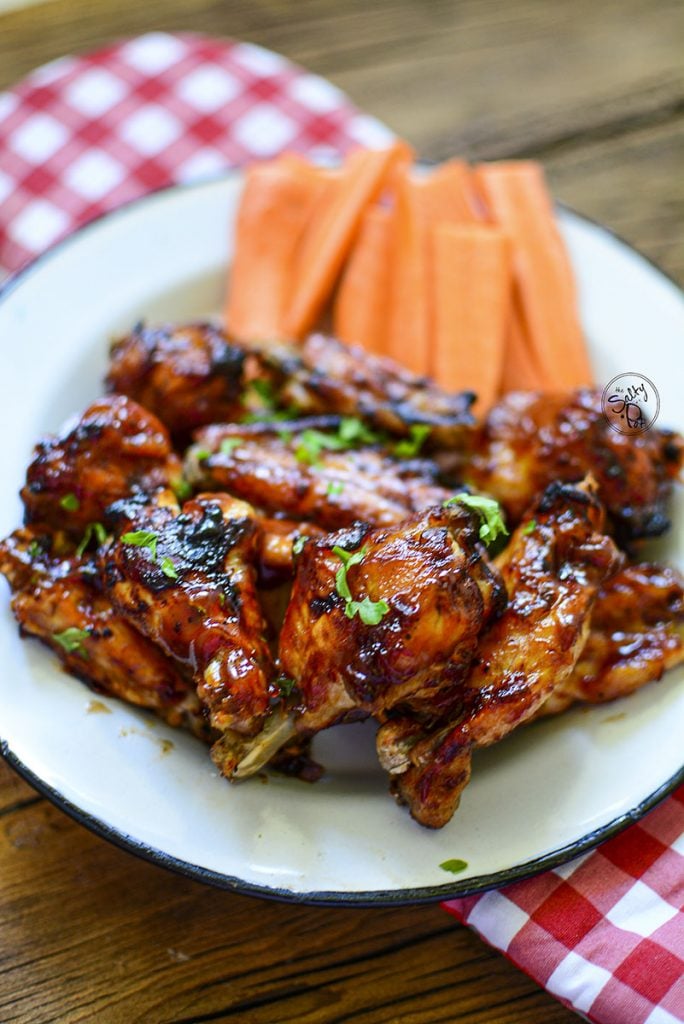 This post may contain affiliate links. If you make a purchase after clicking a link, I may earn a small commission AT NO COST TO YOU. As an Amazon Affiliate, I earn from qualifying purchases.
NINJA FOODI CHICKEN WINGS = the best way to cook chicken wings in my opinion!
Ninja Foodi BBQ Wings
We've all had the deep fried variety of chicken wings either at a pizza place or a wing joint. While crispy, they're usually overcooked and dried out. The sauce sort of helps to cover that up, but cooking the wings my way keep them succulent, juicy and not dried out at all.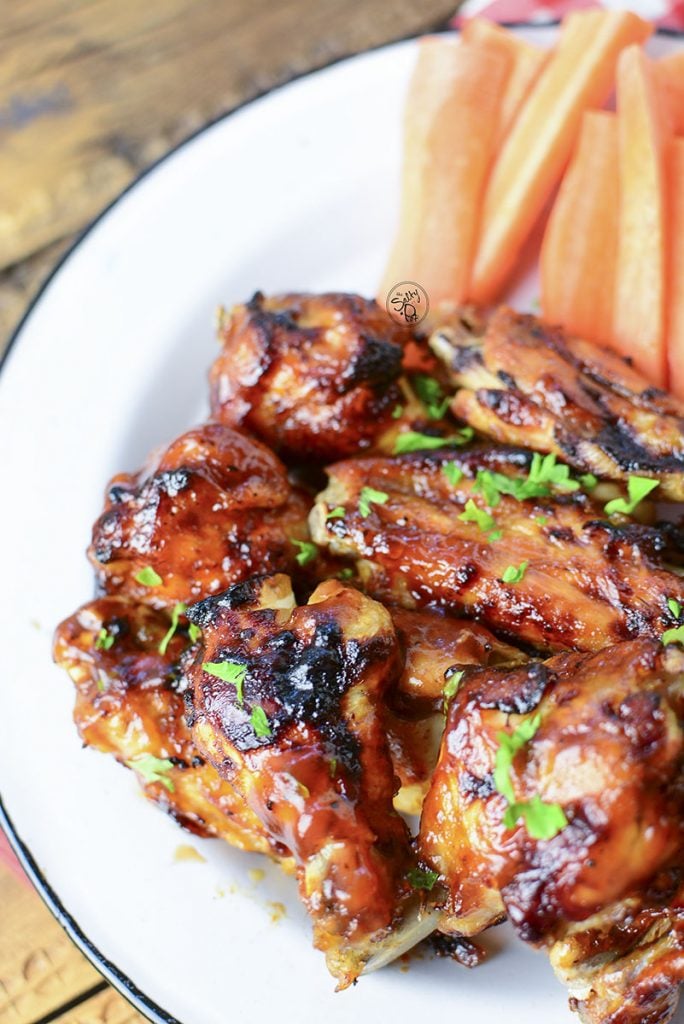 Pressure cooking in the Ninja Foodi
I have both the Ninja Foodi and the Instant Pot. I love both appliances but I love the Foodi just a tad more because of the crisp function that it comes with.
Actually, it does a lot more than just pressure cooking and air frying, and if you're new to owning one, take a peek at my article that talks all about the Ninja Foodi. It might help to make you way more comfortable using it if you're hesitant at all.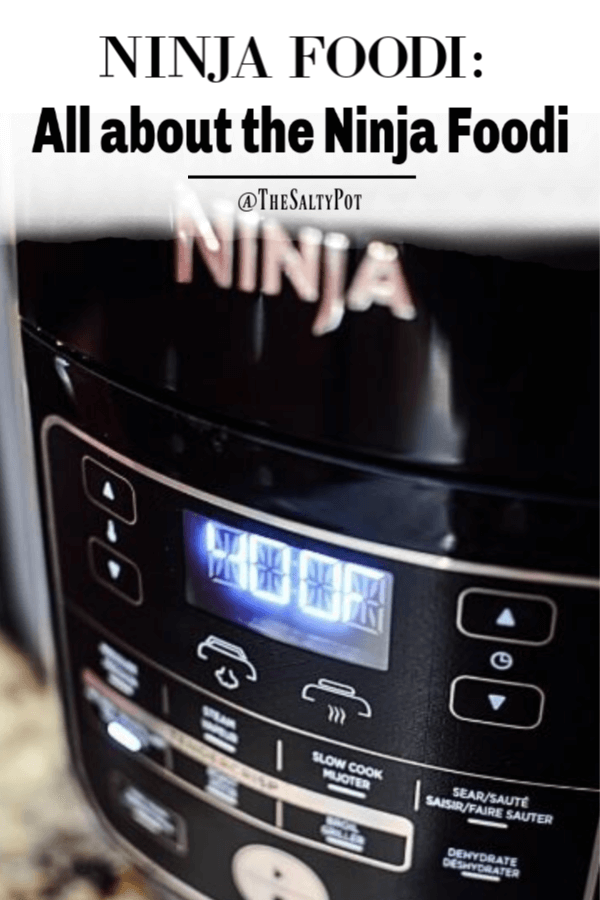 I believe that pressure cooking the wings initially, in the broth, really helps in retaining the juiciness of the wing. Just like my Ninja Foodi Garlic Parmesan Chicken Wing recipe, and my Foodi Teriyaki Wing recipe, par cooking the wing cooks it and then we get the crispiness from the air fryer function afterward.
You can also cook these BBQ wings in the Instant Pot, only the crisping step will come from broiling in the oven. I will have directions in the recipe card below for you.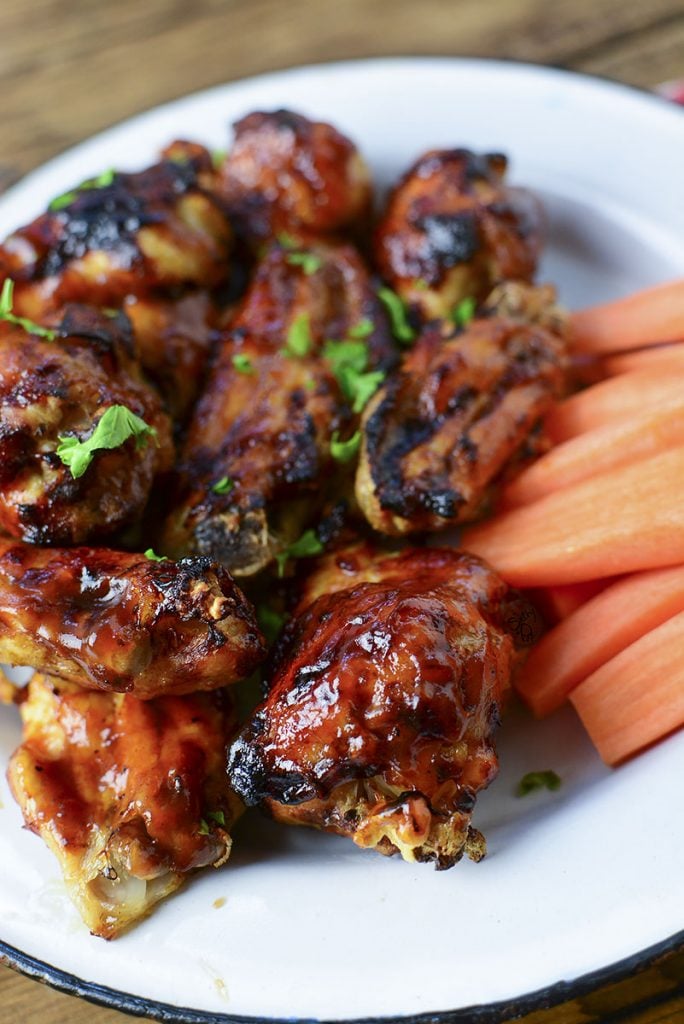 Ingredients
Pretty straight forward ingredients are needed here.
Chicken Wings
Seasonings: Salt, Pepper, Garlic powder
BBQ Sauce: Use your favorite sauce here. I used a mix of Sweet Baby Rays and Kraft's Chicken and Rib. If you would rather make your own sauce, check out this great recipe for an easy barbeque sauce from Merry About Town.
Chicken Broth: I prefer to use chicken broth to pressure cook the wings because I think it lends more flavor to the wing. However, it's optional, and you can certainly use water.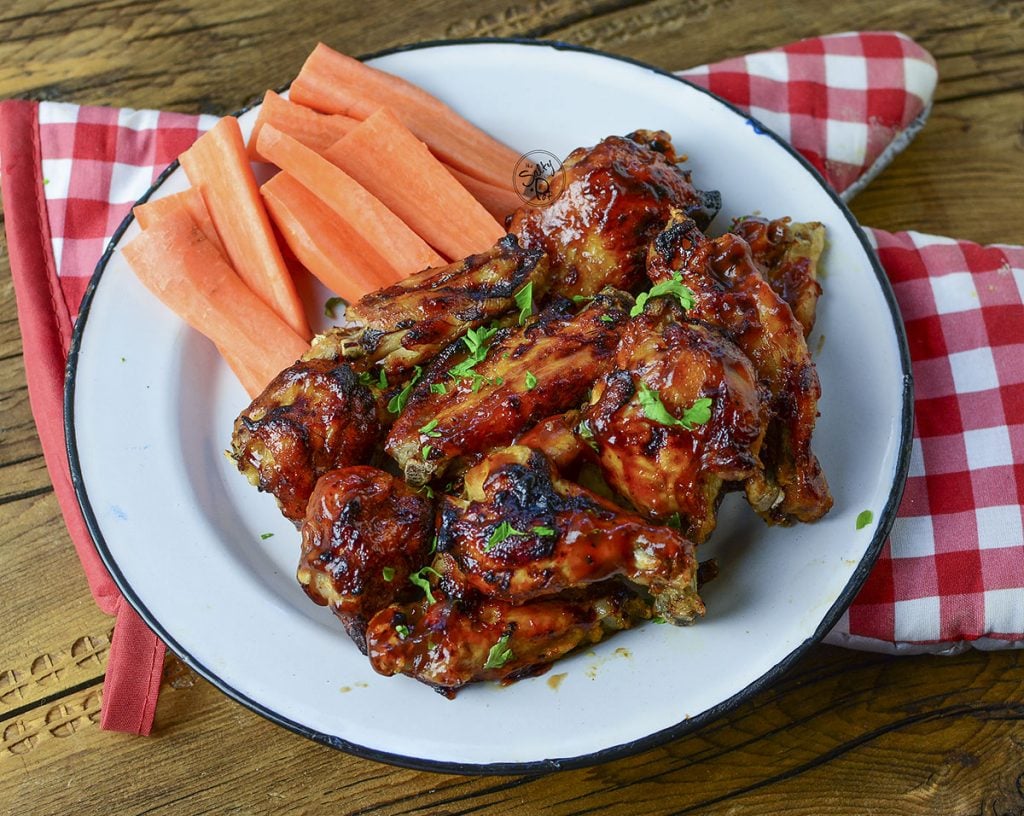 How to Pressure Cook Chicken Wings
It's just a few easy steps.
You'll want your liquid in the bottom of the pressure cooking bowl.
Add your seasoned chicken wings and pressure cook.
After cook time is complete, remove the wings, empty the liquid, replace with the crisping rack.
Replace the wings on the rack and air fry.
Done like dinner! Yum!
I've written more detailed information on pressure cooking these wings in the Ninja Foodi below in the recipe card.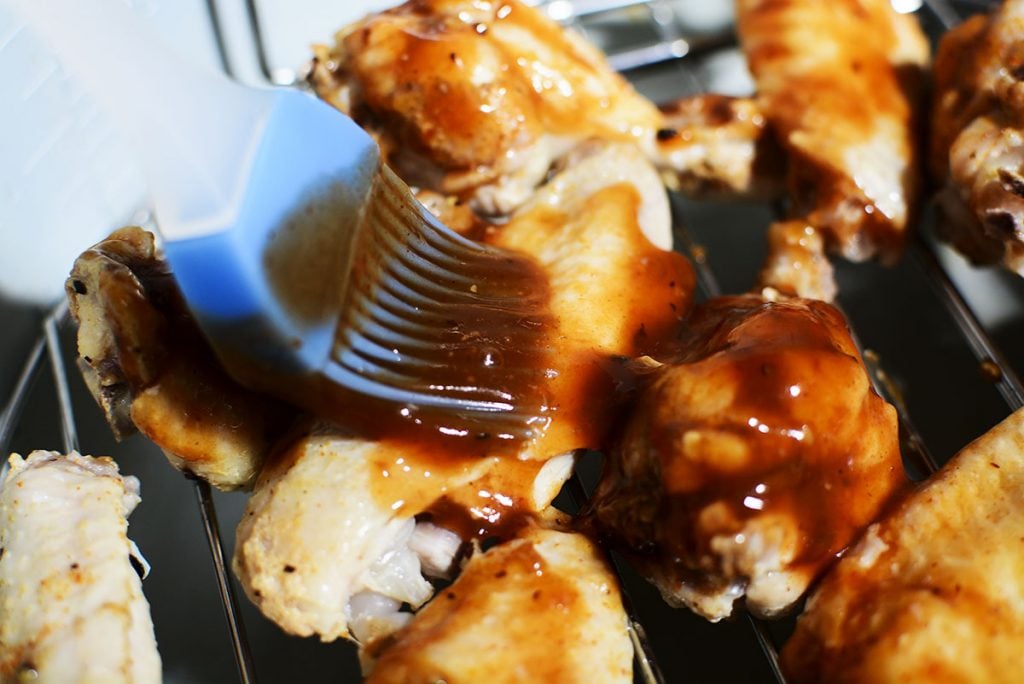 Can I Pressure Cook more than 12 Wings at Once?
Yes absolutely. The time will remain the same, and you can stack the wings on top of each other. The only thing is that for air frying the wings, you'll have to do that in batches so that all the wings stay on one level in order to crisp up. If you stack the wings, they will not get crispy.
What to Serve with the air fryer BBQ Chicken Wings?
Personally, I like to serve a little bit of extra barbeque sauce for dipping on the side. Also, serving them with a plethora of fresh vegetables is usually the norm. Things like carrots, celery sticks, baby tomatoes, etc.
If you wanted to turn the wings into a meal, try serving them along side some seasoned rice, or even a salad and some steamed veggies.
For easy finger food sides, you can't beat potato chips, fritos or tortilla chips!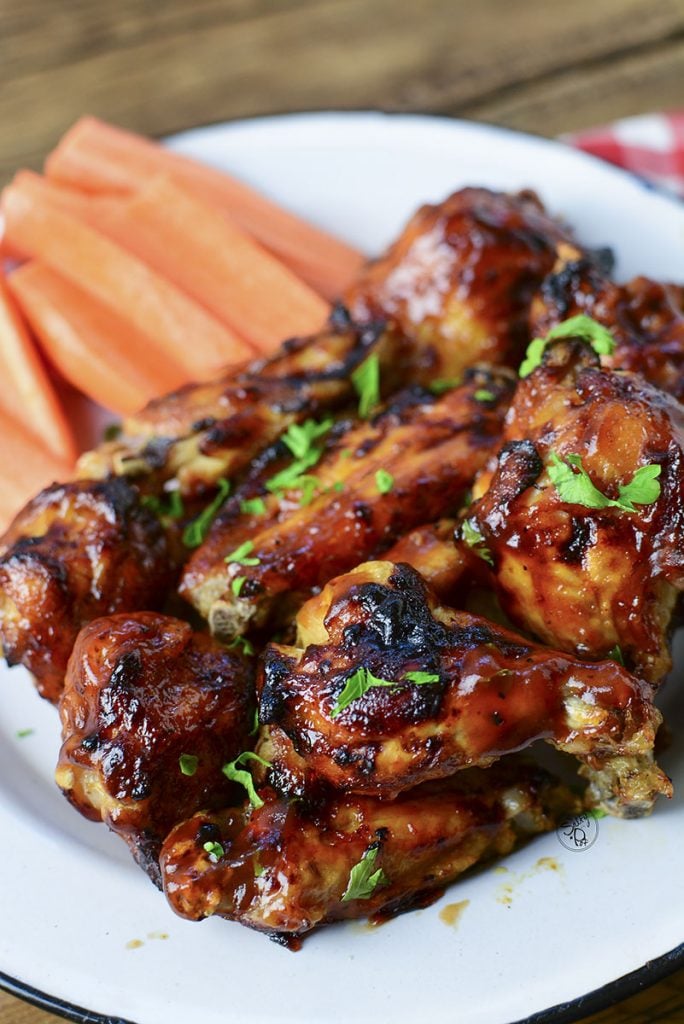 What should I do with leftover cooked chicken wings?
Well, you could throw them back in to the foodi to air crisp them up and heat them through. Other than that, using a microwave will not crisp them up again. The oven will work as well, on a broil but you'll have to watch them very closely so they don't burn.
These Foodi BBQ Wings should last up to about 4 days in the fridge. I wouldn't recommend freezing them if you have leftovers.
Thanks so much for stopping by The Salty Pot today! If you like this recipe please consider leaving a star rating and a comment below. Have a wonderful day!!
NINJA FOODI BBQ WINGS
Additional Time:
10 minutes
These Ninja Foodi BBQ Wings couldn't be any easier to make. Not only are they easy, but they are super juicy and flavorful, you'll never want to go back to those dried out deep fried wings at the pub!
Ingredients
12 chicken wings, raw
as desired, salt and pepper
1/2 tsp paprika, smoked
1/2 cup BBQ Sauce
1 1/2c chicken broth or water
Instructions
1. Blot dry the chicken wings with paper towel. Season both sides with salt, pepper and smoked paprika. (see notes)
2. Pour the chicken broth into the cooking pot of the Ninja Foodi.
3. Carefully set the wings in the broth so that the seasonings aren't splashed off.
4. Close the pressure cooking lid and set the toggle switch to "seal".
5. Pressure cook on high for 7 minutes, or until the internal temp of the chicken comes to 165.
6. When the cooking time is up, move the toggle switch back to "vent" to remove the excess pressure in the pot. Careful you don't burn yourself on the steam.
7. When the pin drops, the lid can be safely removed, opening it away from your face.
8. Remove the wings to a plate and empty the cooking liquid.
9. Place the pot back into the Foodi and place the crisping rack into the pot. (see notes)
10. Place the cooked wings onto the crisping rack in one level. Using a basting brush, liberally brush the bbq sauce over the wings.
11. Close the crisping lid and select "air crisp" for 5 minutes. Press start. (See notes).
12. After the time is up, open the lid and carefully flip the wings over. Sauce them again and crisp the wings on the other side for another 5 minutes. After the time is up, the wings are ready to enjoy!
INSTANT POT DIRECTIONS:
Follow steps 1 - 8. Then place all the wings on a baking sheet (foil lined for easy cleanup!), and brush on the sauce.
Turn the oven to broil, and broil the wings on one side till you get the caramelization that you prefer. Flip and do the other side if you wish. Keep an eye on them as they burn easily because of the sugar in the BBQ sauce. Enjoy!
Notes
1. Smoked paprika tends to be very strong with smoky flavors, so a little goes a long way. Err on the side of not enough paprika rather than putting on extra.
2. Be sure to spray the cooking rack with non stick spray so the wings don't stick to the rack.
3. The air crisping time is a general guideline as people have their preferred level of crispiness. If you find that five minutes is not enough time to make them as crispy as you'd like, feel free to continue on air frying them until you've reached the desired crispiness. Just check on them periodically so they don't burn.
Nutrition Information:
Yield:

12
Serving Size:

6
Amount Per Serving:
Calories:

109
Total Fat:

7g
Saturated Fat:

2g
Trans Fat:

0g
Unsaturated Fat:

4g
Cholesterol:

22mg
Sodium:

290mg
Carbohydrates:

8g
Fiber:

0g
Sugar:

4g
Protein:

5g
All nutritional information is based on third-party calculations and is only an estimate. Each recipe and nutritional value will vary depending on the brands you use, measuring methods, and portion sizes per household.