"Rushing, rushing, hurry up". That's how my amazing Grandmother would always talk when she was in an extreme hurry. Muttering under breath, she had no time to stop and talk and was "rushing rushing, hurry up"! More often than not, she was trying to hurry and get dinner on the table. Can you relate with this?? Well, no worries! I've got your back my gorgeous reader!! It's called Cheesy Chicken Bacon Pasta Casserole!
It's a favourite because it's a super easy meal to put together, and after the first time you serve it – your family is going to request it every day! Well, .. not every day because that would be boring.  Every second day! Remember the name: Cheesy Chicken Bacon Pasta Casserole. Memorize the recipe. There'll be no need for the crazy amounts of praise you'll want to give me for this recipe, I feel it's my duty and my pleasure. Haha!! (I'm being silly, but the duty and pleasure of passing on this recipe are true! )
Did you say you want some CHEESE??
So I just want to point out a pretty important point : Believe it when I say that this dish will make the cheese lovers hearts of this world beat stronger. This dish might even foster soft mutterings under their breath about how amazing this dish is… and then of course, how amazing YOU are for making it!
Speaking of cheesy, if you're looking for another super cheesy, super easy casserole, check out my Cheesy Bacon Gnocchi Hugs dish! It's crazy good!!
One of the best things about this dish is that it's so easy to make, you can put it together in less than 30 minutes, and it's amazing on the taste buds. Ok, so that's 3 things, but they're all worth mentioning!
Left over rotisserie chicken fits the easy bill with this dish, and at the same time, it adds some healthy protein to dinner. Pasta, well, pasta is an ingredient that puts the comfort in comfort food, right? And cheese… what can I say about cheese??? It's the ingredient that binds it together and makes the casserole sing happy songs of "I love you" and "You're going to be sleepy after you eat this".  Lastly the Bacon. I honestly don't have to say anything about bacon because it speaks for itself.
Seriously, believe me when I say this yummy cheesy chicken bacon pasta casserole is SO worth every easy and quick step it takes to make this amazing dinner.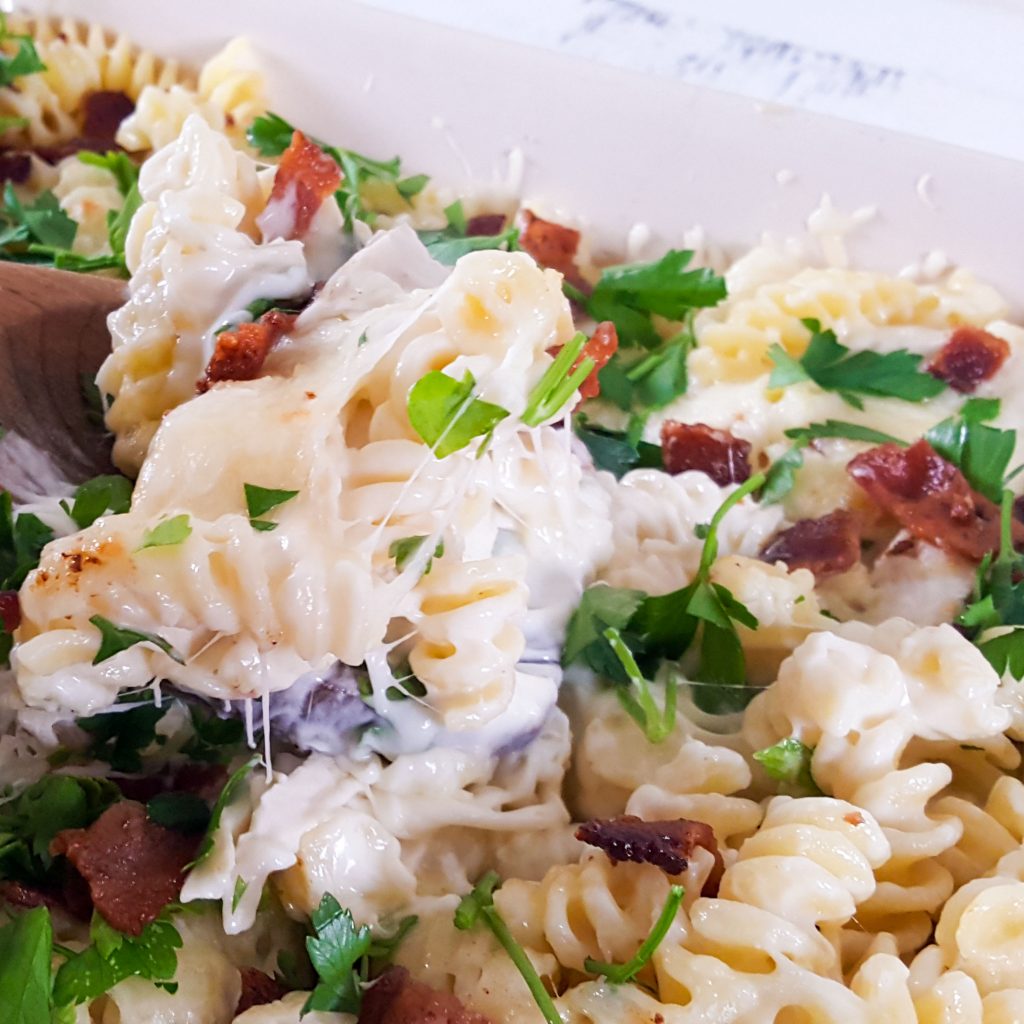 Check out a few tips for this recipe!
This wonderful meal can be made ahead and frozen. (Just freeze it just before of baking)
Left over cooked chicken or rotisserie chicken is ideal for this recipe
I used fusilli pasta, but you can use ANY kind of pasta you have handy!
Feel free to add more of your preferred seasonings to the sauce!
In that same vein, adding a trio of cheeses would be divine!
Definitely use crispy bacon. Under cooked bacon could add greasiness to the dish
Don't care for parsley? Leave it out, it will still taste amazing!
I hope you try this cheesy bacon chicken pasta casserole with your family. It's so versatile and after making it a few times, you'll put a few twists on the recipe that make it a totally yours! 
Cheesy Chicken Bacon Pasta Casserole
Cheese, bacon, pasta and chicken. The golden combination that wrote the book on comfort food. It's comforting, super tasty, inexpensive to make, and best of all, uses ingredients you probably have on hand! 
Ingredients
6 strips of bacon; cooked and chopped
3 tablespoons italian parsley; chopped
1 cup cooked chicken
1 lb box fusilli pasta
1 tsp garlic powder
tsp onion powder
2 cups heavy cream
1 tablespoon cornstarch
1/4 cup water
1 bag of italian cheese mixed
salt and pepper to taste
Instructions
In a saucepan, begin heating the cream.
Make a slurry with the cornstarch and water, and add it to the saucepan.
Bring to a low boil.
Once the sauce has thickened add in half the bag of Italian cheese. Stir well.
Add garlic and onion powder, and salt and pepper.
Meanwhile Boil fusilli as directed on the box. Drain.
Transfer pasta into a casserole dish and top with cheese sauce. Mix well. Top with chicken, cheese, and bacon.
Broil for 4 to 6 minutes on high until cheese is melted.
Remove from oven and top with Italian parsley.