My love for tomatoes is so real! I wanted to talk to you today about how to peel tomatoes because they are an essential part of many recipes! Peeling tomatoes is WAY easier than you ever could have imagined!
Types Of Tomatoes To Peel
If you are an avid gardener or found a great deal on fresh tomatoes at a farmers market, you may feel a little overwhelmed and not sure how to prepare them. I am here to you help you will all your tomato peeling needs. 🙂
There are so many different types of tomatoes, and I thought I would take some time to talk to you about them. Don't worry; I am not going to explain every one of the 15,000 varieties of tomatoes! I will just stick to the most common ones. This way, you will know which ones are best depending on your use and recipes.
Cherry Tomatoes – There are many varieties and sizes of cherry tomatoes. They are sweet and perfect for salads and eating by themselves. You can also add them to recipes too.
Roma Tomatoes – They are relatively meaty and go wonderfully in soups, sauces, and other recipes that you cook. Roma tomatoes are pretty versatile and can also be sliced and eating on a sandwich or in a salad.
Big Boy Tomatoes – These are ideal for sandwiches or wraps because they are large in size. They have a fantastic flavor and enhance almost any dish. Eat them plain with a sprinkle of salt and pepper and your taste buds will be thanking you.
Heirloom Tomatoes – If you are looking for a sizeable hearty tomato, an heirloom is a great choice. They do have a lot of seeds, so you might remove them when adding to recipes. They are fantastic served in large raw slices too.
Why Would You Want To Peel A Tomato?
There are plenty of times where you might be making a recipe that uses a stewed tomato of some sort. Think about spaghetti squash from scratch, or maybe a chili if you're going to add diced tomatoes. Having the skin on the tomato would add texture to the dish that would be unpleasant as the skin would roll off the tomato and float around in the dish.
It's always nicer to remove the skin first before proceeding with the dish you're making!
How To Peel A Tomato
I want to get down to the nitty-gritty and explain how to peel tomatoes now. Here are the easy steps involved in skinning tomatoes:
First Step: Start by boiling a soup pan with water and a little bit of salt. And filling a bowl or sink basin with ice and water.
Second Step: Take each tomato and lightly cut an "X" into the bottom. You don't have to cut it deep or anything.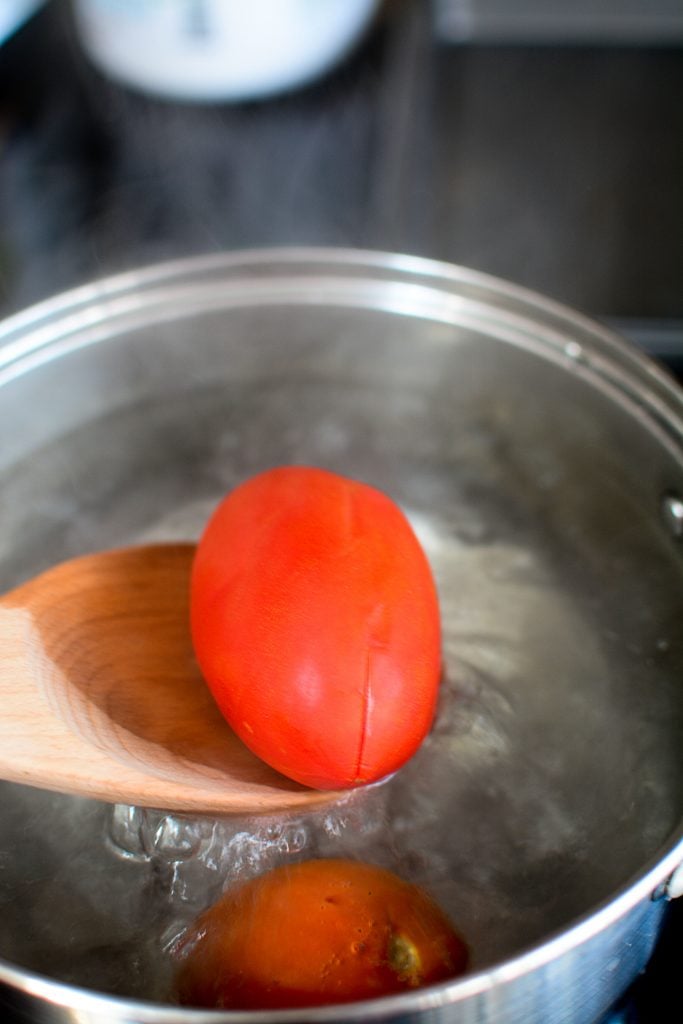 Third Step: Place a few tomatoes into the boiling water. If you are working on skinning several, you will need to work in several batches. Leave the tomatoes in the water for 1 or 2 minutes until the skin looks like it's starting to loosen. Sometimes, the tomato has no change at all, so you just have to give it a go and take it out of the water and see if it's ready to peel.
Fourth Step: Immediately remove the boiled tomatoes from the pan and place in the ice water. Swirl them around a little bit, so they get colder. I usually let them sit in the ice water for 2-3 minutes.
Fifth Step: Test to see if the tomato skins are ready to come off by picking one up and lightly tugging on the peel. If the peels come right off, then it's available. If you have to tug very hard, then you should let it sit in the water a couple more minutes and test again.
Peel Tomatoes For Freezing
Freezing tomatoes is a great way to save them for future use so you they don't get wasted and you don't have to eat them all at once. I prefer to remove the skin first, but depending on how you intend to use them, you don't always need to. If you are planning to make chili for example and the skin isn't removed, you may not like the texture when you eat it. It's all up to preference.
If you don't peel the skin before freezing, once the tomatoes thaw you can also easily remove the skin by tugging on it. It takes a little bit longer than the method I mentioned earlier, and it's not always foolproof, but it is always an option. It's just a pain in the butt sometimes to sift through the soft and watery tomato 'meat' to pick out the bits of tomato skin.

How To De-Seed A Tomato
With some recipe, it's much nicer to just have the 'meaty' bits of the tomato (the walls) for the dish. Sometimes the inner part of the tomato is too watery and you might not want the seeds rolling around in the sauce that you make.
So to de-seed the tomato, simply cut the tomato in quarters like an apple. With a sharp paring knife, carefully run the knife along the wall of the tomato to remove the watery, seedy part.
Most times, this part is a bit 'jelly' like and will come out in one large piece. You will also want to remove any tougher parts where the tomato was connected to the vine, etc.
After you have basically just the walls of the tomato left, you can go ahead with the rest of the recipe!
Recipes With Tomatoes That You Will Love
Try some of these delicious recipes that have tomatoes. (Some peeled, and some not!) Give them a try because you are going to love them. 🙂
I hope that this tutorial helps you the next time you find yourself needing to peel a tomato! As you can see my dear readers, it's super simple to do. Plus, when you're done it kinda gives you this "accomplished" feeling. Haha! Thanks so much for stopping by The Salty Pot today, and the next time you go to peel a tomato, please let me know below in the comments what you were making! Bonus points for pics!
Follow me on Instagram at https://www.instagram.com/thesaltypot/
***DON'T FORGET TO PIN THIS BACK TO BASICS TUTORIAL ON HOW TO PEEL A TOMATO, TO YOUR FAVORITE PINTEREST BOARD TO USE FOR LATER***

HOW TO PEEL TOMATOES
Additional Time:
5 minutes
A back to basics way to peel a tomato. Showing you how to peel a tomato before you use them in different dishes helps cut down texture and flavor issues in your yummy recipes!!
Materials
6 Tomatoes
pinch of salt
4 - 5 cups of water
4 - 5 cups of ice water
2c ice
Tools
Medium-sized pot
slotted spoon
bowl
paring knife
Instructions
Bring a pot of water to boil. Add a pinch of salt.
With a sharp paring knife, cut an "X: into the bottom of the tomato
Carefully, place the tomato into the water with a slotted spoon
Let the tomato rest in the water for approximately a minute or so
While the tomatoes are in the water, fill the bowl with cold water and ice
Carefully, remove the tomatoes out of the water and place them into the ice water to stop the cooking.
Let them rest in the water for a few minutes. Carefully pull one tomato out and gently pull on the skin at the "x" area to begin peeling the tomato
Notes
If you find the tomato isn't peeling that easily, add it back to the hot water for another minute, and then back into the cold water. This should help in the peeling process.
Sometimes though, the tomatoes may not ripe enough or too green and will not peel. In this case, I would put them in a container with a lid and give them a few days in the refrigerator to help ripen. (the ones that were in the water).

To help unripe tomatoes ripen faster, place in a paper bag in a cool spot for a few days. Always check on them so you can catch them when they're perfectly ripe!