My grandma was a fantastic woman and could cook her booty off in the blink of an eye. She was a whirlwind in the kitchen and could produce a masterpiece from stale bread, a chicken foot, and a radish. Trust me, I speak no lies. (right now, anyway, haha! j/k!). She loved dill and used it a lot in her cooking, so now every time I eat something made with the herb I'm transported back in time to her dinner table. I can't say that my Ukrainian grandmother would have ever made this Shrimp and Avocado Salad Appetizer… but I'm pretty sure she would have loved it.
SHRIMP AND AVOCADO SALAD APPETIZER
hat's not to love about it, I mean come on! Briny Shrimp, creamy fresh Avocado, comfort adding ingredients and lots of dill. Bonus to it all?.. THERE'S NO COOKING INVOLVED. So if you know anyone who's culinarily challenged or *ahem* ENERGY CHALLENGED like me, and they want to make a great impression??? Pass this recipe onto them. They'll be golden, and they'll be in your debt, and you can make them do stuff like wash your dog or clean your house… FOREVER. (cue diabolical laugh)
Main ingredients for the shrimp and avocado salad recipe:
It's pretty straight forward and I'm pretty sure that you'll have all the ingredients already in your pantry. Check it out:
Shrimp, of course
Avocado, of course
Celery and onion
Mayo, pickle juice and lemon juice
your serving vessel choice, mushrooms, crackers, etc
What else can you serve the shrimp and avocado salad on?
Ok, seriously though my fantastic readers, this appetizer is super easy to make and it's awesome because it's so versatile for serving. If you don't have any fresh mushrooms to serve it on, you can also use:
little crackers

crispy siljans
you can scoop it up with veggie sticks like

celery or carrots cut wide

or, if you want to be a social pariah, your fingers.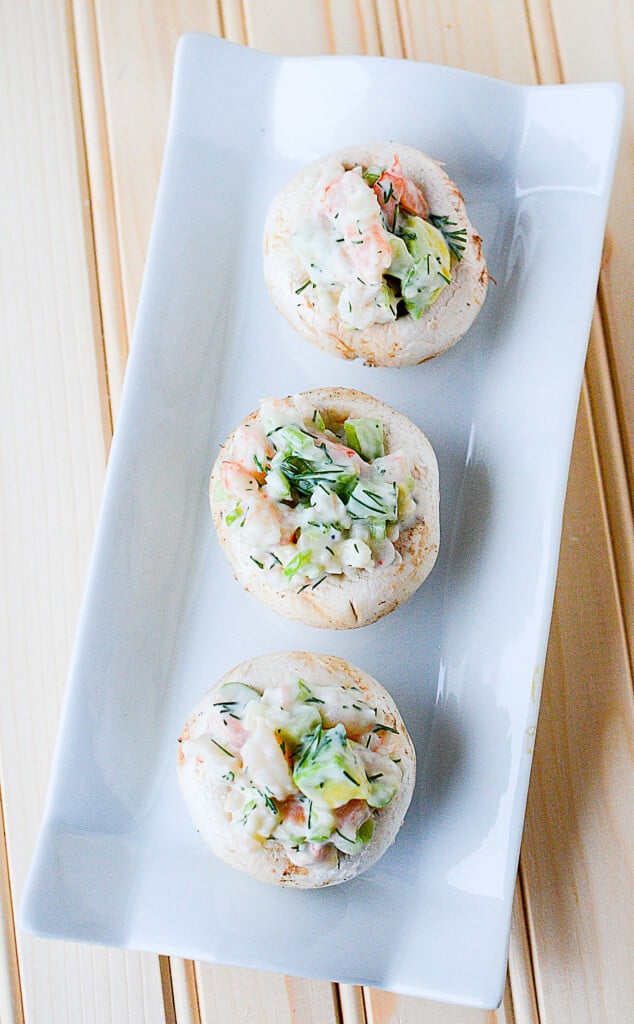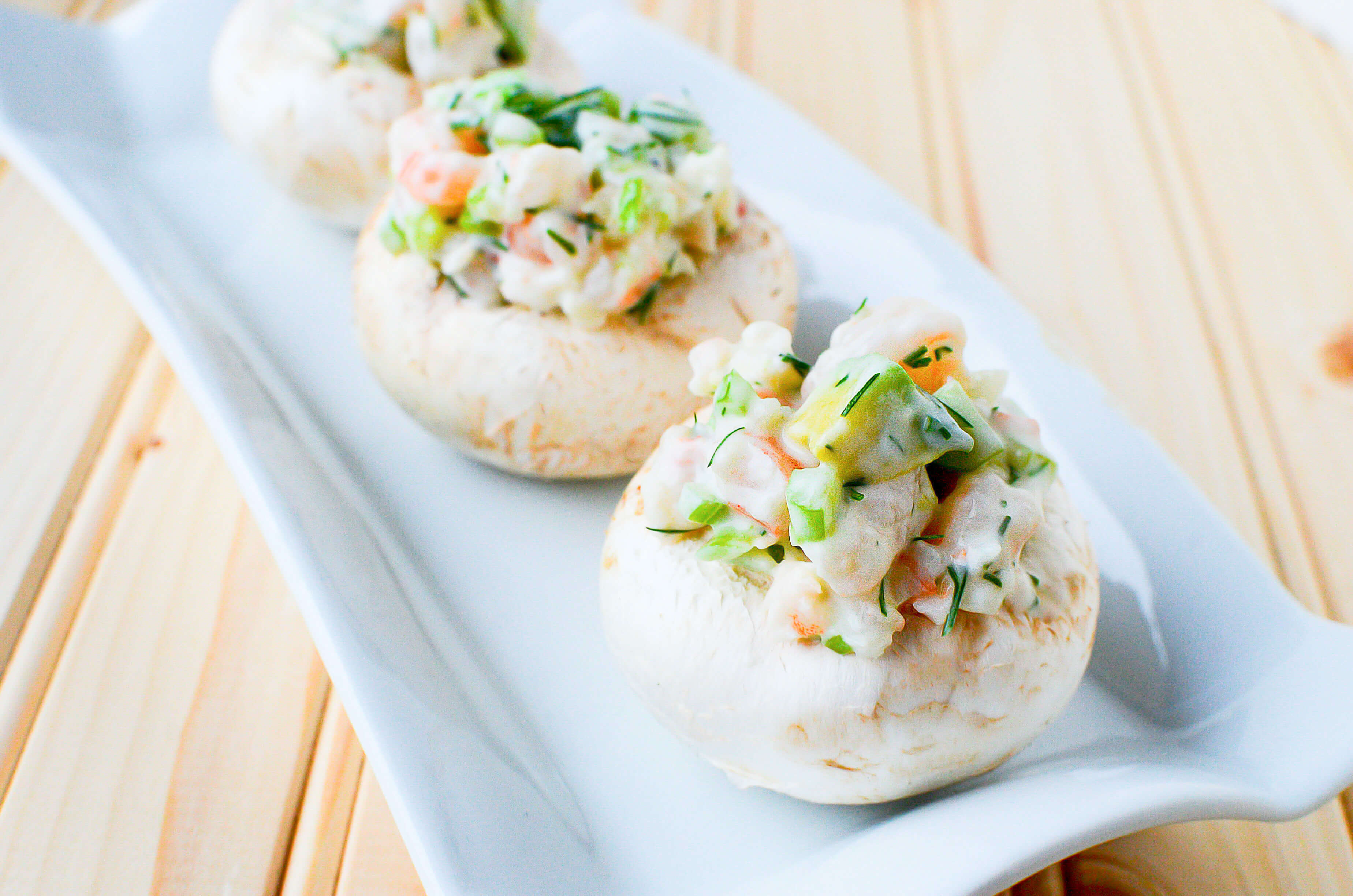 I have a few other appetizer recipes that go really well with this one. My Buffalo Chicken Stuffed Mini Peppers is one, and one of my personal favorites, Summer Cucumber Avocado Salsa. These are all super delicious!! So if you have a fancy event coming up, like New Year's Eve, or a not so fancy event, like Monday Laundry Day, this cute appetizer will fit the bill. Be sure to use fresh dill – dried is fine, but using fresh just brings the mixture 'uppa notch" (like Emeril Lagasse would say). My Grandma loved dill and she loved Emeril…. maybe not in that order though.
Thanks so much for stopping by The Salty Pot today!
**Don't forget to pin this Shrimp and Avocado Salad Appetizer Pin to your favorite Pinterest board to use for later!!! **
SHRIMP AND AVOCADO SALAD APPETIZER
If you're looking for a quick and easy appetizer that will fit into ANY occasion, try this Shrimp and Avocado Salad appetizer. It's fresh and creamy flavors are a hit at any party I take it to! Just be sure to tell people it contains shrimp for those who might be sensitive to it!
Ingredients
1 Celery stick, large, diced fine
1 tsp Onion, diced fine
½ Avocado, diced
1 C Whole shrimp, cleaned and tails removed
¼ C Sour Cream
¼ C Salad dressing, miracle whip
2 tsp Pickle Juice
1 Tbsp Lemon juice
To taste Fresh dill, chopped
Mushrooms.
Instructions
Combine celery, onion, and shrimp in a bowl.
Add the sour cream, salad dressing, pickle and lemon juices and combine together until well blended.
Add the fresh dill and avocado, taking care not to crush the avocado chunks, just folding them in gently.
This is best if you leave in the refrigerator for the flavors to mingle and enhance, but you can go ahead and serve it as it's made as well.
Notes
** I don't include how many mushrooms because the mushrooms are basically the vehicle to get the salad to your mouth, haha. Seriously though, I'd say you could do a dozen mushrooms with this salad.
However, I would recommend that you use a variety of vessels to serve the salad - crackers, celery, etc. You could even use the avocado shell if you were going to have this for lunch, or, to keep it to the appetizer lane, you could also hollow out cocktail tomatoes and serve the salad in those!
Nutrition Information:
Yield:

12
Serving Size:

1
Amount Per Serving:
Calories:

61
Total Fat:

5g
Saturated Fat:

1g
Trans Fat:

0g
Unsaturated Fat:

3g
Cholesterol:

30mg
Sodium:

200mg
Carbohydrates:

2g
Fiber:

1g
Sugar:

1g
Protein:

3g