When you find that perfect recipe for crispy waffles that are fluffy and tender inside you hold on to that recipe, am I right?? In my family's case, my mother's waffle recipe is one to keep and pass down.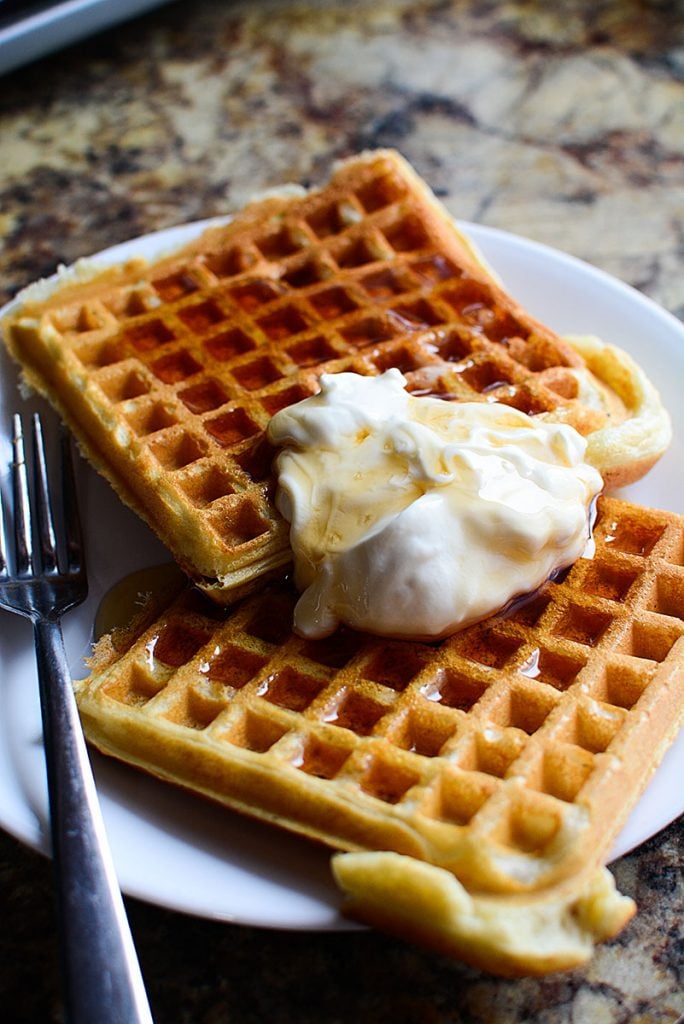 Mom's buttermilk crispy waffles are seriously SO.INSANELY.DELICIOUS!
I honestly don't know where she got this recipe from, but it's definitely the best waffle I've ever tasted. They're fluffy in the center, crispy (but not 'break a tooth, crispy') on the outside. The flavor is outstanding – a tiny bit sweet and a tiny bit tangy, with that light fluffy bready sort of taste.

My mouth is watering thinking about them right now, actually.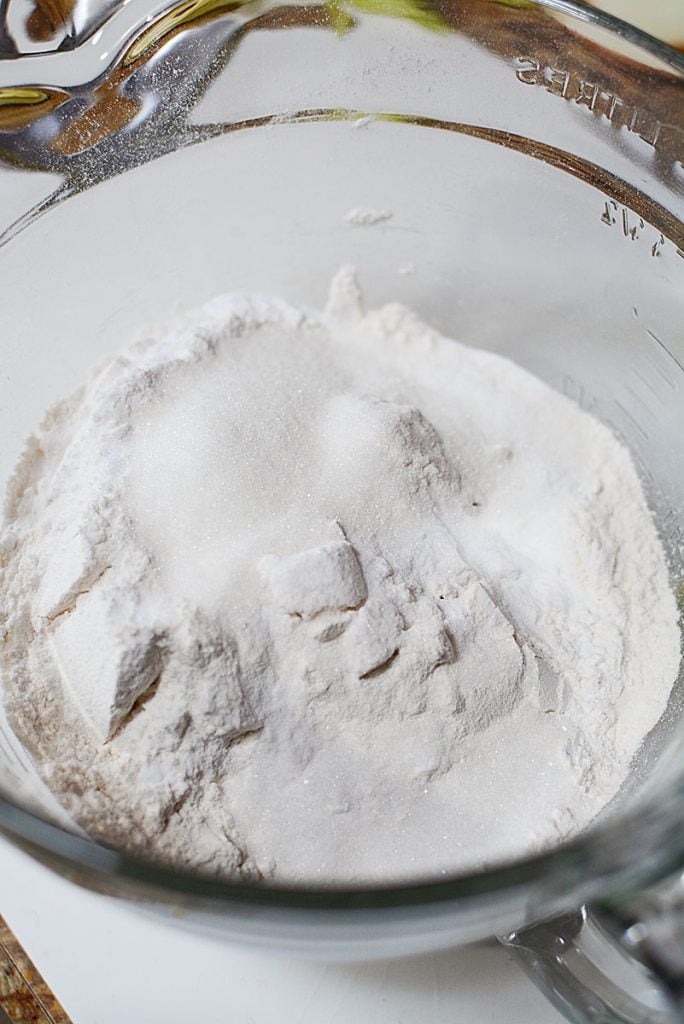 Wondering what to serve on them?
You can put pretty much ANYTHING on them and they'll be delicious.
Butter and syrup is a classic combo, but butter and pomegranate honey sauce would be SO unbelievably tasty I think I'd shed a tear.
How about peanut butter and creamy honey? Yuuum!!
Even a few slices of bacon with a jammy egg squashed on top would be fantastic!
How about a savory and creamy Mushroom Chicken Sauce?
Sliced fruit and some cinnamon whipped cream!
Speaking of whipped cream, today, I tried a new combo. The perfect texture and flavor of the waffles go amazingly well with creme fraiche (Crazy, I know!!) and warm maple syrup.
The creme fraiche is creamy and slightly tangy, and the maple syrup is warm and sweet which makes it an amazing combination.
Incidentally, if you wanted to make your own, I have a super easy recipe for creme fraiche you can make and save yourself some cash!
These light and crispy waffles have that comfort food texture and satisfying crunch that makes them the perfect way to start out a day.
FYI, it also helps if you make/eat these crispy waffles in your pj's! Just sayin'.
Ingredients for these crispy waffles
Flour – all-purpose flour will be perfect for these waffles.
Buttermilk – Even if you think you don't like it, please use it. I think it's the key to making these waffles crispy with a light texture and awesome flavor. If you have no buttermilk on hand, you can make your own and I give you directions in the recipe card on how to do this.
Eggs – fresh as you can get please, and room temp before you start cookin'!
Melted Butter– I used salted so I didn't have to add extra salt in the recipe.
Baking Powder – Use the freshest supply you have on hand.
Sugar
Salt – Just a pinch!
Tips For Making These Crispy Waffles.
When making waffles from scratch you need to be mindful of how much liquid you are adding. Too much liquid can leave your waffles soggy (ugh) while too little can leave them dry inside, (again, ugh).
When making waffles with a crispy texture be sure you are always measuring the ingredients exactly. Waffles are kind of like baking, and baking is a science.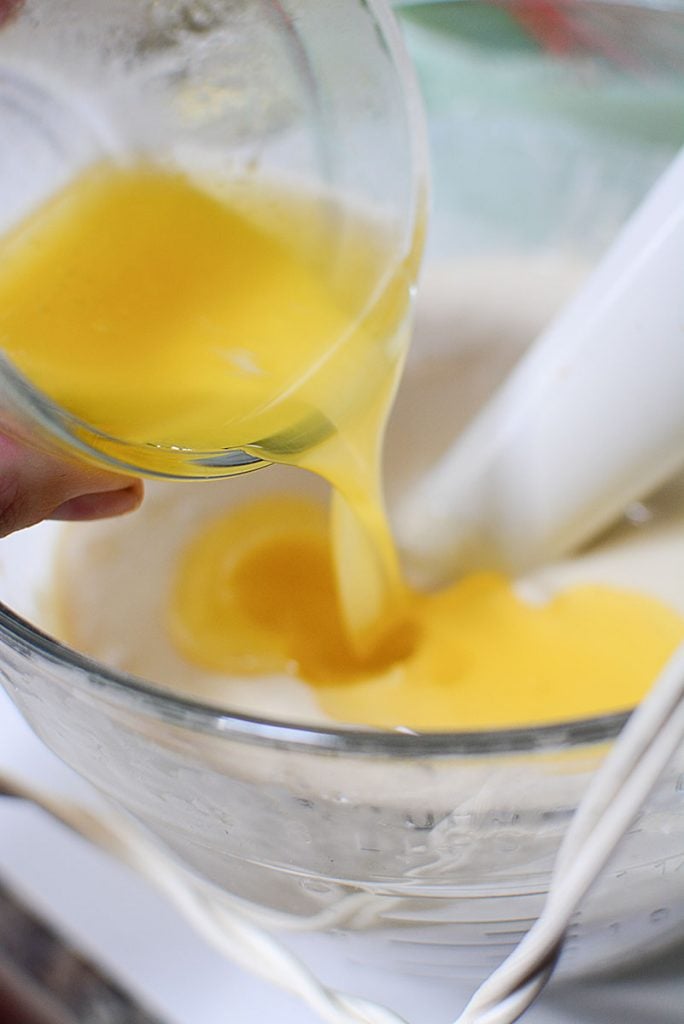 Preheat your waffle maker to ensure it is hot enough to fully cook the outside of the waffles quickly. This will not only help give you a crispy texture but it will help to keep your waffles from sticking to the waffle maker.
Sometimes, waffle irons will come with a simple light on/ light off system to let you know it's automatically come to the ideal temp. Trust it. They're calibrated for it.
A well-cared for waffle maker can last for years and give you a quality cook every time. When buying a waffle maker look for a quality one made to last. I use my mom's vintage waffle maker that she received as a wedding gift that has never let me down on making the most perfect crispy homemade waffles.
If you can't find your own vintage waffle iron from a thrift store or antique store, I found this Hamilton Beach Waffle Iron online that I think comes close to having the features that my mom's vintage iron does. It's affordable as well!
It's worth taking a trip to your local thrift store to find those treasures!
Ok, and seriously, please don't skimp on the fat! While many people will tweak their favorite recipes to make them healthier, do not skimp on the fat in the waffle recipe. This is because the fat helps to give your waffles structure, crisps the edges, and helps them release from your waffle maker without breaking.
Keeping The Crispy Waffles…. Crispy.
Once you have nice crispy waffles you want to keep them that way. Preheat your oven to the lowest setting or use a toaster oven to place your waffles inside on a cookie sheet topped with a cookie cooling rack. This will keep them warm and prevent the humidity from the air from turning your waffles soggy.
BTW, if you're thinking the sauce that's on top of the fluffy waffles below looks AMAZING, you'd be right. Wait, what? You want to make it? Not a problem! It's a recipe for a Keto Blueberry Sauce – so delicious AND without loads of sugar? Yes…. yes it is, and it's divine!
If, on the odd chance, you find that your waffles are not as crisp as you would like you can heat them in the oven at 176 degrees Celsius (350 degrees Fahrenheit) for 5 to 10 minutes to crisp them up before serving them to your family. I've personally never had to do this, but it's a nice tip to keep in mind.
Also, it's worth saying that if you don't plan on eating the entire batch, I highly recommend freezing the waffles!
Saving Leftover Waffles
One thing I love about my mom's waffle recipe is that they freeze really well. Making a large batch of waffles ahead of time and freezing allows us to enjoy fresh crispy waffles any time we want. Keeping waffles crispy can be a bit of a challenge because cooling them can cause moisture in the air to soften them slightly.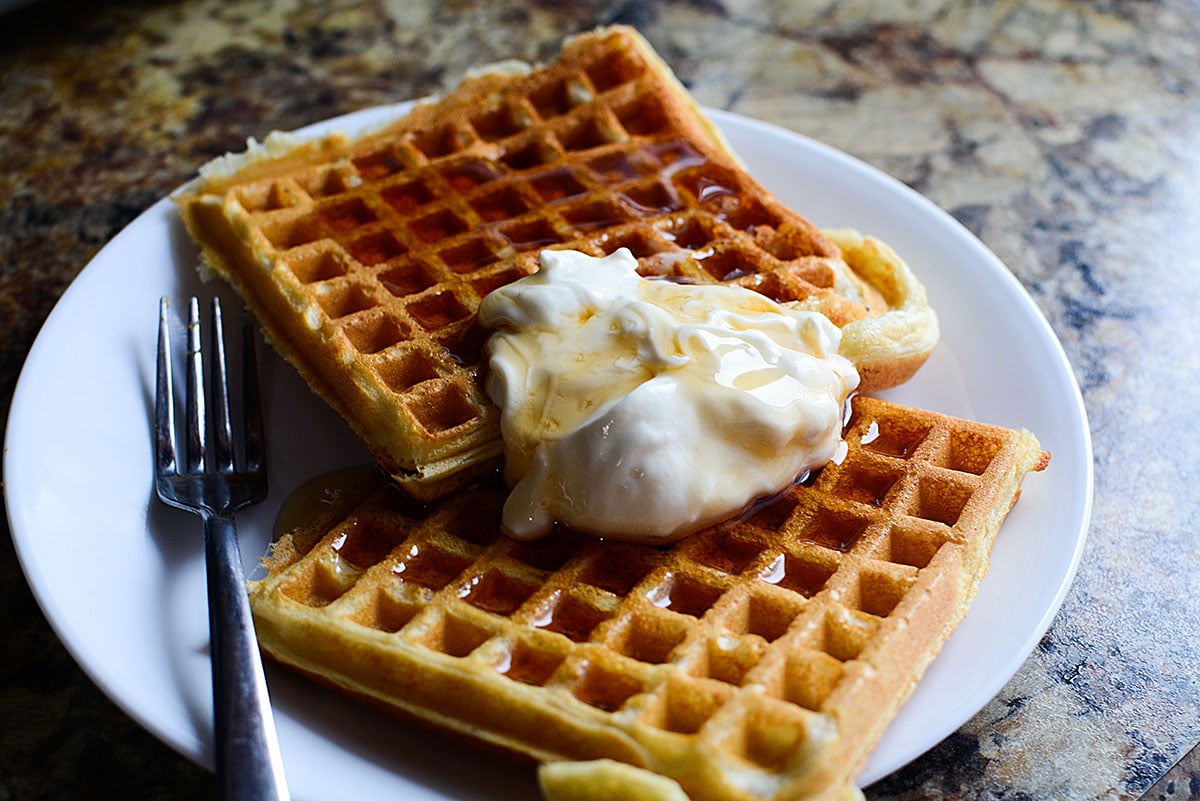 So, to freeze waffles start by placing them on a wire rack and into the freezer to speed up the freezing process. The faster they freeze the less moisture will affect them.
When the waffles are frozen, simply wrap them in individual servings (we wrap two per serving) in some plastic wrap, then place all wrapped servings in a freezer-safe bag. Placing them in a freezer-safe bag will give them extra protection from moisture and freezer burn for long term storage.
Makin' The Waffles Crispy After Freezing.
To reheat the waffles to a crispy texture again, simply thaw to room temp and put them in your regular toaster. Usually, the toaster cycle will be enough to crisp them up.
When re-heating your waffles from frozen, you can place them directly into a toaster oven or the oven preheated to 176 degrees Celsius (350 degrees Fahrenheit) for 10 to 15 minutes until thawed and toasted. Keep an eye on them so they don't burn.
I hope my rambling on about how good these waffles are has convinced you to give the recipe a try. Please comment below or shoot me an email at Joanne@thesaltypot.com because I'd LOVE to hear what you topped them to give me some new ideas!!
Fluffy Crispy Waffles
Light and crispy on the outside, and fluffy and tender on the inside. This is HANDS DOWN the best waffle recipe I've ever tasted, it's my mom's recipe from many years back.
Ingredients
2c buttermilk *see notes below if you don't have buttermilk
2 ½c All-purpose flour
½c melted butter, unsalted *see notes below
1 teaspoon baking soda
2 ½ tsp. baking powder
2 teaspoon vanilla
2 Tablespoons sugar
1 teaspoon salt *see notes below
4 eggs, beaten well
Water *See notes below
Instructions
In a large bowl, mix together the dry ingredients.
In another bowl, add the beaten eggs, buttermilk, and vanilla.
Add the wet ingredients to the dry, mixing well. Using a mixer, blender or immersion blender works very well here.
Blend the melted butter in very well. The batter may be very thick at this time. So, add enough water to thin out the waffle batter to a syrup type consistency. I added about ⅔c of water.
Begin to make the waffles. With my waffle iron, I used approximately ⅓ of a cup of batter for the iron but your amount will vary according to the size of your waffle iron.
Notes
1. If you don't have buttermilk, take the buttermilk amount required in the recipe and replace it with a 2% or higher fat content milk. Add 1 tablespoon of either lemon juice or white vinegar. Give it a stir and now you have a sour milk suitable for the waffle recipe.
2. If you use unsalted butter in the recipe, please add the salt called for in the dry mix. If you used salted butter, then please omit the additional salt in the recipe.
3. This recipe can be used as stated, but my mom always thinned it out a bit to stretch the batter for more waffles, and to just have them bake up nicer. I usually add anywhere from ½ - ¾c water. If you find the batter a nice consistency, omit adding extra water.
Nutrition Information:
Yield:

20 waffles
Serving Size:

2
Amount Per Serving:
Calories:

99
Total Fat:

6g
Saturated Fat:

3g
Trans Fat:

0g
Unsaturated Fat:

2g
Cholesterol:

51mg
Sodium:

325mg
Carbohydrates:

8g
Fiber:

0g
Sugar:

3g
Protein:

3g
All nutritional information is based on third party calculations and is only an estimate. Each recipe and nutritional value will vary depending on the brands you use, measuring methods and portion sizes per household.