If you've ever had the chance to try a hasselback potato, you know how delicious they are. But try this smoky bacon hasselback potatoes with a drizzled cream sauce, and you'll see how the flavor goes to a whole new level!
The combination of crispy potato slices, salty bacon, sweet onion, and creamy sauce creates a deliciously balanced dish that's so scrumptious, it won't be forgotten anytime soon.
Smoky Bacon Hasselback Potatoes with Cream Sauce
Aaaaah… the lowly potato. Just so plain and unassuming, we really need to give it a break already, don't you agree?
Basically considered the "wallflower" of the produce aisle, it's often skipped for something fancier or prettier when looking to pair up with a fancier main dish. Maybe a veggie that's "healthier", with smoother skin or no crazy "eyes" or something, right?
Dress them up, or dress them down, the potato is always there to offer its starchy deliciousness in any way you see fit. Their versatility is unfounded in any other vegetable, and it's just downright amazing when you think about it. In fact, if there's not a national potato day to celebrate, there should be!
What Is A Hasselback Potato?
Originating in Sweden, Hasselback potatoes in their basic form are created by making thin slices into a potato, leaving the base intact, and then baking them until they are crispy on the outside and tender on the inside.
Serving them with a pat of butter fresh from the oven is delicious, but they're often stuffed with other ingredients, taking the whole flavor factor to a whole new level.
Salty Pot Fun Fact: The term "Hasselback" comes from the Hasselbacken Hotel in Stockholm, where the dish was first served in the 1700s!
Ingredients To Make This Potato Side Dish
Potatoes: The best potatoes for Hasselback are those with a high starch content, such as Russets, Yukon Golds, or Red Bliss. Choose small to medium-sized ones that are firm and without blemishes.
Onions: Really, any type of onion will do, but I recommend using sweeter type onions like Vidalia and Walla Wallas because the contrast of the sweetness against the salty smoky flavors of the bacon is divine.
Bacon: I like to use thin-cut (regular) bacon instead of a thick-cut. It gets crispier and sits in the potato slices nicer.
Sour Cream: You can also use Greek yogurt for a lighter choice, or creme fraiche for a more decadent, less tangy topping.
Oil: Your favorite oil is the one to use here.
Spices

**The fully printable recipe listing the full amounts of ingredients and detailed instructions is listed at the bottom of this post.
How To Make This Bacon Hasselback Potato Recipe
Take your washed and dried potato. A longer potato vs a shorter, thicker potato is better here, as the more slices there are, the better it is.
With a clean, sharp knife, make ⅛" cuts all the way down the length of the potato, never going over ¾ of the way deep into it. The whole point of this is to cut it so it looks like an accordion … make sure it's not sliced all the way through or it's not a Hasselback anymore.
To make things a little easier, place the potato between two chopsticks or wooden spoons and slice it thinly. This will prevent you from cutting all the way through the potato.
Separating the slices, season the potato and then place a few pieces of onion and then weave a bacon slice in between the slices of the potato.
Place them on a parchment-lined baking tray and drizzle the olive oil then sprinkle with salt, pepper, and dried rosemary over the top.
Pop them in the oven and bake! While they're baking, prepare your sauce. When you're ready to serve, drizzle the cream sauce over top the potatoes and dig in!
Cooking Hasselback potatoes can be done in the oven, grill or air fryer:
Oven: Preheat the oven to 400°F (220°C) and bake for 45 minutes or until the potatoes are tender and crispy.
Grill: Preheat the grill to medium-high heat and grill for 20-25 minutes or until the potatoes are tender and crispy.
Air fryer: Preheat the air fryer to 400°F (200°C) and cook for 20-25 minutes or until the potatoes are tender and crispy.
What Toppings Can You Put On A Hasselback Potato?
Your imagination is the limit!
You could add bacon bits, speck, prosciutto, and even taco-seasoned ground beef if you wanted! Hey, be crazy and stuff the layers with scrambled eggs and bacon with ketchup or Siracha sauce!
Other tasty ideas could be:
Parmesan cheese
Chives or scallions
Garlic butter
Creme fraiche and chives
Pesto sauce
Roasted red pepper sauce
Today's Hasselback prep is simply creamy sour cream, a touch or two of onion, and salty, crispy bacon. I think that smoky bacon hasselback potatoes include all the classic flavors that make them best friends with almost any main.
What Can I Serve These Smoky Bacon and Onion Potatoes With?
Any of the ideas listed below would make fantastic main dishes to serve the potatoes with.
Grilled steak or chicken
Roast pork or beef
Pan-seared fish
Burgers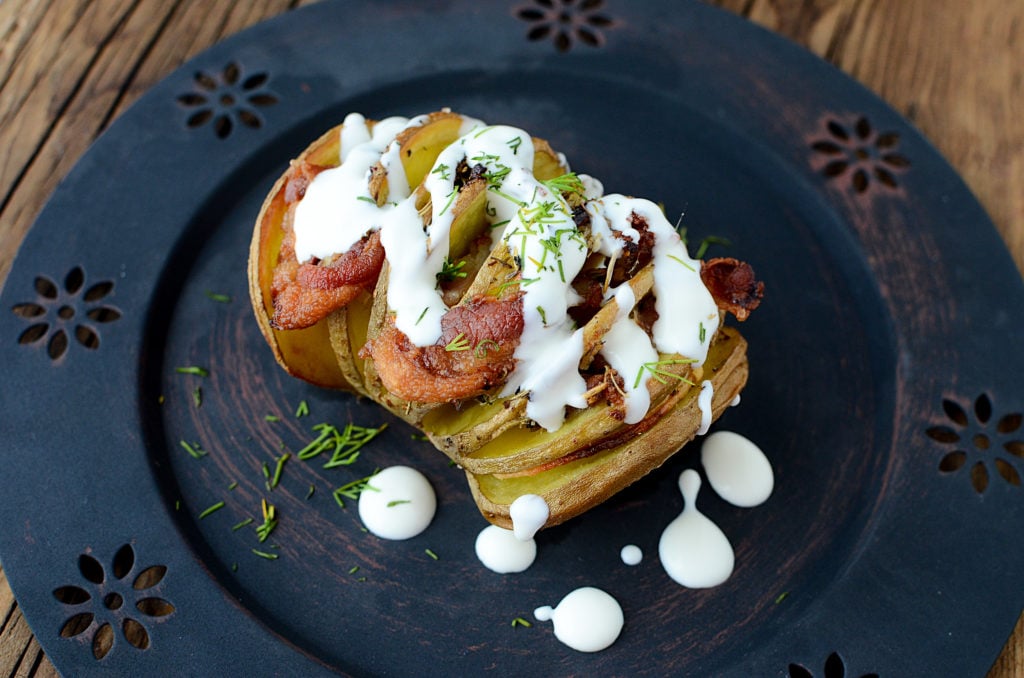 Storing Leftovers
To store leftover Hasselback potatoes, place them in an airtight container and refrigerate for up to 3 days. You can also freeze them for up to 2 months, without the cream sauce of course.
To reheat them from the fridge, use the microwave for a few minutes, or simply pop them back in the oven, grill, or air fryer until they are heated through.

Smokey Bacon HASSELBACK POTATOES with Cream Sauce are such a cool way to celebrate the glorious potato. It may not be the prettiest veggie at the party, but darn it, its' qualities make it worthy to totally write home about.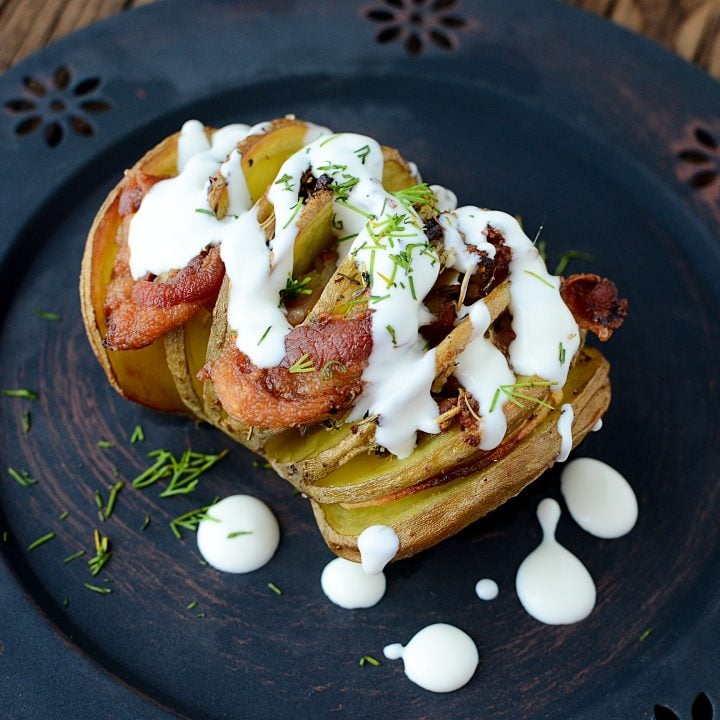 Smoky Bacon HASSELBACK POTATOES with Cream Sauce
This smoky bacon Hasselback potato with a yummy cream sauce will impress anyone you make it for. Crispy potato, creamy sauce, smoky flavors from the bacon - they're flavors you can't go wrong with!
Ingredients
4 Potatoes
8 pcs Bacon, cut 1" pieces
½ Onion, sliced
1 C Sour cream or plain yogurt
¼ C Olive Oil
as desired Salt, pepper, garlic powder and dried Rosemary
Instructions
Preheat oven to 350
Wash and remove any blemishes on the potatoes
With a sharp knife, cut ⅛" slices ¾ of the way into the potato, along the length, like an accordion.
Gingerly, spread each slice apart and season with salt, pepper and a bit of garlic powder. Repeat for each separation.
Next, stuff each second or third slice with some bacon and sliced onion.
Put them on a parchment lined baking tray and drizzle the olive oil over them. Again, sprinkle with salt, pepper, and dried rosemary over the top.
Bake in the oven for approximately 30-35 minutes or until the bacon and onions are crispy, and the potato slices have separated a bit and taken on a crispy look. Poke them slightly with a fork and if it goes in smoothly, they are ready.
Remove from the oven and drizzle with salted plain yogurt, sour cream or crème fraiche.
Enjoy!
Notes
Be sure not to cut through the potato when making your slices.
Add extra seasoning or toppings that sound delicious to you!
Remove any blemishes (eyes) that the potato might have before slicing
Russet potatoes work well here, but feel free to use any type of potato that you prefer!
Nutrition Information:
Yield:

4
Serving Size:

1 potato
Amount Per Serving:
Calories:

529
Total Fat:

33g
Saturated Fat:

10g
Trans Fat:

0g
Unsaturated Fat:

19g
Cholesterol:

56mg
Sodium:

597mg
Carbohydrates:

45g
Fiber:

4g
Sugar:

7g
Protein:

16g
The nutrition calculations are approximate only. True calculations will depend on the size of the potato as well as if you use yogurt vs sour cream, etc. Please calculate your ingredients separately using the ingredient labels you chose.
**DON'T FORGET TO PIN THIS SMOKY BACON HASSELBACK POTATO WITH CREAM SAUCE PIN TO YOUR FAVORITE PINTEREST BOARD TO USE FOR LATER!**
While you're here, check out these other mouthwatering recipes I think you'll like….