If you know me at all, you'll know that I love pretty much any sort of smoked meat. Smoked chicken, smoked fish, and of course, my favorite, double smoked bacon. A special treat though is smoked pork hock soup, or as others call it, ham hock soup. The ingredients and seasonings change from time to time, but the main star of course is the smoked pork hock.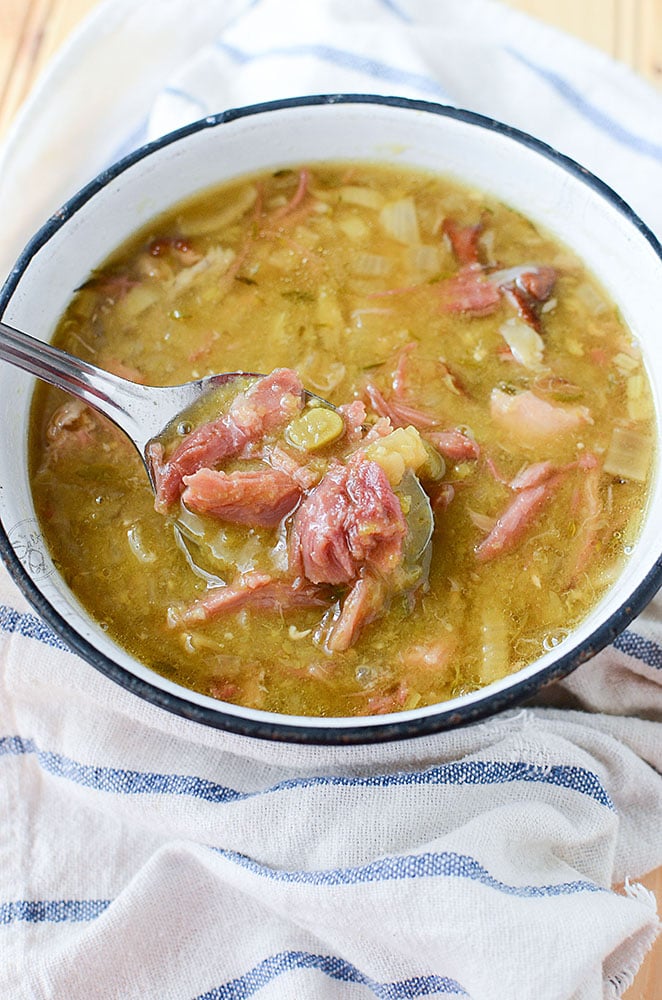 SLOW COOKER SMOKED PORK HOCK SOUP WITH PEAS
For a really nice smoked pork hock, I usually go to my local butchers. Ask for a nice, meaty, smoked pork hock, and tell them you want to make a slow cooker ham bone soup. Ham bone, ham hock, or pork hock, doesn't matter what you call it, they'll know what to give you. Your butcher usually is familiar with this type of recipe, and know what to give you if you're not familiar with how they look. Butchers really know how to season and smoke ham hocks and usually have a nicer smoke taste than ones you can buy at your grocers. That's not saying you shouldn't buy the ones there, but if you can purchase them from a deli or a butcher, that's the way to go.
Slow cooking a smoked pork hock into a soup with your crock pot or slow cooker is the best way to prepare them if you want to stretch your dollar. You can braise them in the oven as well, but that's a different recipe.. lol 😉
Easy peasy: minimal effort = maximum results!
Best thing is, is that you get maximum flavor with a minimal amount of effort. To begin, place your smoked pork hock (I usually use 1 large one or 2 small ones) into the slow cooker. Add 6- 8 cups of chicken stock, or water. Be sure the liquid covers the meat by about an inch or so.
Add the aromatics like fresh thyme, onion, celery and bay leaves. Put it on low, and forget about it. Like, for a loong time. LOL. I usually leave mine for at least 10 hours. I've been know to leave it *gasp* overnight! It's a tough piece of meat, so you need the long cooking time to really break down the fibers and make it fall off the one tender.
When the cooking time is up, strain the meat from the ham bone (along with the bone, of course) and aromatics out of the liquid. Let the meat cool a bit to where you can separate the meat from the bones. Return the meat to the stock and discard the bone, gristle and any skin that came off. Add a new round of fresh aromatics again to bring a bightness to the soup.
Add the split peas to the broth and let them cook on low about 8 hours on low or 5 hours on high. You could add other vegetables if you wanted like carrots, stewed tomatoes, and some even some potatoes, but I prefer to have just the peas and the meat. Because you were slow cooking the smoked ham hock, the meat is super tender, and the peas add a thickness that makes it incredibly hearty, and the smoky salty flavor through the stock is just incredible.
Freezing this Soup
Pair this soup with a piece of crusty fresh bread and you've got it made! Oh, and also, this pork hock soup freezes amazingly well! Portion out the soup into freezer friendly bowls and freeze up to 6 months. Alternatively, I've put the soup into freezer bags, taken all the air out and after sealing the bag, place them on a baking sheet laying down in the freezer to freeze. After they're frozen, you can stack them on their sides or on top of each other, saving space from using containers. Then, when you thaw the soup, the ingredients might separate a bit, but it's as simple as giving it a mix up while you reheat it, and it will be come back together.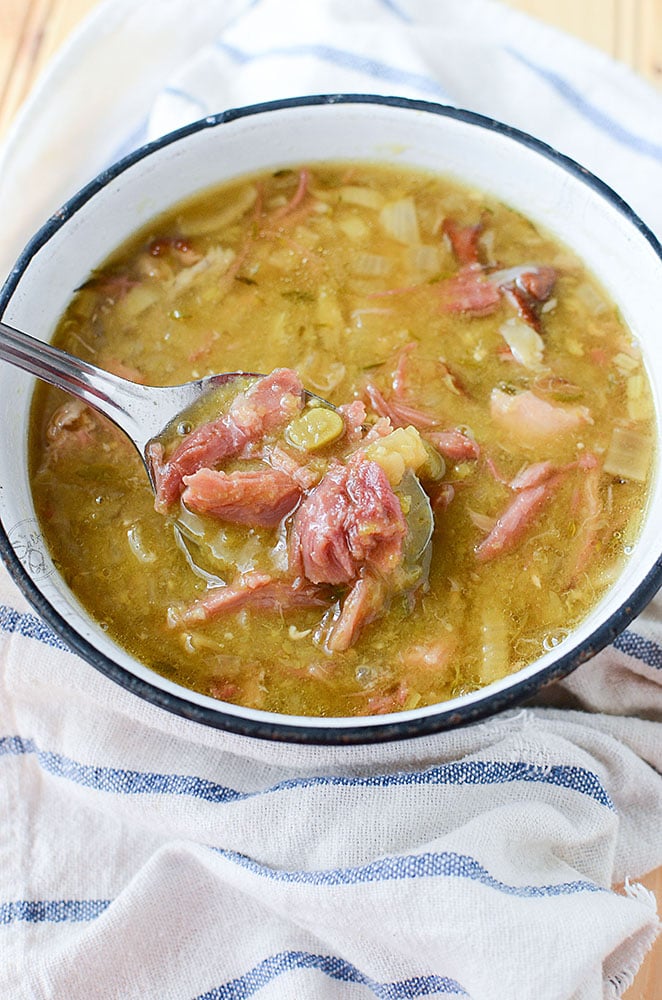 ********** PIN THIS TO YOUR FAVORITE PINTEREST BOARD TO USE LATER! **********
I love finding ways to stretch your grocery dollar while still maintaining delicious flavor in what you eat. Cheap food doesn't have to be pasta and eggs all the time, lol. While you're here, I have a few other recipes that stretch your dollar like my Slow Cooker Pineapple BBQ Meatballs, and my simple to make, Chicken Potato Bake. My slow cooker smoked pork hock soup just fits the bill. (particularly on chilly nights!!). When you make this soup, let me know what other vegetables you cooked with it. Did you put peas? Lentils? Just potatoes maybe? Drop a quick comment below so we can chat about it, I'd love to hear from you! Have a great day!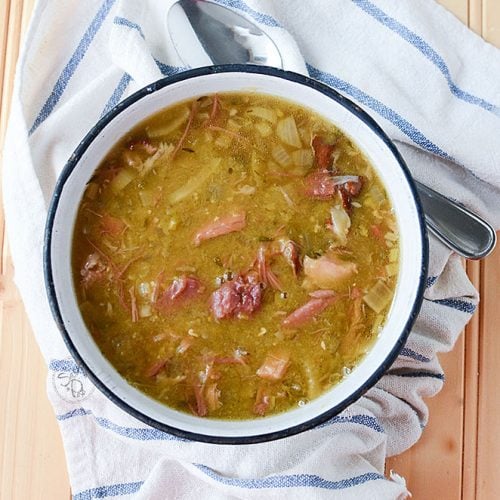 Slow Cooker Smoked Pork Hock Soup with Peas
Total Time:
20 hours
10 minutes
This incredible slow cooker smoked pork hock soup with peas is a recipe with minimal effort yielding maximum results. Smoky tender meat in a super flavorful broth, made hearty with thick hearty split peas. Add crusty fresh bread and you've got dinner!
Ingredients
1 smoked pork hock, large or use 2 small ones
6 - 8 cups of chicken stock, or water
3 stalks celery, diced (separated in half)
1/2 onion, chopped (separated in half)
2 bay leaf, separated in half
2 - 3 sprigs fresh thyme
1 tsp garlic (minced or powder)
1 lb dried spit peas
Instructions
Combine the hock, half of the aromatics (celery, onions, thyme and bay leaf) and the garlic, in the slow cooker bowl
Add the stock (or water)
Cook on low for 8 - 10 hours, or high for 6 - 7. (the longer the better to ensure fall off the bone tenderness)
Remove the meat and strain the broth. Add the broth back to the slow cooker.
Remove the meat from the bones and add the meat back to the slow cooker. Discard the bones and skin.
Add the remaining fresh aromatics, and the peas.
Cook on low 8 hours or on high 5 -6, until the peas are tender and have fallen apart.
Enjoy!
Nutrition Information:
Yield:

12
Serving Size:

1 cup
Amount Per Serving:
Calories:

398
Total Fat:

13g
Saturated Fat:

3g
Trans Fat:

0g
Unsaturated Fat:

8g
Cholesterol:

35mg
Sodium:

1519mg
Carbohydrates:

41g
Fiber:

2g
Sugar:

18g
Protein:

28g
All nutritional information is based on third-party calculations and is only an estimate. Each recipe and nutritional value will vary depending on the brands you use, measuring methods, and portion sizes per household.