Maraschino cherry shortbread cookies are a fantastic festive cookie. Soft, rich, and delicious shortbread, yummy maraschino cherries, and a drizzle of chocolate just to make them 'special occasion' perfect!
One of the best things about them is their versatility! They fit into any holiday celebration and are a wonderful cookie for gifting.
This post may contain affiliate links. If you make a purchase after clicking a link, I may earn a small commission AT NO COST TO YOU. As an Amazon Affiliate, I earn from qualifying purchases.
Maraschino Cherry Shortbread Cookies
Why You'll Love this Cherry Cookie Recipe
These pretty cookies fit into any special occasion. Maraschino cherries have been a holiday staple for generations and adding them in cookies helps bring that spirit to the dessert table in a new and unique way. The bright red cherries add a bit of fun and holiday cheer, don't you think?
Then, when the holidays are over the bright red cherries and chocolate drizzle moves right into New Year's and Valentine's Day perfectly, giving you a sweet special occasion cookie that's perfect for giving away to special friends and also gives you a great excuse to run the oven and warm the house with a cozy vibe!
Don't forget about summer! These are versatile enough to munch on around the campfire and are delicious crumbled on top of your favorite ice cream sundae giving it a fun and unique touch.
Ingredients Needed
Flour: All-purpose flour is perfect.
Butter: Unsalted is ideal
Powdered Sugar: Using icing sugar here because granulated sugar can sometimes make a 'grainy' texture.
Maraschino Cherries: Drained (don't throw away the juice!), and chopped.
Vanilla: Paste or extract is great.
Chocolate Chips: Regular chips are great, but if you want really nice chocolate, use Godiva or Ghiradelli chocolate chips!

Saltypot Tip: Save the juice for another project! The juice will last in the refrigerator for several weeks allowing you plenty of time to decide to make a cherry frosting, use it to top ice cream, or make another fun treat.
How to make Cherry Shortbread cookies
Start by draining your maraschino cherries. After draining, chop the cherries small and place them on a paper towel or flour sack towel to reduce the moisture.
Mix together flour and salt then set aside. Cream together the sugar and butter before adding in vanilla. Slowly mix in the flour and salt until you have a crumbly consistency.
Gently fold in your chopped maraschino cherries and chocolate chips mixing until you have a smooth dough.
After chilling, turn out your dough roll onto a floured cutting board and gently cut the cookie slices.
Bake on sheets that have been greased or lined with parchment paper.
After removing from the oven allow the cookies to cool before garnishing. To garnish, melt your chocolate chips. You can use a spoon to drizzle it over the cookies or opt to dip the cookies into the chocolate for a more traditional look.
Allow the garnish to cool and solidify before storing them in an air-tight container until it is time to serve.
See the printable recipe card below for detailed instructions on how to make these festive cookies perfectly every time!
Cooking Questions You Might Have
What are Maraschino Cherries?

They are cherries that have been sweetened in syrup and colored to give them the ideal cheery color that will stand out well in these cookies. Preserved in jars, you can find them with, or without the stems in your local grocery store. Often used in drinks as a pretty garnish, they are often used in baking for extra color and sweetness.
What are Shortbread Cookies?

Another common question is what exactly are shortbread cookies. They are a traditional Scottish biscuit made of sugar, butter, and flour making them the ideal base for adding your own personal touch in terms of 'mix-ins'. However, some people prefer the original, melt-in-your-mouth cookie like this recipe for Delicious Whipped Shortbread Cookies.
What's the Difference between a Shortbread Cookie and a Butter Cookie?

Shortbread cookies have more butter to flour ratios than a traditional Butter Cookie. So shortbread cookies have a richer, more buttery flavor.
Storing the Cookies
These cookies will last in the fridge for up to two weeks in an air-tight container. For freezing, choose a freezer-safe container, layering the cookies using parchment paper to separate the layers. These festive cookies will stay great in the freezer for up to 3 months.
To thaw, remove the number of cookies you want from the freezer and let sit at room temperature for 20 minutes or until completely thawed.
Serving suggestions:
Eat them as is paired with a nice cup of hot cocoa, steamed milk, or any hot beverage you'd like. They'd also be fantastic as a late-night snack with a glass of cold milk.
As mentioned before, crumble up some of the cookies and serve them on top of ice cream, warm stewed fruit, or as a dipping vessel for a sweet dip!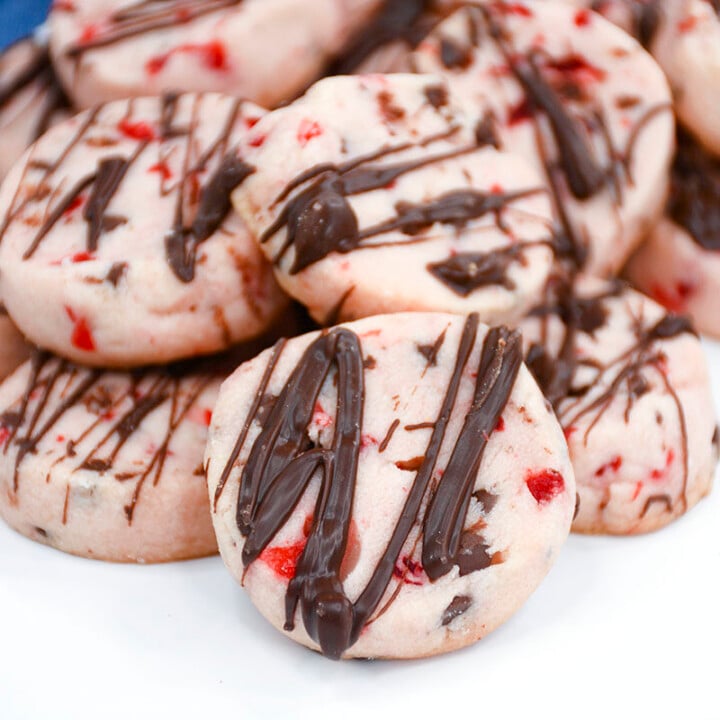 Maraschino Cherry Shortbread Cookies
Total Time:
2 hours
35 minutes
A delicious, melt in your mouth treat, these maraschino Cherry Shortbread Cookies make the perfect festive cookie! The sweetness from the cherries, the rich chocolate flavors on a shortbread cookie base quickly turn these cookies into a holiday baking tradition!
Ingredients
1 cup butter, unsalted
½ cup Icing sugar
½ teaspoon Vanilla Extract
2 cups All purpose Flour
½ teaspoon Salt
1 cup Maraschino Cherries, drained and chopped fine
1 cup chocolate chips
½ cup chocolate chips (melted)
Instructions
Prep:
1. Line this cookie sheet with parchment paper, spray the parchment with baking spray. Set aside.

Cookies:
1. Mix flour and salt together in a medium bowl. Set aside.
2. Add butter and powdered sugar to a large mixing bowl. Using an electric mixer cream this together until light in color.
3. Add vanilla.
4. Slowly add in the flour/salt mixture. Continue to mix until the dough begins to form large clumps.
5. Fold in the cherries and chocolate chips.
6. Line a cutting board with plastic wrap. Turn the dough out on the cutting board.
7. With clean hands, roll the dough into a log shape. Wrap with the plastic wrap, twisting the ends to make it tight. Chill for at least two hours.

Baking:

Preheat the oven to 350 degrees
Unwrap the log and cut it into ¼ or ⅓ inch thick slices.
(If a cookie slice crumbles, dip your finger into a small glass of water and press the dough back together.)
Position the cookie slices on the prepared cookie sheet one inch away from another slice.
Bake at 350 degrees for 10-15 minutes or until the tops of the cookies has turned a light golden brown.
Remove from the oven, letting the cookies sit on the baking sheet to cool for 5 minutes.
Transfer to a cooling rack until completely cool.

Garnish:
Place the chocolate chips in a small microwave-safe bowl.
Microwave for 10-15 seconds. Stir and if not completely melted return to the microwave to melt in 10-second increments.
Once completely melted, use a fork to drizzle chocolate over the cookies.
Allow the chocolate drizzle to harden before serving or packing up.
Notes
If the cookie dough sticks to the plastic wrap, add a little flour over the surface and that should help.
Be sure to chill the dough for a while. Chilling the dough makes cutting the slices a lot easier and allows for nice clean cuts.
If all you can find is maraschino cherries with stems in the jars, that's ok too. Simply take the stems off the cherries before you cut them and discard them.
Nutrition Information:
Yield:

24
Serving Size:

1 cookie
Amount Per Serving:
Calories:

178
Total Fat:

11g
Saturated Fat:

7g
Trans Fat:

0g
Unsaturated Fat:

4g
Cholesterol:

20mg
Sodium:

47mg
Carbohydrates:

20g
Fiber:

1g
Sugar:

11g
Protein:

2g
All nutritional information is based on third-party calculations and is only an estimate. Each recipe and nutritional value will vary depending on the brands you use, measuring methods, and portion sizes per household.