Tender creamy rice in a cheesy cheddar sauce with slow-cooked chicken ready to be devoured. Slow cooking makes this dish easy to prepare and a perfect dinner for the end of a busy day.
This post may contain affiliate links. If you make a purchase after clicking a link, I may earn a small commission AT NO COST TO YOU. As an Amazon Affiliate, I earn from qualifying purchases.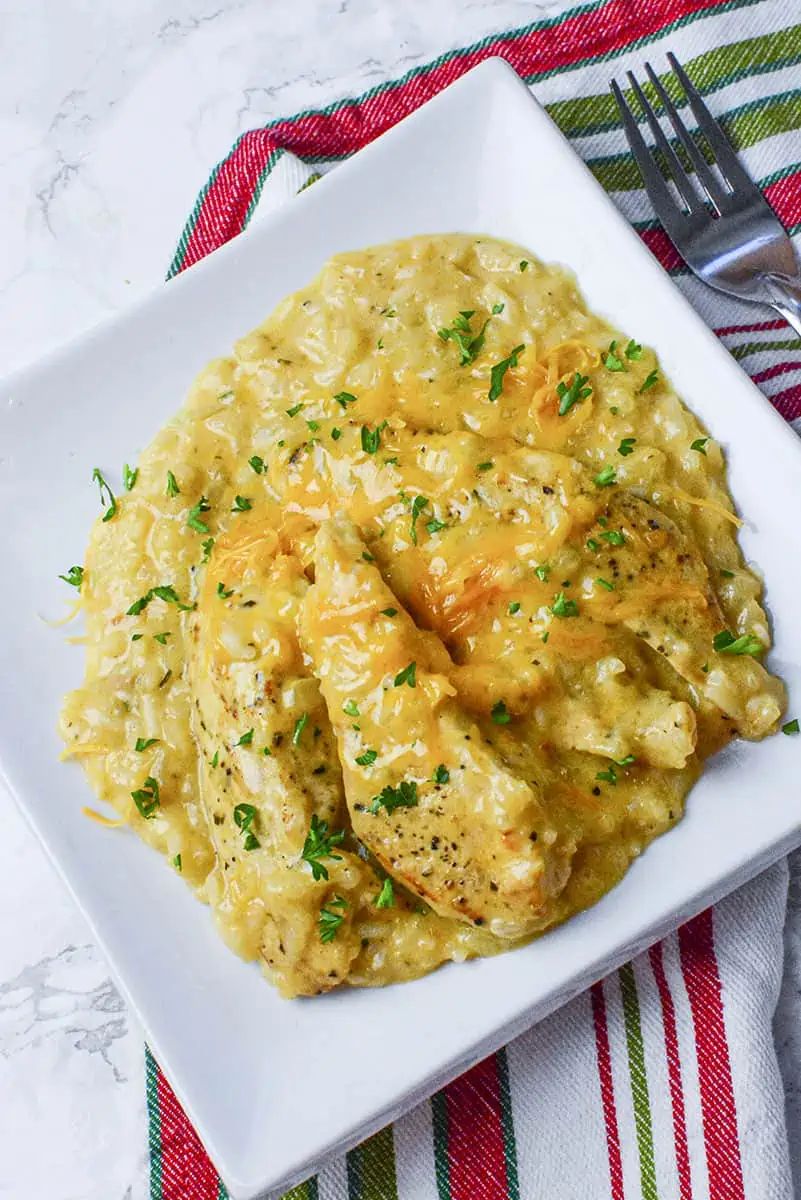 Why You'll Love This Crockpot Risotto Recipe
This recipe has a lot of cheesy, creamy flavors which makes perfect comfort food.
It's easy to make, letting the slow cooker do the heavy lifting while you can take care of other things.
Relatively inexpensive to make, you can feel two adults and two little ones with leftovers for lunch the next day.
Ingredients Needed
Chicken Breasts – You'll want to use boneless, skinless chicken breasts. They'll be cut into strips so if you want to use tenderloins instead, there's an alternative for you. I just find that using breasts is cheaper.
Rice – Traditionally, for risotto, you would use Arborio rice but regular white rice works fine for this recipe.
Broth – I used chicken broth and if you were interested in making your own like I do, this Instant Pot Chicken Broth Recipe shows you how easy it is to do.
White wine – If you have it on hand, I recommend using it as it really adds a nice depth of flavor. Use a wine that you like the flavor of, as it might ruin the end result of the dish if you don't like the wine.
Lemon Pepper Seasoning – Any brand with a nice kick of lemony flavor is the one you want. My preference is Mrs. Dash because it has no added salt as well.
Soup – Cheddar cheese soup, as well as Cream of chicken, are the soups I used. Campbell's brand makes both kinds.
Aromatics – Fresh chopped onion and powdered garlic.
Cheese – Shredded cheddar is perfect. I like sharp cheddar, but feel free to use your favorite.
How to Make Risotto and Chicken in the Slow Cooker
If you're using chicken breasts, slice them lengthwise into three strips each and season all the pieces with lemon pepper and garlic powder on all sides.
Sear the chicken on all sides in the skillet and then transfer to the slow cooker.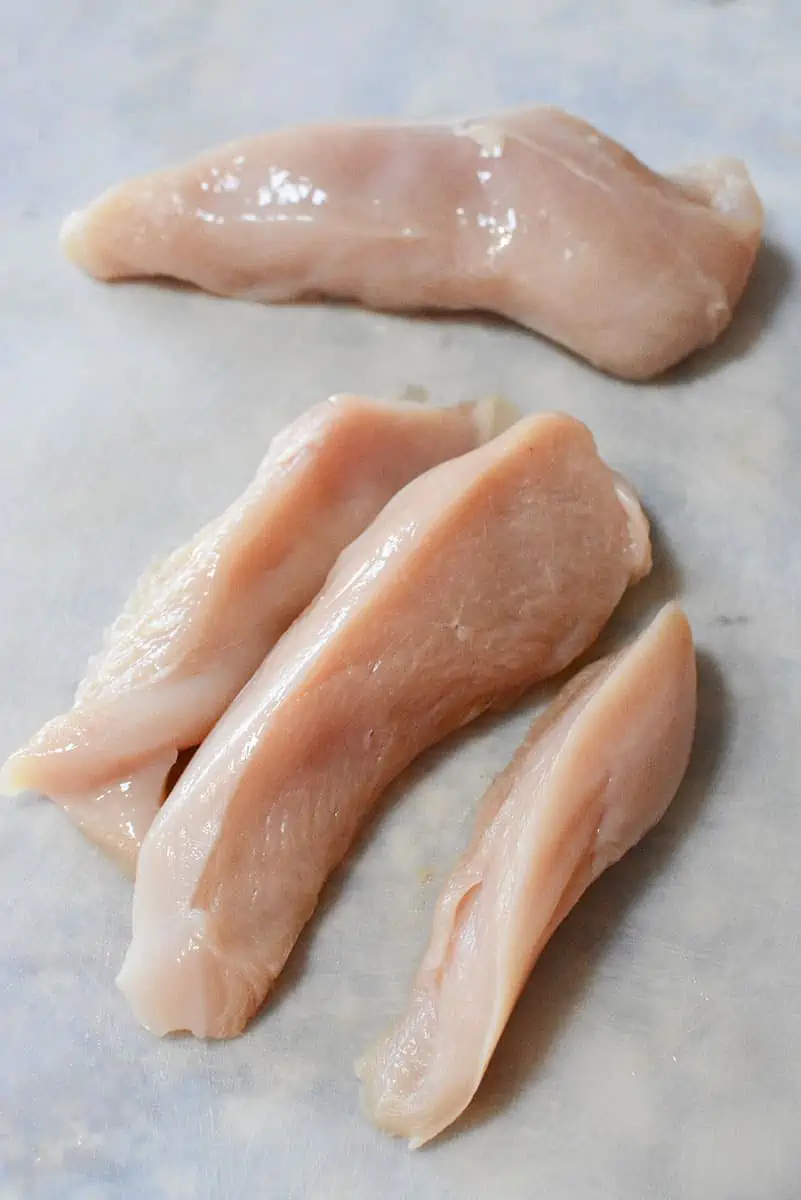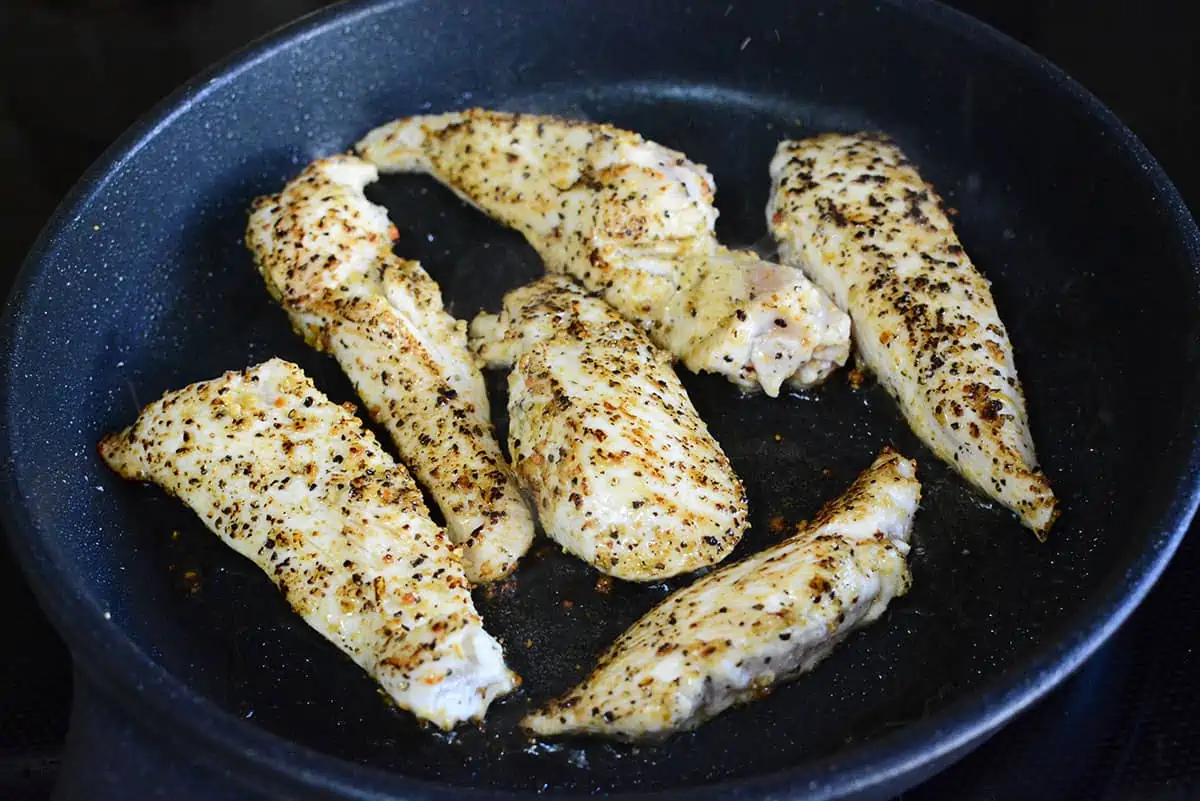 Whisk together the rest of the ingredients reserving half of the cheese then slowly transfer the bowl of ingredients over top of the chicken pieces.
Cook on low stirring halfway through cooking.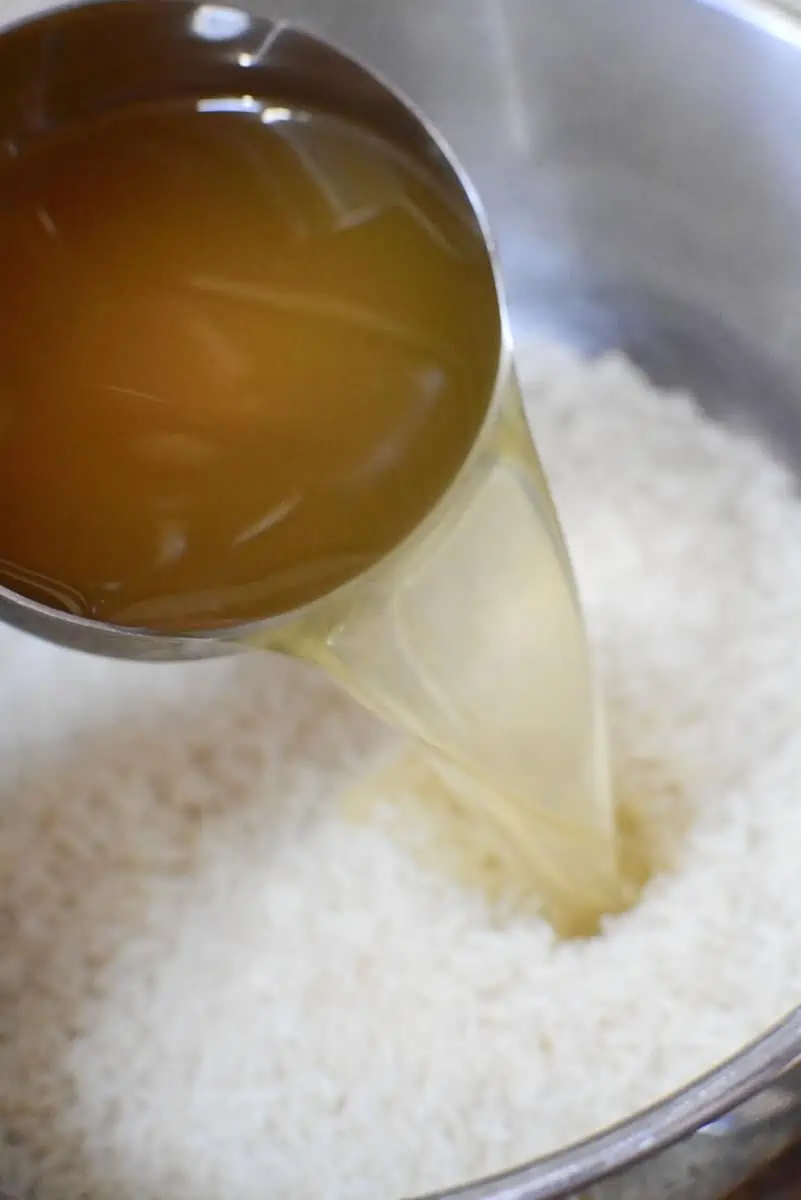 Test the rice for doneness about a half hour before cooking time is complete.
When the rice is cooked and the chicken has reached 165 degrees Fahrenheit, sprinkle the remaining cheese over the top and cover. Let it rest for 10 minutes to melt the cheese.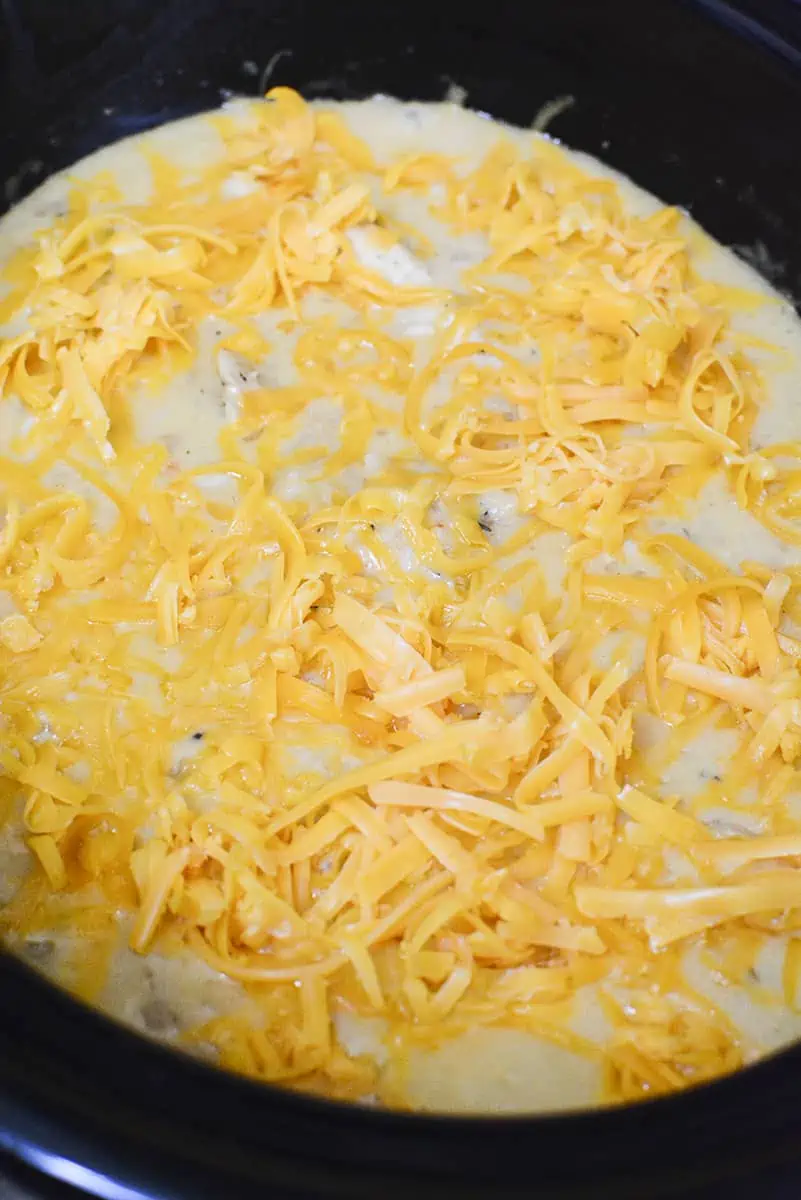 A fully detailed and printable recipe card is located at the bottom of this post that includes amounts and specific cooking times.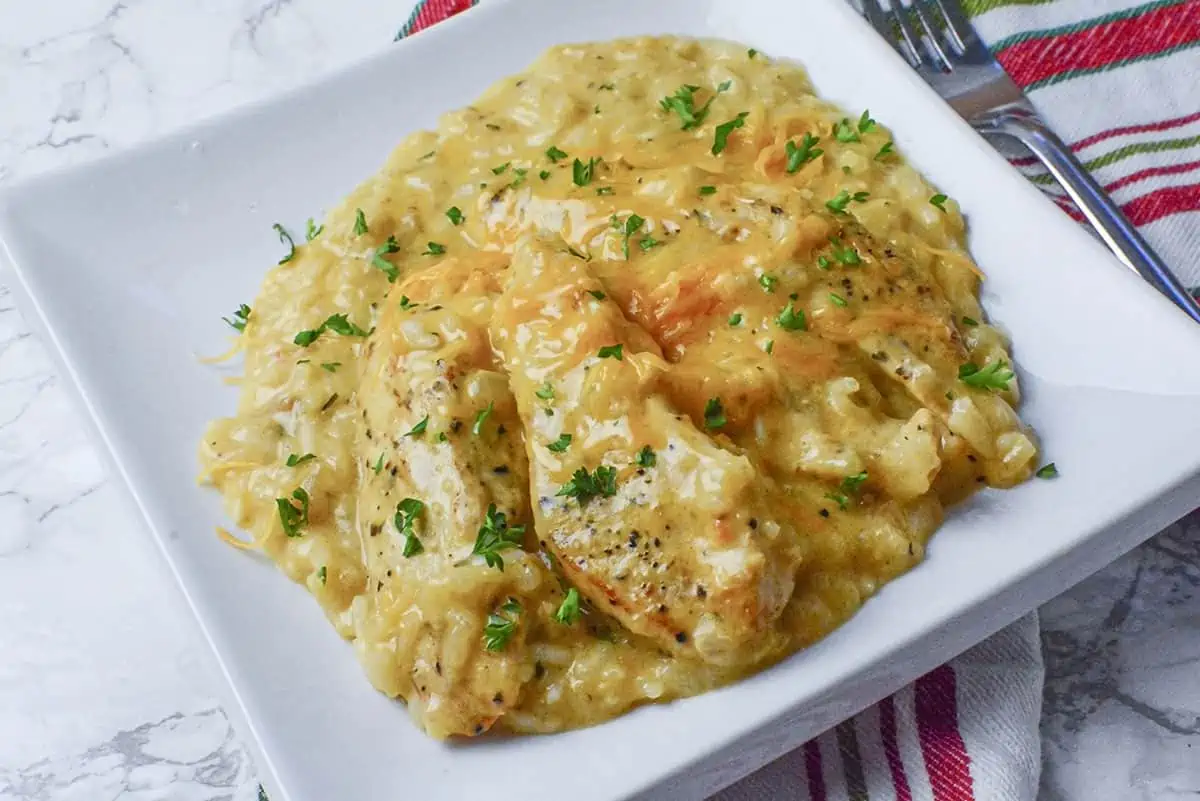 Variations and Alternatives
Feel free to use freshly grated lemon zest instead of the lemon pepper seasoning. The zest of one lemon, plus the juice will be fine.
If sodium is a concern, use reduced-sodium condensed soup and then adjust the seasonings for salt near the end of cooking the dish.
Replacing the chicken for turkey in this recipe works fine.
Switch out the cream of chicken soup for cream of mushroom for a different flavor profile.
Ideas for Serving this Risotto
Because this slow cooker cheesy risotto recipe has protein and starch, you basically only have to add a small side if you wanted.
I've added frozen peas right into the mixture just before I add the cheese on top. Serving peas on the side is completely fine, or in place of peas, you could serve steamed broccoli or even these 3 Minute Maple Butter Carrots.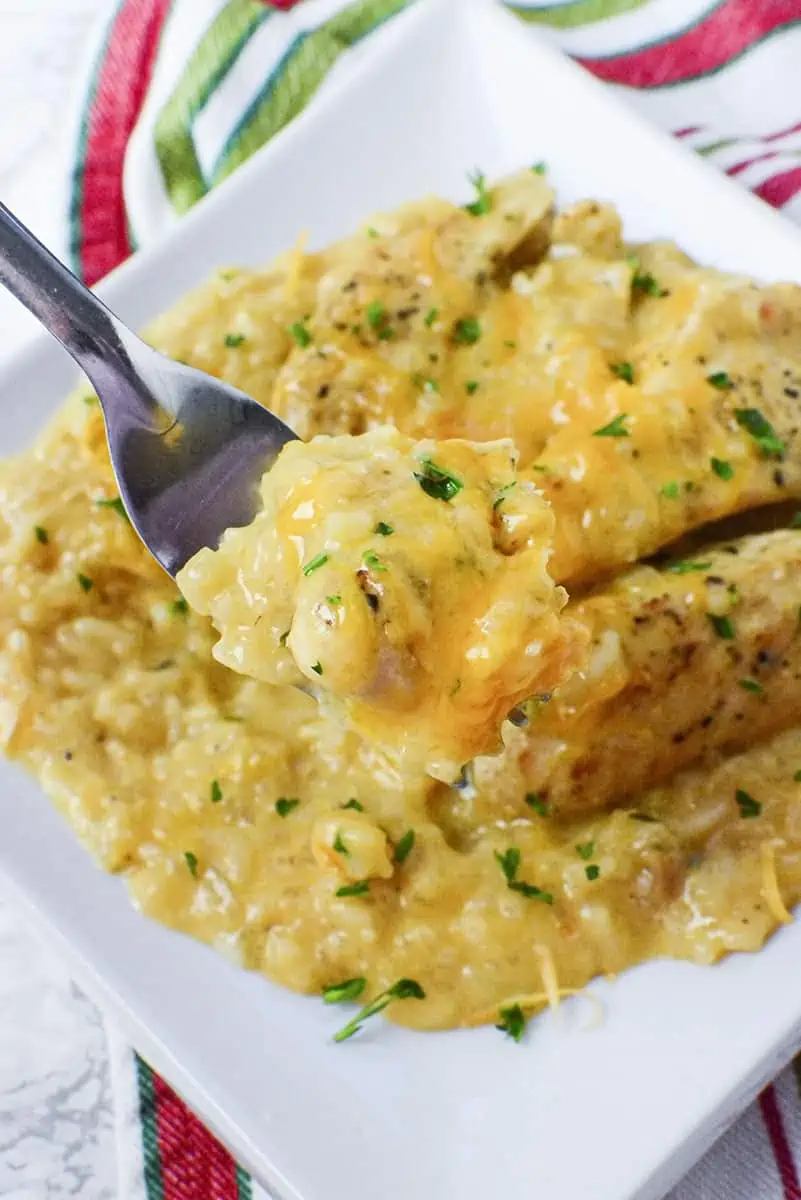 Storage and Leftovers
Super easy solutions here.
Leftovers: Store in a container with a tight-fitting lid in the fridge for up to 4 days. To freeze, transfer contents into an air-tight freezer-friendly container and freeze for up to a month.
To thaw: Remove the container and let thaw overnight.
Reheating: The risotto might be a bit thick when it's thawed so to reheat, add some chicken broth back to the dish to loosen up the rice and the sauce. You might have to heat up the rice and chicken a bit before adding some broth.
Questions You Might Have
What's the difference between arborio rice and regular rice?
Arborio rice is a short-grain rice that has a very high starch content, compared to regular rice. We use regular rice for this dish because the starch content is perfect for slow cooking.
Can I add a vegetable to this dish during cooking?
Absolutely, but it will depend on the vegetable as to when you should add it to the crockpot. Frozen peas can be added near the end. Thicker, heartier vegetables like broccoli should be added when you first stir the dish. Adding them at the beginning will make them too mushy.
Can I use brown rice in this recipe?
I haven't used brown rice so I can't say how it would perform. Brown rice takes longer to cook than white rice so I would probably not use it, as it may dry out the chicken before the rice is fully cooked.
Have you tried this Crockpot Cheesy Risotto with Chicken recipe before? If so, please leave the recipe a star rating and a comment below, or if you have any questions, please let me know. I love hearing from you! Have a wonderful day!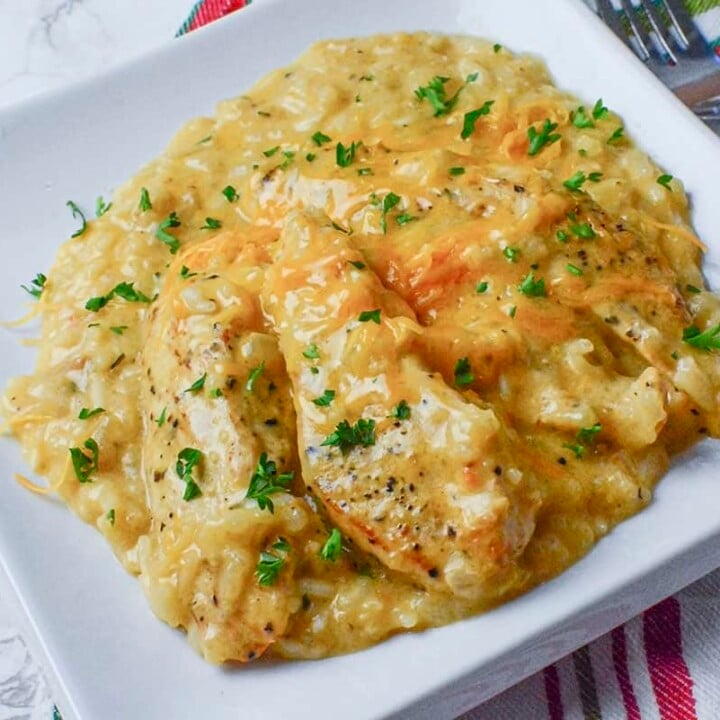 Slow Cooker Cheesy Risotto with Chicken
Additional Time:
5 minutes
Total Time:
5 hours
10 minutes
With a prep time of only about 5 minutes, you can set this delicious dinner in the slow cooker for a creamy, saucy, cheesy risotto with chicken meal that's the ideal comfort food meal.
Ingredients
3 Chicken Breasts, cut into three strips each. (Can also use chicken tenderloins)
1 ¼ c Rice, uncooked
2 ½ c Chicken Broth
½ c White Wine
1 x 10 oz can Cream of Chicken Soup
1 x 10 oz can Cheddar Cheese Soup
3-4 teaspoons Lemon Pepper Seasoning
1 small Onion, finely diced
2 teaspoon Garlic Powder
1 ½ c Cheddar Cheese, shredded and divided, ( ½ for inside the casserole, ½ for topping)
As desired, salt
1 – 2 tablespoon oil for frying
Instructions
1. Season the chicken pieces with lemon pepper, garlic powder and salt on both sides.
2. Preheat a skillet with oil for frying. When the pan and oil is hot, sear the chicken quickly on both sides for approximately 2 minutes. If you need to, sear only a few pieces at a time to get a nice caramelization on the chicken instead of steaming it.
3. Remove the chicken when seared and put it in the slow cooker insert.
4. In a bowl, whisk together the rest of the ingredients except half of the cheese. Mix well to incorporate all the ingredients.
5. Slowly transfer the bowl ingredients evenly over the top of the chicken pieces.
6. Cook on low for 4-5 hours, giving the risotto a stir halfway through cooking to mix up the rice, create some starch in the sauce, and make sure nothing is sticking to the bottom of the slow cooker.
7. Test the rice for doneness about a half hour before cooking time is complete.
8. When the rice and chicken is cooked, sprinkle the remaining cheese over the top and cover. Let it rest for 10 minutes to melt the cheese.
9. Garnish with green onions or parsley.
10. Enjoy!

**Note: The chicken is fully cooked when it has reached 165 degrees Fahrenheit.

Notes
If the rice is still a bit hard when you check in the last half hour of cooking, continue to cook in half-hour intervals. 4 ½ - 5 hours should do the trick though.
If you find the rice is absorbing all the liquid and it's not soft enough, add extra broth or water in ½ cup measurements, softly stir and keep cooking.
Nutrition Information:
Yield:

6
Serving Size:

1 cup
Amount Per Serving:
Calories:

527
Total Fat:

22g
Saturated Fat:

9g
Trans Fat:

0g
Unsaturated Fat:

11g
Cholesterol:

95mg
Carbohydrates:

44g
Fiber:

1g
Sugar:

2g
Protein:

32g
All nutritional information is based on third-party calculations and is only an estimate. Each recipe and nutritional value will vary depending on the brands you use, measuring methods, and portion sizes per household.